Lego Inside Tour Exclusive Event
This details our experience attending the Lego Inside Tour in 2019, the last year the Lego Group held the tours prior to the pandemic. This year, 2022, the tours are resuming with four tours planned. Lego Inside Tour includes a Lego Factory Tour, museum and Lego vault tour plus much more! This was a once in a lifetime experience for us, and one we won't soon forget.
Paul has written most of the content of this post.
For most of the world Lego is a toy for children, with a painful reminder of stepping on the brick which wasn't put away. For some of the world, Lego is more than a toy and the Lego Group is an amazing example of corporate success.
There is an acronym for the later group who have reached the age of majority – AFOLs. Adult Fans Of Lego can be found in every country of the world and in most every socio-economic demographic. They can often be found at various Lego events, especially conferences such as BrickCan and BrickCon. Many of them buy and sell Lego on the BrickLink website. They are fans of the Lego system, bricks, kits and models and typically all things Lego related.
First steps
I first heard about the Lego Inside Tour when I attended BrickCan 2016 in Vancouver. It sounded like a wonderful experience, but one very hard to obtain.
I heard more about the tour when attending BrickCan again in 2017 and 2018. At the 2018 event we enjoyed a very informative presentation. It was from someone who had been to Billund and the Lego Inside Tour in 2017. Gail and I talked, and we decided if we could get the invite to go on the tour, we could make the decision whether to go or not. Getting an invite to the tour is no easy feat! You have to enter your name in a draw, held once per year during a small window of dates on the Lego Inside Tour webpage.
Exclusive Event – What is the Lego Inside Tour?
The Lego Inside Tour only takes place 4 times per year. It is limited to a maximum number of people (usually 40 per tour). It lasts 2 and a half days and is very expensive! But it's a once in a lifetime experience an AFOL or huge Lego fan would find truly exceptional. You will meet Lego employees and Lego Designers, and tour areas not available to the general public outside of the Lego Inside Tour.
In the fall of 2018 I put our names in for the draw to attend the 2019 Lego Inside Tour. I was excited about the possibility of doing this, but I was also realistic. There are thousands of applications for the 160 spots. I had heard from people who attended who had tried for years to get invited.
If you are part of a Lego User Group (LUG) you may be able to find people who have been on a tour. You'll definitely find many who want to go but haven't been invited.
To Go or Not To Go?
Imagine our surprise when I received an email from the Lego Group letting me know I had been selected to attend the tour in May 2019! Now we had to either say "Yes" to attend. With all the costs of the tour (almost $3,000 CAD), the travel (flying from Victoria to Billund Denmark and back can be expensive!) and all the usual extras (like food and additional nights accommodation.) Or to say "No", give up a once in lifetime experience, but let someone else have a shot at it. How could we say "No"?
We have accepted!
It was time to get things organized. Lego sent our confirmation email with all the pertinent details. Our dates to attend were May 2019. Payment for the tour was due in Danish Krone immediately via wire transfer. Off to the bank we went with all the information to complete the wire transfer.
Arrival in Billund
We had stopped in Billund for a night when we travelled from Canada. We stayed in the un-themed area of the hotel, as we were only there for a night. This was our chance to drop our extra luggage before we flew to Copenhagen, then began our train adventures through Denmark and Norway.
After our last stop in Bodo, we flew back to Billund Airport. This ensured there was no jet lag for our Inside Tour. Upon arrival at Billund Airport, we took a taxi to the brand-new Castle Hotel (tip: tell the taxi driver the Castle Hotel). The hotel was so new, it still smelled new.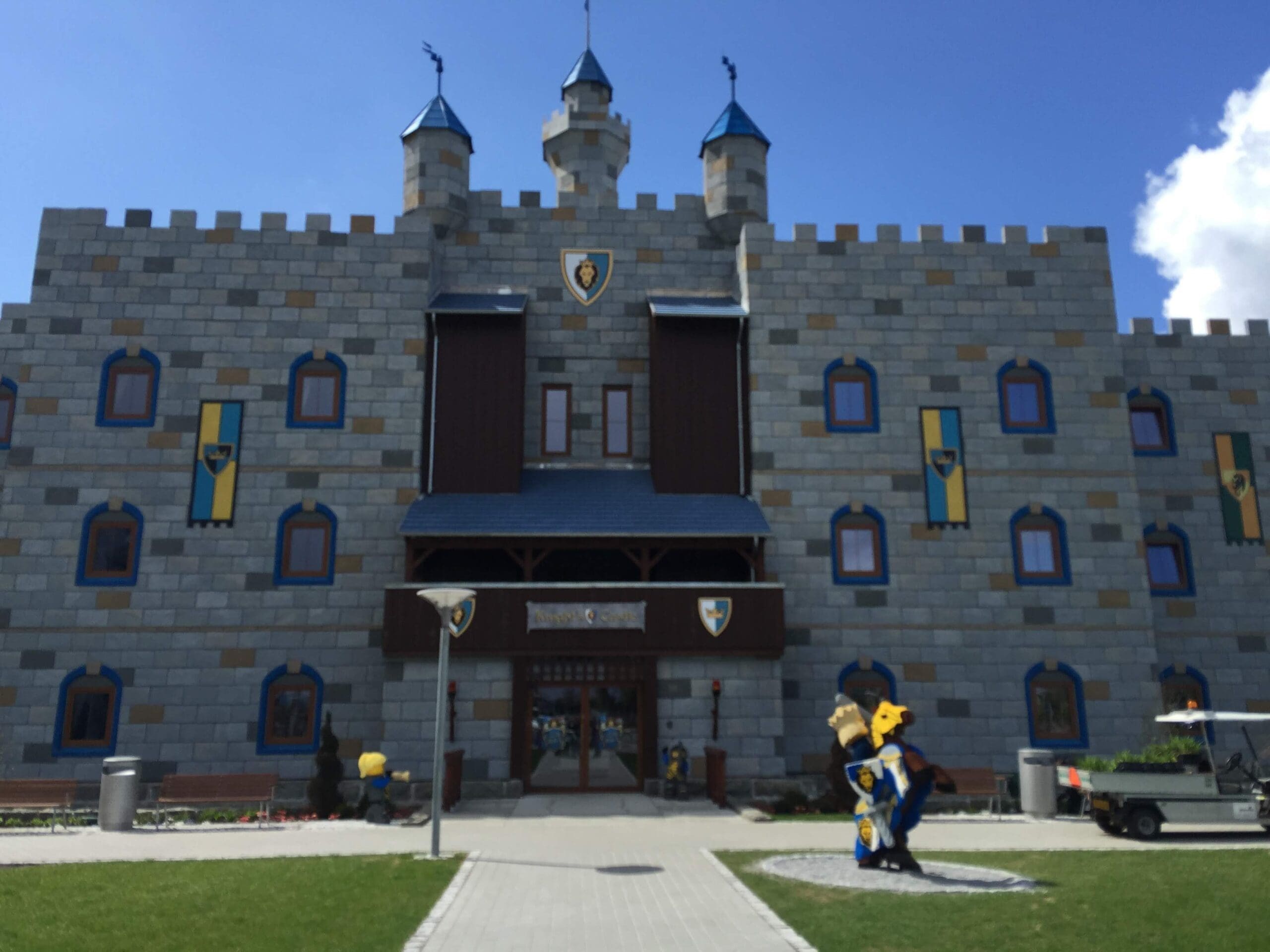 At check in we received a folder. Inside was a polybag, a non-disclosure-agreement to sign, a LEGOLAND Billund Season pass and a year's pass to the LEGO House. In the room we found a LEGO set and a hand-written note. A very nice way to greet your guests! Our luggage previously left at the hotel was delivered shortly after we arrived. More on luggage later.
After settling in a bit, we headed to LEGOLAND to explore using our season pass.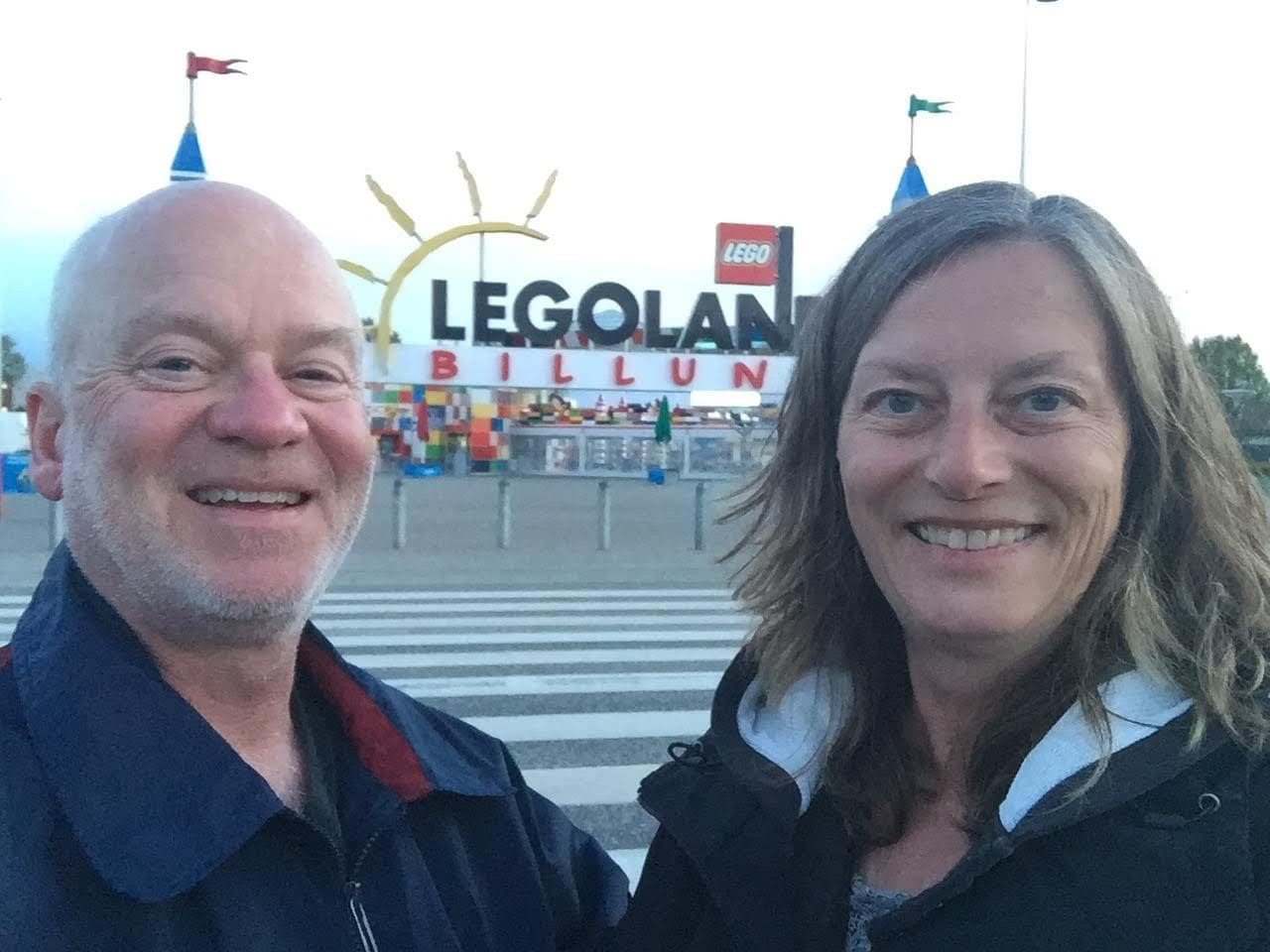 We went to the LegoLand store to discover they didn't sell the Hans Christian Andersen kit which we had seen in Copenhagen. Great disappointment set in.
Day 1 of the Lego Inside Tour
The next morning we awoke in our Knight filled room and enjoyed a nice breakfast at the hotel restaurant. Very nice buffet selection and very helpful staff. If you bring children with you, make sure you get any free polybags from the staff. Taxis were provided, but Gail and I walked to the LEGO House for the beginning of the Lego Inside Tour.
Upon entering our meeting room, each participant received their LEGO Inside Tour minifig torso from a staff member and we got to build our own sigfig (Signature Figure) . We were to add our chosen legs, head, hat/and or hair and accessories. A fun start to any day!
On our chair, we found an exclusive Lego kit (only available in Denmark), and it was the Hans Christian Anderson kit! Great rejoicing! We watched a video from the LEGO CEO welcoming us to the tour once everyone was seated. Then we had a meet and greet with our wranglers (Stuart, Mike, Astrid, and Line).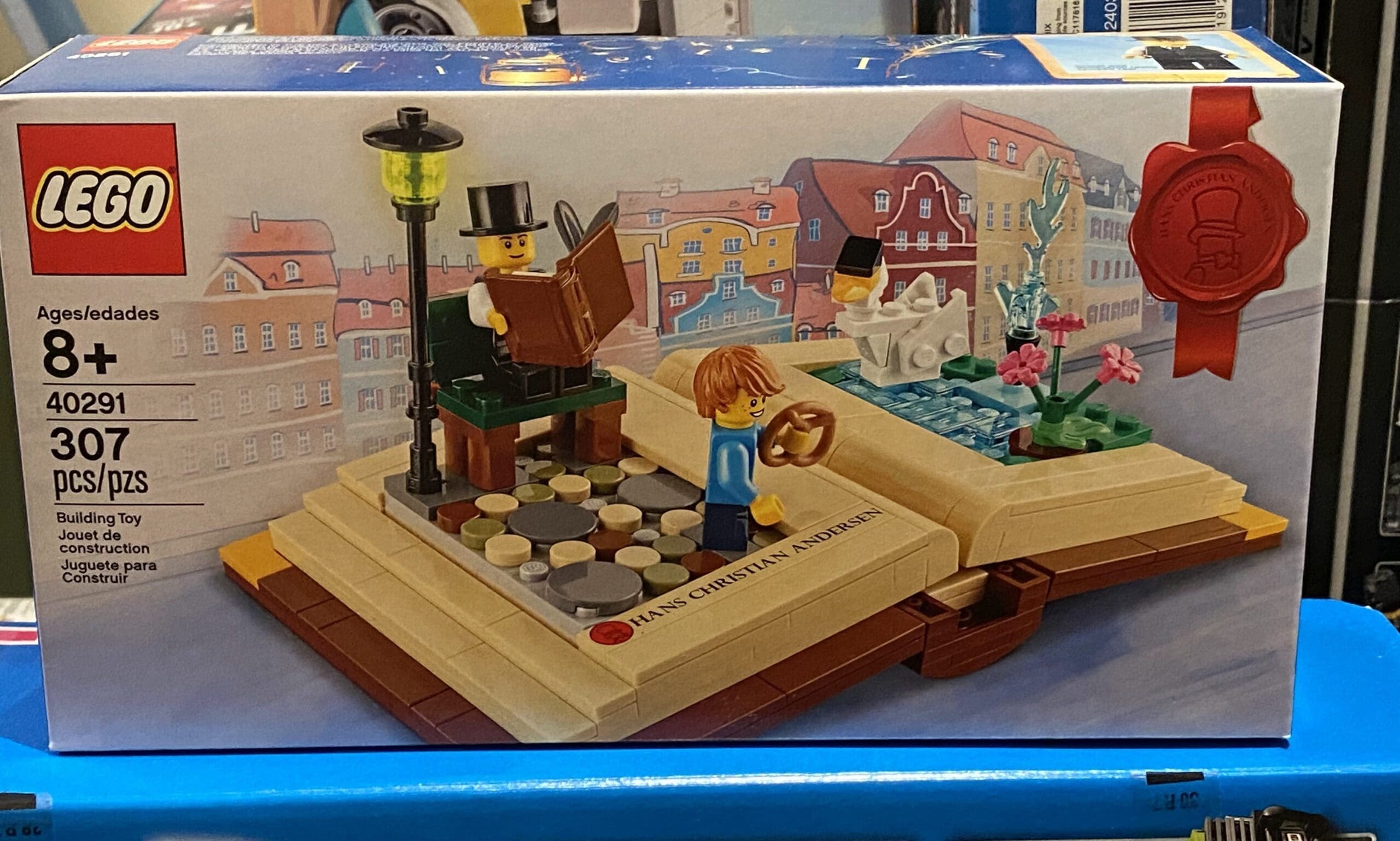 There were pastries, water, coffee, and tea provided for us. We then had a trivia contest which neither Gail nor I were even close to winning unfortunately. After that, we went to the LEGO Idea House where we were separated into two groups.
Original House, Museum and Vault
We then walked around Ole Kirk Kristiansen's original house and museum and then got to go into the vault (always a pleaser).
The museum is full of kits from the Lego past, some equipment and lots of great displays.
The vault is amazing! With almost every one of the Lego model sets ever produced since the beginning, this is a Lego fans flashback fantasy. You get to see the kits you played with as a child. While this may not mean as much to a 20 year old, to those of us who grew up in the 60's and 70's when Lego first started it's an emotional blast!
We then enjoyed a traditional Danish lunch, and Danish treats which were both excellent.
Lego Innovation House
The LEGO Innovation House was our next stop. This is where all the Lego set designers work.
We heard about some cool stuff coming out, learned how Lego sets are designed, and participated in a building challenge. The designers asked each participant what their favorite Lego themed sets were. Paul of course said Star Wars. Gail replied that she also liked Star Wars as it kept Paul busy, and Friends Kits as this kept our granddaughter busy.
Then, we went back over to the LEGO House (there is a lot of walking!) where we picked up our goodies and were asked to be back to the LEGO House for dinner. Dinner was in the Mini Chef place although we didn't have to use the build a meal kit. The dinner was another excellent meal. Lego designers who were present were evenly mixed in with the tour participants at each table .
Designers Mel Caddick and Jamie Berard sat with us. Once we finished dinner, we went back to the meeting room where we had started our morning. Only now, there were bins and bins and bins of Lego in the centre of the room on tables. If you have seen Lego Masters, this would be similar. Especially once the designers announced we were to complete a MOC (My Own Creation) using whatever we wanted from the bins. Sheer heaven for an AFOL.
We were given a brief of what to do and told we could stay as long as we wanted. There would be a judging of the finished MOCs (by the designers) and the best sets in different categories would receive trophies. Of course the trophies were made of Lego by the professional designers! Gail and I worked away and completed our entries. Some people were still there when we left and we heard some stayed till very late!
Day 2 of the Lego Inside Tour
Although Day 2 was supposed to start with a visit to the Employee store for 2 hours of shopping, the schedule was adjusted. We went to the Lego Factory and warehouse first.
The Lego Factory Tour
Before entering, our phones were taken and secured. The factory is the perfectionist's mecca. Almost everything is automatic from the raw materials, the production of the individual bricks, to the collection and distribution of the boxes of bricks. The boxes (made from recycled Lego bricks of course) then make their way to the warehouse for storage. The warehouse is huge!
I worked in a steel plant when I was younger and thought I had seen some huge buildings. When I worked in Space Command, I saw some even bigger buildings. This warehouse is HUGE! All the Lego comes in from the factory in boxes with bar codes and is stored using "chaos" theory. They don't do "Last In First Out" or another type of inventory. Since they don't know when the blue 2X4 brick will be needed next, they bring them in, let the computer decide which rack and shelf to put them in. The robot picks the box as it's needed to be loaded on a truck going to the next stage of the journey. The boxes go to the place where the bricks will be bagged and boxed into kits.
The Lego Employee Store
After all this impressive technology, we went to the employee store. Another area which you may not bring your phone. What a whirlwind of 2 hours! You can buy as much Lego as you wish. They provide a large (and I mean LARGE) shipping box for you to fill. You can buy more, but you will have to ship or carry it home yourself. If you go, bring a list of what you want and the prices you pay at home, with a handy currency conversion table to you can ensure you are getting the better deals for the kits you want. You will find kits of "Free with Purchase" from previous offers on LEGO.COM, as well as recently retired kits.
You won't find anything very rare, but you could save some money. With a rough plan, we filled our boxes (one for each of us), plus what I hoped would fit in that extra luggage we brought.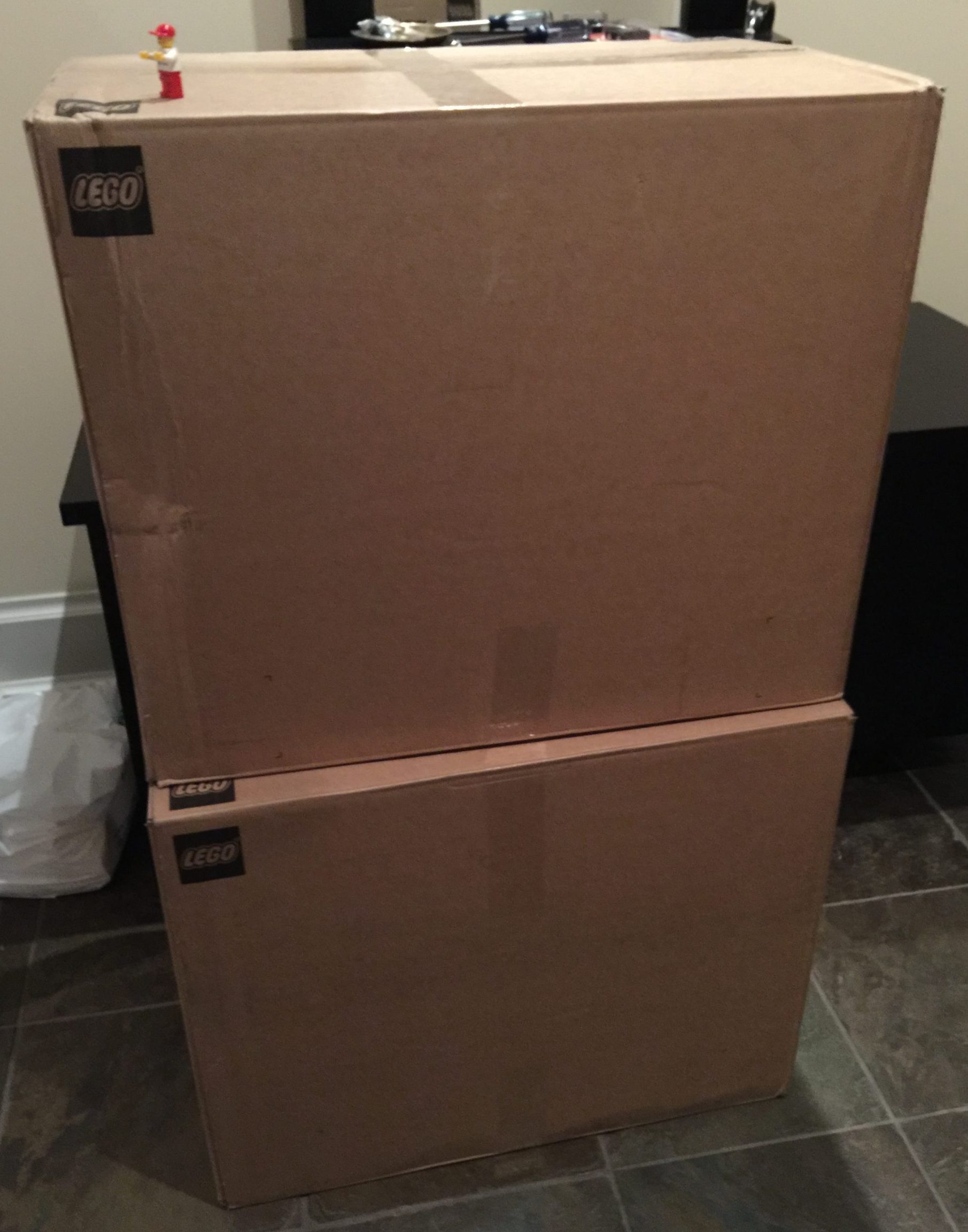 The IDEAS Team
After our shopping frenzy, we proceeded to the IDEAS Team area next. We had a delicious lunch in the canteen and then we had a team build competition. Gail and I teamed up with a couple of gentlemen from Holland. We had fun but didn't win. The Ideas Team then briefed us on some of the kits which had been built from the designs of AFOLs who weren't employed by the Lego Group. There is an IDEAS website for fans to vote for which sets they would like produced. Lego reviews those who earn 10,000 votes or more and from those, some kits are produced.
Back to the hotel for a short break and then to dinner in LeogoLand at the Western Themed restaurant. We sat with the designers again, enjoyed a great meal (including Brick Fries) and had a wonderful time!
After dinner we went to the conference centre in the LegoLand hotel. This was where the MOCs created by the participants were given their awards. We didn't get a trophy, but the people who did deserved them! They had created some amazing builds in such a short time! The trophies were all unique and built by the Lego Designers. Before we settled in to enjoy dessert and libations we were each given another Lego kit. The designers who created the kit also signed the kit!
Day 3 of the Lego Inside Tour
Lego House
This was our last day, and we returned to Lego House for a personal tour from Stuart Harris. He is an awesome Lego House team member! He was part of our tour team from the beginning and was a great guide through our days here. We saw all the levels and areas of the Lego House and received some insight into the building and ongoing changes which will keep this a great place to go to. This is where we got a very close and in depth look at the Lego House Tree of Creativity.
It would be awesome to return to Lego House again and again, as it's intended to be ever changing.
After our tour, the CEO Niels Christianssen met with us in person, gave a presentation and we were able to ask questions.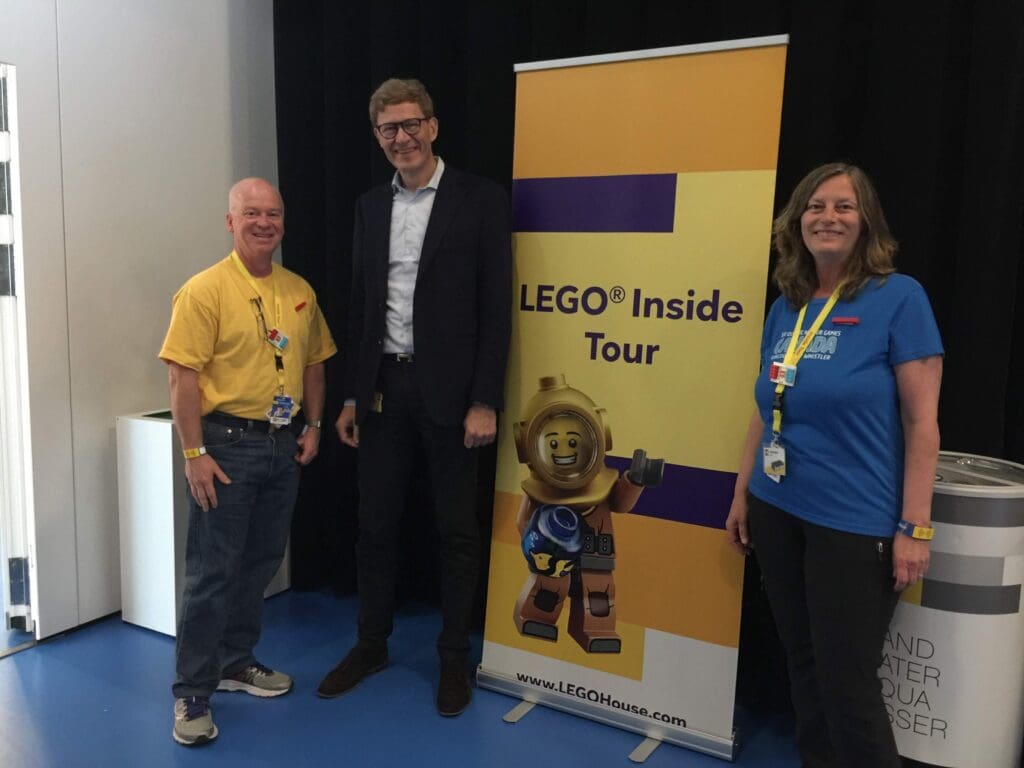 Then he gave us more time to take pictures with each of us.
Oh, and they distributed the exclusively produced Lego Inside Tour Kit to the participants. This was accomplished by way of a lottery draw. You drew the kit number, and they would present you with that number. This is a bit of a thing, as they only produce a few hundred of these kits. Once the run is done, they don't produce it again. The designers and the CEO signed our kits.
Saying Goodbye
Soon after the last presentation was complete, some people left. These were mostly the people who were from Europe and could either drive, fly out or take the train the same day. We had chosen to pay for an extra night and leave the next day. This left us with packing all the kits we had received from Lego plus all the kits and souvenirs we had collected on our travels. Remember to save room for the Billund Airport Kit, which you can only purchase at the airport in the departure area. Gail didn't believe it would all fit. We said our goodbyes to the other group participants we had gotten to know, and to the staff who had given us so much of their time and expertise.
We visited Lego House and LegoLand again, had a meal in Billund and then a night's sleep. The next day an early departure and back to home!
When you are planning which luggage to bring, you will want to decide how much Lego you want to bring back besides what will go into the big box you get to ship from the Lego Employee store. We had received advice from others who had been on the Lego Inside Tour and read on the reviews to bring bigger and more luggage than you think you will need. It is less expensive to pay for one extra bag on your flight than ship the equivalent box via post or courier.
Our luggage and packing tips
We'd been told shipping prices from Denmark were costly, cutting into savings experienced by shopping at the Lego store. Our strategy was to bring our full complement of hard sided, nested luggage.
We used the biggest bag (62 linear inches) to hold the middle-sized bag and the smallest bag was our carry on. Once we arrived in Billund before heading out to our Norway adventure, we left the biggest bag with anything we wouldn't be needing on that leg or our journey. We had brought some Canadiana items to give out to the people working at Billund so we were able to free up some space in our luggage. If you are going to just do the Lego Inside Tour, you can still nest your smaller bags in your bigger bags.
At the end of the Lego Inside Tour, we saw the result of those who didn't plan as well. Some people had opened and emptied Lego boxes then left the boxes in hotel hallways in an attempt to reduce volume in luggage. At the front desk there were several large boxes which participants were using to ship what they couldn't fit in their luggage. Ensure you have room for the Lego Inside Tour special kit in your luggage! You don't want to trust this item to a shipper.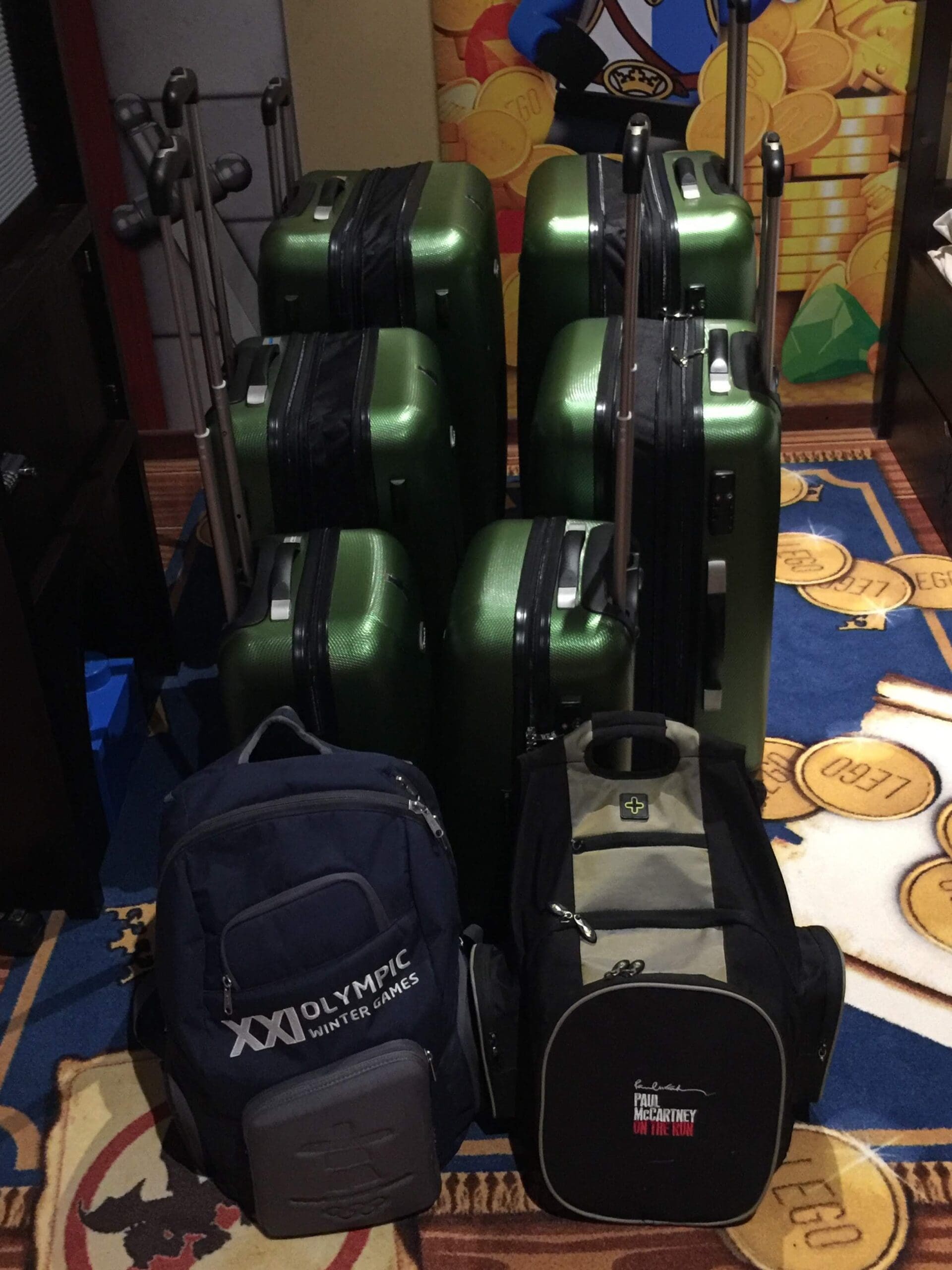 Bring material for wrapping anything precious and for filling void spaces. Hard sided luggage is our choice for this trip, as soft sided luggage could get a crush factor which would ruin the Lego boxes.
Billund Airport
On your departure from Billund Airport, don't forget to pick up the limited-edition kit of the Airport. In 2019 the kit was the second version as the first version had sold out some time ago. You can buy up to 3 kits at a special price. Any more than that and the price is significantly higher! If you end up with too many airport kits, if that's even possible, you may be able to sell it on Bricklink!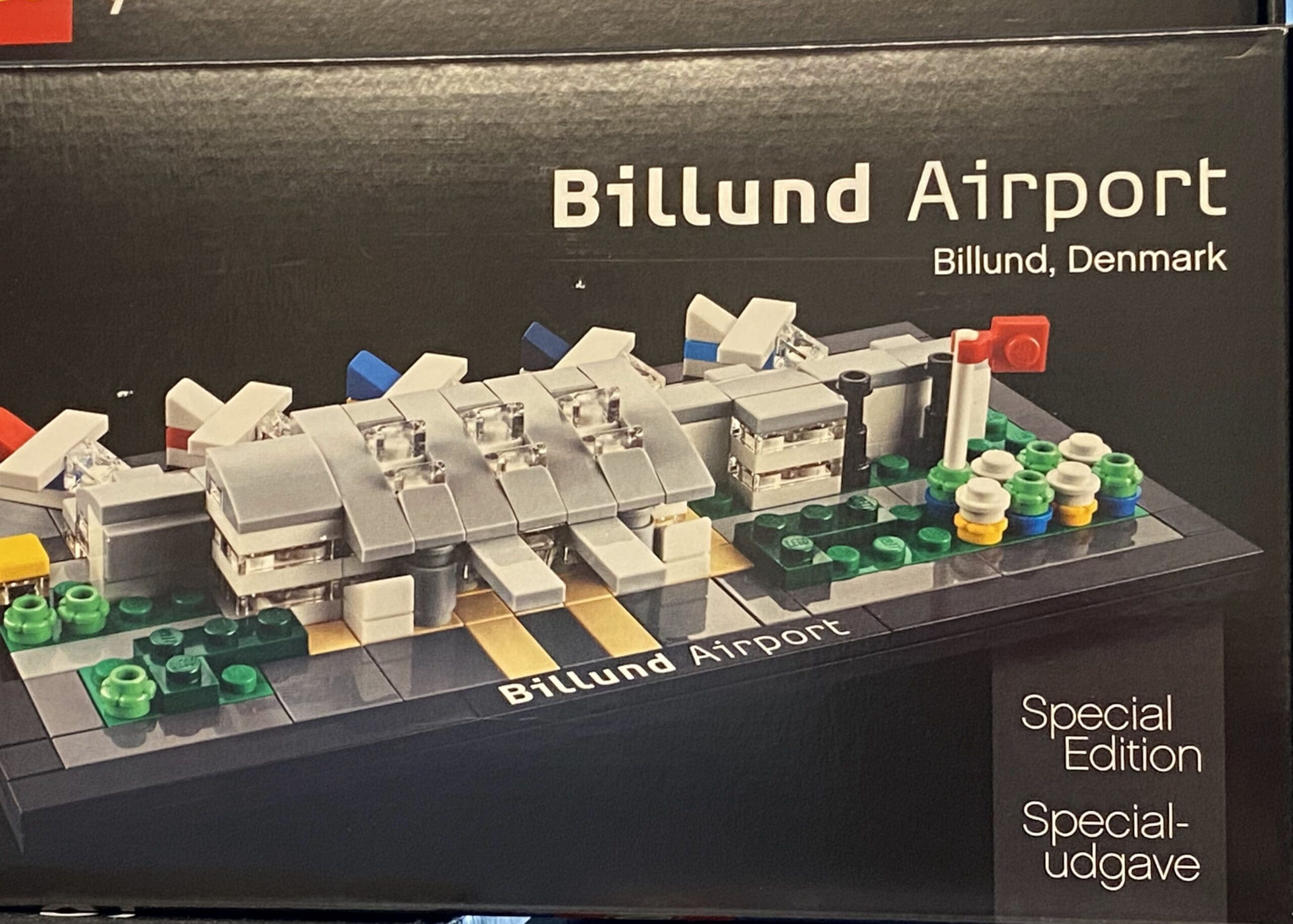 Leave room in your carry on for these kits, as the store is on the gate side of security after you have checked your bags.
Receiving the VAT (Value Added Tax) back from your purchases
If you haven't travelled much in Europe, get ready to pay the VAT on almost everything you purchase. Check to see if you can receive a rebate for VAT prior to your departure. Also, ensure you complete the VAT refund paperwork at every store where you make a purchase. We got all our paperwork ready and before going through security took the time to find the customs office to stamp our paperwork. This can be a challenge, as they don't really advertise where they are. Once through security you can use Global Blue to get your VAT refund. You won't receive100% of the tax you paid, as the provider charges you a fee. But considering how difficult it can be to do all the work yourself we decided to take the easy route.
Overall thoughts
In case you can't tell from this article, this was an amazing experience! The Lego Group did an outstanding job of making us all feel special and valued as participants in the event. For any AFOL or fan of Lego, this is an experience you will love and you will bring back special memories! The Lego we brought back with us was great. The experience will live on as something we can highly recommend as a true once in a lifetime experience!
Do you want to experience Lego Inside Tour?
Gail and I have discussed this, and if we were given another opportunity, we would do the tour again in a heartbeat. Alas, it's pretty clear this is a once in a lifetime opportunity. Our advice is if you want to go, mark your calendars. Watch the website to know when the application window is occurring. Don't miss the window. Late applications aren't accepted. Then cross your fingers. If you're not invited, don't take it personally. Apply again next year.
See our other posts from our Denmark to Norway trip! If you have more time in Billund, there is lots to do!