How to Save Money While Planning your Trip
If you're looking for information on how to save money while planning your trip, this guide is for you. We'll provide some details of the tools and resources we use when planning and booking travel.
Our tips should help you save money allowing you to have a more relaxed time while you're away. Hopefully, you can plan and cover off predictable expenses to the best of your ability even before you leave home.
Where do you want to go?
First and foremost, where do you want to go?
The world is yours to explore. However, it's prudent to check government websites for your proposed destination and requirements to return home. Check to see if there are warnings or advisories for locations you're contemplating visiting.
Here's the link to Canada's Travel Advice and Advisories.
Here's the link to USA Travel Advisories.

If you're in other countries or regions, research travel advisories and advice as they pertain to your region prior to booking travel.
Sometimes we feel a strong urge to go somewhere for a very specific reason. Ancestry Travel, for example, will be travel with a determined purpose, and will include a particular location or locations. Other times, we'll have a lot more flexibility on where we decide to travel.
If you have flexibility in where you go, consider first what type of traveller you are. Are you spontaneous, and looking for an adventure? Do you prefer to plan most details in advance of your trip?
Are you looking forward to getting out of the city and back to nature for a couple of weeks? Will you take the trip alone or will you be travelling with a spouse, family, or a friend? Perhaps there's a group of people travelling with you?
Be honest with yourself when considering the type of trip you want, and remember; what "works on paper" has to work in real life too. What this means is, if you schedule every second of your trip down to the last detail, you'll likely return feeling more tired than before you left.
Duration of your trip – How long will you travel?
There's a reality in all of our lives. How long we can travel for will depend on how much vacation time we have away from work, or other commitments we have around our homes.
As a result of being retired our schedule is more flexible. Desire and budget tend to be driving factors in planning our trips.
However, if you have a few weeks of vacation per year, that may be the extent of your available time to go on a trip. You might want to consider travelling somewhere closer to home. Or take a shorter flight to ensure you can spend most of your time at your destination.
Key Financial Aspects of Travel to Save Money
The various financial aspects of travel will depend on what type of trip you want to take and for how long you will be travelling. Specifically, you'll want to consider the following before you travel. Considering these key financial aspects of travel will allow you to more realistically set a budget.
Transportation
Accommodation
Meals
Activities or excursions
Souvenirs
Incidental Expenses
Insurance (for your home while away)
Insurance (for you while travelling)
We've set out details for each component of these key financial aspects below.
*Tip*

 - In addition, look for the  *Tip*s included throughout this article, based on our own experiences.  We hope this will help you get the most value for your money when planning your trip and travelling.
What are the
transportation

options available for travel to your destination?

Often there will be a combination of the various modes of transportation when travelling to and from your destination. As well you may need transportation while at your destination.
Air
Realistically, air travel may be the only method you can consider if you'll be travelling internationally. This doesn't mean it has to be expensive. Which airlines go to your chosen destination? Are you part of any frequent flyer programs on these airlines? What time of the year will you travel?
*Tip* Join airline frequent flyer programs prior to booking your flight.
Frequent flyer programs are free to join, and airlines will sometimes offer promotions to join their frequent flyer program during a specified time to earn additional points. Check the airline website for promotions prior to enrolling, and definitely prior to booking your flight.
Note: Sometimes airlines will offer XXXXX # of points if you apply for (and are approved for) the affiliate credit card noted. Do your research first before applying for a credit card not specifically designed for travel (or whatever purpose you may choose). Credit cards often have annual fees associated with them. If you're not going to actually use the card, why waste your money?
*Tip* If you're able to travel off-season, you'll likely save money.  
For example, when we visited Paris in January a few years ago, we saved money on airfare, accommodation, activities, and trains. More importantly we weren't fighting crowds to see the Mona Lisa at the Louvre or while wandering through the Musee D'Orsay.
You can monitor flight costs through online systems available on some airline websites.
*Tip* Utilize Google Travel - flights to monitor flight changes.

We prefer to use google travel flights as the system sends us notices via email when a flight cost; any flight cost with any airline changes. You can either select specific dates or leave the dates open to receive updates. It's a great way to find the lowest priced flights possible.
Google Travel is a free tool and works well through your google account.
*Tip* Consider using Expedia for TD First Class Travel Visa Infinite card.
This has turned out to be one of the best ways for us to book travel and save money. We don't book any trips without first looking at this option. There are certainly times when it's beneficial to book another way, however it's worth considering if you don't already use it.
One of the best credit cards designed for maximizing travel benefits is the TD First Class Travel Visa Infinite card. Coupled with Expedia for TD Travel Visa, you can earn points and use them for travel in a variety of ways.
Even if you don't use TD First Class Travel Visa, you can still use Expedia.com or in Canada Expedia.ca, which may save you money while booking.
*Tip* Consider using previously earned points to book your trip.
We used our "Blue" Airmiles points one year to book a cruise. The program, regrettably isn't as generous as it once was, however you can easily apply for the card as a Canadian resident, and use your points towards various types of travel or other rewards.
We used to rack up points quite quickly simply by doing our weekly grocery shopping at Safeway. With no Safeway on Vancouver Island, and the alternative grocery store being quite a bit more costly to shop at, we don't earn as many points as we used to.
Earned airline points may also be useful and can save you money when you're booking your trip. Usually you can check your balance and even book online. We sometimes find it's easier to call the airline and see how to best apply points to your flight. At times, you may be able to apply a combination of points and cash.
Car
If you're thinking of taking a road trip vs. flying to your destination, keep in mind driving will typically take longer than flying, so hotel costs may actually result in you spending more money than if you travel by plane. It will in part depend on what type of trip you want to take and how much time you have.
We once drove from Edmonton, Alberta Canada to Washington D.C. USA and although we had a specific and limited amount of time, we had a fun trip with some flexibility built in to allow for stops in some locations if we chose. Stopping and shopping at the large Lego store in Nashville, though not originally planned, seemed like a no-brainer when we saw the store along our route.
There is a freedom in driving to your destination that you won't have with other more scheduled modes of transportation. You can stop along the way to look at interesting sights, take your time if you wish. We like to plan ahead, so we booked our trip to Washington based on how much driving we planned to do each day.
*Tip*  Utilize Google maps to plan your route.
We pre-booked hotels before we left in various cities along the way by using approximate driving times on google maps. By doing this, we didn't have to be concerned about wifi connections (or lack thereof) while on the road. In our experience, it's not easy to make decisions when we're tired and hungry. A spotty wifi connection can add friction to an already tense situation.
Give yourself a little extra time each day to allow for unknown occurrences, such as construction or inclement weather while on the road.
*Tip* Get a tune up for your vehicle before hitting the road.  
If you choose to take a road trip, make sure you have a reliable car that you trust to get you to your destination. A general tune up, having your oil changed it it's close to time, checking your tires for wear, and getting your car in for a service might alleviate some potential issues you would otherwise experience while on the road.
It can be stressful and expensive to have a car breakdown or problems while travelling.
*Tip* Obtain a membership for roadside assistance if you don't already have it.  
If you have a new(er) car, you may already have roadside assistance. Check with your dealer to ascertain if this was included as part of your purchase if you're not sure.
There are many options available for you to purchase roadside assistance.
You may already be paying for roadside assistance through your automobile insurance, or you may be able to add it for a cost if not already covered.
Check your credit card details as some credit cards offer roadside assistance, or offer the ability to add it through insurance.
We've used CAA (BCAA & AMA) and have found it useful at times. If you're not in Canada, there are equivalent type memberships throughout many countries; ie AAA in the United States.
In addition to having this "peace of mind" roadside assistance these types of programs may also offer reward programs for shopping, restaurant, activities, etc., so can build up points by using the partners in day to day purchases. In fact, we haven't actually paid any money for our BCAA card in many years, as we've built up enough points shopping with affiliate partners year after year that the cost of membership is offset by points.
Bus
Travelling by bus from one place to another has benefits, usually cost being one of the major benefits. Transit maps and bus schedules are usually easily accessible from anywhere you may find yourself. You can often plan routes before leaving home, minimizing some of the anxiety while actually travelling. We like the Moovit app for transit while within cities. Google.com maps works well also.
As with travelling by car, taking a bus will usually take longer than if you fly somewhere, however unlike driving a car, being a passenger you're able to catch up on your reading, sleep or enjoy the scenery. You also can de-stress by letting a professional driver do the driving on routes you're not familiar with, or routes which may be impacted by changing weather conditions.
We've travelled via Red Arrow while in Alberta from Edmonton to Calgary, and return. The seats are comfortable and the ride is easy and fairly inexpensive. You can purchase "flex passes" if you travel often. There are discounts for frequent travellers, in fact they have a frequent traveller program. Also there are discounts for seniors, students and military personnel. Promotions may be offered in in the "off season". Check the website for details.
We've also travelled from Port Angeles to Banbridge Island (to take the ferry to Seattle) on the Strait Shot Bus, and found that journey to be extremely pleasant, straight forward and inexpensive.
While visiting cities we usually use public transit (either trains or busses), or we walk. It's pretty easy to find information on public transit simply by using a transit app or google maps.
*Tip* Always ask what discounts are offered for any type of travel expense. 
Unfortunately, discounts aren't always publicized well. Always ask before booking anything: "Are there any discounts available?"
Get in the habit of checking for discounts before booking anything travel related. These are a few of the most often missed discounts.: Military or Government (employee) Discounts, Seniors Discounts, Student Discounts, Membership discounts (CAA/AMA/BCAA), Air Miles, Residents only discounts, Frequent Traveller or Frequent Flyer Discounts, Airline Employee Discounts.
Train
We like to travel by train when it's an option, and providing we have time. It's a great way to see new areas, and typically isn't as congested as being in traffic congestion on highways. We travelled from London to Paris on the highspeed train and found it to be fun, and less cumbersome than if we flew. Trains run on time in Europe for the most part, so there isn't much waiting around. Experiencing the Shinkansen bullet train in Japan is unique and difficult to replicate anywhere else on the planet.
We travelled from Copenhagen, Denmark to Bodo, Norway via Eurail – as far north as the train goes through , and found the experience to be easy and relaxing, with spectacular scenery and friendly people along the way.
Although much slower in pace, Via rail offers many fantastic journeys throughout Canada. We've taken Via rail from Edmonton to Jasper, Alberta then stayed in Jasper. It's a journey worth taking. Many of the train trips offer breathtaking scenery at a pace which is sure to slow you down.
*Tip* Subscribe to learn of promotions available through airlines, hotel and transportation websites. 
When planning to travel by train, it's best to follow the various companies websites, or better yet, sign up for emails to learn of promotions and deals to take advantage of. For example, we've signed up to learn about promotions Eurail offers for future travel.
Email can be a beast if not managed properly. We've learned this the hard way. Ensure you set your preferences to receive only those emails you want for promotions.
Ferry
We live on an island. Ferries are extremely important if we want to travel anywhere. We use BC Ferries whenever we want to go to the BC mainland. For us it's simply a walk or a bus downtown, then a bus to Swartz Bay Ferry Terminal and across by ferry to Tsawwassen Ferry Terminal in Vancouver. There are also smaller ferries which will take us to various smaller islands if we choose.
In Europe there are many ferries between and within countries. Some of them even have overnight sailings with a berth to sleep away the travel time! This will save you one night in an hotel as well.
*Tip* Check the website for ferries for any promotions on "off peak" sailing times.
Ferry travel is common in many parts of the world, and it's definitely worth checking for any promotions that may be available at slower sailing/ crossing times. For example, BC Ferries offers promotions from time to time on the less popular early morning sailing times for ferry crossings. Also, in peak season, it's worth a little extra money to reserve your time if at all possible. With BC ferries, you will wait 2-3 sailings sometimes during the summer months. It's that busy.
Cruise ship or boat
Depending on the location you're travelling to, a cruise could be a good option. Keep in mind you won't be more than a few hours at any of the cruise port stops. This provides an opportunity to glimpse a country, with a view to perhaps visit again sometime in the future.
We are fortunate to live in a city considered by many to be a tourist destination. Victoria, British Columbia has a busy cruise port called Ogden Point. Folks journeying on the Alaska cruise lines will usually stopover in Victoria BC for a few hours. There is so much to do in Victoria that a few hours isn't much time to do more than scratch the surface. Our post on Self-guided tour of Victoria from cruise port helps those arriving in Victoria via cruise ship to see Victoria's charm.
We've also sailed on several cruises, and can see why they're popular. There are many positive aspects.
Cruises are popular as they are an "all inclusive" offering which travels to a variety of destinations all over the course of specified time frame. We've taken 7 and 10 day cruises. You will see many cities while on a cruise, but each for a very short time. Excursions can be booked in advance of your cruise or on the cruise itself. There's however no requirement to book any excursions whatsoever.
Financial considerations can seem easier to plan for with an all inclusive approach for meals, accommodation and part of the travel for a set price. Watch for add-on items or incidentals which will cost you more. Fortunately, these can be planned for as long as you're aware of them before embarkation.
*Tip* Book cruises last minute if your circumstance and schedule allows.
We'll repeat that for all the planners in the group. If you can book a cruise in the 2 -3 weeks prior to sailing, you will save money. This is because the cruise line is trying to fill as many rooms as possible. They've already made a commitment to sail. All those customers who booked months or even a year ago have already paid.
The last cruise we went on, we booked well in advance as we wanted a specific room/ experience on the cruise. When the cruise line offered the opportunity to bid for a possibility to upgrade our room, we played along. We didn't receive an upgrade so must have been outbid. As the cruise date approached, we watched as specials on very similar rooms to the one we reserved were offered to the general public at a fraction of the cost we paid.
There is a risk in waiting to book your room. If you want a certain room or class of room, or a certain location on the ship, you risk not getting that room if you wait. It's also not possible for everyone to react very quickly to get to the port city. However if it works for you, there's a possibility to save a bundle.
*Tip* Stay loyal to one cruise line to earn points in their rewards programs.
This can be difficult if you haven't cruised before. You may want to try different cruise lines to see which experience fits you best. However, this means you won't reap the benefits the cruise lines offer to their frequent and repeat customers. To find out whether you believe the benefits are worth being loyal to one cruise line, check the individual websites for further details.
*Tip*  If you're travelling with a group, set a time to plan/book excursions together (or apart?) and in advance of the sailing.
This is important. Even if you're travelling with only one other person, you'll still want to have a discussion about what you each want from your experience on the cruise and more importantly while in port. You'll be in each port for such a short time and it would be a pity to come away from that day in Athens (for example) not having seen the Acropolis, if that was especially important to you. If you're with a group, and some folks want to go on a different excursion, it's okay to separate and re-group for dinner back on the cruise ship later.
When everyone has a chance to express clearly what they want from their trip, preferably before the trip, there's also going to be less friction while on the cruise.
Booking excursions in advance ensures availability, and as well can save you money versus waiting until you reach the port.
What sort of
accommodation

will you choose?

Your accommodation will likely be the most expensive part of your trip, depending on your trip duration.
*Tip* Join hotel loyalty programs prior to booking your stay.
As with airlines, hotels offer loyalty programs. Make sure you join applicable loyalty programs before booking a hotel.
Choosing a hotel is a very personal choice. Some people put value at the top of their list over the actual room size, layout, etc. Others will choose to pay extra for a luxurious room.
*Tip* Utilize Google Travel Stays to search hotels or vacation rentals.
You can search for hotels, check out reviews on those hotels as well as narrow down to a specific location using the map with Google Travel – stays. This tool will allow you to filter and sort your preferences a number of ways. You simply enter dates of travel along with your destination. You will then be presented with a listing of hotels, and a map to narrow down your search.
*Tip* For longer term stays, call the hotel directly to get best rate.
Sometimes the lowest rate available isn't the rate published on a website. We've had success in contacting the actual hotel you're wanting to stay at (instead of the corporate reservation number) as they may have additional leeway in pricing. You'll also have better luck in securing a room on the quiet side of the hotel if you talk to them, rather than being placed in a room facing a busy highway or street.
*Tip* For longer term stays, you may want to consider an AirBNB or VRBO
Compared to AirBNB or VRBO type arrangements, hotels can often be more expensive if you wish to have a kitchen and bedroom(s) for longer stays.
We've stayed at some remarkable AirBnBs. We also had to get AirBNB involved to cancel once upon arrival when the premises wasn't nearly as promised by the host. There have been other spaces we've stayed at which have been somewhat disappointing. In our opinion, the system seems somewhat flawed. You will be asked to do a review of your stay and of the host, after you depart your AirBnB. Your host will also do a review of you as a guest. This sounds great, however in reality, no one wants a bad review, so we don't think the reviews are as genuine as you might want to believe when you're searching for a place to stay and looking at reviews.
Nevertheless, if you're trying to save money, you can find some great deals especially on long terms stays with AirBNB. Be a good guest, communicate with your host right away if there are any issues. Tidy up before you leave. This is expected. If it hasn't yet, it can feel very different from a hotel at this point. Different hosts expect different things when you leave, so make sure you follow the rules as stated. If you're not sure, just ask them.
Meals

while you are away

While you're away from home, eating your meals can be accomplished in a variety of ways. If you've secured accommodation with a kitchen/ kitchenette, then you may find you can take one or two meals if not more from the comfort of your own room.

However, don't forget that part of the benefit in travelling to new and exciting destinations is to experience the culture and food on offer. If you're making meals in the same ways you do at home, though there's comfort in eating the same foods sometimes and you may save money doing it, it won't feel like much of a holiday if you spend your time grocery shopping and doing meal preparation.
*Tip* Use a resource like the Government of Canada website to get an idea of a standard "per diem" rate.
This Government of Canada Directive on travel page is designed to assist government employees who travel for work. Although we don't work for the government, it's a public website, with already established and updated per diem costs for meals and incidentals. There's a page for established per diem rates international travel as well.
The per diem numbers noted are a good guideline to consider in a meal budget for travel. The government has done all the work both in Canada and abroad to ensure an equitable reimbursement for their employees who travel for work.
As an example, based on the chart, if we're travelling to Amsterdam for 10 days, for two adults, we should budget approximately $132.35 each (x 2 people) = $264.70 x 10 days. As the currency stated is in Euro, a quick conversion to Canadian dollars would be approximately $3580.
Use the chart as a guideline. There will be variations in your expenses for meals and incidentals. For example, if you stay at an AirBnB and have access to a kitchen, you will choose to have breakfast in your room. You will therefore not spend as much on meals as you would if you ate every meal in a restaurant every single day of your trip.
Incidental expenses
This would include items such as tolls, tips for hotel staff, etc.
Based on the charts noted in Meals, above, our example if we're travelling to Amsterdam would be $42.35 per diem. Again, converting to Canadian dollars from Euro for 10 days would be another $570.
What
activities

will you participate in?
*Tip* Do some research before you go regarding attractions passes for the destination you're travelling to.
Sometimes there are activity passes, which offer an all inclusive type "pass" to some of the top attractions in the city. If available, making an advance purchase of the pass can save you some money. Seattle, for example, has a Seattle City Pass. Review the details first to ensure the parameters for using the pass will work for you and your travel companions.
*Tip* Use Google Travel -Things to Do - to view top attractions in the destination you're travelling to.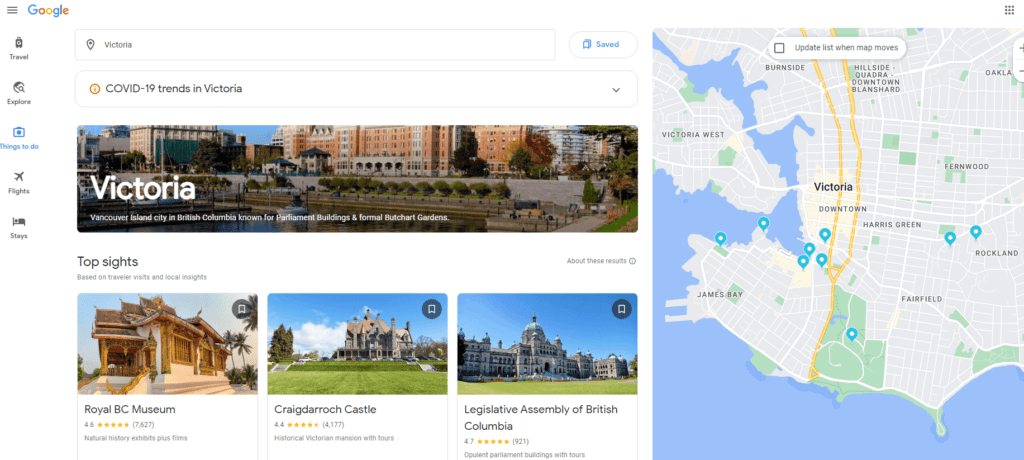 This is an awesome tool. Just go into google.com/travel and click on Things to Do once you've selected your destination. We like this tool because it's based on top reviews from people who've visited the city and done some of the top rated activities. If you click on the activity, you'll also see reviews from those who've visited as well. Sometimes other recent visitors offer tips in their reviews on what they did to save money.
*Tip* Search travel blogs for ideas on different activities and ways to save money in your chosen destination.
Okay, we write a travel blog, so this tip might seem a bit obvious and even self serving.
However, we can tell you this is one of the best tips for saving money and finding unique things to do in your chosen destination.
Look for travel blogs where you can tell the folks writing the articles have actually visited the location (you'll know when you see it). You might have to go beyond the first 2-3 pages in a google search to find what you're looking for.
There's a lot of great information out there, and you'll find some blogs and activities the bloggers write about resonate with you more than others.
Souvenirs
Souvenirs tell those back home you were thinking of them while you were travelling. Sometimes you find something in your travels that is so "on point" with a special relative or friend, that it's easy to shop and buy. Other times, you shop for hours, and can't seem to find that something special for someone special.
After years of souvenir shopping, we can tell you without hesitation what you buy isn't all that important. Unless it's that "On Point" experience – and those are rare, most people will appreciate that you thought of them, not necessarily the item itself.
What has been the most valuable to Gail over the years were coins people brought back from their own travels. If it has the current year (the year they travelled), even better. But then, she's a coin collector. It might not be the perfect souvenir for others. However it associates the person who travelled with the country they went to, and often dates it accordingly. What could be a better souvenir? And the cost is usually quite low.
*Tip* Set a realistic budget ahead of time for souvenirs then stick with it.
Whether you set a budget per person, or an overall budget, or perhaps both, make sure you stay within your budget. Keep in mind how many places you will visit, and how many souvenirs you'll end up buying.
For example, if you're on a cruise and have 4-5 stops each in unique countries, will your grandchildren receive a small gift from each port stop? There's no right or wrong way to decide on purchasing souvenirs, but planning ahead will save you money.
*Tip* Customs when re-entering your country will have limits on what you bring back. Know what you need to declare.
Depending how long you're away from your own country, there will be restrictions on what items, quantity and value of items you're allowed to bring back. Check your government customs website before you leave so you know what restrictions you have. For example, here's the latest Guide for residents returning to Canada. You will save money if you do not exceed your limits.
*Tip* Watch your weight while shopping for souvenirs.
People are often very careful when they're packing to leave on their trip, weighing their suitcases, ensuring they don't have to pay for overweight baggage. However, if you've been shopping for souvenirs, these items will need to come back with you, in the very suitcases which were chock-a-bloc full when you came.
Once again, with a bit of forward planning you can alleviate the need to pay a fee for overweight baggage on your return journey. Bring an extra suitcase with you, nested inside a larger one. Or, if another suitcase isn't possible because you'll have to pay to bring that one back, consider a carry on size collapsible bag which can lay flat in your larger suitcase travelling to your destination. Voila! You have a carry on bag for use on the return journey home!
*Tip* Bring an extra suitcase or bag.
We've travelled knowing we're going to be bringing extra luggage home with us.
For example, when we were invited/ accepted to participate in the Lego Inside Tour, we flew to Billund in advance of our tour dates. We stayed overnight and had pre-arranged to leave some of our luggage in the LegoLand Hotel (including 2 empty suitcases, nestled inside other bags). This allowed us to then travel through Denmark and Norway, and back again to Billund for our Lego Inside Tour. We were able to purchase and bring home some Lego kits only available in Denmark and Europe. Read all about our Lego Inside Tour Exclusive Event Experience.
Had we not planned in advance to bring extra suitcases, we would have been buying some suitcases there, or jamming what we could into our bags & paying overweight charges. Or paying to ship the kits home? Sounds expensive.
Paul is eligible for the Westjet Baggage discount for military veterans, so is allowed four bags at no charge. This is an awesome savings, and served us well on this trip.
There are also other travel related discounts available for veterans, as well as many other benefits simply by joining CFOne (for military, veterans, and family).
*Tip*  Join, enroll in Global Blue to receive VAT Refunds
Some countries have Value Added Tax, and as a non-resident visitor and shopper, you may be able to get a partial refund of the VAT you're paying.
We've used Global Blue to take advantage of this. It's easy to sign up and fairly straight forward to use. Some participating stores may not be set up for the app so be prepared to do paperwork if requested by the merchant. Read the details on Global Blue website on how it works before you find yourself in a busy airport trying to get a refund. It will be time well spent and can save you a lot of money.
Insurance (for your home while you're away)
Do you know where your home insurance policy is right now? If you do, have a look at it specifically relating to requirements if you'll be absent from your home. It's likely stated there that someone must check on your property every XX # of days. If you live in a condo or strata, there will likely be rules around turning off water, or adjusting temperature before you leave as well. Not only are these requirements in the event something happens while you're away; they're also good practices to guard against potential damage or theft.
*Tip* Ask a trusted friend, relative or neighbor to check on your home in conjunction with the specified time frame noted in your insurance policy.  
Reciprocate if it works for both parties. They'll need someone to do the same when they take their vacation.
Insurance (for you while travelling)
When Coronavirus grasped us in early 2020, travel itself stopped. Gail had planned to go to South America in March of 2020, however that was cancelled with the Government of Canada advisory being issued the day before travel was scheduled. It was a stressful 2 weeks leading up to that, which caused us to take a more in depth look at our travel insurance we had in place at that time.
*Tip* Book and pay for flights only for the people covered by your insurance coverage.
In the end, the airlines refunded us in full, however had they not done so, because the flights were paid for by our credit card, Gail's flight would have been paid for (reimbursed) through our TD Travel Visa.
Interestingly, even though Gail had paid for two other people who were also going on the trip (it seemed easier to book all three seats at a the same time), because they weren't on our TD Travel Visa card, we would not have been reimbursed for their portion of the flights. It was the same with the insurance company we deal with in addition to our TD Travel Visa Card. Only policy holders portion of the flight would have been reimbursed.
There are many different aspects to travel insurance: travel disruption, which includes trip disruption, trip cancellation, interruption and delay. In addition, there are unexpected medical and detail expenses. If you're thinking of skipping this expense (insurance), think again. It would be much more expensive to need it and not have it in place.
*Tip* Check the fine print on your travel insurance regarding COVID 19
Check the fine print to ensure what you think is covered actually is covered. Many insurance companies have updated their terms around Covid19 and what they will cover. Most will include medical expenses while you're away from home and travelling if you contract COVID19, however some include hotel stays in the event you're required to quarantine, some policies don't cover that. In some cases, you may be able to pay a little more to add that coverage if you wish.
*Tip* Carry your insurance paperwork with you at all times, in your purse or wallet.  
It may not seem necessary when you leave on your trip to keep your insurance paperwork with you, but if you get sick or require urgent medical attention, your insurance should be easily accessible. In addition, keep your vaccination records with your insurance, as well as any local health cards you have. We've learned first hand how important this can be. When you need these details, you need it right away.
Budgeting for your trip
Hopefully, with the tools and resources we've provided in this article, you'll be in a better position to budget and plan a successful trip. You've worked hard for your money and you should now look forward to a wonderfully relaxing vacation.
*Tip* Utilize google sheets for travel budget monitoring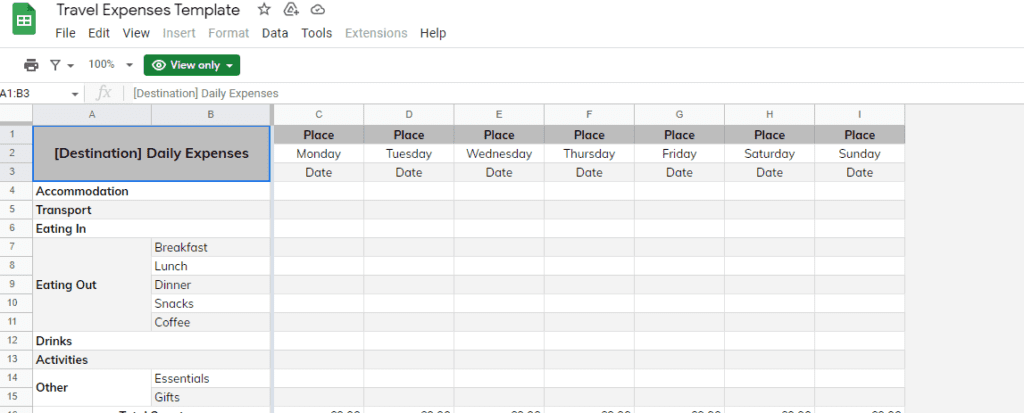 Google travel budget sheet may assist you further in keeping on track with your budget. It's a simple spreadsheet which will tell you how you're doing.
We hope you've found the information in this article helpful. If you're specifically planning an Ancestry trip, you may want to review our page on Ancestry Travel to learn how to best plan ahead for a special and successful ancestry journey. For additional costs beyond what is noted on this page, as well as tips to save money while planning your ancestry trip, review our article for Financial Aspects of Planning an Ancestry Trip.