Self guided tour of Victoria BC from Cruise Port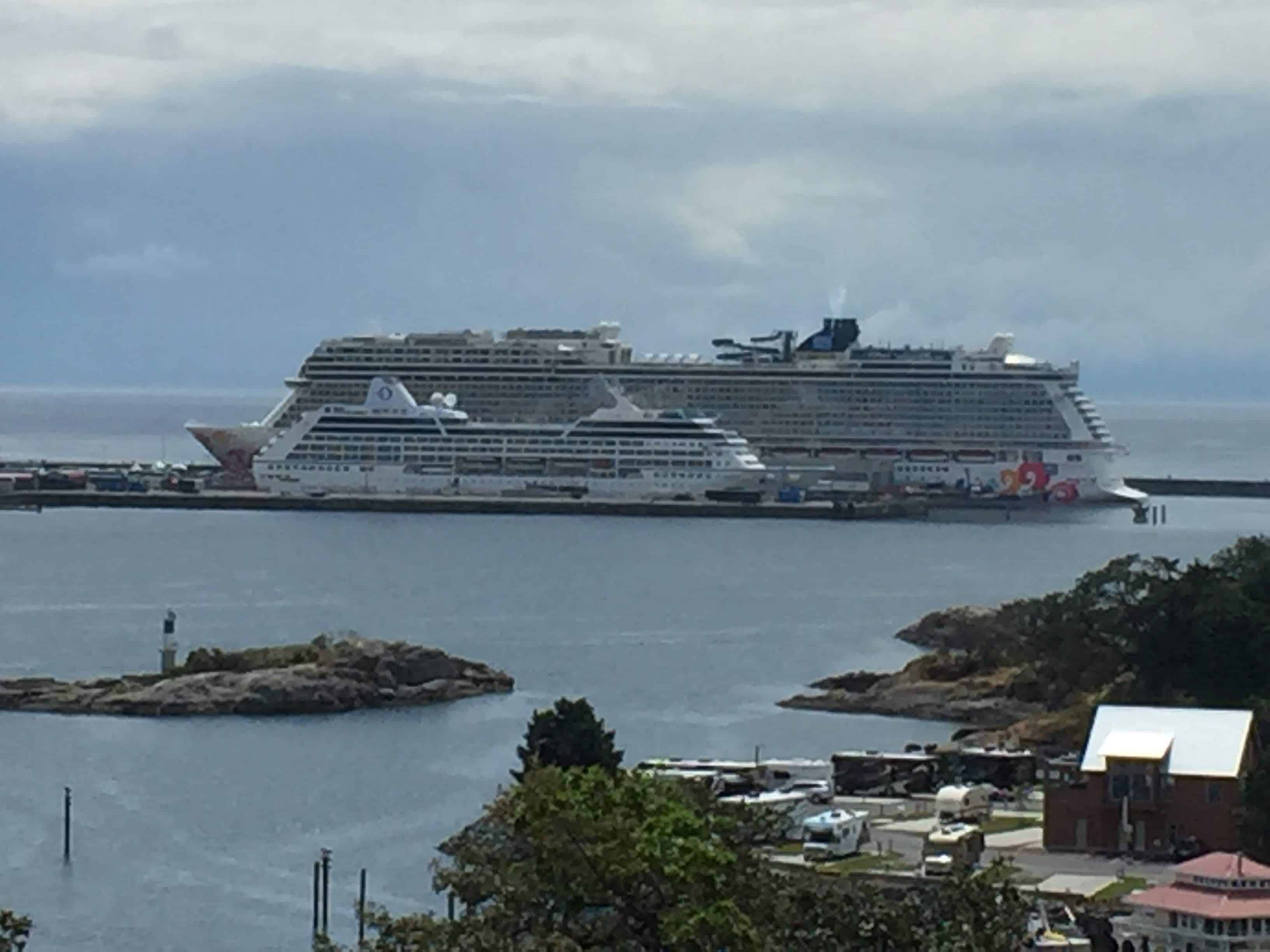 If you intend to do a more self guided tour of Victoria BC from the Cruise Port, or if you're simply looking to supplement another excursion you've already booked, this guide is for you. You may be wondering what to do in Victoria British Columbia.
Visiting Victoria BC is considered by many to be a highlight of their cruise port stops.
We've been on many cruises, and as a result we've been in a few cruise ship terminals. It can feel confusing and disorienting when you arrive at a port you're unfamiliar with, depending on how well everything and everyone is organized.
Ogden Point Victoria Cruise Ship Terminal
With the resumption of the 2022 cruise ship season, Victoria's Ogden Point Cruise ship terminal is the busiest cruise ship port of call in Canada.
It's a well designed terminal, and easy to find your way around when you disembark your ship, whether you want to locate your shuttle bus for an excursion, or if you've decided to simply enjoy the city.
Cruise ship season at Ogden Point is from late April until early November for 2023 with 350 ships expected during the season. Visit the Greater Victoria Harbour Authority schedule for more details.
If you've not booked an excursion through the cruise line, there are still lots of activities for you to enjoy while in Victoria.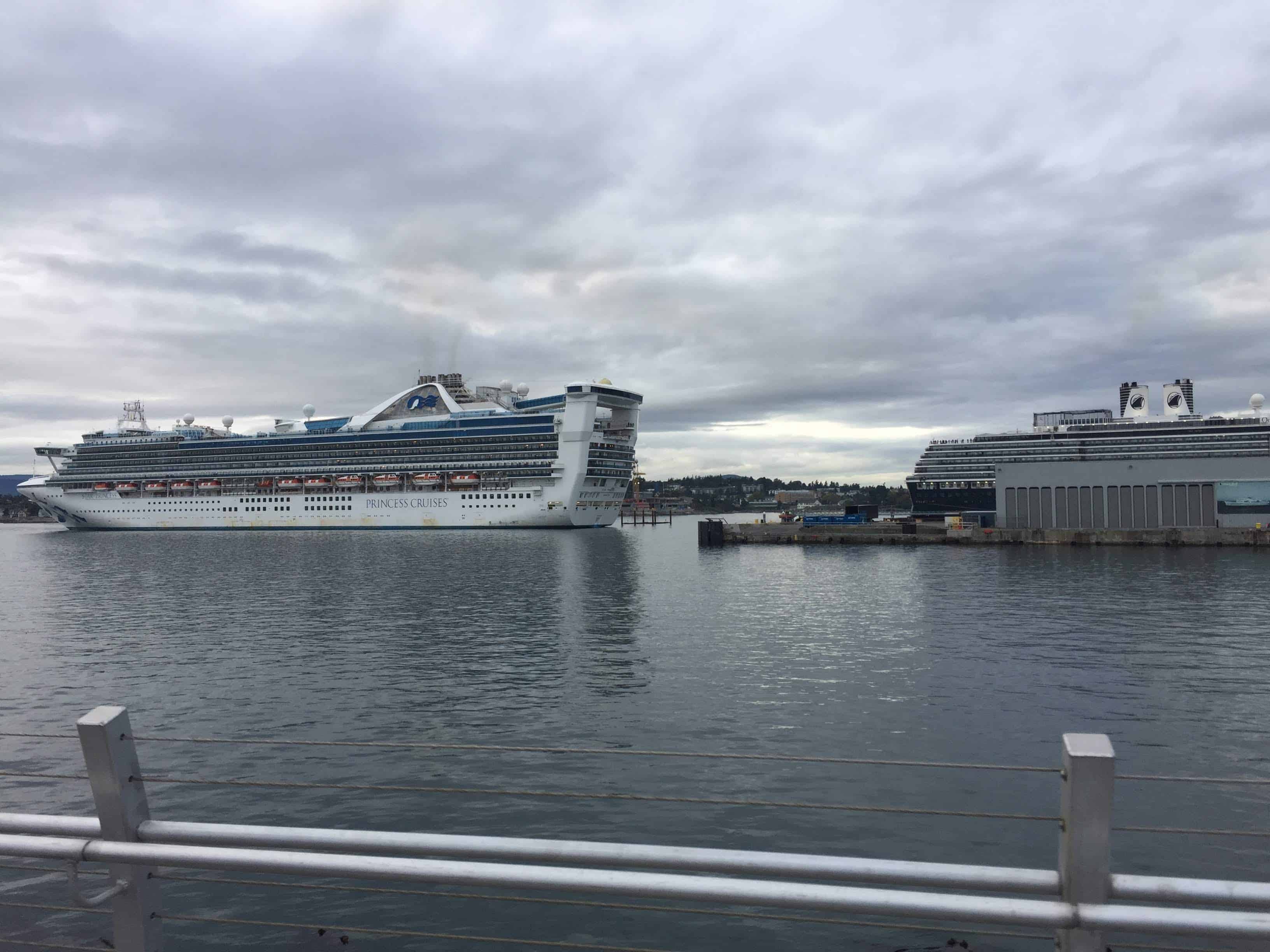 *Disclosure: This article contains affiliate links. If you make a purchase after clicking one of these links, we earn a small commission at no extra cost to you. For full disclosure/disclaimer, please click here.
Changes to downtown Victoria shuttle bus route
We are walkers, and if you choose, you can walk from Ogden Point to downtown Victoria quite easily and directly in about a half hour along the David Foster Inner Harbour Pathway.
However, a half hour each way might be too long depending on what else you'd like to see and do.
There is a shuttle bus which will take you from Ogden Point to downtown.
Some things have changed in downtown Victoria regarding bike lanes and pedestrian walkways since 2019 when the latest cruise ships were here. Government Street now offers a pedestrian only corridor so buses will take a different route than they used to from Ogden Point, dropping passengers a little higher up on Government on Yates Street.
Walk along Government Street
One of our favorite memories while visiting Copenhagen, Denmark included a stroll along The World's longest Pedestrian Street "Strøget". Government Street (at least lower Government Street), will leave you feeling like you wish more of Government Street was pedestrian only. Who knows, maybe someday it will be.
Walking along Government Street is a fun experience, and will allow you to see charming downtown Victoria.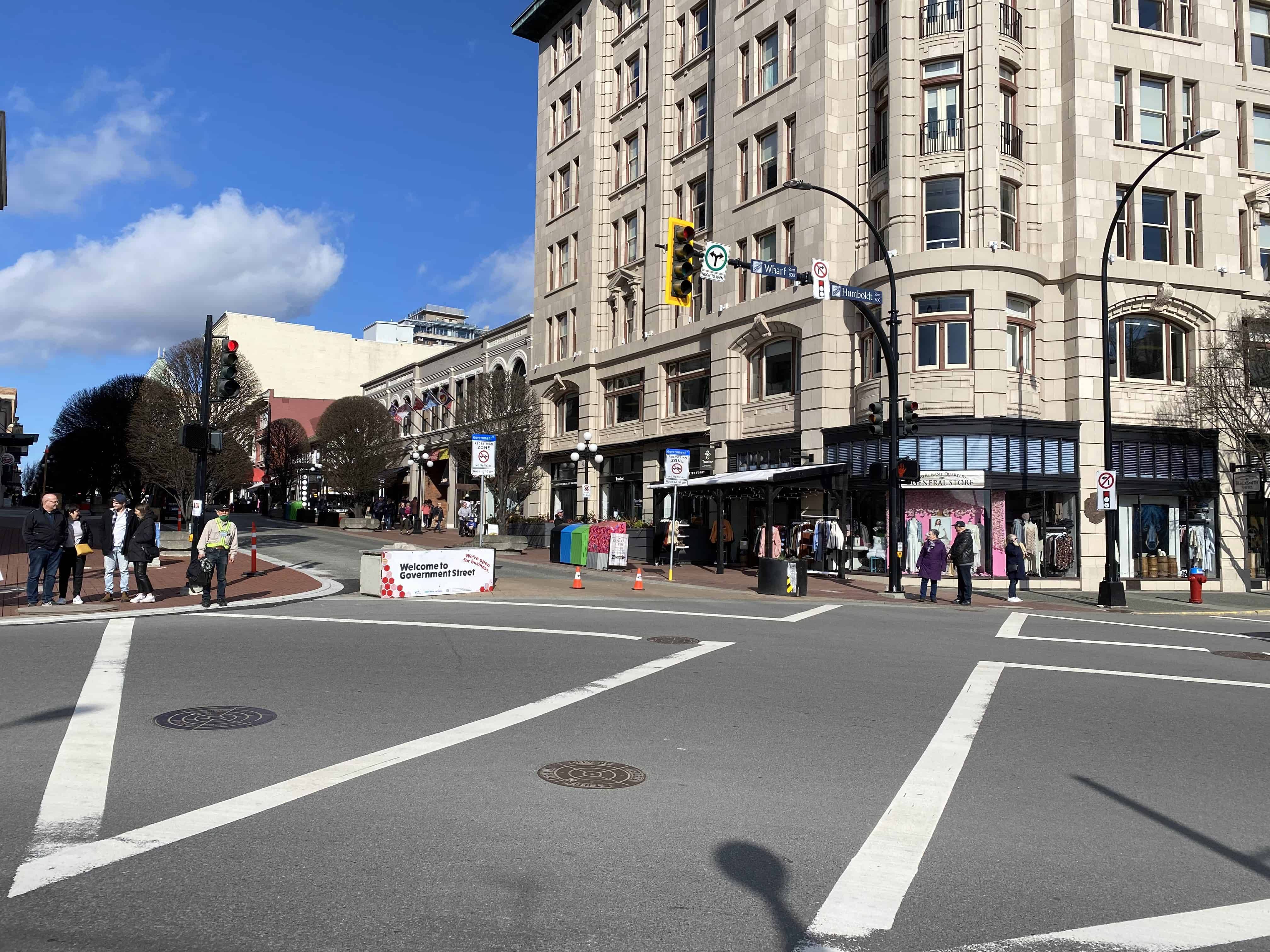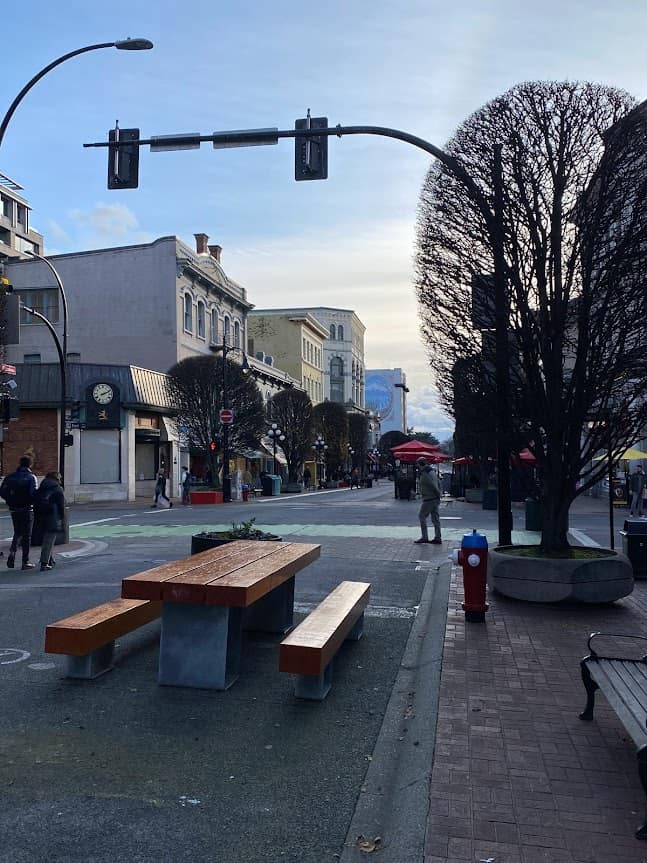 There are so many unique and varied local shops to pick up that wonderful souvenir for someone special along with enjoying the fantastic restaurants when you're hungry. There are many other activities along Government Street.
Beacon Hill Park
Here are 21 Reasons to Visit Beacon Hill Park. You can spend as long as you want here, bring a picnic lunch and enjoy the beauty of this downtown park.
Beacon Hill Children's Farm in Victoria BC
Located at Beacon Hill Park, Beacon Hill Children's Farm and Petting Zoo would be a great activity for the children or the young at heart folks in your group.
Hop on Hop off Bus downtown Victoria
In quite a few cities we've visited while on cruises, due to the limitations on time, we've opted for the Hop on Hop Off Buses.
This will allow you some flexibility to see some of the top tourist attractions in Victoria, and spend time where you choose.
You can also get a full day bus pass through BC Transit for $5.00. Children under 12 ride for free. It won't be as direct to the main attractions as a hop on hop off bus would be, and you'll have to plan your trips and schedules but it's do-able with a little planning.
Visit the BC transit Victoria Regional Transit System website to learn more. The Moovit app works well in Victoria and surrounding area for getting around by transit.
The driver doesn't carry change, so the exact dollar amount is required. Ask for a day pass when you provide the $5.00. The drivers are very helpful, and are used to tourists riding the bus, so when boarding, ask the driver any questions you have about the route. He or she does have a schedule to keep, but they're happy to help when possible.
You may see double decker buses on some of the busier routes at busier times. If you find you're going to be on the bus awhile, go upstairs and enjoy the view from higher up. On the top level of the double decker is our grand-daughter's favorite way to ride the bus in Victoria.
Rent a bike and cycle around town or farther
There's something to be said for getting off a cruise ship and getting a bit more exercise than you've had while on your cruise. Cycling may be just what your body is craving at this point in your cruise.
Your distance and where to cycle will depend on how much time you have before you have to get back on board your cruise ship. Here's a bike map from the Capital Regional District (CRD) to help you plan a route. Be sure to review the legend and understand where the bike lanes are, compared to the shared roadways.
There are many options for renting bikes in Victoria. It's quite a bike friendly city with more bike lanes being added as time goes by.
We like getting away from Victoria and getting on a trail, either the E&N Rail trail or the Galloping Goose Regional Trail. Once again, these have incredible distance potential, and you don't want to miss getting back on the ship, so plan your time and distance wisely!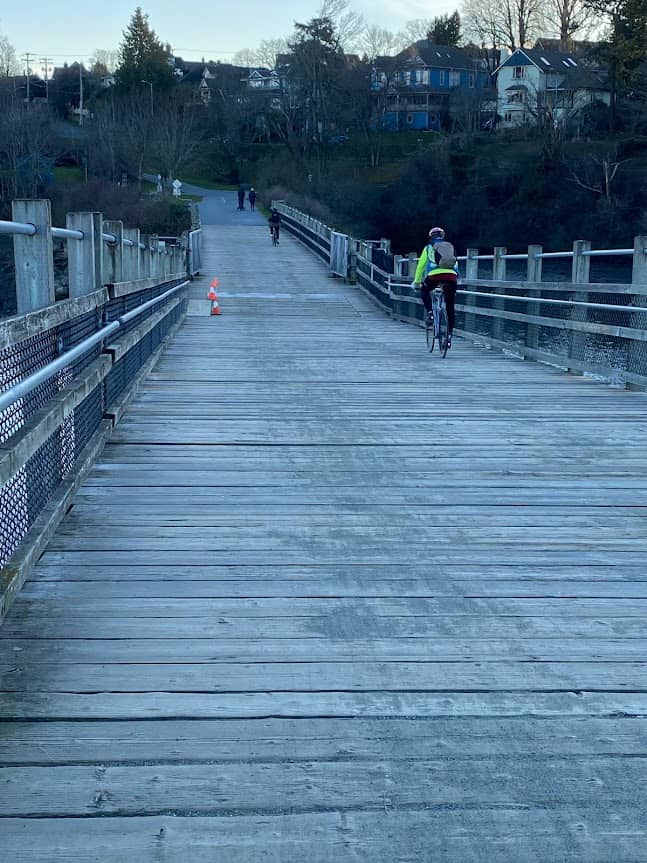 Walk along the harbour
If you're getting off the cruise ship and you just want to walk, you have some good options and both are relatively easy and short.
Westsong Walkway is one of our favourites, although you can walk the David Foster Inner Harbour Pathway all the way from Ogden Point to downtown (close to the Johnson Street Bridge).
Both of these walks are good choices. You can take the cruise shuttle to downtown and walk across the Johnson Street Bridge to access Westsong Walkway.
Visit the Johnson Street Bridge
Worth a walk to and over is the Johnson Street Bridge, beautiful in the day and night time. Perfect for that selfie to capture the harbour views. Note: This is a lift bridge so if you're lucky, you might even see it go up!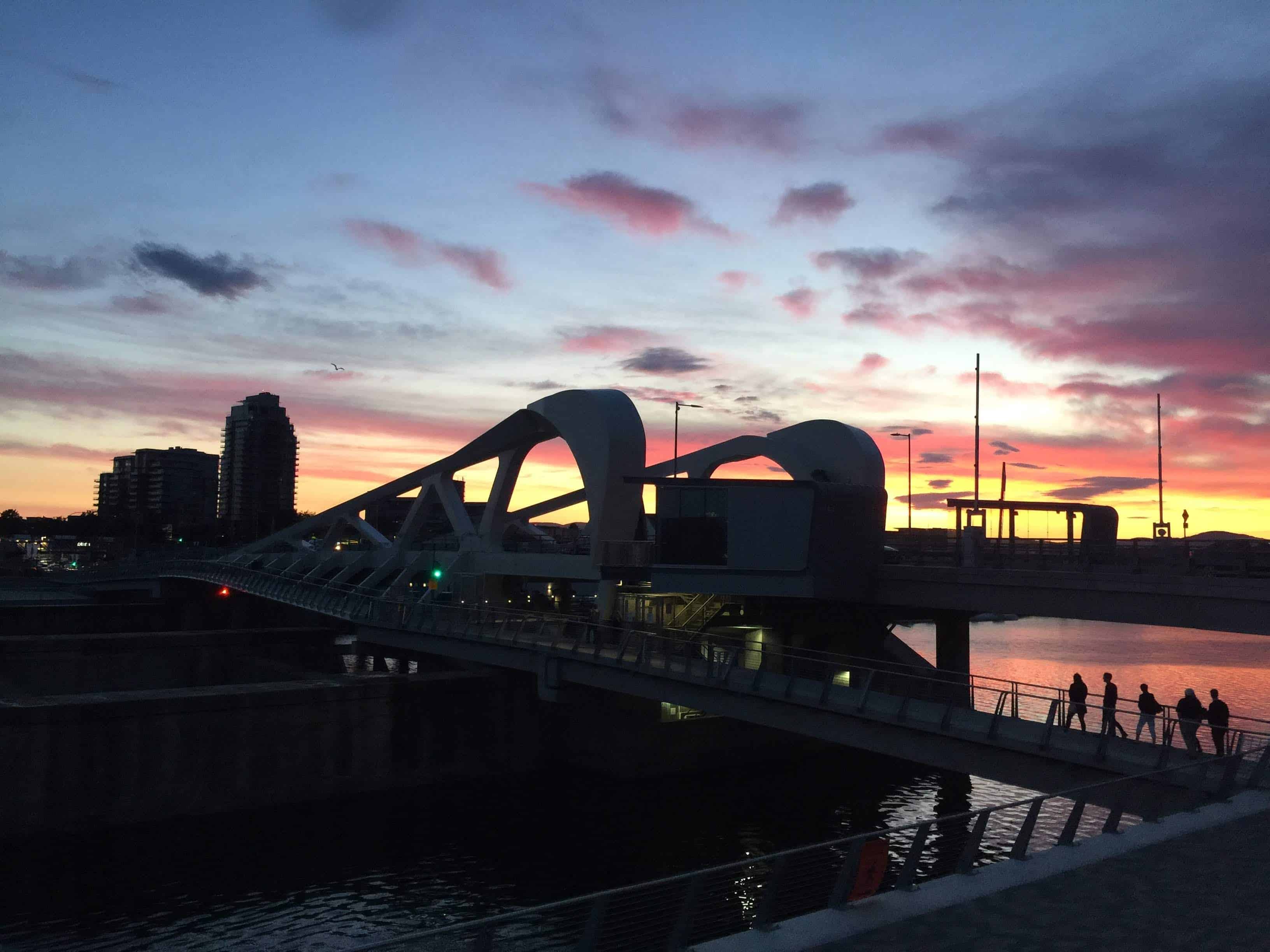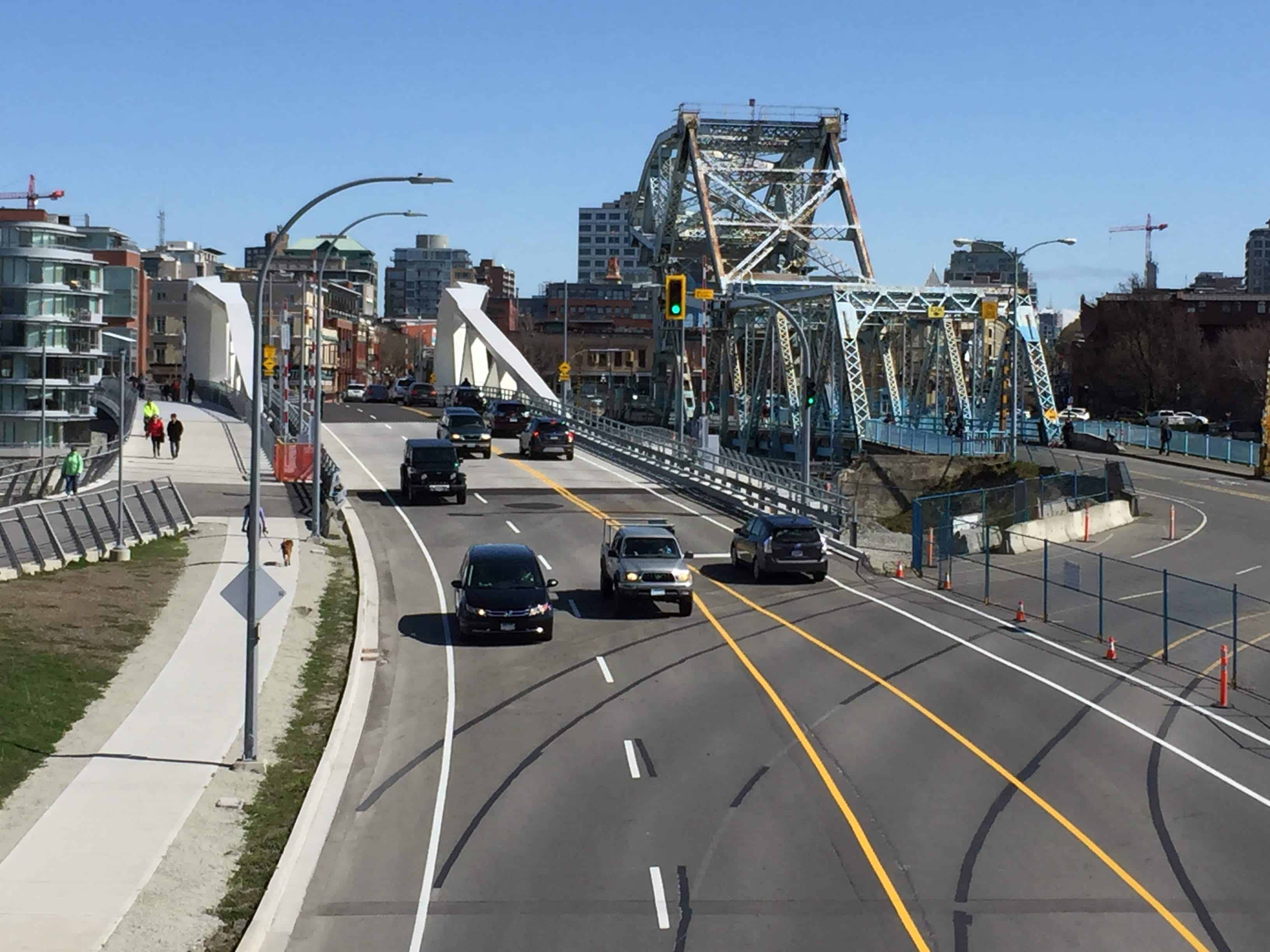 Harbour Tour from downtown Victoria
If you want to see the city from the water, there are water taxis that will take you on various tours for a price.
We personally like the Gorge Tour, and if you can plan to do the tour at a "max ebb" point, you may see the reversing falls at Tillicum Narrows. Check a tide chart for details. You can visit our Gorge Pointe Park post for further details.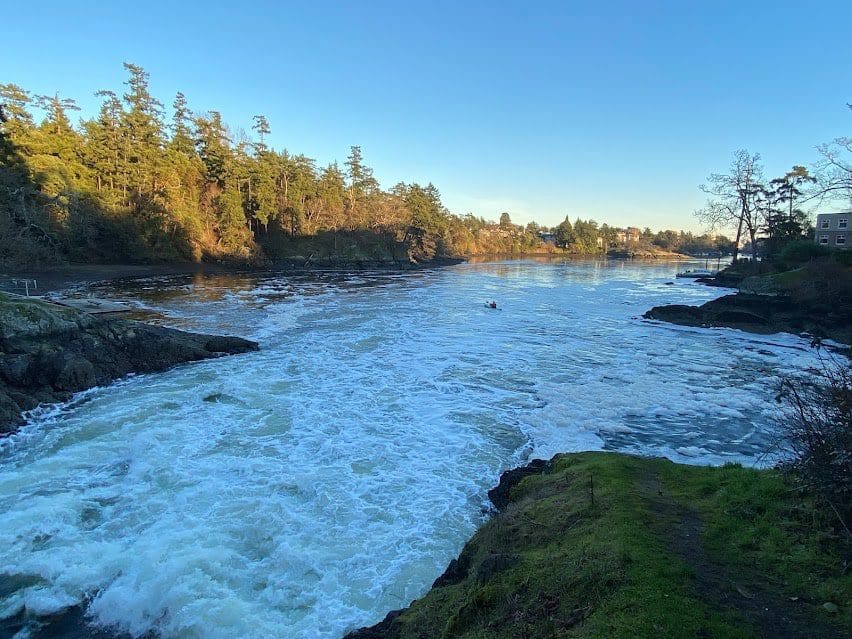 Go to the Victoria Harbour Ferry website for more details on this and other tours.
You can take one of the water taxis to several stops along both sides of the harbour and up the Gorge waterway. Handy when you want a scenic way to shorten your time to get somewhere. The ferry boat captains are knowledgeable and often provide information about the local area.
If you happen to be in Victoria from April – October, on selected days. you can watch the water ballet from many viewpoints within the harbour. It's a fun and memorable experience.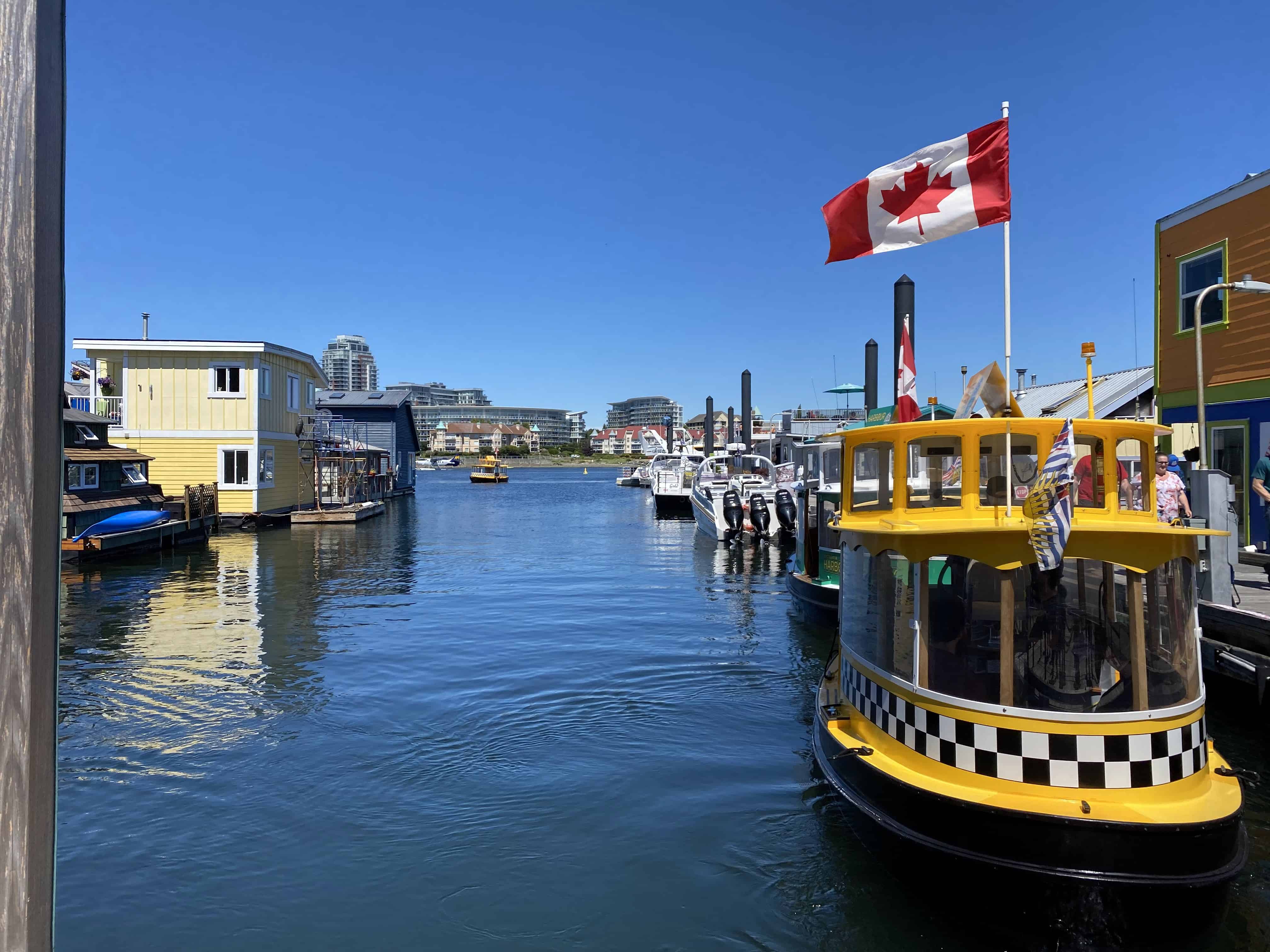 Visit Fisherman's Wharf
Even if you just walk through Fisherman's Wharf once, you'll enjoy the ambiance.
We find ourselves going to Fisherman's Wharf for Barb's Fish and Chips from time to time. They typically open in the spring. Check their website for more details.
Pedal Pub Crawl
Full disclosure on this activity. We've never done this one, mostly because it's always booked when in operation. The Rolling Barrel offers other tours as well as the Pedal Pub Crawl.
Whenever we've seen folks partaking in this activity downtown, they always look extremely happy!
They are due to begin operations again in the spring according to their website. If you try it, leave us a comment so others can also learn about this activity.
Relax at one of the many restaurants
Most of the restaurants in downtown Victoria now have outdoor patios. There has always been a vibrancy to this city including outdoor dining, especially in the summer months.
You will find some great patios that overlook the harbour, or others which are right in the midst of the hustle and bustle of the downtown core. It really is your choice, and you very likely will enjoy your time simply relaxing with a drink or meal.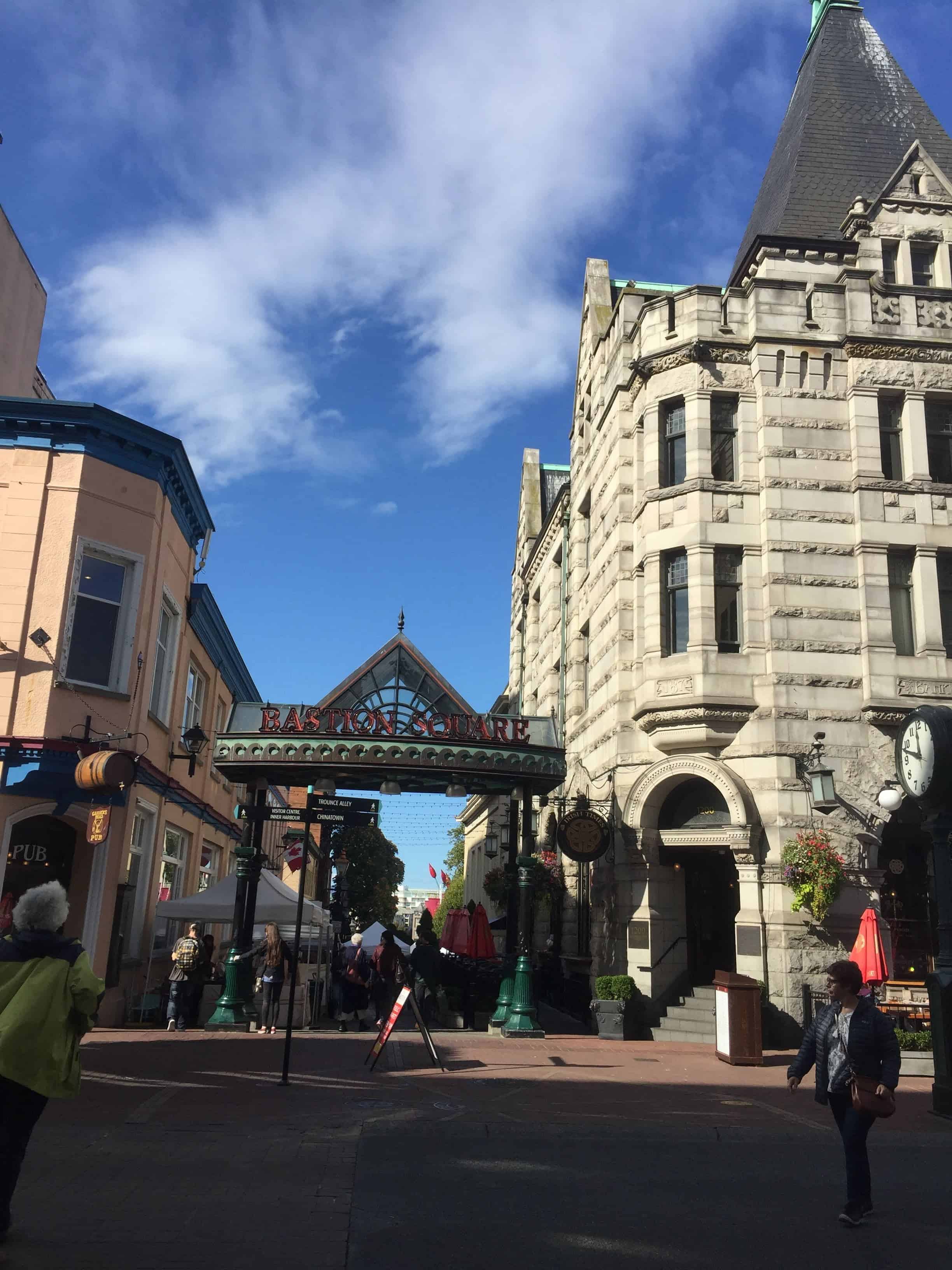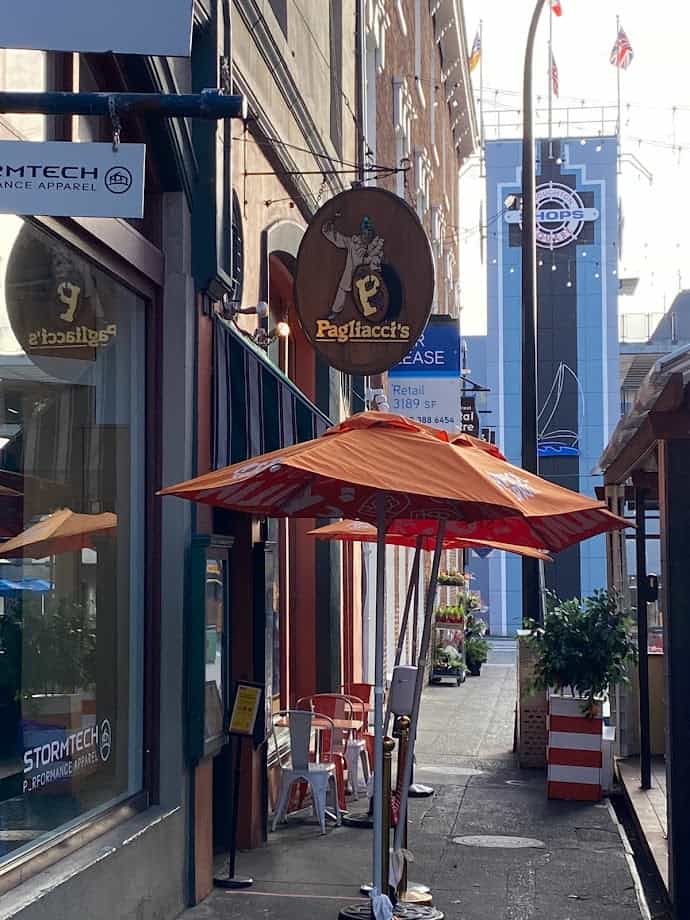 For some ideas on where to go, you can visit our Top Favorite Restaurants and Cafes in Victoria and area.
Horse drawn carriage ride
This is most definitely a unique and historical experience in Victoria..
Click here for more information or to book a carriage ride. The cost is per carriage, up to six people and you can choose from several different tours of varying duration.
Partake in High Tea
The much loved ritual of afternoon tea is embraced and celebrated in Victoria, and venues such as the Fairmont Empress have served thousands over the many years this has been offered. This is a bucket list item for some visitors to Victoria BC.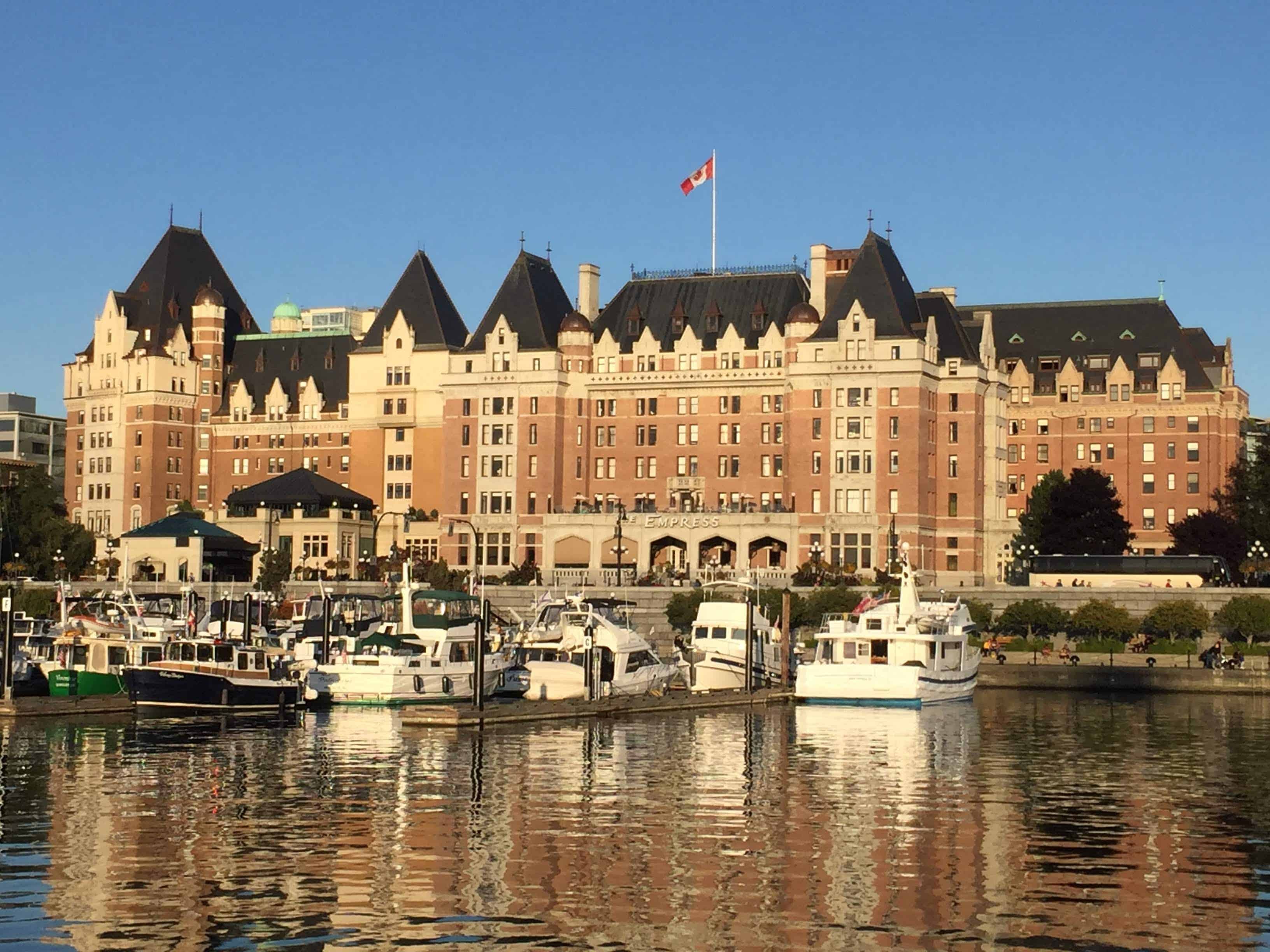 There are other venues as well such as the Butchart Gardens who also provide an extraordinary service.
There are many restaurants offering afternoon tea, so you will find no shortage of options if this is an activity you would enjoy.
If you want a more casual tearoom experience, you may want to visit Murchies. In addition to the tearoom, you can shop at the store, and purchase your favorite tea to take home.
See an IMAX movie
Located within the Royal BC Museum, the IMAX in Victoria has the largest screen in British Columbia. There are some awesome movies to choose from.
We have an annual pass and have not been disappointed with the movies we see here.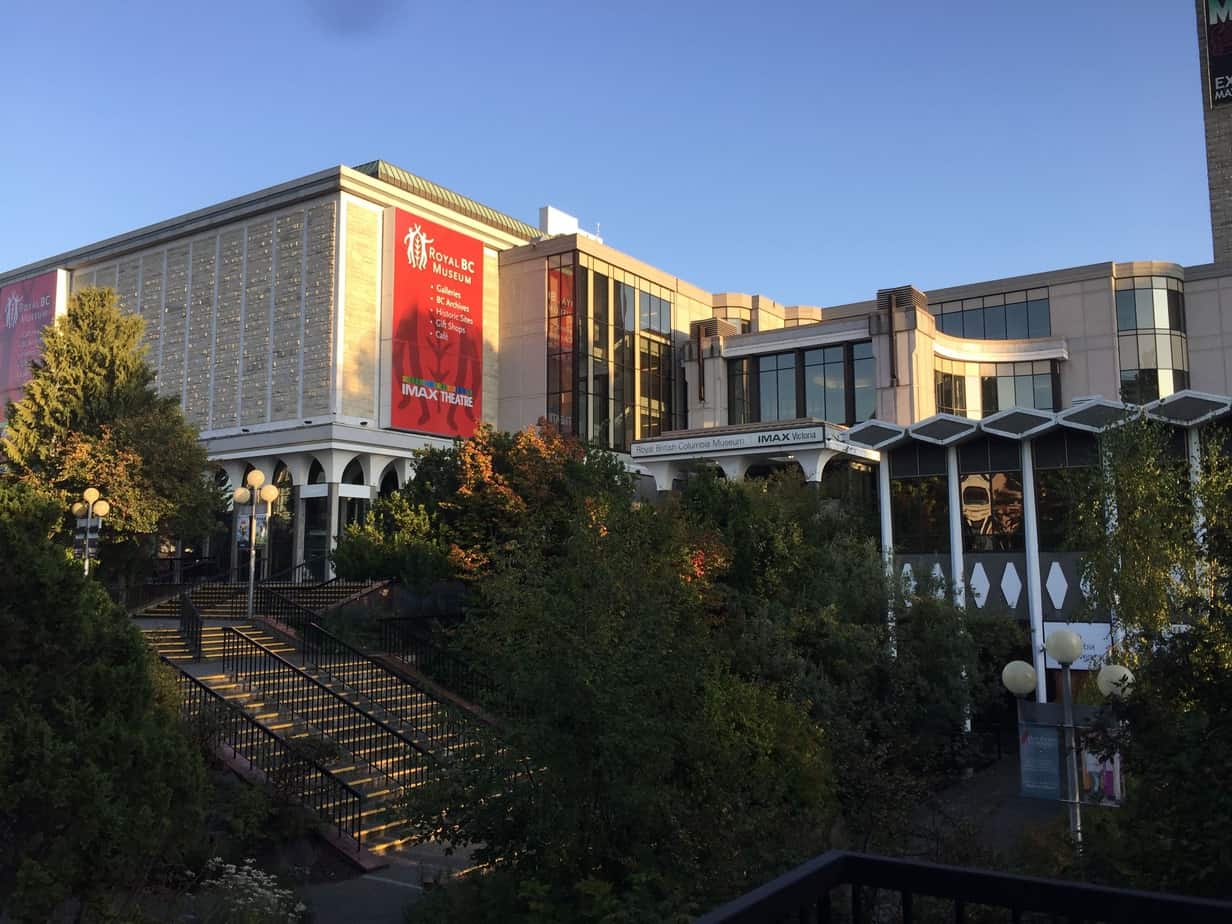 This may be a good rainy day activity, or if you're trying to stay out of the sun for a few hours. You can also see the Royal BC Museum while you're there if you wish.
Tour the BC Legislature
Victoria is the capital city of British Columbia, and as such, the Legislative Assembly of BC conducts business here. The guided tours are free to the public. Check the website for available times for tours. This is one of the many free things to do in Victoria.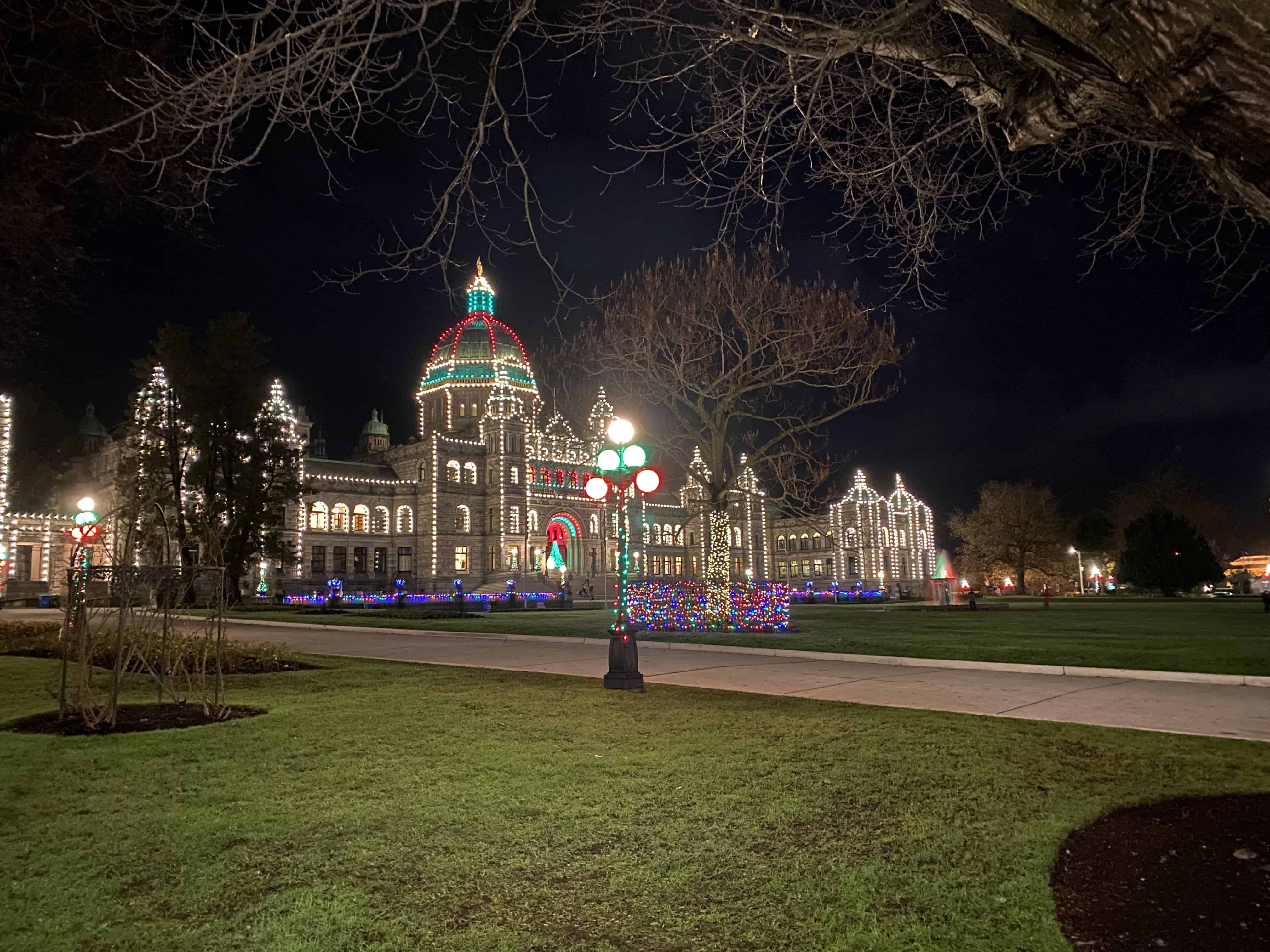 Walk along the Breakwater at Ogden Point
Before you board your ship again, and if you have time, a lovely walk along the Breakwater will give you a last stretch before heading to your next destination or back home! You might even be able to take a picture of your cruise ship from here, depending on whether it's visible from this angle.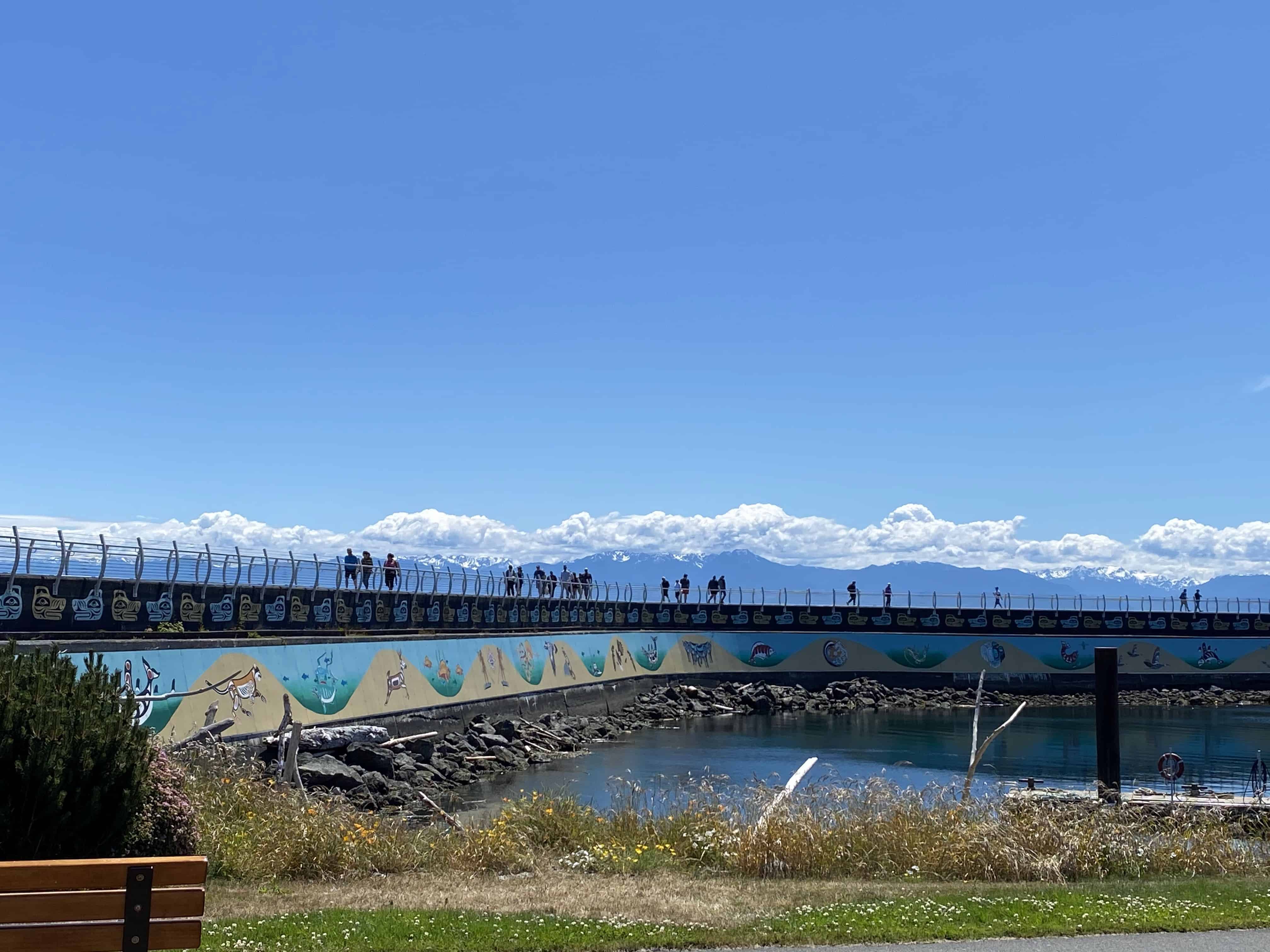 So much more to see and do!
There are in fact so many more activities as you will see by visiting our Victoria travel tips menu, however we know how limited your time is when you're in port for only a few hours.
Whatever you choose to do, slow your pace and you will enjoy your time in Victoria. We are sure you will want to return to spend more time in this beautiful city someday!