This is our list of the best things to do when you only have 3 Days in Oslo Norway.
We last visited Oslo Norway in April 2019 as part of our Denmark to Norway Trip. If you're travelling to Norway, Oslo should be part of your itinerary. In our opinion, three days wasn't enough time, and we fully expect we'll return for another visit in the future.
Oslo is the capital city of Norway, with a population of approximately one million in the metro Oslo area. However, within Oslo City itself the population is closer to 580,000.
How we travelled to Oslo Norway
We had just spent 3 days in Copenhagen, so boarded the train for travel to Oslo. We booked all of our train journeys ahead of time through the Eurail trip planner app. With the app, you can easily see the schedule prior to booking the number of days you will be travelling on trains overall.
Things to Do in Oslo Norway
Oslo Opera House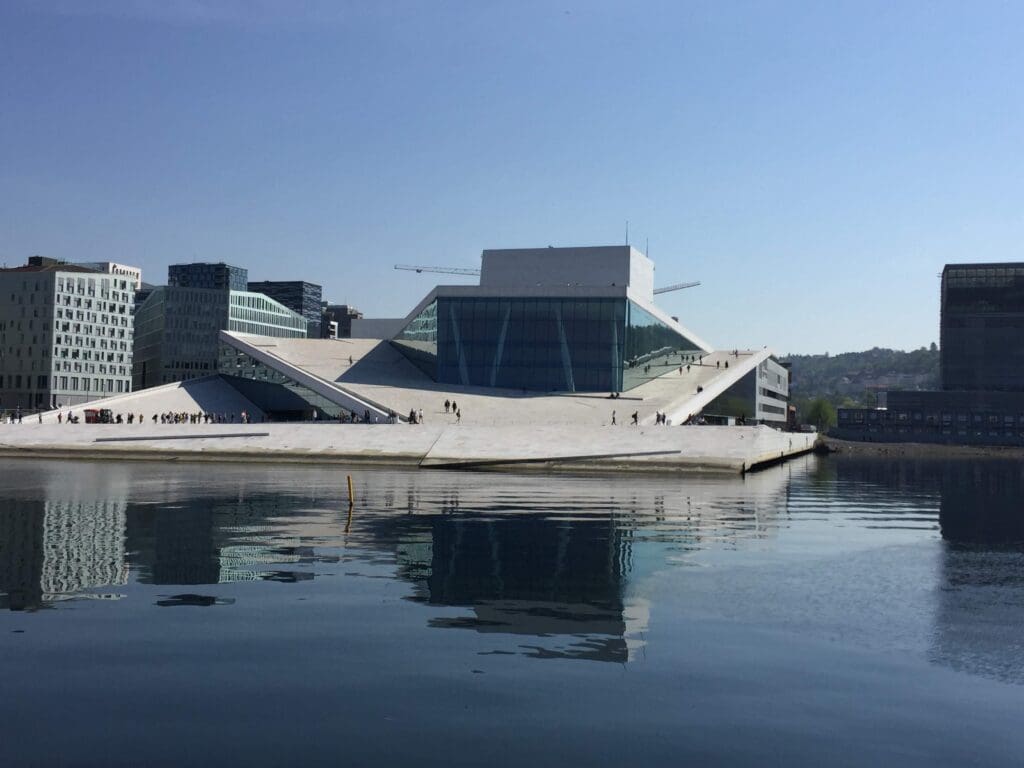 Outside the Oslo Opera House
This beautiful architecturally designed Opera House is home to the Norwegian National Opera and Ballet in Norway. The unique design of this building encourages you to walk up the side and onto the top of the opera house. You will be walking safely on it's roof. There's even braille to assist visually impaired people navigate.
It's meant to give the appearance of the surrounding slopes. To us, the building looks as if it's rising up straight out of the water. It's an interactive design which welcomes people.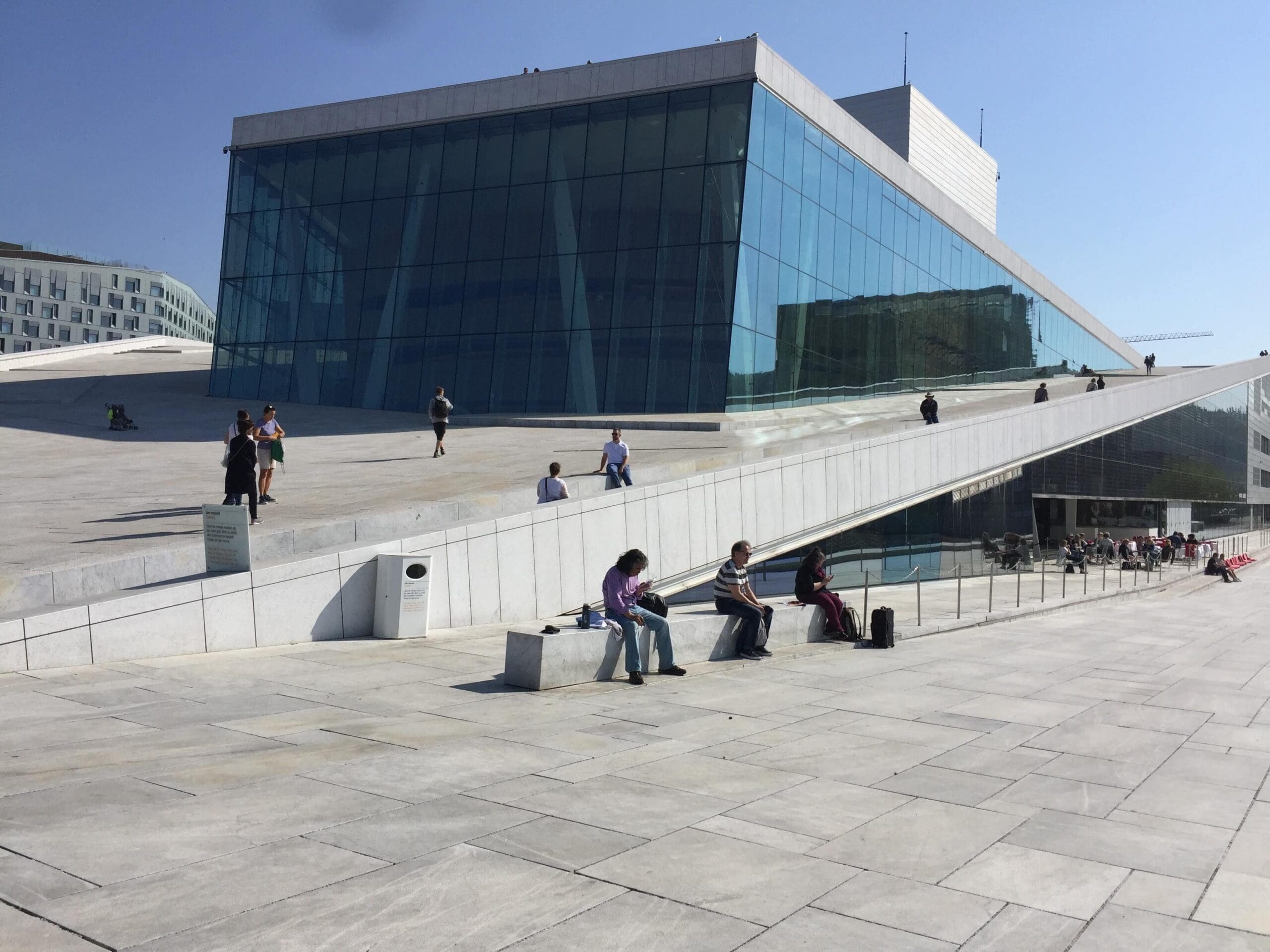 Views from outside the Oslo Opera House
In addition to views shown above, from atop the roof you will enjoy a variety of outstanding views of the harbour and of Oslo City. Being on the roof top is a fun experience which we repeated often while in Oslo.
Inside the Oslo Opera House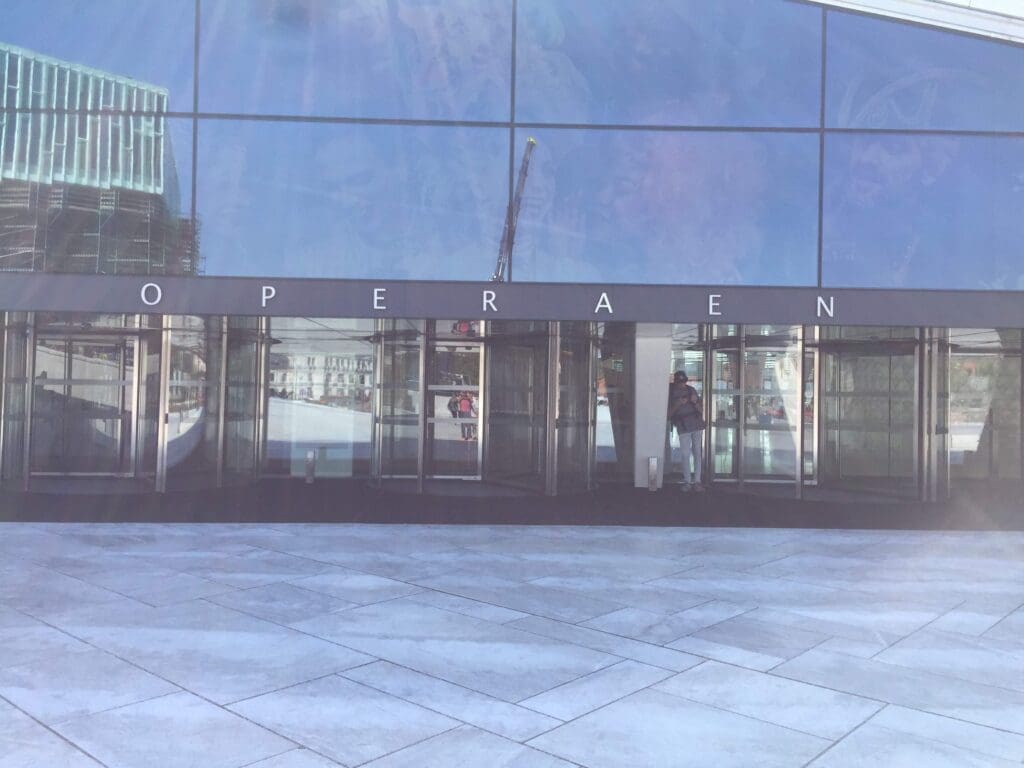 Don't miss the opportunity to go inside and explore the interior of this beautiful building. We enjoyed the inside almost as much as climbing up on the roof of the Opera House!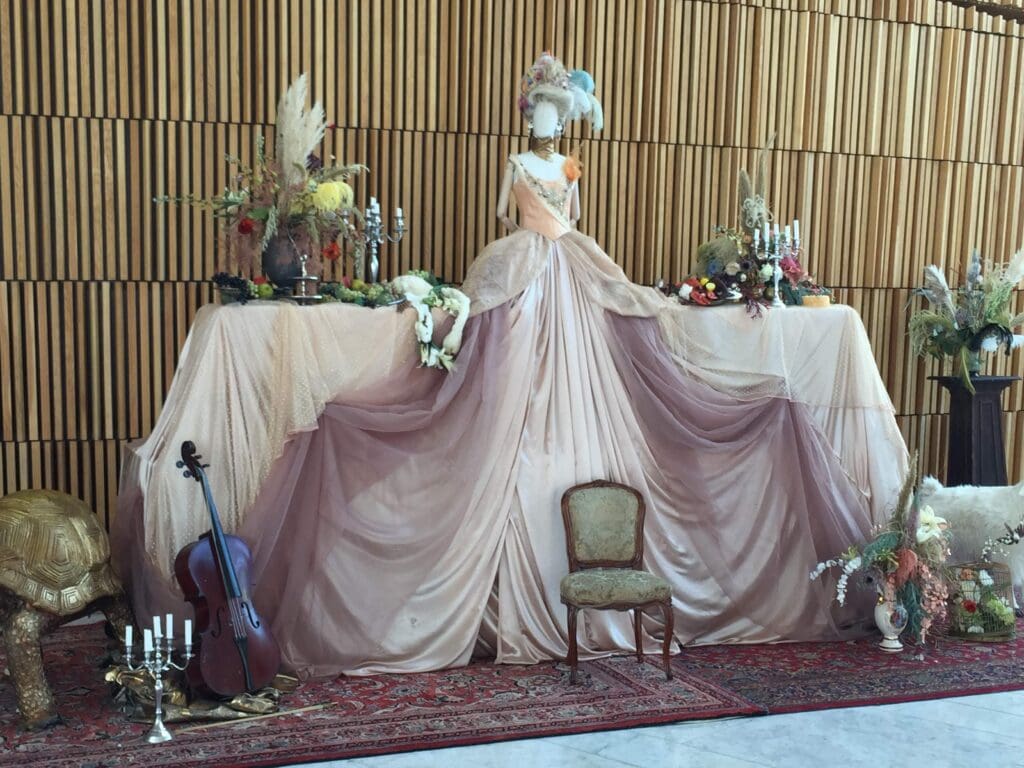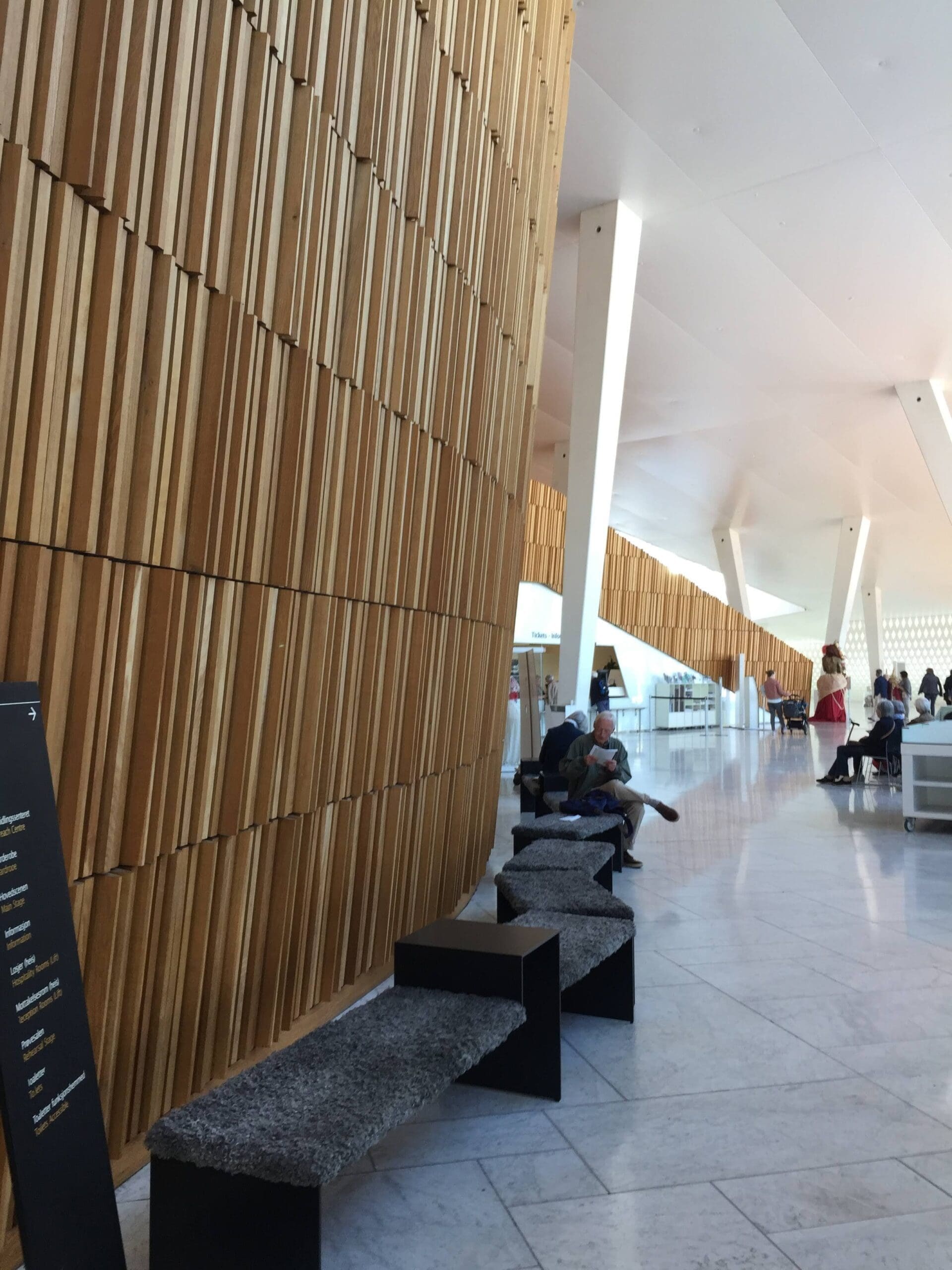 See the Opera or Ballet at the Oslo Opera House
Of course, this building is used for opera and ballet performances, so if you enjoy opera or ballet, check their website to see what's on while you're there.
Akershus Fortress
The medieval Akershus Castle and surrounding buildings were completed in the 1300's. If you're a history buff, this is the place for you! We spent hours wandering around Akershus. Akershus Castle and Fortress was built originally to house and protect the Royal family, and has also been used as a military base and as a prison. There are so many interesting displays and buildings to see. One of Gail's favorites was the display with coins. We learned about the 42 million emergency credit coins issued during Charles XII reign in the 1700s.
You will also find the "National monument for victims of World War II". It's a large woman next to a smaller man on a pedestal. There are other interesting and unique monuments at Akershus, as well as appropriately placed signs and information throughout. There are guided tours offered in the summer months. Unfortunately, this wasn't an option while we were there in April. We did okay on our own, however if you have an opportunity for a guided tour, you will probably learn even more.
In addition to the fascinating history contained throughout Akershus, you will enjoy many wonderful views from high atop the hill.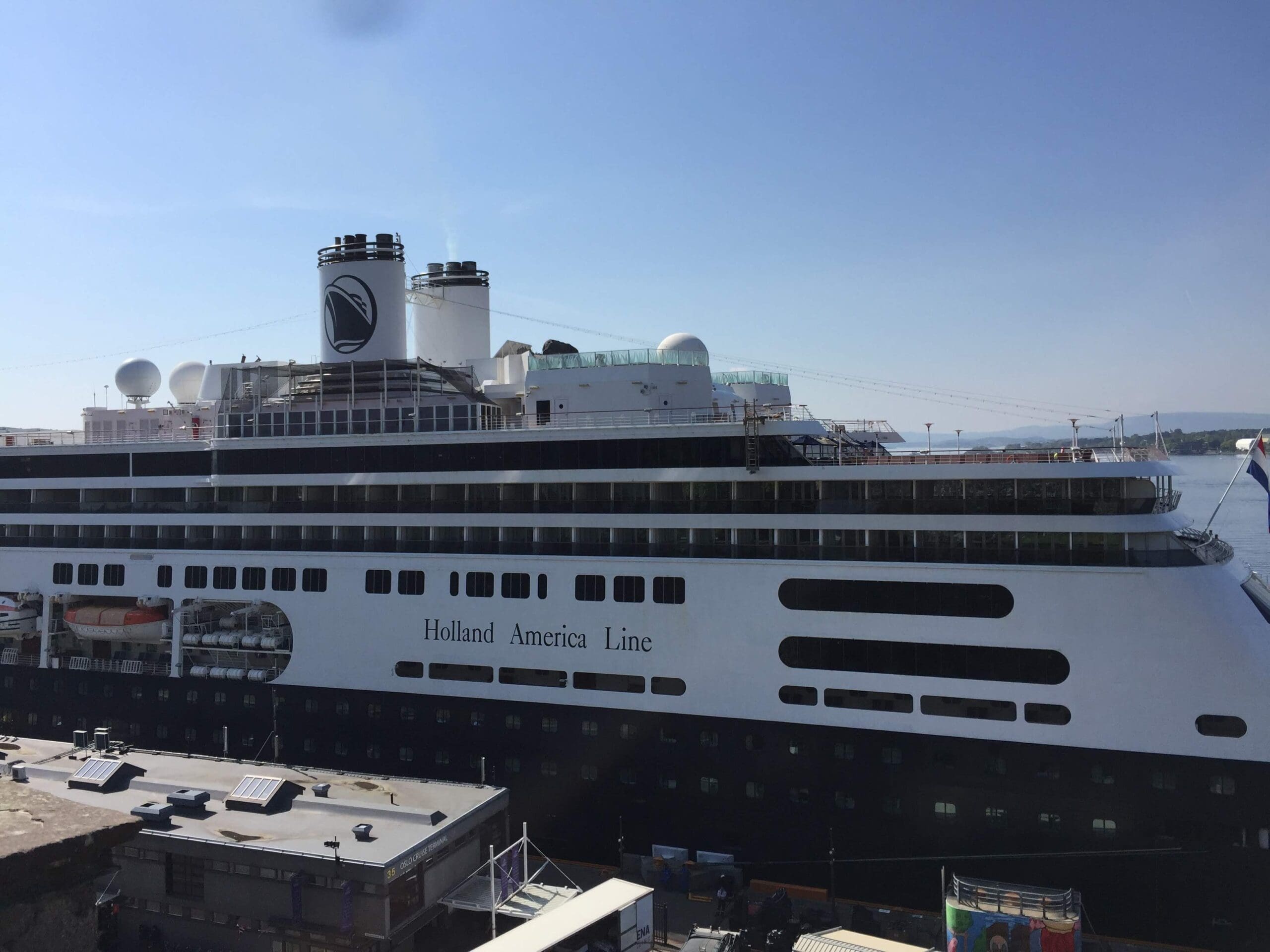 SALT
Apparently, this nomadic art display and the area surrounding it looks quite a bit different since we were there in 2019. It is now an art and entertainment hub, a real gathering space with restaurant and saunas. There are 6 saunas which can be booked, and six stages for entertainment. Definitely worth a look if you're in Oslo. We'd love to see updated pictures from anyone who is there!
Walk along the Oslo Harbour Promenade
You will find this to be a pleasant and relaxing walking experience. There are numbered markers and descriptions for each stopping/ viewing point along the way. We got caught up in conversation and only once missed the marker and had to backtrack. All part of the experience!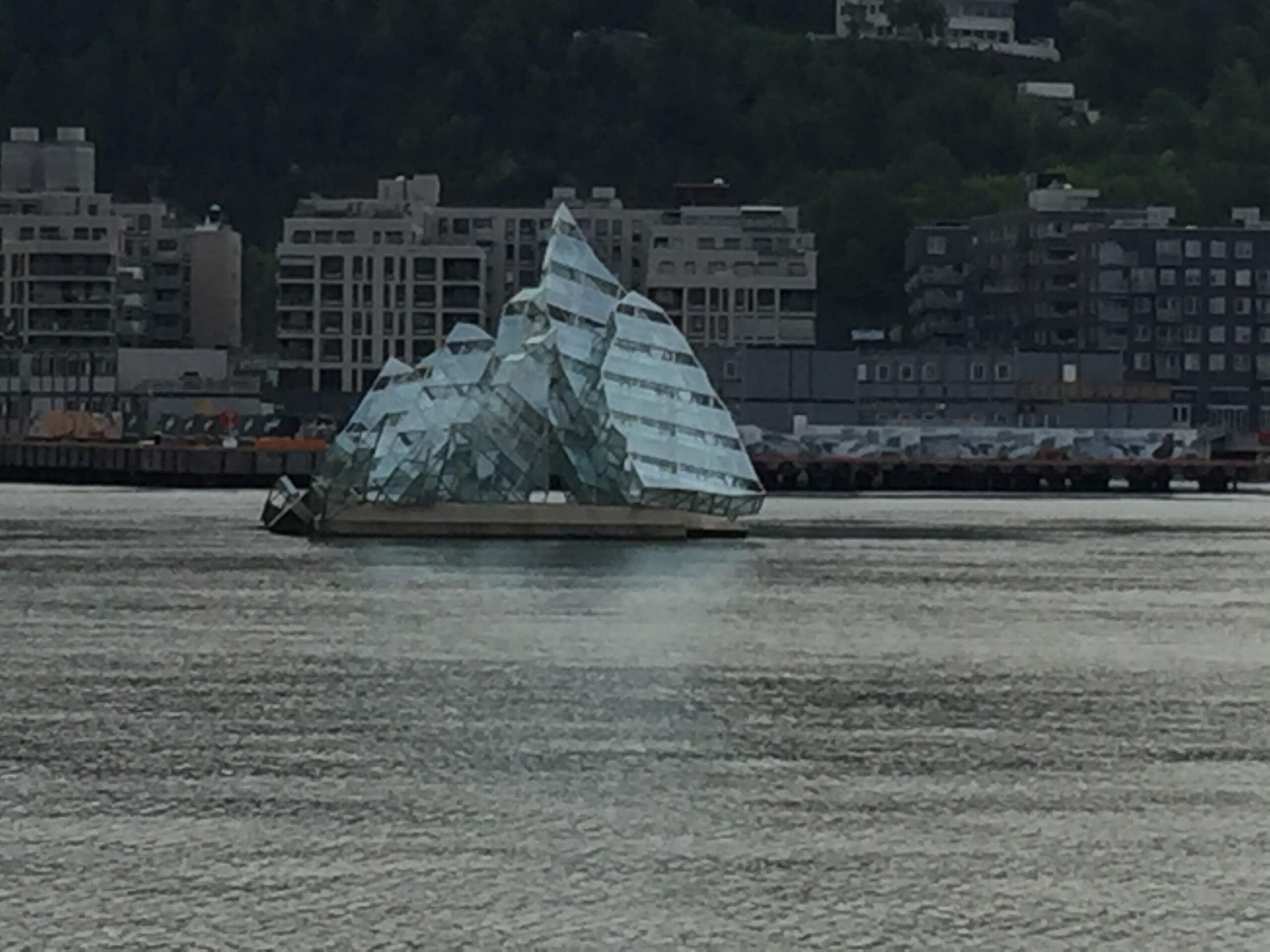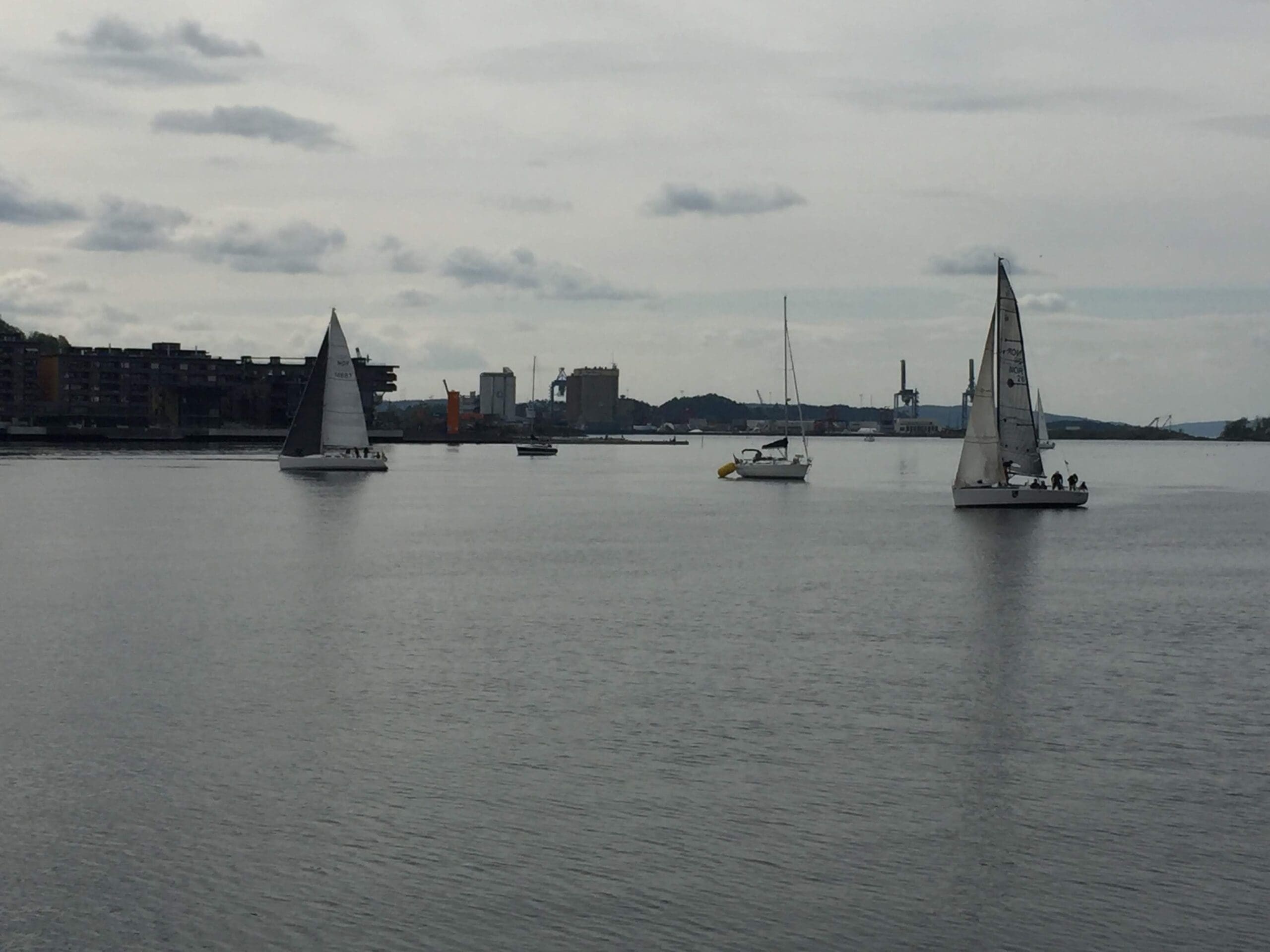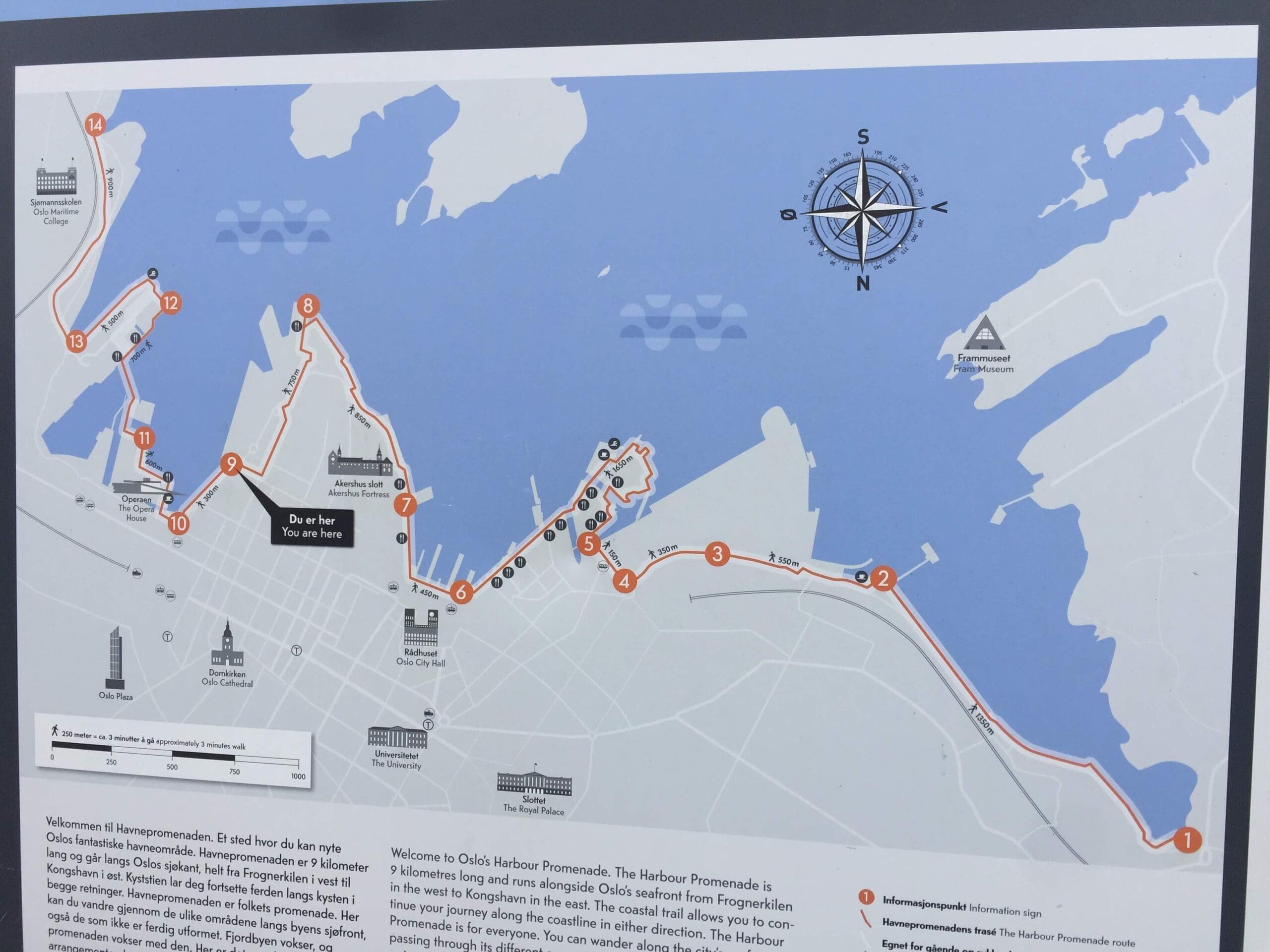 Aker Brygge
Aker Brygge is a trendy area in Oslo with shopping and restaurants along the water. There's also a marina which is a wonderful place to sit and relax.
Royal Palace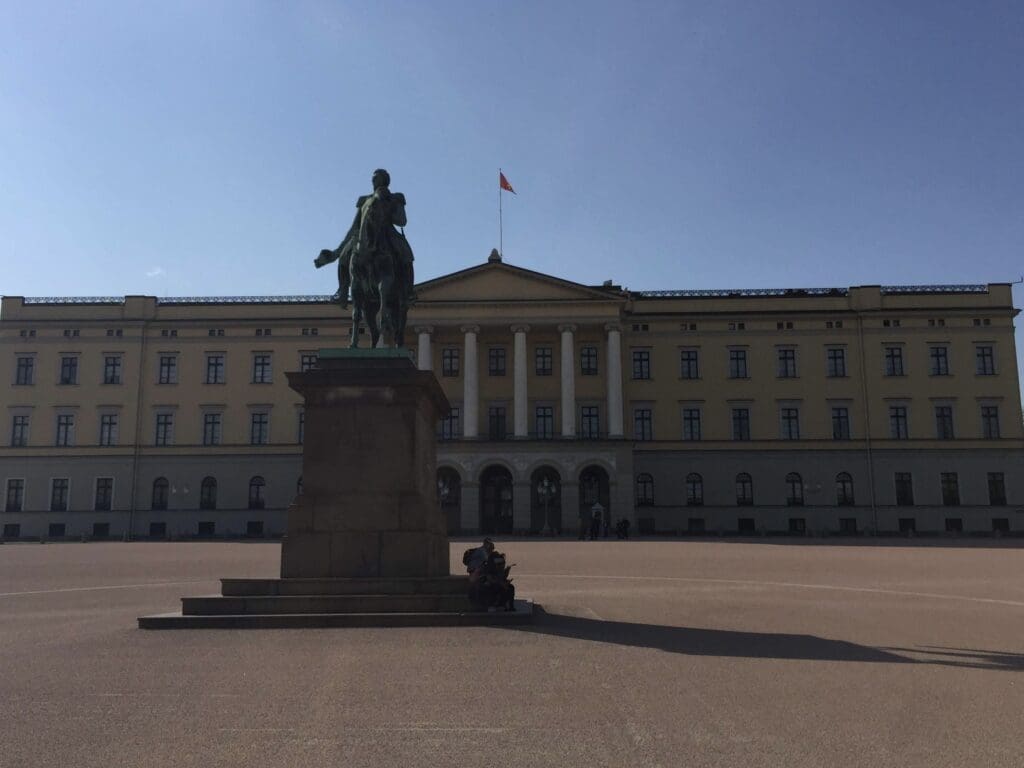 If you're able to, plan your visit to the Royal Palace around the time of the changing of the guard. It happens daily at 1:30 p.m., so you'd have to go up Karl Johans Gate before that, then wait until it begins. From start to finish it will take approximately 40 minutes.
We've seen the "Changing of the Guard" in several cities around the world that we've visited. Apparently, it's one of the things we enjoy watching, and it's interesting to note the differences in the various ceremonies from place to place.
Slottsparken
This is the Palace Park. You will, without a doubt, enjoy strolling around in the park and the public areas of the palace grounds. The Princess Ingrid Alexandra Sculpture Park was our favorite part of the walk, with all the fun sculptures. If you have kids with you, our guess is they will enjoy this area.
City Hall
Oslo City Hall opened in 1950. The tower is said to have the largest carillon in the Nordics. Groups can book guided tours for a cost, however it's free to just walk inside to check it out. Obviously you won't have access to all areas, but still worth a visit if you're there.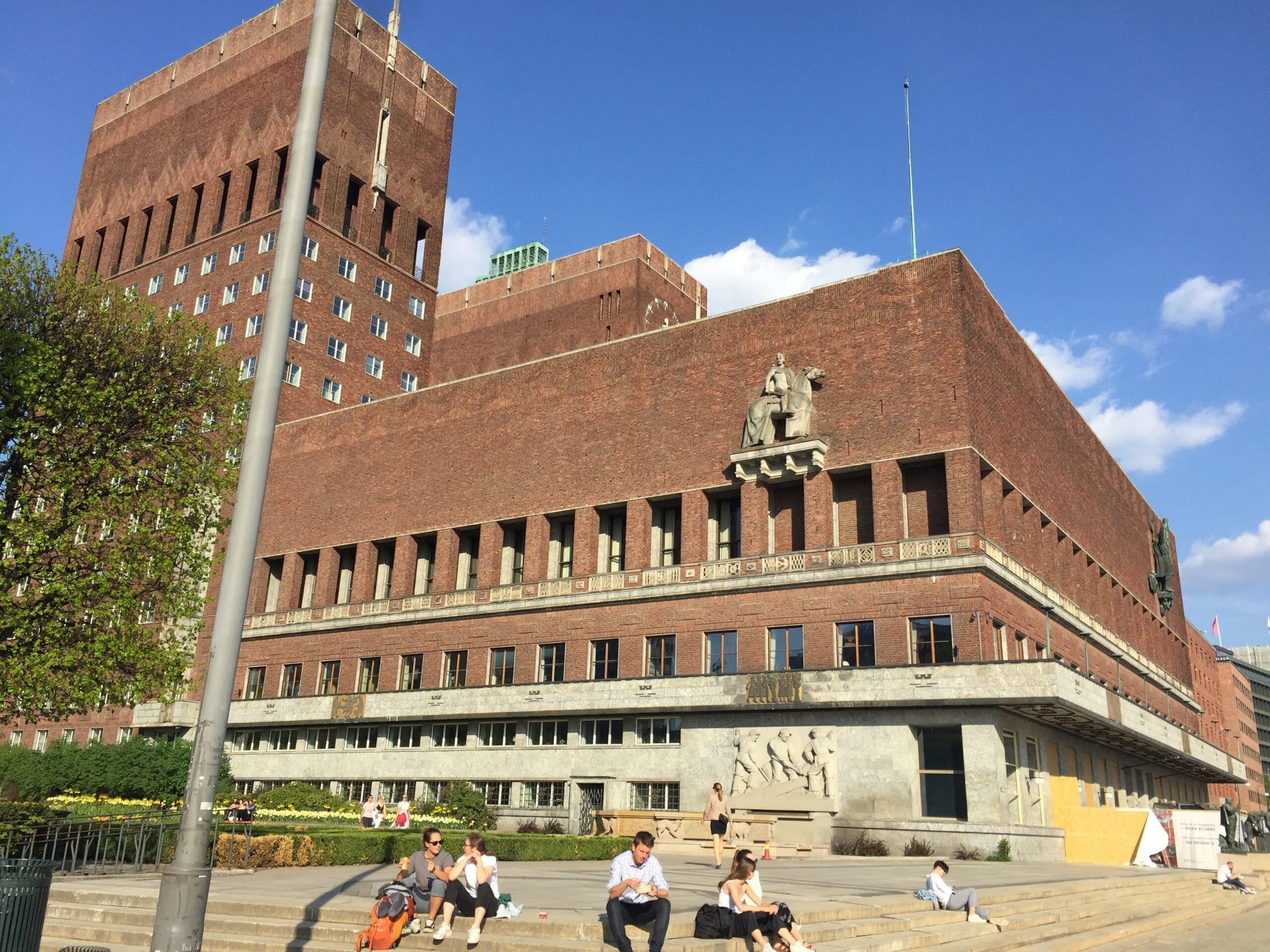 Nobel Peace Center Museum
Unfortunately, when we were last there, the vast majority of this building was under renovation. They've since added a new exhibition on Alfred Nobel and the history of the Peace Prize. There's a different exhibition each year acknowledging the current Nobel Peace Prize laureates. In addition, there's a medals room and other events and exhibitions which change. They offer guided tours.
This will be on our list of things to do when we return.
Vigeland Sculpture Park and Museum
There are over 200 sculptures in this open air exhibit dedicated to Gustav Vigeland
Based on our research, we knew this particular activity would take us the better part of a day, and because of timing and other activities we had planned, we had to make a choice to defer this until our next visit to Oslo. This is a reality when you want to visit a city and have a limited amount of time. We look forward to seeing the exhibit the next time we're in Oslo.
Munch
This museum didn't open until October 2021, so we haven't seen it. It was being advertised while we were there in 2019. It's a museum dedicated to Norwegian artist Edward Munch. The artist willed all remaining artwork in his possession to the City of Oslo, and in 2008 the City decided to build a new museum to honour his works of art. The project was discontinued in 2011, then following another vote to continue in 2013, construction began in 2015.
Munch is one of the largest museums of a single artist on display in the world. Combined with other donated artwork from his sister and others, means they have nearly half of his artwork here.
According the the Munch website, the famous "Scream" is on display here. There are several versions of this art piece, eight of which are in the museum's collection. One of three (a drawing, a print or a painting) will be on display when you attend. If we lived closer we would go often to see all three versions.
Viking Ship Museum
This museum closed in September 2021 after 95 years in operation for a major renovation. It will reopen in the year 2026. We hope to see the new museum on a future visit in 2026.
Visit the Fashion District and walk Karl Johan's Gate
The Fashion District was fun to walk around and do a little window shopping, or actual shopping if you choose.
If you walk up Karl Johans Gate towards the Royal Palace, you will see great architecture and enjoy a variety of shopping options.
In case you're not aware, Freia is Norwegian Milk Chocolate. In the event you like chocolate as much as we do, this would be a great option to satisfy your sweet tooth!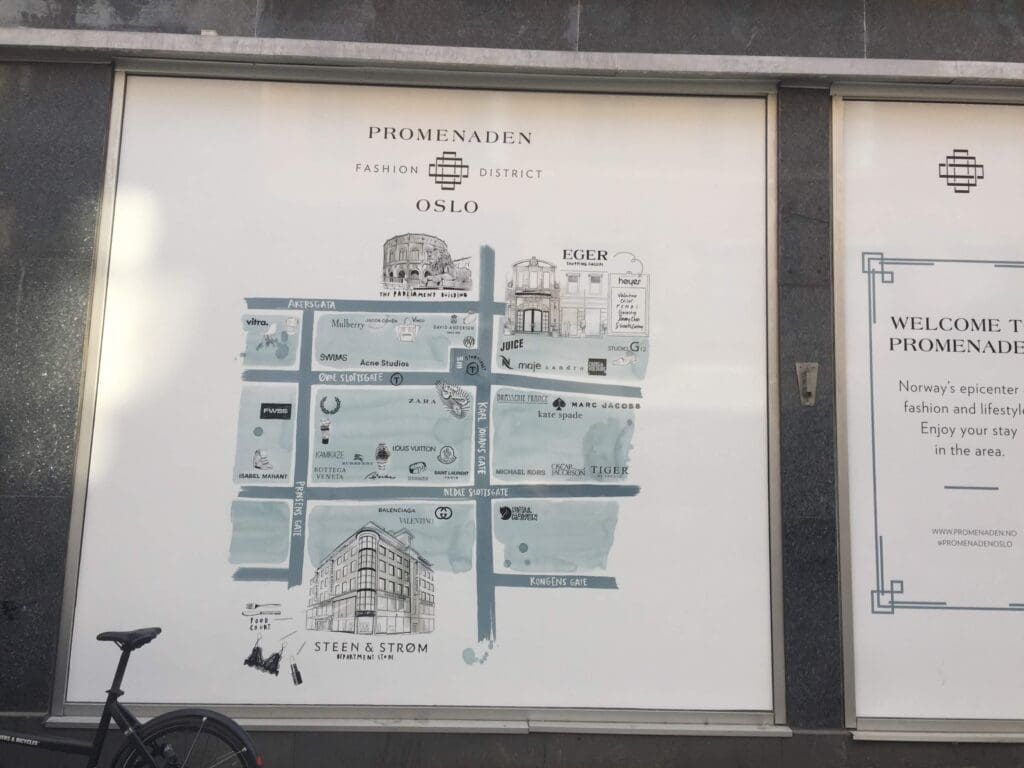 Deichman Bjørvika Library
The Deichman Bjørvika opened in June, 2020. Bjørvika is the revitalized port district in Oslo.
We really like public libraries. However, a library isn't just a library anymore. Most modern designed libraries are community gathering spaces, and include so much more than a place to get books and study. This library is six stories tall and according to the website and includes "literature, reading and study places, stages, cinema hall and workshops".
The Deichman Bjorvika Library was named best new library of the year last year by the International Federation of Library Associations and Institutions.
This is definitely on our list to see when we return to Oslo.
Oslo-City
This isn't touristy at all. It's a shopping mall that was close to our hotel. It is, however where we bought some souvenirs (clothing) for our granddaughter. The styles were very different from the clothing children wear in Canada and was of excellent quality. She wore what we bought for her until she outgrew it. We stopped by the shopping centre from time to time to pick up snacks, coffee and other items.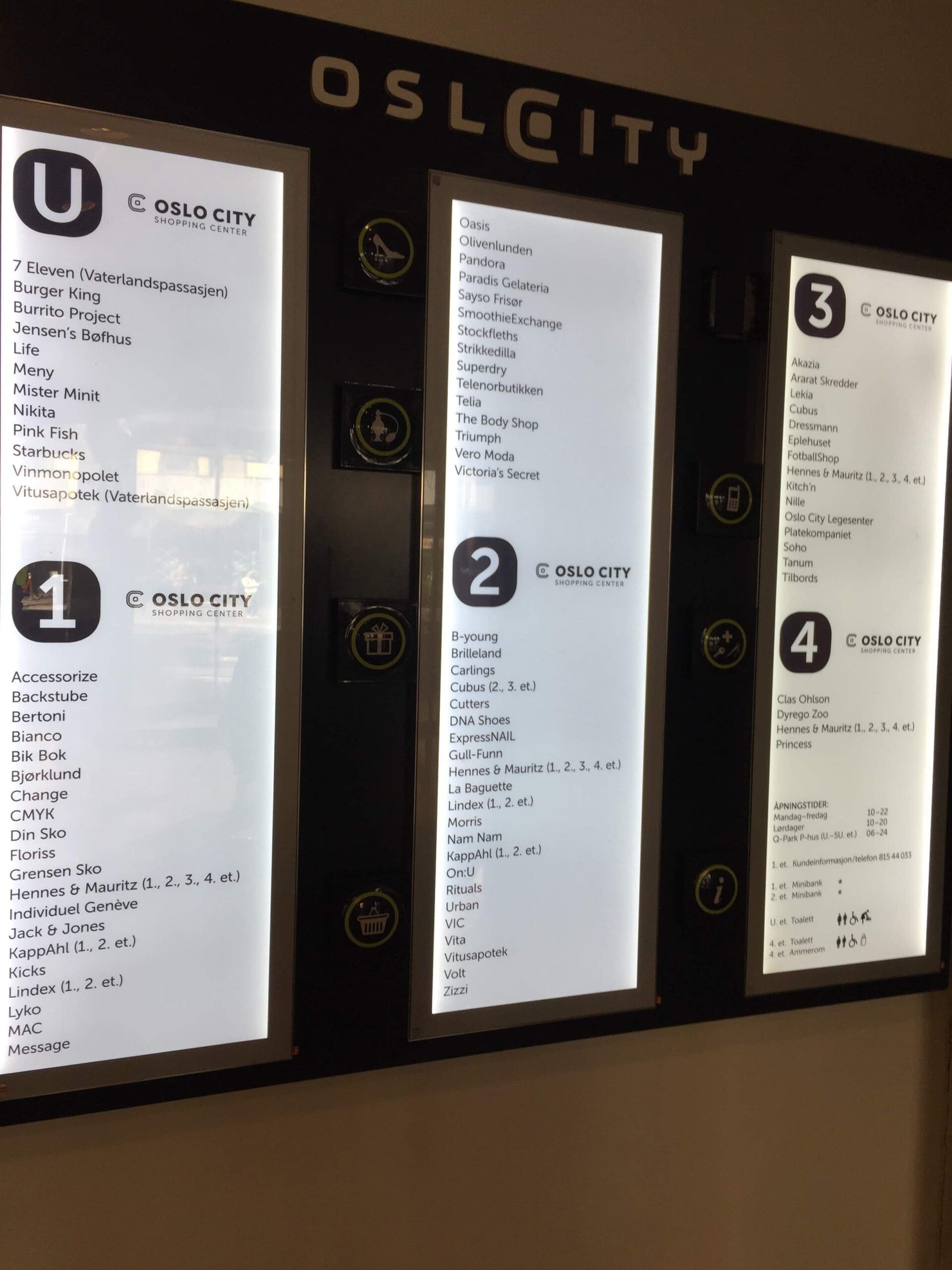 Where we Stayed in Oslo Norway
For our 3 days in Oslo Norway, we stayed at the Thon Hotel Terminus. It was a very nice clean room, and our price included continental breakfast and an evening meal. Based on our experience, we highly recommend this hotel!