Top Things to do in Seattle WA 2022
This is our list of Top Things to do in Seattle WA 2022 compiled from our last few trips to Seattle. Our latest visit was February 2022. This article also covers options for travel to Seattle, and where we stayed on our latest trip.
Most of the activities noted are downtown or near the waterfront and are walkable from many hotels. Seattle is quite a "hilly" city. Living in Victoria, BC, we are accustomed to hills, however it's something to be aware of if you've not visited before. Supportive and comfortable footwear will serve you well.
If you're travelling with luggage (more than a backpack), you may wish to take a taxi or train to drop off your luggage at your hotel before exploring this beautiful city on foot.
Getting To Seattle
Seattle is accessible by air, ferry, train, bus or vehicle.
Your mode of travel will depend on the distance you're travelling from, your originating city/country, personal preference, time constraints and budget.
Airline
SeaTac is an international airport. There are 30 airlines connecting with SeaTac, including 91 non-stop domestic and 27 international destinations.
From where we live, getting to Seattle by air is a quick flight with Alaska Airlines, which we took in December 2021. This short flight is less than 30 minutes. Prior to December last year, we also flew on Westjet Airlines to Seattle, a bit longer due to a connecting flight through Vancouver, BC.
When you arrive at the airport in Seattle, follow the signs for the shuttle (if required) to get to the train.
You can walk rather than wait for the airport shuttle (more of an airport cart). It's not far, and we found the shuttle doesn't seem to come often enough for waiting to make sense. You will purchase a paper ticket or an ORCA card to use on the train and transit while you're in Seattle. We put $20 on each of our ORCA cards as we travel to Seattle often enough that a loaded card is feasible.
Ferries from Victoria, BC
There are two ferries which generally travel from Victoria BC to Washington daily.
However, like many other companies in the travel industry the pandemic has affected some operations for the ferries.
The most direct ferry, the Clipper. The Clipper travels from downtown Victoria to Pier 69 in downtown Seattle and takes about 2 hours 45 minutes. This is easily the most direct and cost effective way for us to get from Victoria to Seattle.
The second ferry, called MV Coho is operated by Black Ball Ferry Lines. It travels from downtown Victoria to Port Angeles. From Port Angeles, you then take a bus to Bainbridge Island, then it's a very short ferry ride to Seattle. This is the journey we took in February 2022 on the MV Coho.
Driving, bus or train from Vancouver, BC
From Vancouver, you can drive or take the bus. Although the Amtrak train was a viable option before COVID, and hopefully will be again soon, it's currently non-operational without a specified date to restart. If you're interested in this option, check their website for updates.
Cantrail is the bus service and is currently operational to take passengers to Seattle from Vancouver. Check their schedule online for availability and to book.
If you have a vehicle, you would drive for just under 3 hours south on the I-5 Highway.
For us, starting our journey in Victoria, we would still need to take the ferry to go to Vancouver to utilize any of the options leaving from Vancouver.
If you're travelling from other parts of the world, arriving through Canada may not be feasible if you're visiting only Seattle, however if you're visiting Vancouver or Victoria in British Columbia as part of your overall trip you may wish to keep these options in mind.
Top Things to Do in Seattle WA 2022
If you're in Seattle for a few days, you may want to consider the Seattle City Pass if there are attractions included you plan to see. Note that once you visit your first attraction, you will have a limited number of days to visit the remainder of the attractions.
Visit the Space Needle
Going to the Space Needle is considered by many to be a must see attraction when visiting Seattle.
You will enjoy unique views of the city from the top of the tower, and the glass floor one floor down is also a unique experience.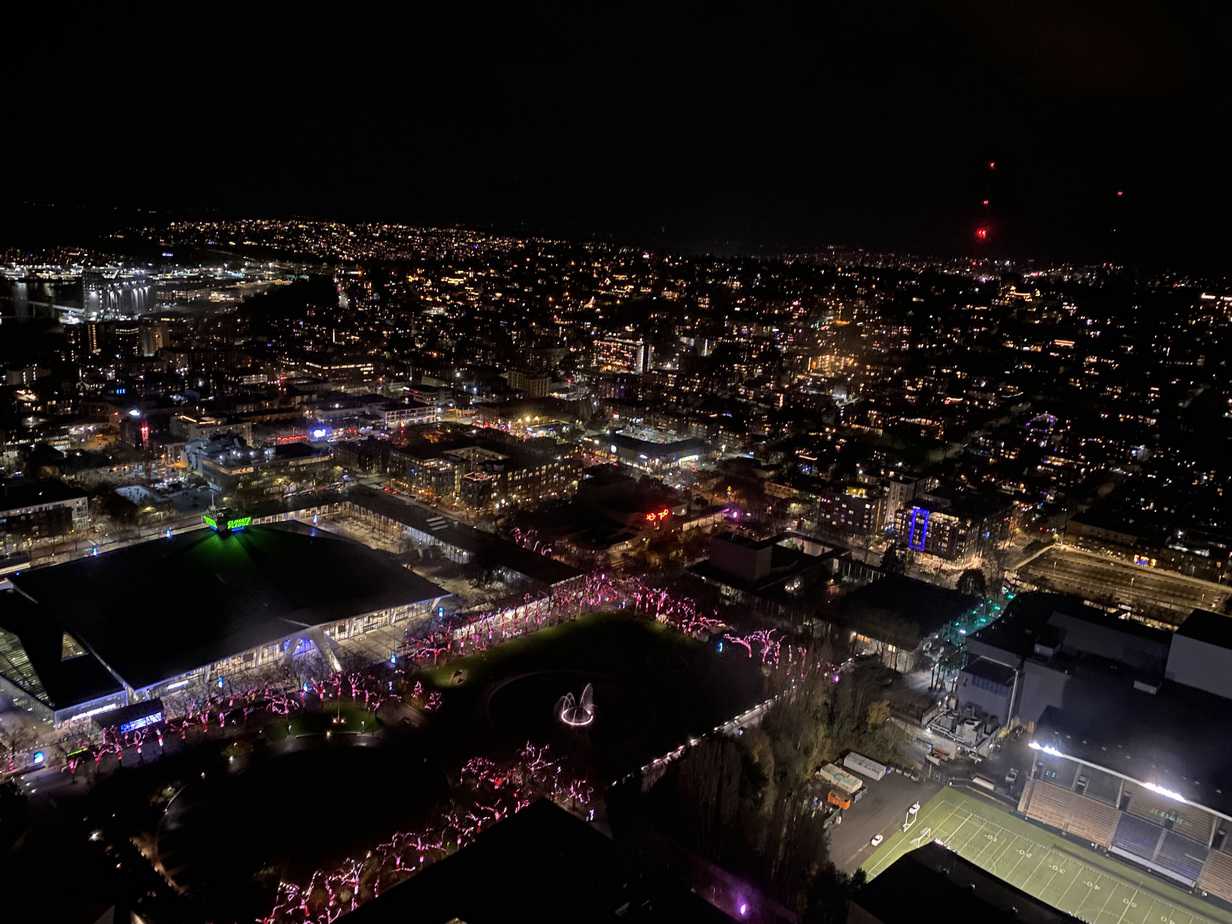 Booking ahead is a good idea, and you should consider this if available. Check their website for hours of operation, more details, any updates, and to purchase advance tickets.
There really isn't a good or bad time to visit the Space Needle. Unless it is a foggy day – you wouldn't see much of anything if the observation decks are obscured. It depends on the experience you are seeking and your own schedule. If timing permits, watching sunset over Seattle from atop the space needle, in our opinion, can feel extra special.
Shop at Pike Place Market
There are more than 500 shops at Pike Place Market. It's difficult to pack all the shopping and sight seeing into a single visit. If you have the time, you will want to come to Pike Place Market more than once during your stay. Take your time browsing as there are many unique stores and stops here. Visit the website to plan your trip to Pike Place market.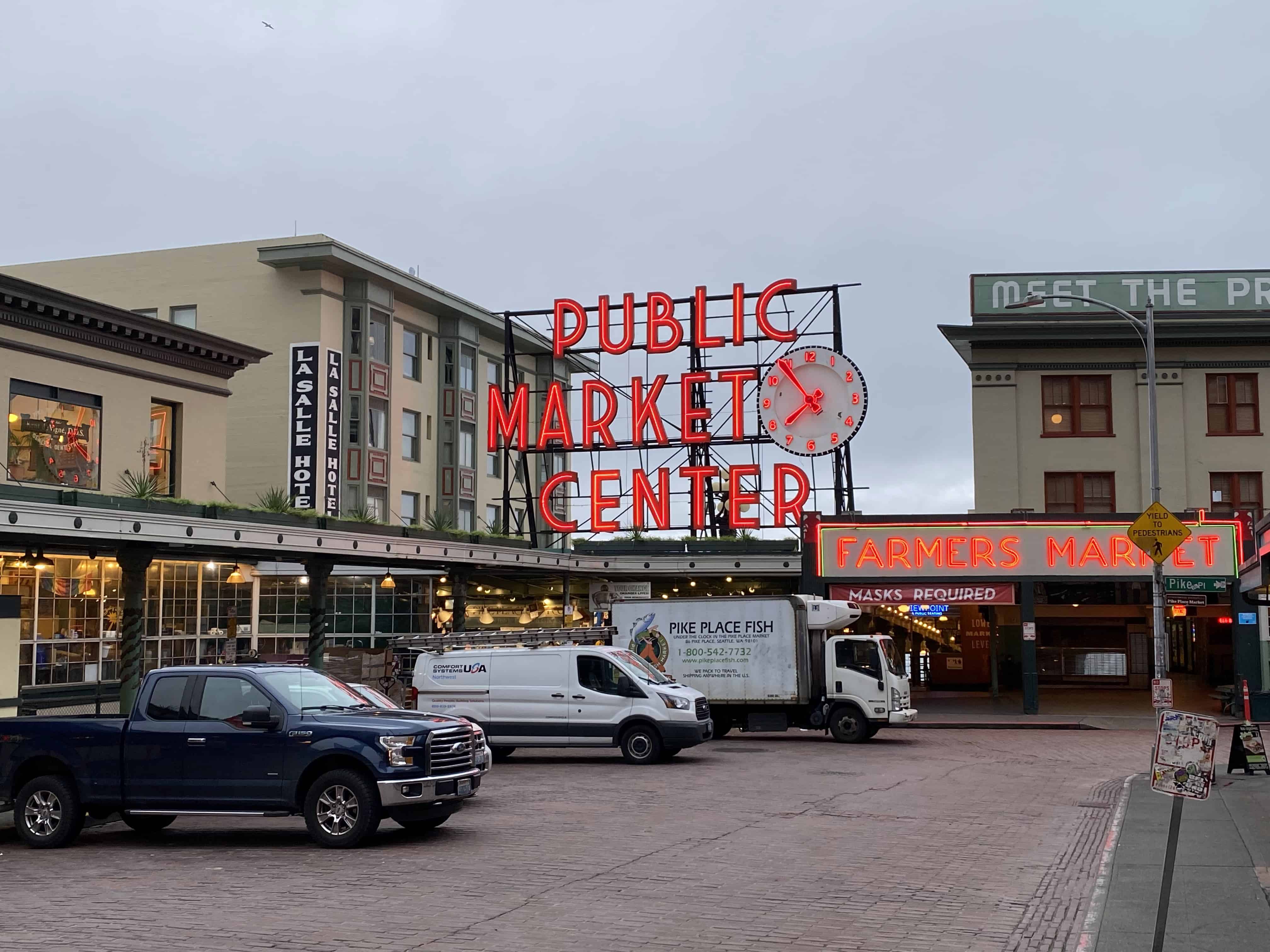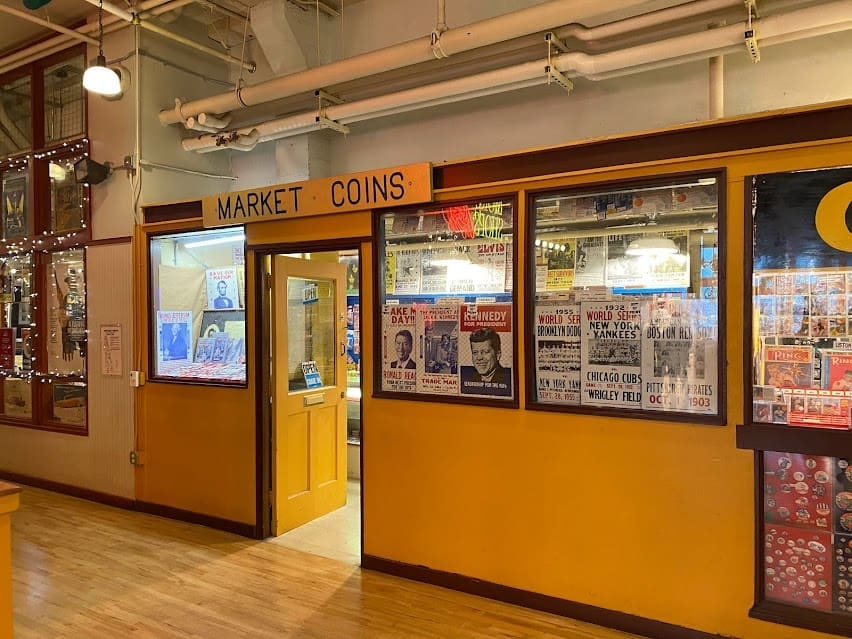 The Gum Wall
Also located in the Pike Place Market area, walking past (or through) the gum wall is worth your time. The varying colors and positioning of the vast amounts of chewed gum make this somewhat artistic and most definitely unique.
Our understanding is that the gum was cleaned from the wall only once since it all began in 1993. In 2015 it took workers from the Pike Place Market Preservation and Development Authority three days to clean the wall. The wall was also pressure washed at that time.
Ride on the Seattle Great Wheel
Here's another way to see the Seattle skyline and harbour views from up high. Plus you get to enjoy a ferris wheel at the same time! This is a safe and fun activity the whole family will enjoy. You will go three or more times around, depending how busy the Great Wheel is when you go.
See a Kraken Hockey game at Climate Pledge Arena
If you're looking for an activity still quite new to Seattle, and in the city during hockey season, seeing an NHL Seattle Kraken Hockey game is an awesome choice. The Seattle Kraken inaugural game occurred in October, 2021. To learn more about that first game, some hockey history in Seattle and Climate Pledge Arena, visit our First game Seattle Kraken Climate Pledge Arena post.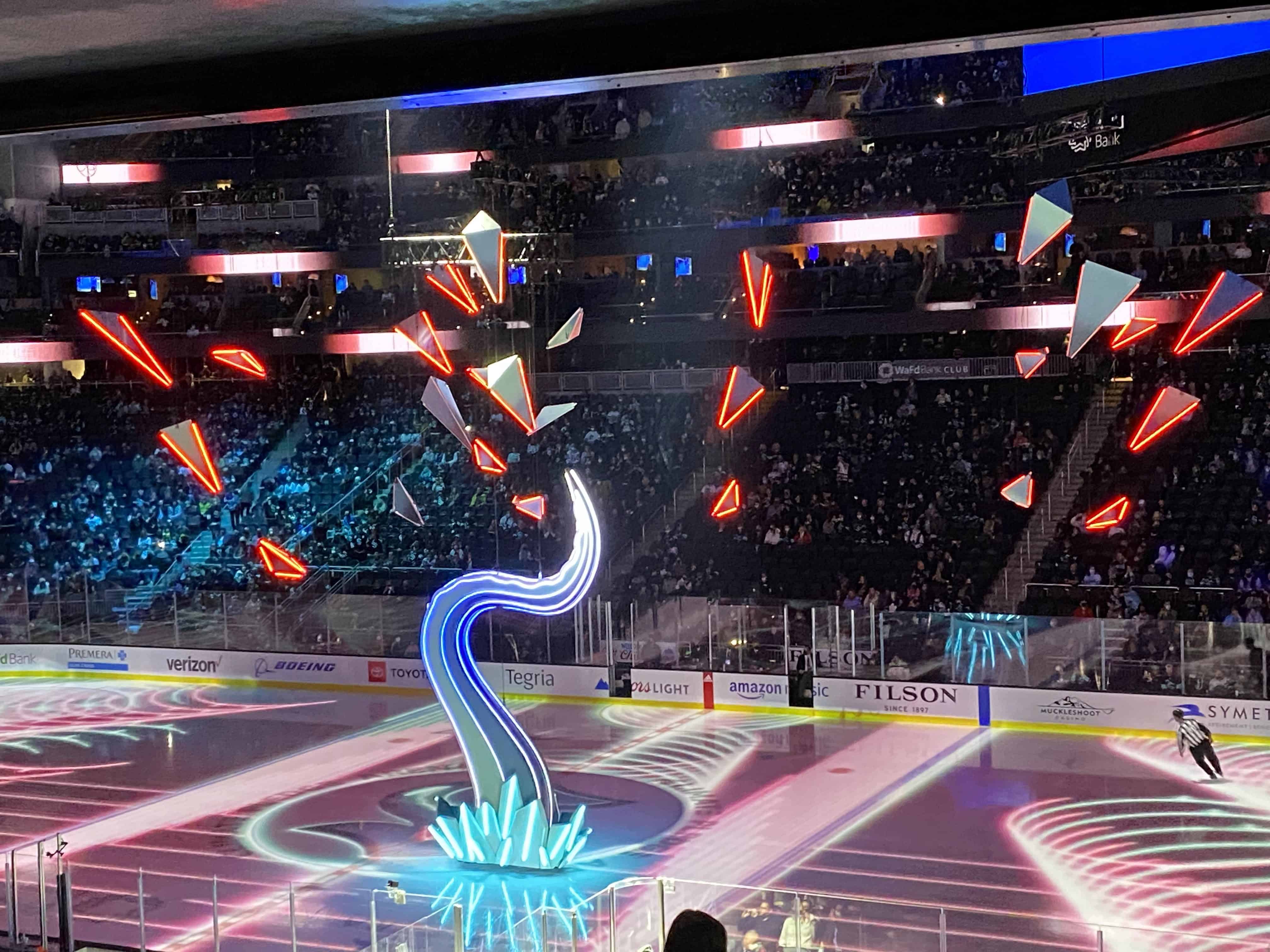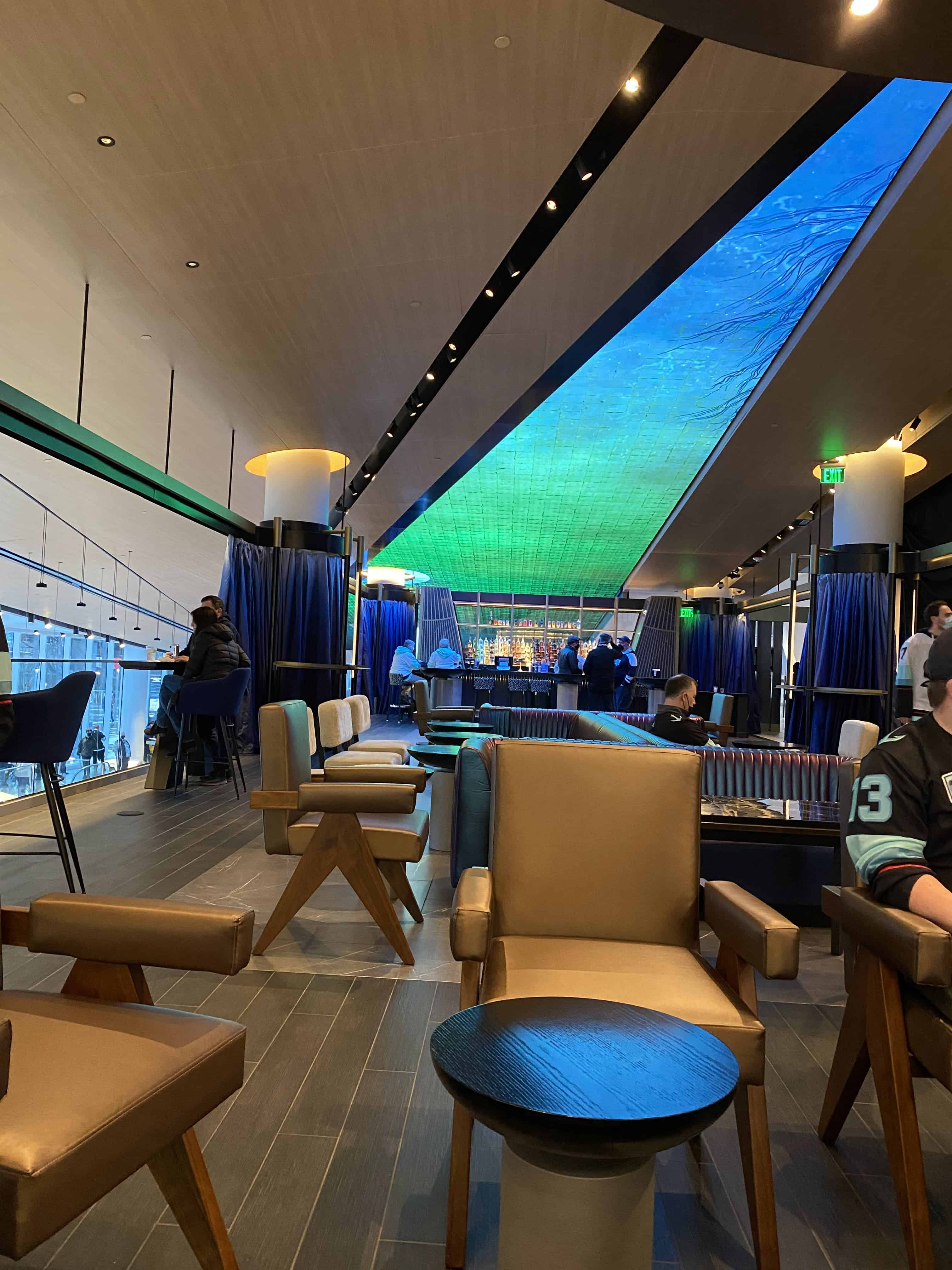 You will enjoy this experience even if you don't know much about hockey. The entire city seems to have gotten into the hockey spirit, and there's an energy at the games as a result.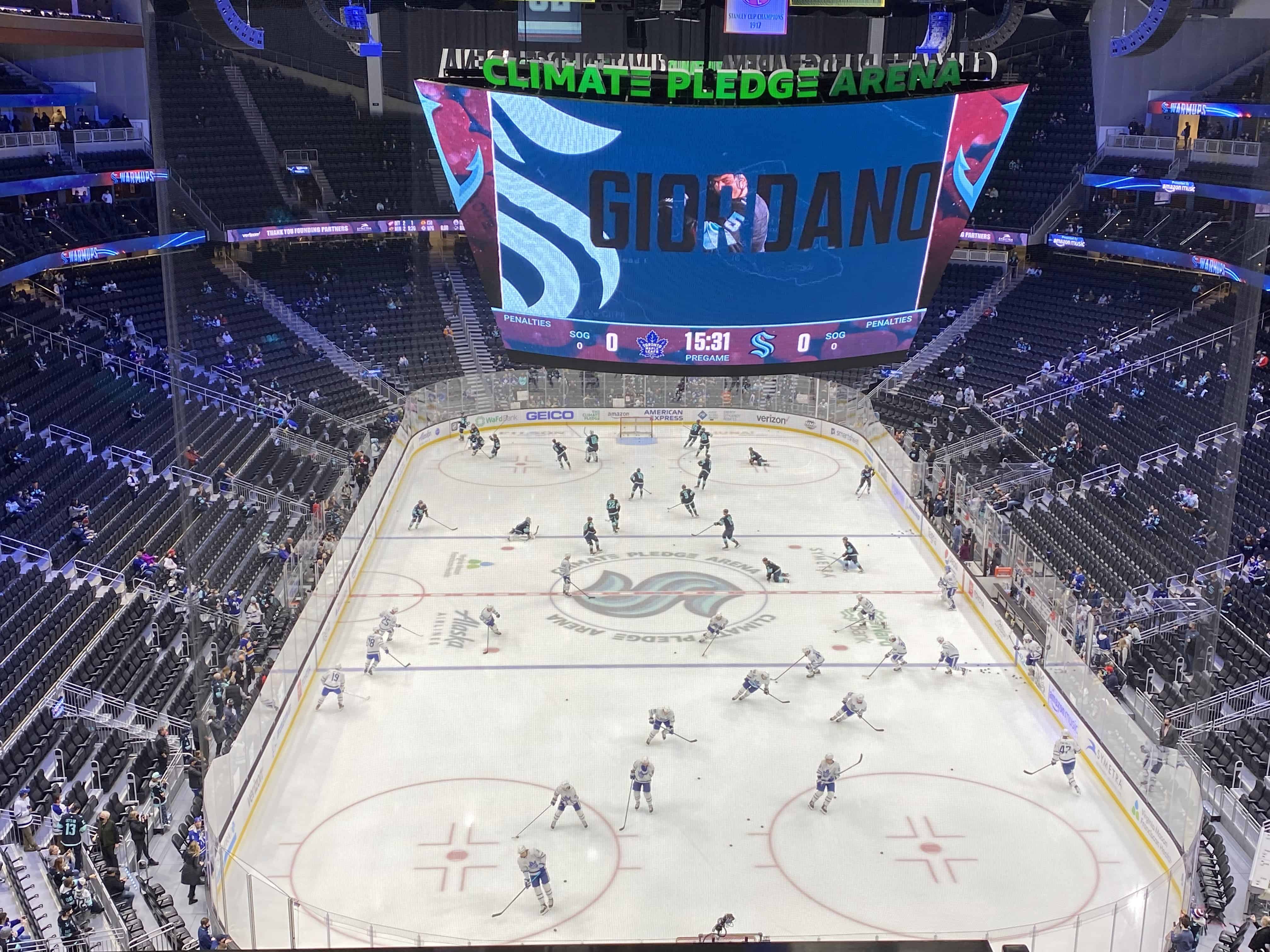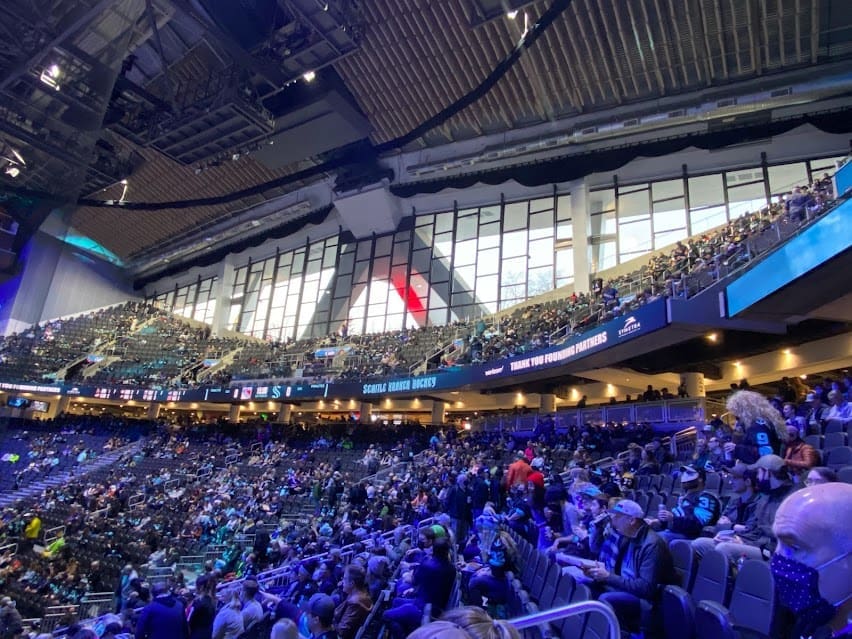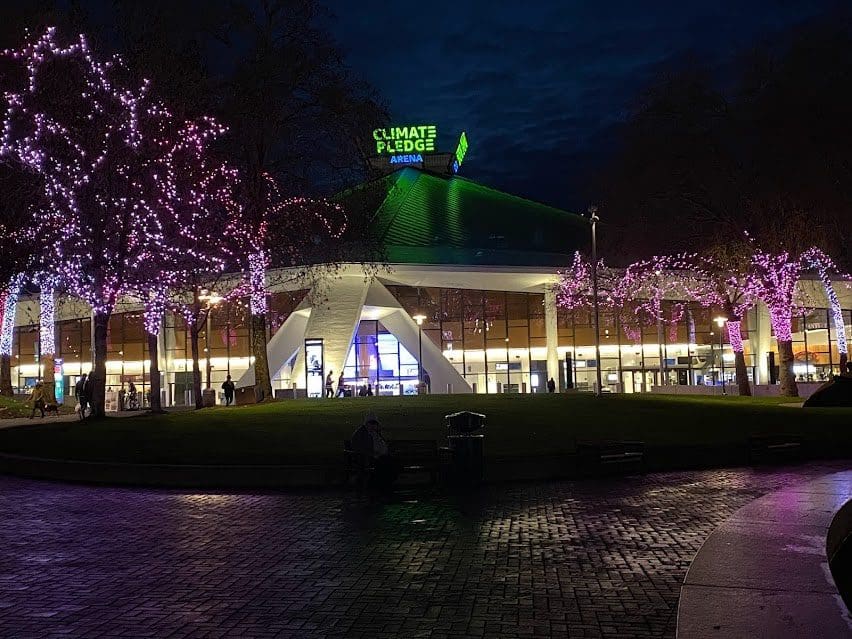 If you decide to have something to eat at Climate Pledge Arena either before or during the game, you will have no shortage of options here. Make sure you check the food and beverage section on the website. With touchless entry and pay at most food areas, it's usually quick and easy to find something you want.
Seattle Centre Armory
The Armory offers events which change throughout the year. For a calendar of events in Seattle Centre and specifically the Armory, visit the website.
Before and during Kraken games, the Armory can get busy. There's a bustle of fans all gathering together to have a bite before the game (there are many food vendors at the Armory).
While some fans will leave once Climate Pledge arena is open to watch the game in person, other fans will remain to watch the game on the big screen.
Pause to enjoy the International Fountain
One of our favorite things to do before or after the game, or whenever we're wandering around Seattle Center is to watch the International Fountain. It's timed, the flow/ pattern of the fountain changes, and it's set to music when operational. It's fun to watch.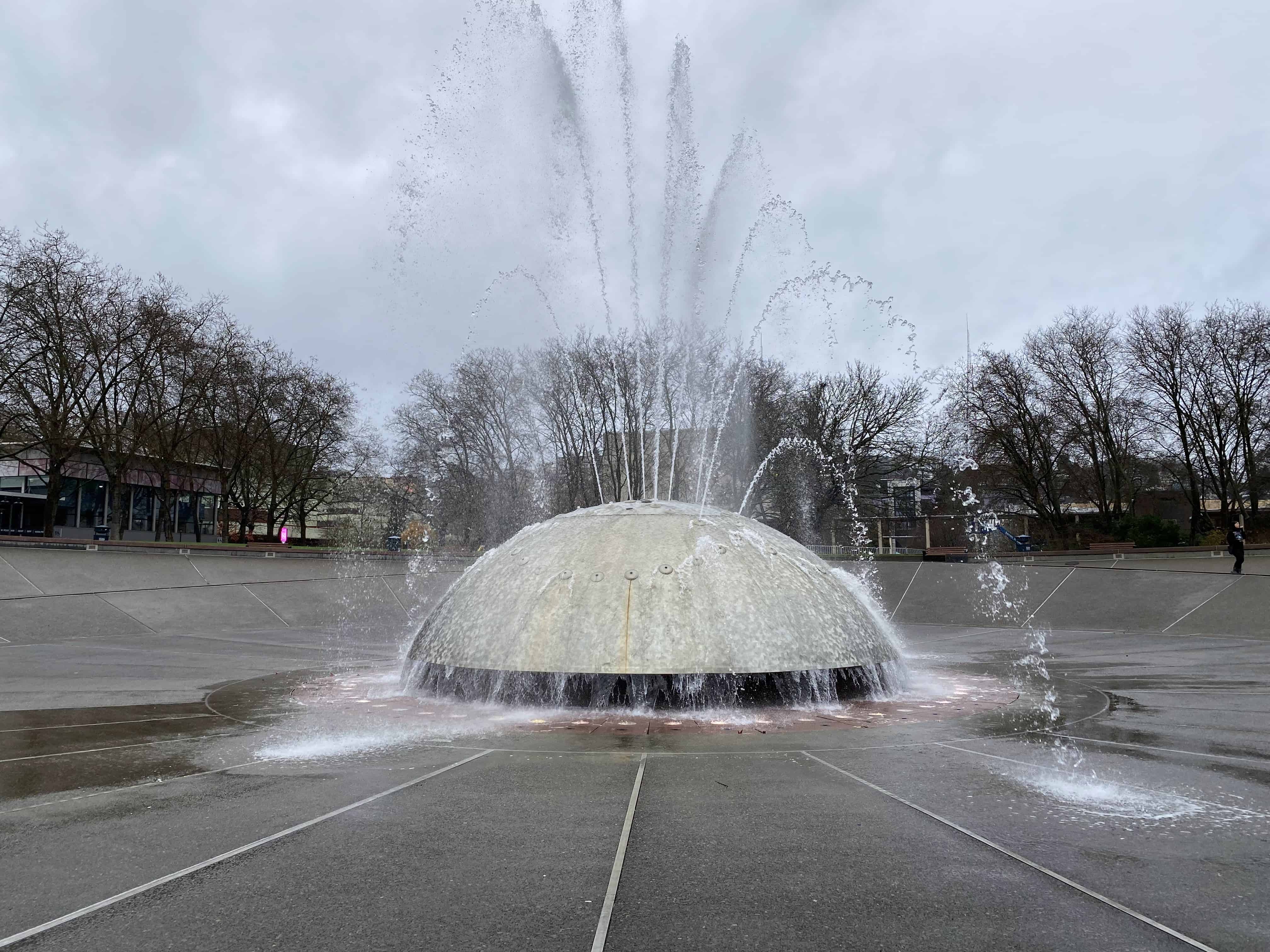 Visit MoPop
The Museum of Pop Culture in Seattle
It's difficult to describe in just a few words the many exhibits contained within this non-profit museum. You will experience a varied look at pop culture through the displays; everything from Hip Hop to film and TV Paraphernalia.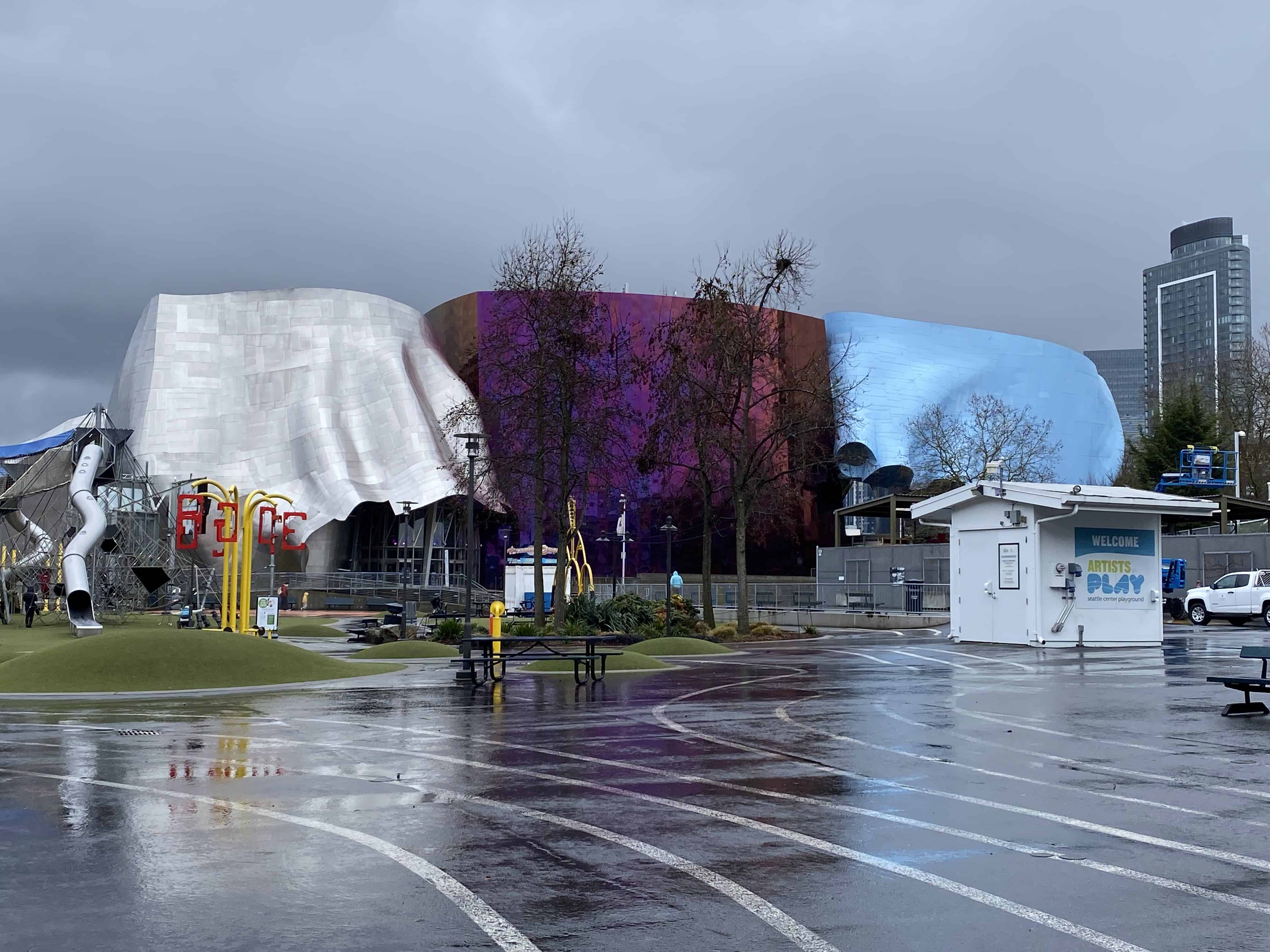 As we wandered around this unique building, the sheer volume of displays convinced us we would someday be returning to see it all again.
Some of the displays bring back memories from our past, some teach us about elements of pop culture we weren't as familiar with. We gained a greater understanding of what artists went through, and how various aspects of pop culture were created.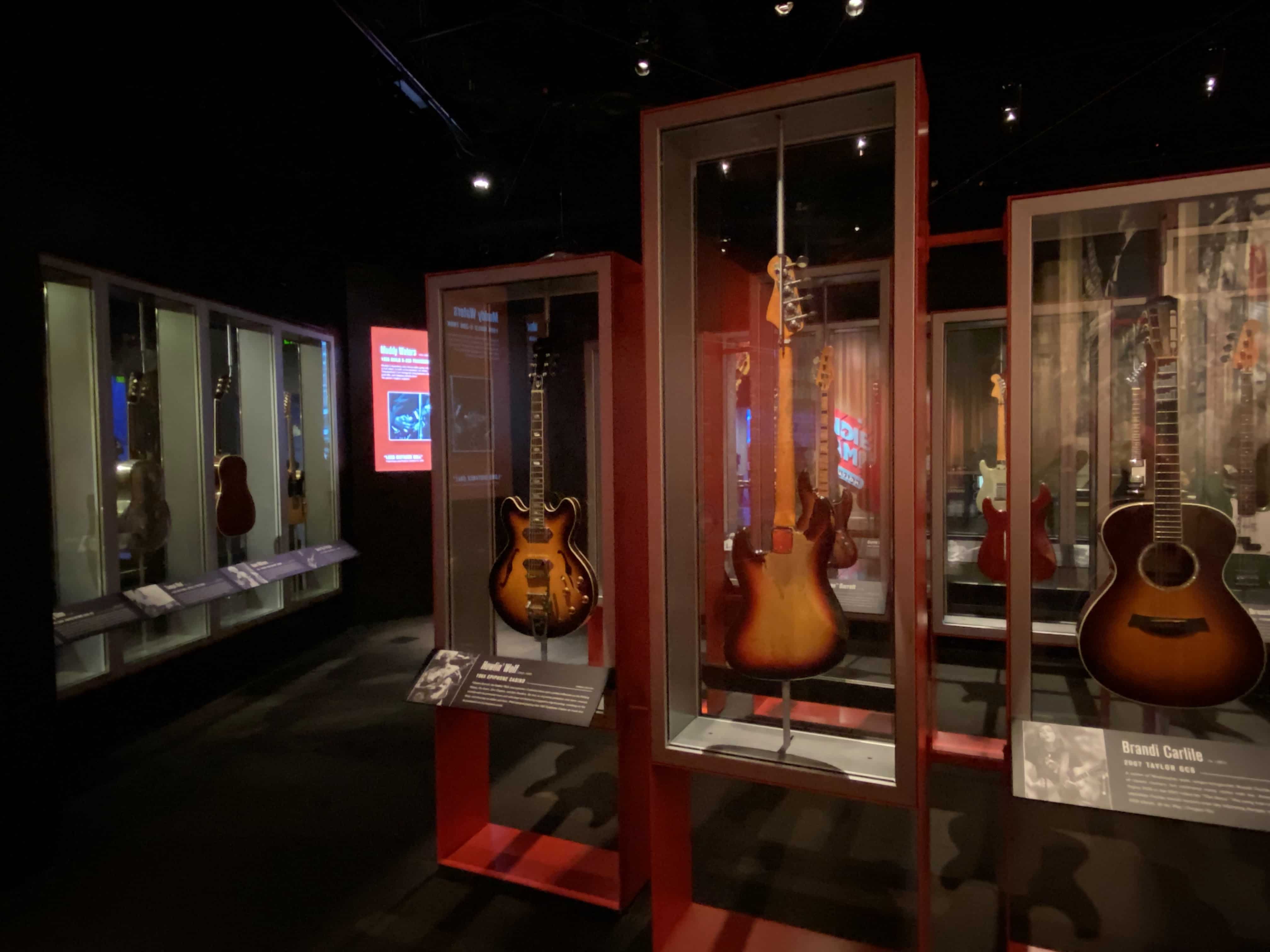 Guitars used by famous musicians, as well as a massive central display of musical instruments, including guitars are impressive and creative.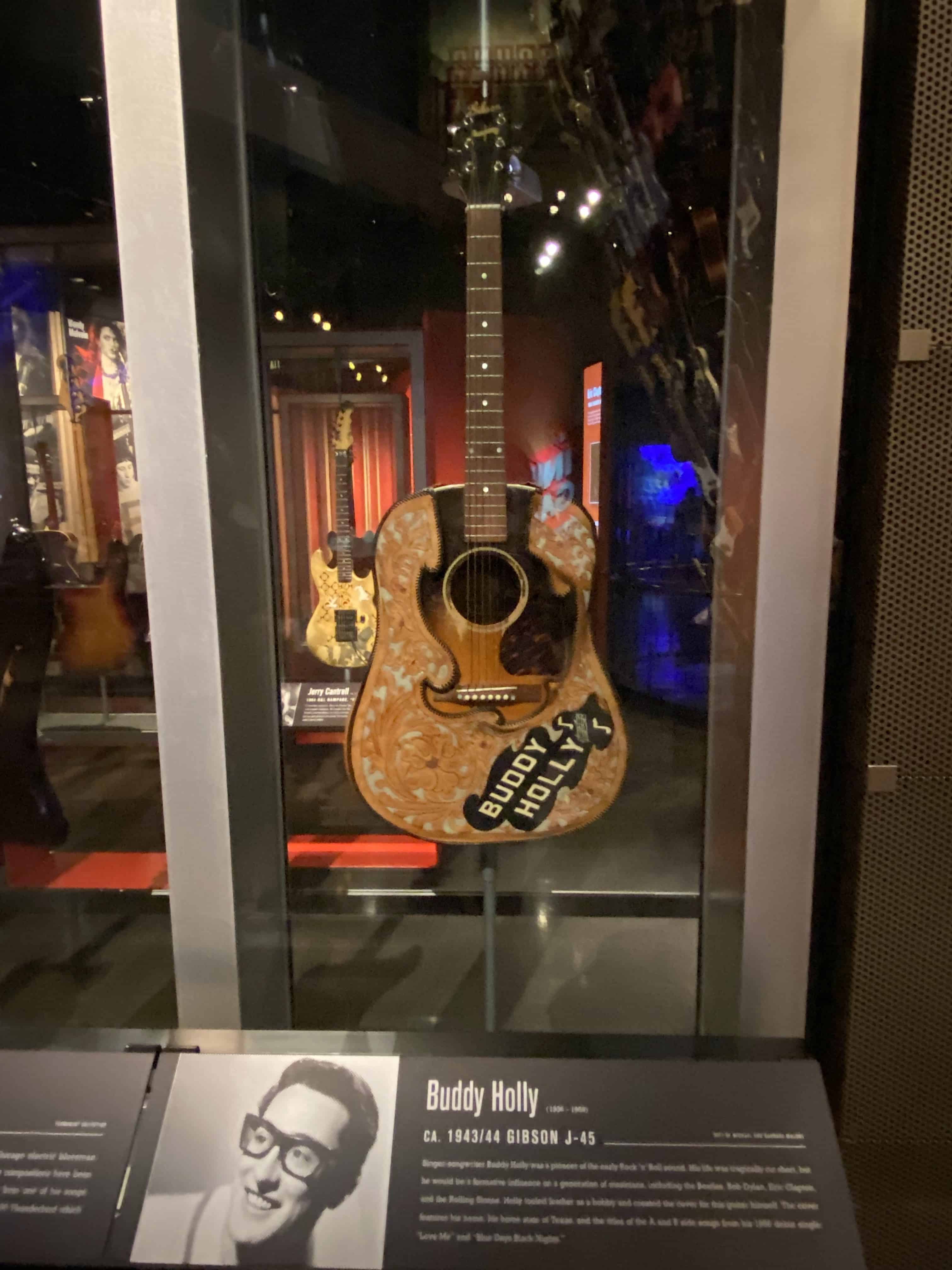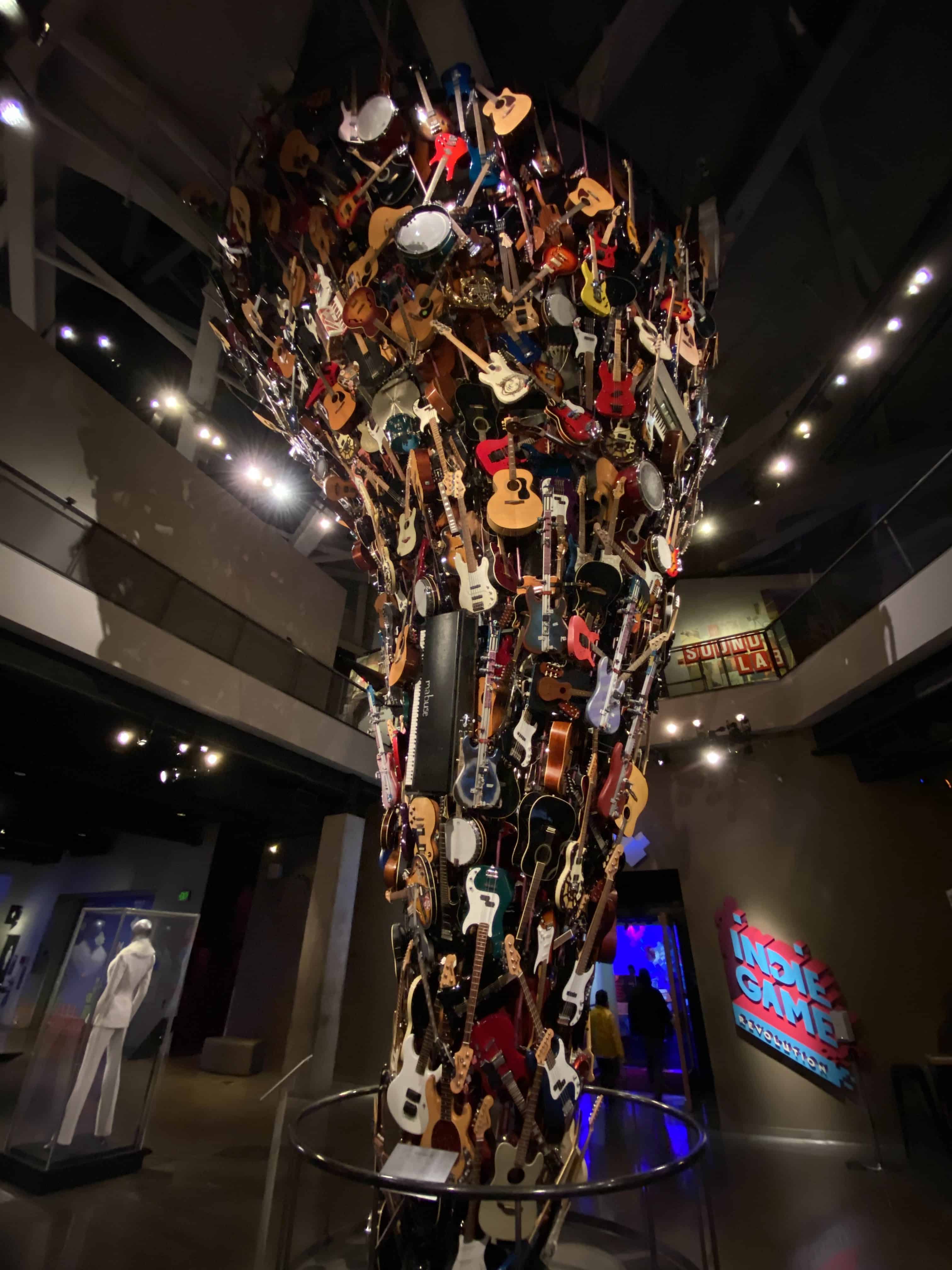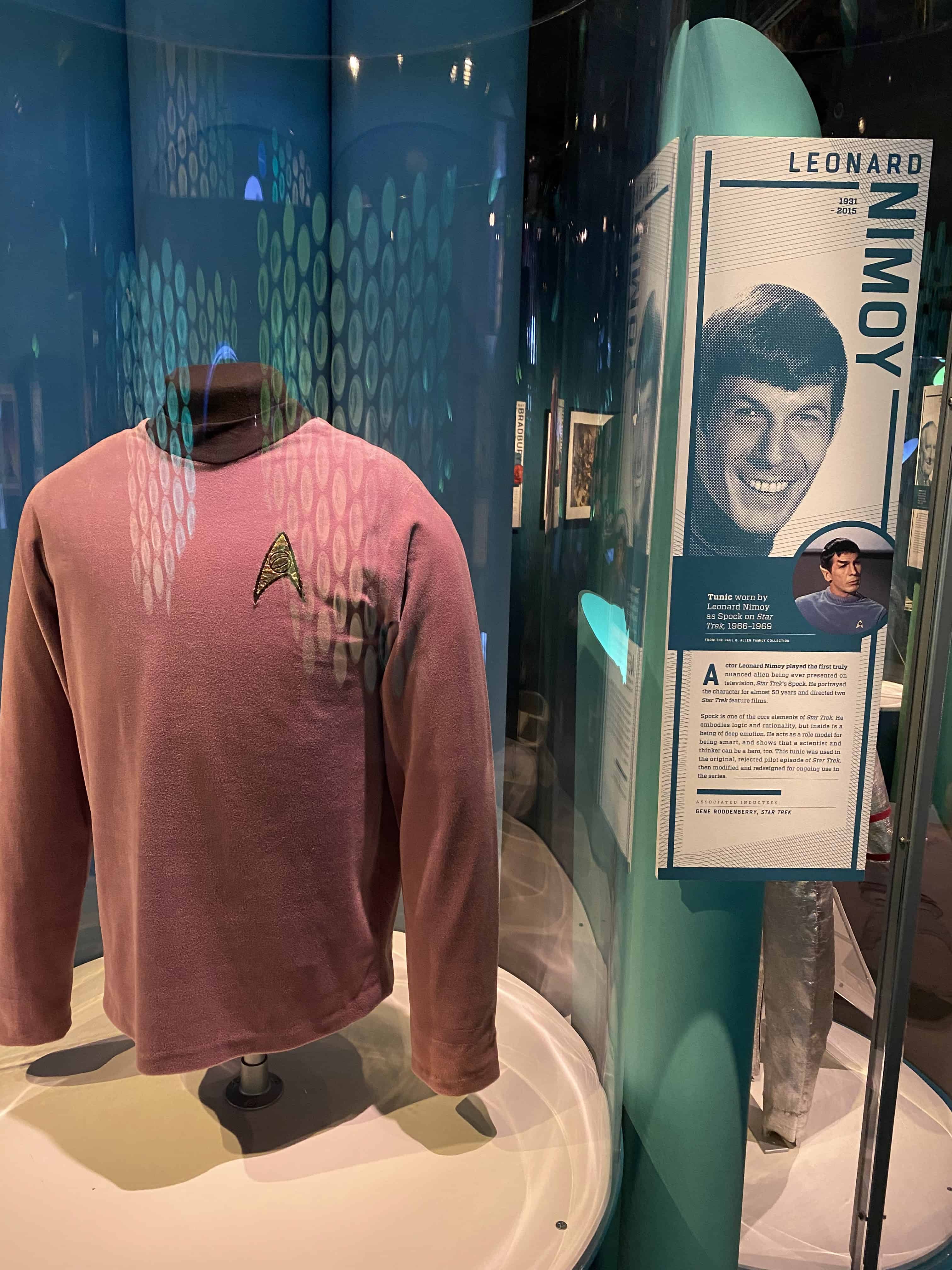 Some of our favorite displays were costumes or garments worn by actors and musicians during their careers. We will definitely be back to see this museum again in the future.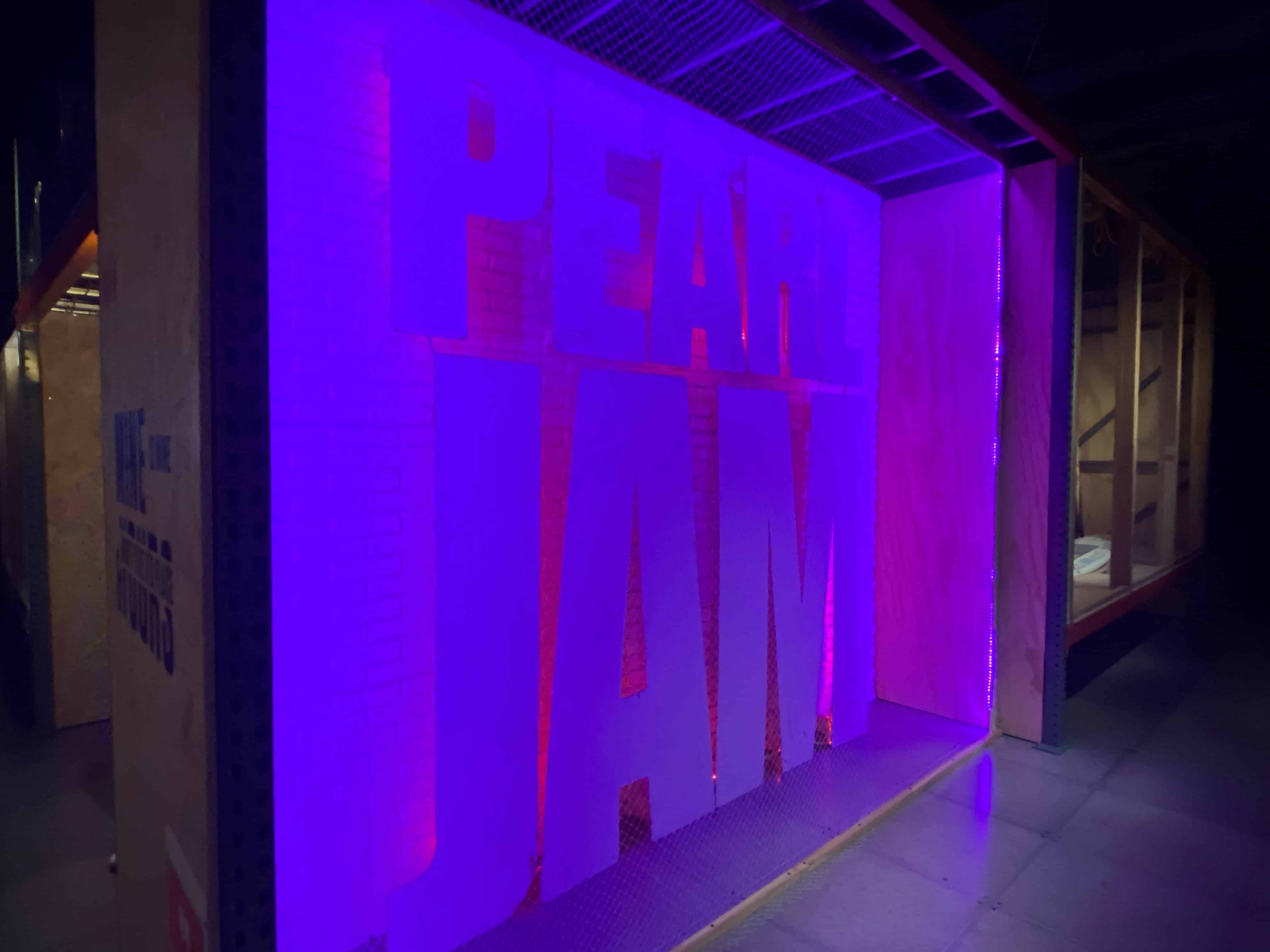 Artist at Play – playgound at Seattle Center
This is a unique playground for the kids. It's worth a visit either before or after you see MoPop, or even if you're just wandering around in Seattle Centre. Pictured here in front of the white, purple and blue building (MoPop).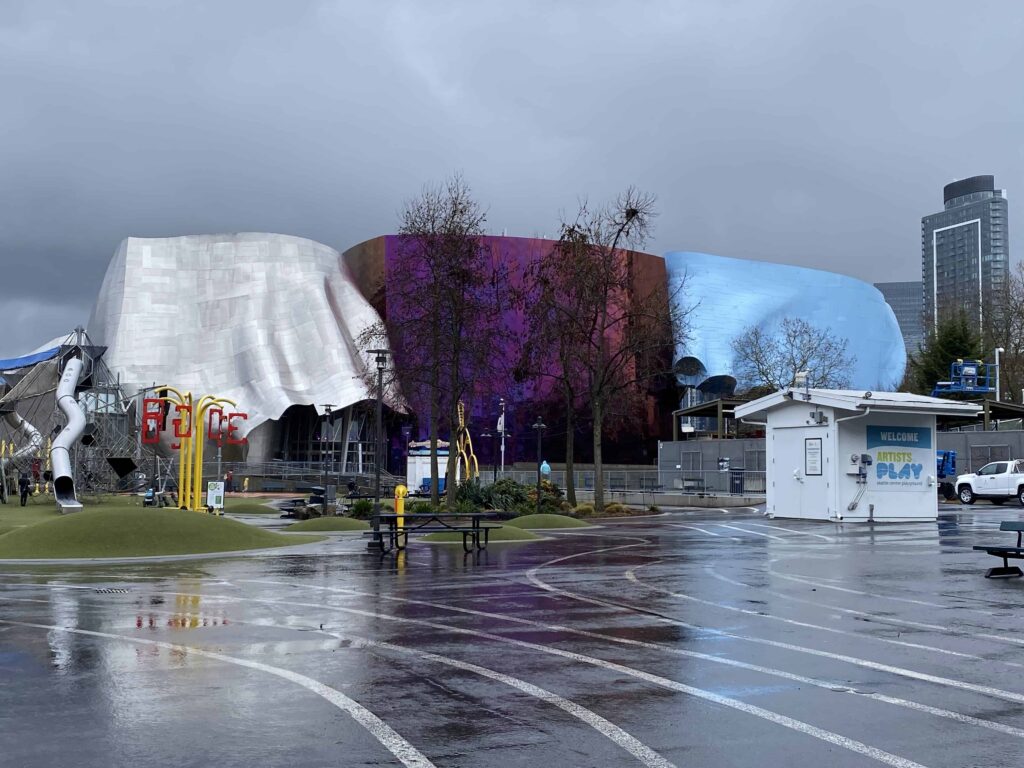 Ride the Monorail
Riding the Monorail is a must while you're in Seattle. It travels from Seattle Center to Westlake. It's a 1.4 km (.9 mile) journey, and is in itself a tourist attraction.
If you have a Kraken hockey ticket, included in your ticket is free public transportation. You are required to download the app to use the free transit pass for up to 2 hours prior to and 2 hours after the game. This might be a good time to ride the monorail as it takes you very close to the arena.
Take a Bainbridge Island ferry at sunset/sunrise
This was one of the highlights of our last trip to Seattle. It is in fact, how we arrived in Seattle. We got very lucky with the timing. And Mother Nature gave us quite a show as we were leaving Bainbridge Island with a truly magnificent sunset.
There are some things while travelling that can and should be planned; however, we've learned that some of our best experiences aren't and can't be planned.
We felt fortunate to witness the gorgeous sunset leaving Bainbridge Island. However the Seattle skyline as we arrived was also a beautiful and serene sight.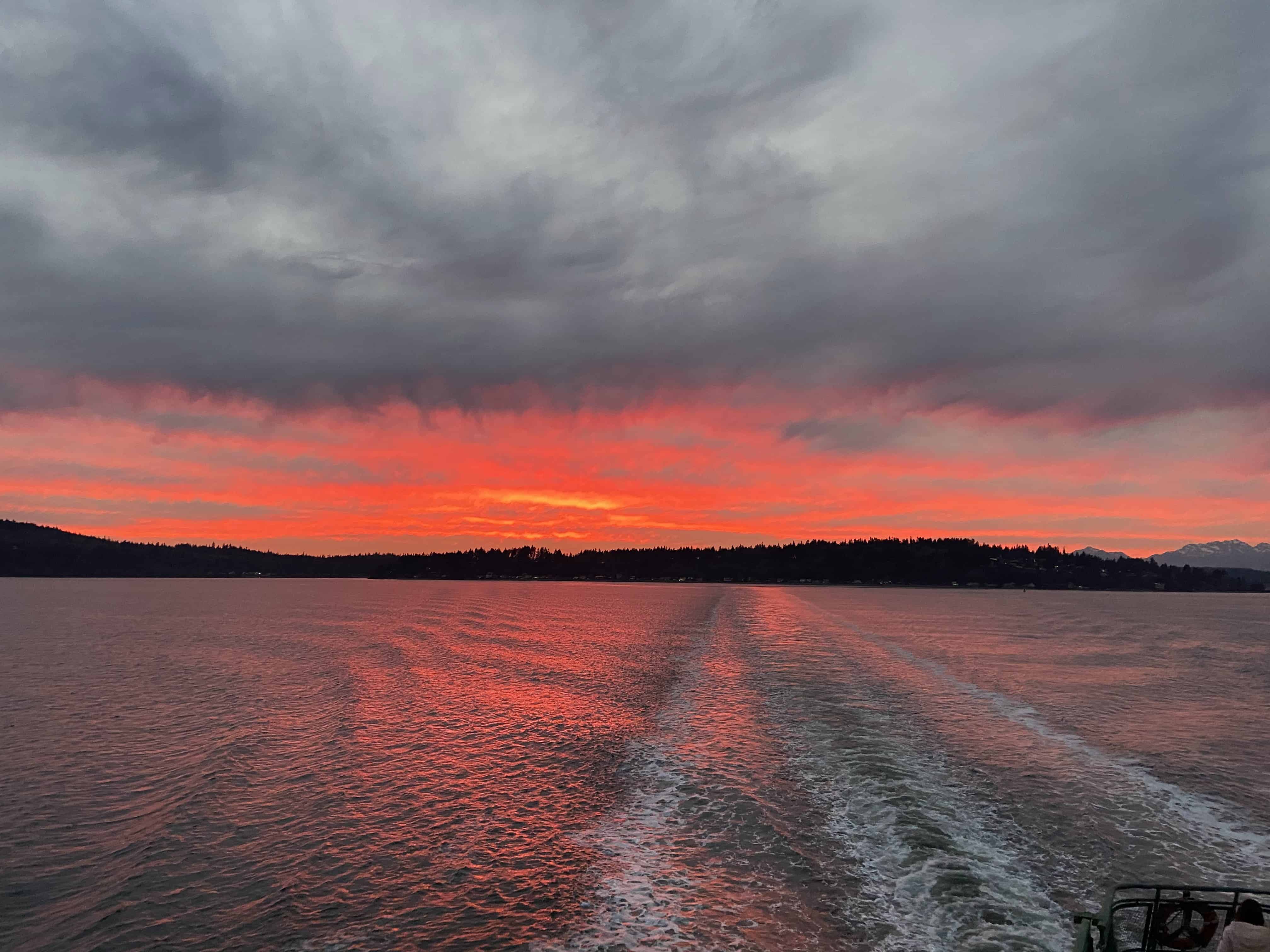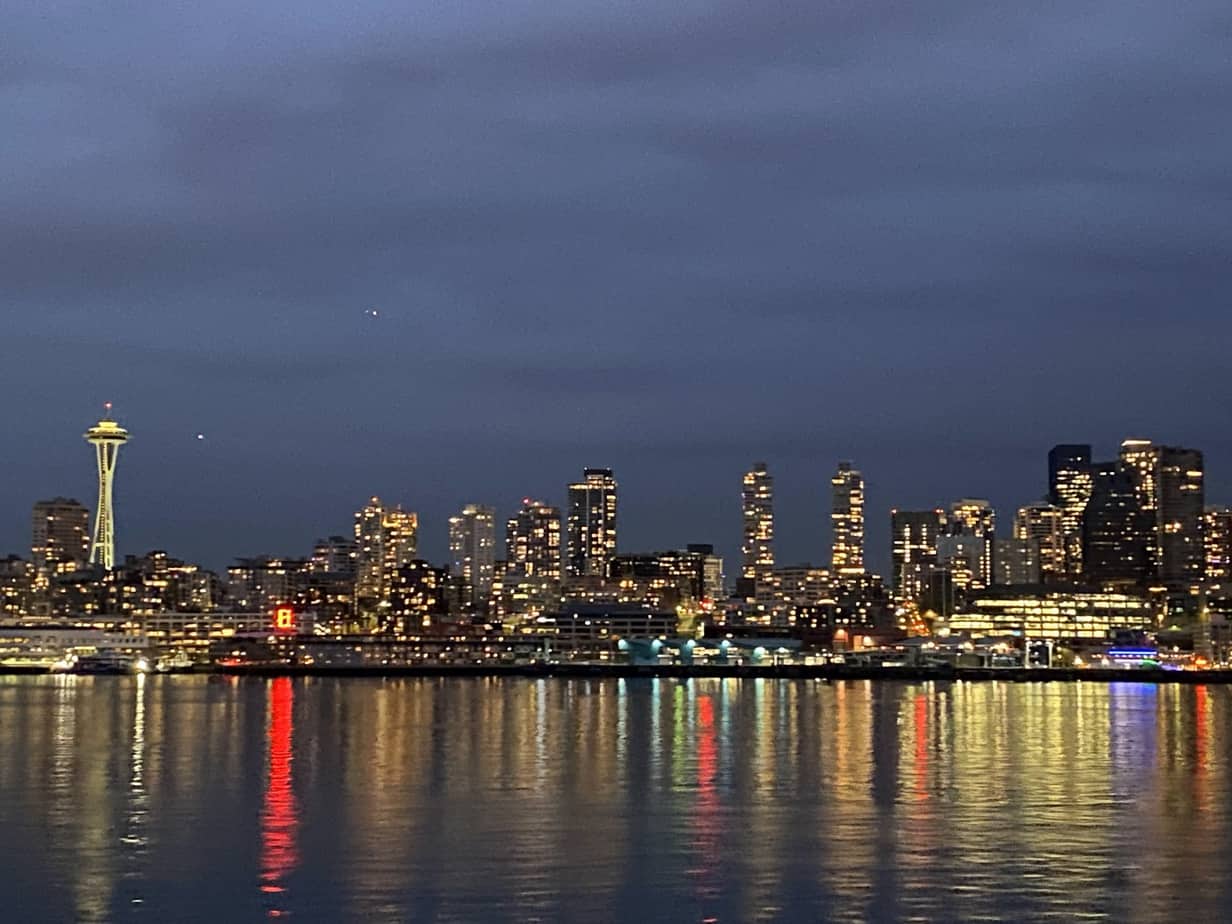 The timing of arriving around sunset on the ferry can be planned. If you have the opportunity to do so, you should. It's well worth the effort to do so.
Where we stayed in Seattle
On this last visit to Seattle in February, we decided to stay close to Climate Pledge arena in Seattle Center. We were only there in town for a couple of nights, and wanted to maximize our time.
We chose to stay at The Mediterranean Inn , and we're glad we did. This is a great location, very close to attractions and restaurants. There's also a Starbucks on the main level of the hotel, which was very convenient for us in the mornings.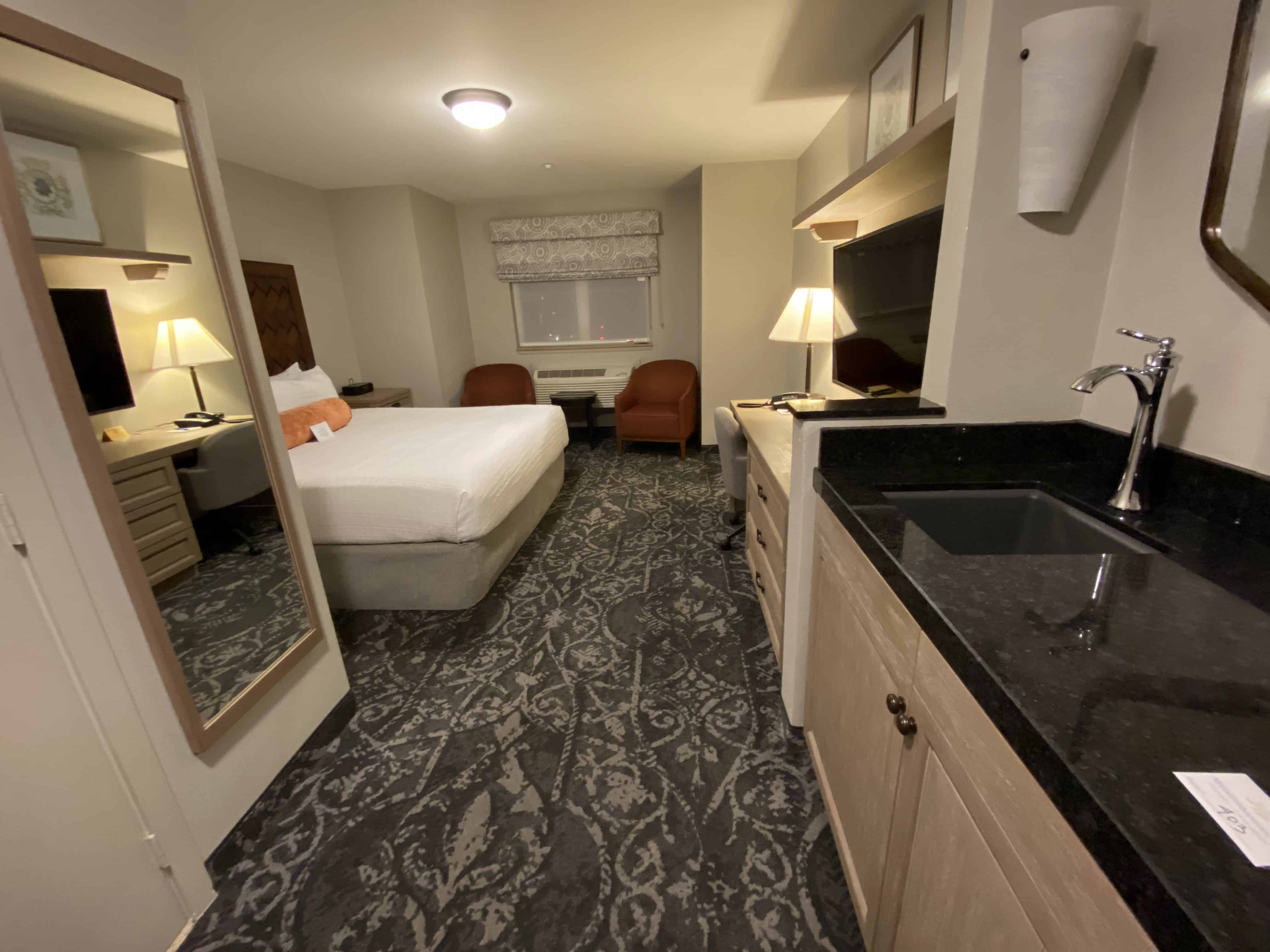 There's a roof top deck as well, which may be busier in the summer months.
We paid a little extra per night for a king sized bed and had a comfortable night and slept well. The room was clean and had everything one would need for a pleasant stay.
We didn't use housekeeping as we were there only a short time, but they offered, and we knew we could ask if we needed anything.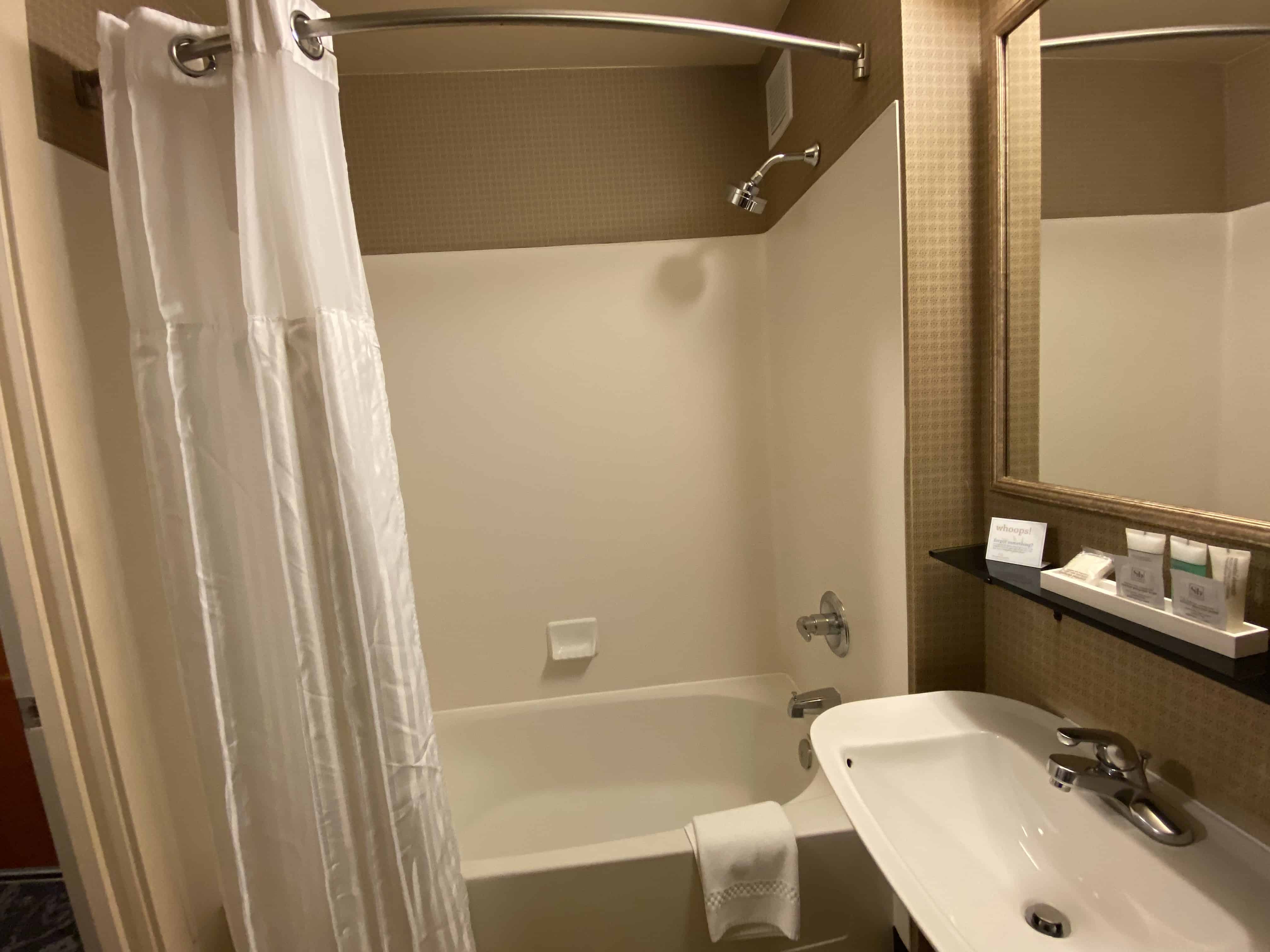 The morning after we arrived, we walked from our hotel to Chandlers Cove and Lake Union. We walked along Mercer Street, which was separated from traffic for the most part (bike and pedestrian sections), so turned out to be a fairly quiet walk to the harbour. As we were getting hungry, we picked up some sandwiches, snacks and beverages at the QFC market (very convenient) on our way back to to the hotel.
We enjoy our time in Seattle, and consider this post to be a work in progress. We will be adding more activities to this Top Things to do in Seattle WA 2022 post as we continue to visit the city. Check back with us again. In the meantime, you may wish to check our First Game Seattle Kraken Climate Pledge Arena post for more.
Learn more about the journey we took in February 2022 on the MV Coho ferry.