Financial Aspects of Planning an Ancestry Trip
Financial aspects of planning an ancestry trip aren't very different from normal travel planning you might do for a vacation. See our guide on How to Save Money while Planning Your Trip for great tips. There are, however some unique differences from a financial and planning perspective as you delve into Ancestry Travel.
All your hard work and genealogy research is now paying off!
If you've followed our Ancestry Travel Guide articles, you've worked diligently to learn, or perhaps verify, where specifically you'll be travelling to so you can visit the place your ancestors once lived. Our guess is you likely now feel more compelled to travel to this place you might not even have heard of before you began your ancestry and genealogy research.
You've probably also begun to uncover how easy or how challenging it may be to actually travel there.
If you're lucky, it's an easy place for you to travel to from where you are, with lots of flights and transportation options to get you there. However if you look at the location and wonder why or how on earth your ancestors travelled from there to where you are today, it's likely going to be more challenging and perhaps more costly for you visit.
*Tip* When research shows more than one location to visit, choose the one which will provide the most satisfaction first.  
It's possible you've found more than one location your ancestors lived. You may have to choose which location to visit first if you don't have the time or resources to see more than one location or if the logistics don't make sense to travel to several places in a single trip.
As an example, in Gail's case, because she knew her grandmother personally, and learned she had grown up in Bodo, Norway, it made sense to travel there first. Other relatives are further removed in Gail's family, and although there are Scottish and Irish ancestors she didn't feel as personally connected as to Bodo, Norway because of her grandmother.
We will undoubtedly enjoy more ancestry trips in the future.
On the other hand, Paul has visited his ancestral homes several times, as much of his mother's family is still in England and Germany. Many of his father's family are still in Holland.
Financial Considerations of Planning Ancestry Travel
In addition to searching for the ways and means to get to your ancestral home, you may be faced with other unique financial aspects.
We'll offer some specific tips we learned during our ancestry planning and travel journey, with a view to help you more easily plan and save money. It will be important to reduce the stress and financial burden to enjoy a fabulous and relaxing time on what may very well be a once in a lifetime experience!
Additional financial aspects of travel may occur in any category of financial considerations, however will mostly occur in the transportation, activities and souvenir categories.
Transportation
In your genealogy research you may find that areas where your ancestors lived are now sparsely populated. This will require added planning and perhaps added transportation costs. You may need a rental car. Or perhaps a ferry is the only transport you'll be able to use to get you to where you ancestors once lived.
*Tip* Rental Car or Ferry - Look for specials or promotions before booking
If you find yourself needing to rent a car to get to that final leg of your destination, make sure you ask about discounts before renting. Car rental rates can be very expensive. Do your research at home before you leave and try to book in advance. You will almost always pay more if you wait until you're looking for a vehicle at the airport.

CAA/AAA membership cards, as well as student, military/ Government, Corporate Rate discounts are a few examples of potential discounted rates you should be asking about.

If there's a ferry required to get you to your destination, do your research at home and book ahead of time.
Further research opportunities
You may be planning to visit some churches and museums while visiting your ancestral home. Graveyards or cemeteries can be especially informative, if you're up for that. Make sure you have a camera (or phone with camera) to take pictures, as well as a notebook and pen/pencil to capture any details you may find.
Sometimes you can pay for a photocopy of some material while you're there. Have some local currency with you in case credit card isn't accepted..
Make sure you leave a donation if that's an option at a church, museum, etc., especially when there hasn't been a charge to enter.
Gifts from Home
We've often brought small items like Canada Flag lapel pins, or other Canada or Canadian products for giveaways to family and friends while travelling abroad. It may not seem like much, but it can be nice to share what is special about the country you live in when you're visiting cousins or relatives from your ancestral home or elsewhere. Small, easy to pack items work best. It's an expense, but doesn't have to be a large expense.
*Tip* Look around your home first.  
Shop your own house before going out to buy more items. Are there unused items unique to the country you live in which may be something a relative may like to receive? As we said, we used Canada flag lapel pins. Somewhere along the way, we had either previously bought or been given bags of these small lapel pins. You may be able to get some flag pins or other items from your local political representatives to take on your international travel. Through the years, we've managed to give most away through our travels. They're small and easy to pack.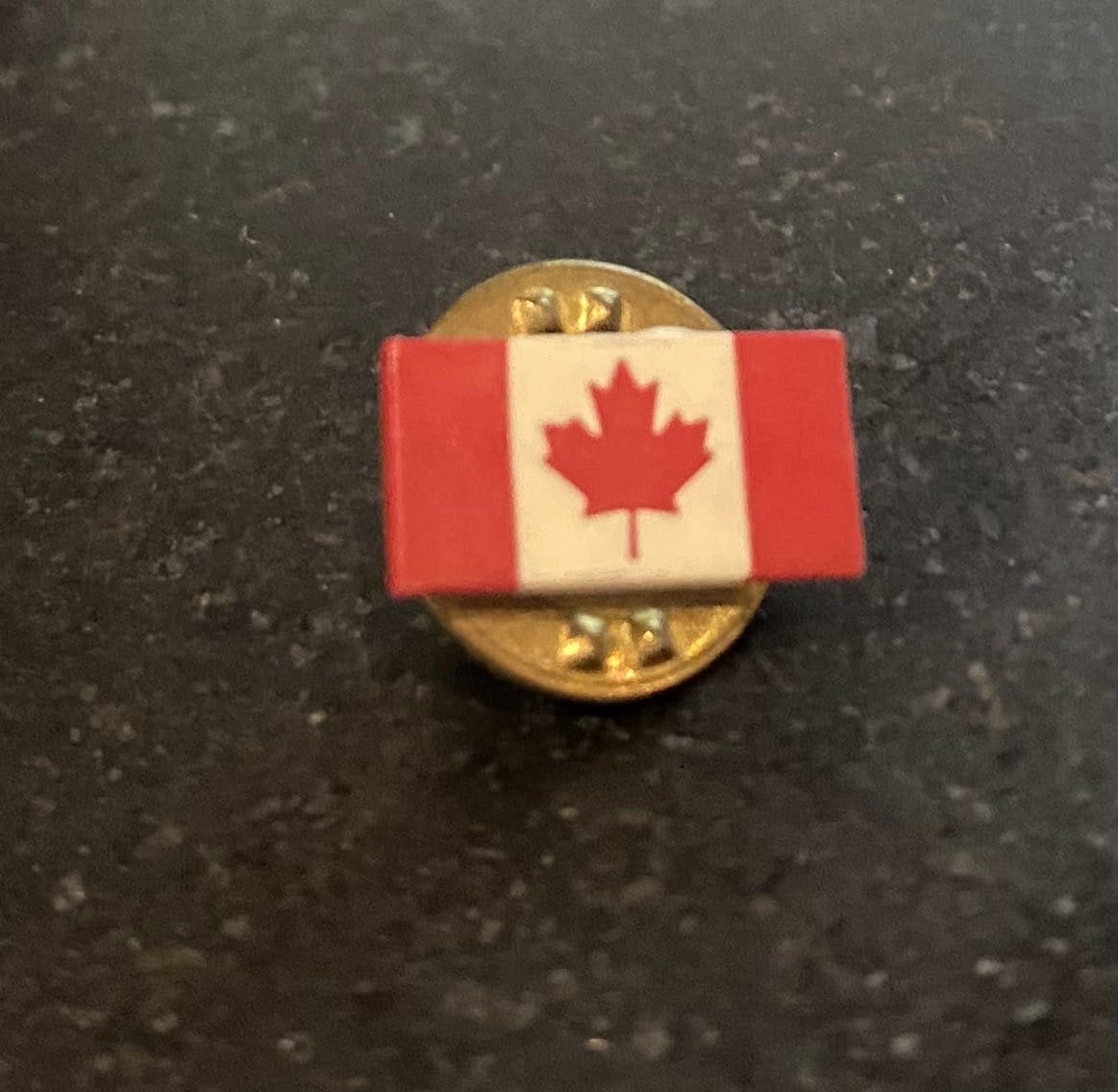 We also took some T-Shirts which had Canadian product logos on them, giveaways we had received through buying Canadian products. These seemed to be well received by relatives. Who doesn't like another T-Shirt to wear? It also freed up some room in our own suitcase so we could bring more souvenirs back.
As well, bringing some coins from home can be a hit with some people. Again, especially if the coins are from the year in which you're visiting them. It's a gift that will forever date your visit as well as the person who gave it to them. Try to make sure the coins are clean. If there's a gloss or shine to the coins (gently circulated), even better.
If you feel the need to shop for items, keep them small and inexpensive.
*Tip* Genealogy research items/copies or photos may be particularly thoughtful.
If you've come across something particularly interesting in your research, print it out for your relatives. Photos of common ancestors or relatives might also be well received. While some of this information can be shared online, it's thoughtful to have brought copies of research and photos with you if possible. Not everyone will have done the research you did, and not everyone has an interest in doing the research.
Gail saved some research and photos of her grandmother and family prior to our trip to Norway. It was all easily accessible online through google photos. Unfortunately, the connection we had through the company we chose for cellular data was not available in Bodo. It was disappointing not to have actual hard printed copies of the information and photos .
*Tip* Ask your relatives if there's anything they would like you to bring.
Sometimes people have a perception of the country or city you're coming from. If you are in discussions with your relatives, online or otherwise, try to find out what types of things they enjoy or whether there may be items they want from your country. We're fairly direct people, so we would just ask them. You'll have to make sure that the items you're planning on bringing aren't prohibited items; so check the applicable government websites.
Unplanned Dinners Out
Planning for unplanned dinners out seems comical. However, when you're meeting relatives for the first time ever, you should be prepared for this eventuality. They will probably want to spend some time with you, and often that involves a meal out. There's probably not a way to save money on this, but planning for it will mean you're better prepared.
Activities only the Locals know best
Depending on your level of communication with your relatives from places you're visiting, you may be able to plan some activities before you go, based on their advice and recommendations. If you're open to it, this can offer a unique glimpse into how the locals live by seeing sites and doing things recommended by people who are local.
On a trip to Paul's father's home town in Holland his aunt prepared a map of all the cousins, aunts and uncles in the local area. They then spent the week visiting as many of Paul's relatives as possible. With 7 Uncles and Aunts and all the cousins, most within a 5 km area there were a lot of coffees and meals! It was such a nice gift Paul's Aunt had provided.
Language Learning At Home Before Travel
This is optional and will depend on whether you have the time, interest and resources to pursue it. The reality is, you're not likely to learn a language in a few weeks or even a few months. It takes much more time to become proficient at any new language, often years. There are, however, language learning programs which can assist you to learn the basics. What they do is get you used to the way common phrases and words are pronounced and spelled. It may help before travelling to have this basic knowledge.
We've used Duolingo to help us learn French. We're in Canada and there are parts of Canada where French is considered the primary language. It's not exactly the same as Parisian French though, so can be challenging to try to understand the difference between the two dialects.
While we were in Norway visiting Gail's Grandmother's home, there were times when even a basic knowledge of Norwegian would have been helpful. Luckily Gail's cousins spoke English. If they had not, meeting them and travelling to Bodo would have been a very different experience.
*Tip* Google Translate can help with the basics. 
You can access google translate by downloading the app for your phone from the app store. This will be the easiest way to have this valuable free tool accessible when you're travelling.
Google translate allows you to choose the languages you're translating from/to and you can either speak the text by enabling your microphone, or you can type the text in.
We hope you've found our post on the financial aspects of planning an ancestry trip helpful. Please refer to our other guides on pursuing ancestry travel noted below.