Ancestry Trip to Ørnes Norway
This article is about our Ancestry Trip to Ørnes Norway in May, 2019. Also known as Heritage Travel, or DNA Travel, Ancestry Trips and Travel have become more popular with the ease of accessibility to DNA test kits.
Written by Gail, this article details our travel journey to Gail's grandmother's home in Ørnes. Ørnes is an almost 2 hour drive from Bodø, Norway.
About my Grandmother
Julia McLean, my grandmother, was born Julie Regine Rasmusdatter on July 12, 1895. By the time she immigrated to Canada in March of 1912, her name became Julia Rasmussen. It was common in Norway for last names to be comprised of the first name of the father, then "datter" if a daughter, and "sen" if a son. Rasmus Jakobsen was her father's name (my great grandfather).
My research doesn't reveal specifically why my grandmother chose to leave her home in Ørnes Norway to pursue a new life in Viking Alberta Canada. She would have been just shy of 17 years of age when she boarded the ship. From reviewing the ship's recorded details, indications are she was joining friends who also lived in Ørnes, and they made the long journey together.
We'll never know for sure why she decided to leave Norway, especially at such a young age. However my life now, and indeed my very existence resulted from her taking a ship from Norway to Canada then.
Following the Genealogy research
When I had learned all I could through my genealogy research, I searched for and found Bodø on a map. Bodø was the documented home of my grandmother on the ship's records. It felt a world away the first time I saw it on that map, and I became even more curious about this place. Paul and I joked about travelling there. At least at first, we joked about travelling there. Without fully realizing it, I was well on my way to planning Ancestry Travel.
Interestingly almost at the same time, Paul had been researching how to partake in the Lego Inside Tour in Billund, Denmark. When the very narrow window of time came up to apply for the Lego Inside Tour, he applied, and although we didn't think we would be, we were accepted! If you wish you can read about our experience on Our Lego Inside Tour Exclusive Event Experience.
We began to plan our trip. We utilized the tools available to us as noted in our How to Save Money While planning your trip article, and specifically relating to ancestry travel in our Financial Aspects of Planning an Ancestry Trip guide.
As our dates began to solidify, I decided to see if I could learn more through my DNA testing kits. I had already taken three tests, without any significant matches in Norway. All that was left was MyHeritage.com. So without further hesitation I got those results too, and fortunately for me, there was one significant match. I contacted my cousin in Norway, and we agreed to meet in Bodø. With a little more email exchange, her husband offered to drive us to Ørnes to see the place my grandmother lived as a child.
I've learned through this experience that to be the recipient of the gift of someone's else's time is the best gift of all. It can be extremely humbling to have someone you just met treat you with such kindness, all while sharing wonderful stories of the area and of extended family not known before.
Our trip was planned!
So with this newly added ancestry trip to Ørnes Norway combined into our itinerary, we decided to fly into Billund which would be the place we'd end up for the Lego Inside Tour in a couple weeks. When we arrived in Billund, we stayed at Hotel Legoland overnight, then took another flight from Billund to Copenhagen. We had pre-arranged with the hotel to leave most of our luggage in their locked baggage room. We took one small bag each with us and spent 3 days in Copenhagen, 3 days in Oslo, 3 days in Trondheim, 3 days in Billund and 3 days in Bodø.
It was during our 3 days in Bodø that we were able to accomplish our ancestry trip to Ørnes Norway. After flying to Copenhagen, we took the train to Oslo, Trondheim and Bodø. All of our train journeys were booked through Eurail app trip planner before we left our home in Canada.
To Grandmothers House we go! Our Ancestry Trip to Ørnes Norway
As you can see, some careful planning went into getting us to this point. We had a wonderful time visiting Copenhagen, then Oslo, Trondheim, and finally Bodø.
The morning we woke up in Bodø following our long train journey the day before, I had butterflies in my stomach. I was to meet my cousin, and we would take the trip to Ørnes together to see where my grandmother had lived. I didn't know what to expect. It is a day I believe I will remember for a long time to come.
We met, hugged and all loaded into the car. We received many details of the area from our new found cousins. As we travelled along the roads, through the long narrow tunnels, we stopped at a location to see Ørnes from across the Fjord. It had snowed the night before. With the tunnels being so narrow, meeting the trucks seemed a bit tense to me. Our hosts were used to this though, and so it didn't seem to be a big issue.
On our journey, my cousin shared with me a recorded video on her phone of her granddaughter. She was beautifully poised, and in perfect english welcomed us to Bodø. It was sweet, thoughtful and very memorable.
Catching the first glimpse of Ørnes was surprisingly exhilarating. I could see why people lived and continue to live here. It is beautiful!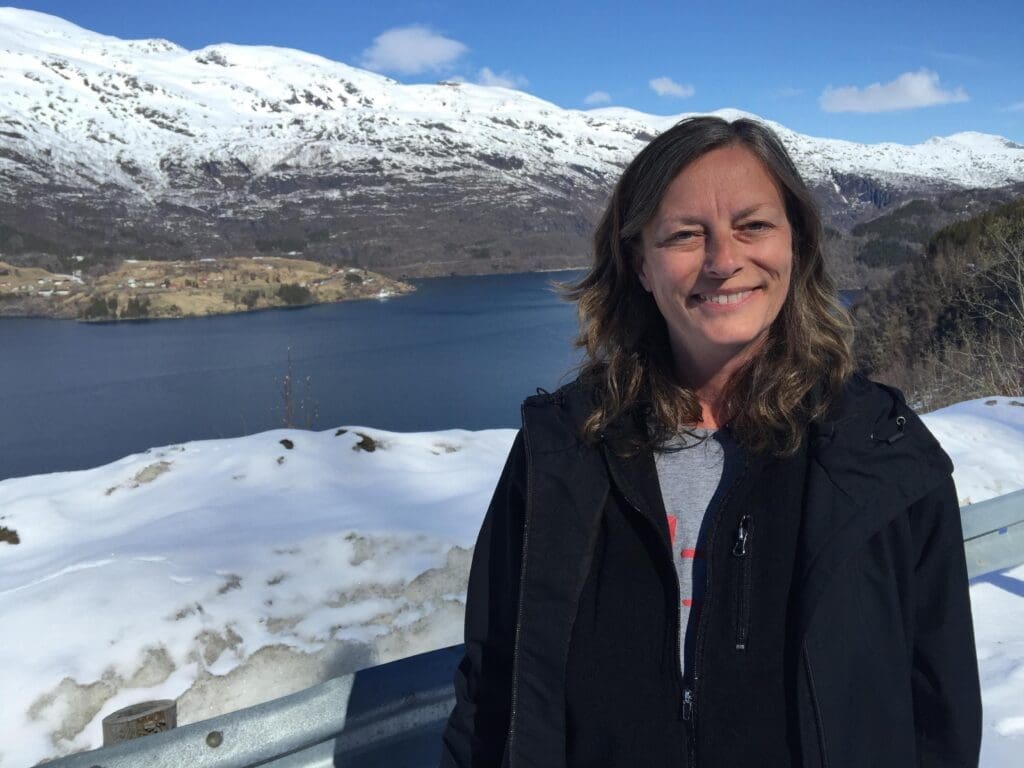 Once in Ørnes, we drove around, receiving more details and stories of some of the buildings and people who lived here.
We visited the home my grandmother would have lived in as a child, and the barn she would have played in. The view from this land was amazing, very peaceful and serene.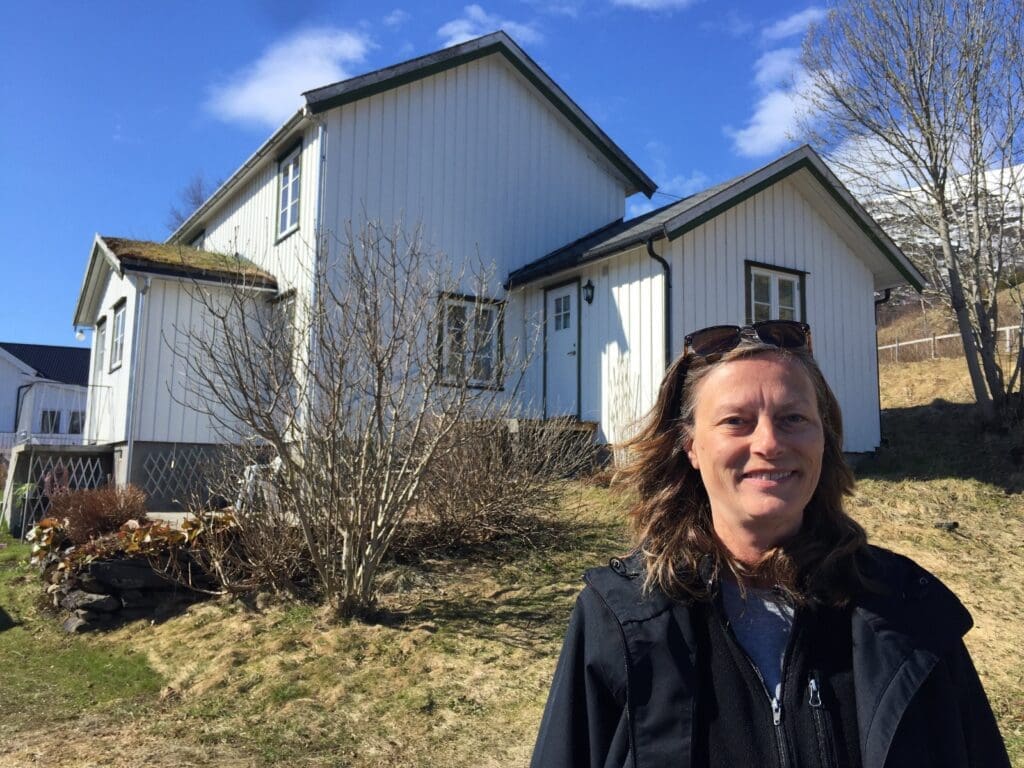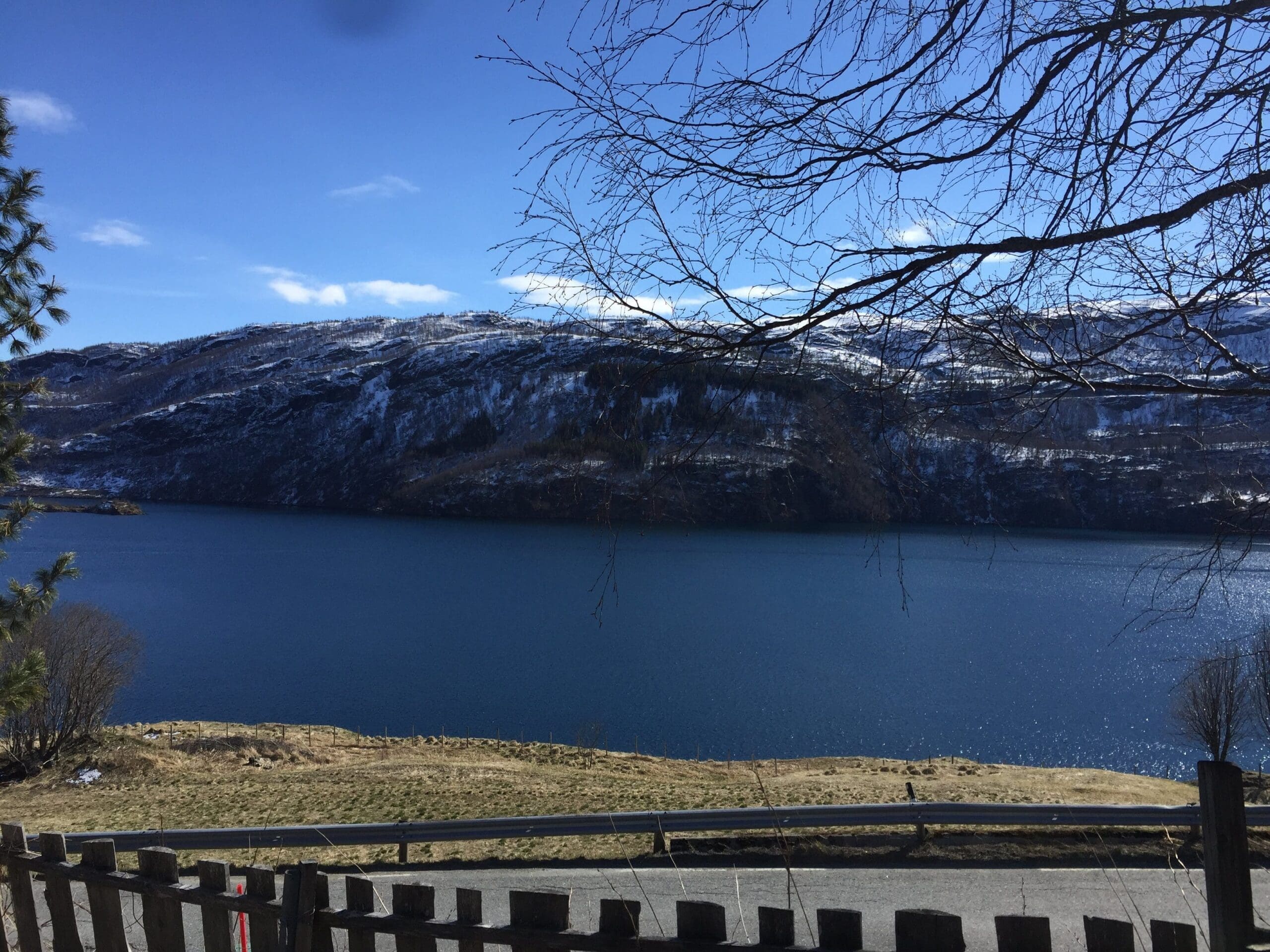 We drove up to someone's farm, and although we arrived without notice, the lovely couple welcomed us and provided even more details relevant to my family.
The boarding house which is still there is the place where my great grandfather Rasmus Jakobsen would have spent his final years. They had made the rooms up as they were expecting visitors, however they allowed us to take pictures of the room he would have likely stayed in. There were even more stories about great grandfather Rasmus. By all accounts he seemed to be quite a character. Stories of him had been passed down through the community. I'm not sure if that's good or bad, it just is.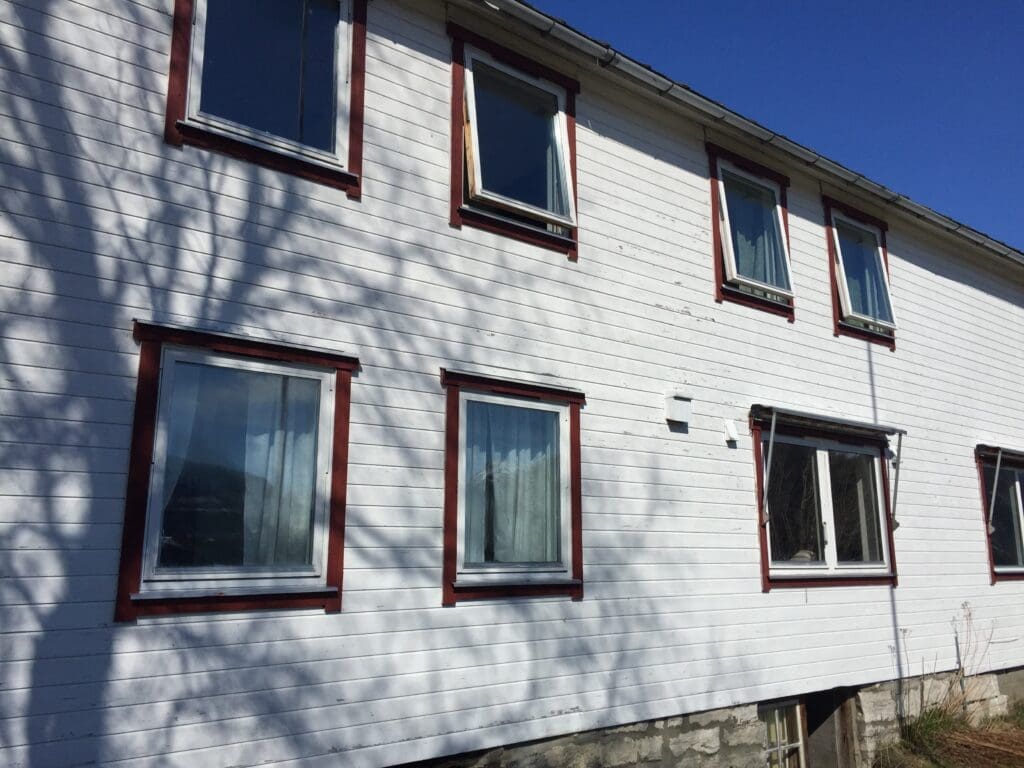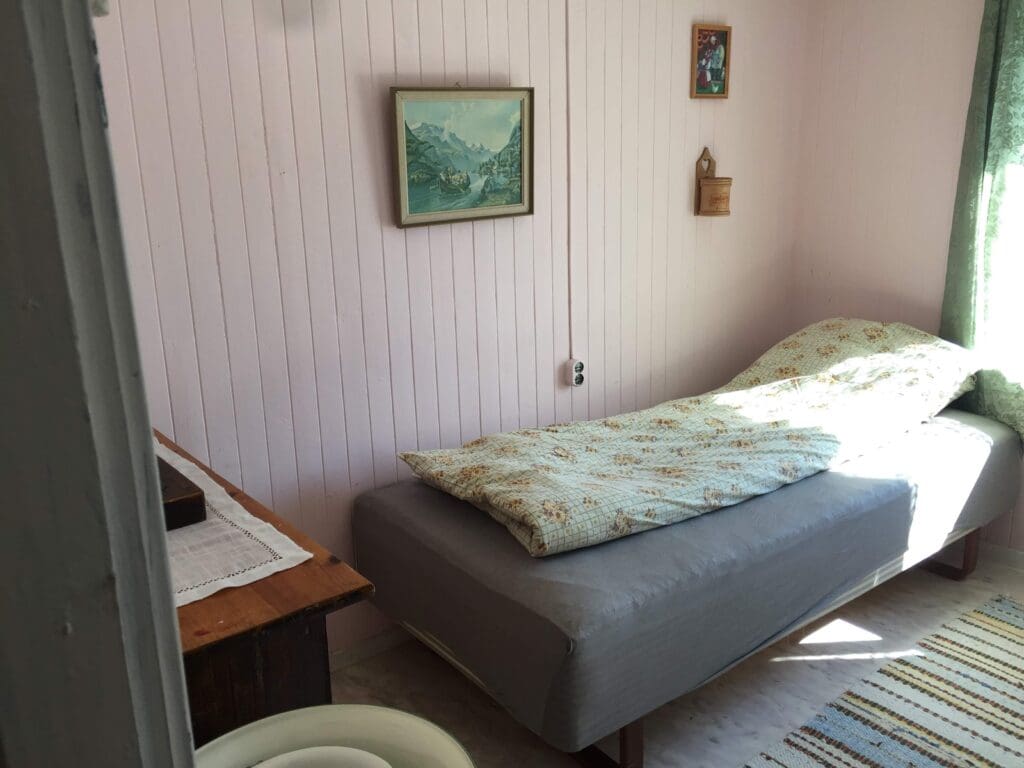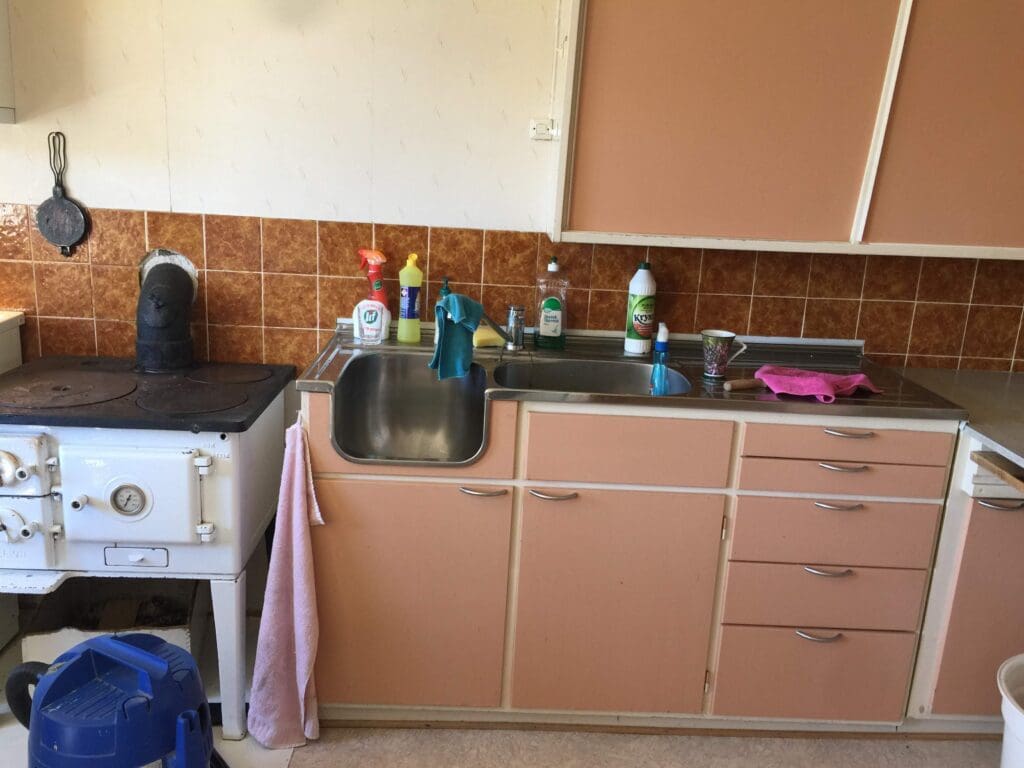 The people we had just met at the farm showed us a book of families and their history in the area. They opened the page to my grandmother's family.
On our way out of town, we stopped and had a wonderful buffet lunch together at a restaurant. We chatted about life in Ørnes and community in the surrounding areas. On the drive back to Bodø, we talked more about our families and their current life in Bodø and our life back in Canada. I talked about my Grandma Julia, what her life had been like in Canada. She got married, she had children and then grandchildren.
She lived in Edmonton, Alberta for awhile, then they moved to a community named Highvale, Alberta, where many farmers were originally provided land for homesteading as part of the Dominion Land Act of Canada. My grandma owned and operated a café in Highvale while my grandpa farmed. When my grandfather Joseph Wesley McLean died in 1938 at 49 years old, Julia was only 43, and so she raised the remaining children still at home ranging from 7-17 years. She moved to Devon, Alberta where she lived the rest of her life until her death at the age of 81 in 1977.
I don't think she had an easy life, but I believe she was mostly happy. When she died, I was only 15 years old at the time. These weren't the types of things we talked about. I do remember, every Sunday all seven of us kids and my mom and dad piled into the station wagon and went to her house in Devon, Alberta. Mostly us kids were entertained by my uncles, Bill and Richard, who lived with Grandma. They were so much fun to hang around with.
In reality, I learned very little about my grandmother's life directly from her. Folks of that generation didn't talk much about their hardships or challenges, they just lived. I was fortunate that many of the details of the Highvale community have been captured thorough the pages of books put together by relatives and other members of the community. Both my mom and dad's families settled there originally.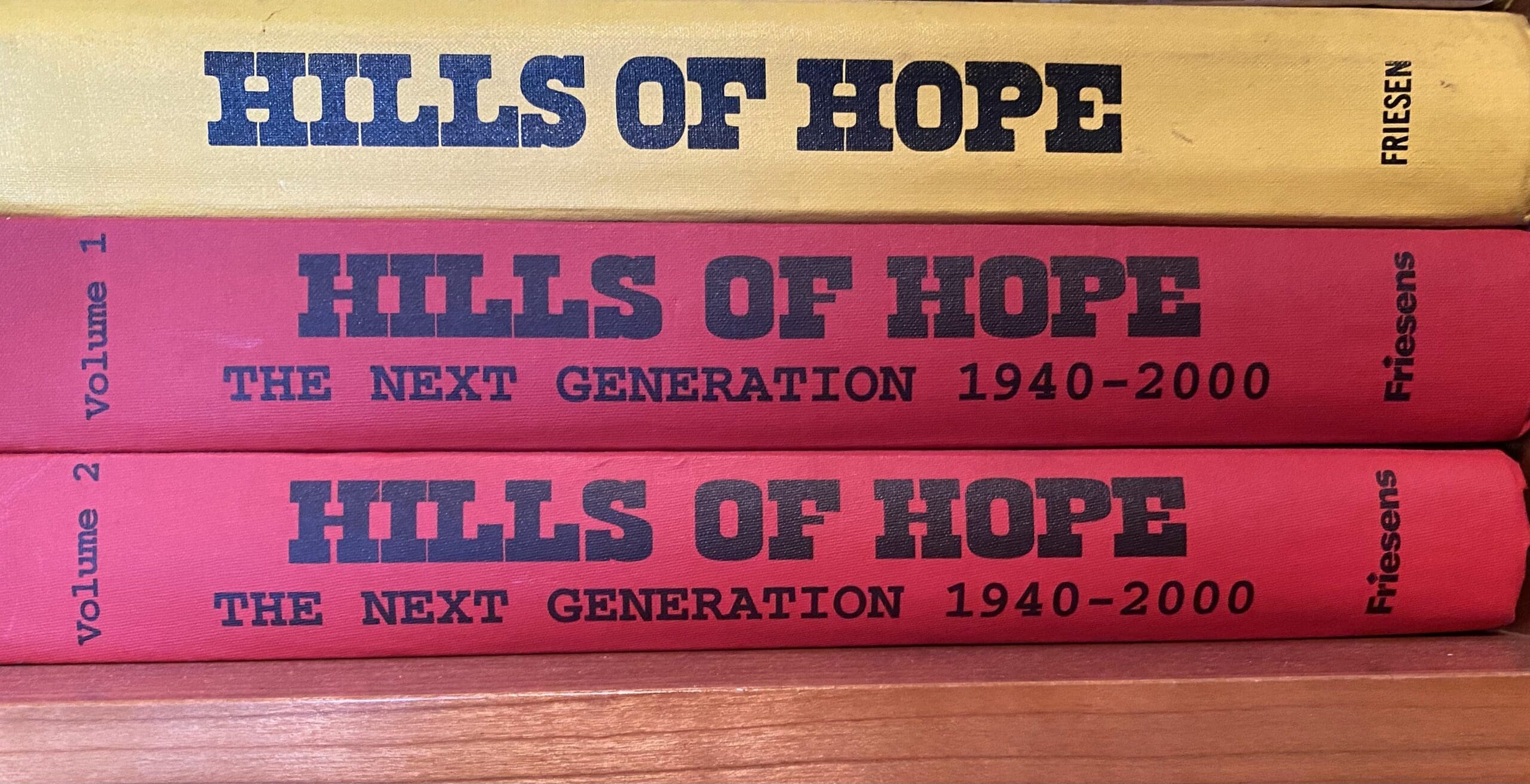 Summarizing our ancestry trip to Ørnes
I think (or hope) what I inherited from my grandmother is a sense of adventure, courage and independence. Although she returned to Norway only once after she initially left, she did so as soon as the 1918 pandemic was declared over in 1920. And she made the journey with a two year old and a baby, plus another on the way. She gave birth in Norway then came home to Canada a few months later. To me, that certainly would have taken a lot of tenacity and a strong sense of adventure. She was certainly an independent woman.
The kindness we were shown on our ancestry trip to Ørnes Norway, and the willingness of others to share both time and information so we could learn more about my family was very special to me.
An ancestry trip is so much more than travelling to a destination you've never been before. It's travel with a specific purpose and it's so incredibly personal and rewarding. Meeting people you are genetically connected to who you didn't know before is awesome. Thanks to these people and their generosity, it felt like I was walking in my grandmother's footsteps that day.
By learning about our ancestors, we can bring them to life again, and in doing so, we can learn so much about ourselves in the process. There's truly nothing like it, and I would recommend ancestry travel to anyone considering it.
We hope you have enjoyed reading about our Ancestry Trip to Ørnes and Bodø Norway. If you would like to read more on our Denmark and Norway trip, check out our other articles.