3 Days in Copenhagen Denmark
This is our list of the best things to do with when you only have 3 Days in Copenhagen Denmark. Perhaps its only a long weekend you have to spend in Copenhagen? Writing this post has made us realize how much we enjoyed Copenhagen, and how much we want to return very soon!
Copenhagen is the capital city of Denmark, and like any city of this size and scope, you won't see everything there is to see in three days. It's the largest city in Denmark. This city has been consistently acknowledged as being amongst the most eco-friendly cities in the world.
Copenhagen is known for many things, not the least of which is their passion and commitment for riding bicycles. There exists a massive infrastructure supporting this amazing bike friendly city. It's estimated that there are 5 bikes for every car in Copenhagen. We certainly saw evidence of this while we were visiting.
One of our favourite programs on television provides a more in-depth look at Copenhagen in one of it's episodes. It is titled Life Sized City. Check the link to see if you're able to and how to view this from your country. It's a show we receive here in British Columbia, so we've watched all the episodes. This is not a show written or produced for tourists, however the host resides in Copenhagen so you'll get an interesting perspective in watching this particular episode.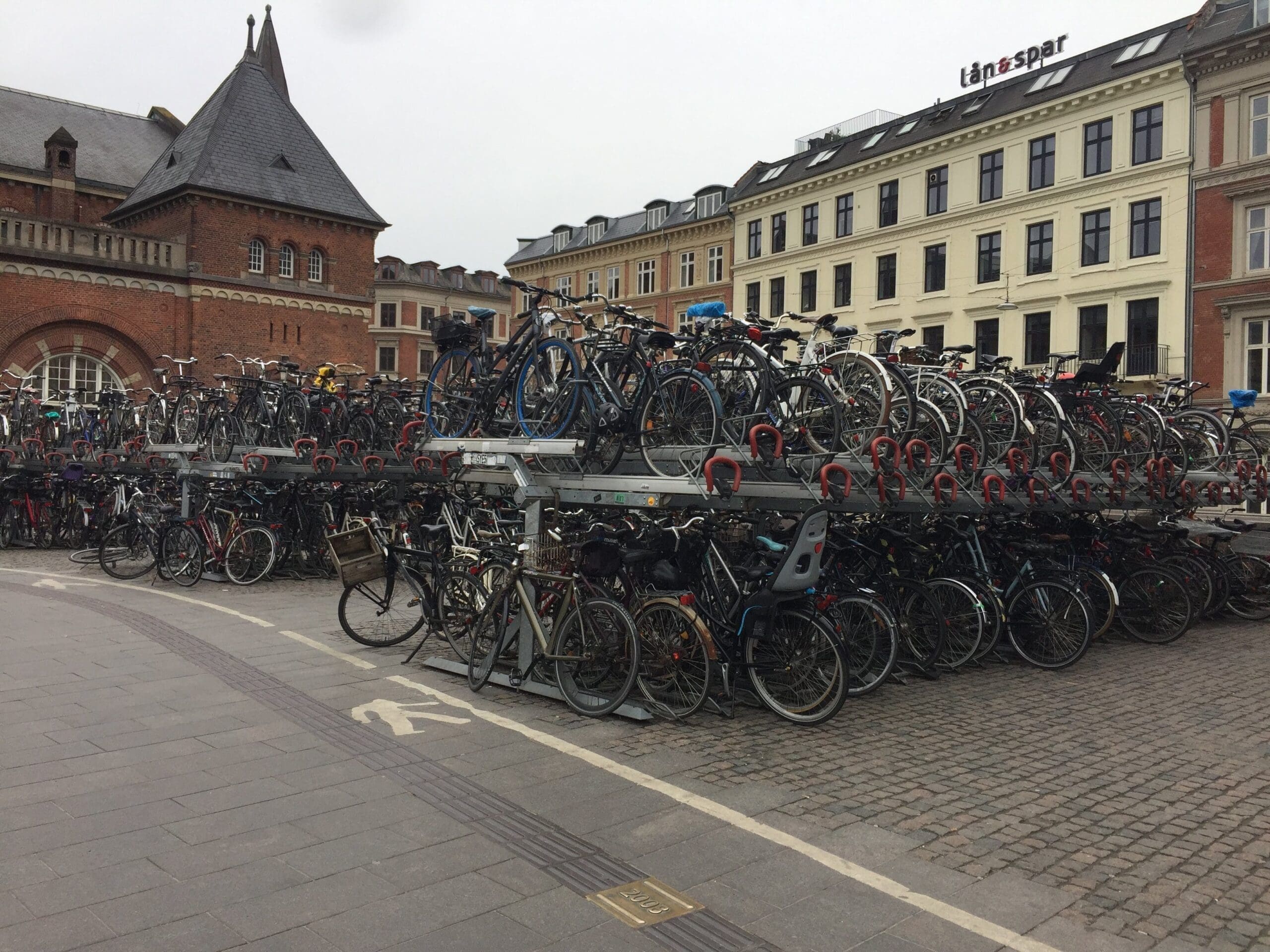 Our Latest Visit to Copenhagen Denmark
We last visited Copenhagen Denmark in April 2019 as part of our Denmark to Norway Trip. Here's our list of the best things to do when you only have 3 Days in Copenhagen Denmark. If you plan to visit Copenhagen on a long weekend, check each venue to ensure they are open prior to arranging your trip.
Note: You're able to purchase a Copenhagen Card if you wish to visit several attractions during your stay. Depending on how many and which attractions you plan to see, this might be worthwhile. Ensure you review all the terms of use prior to purchase to confirm it meets your needs over the time you're in the city.
How we travelled to Copenhagen Denmark
We flew into Copenhagen from Billund, Denmark. We used Scandinavian Airlines (SAS). At the time we booked through Expedia, this was the least expensive flight. This was a great experience and we wouldn't hesitate to use the airline again in the future.
When we left Denmark, we took the train to the next leg of our journey, which was Oslo, Norway. Check our 3 days in Oslo Norway post for more information.
Things to Do When you only have 3 Days in Copenhagen Denmark
Nyhavn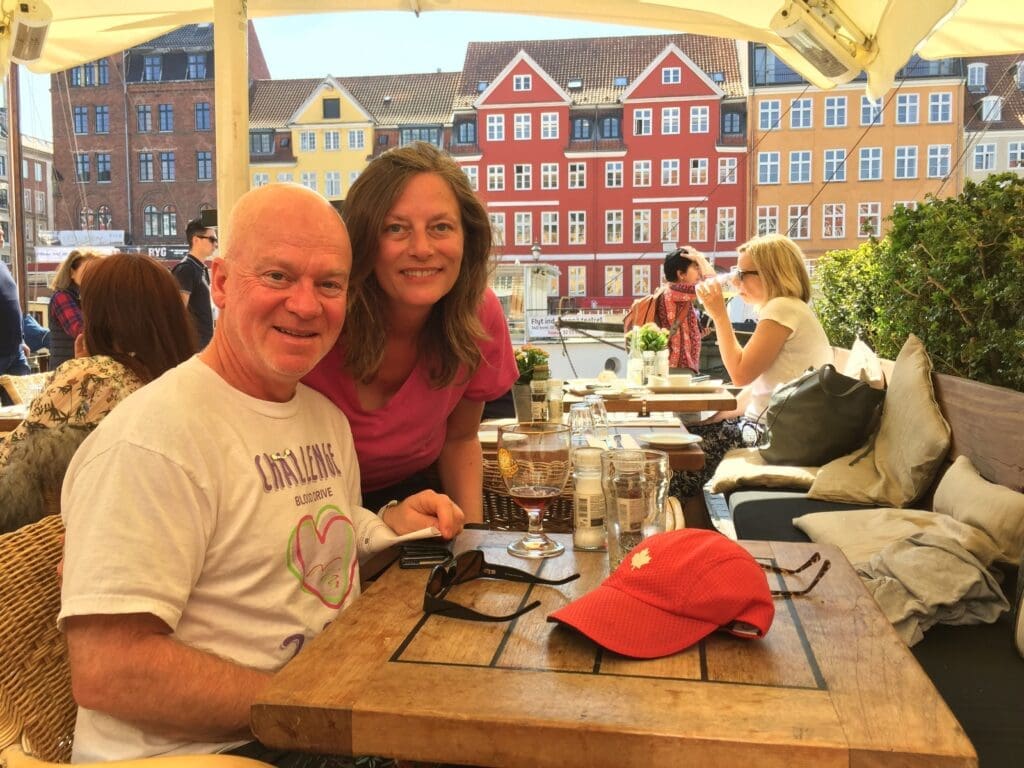 Beautiful, quaint, charming, and laid back are all words to describe Nyhavn. There are so many other words, but suffice it to say, you won't want to visit here just once. If possible, leave some time to go back again no matter what other activities you enjoy while in Copenhagen. Being in Nyhavn looks and feels a little like you're in a postcard. It's a busy and vibrant area with a lot happening.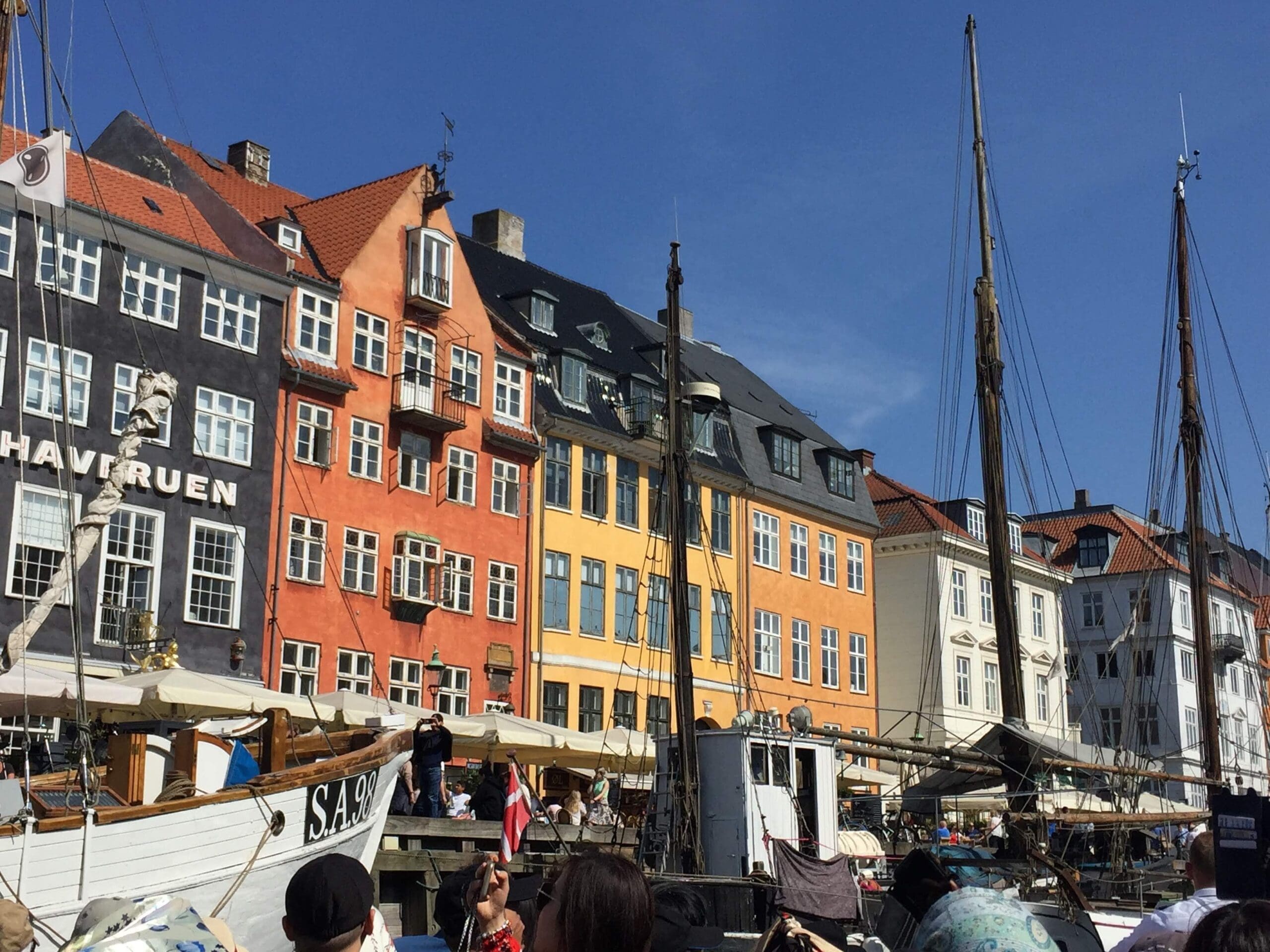 After walking around, we were hungry, so we decided to sit awhile to eat lunch. It was fabulous! Not only the food, but watching and participating in the activity all around us.
It plays out like a perfectly timed orchestra or ballet, the servers all accustomed to working in tight spaces move about artfully, the pedestrians walking by on the narrow sidewalks give way when necessary to the tables full of people all enjoying the ambiance of being next to the canal. Surrounded by the colourful old buildings, all of this makes up that which is Nyhavn. It was our pleasure to be a part of this special place, if only for a short while. Nyhavn has easily become one of our favourite memories from visiting Copenhagen.
Stroll along the Langelinie promenade
From Amalienborg, Langelinie Park is only a 12 minute walk. We know this because we walked there the same day we visited Amalienborg. To arrive to the Langelinie Promenade is another 12-13 minute walk.
Our goal was to see the Little Mermaid, but there is so much to see along the way. In addition to this being a very pleasant stroll along the water, there's a lot of history and statues here to see.
The Little Mermaid
The Little Mermaid is a fairy tale written by Danish author Hans Christian Andersen, who moved to Copenhagen in 1819 at the age of 14. The book was written in 1836 and published in 1837. Carl Jacobsen, who was a Danish brewer (Carlsberg Brewery), loved the Little Mermaid character and ballet so much that he commissioned sculptor Edvard Eriksen to create a sculpture.
Unfortunately, the statue was damaged several times, even beheaded. It was later stolen and recovered. The original sculpture is now kept at an undisclosed location by Eriksen's heirs. Being a copy doesn't detract from the beauty of the statue, so that the original can be preserved.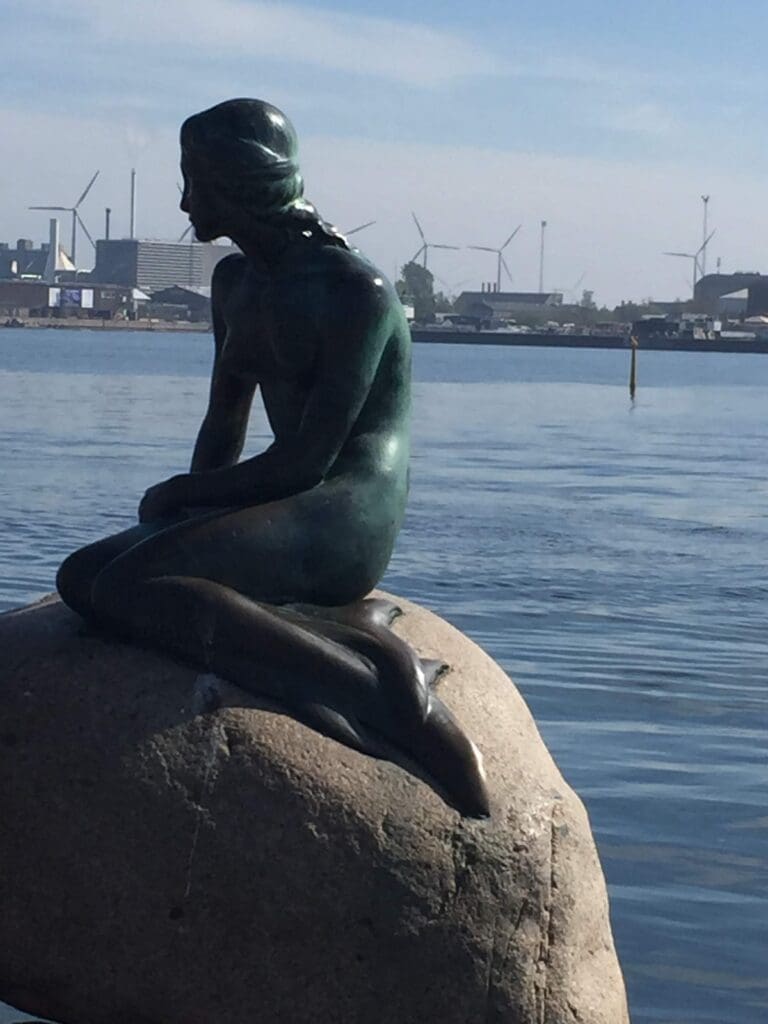 Princess Marie
This monument is in honor of Princess Marie, created by Carl Martin-Hansen, and installed in 1912. Princess Marie married Prince Valdemar of Denmark in 1885.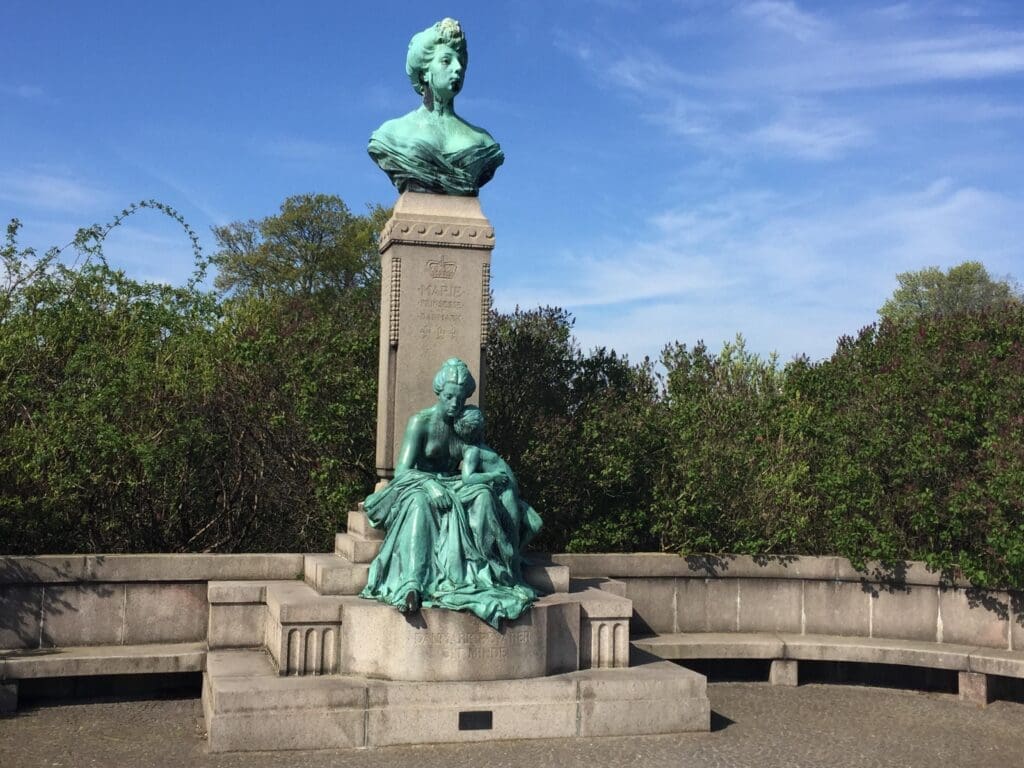 Efter Badet
This sculpture was created by Carl Aarsleff in 1909. Translated to English, Efter Badet means "after the bath". It's of a man drying himself.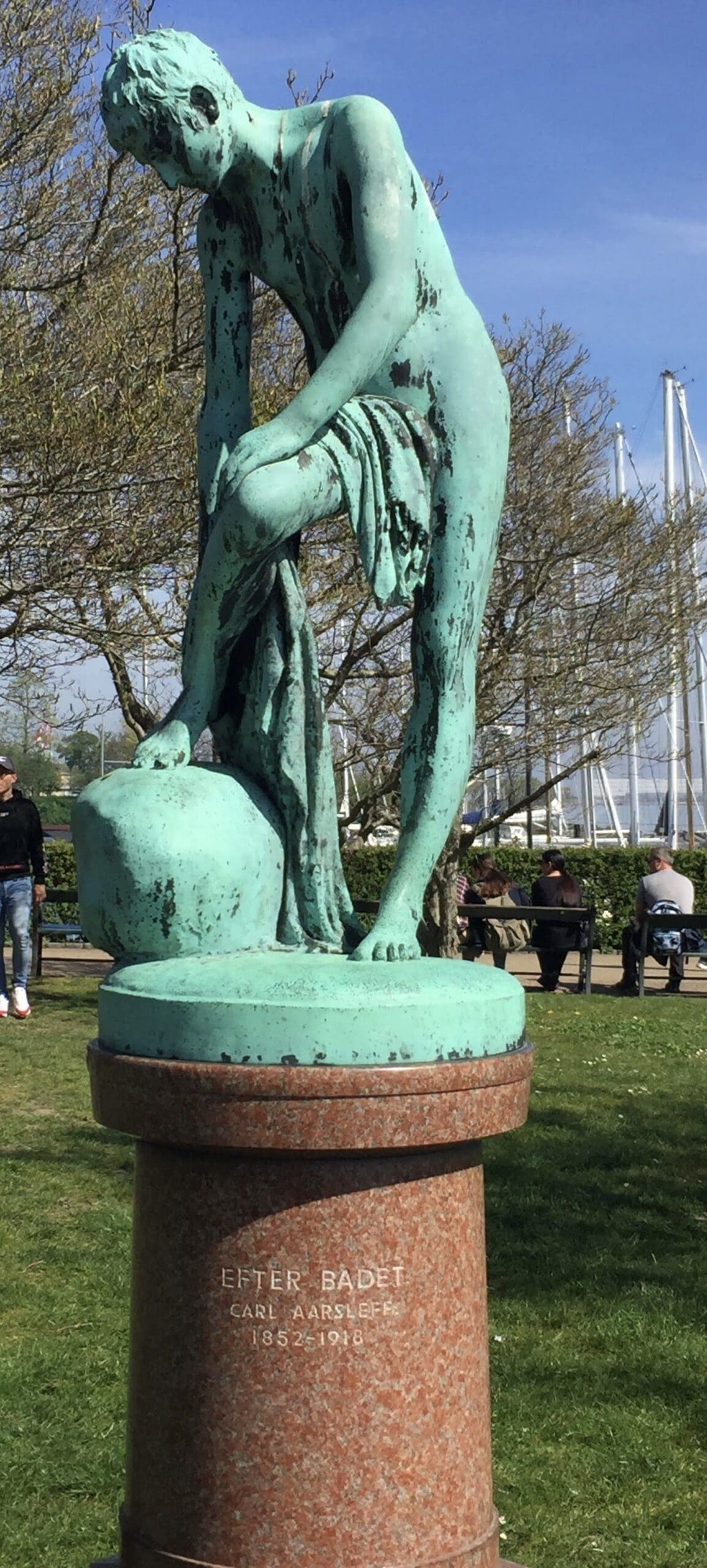 The Maritime Memorial
This maritime memorial is to remember those Danish sailors who lost their lives during WWI. It's a sculpture of a winged female, representing memory, placed on a large platform, which lists the names of those 648 sailors who drowned, along with the 101 merchant ships.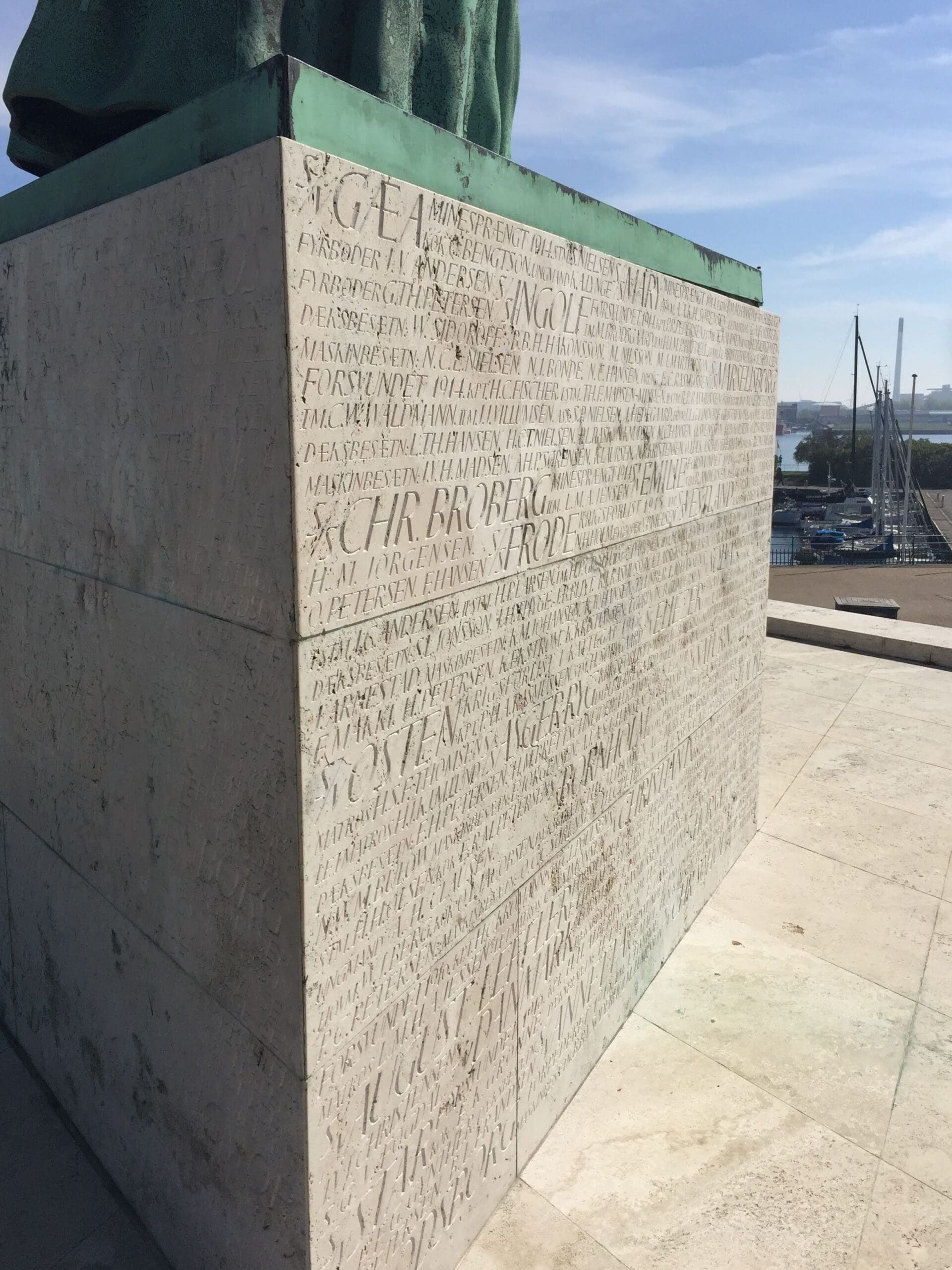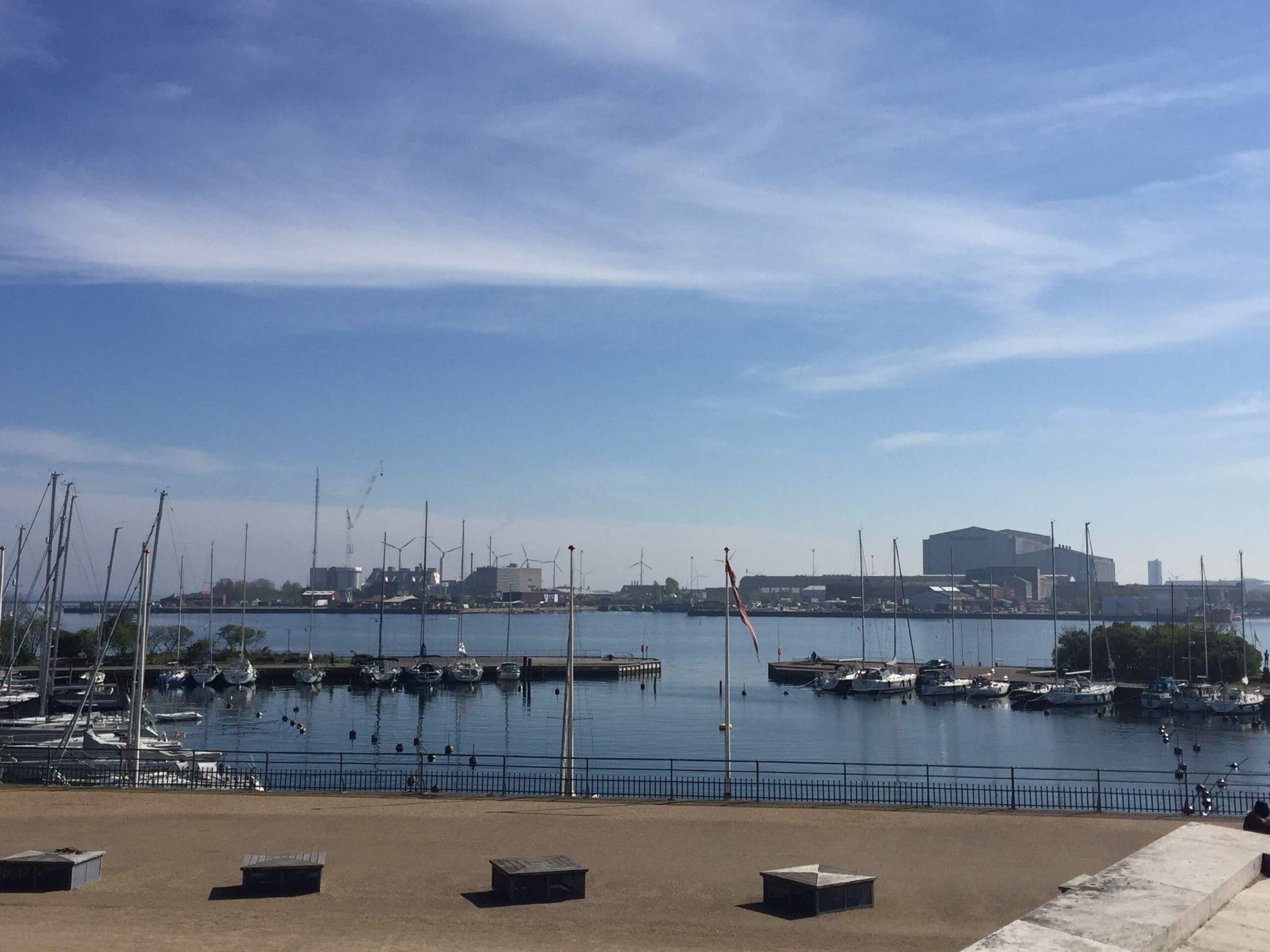 Gefion Fountain and St. Alban's Church
A little south of Langelinie is a fountain depicting Norse goddess Gefion driving a team of oxen pulling a plow. The fountain was first activated in 1908. You are now in Churchillparken, which is a park between Kastellet and the street Esplanaden.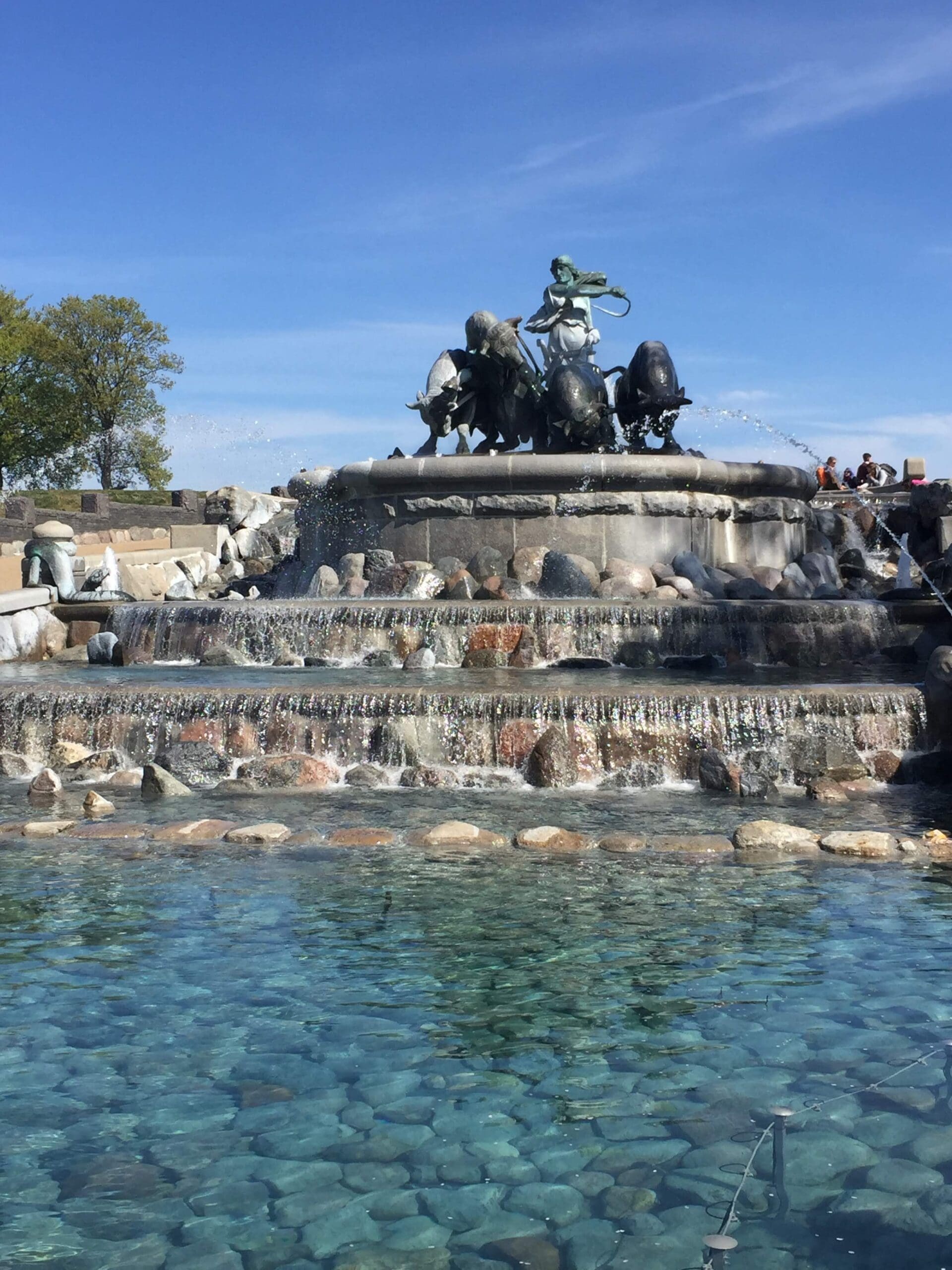 Beyond the Gefion Fountain is St. Alban's Church, built in 1887, known as the "English Church", which is Anglican. According to their website, this is the only Anglican Church in Denmark.
Kastellet
Kastellet is a 17th century fortress. By the time we arrived here, we were tired from a day of walking. Although with another day we would have returned to explore, this will be an activity we add to our list for next time we're in Copenhagen.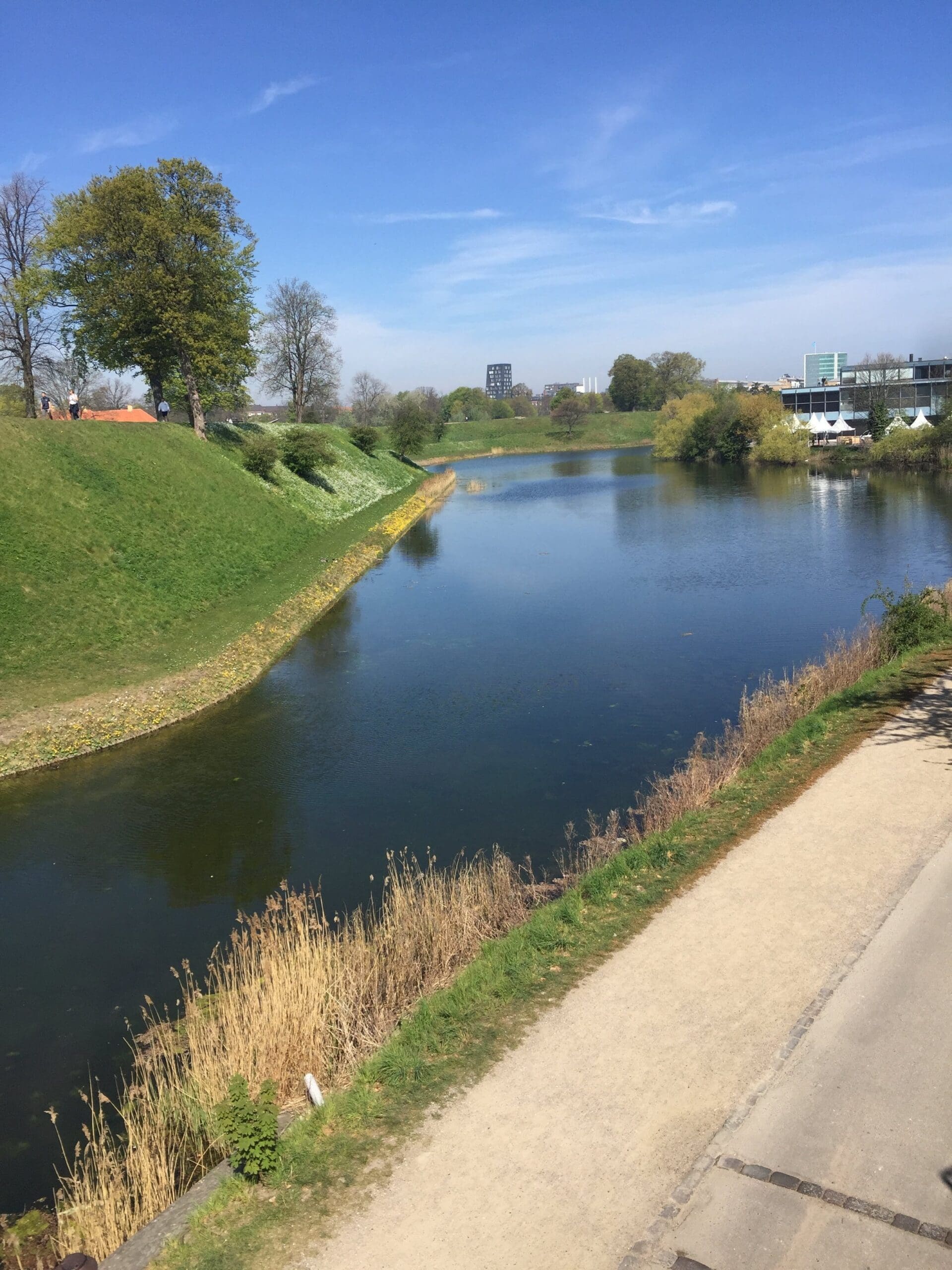 Strøget
Stroget is the longest pedestrian street in the world, stretching approximately 1.1 kilometres. As a result, you'll want to make sure you're wearing comfortable shoes. There are many restaurants and shops here. We visited only a few of them during our stay, but you could make several trips back here and shop to your heart's content. We ate lunch at a lovely restaurant in the centre and also shopped more.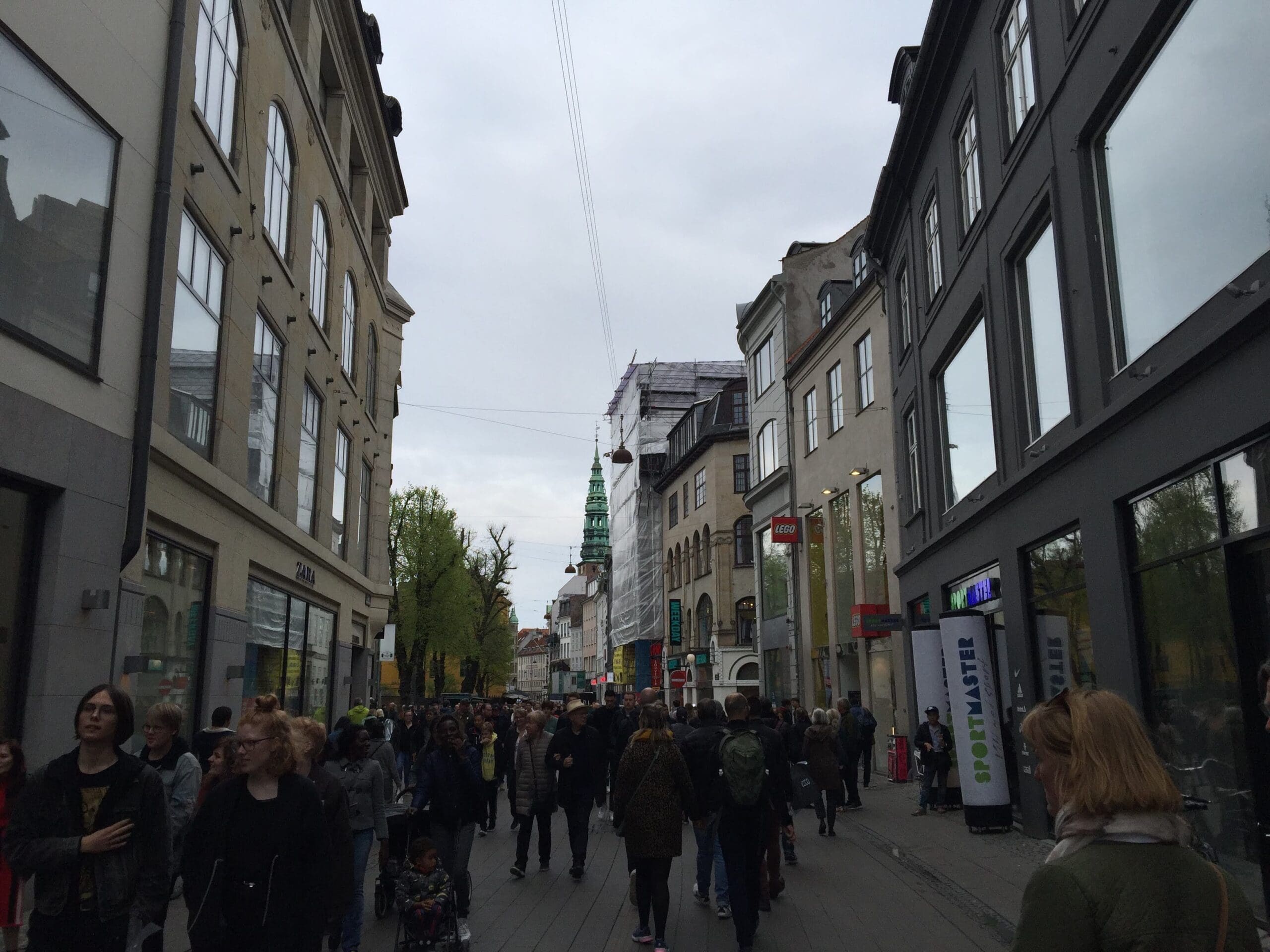 Lego Store on Strøget
There are so many great shopping opportunities on Strøget. Of course, we spent some time at the Lego Store as Paul is an AFOL (Adult Fan of Lego). This store is awesome, and the sheer volume of unique creations in this store are mind-boggling.
In short, for a Lego Fan young or old, this store in itself is a tourist attraction.
Also, there are sets here that aren't available anywhere else. You're in Denmark after all, the home of Lego (Billund) and of previous home to Hans Christian Andersen (Copenhagen). When we were at this Lego Store, the set for Hans Christian Andersen was available. A sales clerk told us it would also be available in Billund at Legoland which it turned out it wasn't. Lesson: When you have the opportunity to get an exclusive item, get the item!
If we hadn't had our Lego Inside Tour Exclusive Event Experience, we would not have been able to secure this set.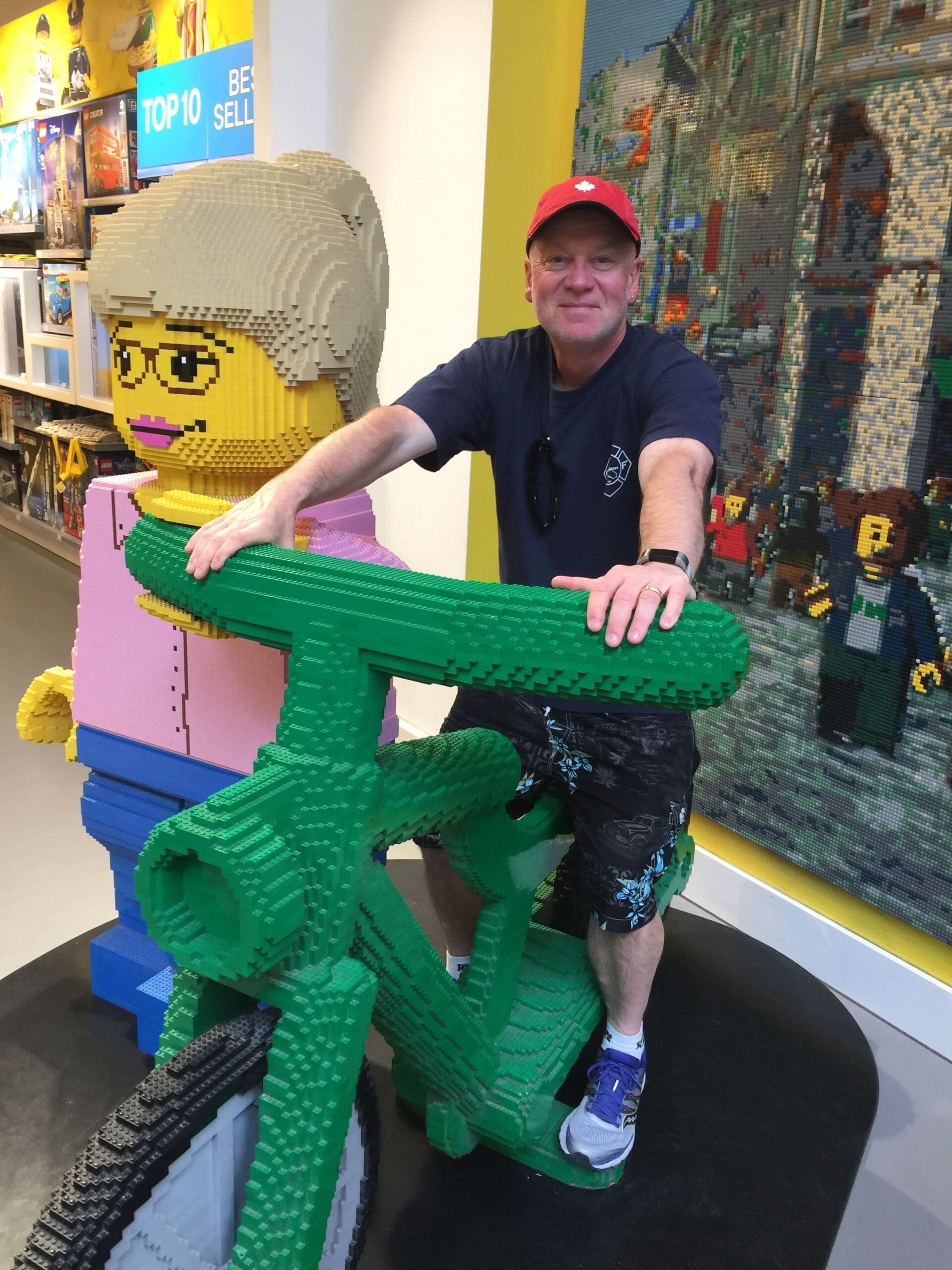 Tivoli Gardens
Our hotel was adjacent to Tivoli Gardens. This is an amusement park and pleasure garden. It opened in 1843 and is the third oldest amusement park in the world. Admittedly, amusement parks aren't our thing. However there were many eateries right next to the amusement park, and because our hotel was so close, we sat in the open air and watched many people come and go. It's obviously a very popular activity for families.
Based on the laughter and high pitched screams we heard while we were sitting next to the gardens, along with the smiles on faces of people as they were leaving, if you enjoy amusements parks, you'll want to consider this as a possible activity.
Copenhagen Opera House
It's lovely to walk around in this area, and close to this beautiful building. You are, after all walking along the water, so that's almost always going to be relaxing. Check the Copenhagen Opera House website to see what performances are available while you're in the city.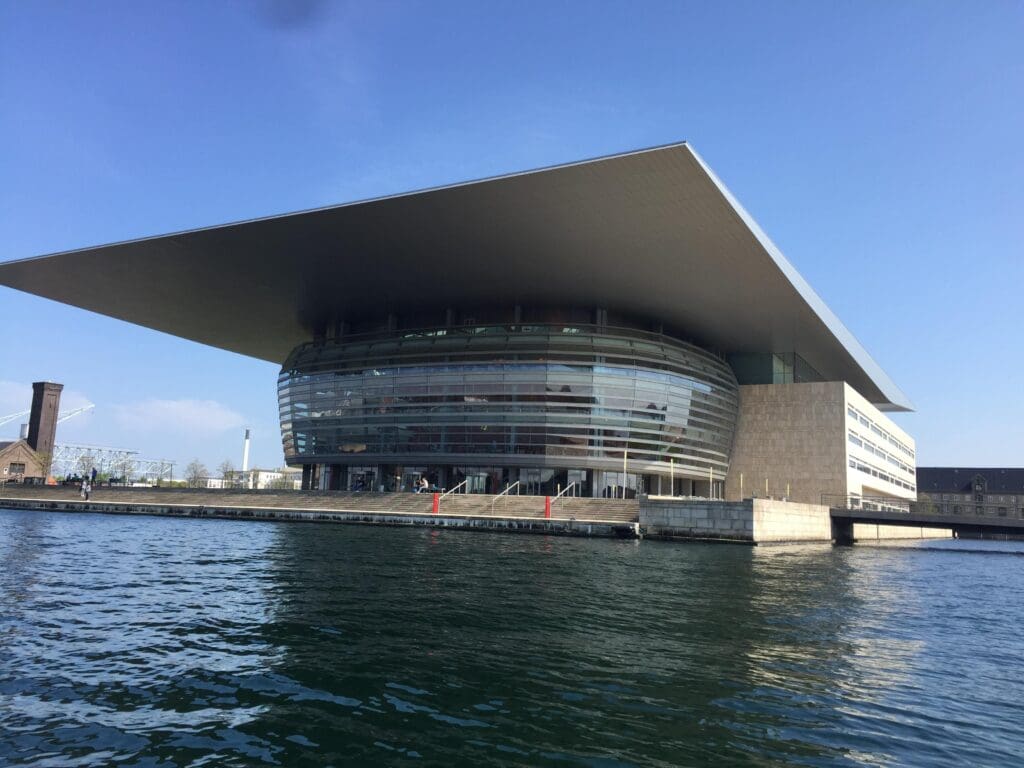 Take a Hop On Hop Off Bus
When you're short on time, and want to see the highlights of a city, a hop on hop off bus can be worthwhile. Because we only had 3 Days in Copenhagen Denmark, we decided it made sense to ride the bus to see more of the city while we were there. We're glad we did this, and it also gave us ideas for our next visit.
Take a Canal Boat Tour
This is an amazing way to experience a city by the water. You will enjoy views of the architecture, bridges and harbour/ canal not visible from land.
As a tip, the tours usually include seeing The Little Mermaid. You will see her, however depending where you're sitting you may not get the viewing or pictures you've planned. Unfortunately, the boat doesn't get as close as you will if you walk there yourself.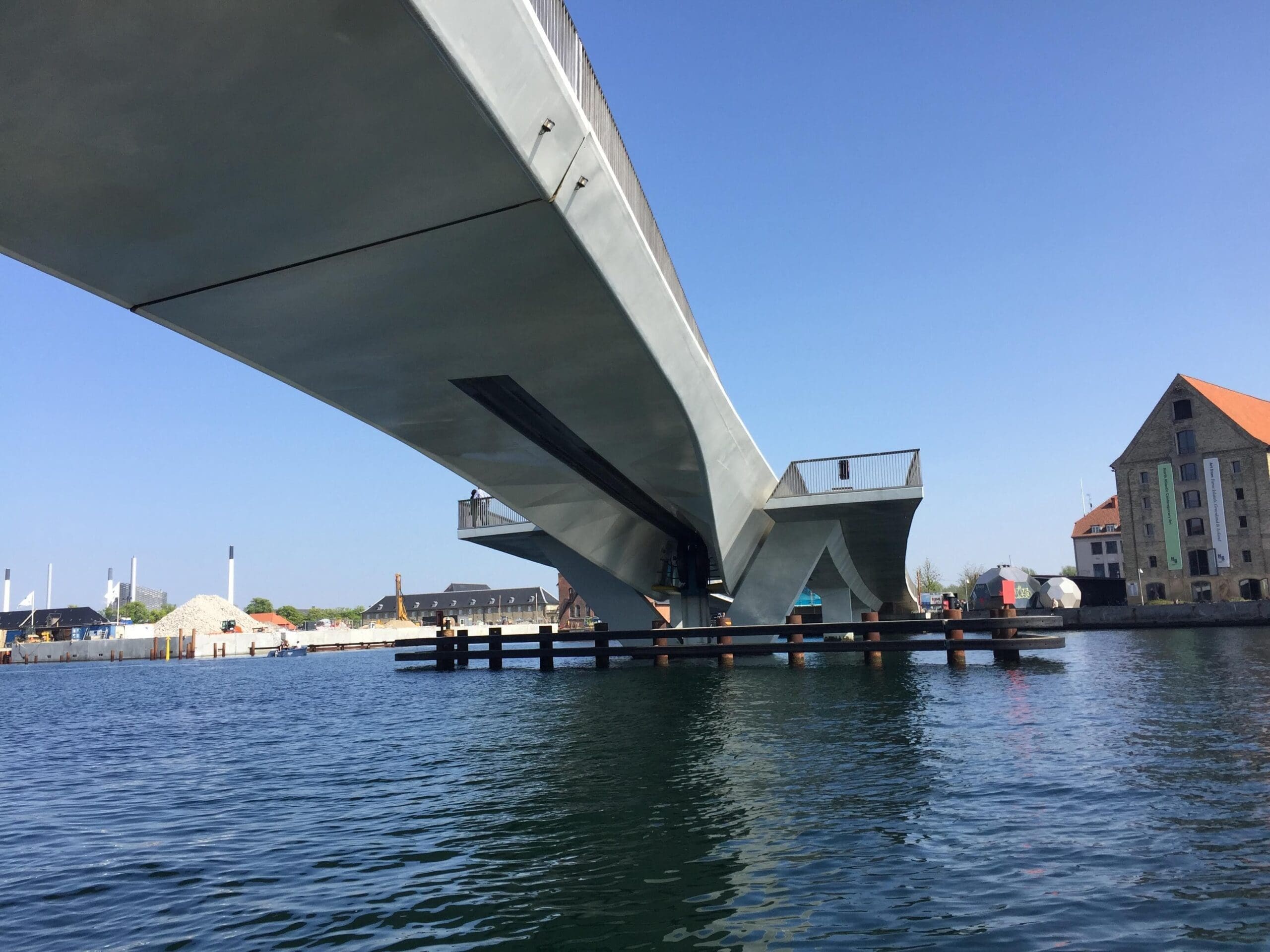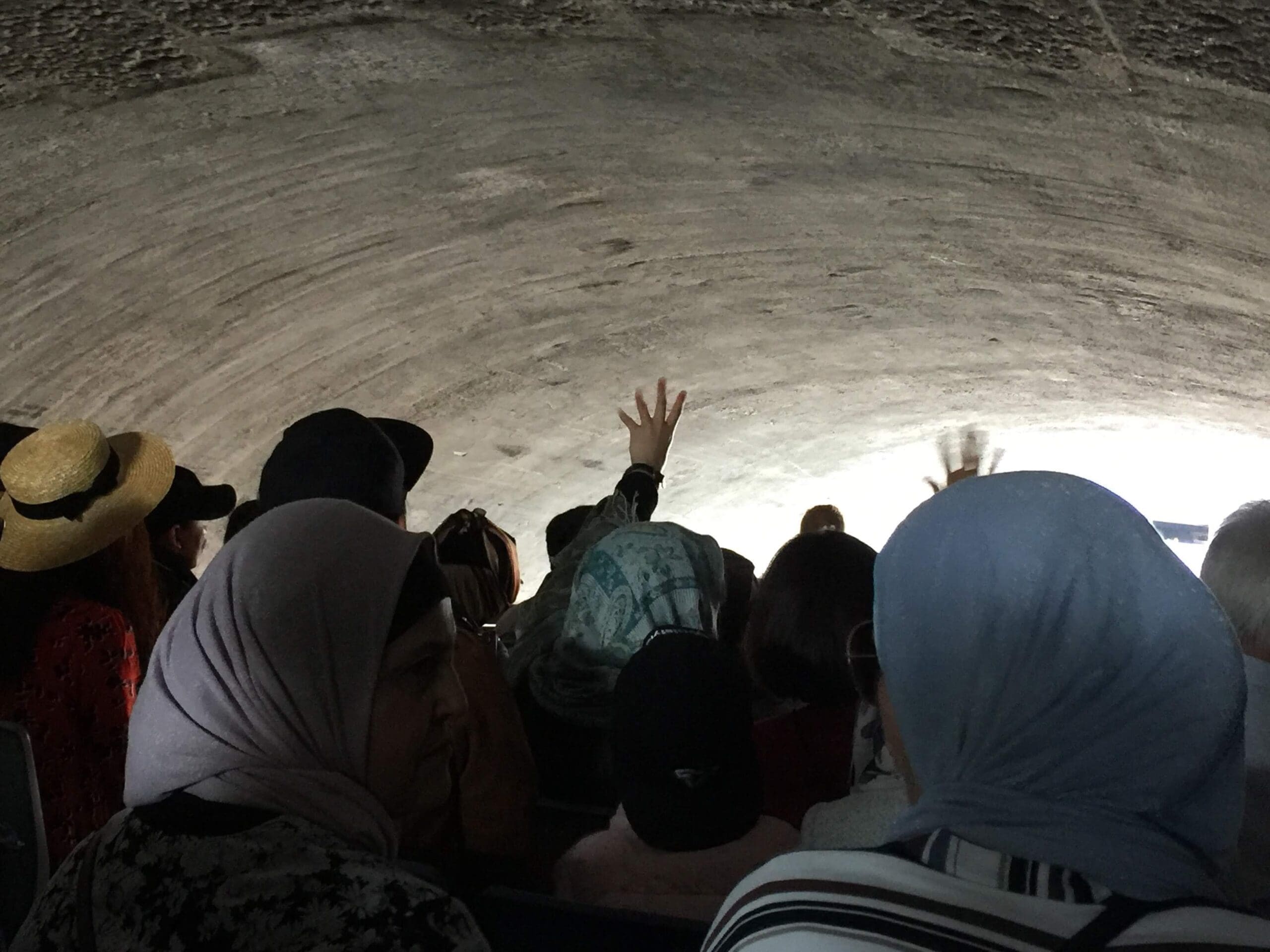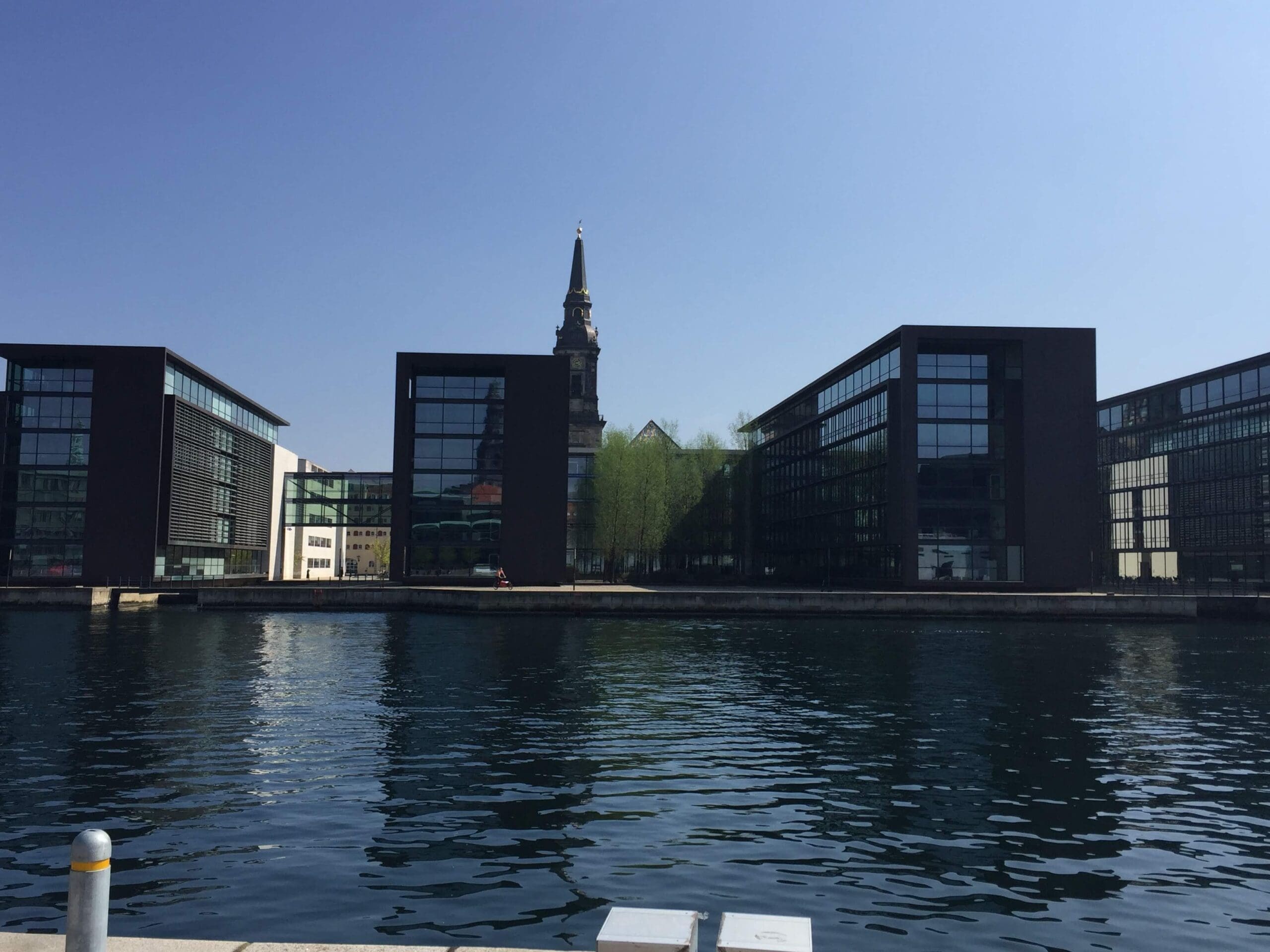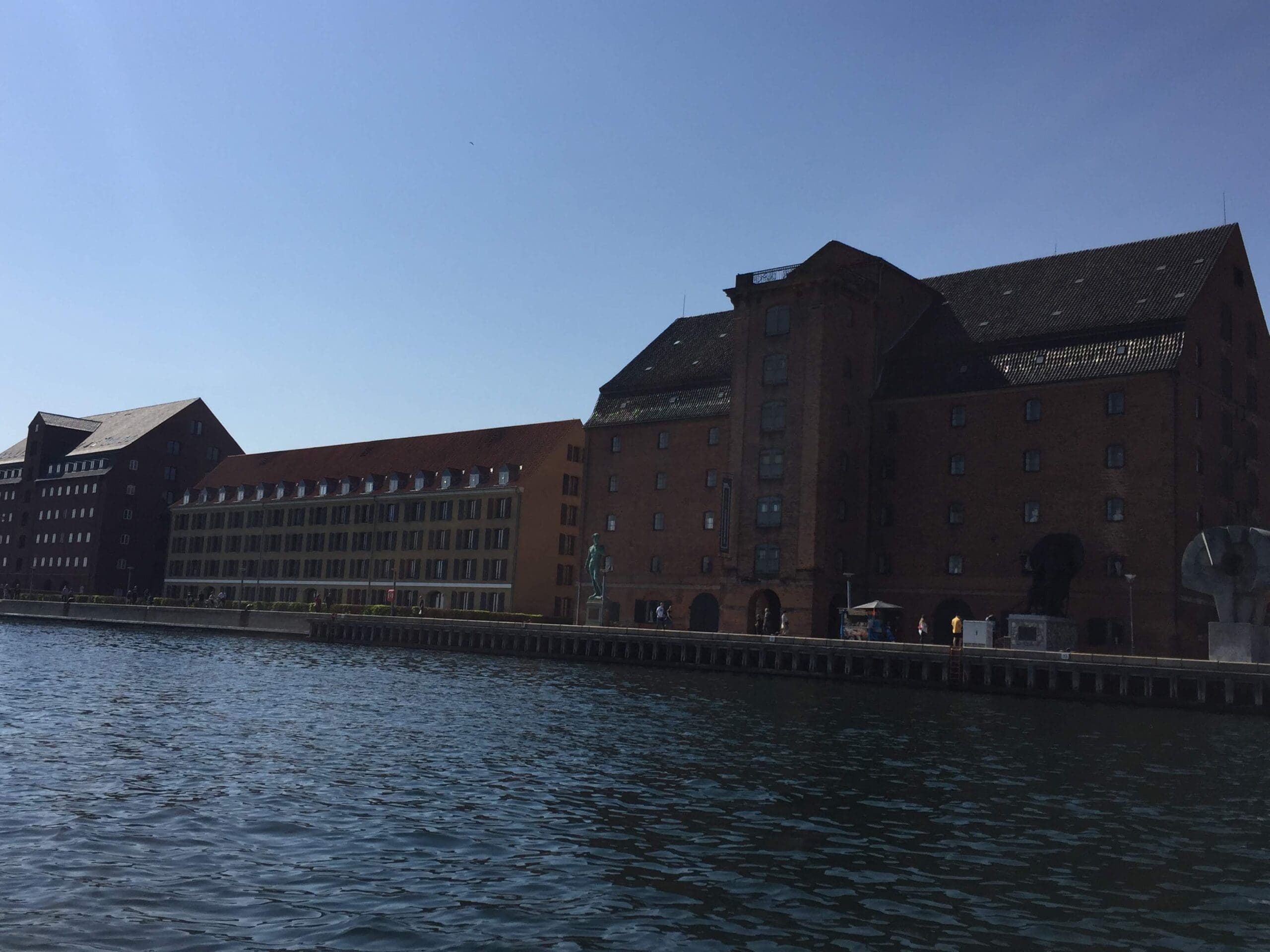 Islands Brygge
A mix of historical and modern buildings surrounds this harbourfront neighborhood. There are outdoor pools, or harbor bathing if you prefer. You can stroll by, sit, relax or simply sunbathe. This is a great community gathering space, and is extremely busy when it's warm outside.
Amalienborg Palace
Amalienborg is the Danish Royal Family residence. The four buildings were constructed in the1750s as homes for the nobility of the time. In 1794, when a fire destroyed the Royal Family's own home, they took over these buildings. Indeed, walking around these grounds is very much like stepping back through history.
If you wish, you can book a guided tour of Amalienborg Museum.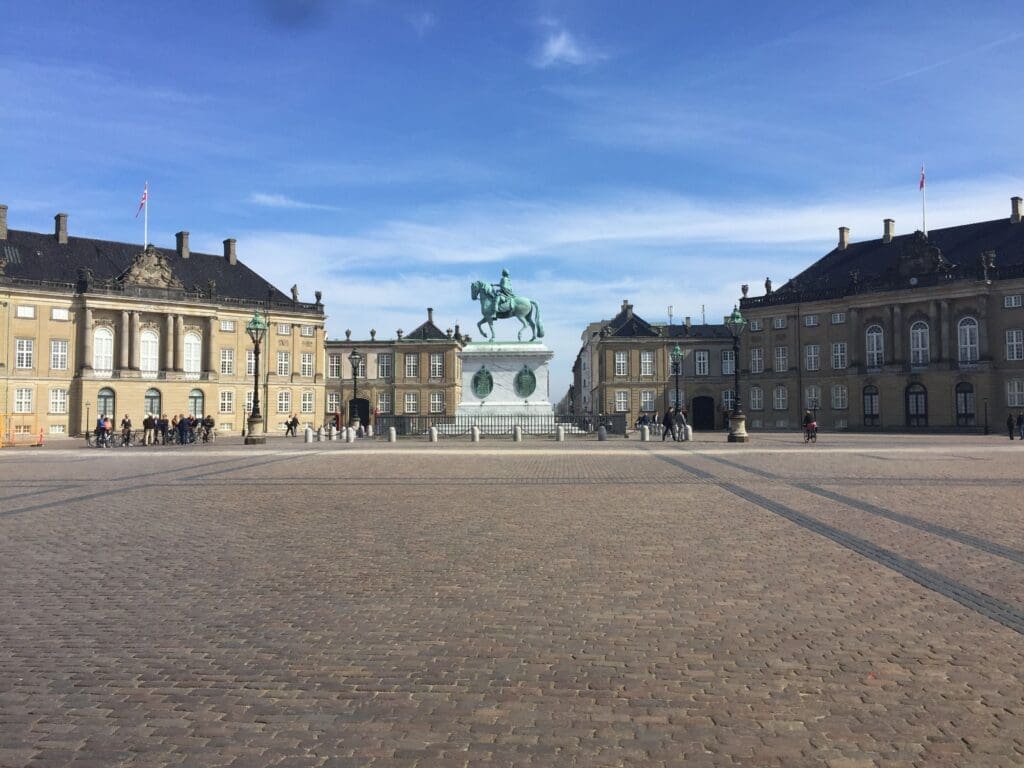 While we were there, we remained for the Changing of the Guard, as this is something we like to view in different cites we travel to. The ceremony takes place daily at 12:00 p.m. and if the Queen is in residence, they are also accompanied by the Royal Guard Band.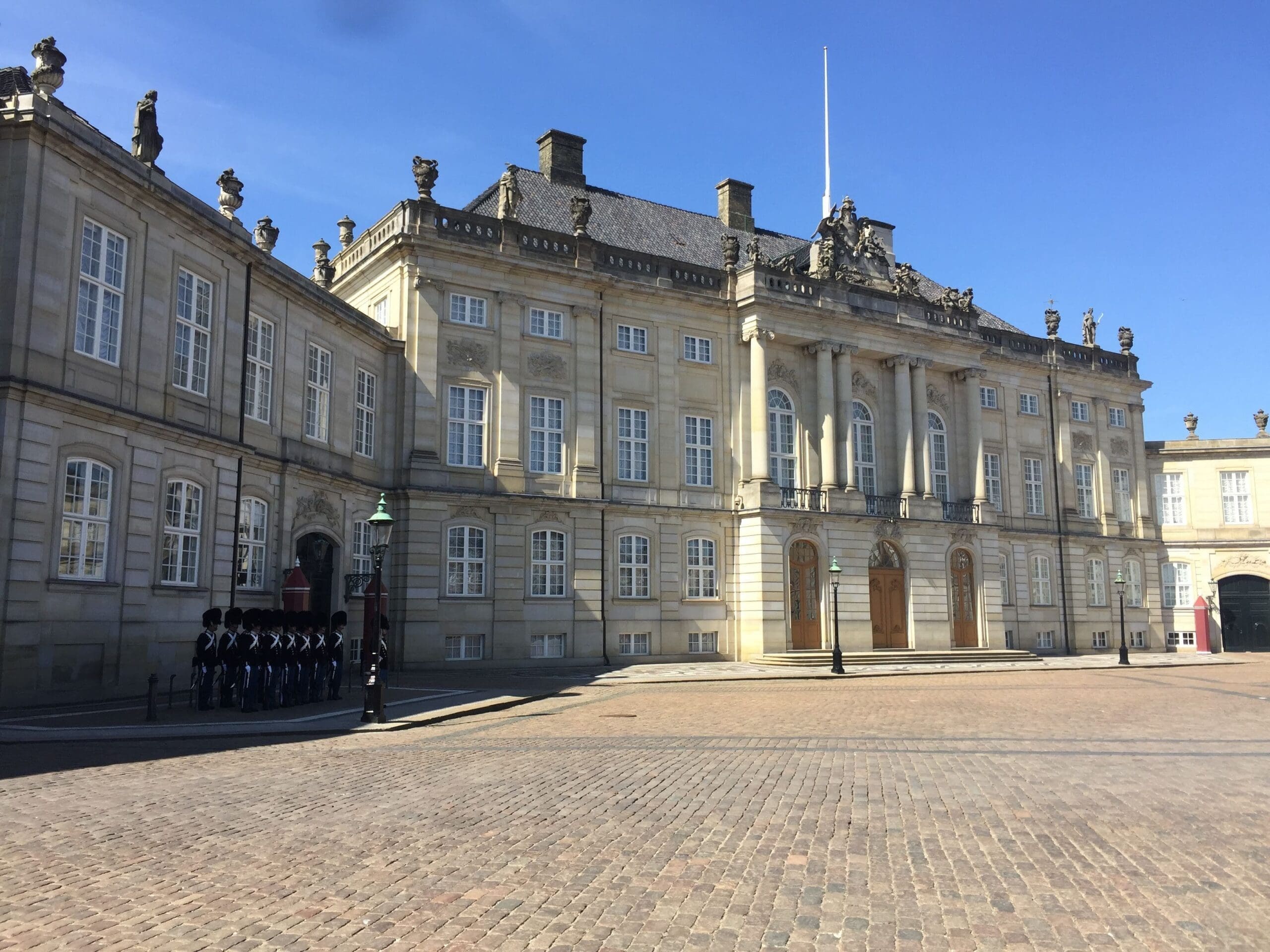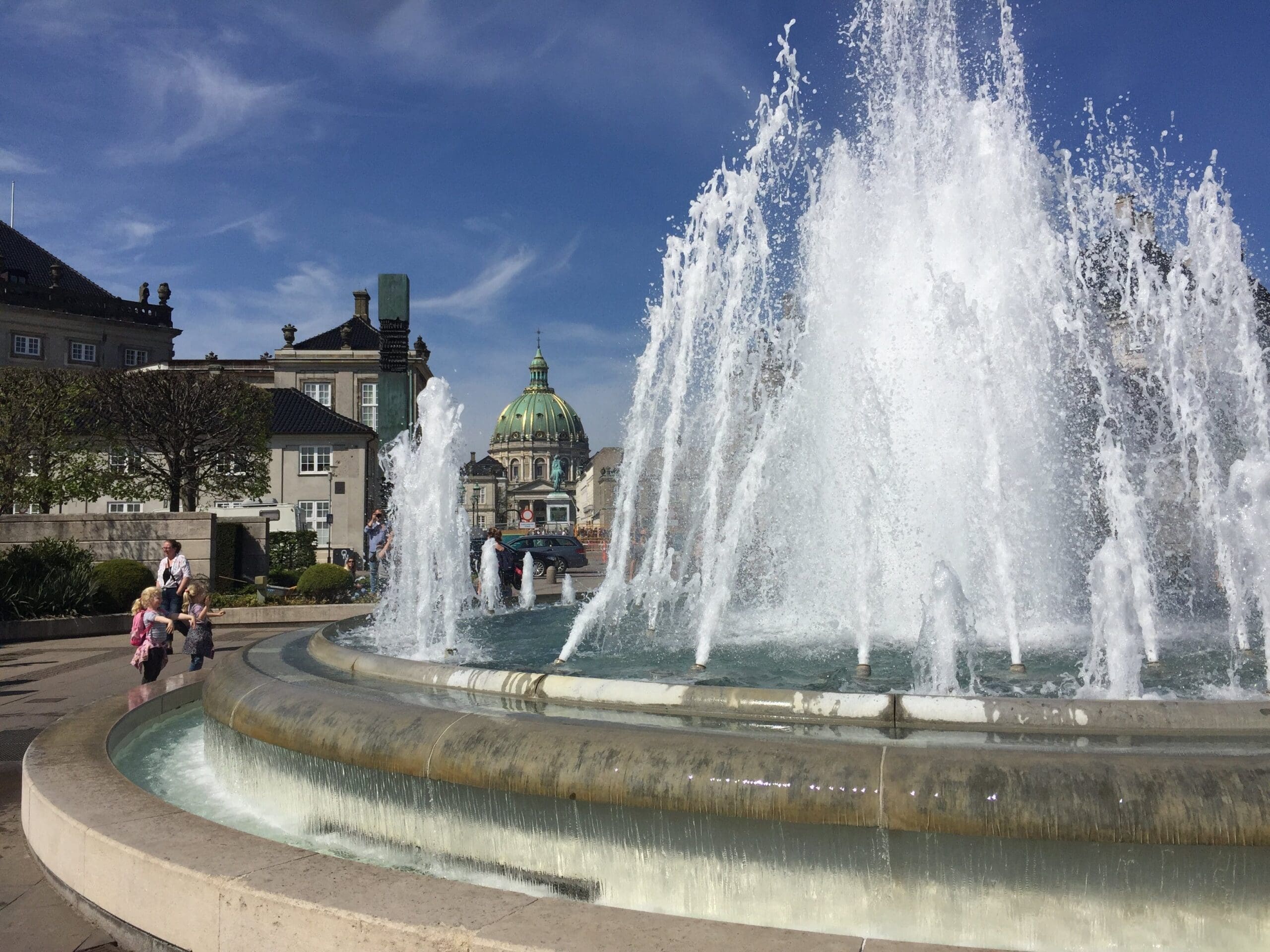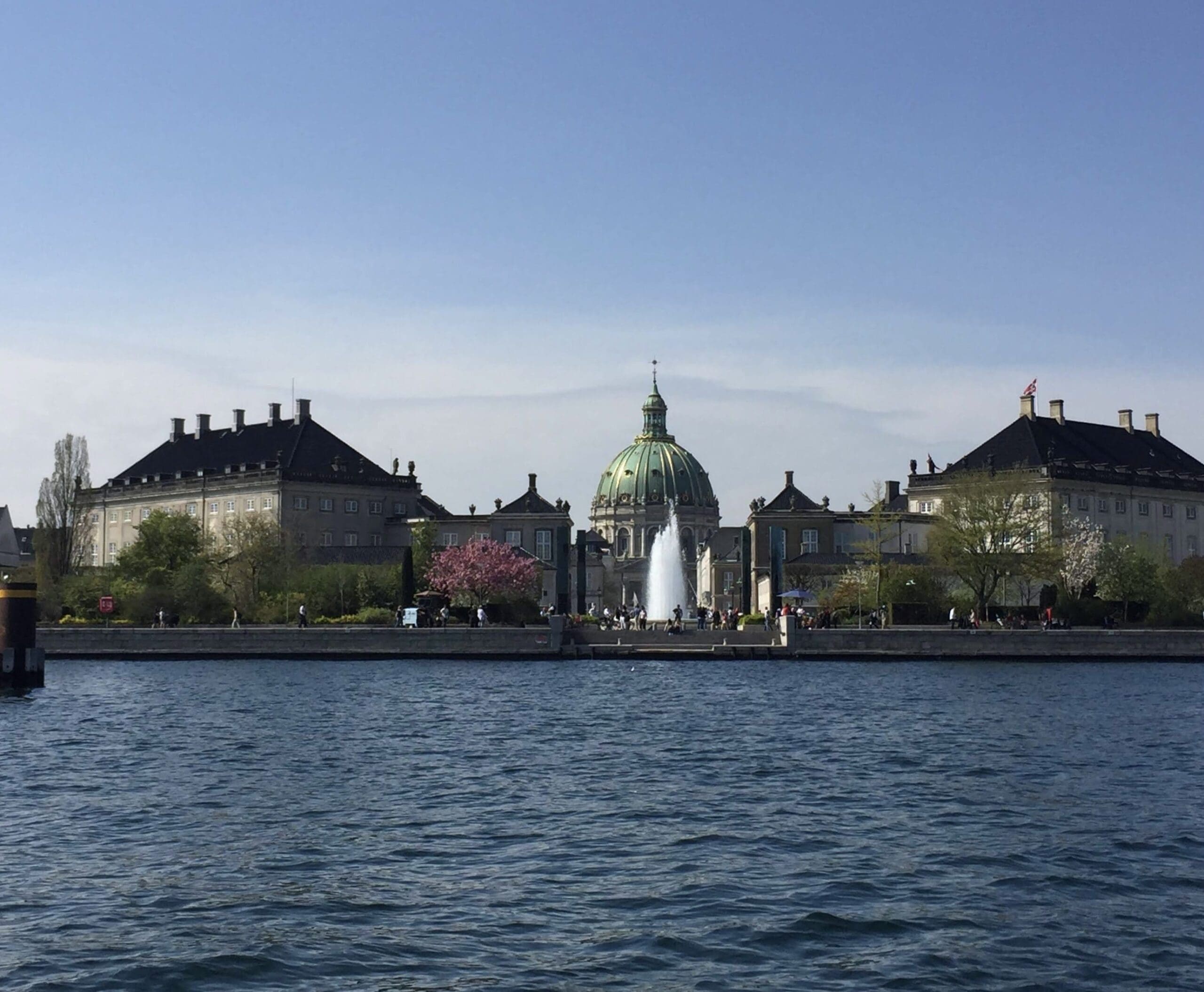 Christiansborg Palace
About a 19 minute walk away from Amelienborg Palace, you will find Christiansborg Palace, Tower and stables. This is where the Queen, the Danish Parliament operate from and it's also the office of the Danish Prime Minister. There are tours offered when it's not in use, so check their website for times and availability. There are also ruins on this site from the 800 year old castle which was built there. At this time, the website indicates tours of the ruins are currently cancelled due to the coronavirus. Check again for any updates prior to visiting.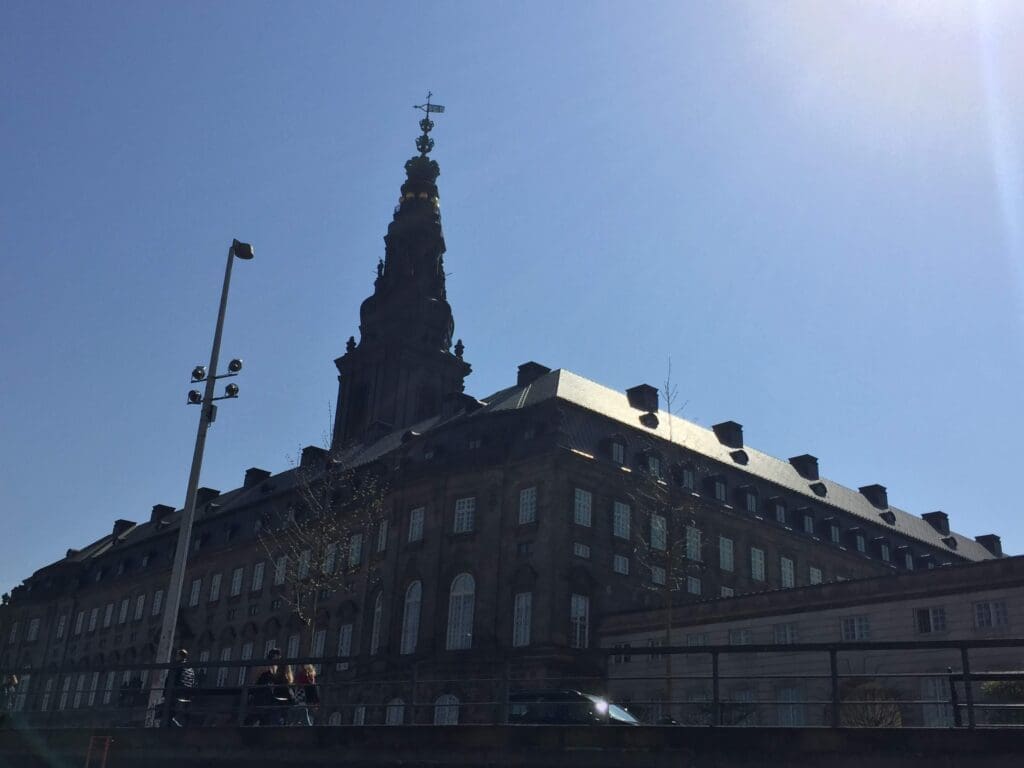 Visit Copenhagen City Hall
The Copenhagen City Hall is open to the public, and you should check their website for hours and accessibility. Also, if you want a guided tour, you may purchase this provided tours are being offered at the time you visit. Of special note is to make sure you see the Jens Olsens Worldwatch while you're there.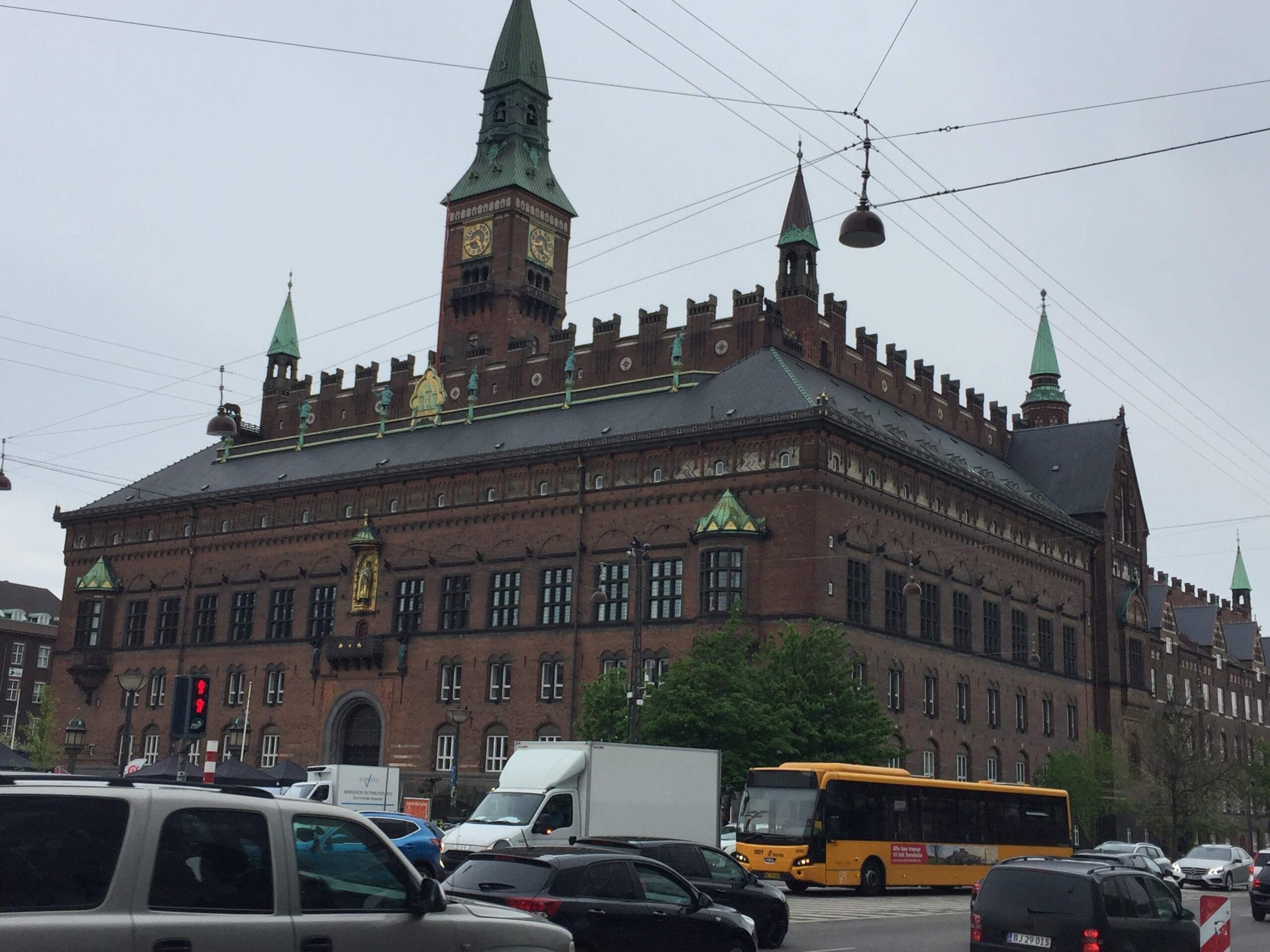 Where we Stayed in Copenhagen Denmark
We stayed at the Copenhagen Plaza in Copenhagen. It was very close to the Copenhagen Central Station which for us was very handy considering our next journey would be by train. The Central Station has a lot of food and drink options, and was like a mini-mall for us. We grabbed snacks, coffee and beer there.
We hope you've enjoyed our post on 3 Days in Copenhagen Denmark. Feel free to check out our other posts.