3 Days in Bodø Norway – Things to Do
This is our list of the best things to do when you only have 3 days in Bodø Norway.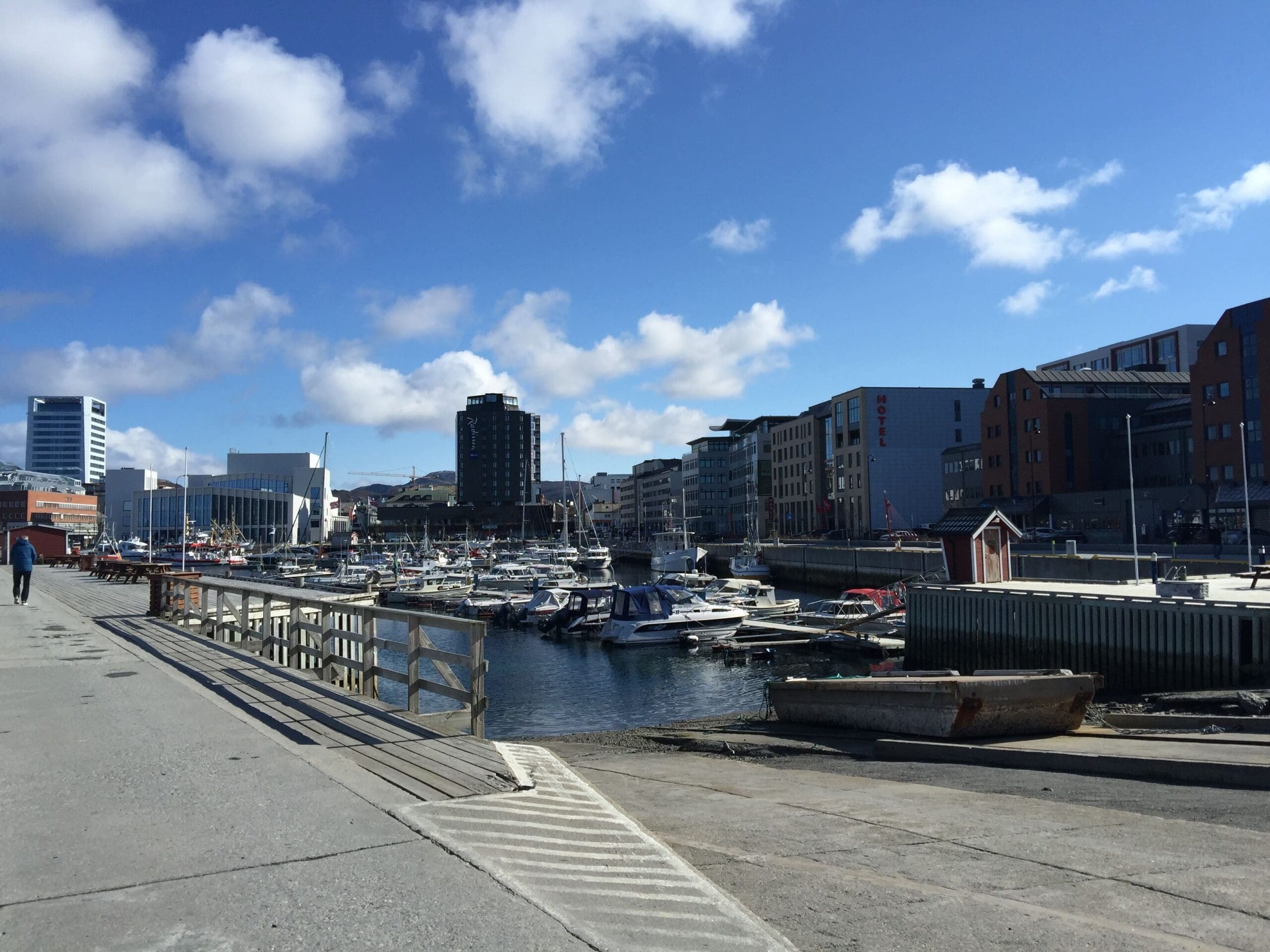 We last visited Norway in April and May 2019. It was part of our Denmark to Norway journey. We visited Bodø in May, 2019 specifically to see the place where Gail's grandmother grew up and lived before immigrating to Canada in 1914. Known as Heritage, DNA or Ancestry Travel, this type of journey has certainly become more popular in recent years with the ease of access to DNA Testing Kits.
If you wish you can read all about our Ancestry trip to Ørnes which is a bit more than a 2 hour drive from Bodø . This beautiful drive surrounding Bodø, shared with cousins we hadn't met prior to our visit, was especially meaningful for us.
Bodø (pronounced Boo-Duh) is the largest municipality in Nordland County with a estimated population of about 42,000, according to the City population guide for Nordland County.
How we travelled to Bodø Norway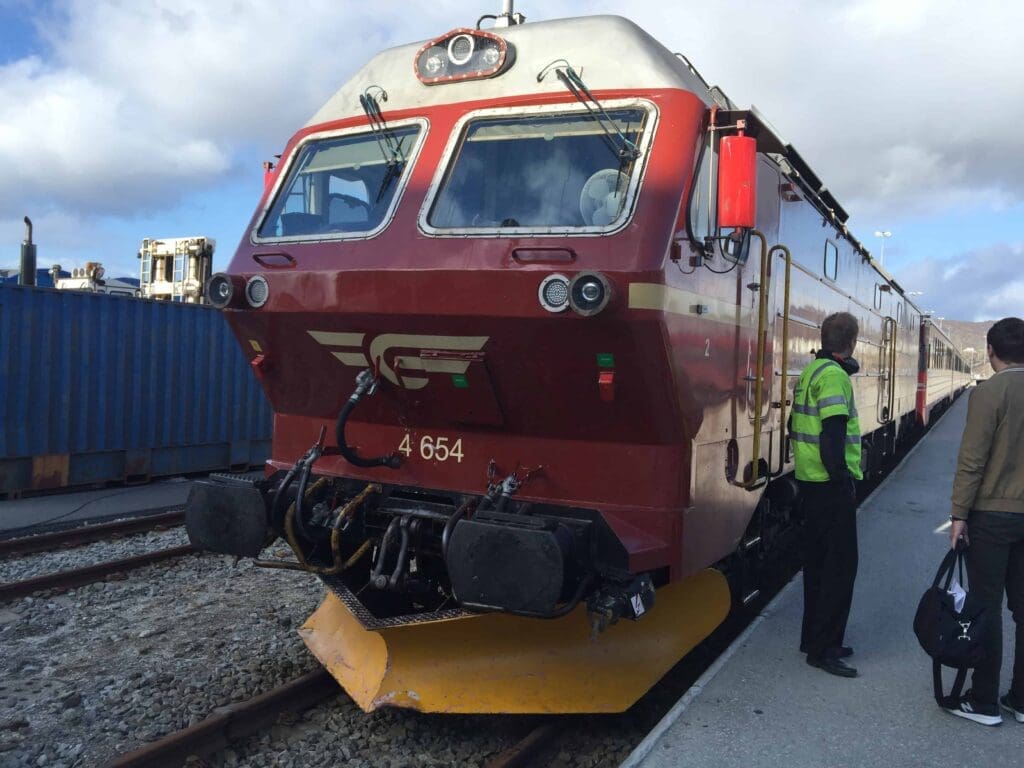 We travelled by train from Trondheim to Bodø. This was our final stop in Norway.
When departing Bodø, we travelled by plane from Bodø to Billund, Denmark.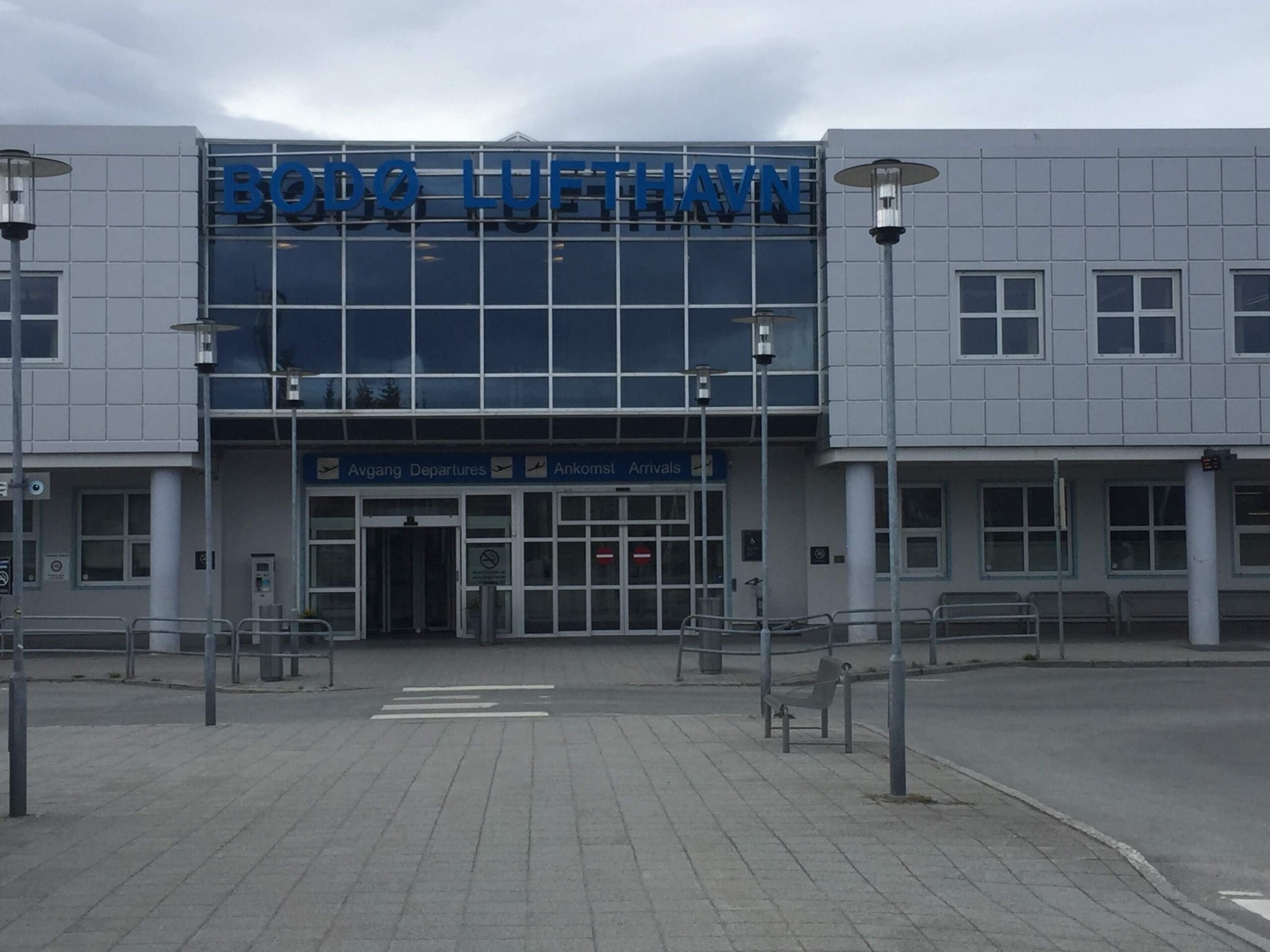 The train station is close to Bodø town center, within approximately 800 meters (.5 mile), so we walked from the train station to our hotel. When we left Bodø, we walked to the airport, approximately 1 kilometre (.6 mile) for our flight back to Billund.
The farthest north the NSB train travels is Bodø, Norway, and the Trondheim to Bodø journey is 729 km (453 miles) and takes over 9 hours. There are two trains operating daily, one in the morning plus a second train which travels at night. We booked this trip and other trips by using our the Eurail trip planner. If you download the Eurail/Interail Rail planner app from the app store, you will be able to view the schedules before booking a package to best suit your needs. You can book a pass for the number of days you intend to be travelling by train throughout Europe.
We made reservations in advance for all of our train journeys. Although the night train to Bodø would have been an interesting experience, we chose to take the morning train so we could watch the scenery. As we travelled through Fjords, villages and along the water, we felt pleased with our decision. Travelling through the Arctic Circle was especially memorable, and we remarked on how it looked a lot like you might expect it would.
We had some fun with jokes as we approached and briefly stopped (on signal) at where the "Hell" Station used to be. Hell is no longer considered a stop, although the signs still exist. Mo-I-Rana, another town (stop) on the train route, is the second largest town in Nordland after Bodø.
All in all, we had a fun journey watching the peaceful and beautiful scenery go by. We played cards, chatted and relaxed. There was a restaurant on board with a variety of choices for our meals, and we also had snacks and drinks to keep us nourished and happy.
Things to Do when you only have 3 days in Bodø Norway
The town of Bodø was rebuilt in the 1950's after much of it was destroyed by the bombing in May 1940.
We appreciated learning this and other history of the town as we walked through. Indeed, the history demonstrates the resilience and strength of this community in the far north.
Visit the Norwegian Aviation Museum
The Norwegian Aviation Museum was one of the highlights on our trip to Bodø. Paul is especially intrigued by most anything aviation related.
There is an outstanding collection of planes in this museum.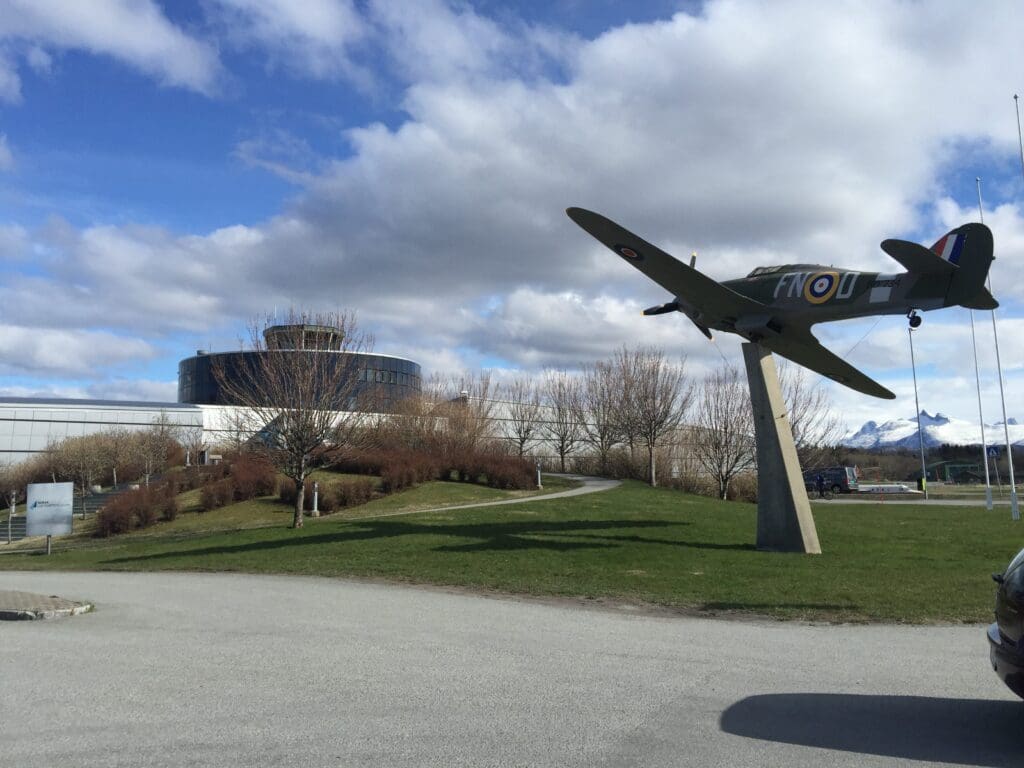 This is a De Havallind Mosquito Bomber. Another WW2 fighter bomber with a 2 man crew of Pilot and Navigator. Not a huge bomb load but when flown by a skilled crew, a very accurate and effective weapon.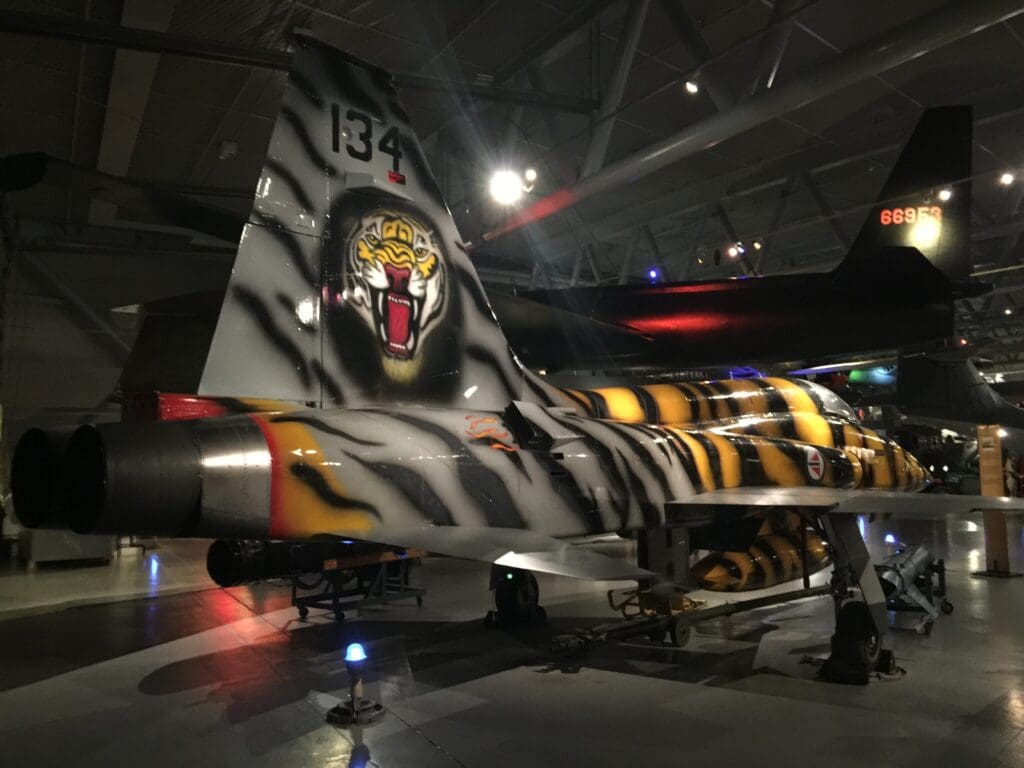 This Northrop F5 Freedom Fighter (or Tiger – depending on who is naming it) is wearing the colours to represent Norway. This 336 Squadron fighter was painted with tiger stripes in 1997. It won best tiger painted aircraft at the Royal International Air Tattoo that year. The F5 was a supersonic jet and often sold to America's allies during the Cold War. Not as big or fast as the F4, it was seen as a way to arm an ally without them having to spend huge sums on air defence.
A WW2 Search Light. In the background is a WW2 Junkers JU88 A-4 which had been recovered from Gardevarre mountain Norway. It crashed in April 1942 during WW2 and had been lost for decades. The museum has displayed it as they found it, with an excellent ground display of where and how it was found.
The CF104 Starfighter was a supersonic interceptor designed to launch and meet incoming high level bombers from an invading force. Built in the day when they would say "If you put a big enough engine in it, you can make a brick fly." The minimal wing area, single engine and minimal aerodynamic drag meant when the engine shut down (which it did more often than was comfortable) the most viable option if the engine wouldn't relight was to eject and bailout. The aircraft had the ominous nickname of "Widow-maker." This particular aircraft was built in Canada at the Candair factory under license from Lockheed Martin. It flew with the Royal Canadian Air Force before it's transfer to fly with the Norwegian Air Force.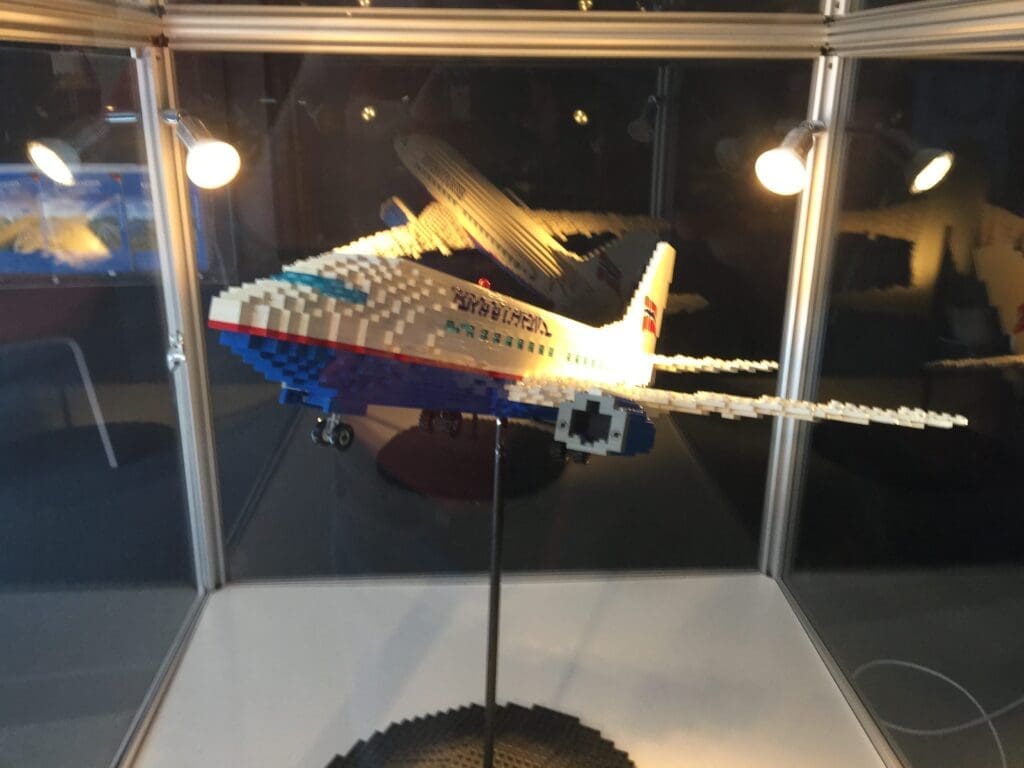 Funny isn't it? Your next stop is the LEGO factory in Billund, and you find another LEGO display in Bodø! Commendable effort and a nice segue for our next adventure.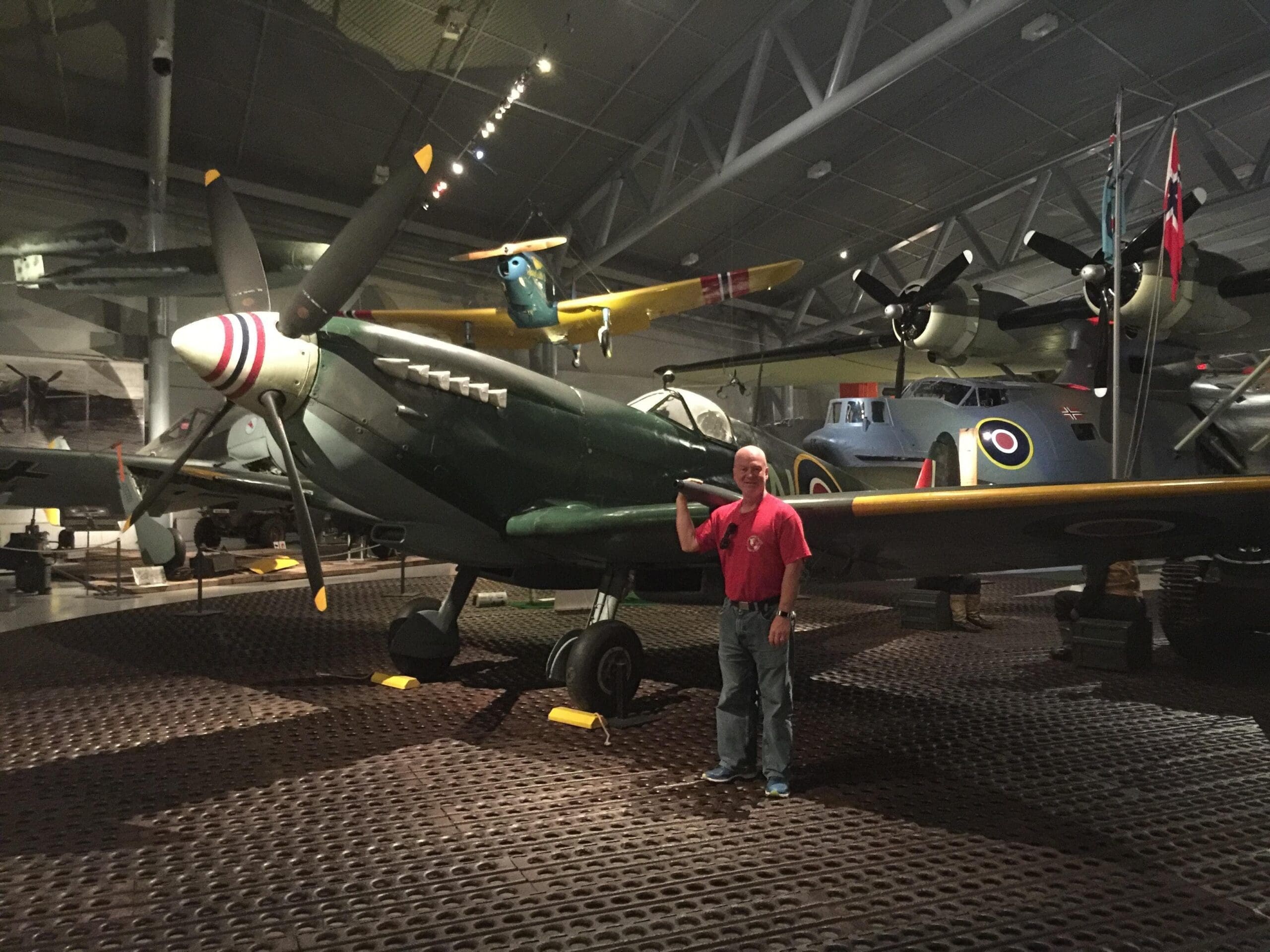 Paul grabs on to the cannon of a Supermarine Spitfire. One of the iconic aircraft of WW2, used by the Allies in most every theatre of operations. It was one of the best fighter aircraft to serve during the war and saw operations in Norway. This is a Mark IV Spit in British markings. Norwegian Pilots who had escaped the Nazi Occupation manned squadrons in Britain fighting within the RAF.
The Catalina PBY Flying Boat was a mainstay of any military force which had to operate over extensive areas of water. The ability to land and take off on land or water gave this aircraft amazing flexibility. In areas with small islands or limited runways, the Catalina could be hangered on land, taxi out to a boat ramp, raise it's landing gear and then take off from the water. In a country like Norway, with many islands and long narrow fjords, this was an ideal aircraft.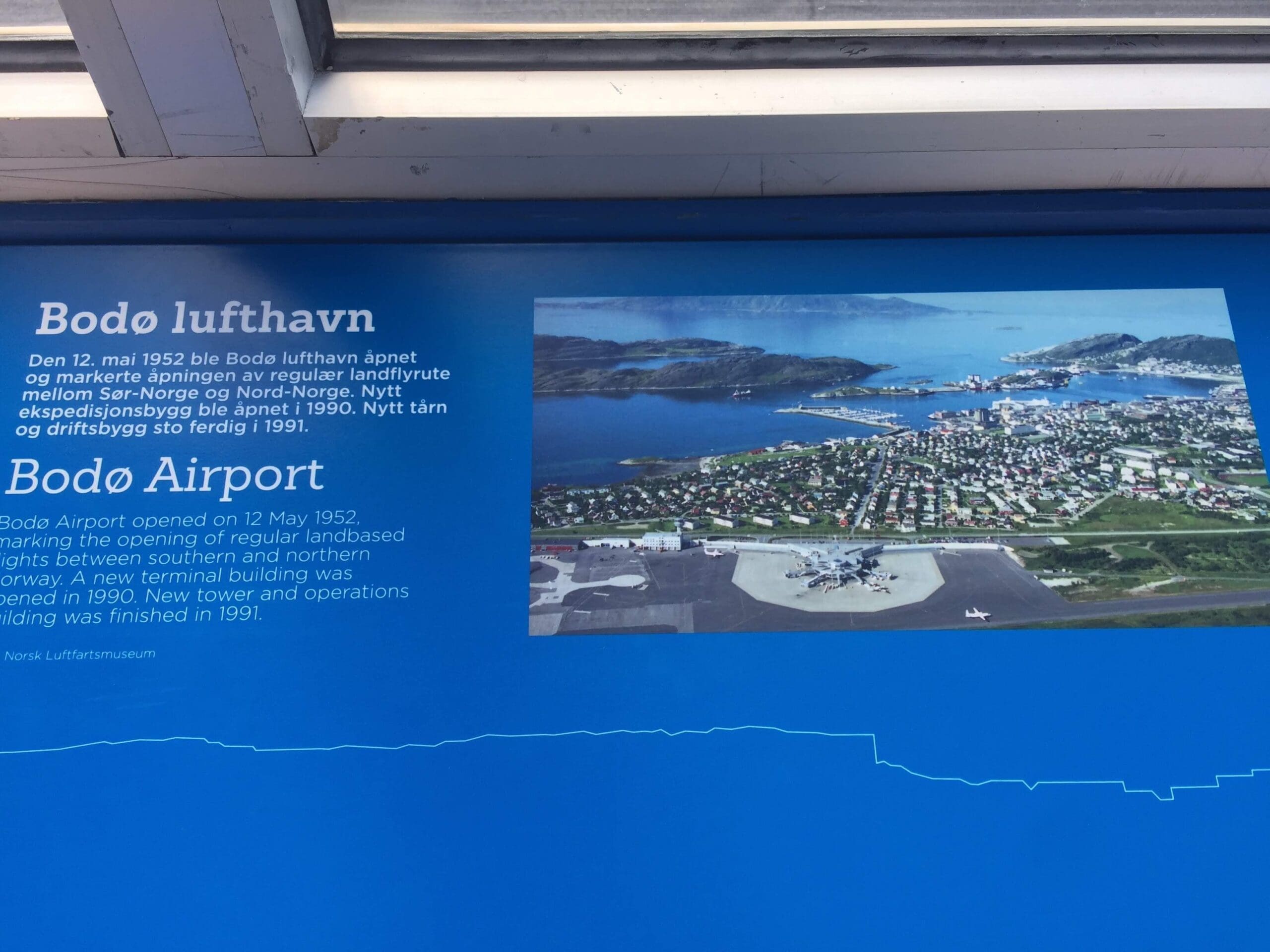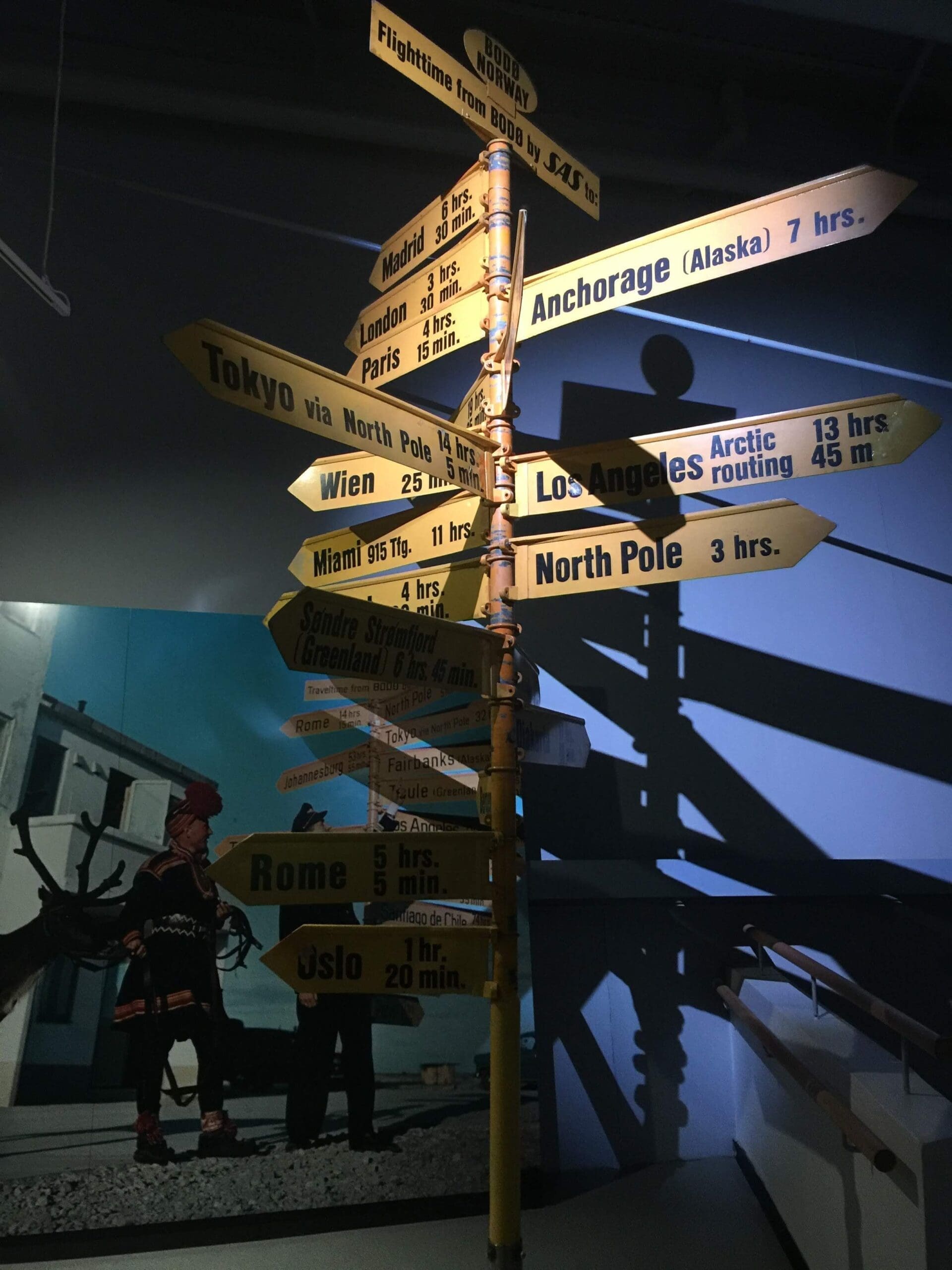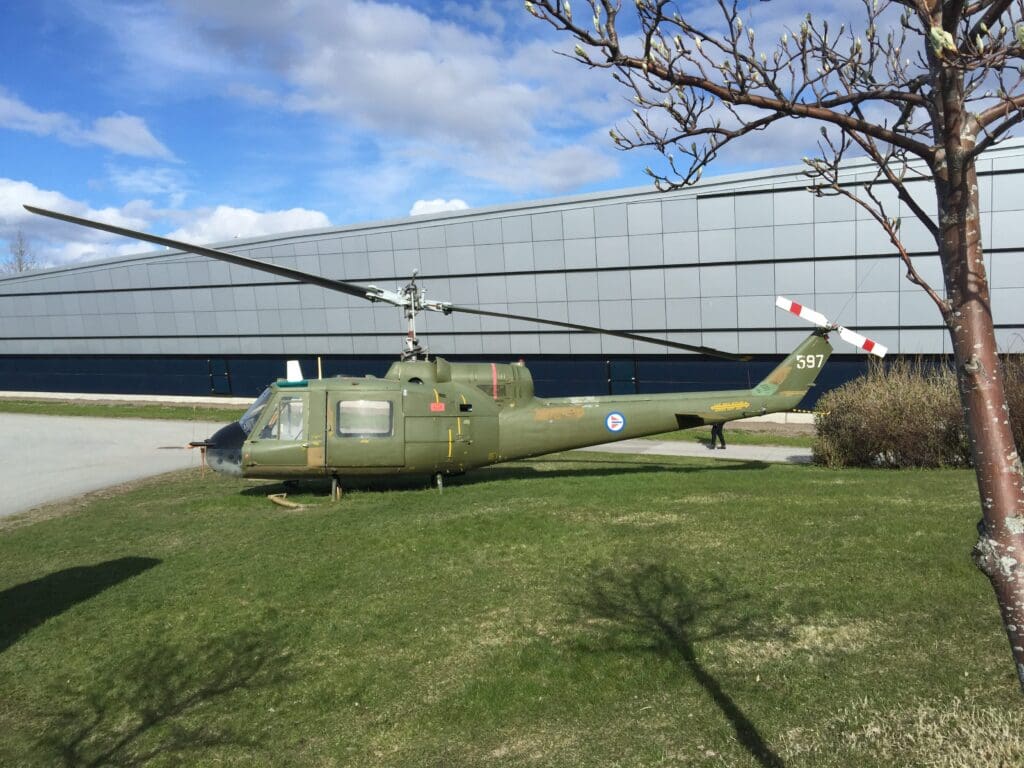 The Bell UH-1 Iroquois helicopter is usually a symbol of the Vietnam war, but many countries used this utility helicopter in the army and the air force.
Stroll along the harbour
Whenever possible, we look for ways to walk along water in towns and cities we visit. In fact, this is in large part why we choose to live where we do, on an island. The harbour and pier walk in Bodø is calming and peaceful, and as a result we did this walk every morning we were there, along with most evenings.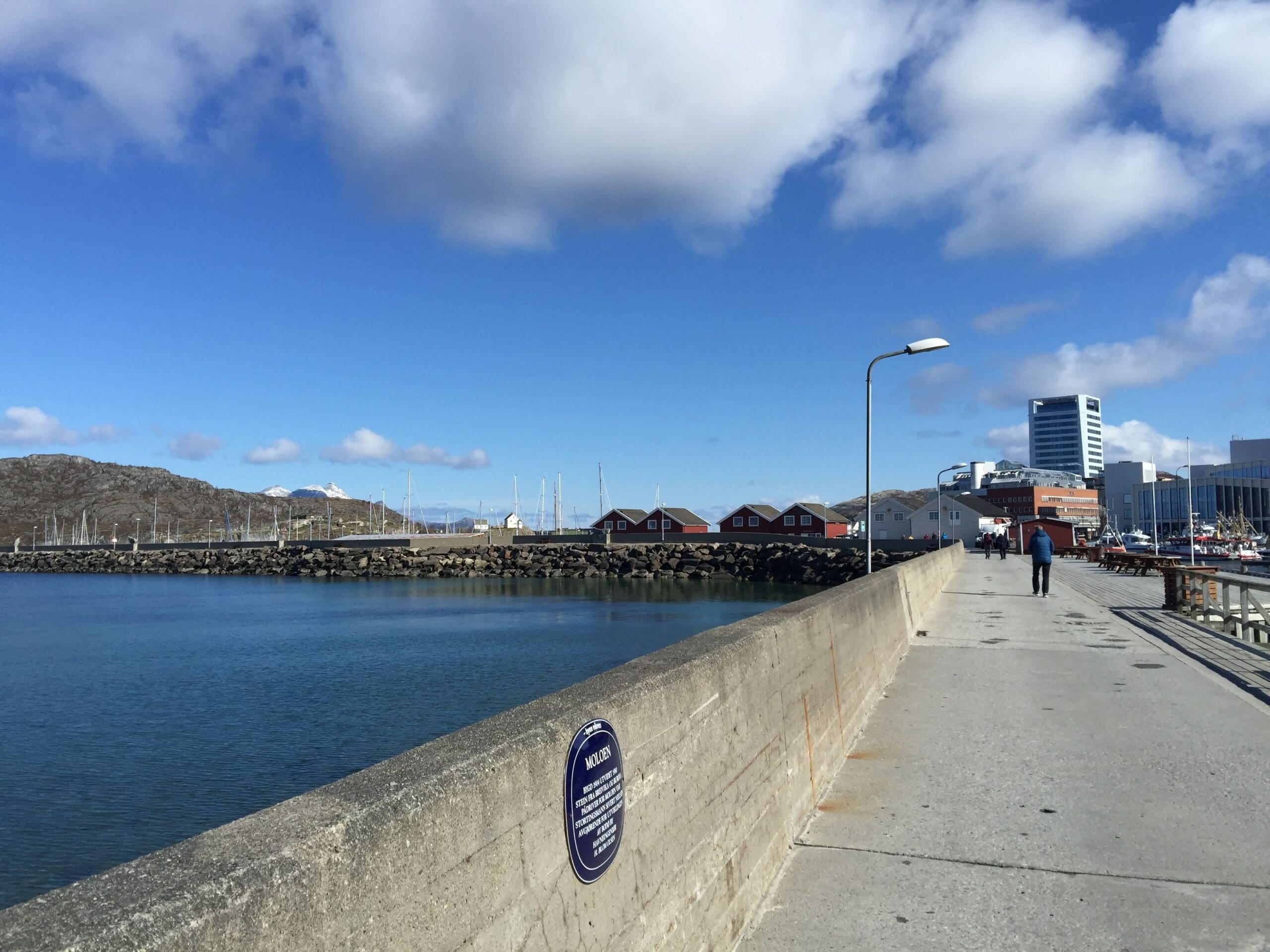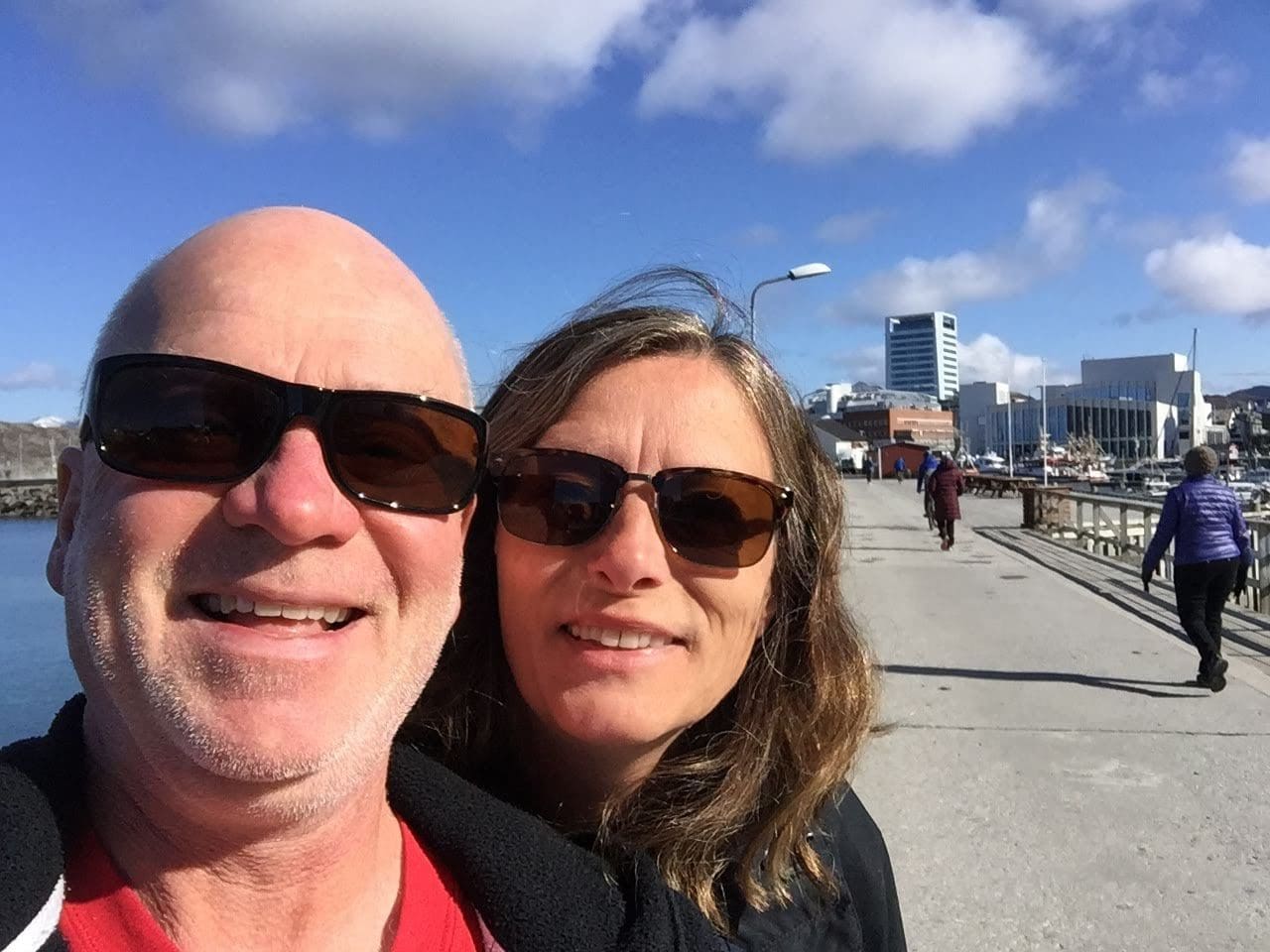 Visit Saltstraumen maelstrom
By definition, A Maelstrom is as "a powerful whirlpool in the sea or a river". On our way to Ørnes, about 30 kilometres southwest of Bodo, we drove past this natural occurring phenomena. Apparently, Saltstraumen has one of the strongest tidal currents in the world. Picture if you can about 400 million cubic meters of water pushing through a narrow strait; which is, at it's most narrow point approximately 150 meters wide. If you want to see this amazing display, check the many local tide schedules online to ensure you visit at the best possible time for viewing.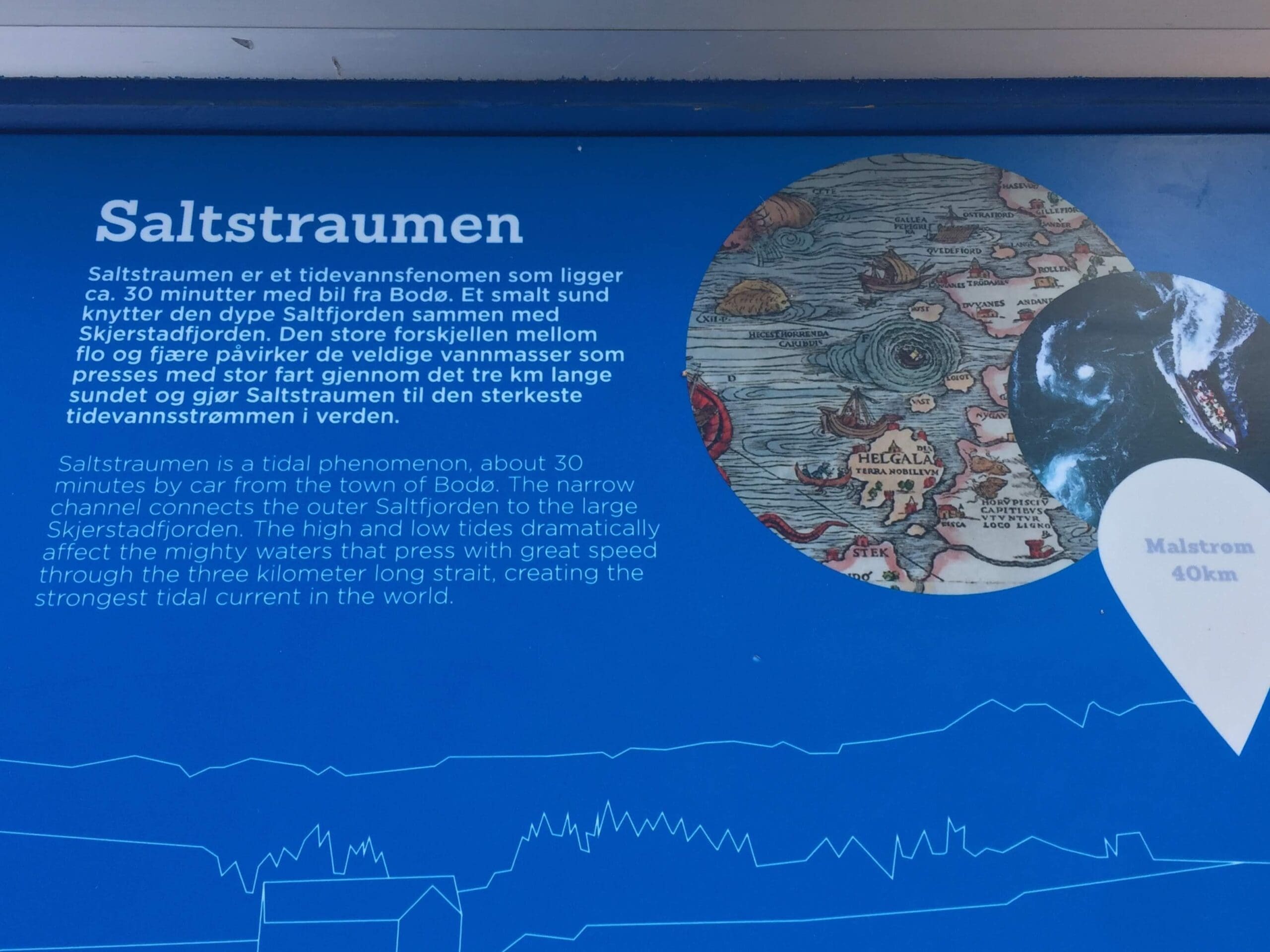 The Jekt Trade Museum in Bodø
In June, 2019, a new museum opened in Bodø called the The Jekt Trade Museum. Unfortunately for us, it wasn't yet open when we were there in May 2019, however it's definitely on our list of things to do on a return journey. It's a look at Norway's rich history regarding the Jekts (cargo sailboats), once an extremely valuable part of the Norwegian economy.
Bodø Cathedral
In 1940, the original church in town was destroyed by bombs. The Bodø cathedral was then rebuilt in the same location. In 1956, it was complete. The interior is beautiful, with a 12 metre stained glass window, tapestries, and a rose window. Designed by the architects Blakstad & Munthe Kaas, it has a detached steeple.
Bodø Town Hall
We took this picture while there in May, 2019. Apparently, the entire area appears very different now, with three buildings attached, including the old city hall, the national bank, and a newly constructed modern Scandinavian design building. This would definitely be worth a visit during your stay. It's certainly on our list for a return visit.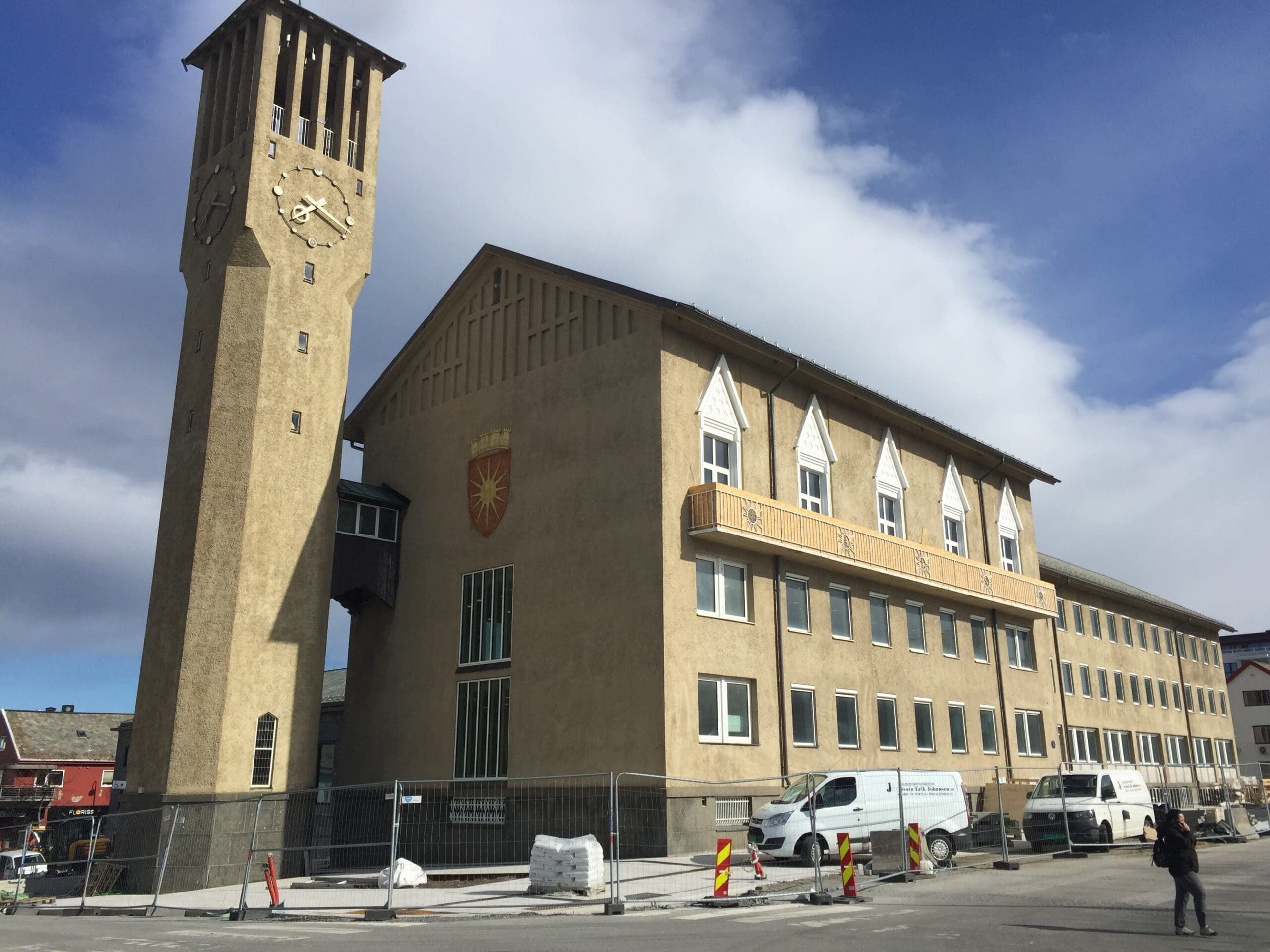 The Nordland Museum
As we walked around Bodø , we were excited to see this museum. Unfortunately, it was closed while we were there so we will have to wait to see it on a return visit.
See the Northern Lights (Aurora Borealis)
Seeing the Aurora Borealis is all about timing. Certainly, if you're in Bodø from approximately September to March, you will stand a better chance of seeing the amazing display known as the aurora borealis. Having lived in Alberta (also very far North), we have seen some amazing Northern Lights displays over the years. If you are planning a visit to Bodø, you might just get lucky with your timing if you're patient and do a bit of research before you go.
If you're so inclined you can join facebook groups dedicated to chasing the Aurora Borealis for many Northern communities.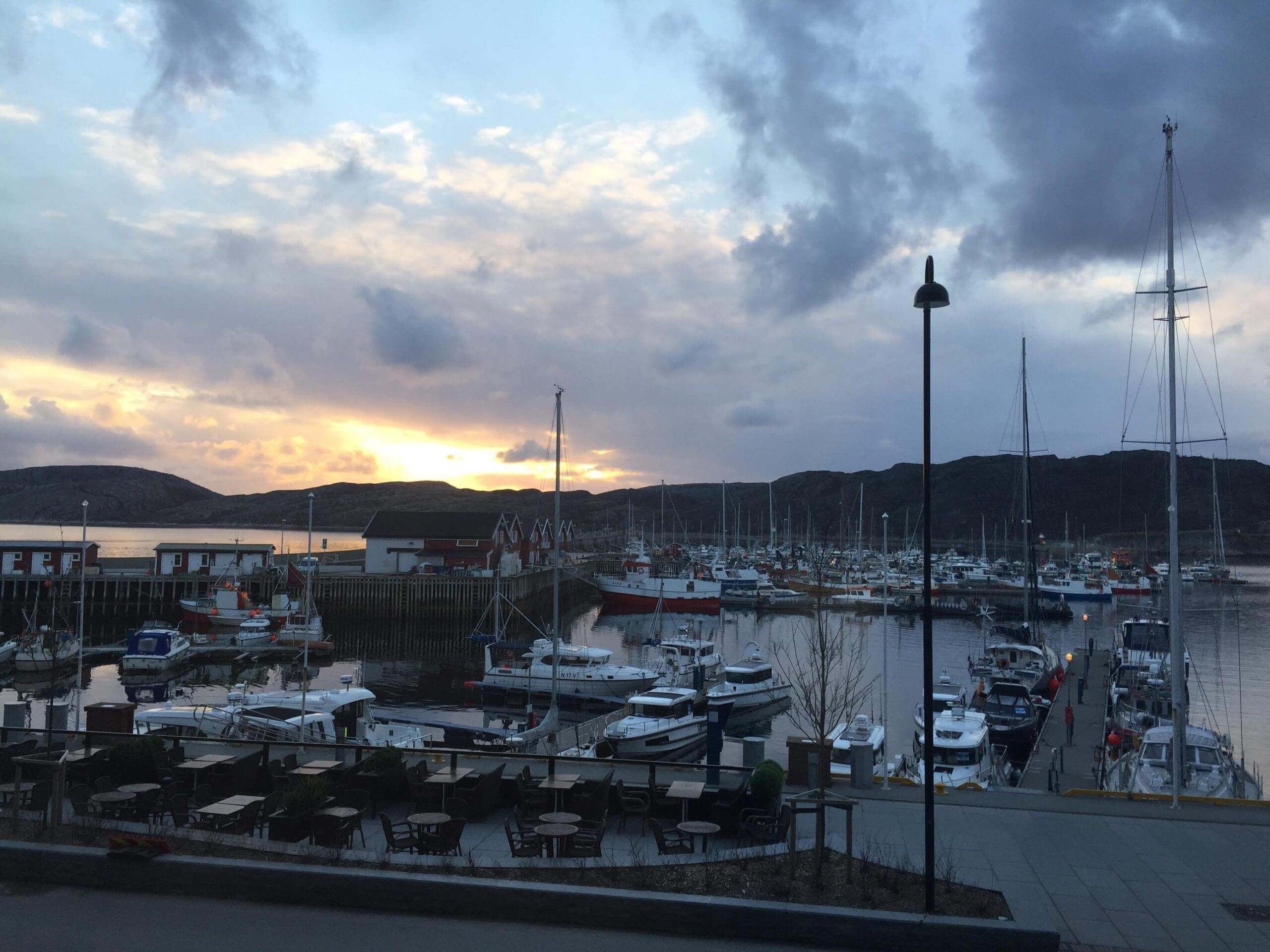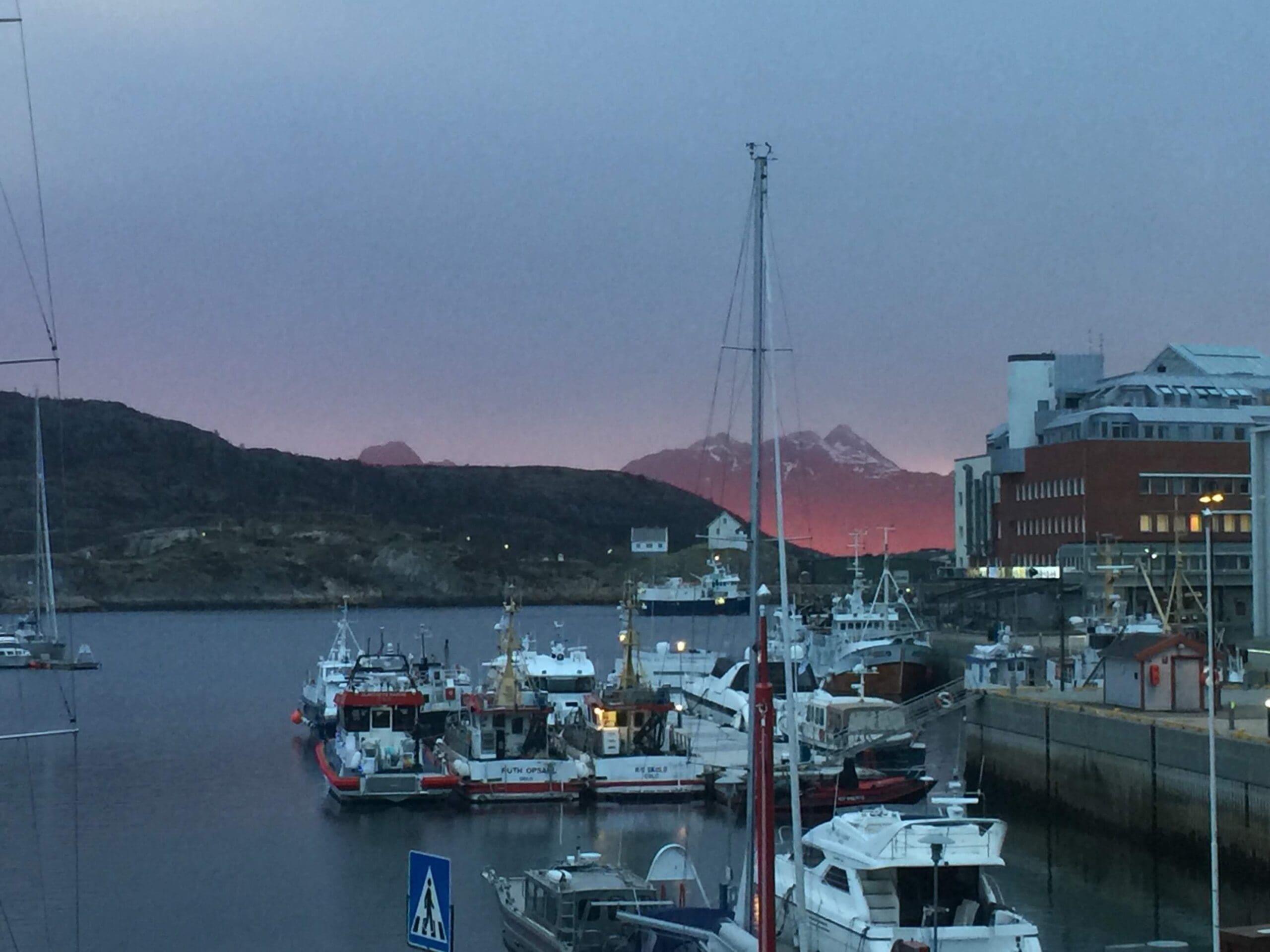 Where we stayed in Bodø
We stayed at Thon Hotel Nordlys, located across from the marina and pier in the center of Bodø. You will find an Egon restaurant attached to the hotel. We enjoyed continental breakfast, which was included at the time we stayed. And, with just a short walk across the street, we were able to walk the marina and pier often.
The room was comfortable and clean, with a lovely view.
We hope you've enjoyed reading about our 3 days in Bodø Norway! We thoroughly enjoyed our time here, and hope to visit again in the future.