Black Ball Ferry Lines MV Coho
This is detailing our journey from Victoria to Seattle (through Port Angeles-Bainbridge Island) via Black Ball Ferry Lines MV Coho. We sailed on the Coho in February, 2022.
Why Black Ball Ferry Lines MV Coho?
Our NHL hockey tickets from December 2021 for the Seattle Kraken vs. Toronto Maple Leafs' hockey game was re-scheduled to February due to the ongoing pandemic and players being in "covid protocol".
We were disappointed we would miss this and three other games we had planned to attend.
We had lost a considerable amount of money in having to cancel our plans without much notice, and re-sold tickets at a fraction of the cost we paid. As the date of this re-scheduled game approached, we made a decision a week prior to the Leafs/Kraken game to go to Seattle to see it. Knowing our seats were removed from the regular (more congested) seats, we felt we could make the journey safely by distancing from others as much as possible, and would be able to protect ourselves at the game.
Decision to Go
Decision made, we reviewed our options to travel to Seattle. More details regarding all possible options are noted in our Top Things to do in Seattle WA 2022 post. Really, there were only a couple of viable possibilities. We quickly dismissed flying as an option as the cost for a flight plus additional COVID testing costs (rapid antigen test to cross the United States border) made this prohibitively expensive.
Our first choice would have been the Clipper (ferry from Victoria to Seattle), however the Clipper wouldn't become operational until April, 2022.
Marine and land borders to United States from Canada don't require a negative covid test at this time, only proof of full vaccination for COVID, which of course we have.
We knew we would either have to drive or take the Coho Ferry Gail hadn't been on the MV Coho before, and we decided it would be a fun adventure. In addition, we could visit Port Angeles for a few hours before our bus to Bainbridge Island.
We planned to be away only for two nights, and we were each required to obtain a negative PCR test in Seattle to gain entry back to Canada.
First Part of Our Journey
Black Ball Ferry Lines MV Coho from Victoria BC to Port Angeles, WA
We walked to downtown Victoria in the morning in plenty of time for to see the Coho come into he harbour. Purchasing tickets was easy and quick. We were early and the terminal was not at all busy.
By the time we boarded there were a few more people, however it still wasn't a busy sailing.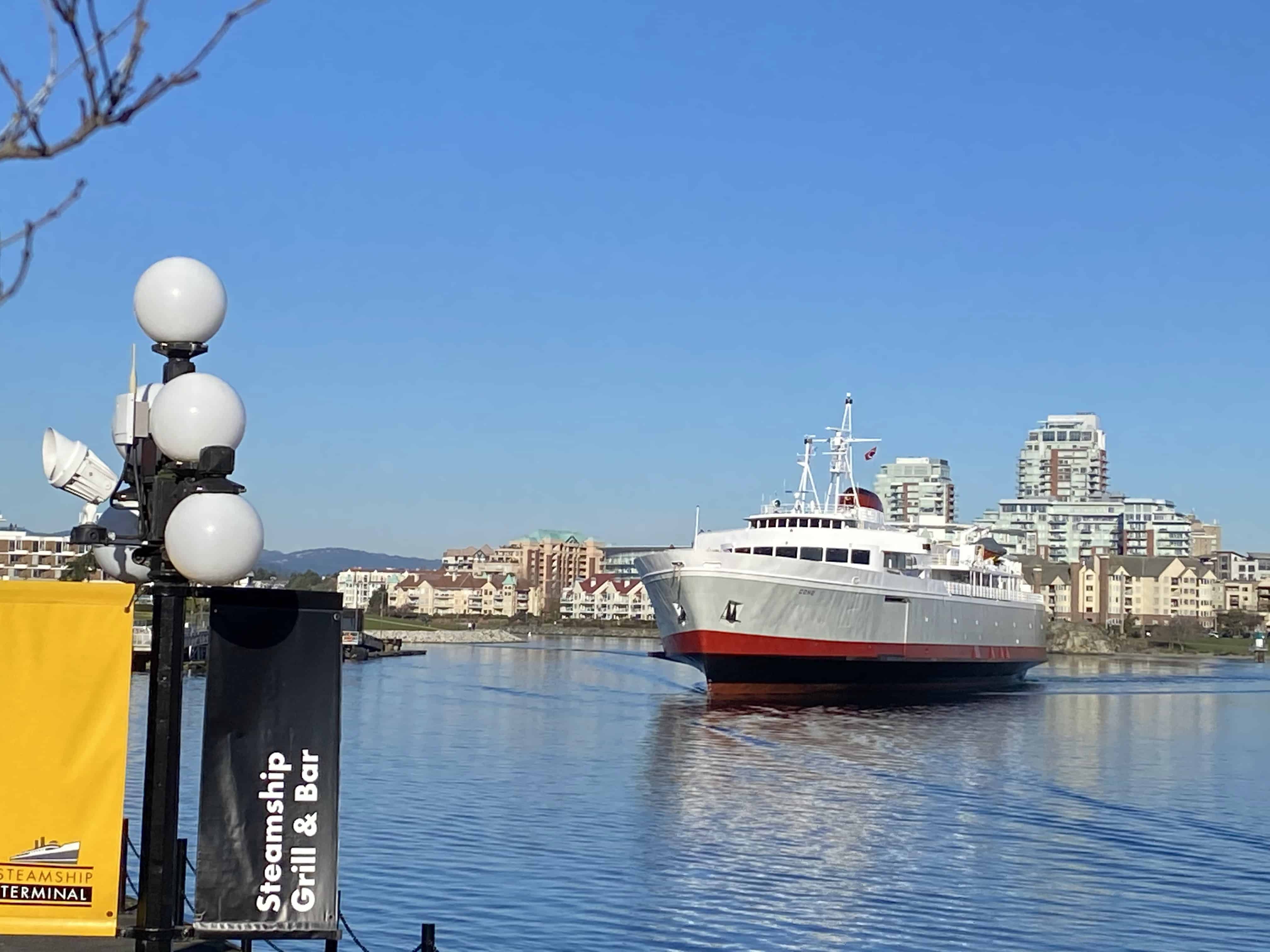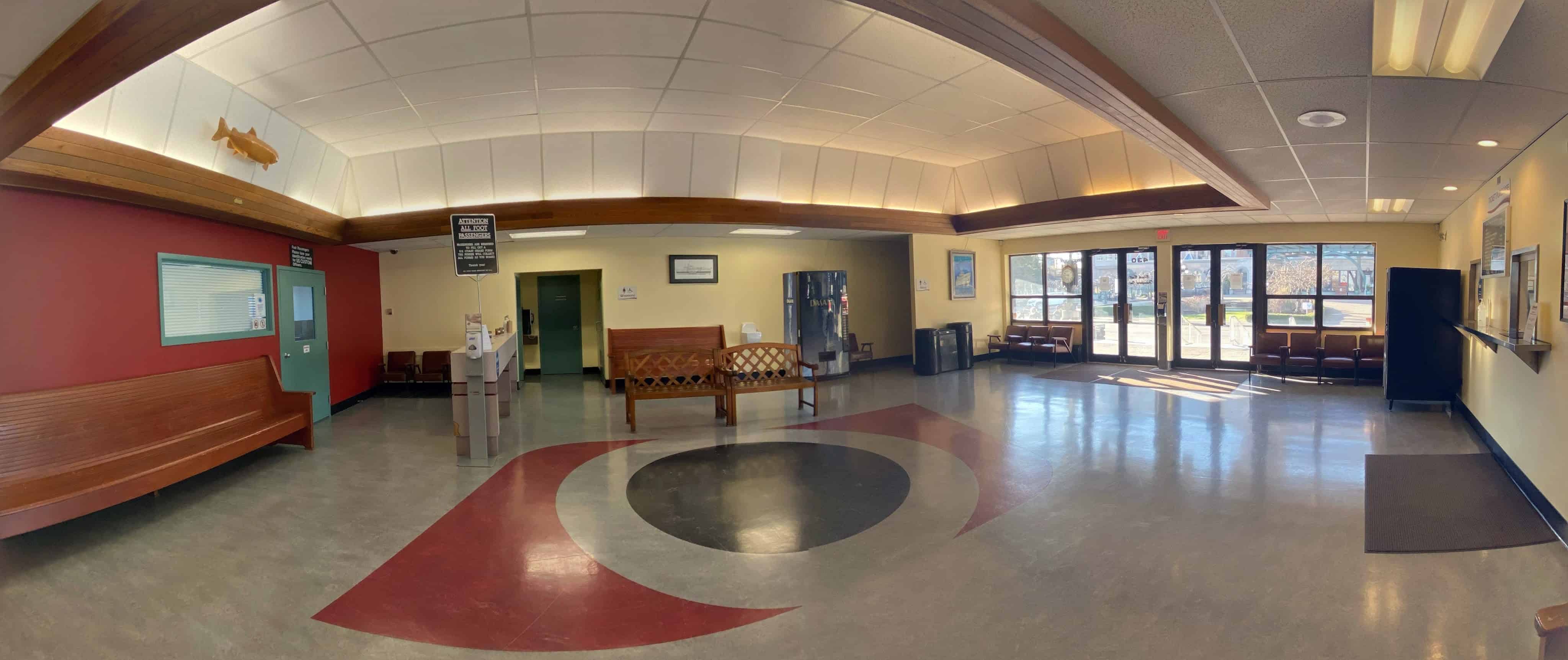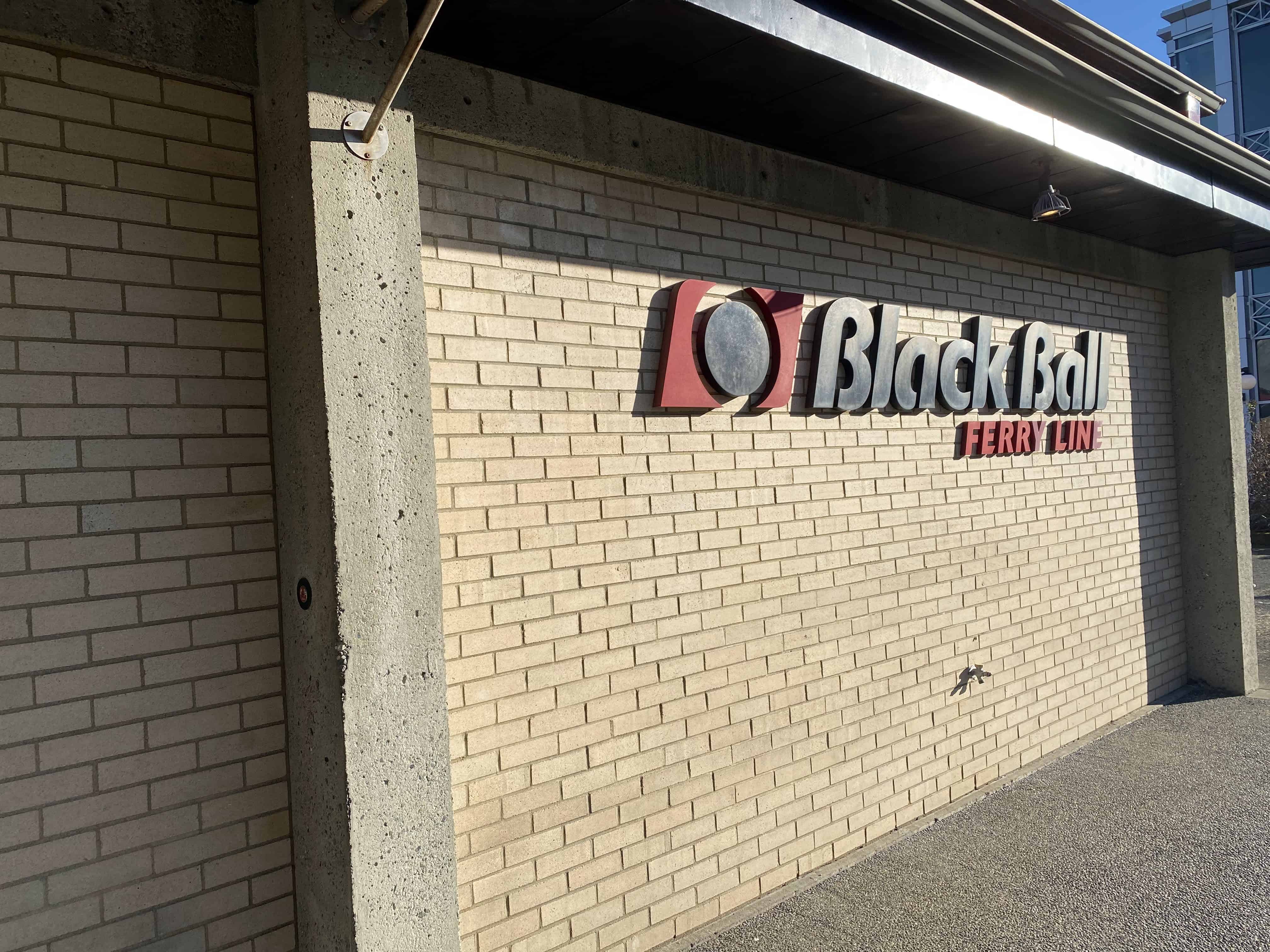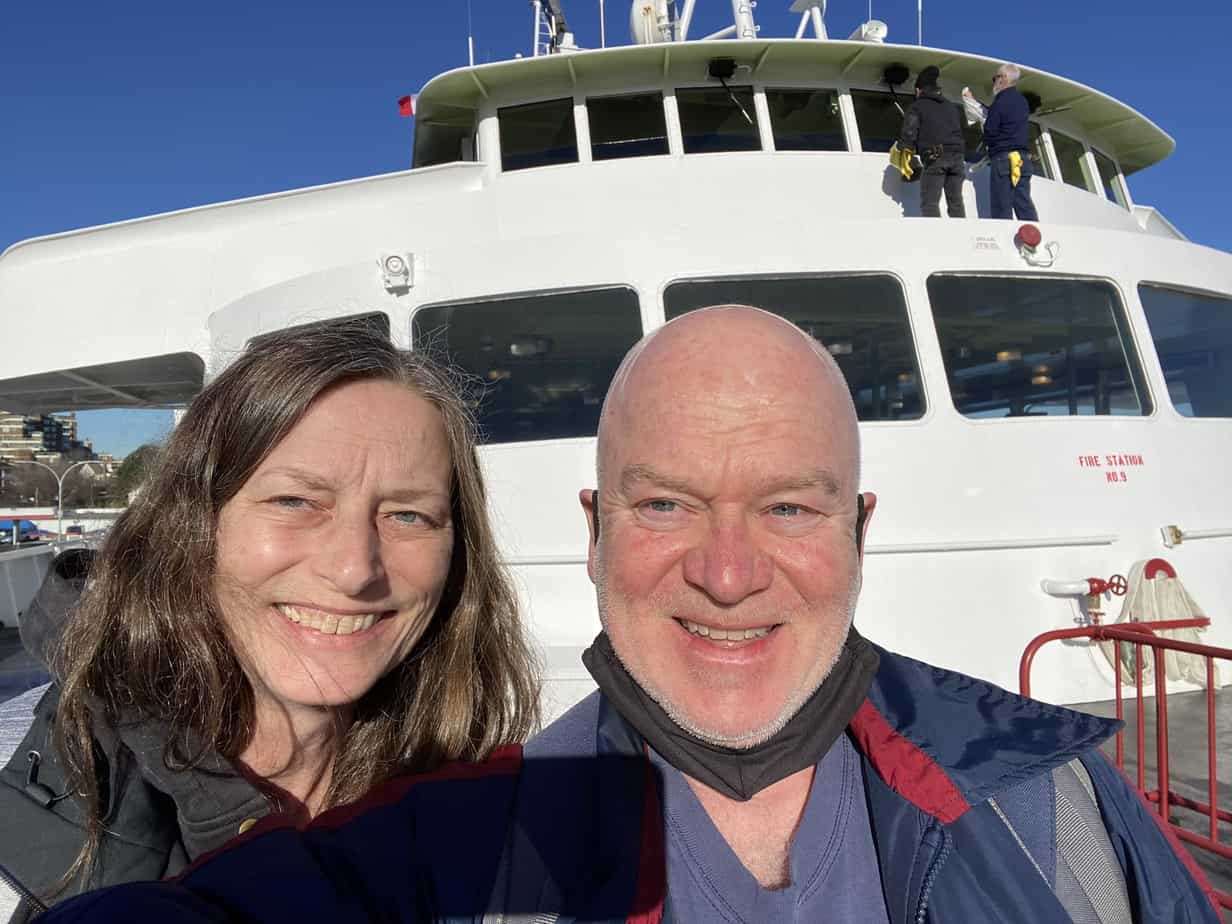 Once onboard the Coho, we explored to see what amenities were available. There is a gift shop, a duty free shop, restaurant/ cafe. There's an upper outside deck which is partly covered. It was a beautiful day, so we spent time on the upper deck outside.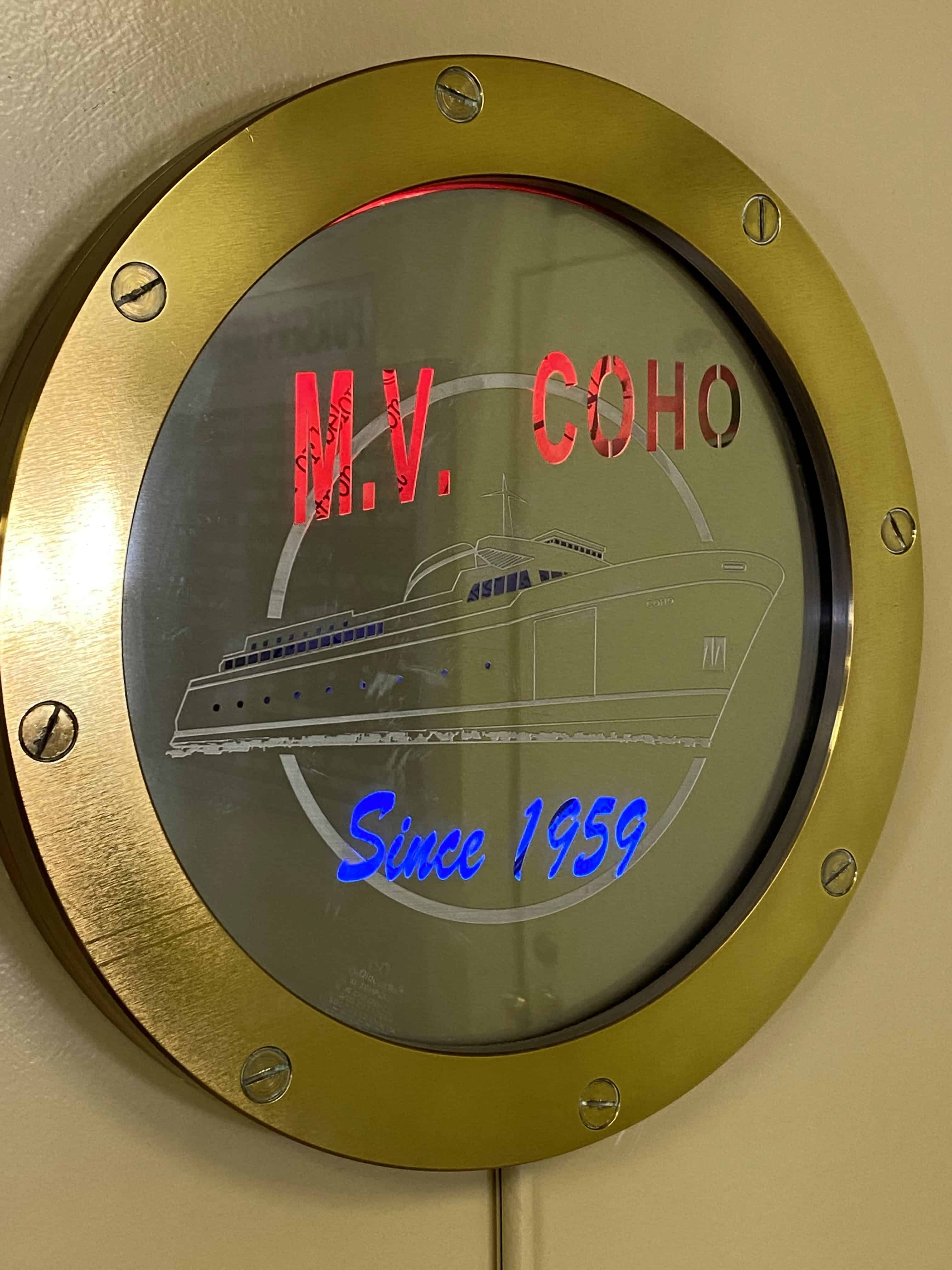 Not knowing what might be on board for food, we grabbed sandwiches, so we had a bite while we enjoying the approximately 1.5 hour sailing. It was perfect for Gail's first experience. The water was quiet and calm and the sun was shining bright.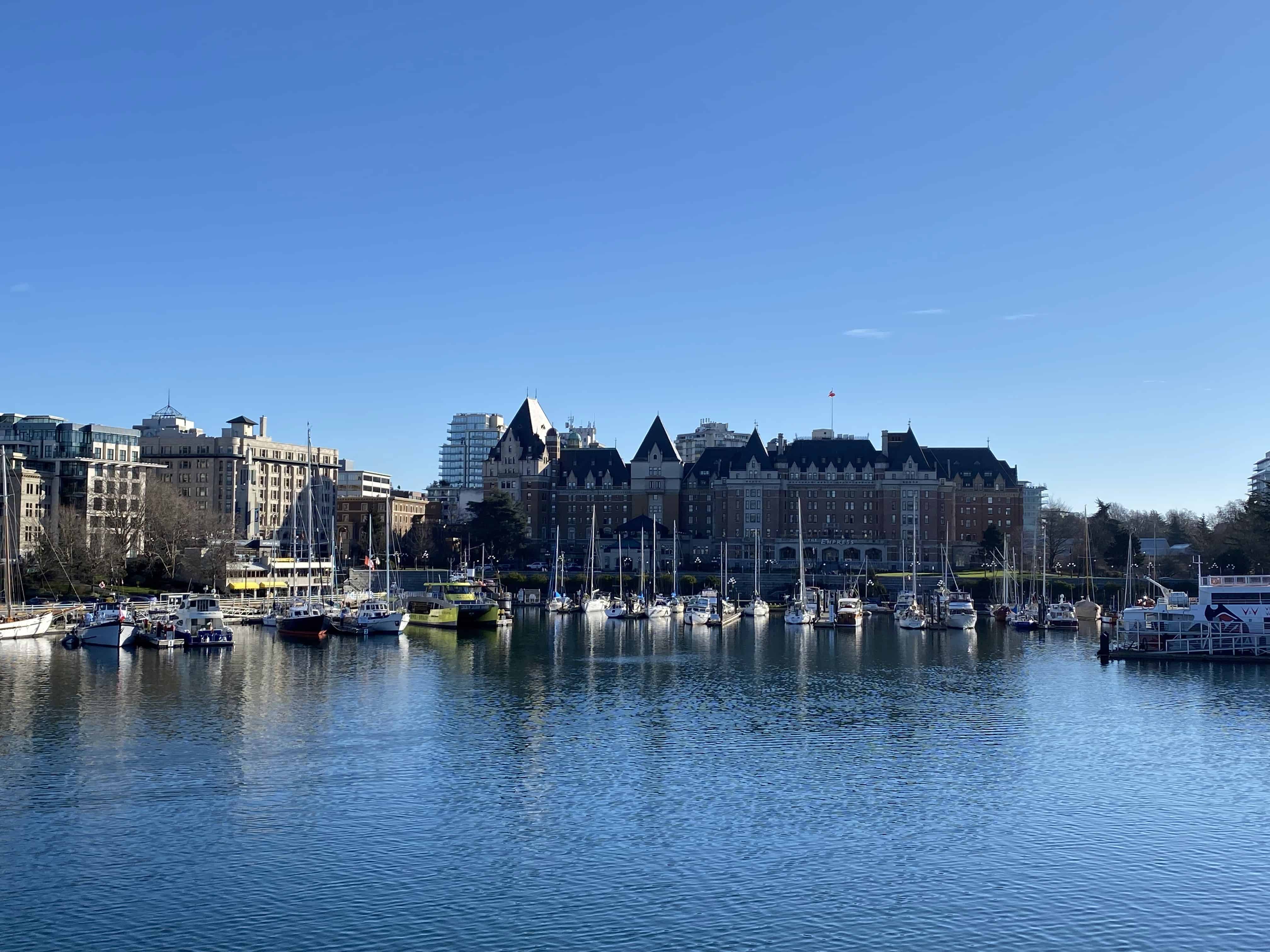 Second Part of our Journey
Port Angeles to Bainbridge Island via Route 123 The Strait Shot Bus
Port Angeles
We arrived to Port Angeles to a beautiful sunny and warm day. It was just before noon so we walked around town for awhile.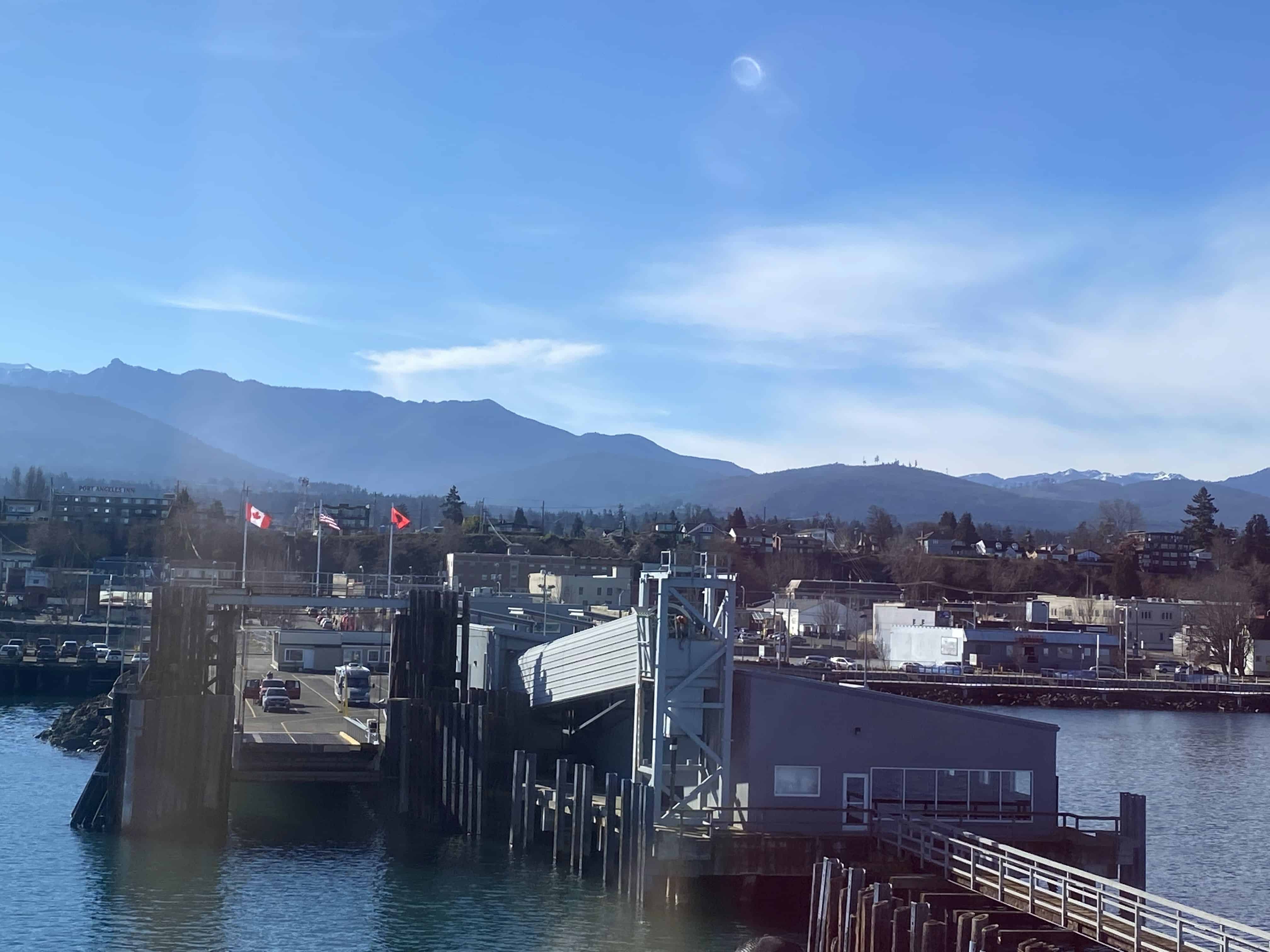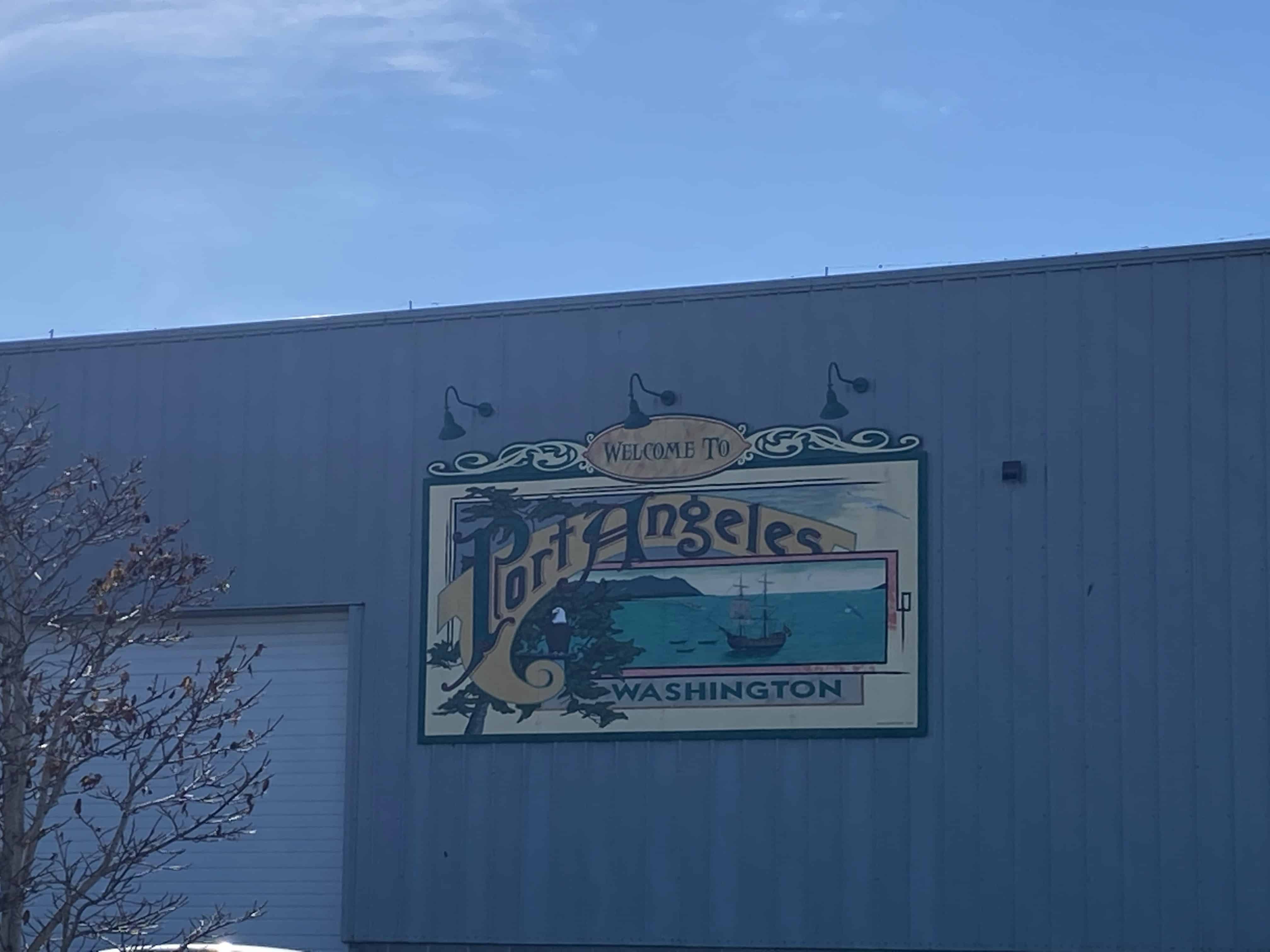 It was Sunday so the Strait Shot Bus was on a reduced schedule. We had a few hours to explore before the bus would arrive. Port Angeles was very quiet. We went to the Country Aire Natural Foods market and chose some snacks and refreshments for later, as we knew it was likely not to be a high priority once we arrived in Seattle later. There was a lot of selection at this store.
We browsed around the Port Angeles Wharf and noticed there were restaurants open in the event we got hungry waiting for the bus and had time for a sit down meal.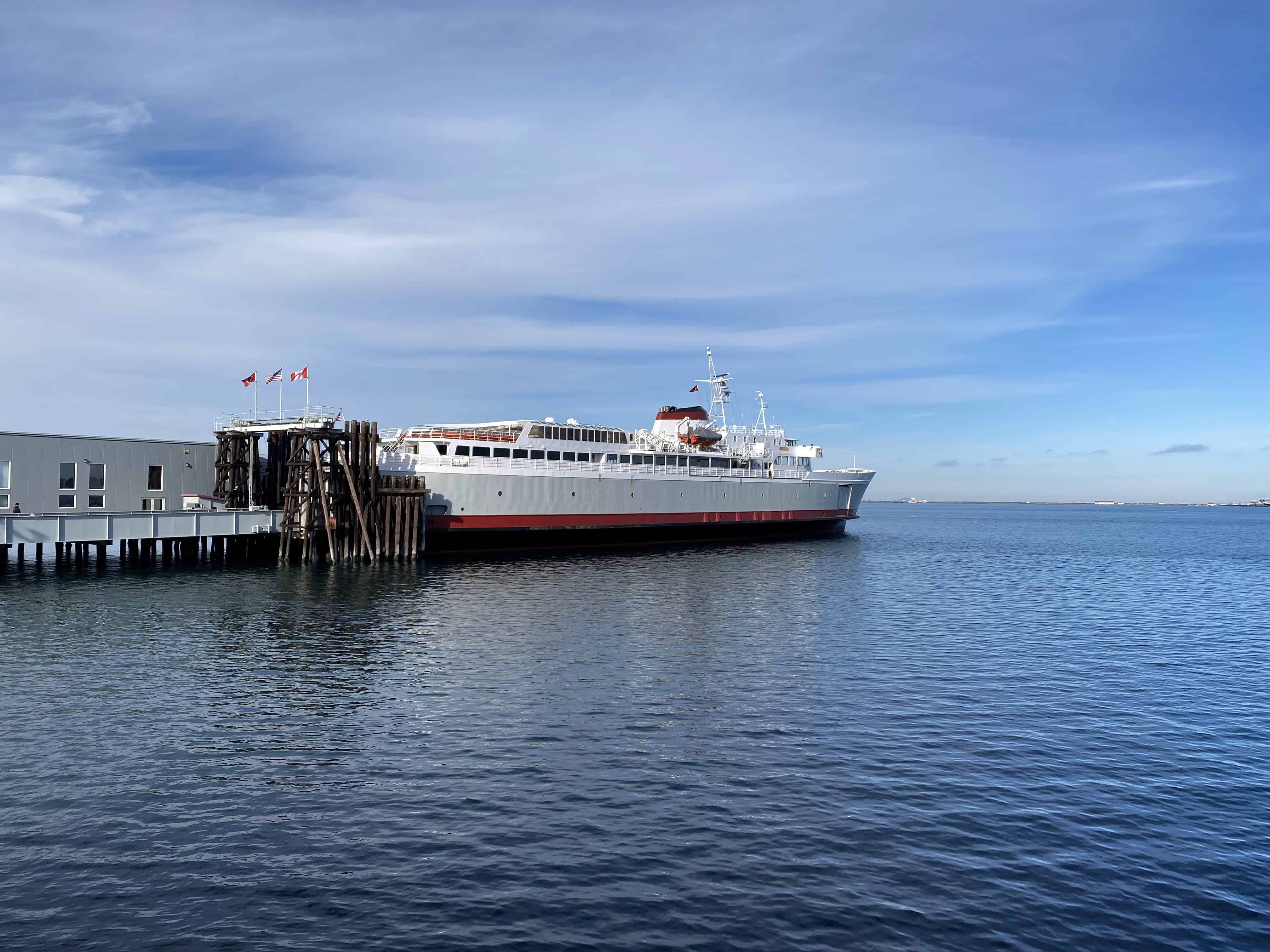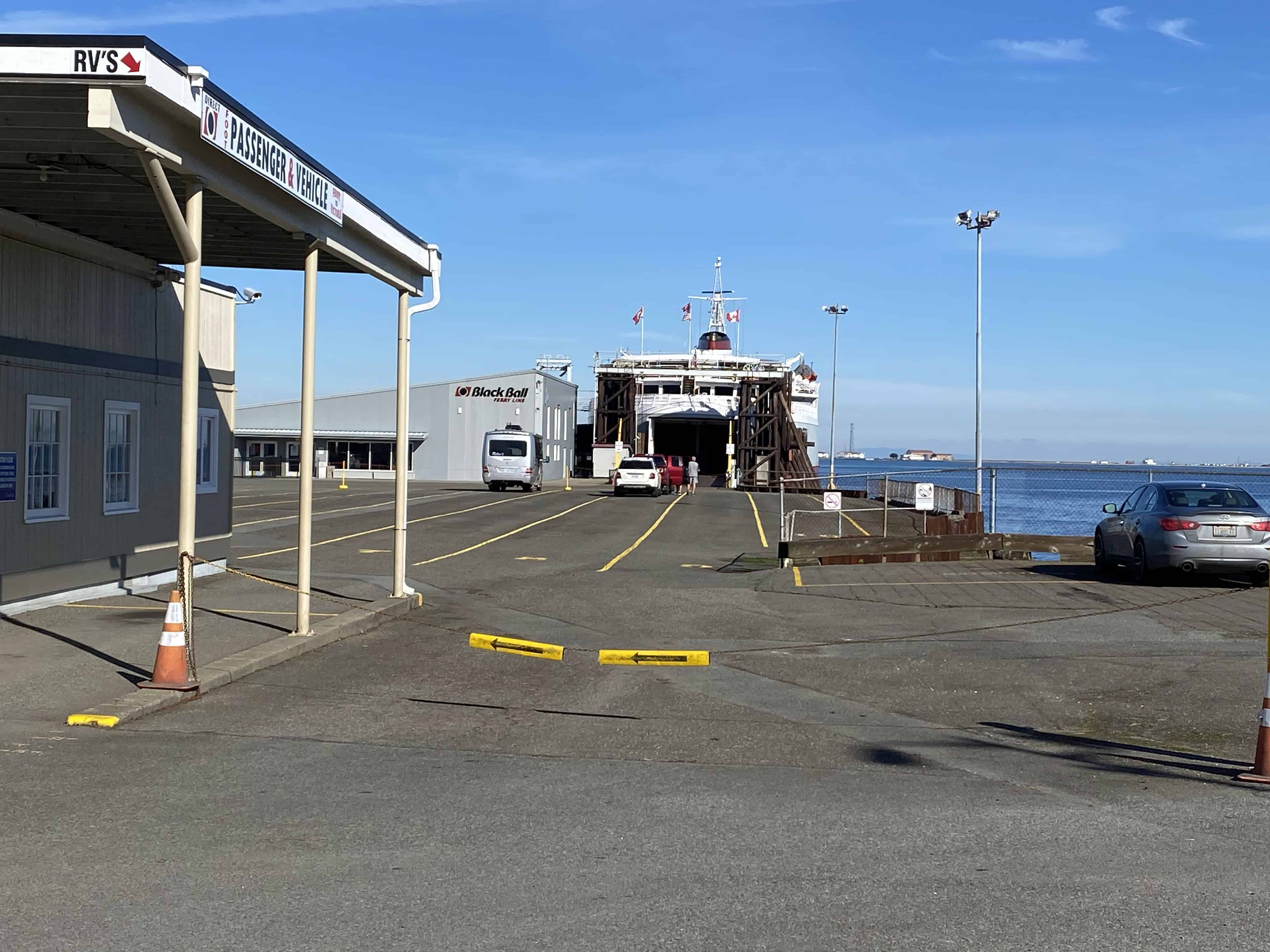 We walked up to a high point to look out over the harbour, helped some tourists take pictures, then settled on a bench along the water to enjoy the beautiful scenery.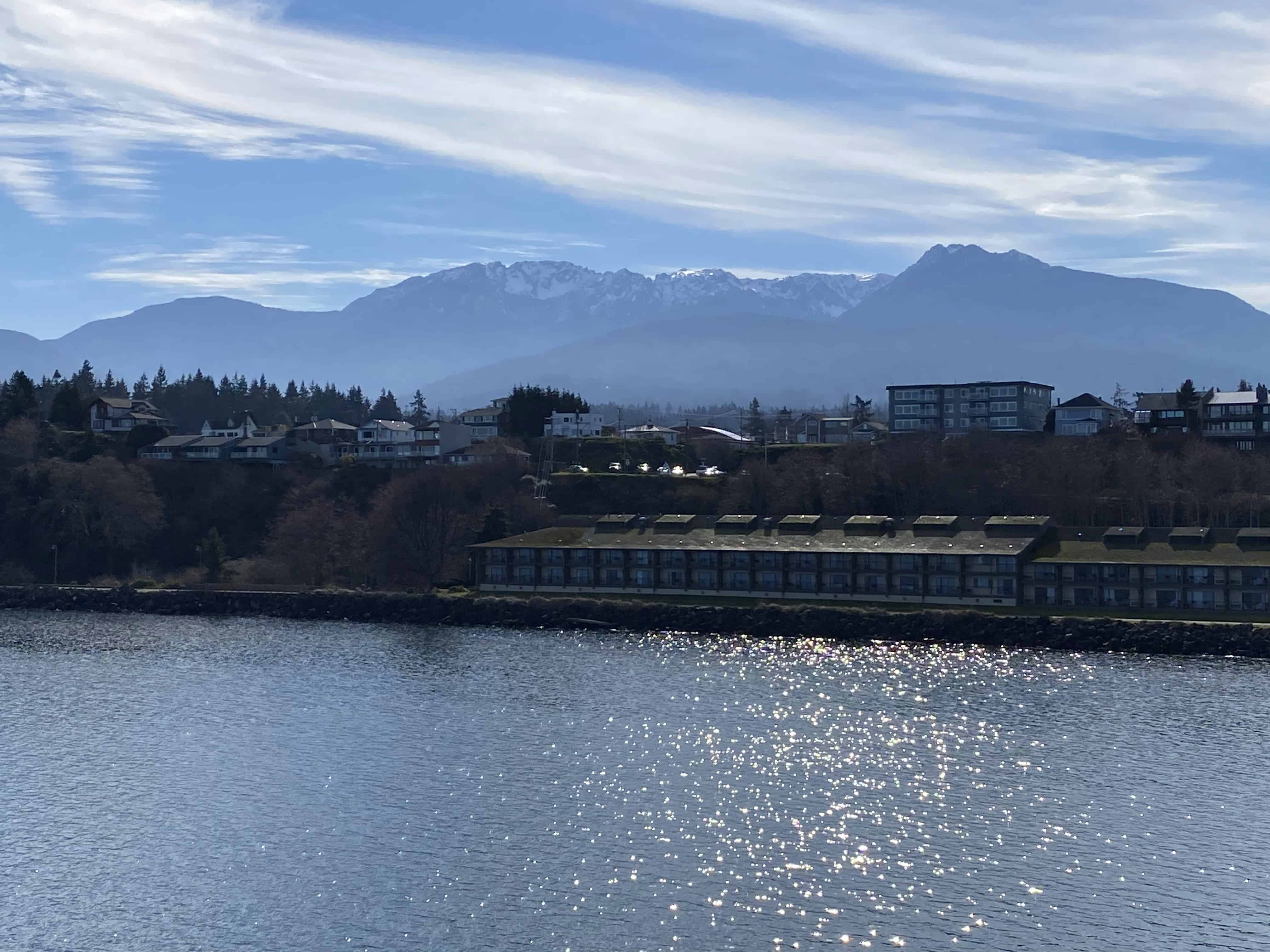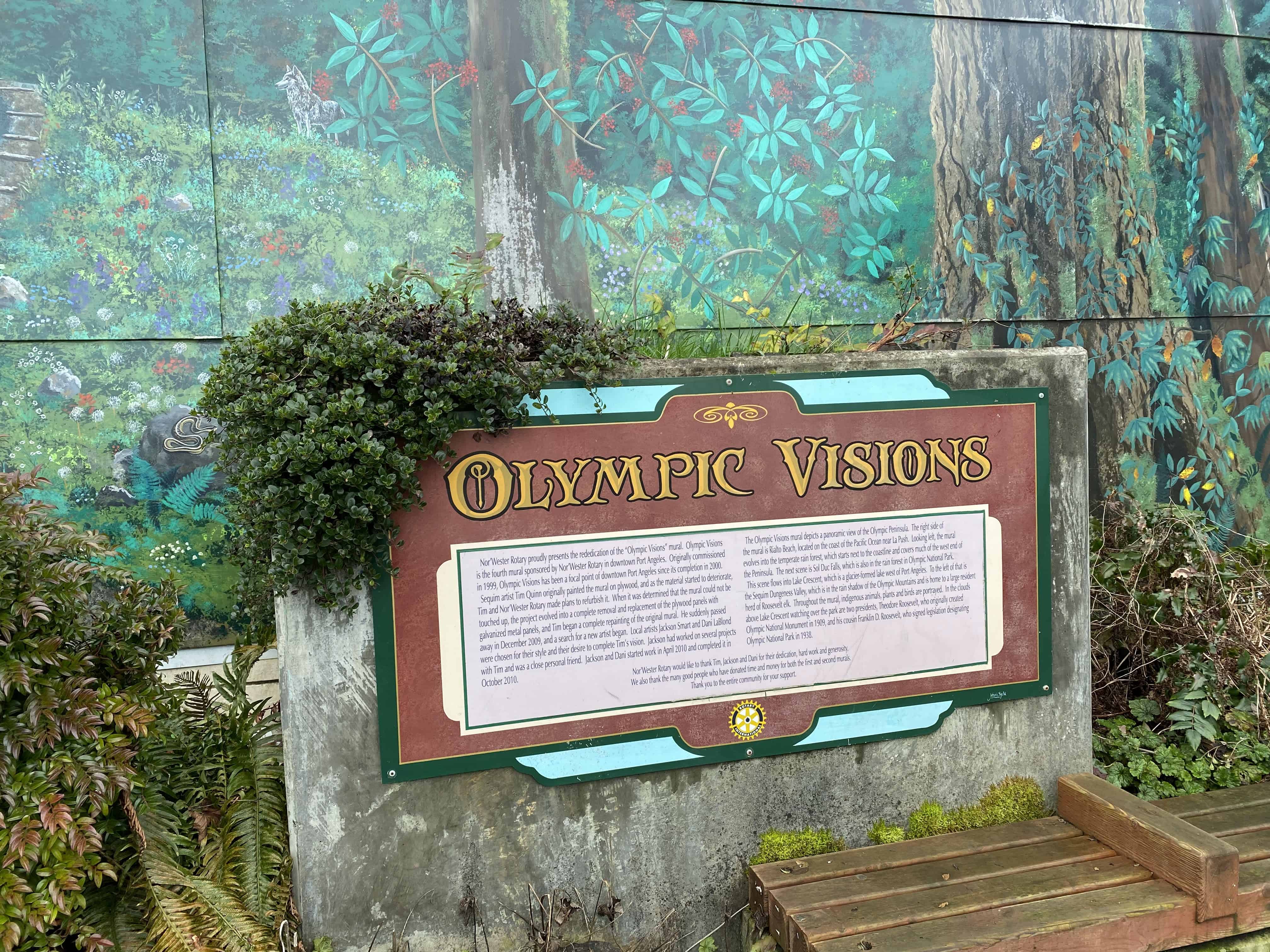 Strait Shot Bus Challan Transit Route 123
We made our way to the bus stop in plenty of time for the scheduled bus to Bainbridge Island, and from there it was a two hour journey to Bainbridge Island.
From the Port Angeles Ferry Terminal to the bus stop is an easy 10 minute walk.
It was a comfortable and scenic bus ride with very few stops along the way. When we took the bus, it wasn't busy.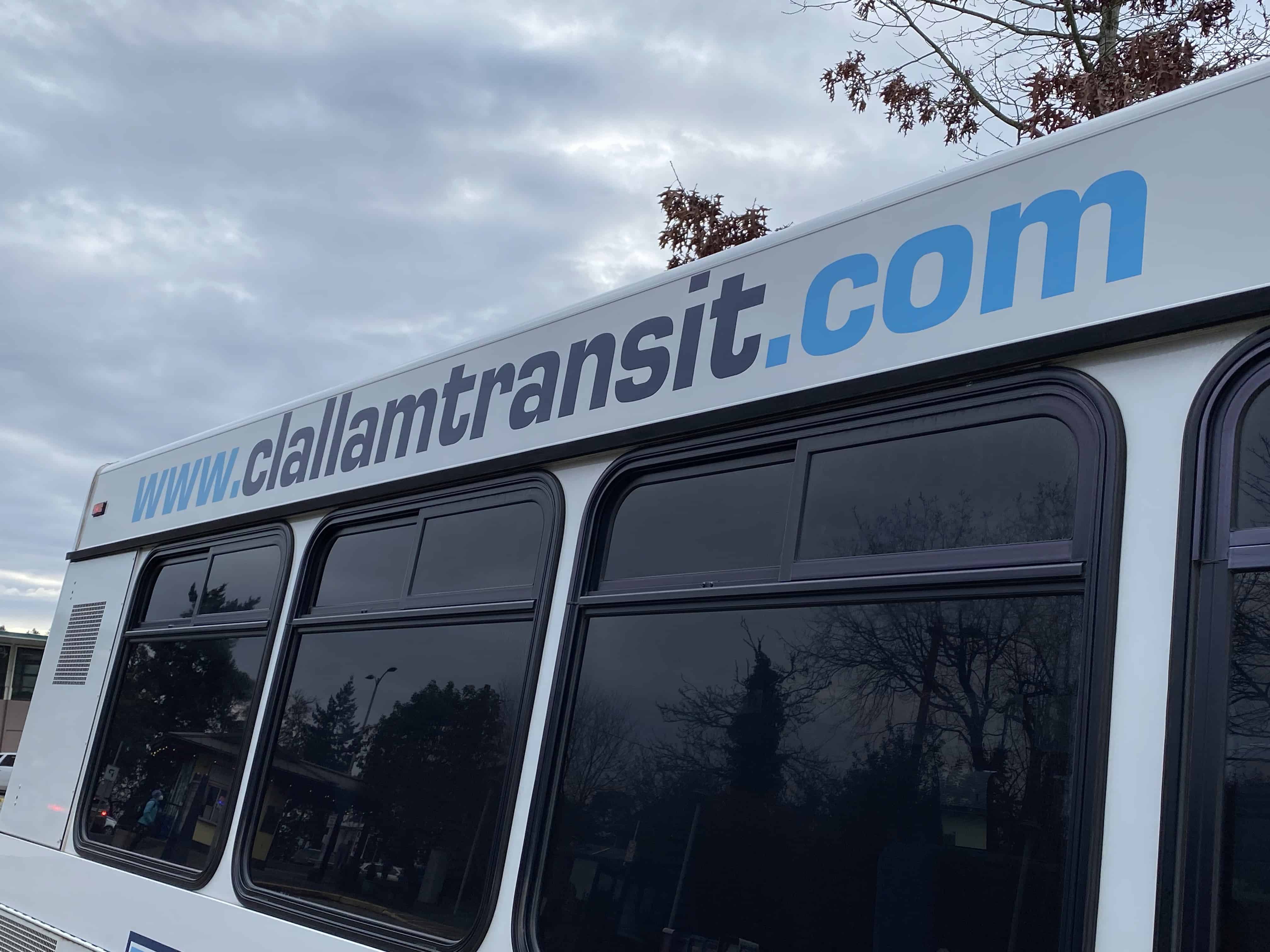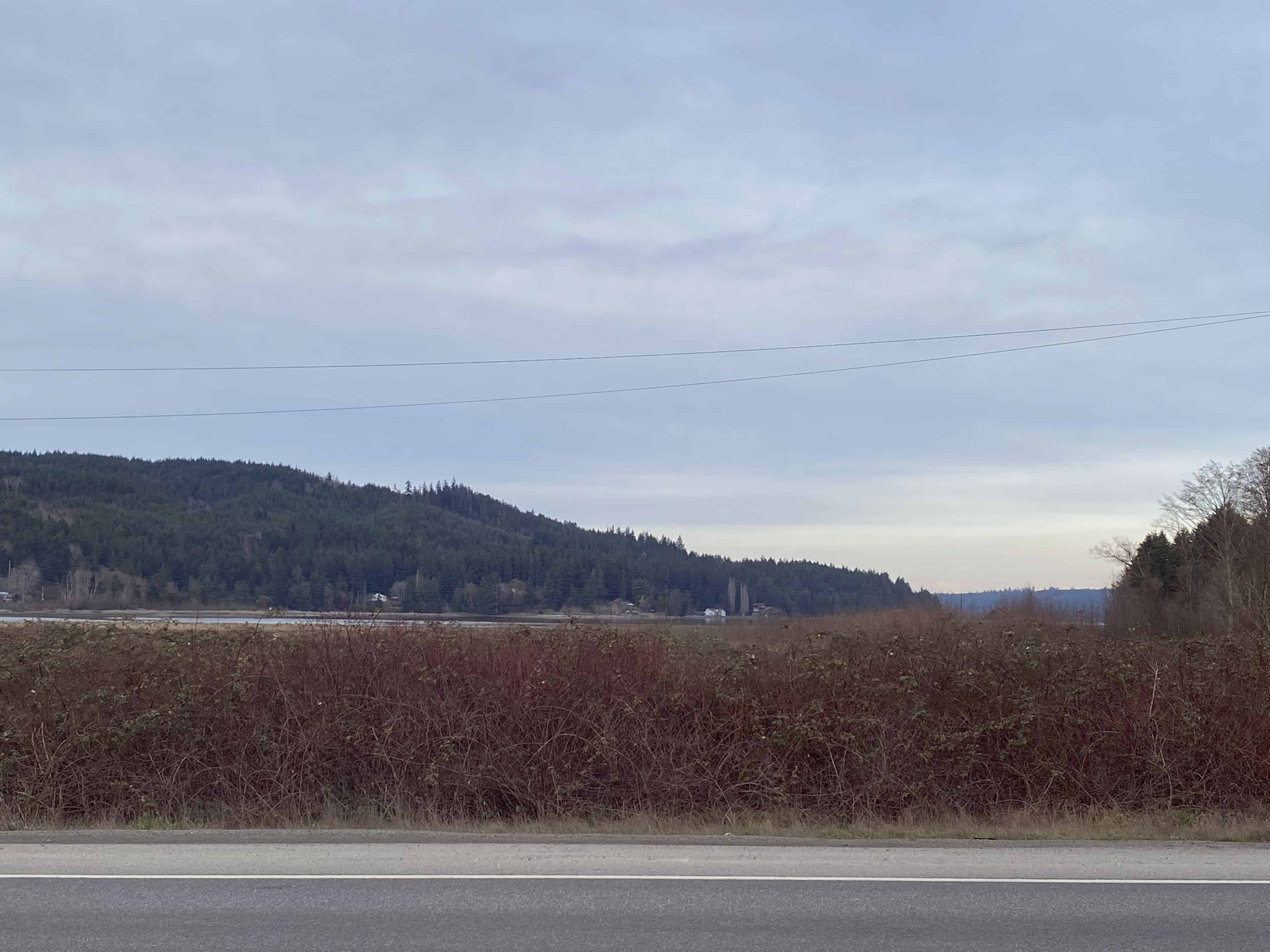 We arrived at Bainbridge Island in good time to make our connection for the ferry to Seattle.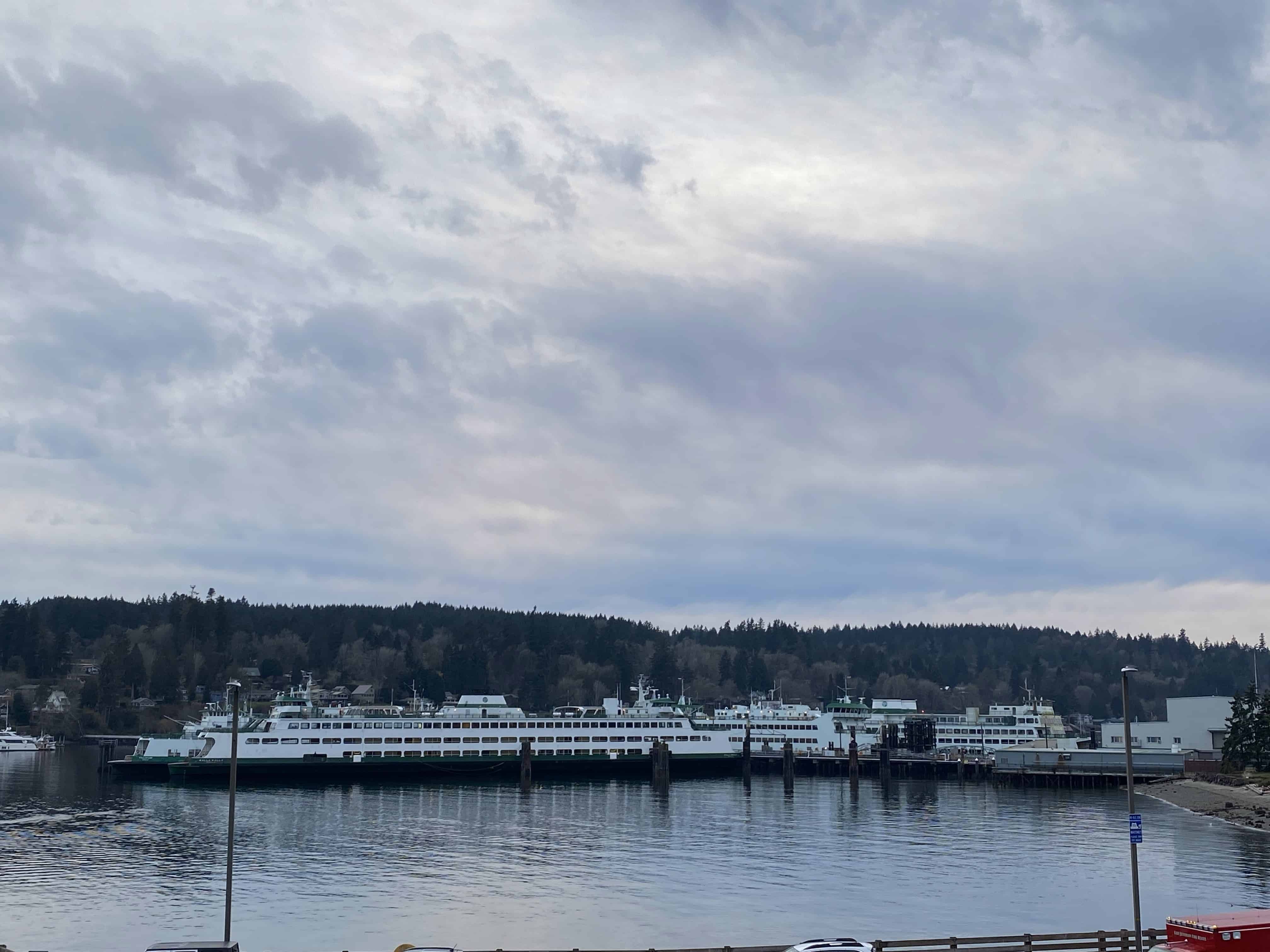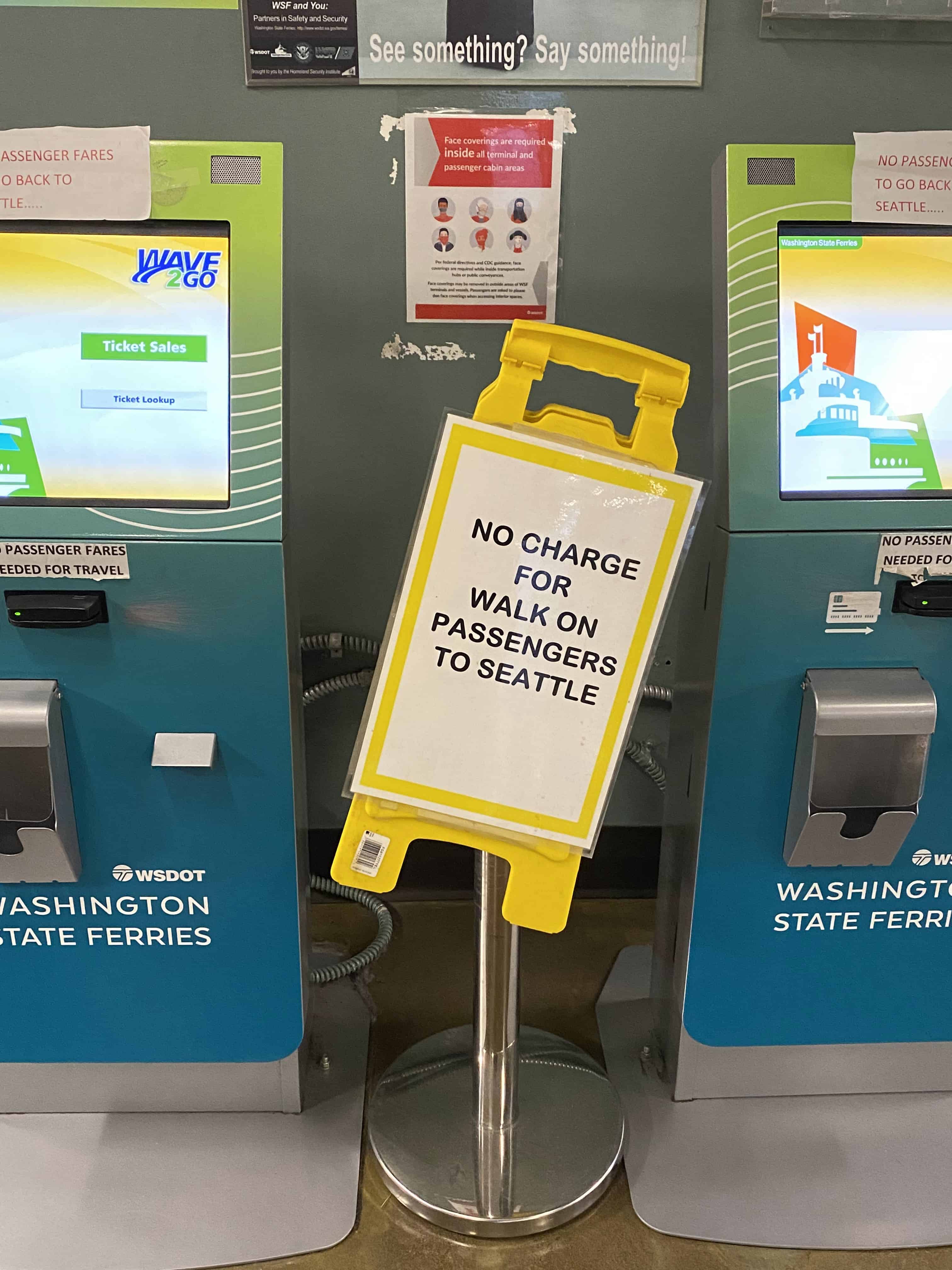 Third part of our Journey
Bainbridge Island to Seattle via Bainbridge Ferry
This was one of our favorite parts of the journey. The Bainbridge Island to Seattle Ferry is a short and gentle ferry ride. On our trip, the universe arranged for us to witness a spectacular sunset as we left Bainbridge Island.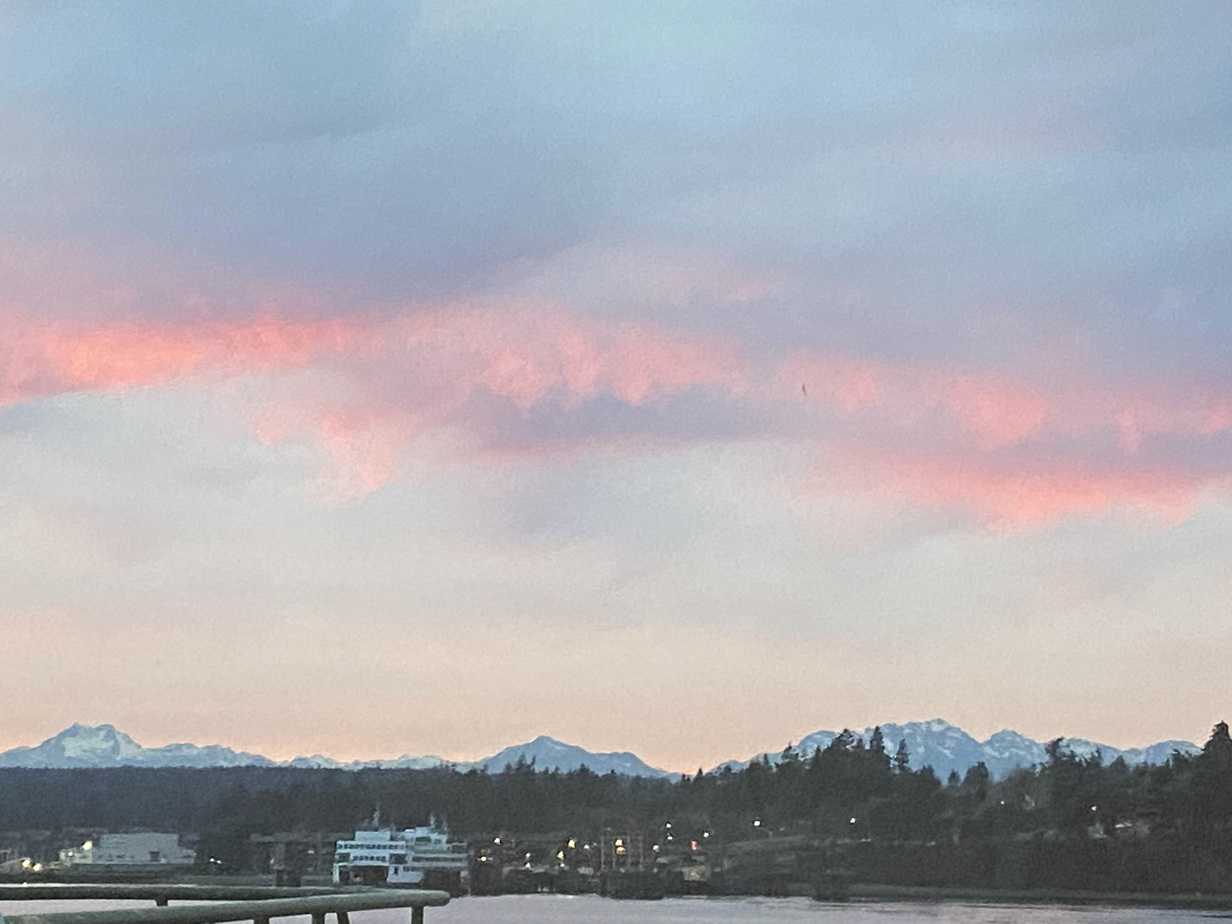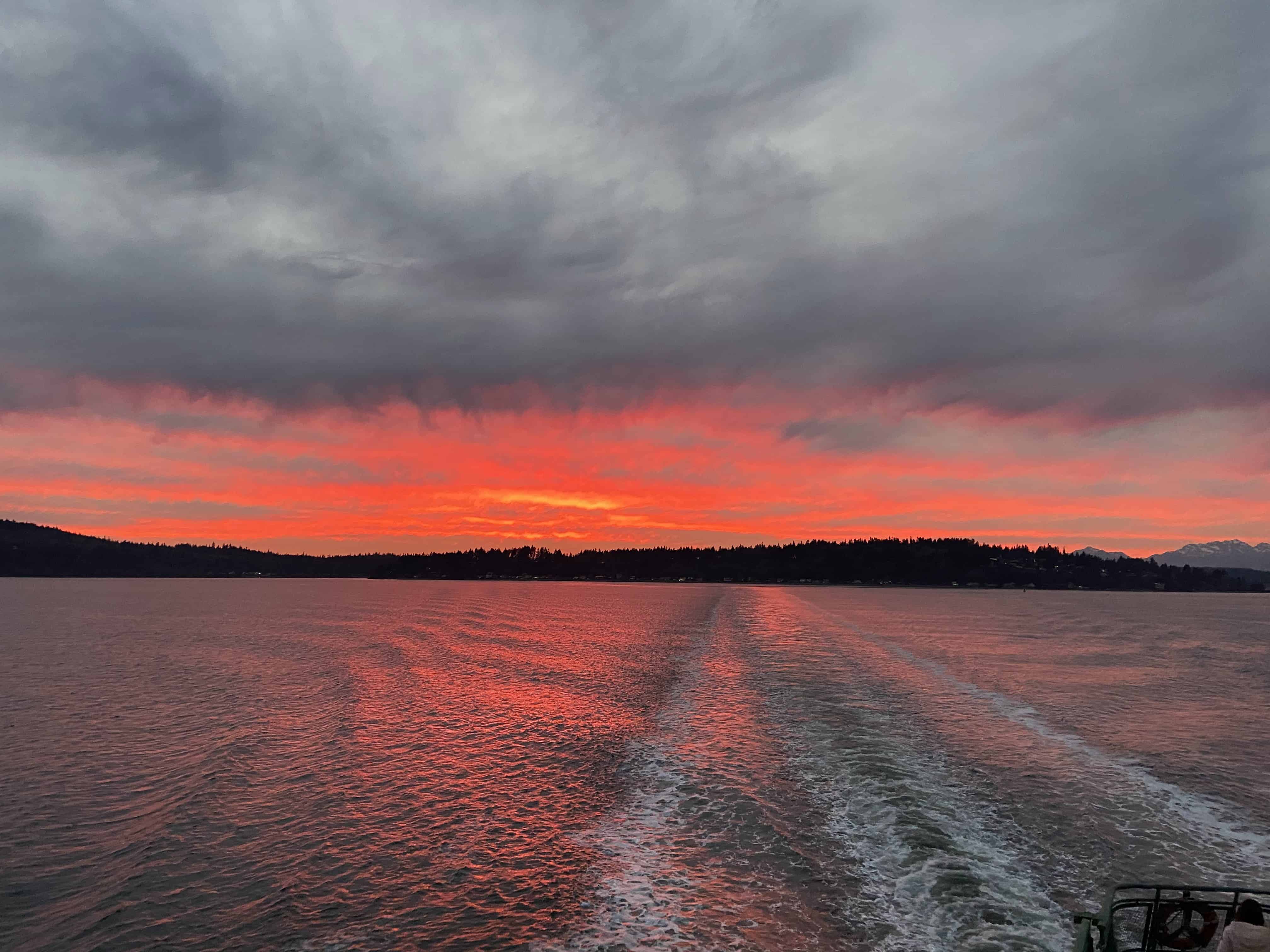 The ferry was larger than we expected, and although they have the facilities for food/ snacks and beverages, this wasn't open when we travelled on it.
Then as we made our way to the front of the ferry, we were treated to the gorgeous Seattle Skyline during sunset. All in all, not a bad 35 minute ferry ride.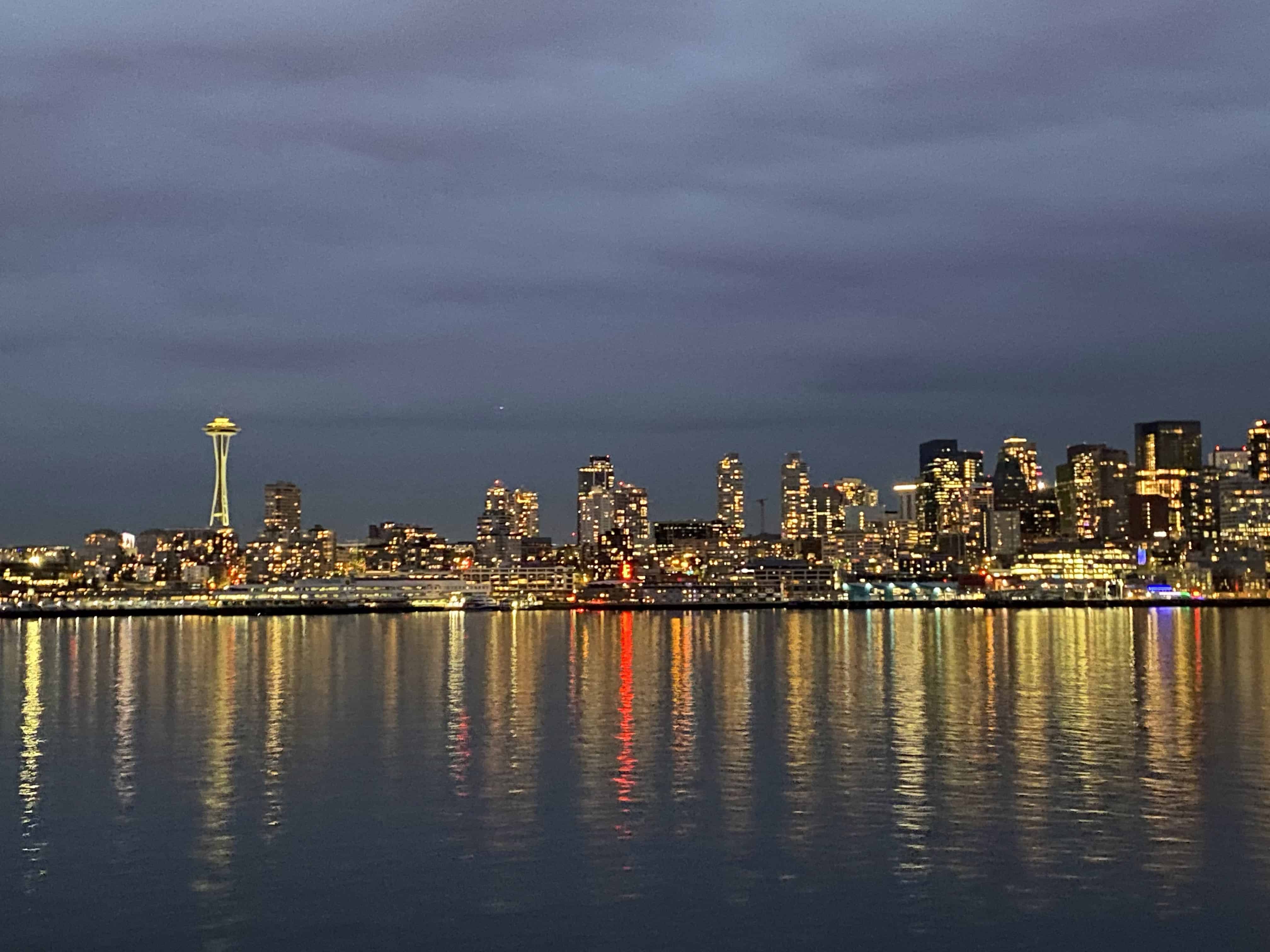 In Seattle
Once in Seattle, we made our way to Curative to get our COVID19 tests for our journey back to Canada in a couple days. We had to ensure we got the results before our trip home, and PCR tests usually take over 24 hours to get the results.
Then we booked and checked into our hotel close to Seattle Center. A light and delicious meal at TS McHughs, then it was time for bed. It was a day of travel for sure, but a fun adventure with lots of new experiences. For further information including where we stayed, check our Top Things to Do in Seattle post.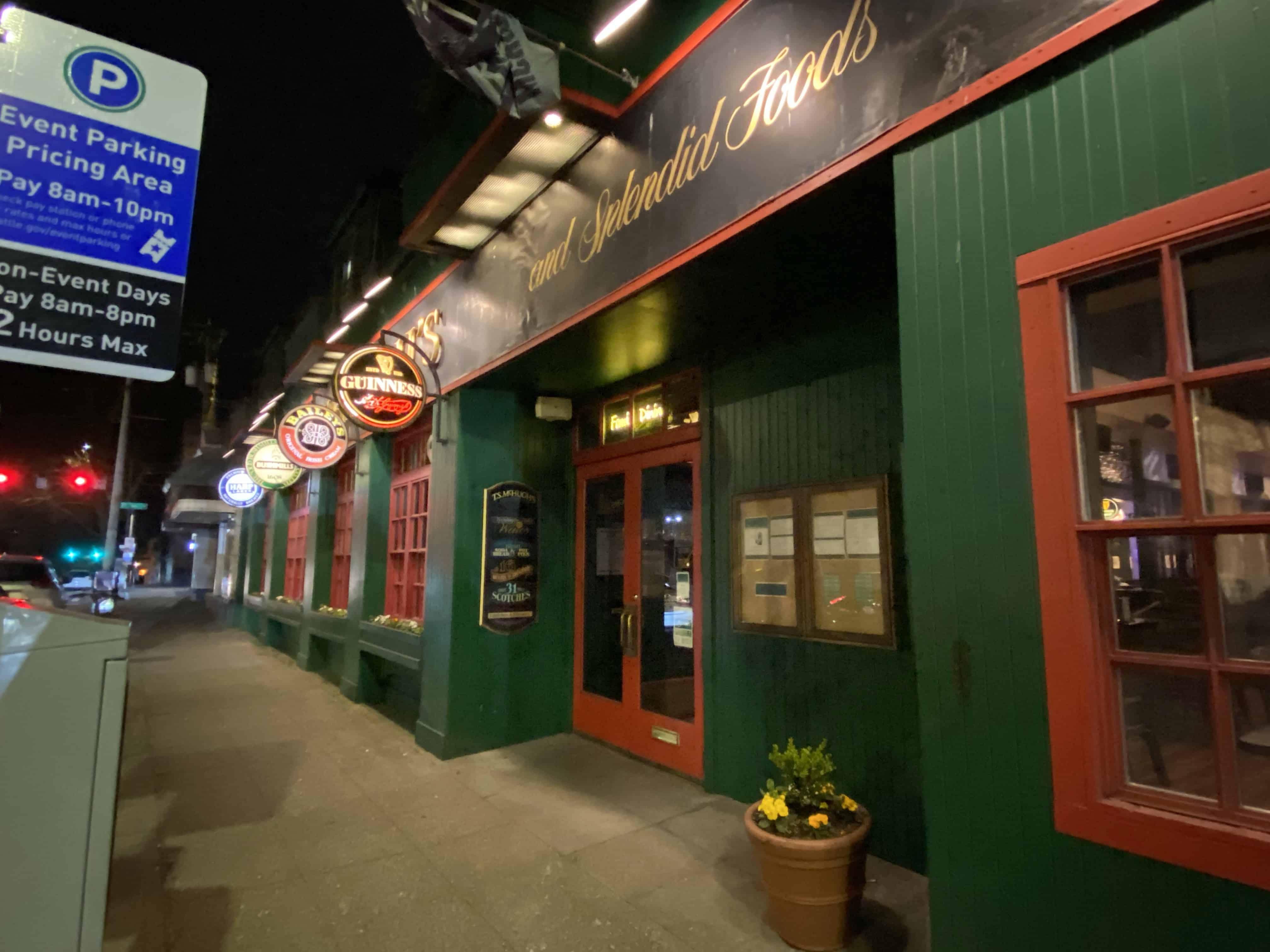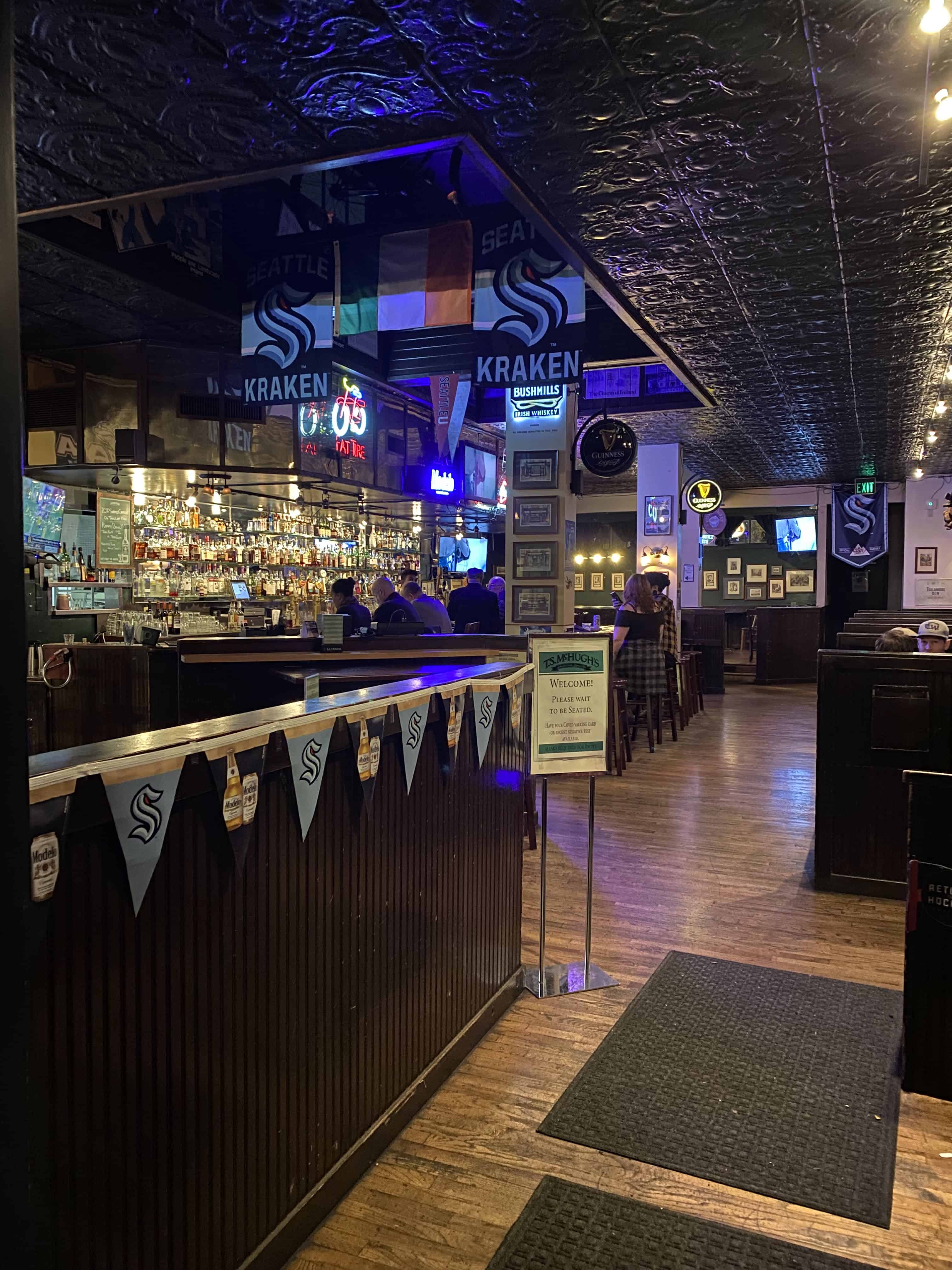 Not our normal practice when planning
What was unusual for us in this trip was that we didn't reserve any part of it. The only part of the trip that was "pre-booked" for a specific date were our hockey tickets, which had been re-scheduled from December, 2021. The Coho, the Strait Shot bus, and the Bainbridge Island ferry were all walk on, pay for tickets as you go, and we booked our hotel room when we arrived in Seattle, after our walk in COVID19 PCR tests.
It was planned ahead to meet the various connections and schedules we had, so we didn't go into the trip totally unprepared.
We believe booking trips ahead is a good idea, however for us having lost money from pre-booked events in the past months, it was refreshing to go with the flow knowing we wouldn't lose too much except our time if everything got cancelled again for whatever reason.
Our journey back home
We simply reversed our route to return to Victoria. As the Black Ball Ferry MV Coho only connects with the bus once per day, we knew we'd have to be on the 2:00 pm ferry from Port Angeles. The rest was just math, and making sure we caught the Bainbridge Ferry and Strait Shot Bus at the times required to be in Port Angeles before 2:00 pm.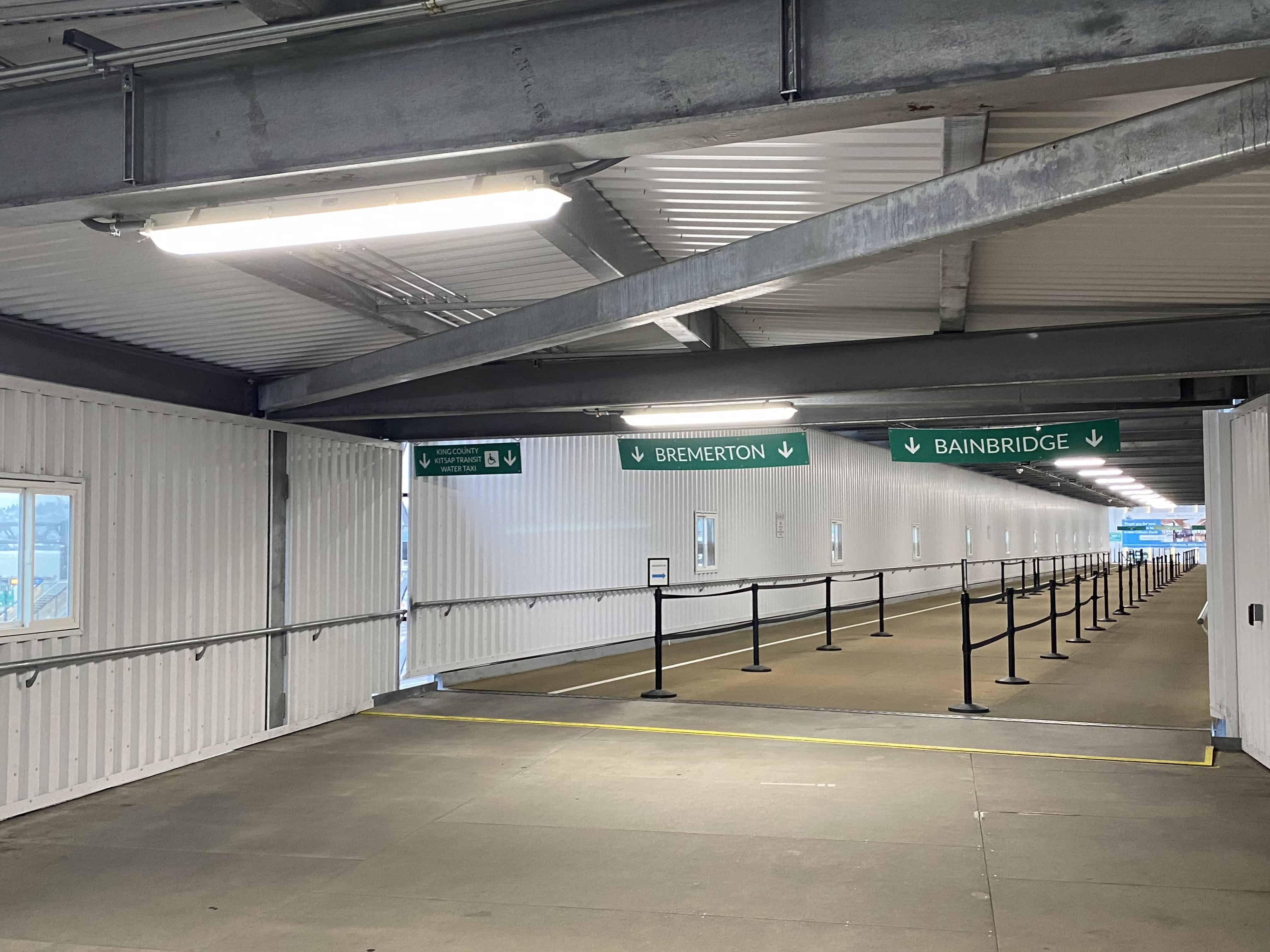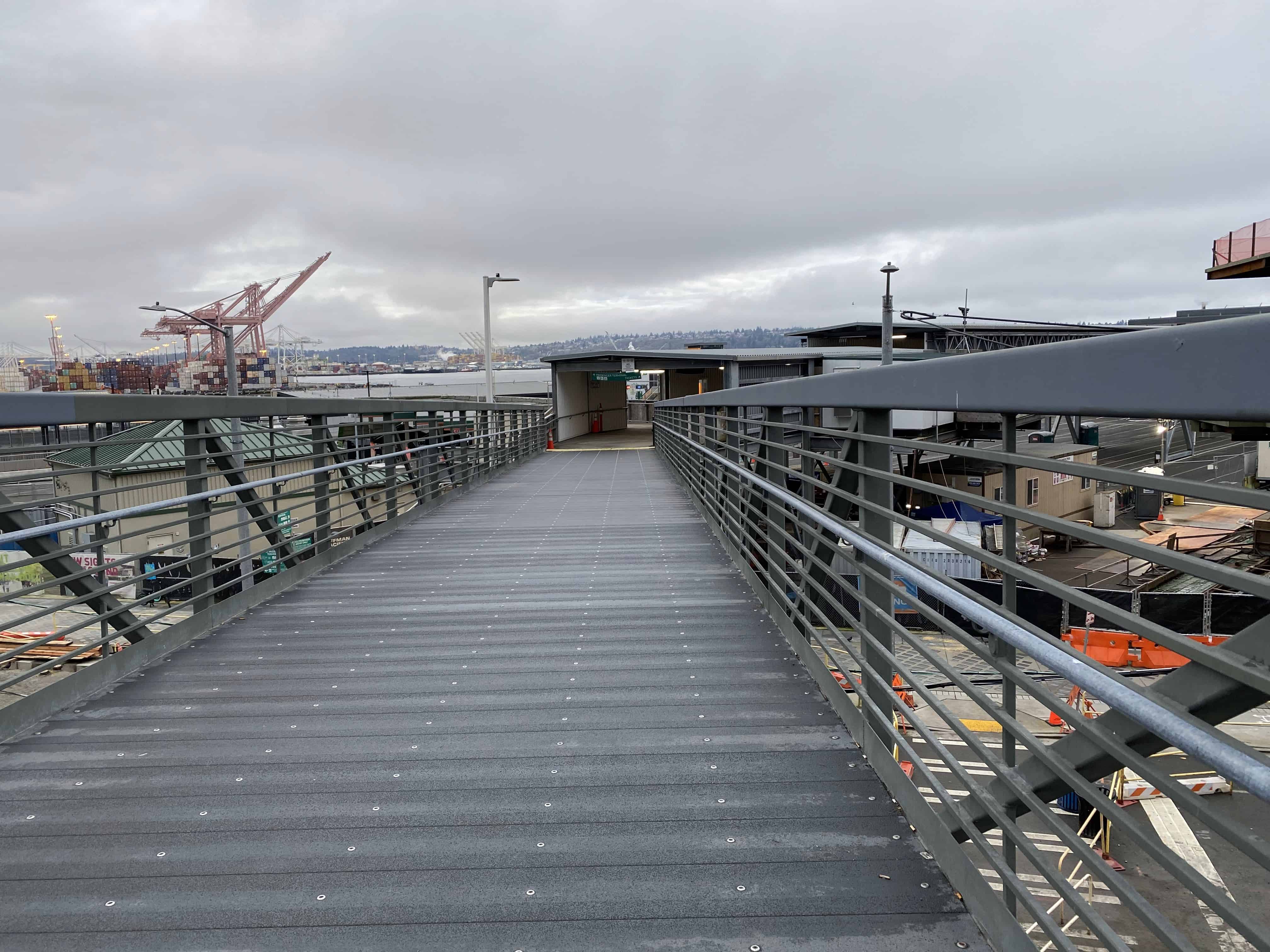 We took the Marion Street pedestrian walkway to the ferry terminal to catch the Bainbridge Island Ferry. Directions are well marked once inside the terminal.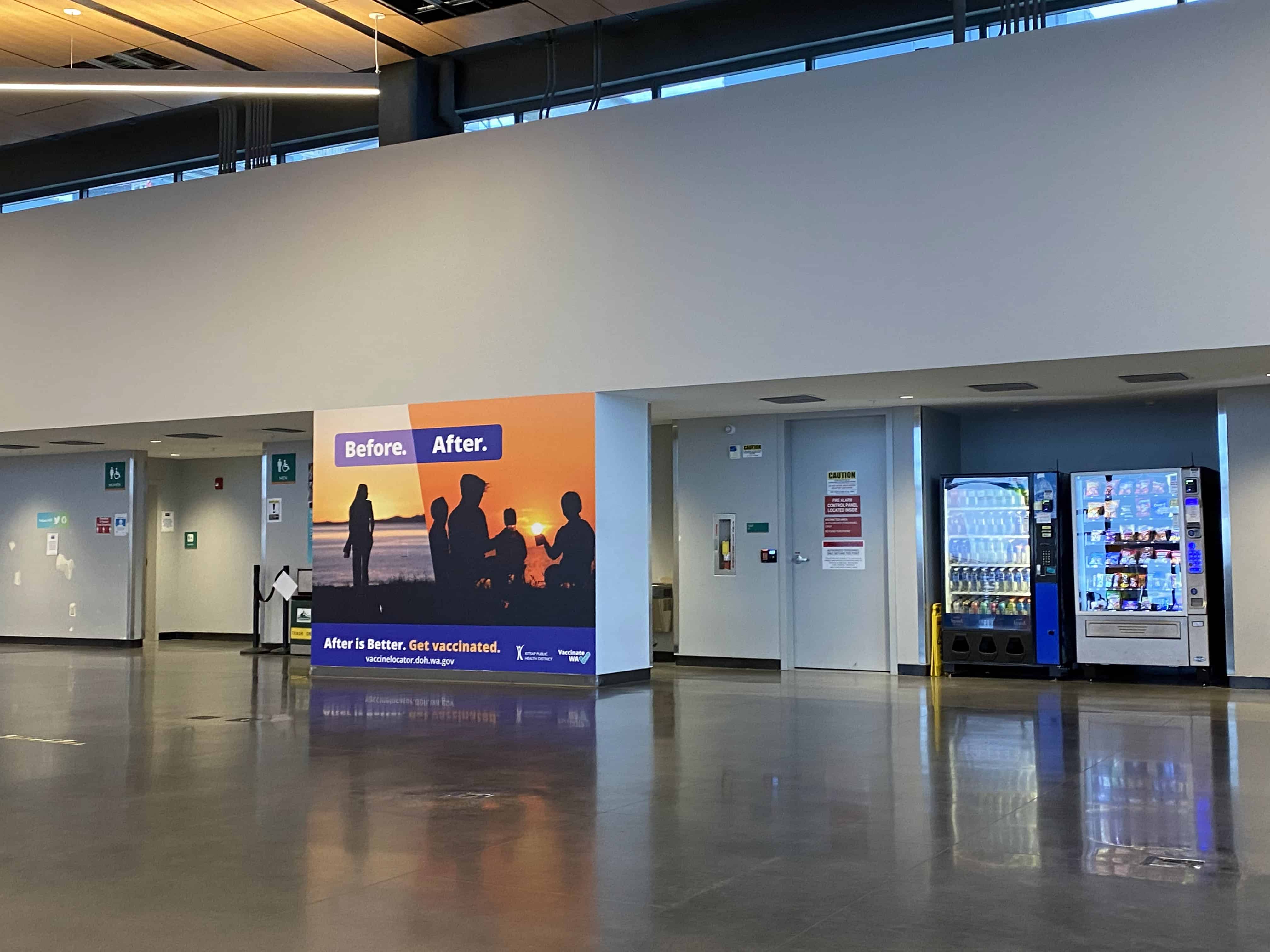 We arrived at Bainbridge Island bright and early in the morning with lots of time before our bus was scheduled to arrive. We waited inside the terminal until just before the bus was ready for us to board.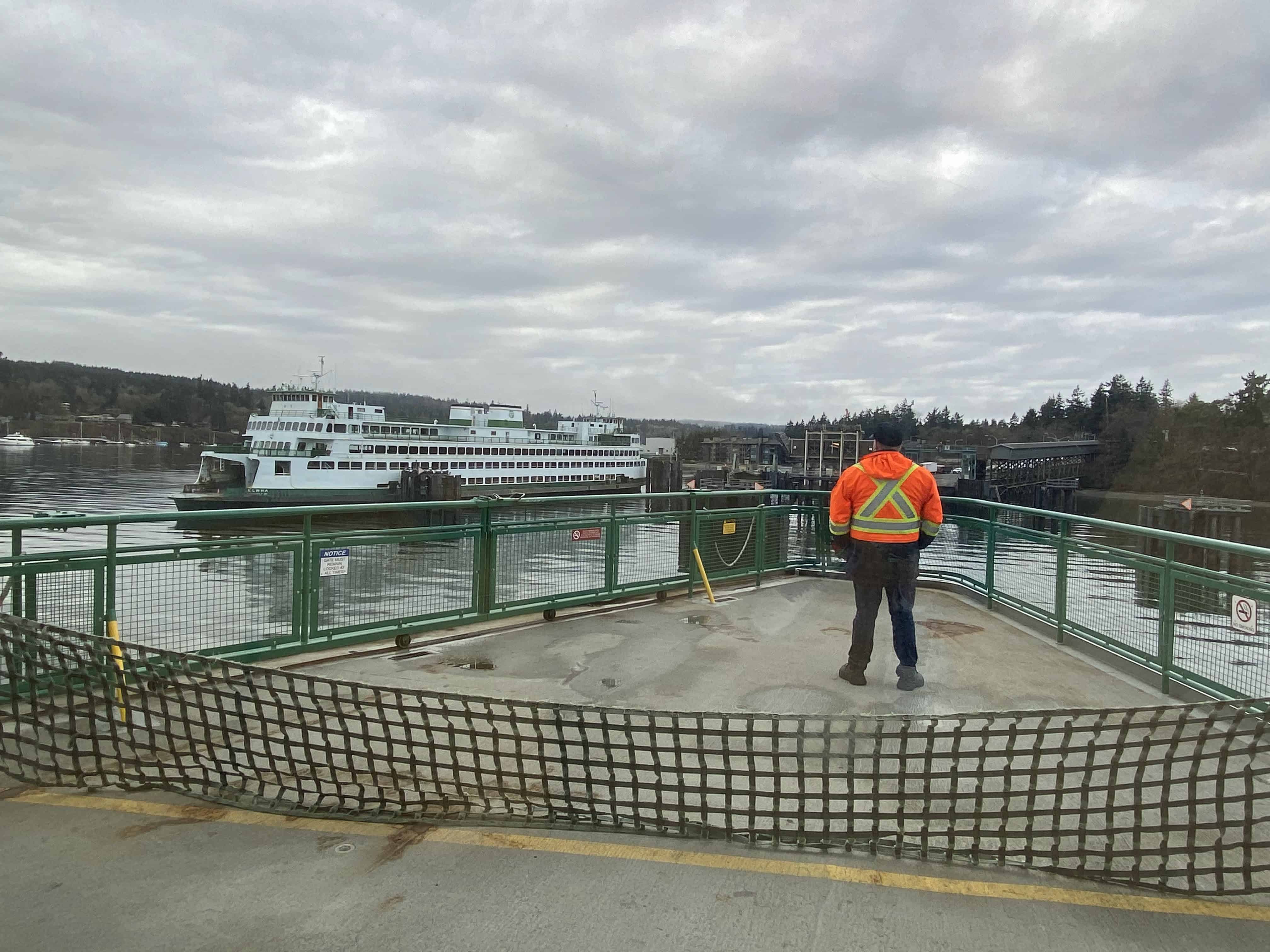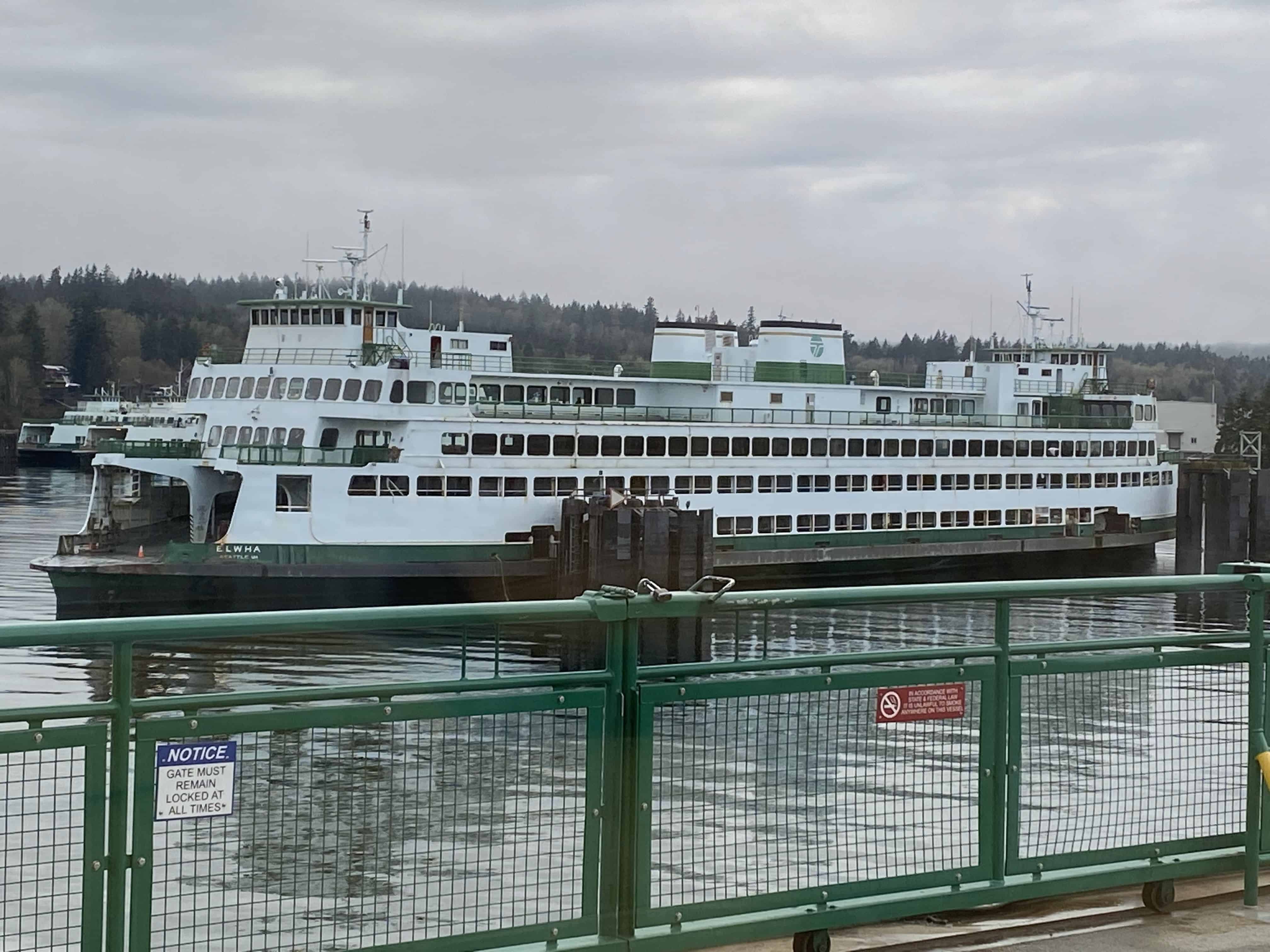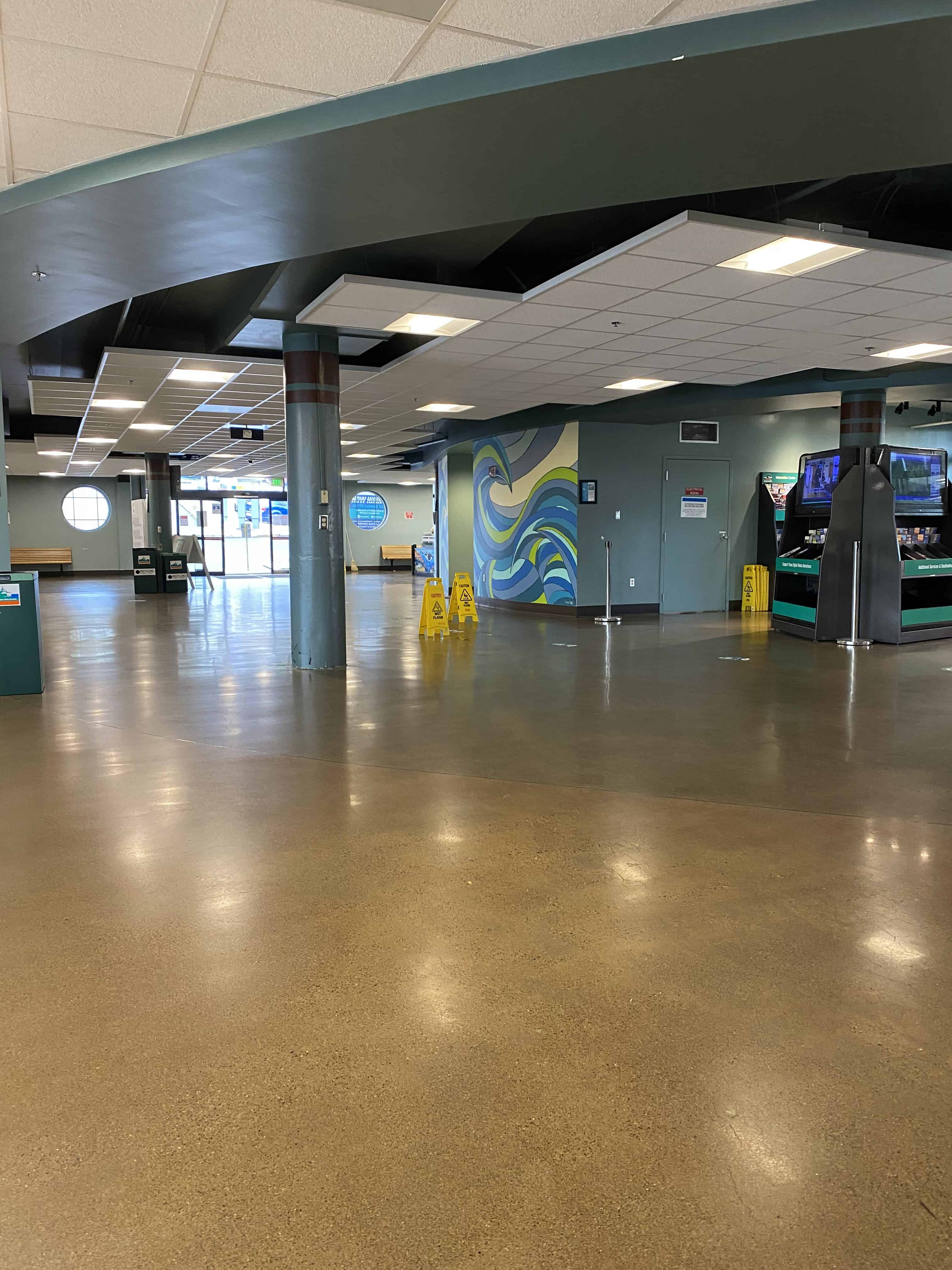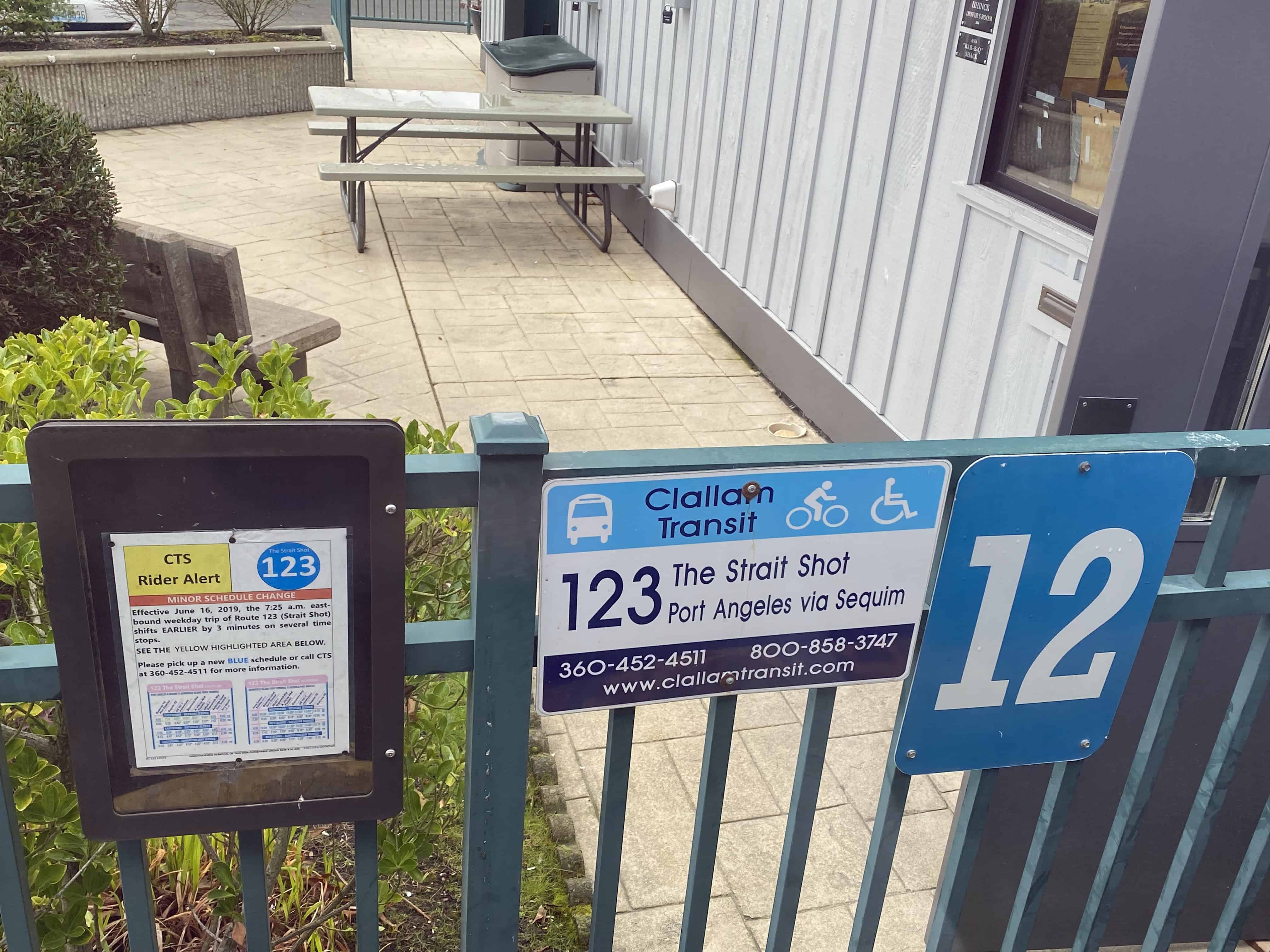 After a relaxing and smooth bus ride (construction slowed us down a little), we arrived at Port Angeles. We had time to go back to the market and purchase a sandwich, which we ate prior to getting on the Black Ball Ferry Lines MV Coho.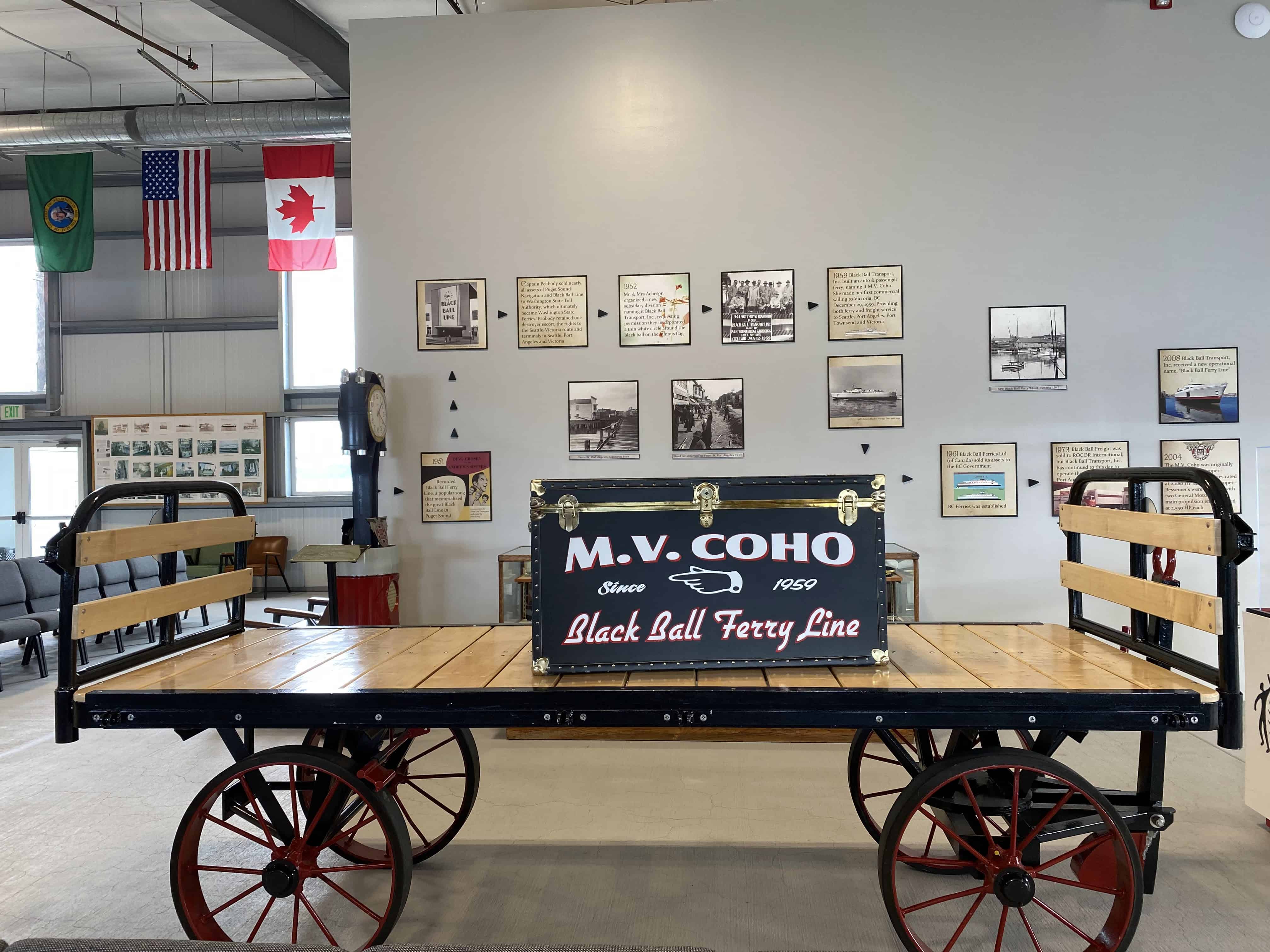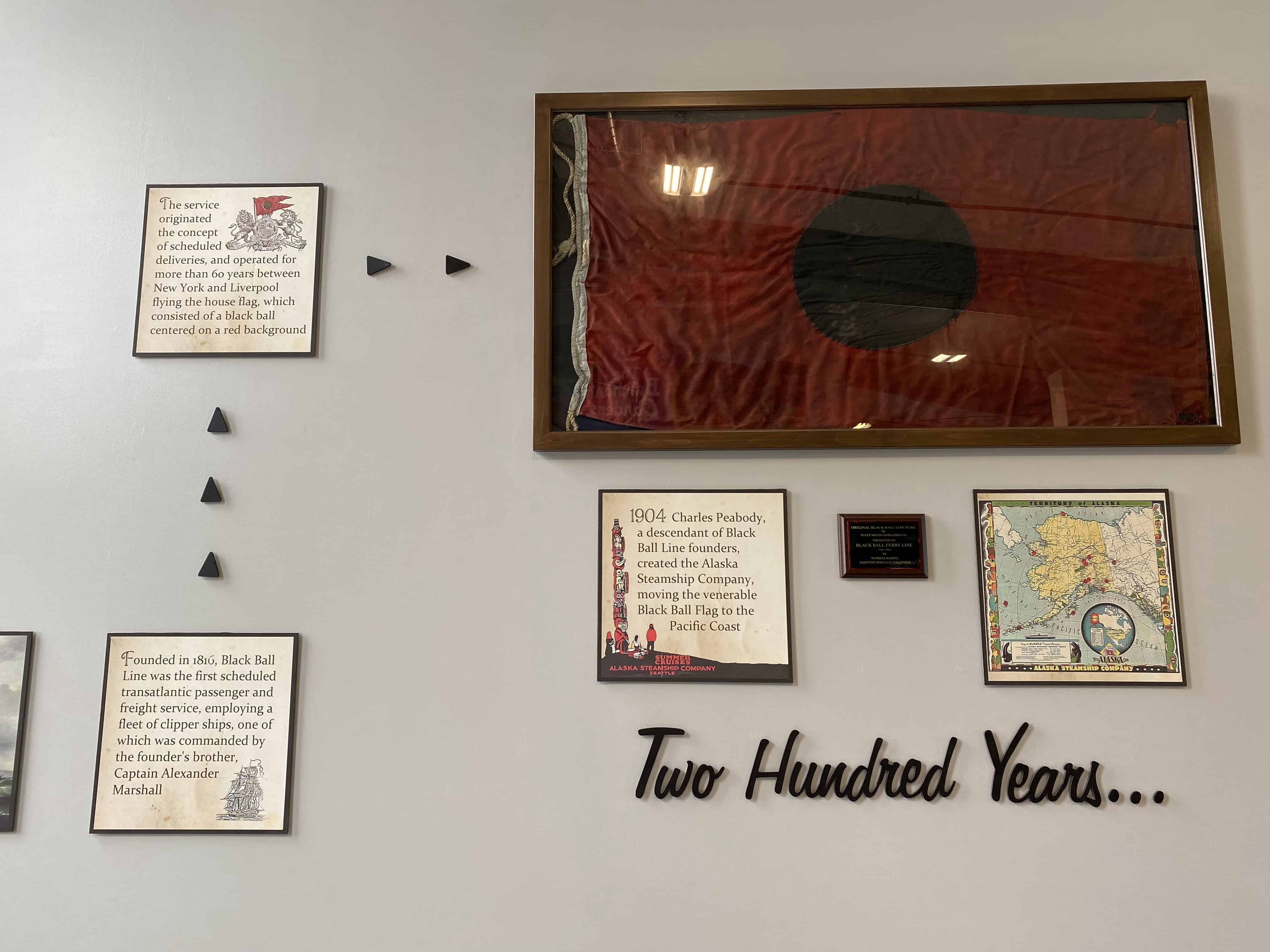 Happy to be back in Victoria, we disembarked the MV Coho and consequently walked home.
All tallied, the entire round trip transportation costs were $71 US per person. We reflected on our trip to Seattle for the First Game Seattle Kraken Climate Pledge Arena which we had taken in October 2021, and realized that compared to that trip, which we paid about ten times more for, and due to flight delays ended up spending a considerable more amount of time, this was a bargain.
Travel is after all about new experiences.
How long it took really isn't all that relevant to us. It's about whether we had fun and were able to experience new places and events. Mission accomplished!