10 Victoria BC Bucket List Activities
We're often pleasantly surprised at what's on other people's bucket lists. Visitors to Victoria tell us that some of the activities we've participated in while living in the greater Victoria BC area are on their "bucket list". This makes us pause and consider what's on our own travel bucket list, and wonder; is Canada really a bucket list country? Apparently it is for many people.
Is Victoria and Vancouver Island BC a travel bucket list destination? Yes again, for many it is. Based on our own experiences and what others have told us, here's a bucket list of activities you may want to consider while visiting the greater Victoria BC area.
Visit the Butchart Gardens
Visiting the Butchart Gardens rates very high on a lot of people's bucket lists when they think about Victoria BC. It has received international acclaim and many put this activity on their list of the top things to do in Canada.
We have an annual pass so visit the Butchart Gardens often and during all times of the year. The Butchart Gardens are stunning and varied, depending on which season you visit Victoria. If you're around during Christmas, the Magic of Christmas display is a sight you won't want to miss!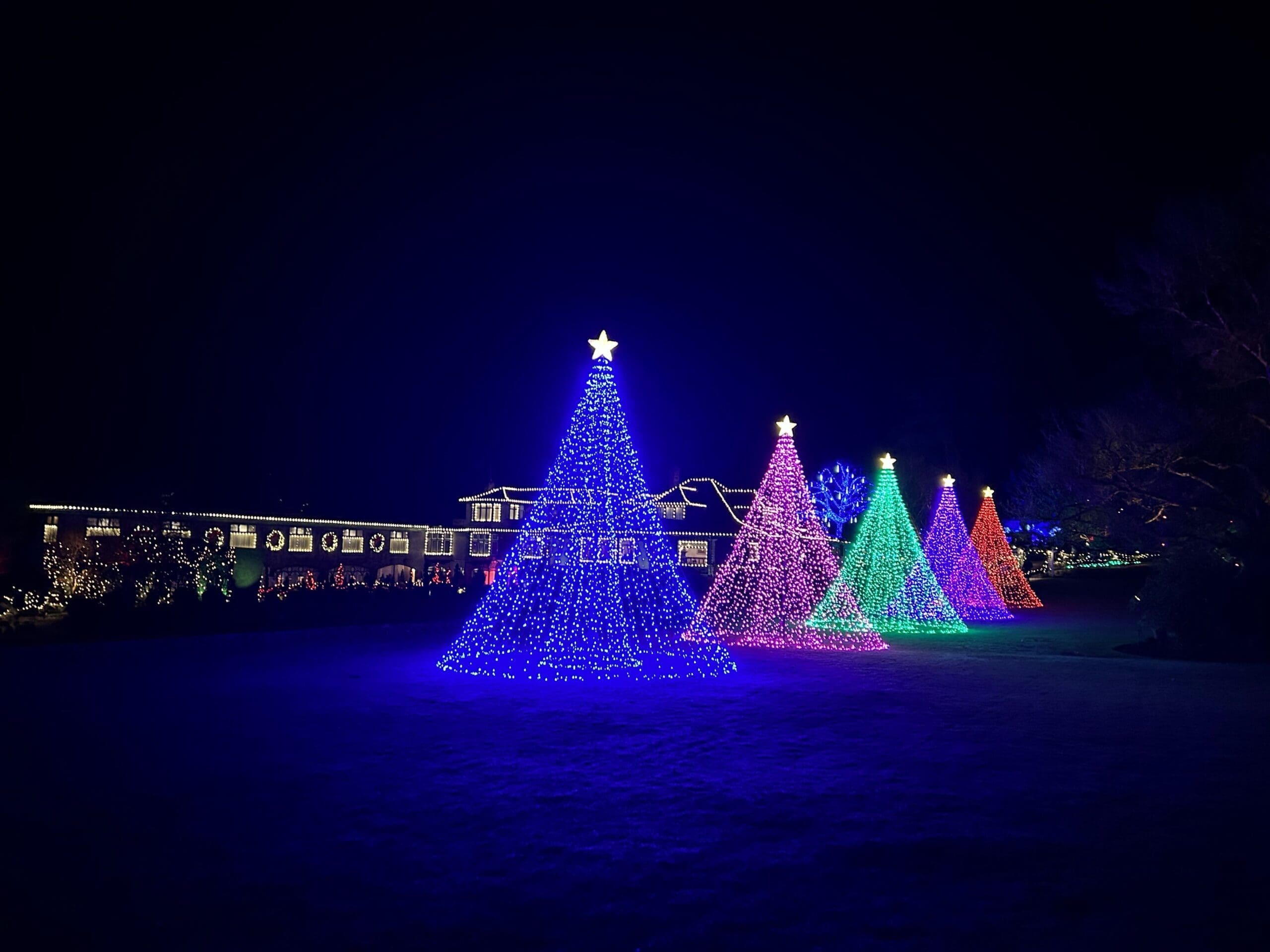 Have High Tea at the Empress
An experience you will cherish , the practice of afternoon or High Tea is something Victoria establishments take seriously. The long history of the the Empress offering Afternoon Tea is evident in the manner in which you are served. The care in ever aspect of the ceremony is evident, and dates back to when the Empress was opened more than 110 years ago. One of the better bucket list experiences for a tea lover.
Hike the West Coast Trail
We met someone on a BC ferry trip three years ago travelling from Vancouver to Victoria. He had a large backpack, too large for his weight, and had travelled all the way from Germany. Although the journey had been a long one, he was energized; nearing the beginning of what he described as a "bucket list" adventure on Vancouver Island's West Coast Trail with friends all meeting together in Victoria. They would take the bus the next day to begin their adventure.
He explained to us that it had been planned for years, and they had all trained to "do the West Coast Trail". He was clearly enthusiastic and had the look of someone about to live one of his dreams.
Having given him the money to catch the bus going downtown (he had no Canadian money) we chatted on the bus, then watched as he got off at this stop and joined his friends. They all looked as giddy and excited as he did.
Certainly you've got to book the West Coast Trail in advance, and the bookings fill up quickly when they become available. If this is one of your bucket list items, visit the Parks Canada website for more details.
See Whales (whale watching)
Anytime you get on a ferry in this part of the world it's possible to see a whale. We've been fortunate and seen whales without specifically looking for them. As a matter of fact, though it's rare, whales have come right into the Victoria Harbour 2-3 times in recent memory. Living where we do, we take it for granted we will see whales from time to time. That's doesn't mean it's any less special for us when we see whales though. It's always a special treat to witness the whales in their amazing glory out in the ocean.
If one of your bucket list items is to see a whale, Victoria is one of the best places to try to do that. Some whale watching companies may guarantee that you'll see whales on a tour, but there are certainly ways to improve your chances of doing so. Summer is the busiest time for whale watching in Victoria BC. You would do best to book a tour with a whale watching tour company ahead of time to ensure you participate in this fun and memorable experience.
Take a horse and carriage ride
This activity, offered in Victoria, is popular because of the unique experience, and the beauty and charm of this special city. If you've always dreamed of doing a carriage ride, you won't regret doing so while visiting Victoria. Travelling in this manner will slow you down and help you relax on your holiday. And, if this is one of your bucket list items, sharing the experience with friends and family will make it that much more special.
Ride on a Ferry
Ferry travel is at times necessary when you live on an island. It's practical and it's the most affordable method to get off the island. However, if you've never been on a ferry, it can be make you afraid or excited or both. Riding on a ferry is, we've learned, a bucket list item for some visitors, who are from land-locked locations around the globe. BC ferries attracts visitors from all over who delight in the beautiful journeys afforded to them in this area.
One of our favourite trips is the Vancouver to Victoria journey. While it's only 1.5 hours long, that's plenty of time to have a meal including ice cream for dessert, walk around the boat a few times, Plus you can go outside on the deck and watch as you pass through "Active Pass", marvel at the beauty of the majestic landscape around you and wonder what life is like for those who live on the water's edge.
There are of course other ferries available getting to and from Victoria, all of which are unique in their own way. What ferry you choose will depend on what experience you're looking for to check it off your bucket list as done.
Ride in a Helicopter
A friend of ours who was terrified of flying absolutely loved her trip in a helicopter. Riding in a helicopter isn't the same as flying in a plane at all, and it's definitely a bucket list item for some people. A company called Helijet, offers transportation to and from Victoria BC. Helicopters are fun to ride in, and with this special helicopter/ seaplane tour, you may be able to check two things off your bucket list!
Land on the water (harbour landing)
Landing on the water is thrilling, if not a little unsettling at first. There are lots of float planes taking off and landing from Victoria Harbour on a scheduled basis. Fun to watch them take off and land, even better to be on one, and feel the thrill. The views from a float plane in the Victoria area are also really spectacular on a beautiful day. This panoramic seaplane tour may be just up your alley.
Visit a Castle
There are castles in Victoria, BC. Craigdarroch Castle is close to downtown Victoria and Hatley Castle is in Colwood, BC. Both are accessible by transit. To get to Cragdarroch Castle, take the # 22 bus from downtown. It will take you about 15 minutes. To get to Hatley Castle, take the #50 bus (towards Langford), about an hour from downtown. If you see them both, you get to check your bucket list twice, right?
Live on an Island
This particular bucket list item isn't about visiting, however many visitors have commented on how it's their dream, or on their bucket list to live on an island. Vancouver Island is gorgeous, and worth exploring. We're still exploring the island, and will be for years to come. If it's on your bucket list to live on an island some day, do what we do when we travel. We go to open houses. It's a really fun activity that gives you a great sense of the real estate market In places you visit.
Perhaps not every country does this, but in Canada, and in Victoria specifically, you can simply look on realtor.ca to view open houses for any area in Canada. Just narrow down your search, and check the box that says "open house", fill in the date and you'll see what there is to look at. Remember, we take off our shoes when entering houses in Canada. It's considered polite, and is especially expected with open houses.
If you find that perfect place to buy, make sure you check out all the rules for owning property in British Columbia. You'll want to do all your homework first! Victoria BC can be an expensive market to own property in, and there are additional taxes and limitations on foreign investments/ownership, especially if you're not living in the property full time. But again, the bucket list item is "Living on an Island", right?
What's on your travel bucket list? We hope this helps, and select other sections if you're looking for more ideas of things to do or see while in Victoria, or other travel tips for Victoria BC.