First Game Seattle Kraken Climate Pledge Arena
This was our experience in attending the First Game Seattle Kraken Climate Pledge Arena
History of Hockey in Seattle – a summary
Professional hockey isn't new to Seattle. In fact hockey in Seattle dates back to the early 1900s. In 1917, the Seattle Metropolitans (Pacific Coast Hockey Association) defeated the Montreal Canadiens (National Hockey Association) to win the Stanley Cup. The trophy was redesigned in 1948, and the Seattle Metropolitans were added to the cup at that time. The Seattle Metropolitans along with the PCHA were both done by 1924. Professional hockey did return to Seattle under teams of many different names off and on from 1928 to 1975.
There were previous attempts for an expansion NHL team too, which for a variety of reasons simply didn't come together.
The Seattle Breakers were sold in 1984 and re-branded into the Seattle Thunderbirds. This is a junior hockey league and competes in the Western Hockey league today.
Seattle has a long and proud hockey history.
For us it all started in 2018
The NHL required a commitment from an interested ownership group before they would look at approving the newly proposed Seattle team. The ownership group had to have at least 10,000 fans prepared to commit to season tickets before the NHL would even seriously consider this proposal. There were no guarantees. On March 1, 2018, it became apparent Seattle fans were excited to support a new NHL hockey team. It took only 12 minutes to sell the required 10,000 tickets. Paul and Gail were fortunate to be amongst this early group of fans. On December 4, 2018 the NHL Board of Governors voted unanimously to approve the NHL expansion team.
For us, this was an opportunity to see NHL hockey close to home. We both really liked what we knew of Seattle, and could envision travelling on the ferry back and forth. Going the day before the game and returning the day after, would allow us to spend some time in the city. After all, Seattle is just 75 miles / 120.7 km / or 65.17 nautical miles from Victoria. The ferry ride (downtown to downtown) only takes about 2 hours 45 minutes. For us, the entire trip is walkable to and from the ferry in both directions.
We were long time Edmonton Oilers season ticket holders when we lived in Edmonton. Gail converted Paul to an Oilers fan, however Paul was and still is a Habs fan (Montreal Canadiens) as well. Now we are also BOTH Seattle Kraken fans!
October 23, 2021 – Seattle Kraken Day!
Today was Kraken Day! We were excited and after breakfast we walked to the arena.
The day we would attend Seattle Kraken Inaugural Game at Climate Pledge arena was finally here!
It was still very early, and we were able to wander around taking pictures without other people in them. We knew how difficult this would be later in the day.
Outside Climate Pledge Arena earlier in the day
Walking around outside the arena the day of the game before the flurry of activity just added to our excitement. Both of us were happy to be there. We were anxious with anticipation for the main event which was now only a few hours away.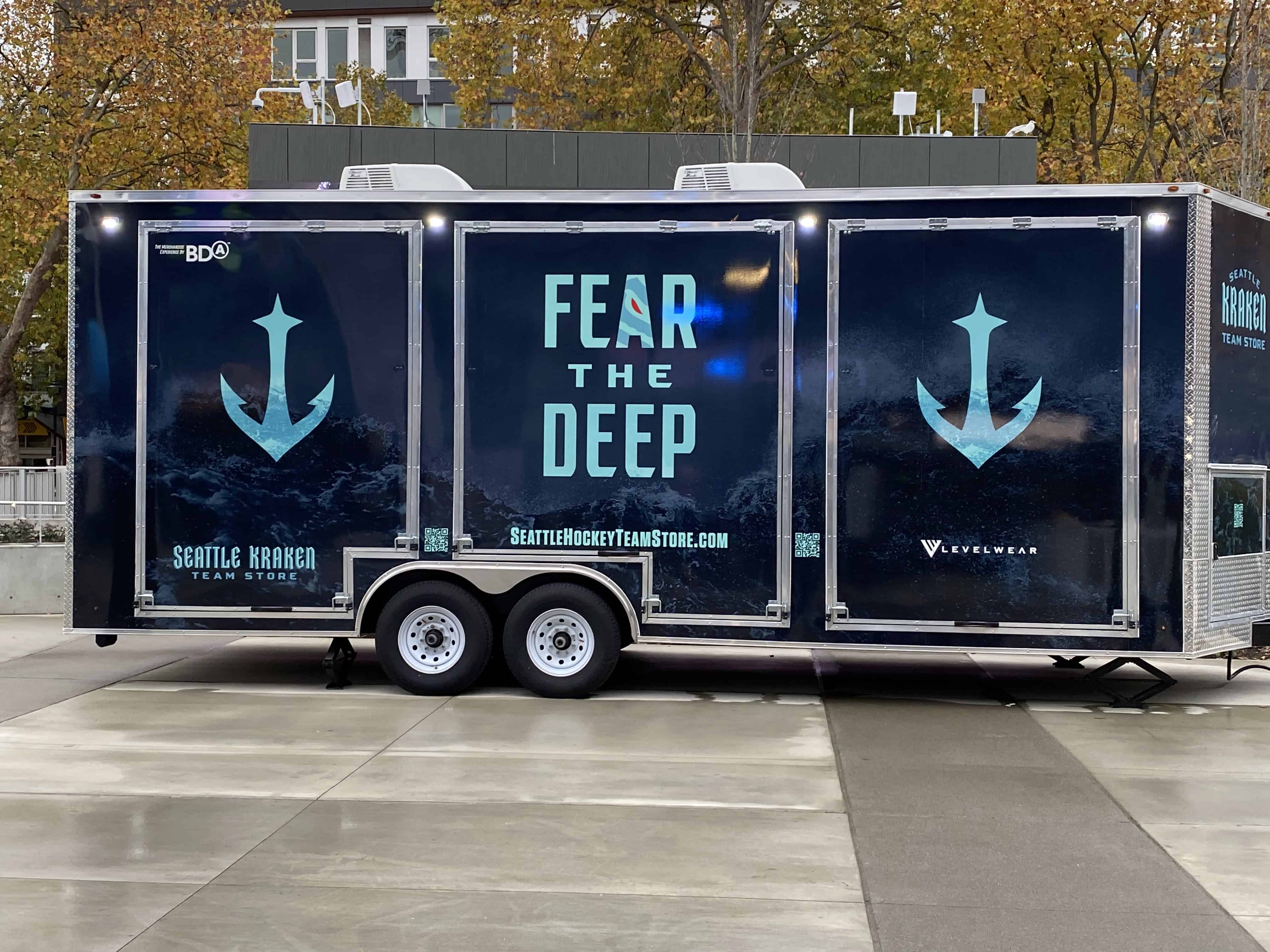 We found the entrance we would need to return to in order to enter the arena. This information was on our ticket. Our investigation included finding where to go in case details on our Clear app weren't accepted. Gail's looked different than Paul's. The only difference between our vaccine status was that Gail had a "mixed" vaccine (two different types).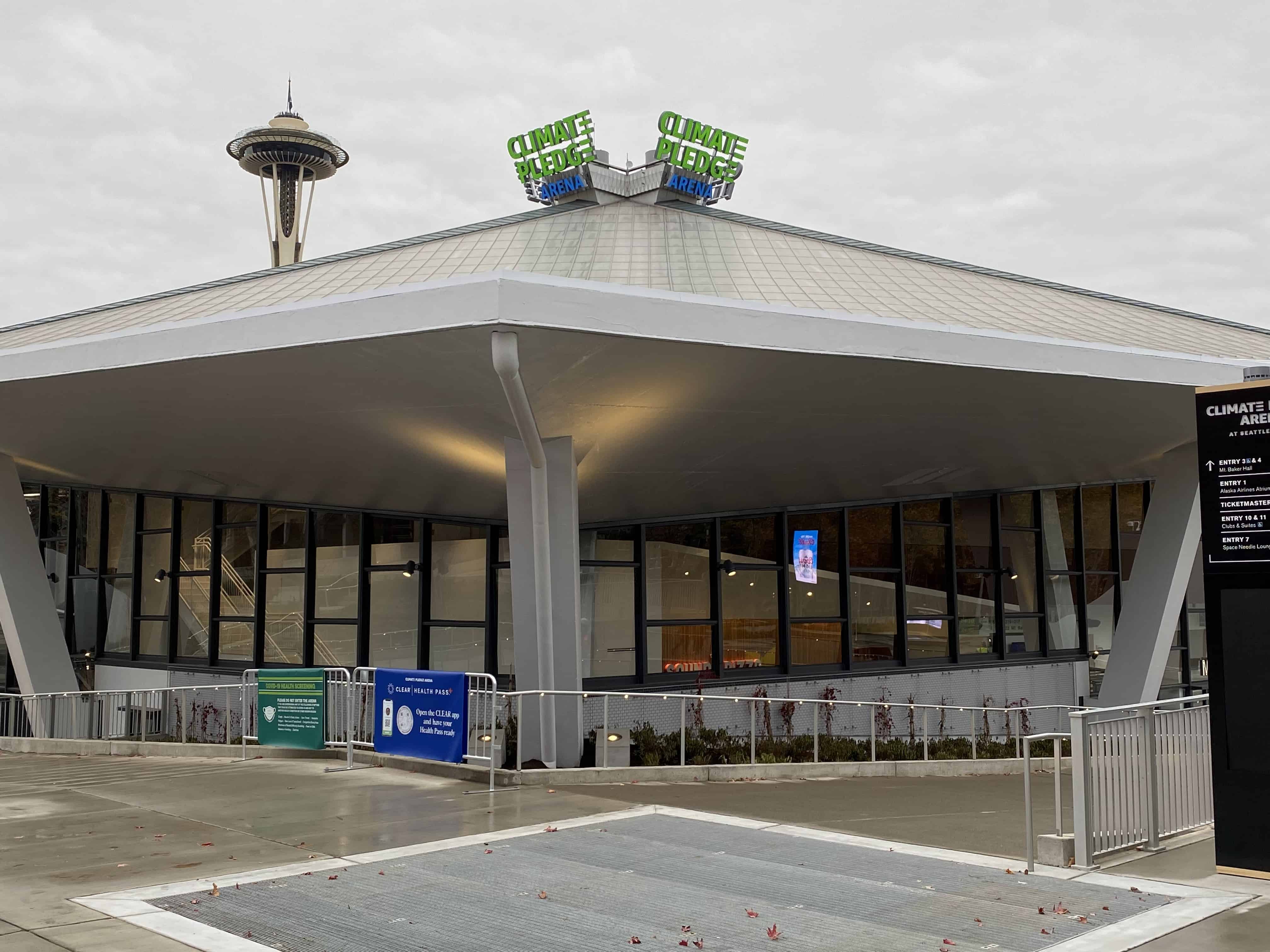 Looking at the arena for the first time in person, one might not have the impression it has the capacity to hold 17,100 spectators for an NHL hockey game. But the designers and ownership group dug deep here to use the same footprint, over 50 feet deep actually. Most of the arena is below street level. The best description we can think of is that it's design is simple, understated and elegant and it fits well in the Seattle Center area. Climate Pledge Arena has another important distinction. The goal is to become the first net zero carbon arena in the world. Click here to find out how they're doing it.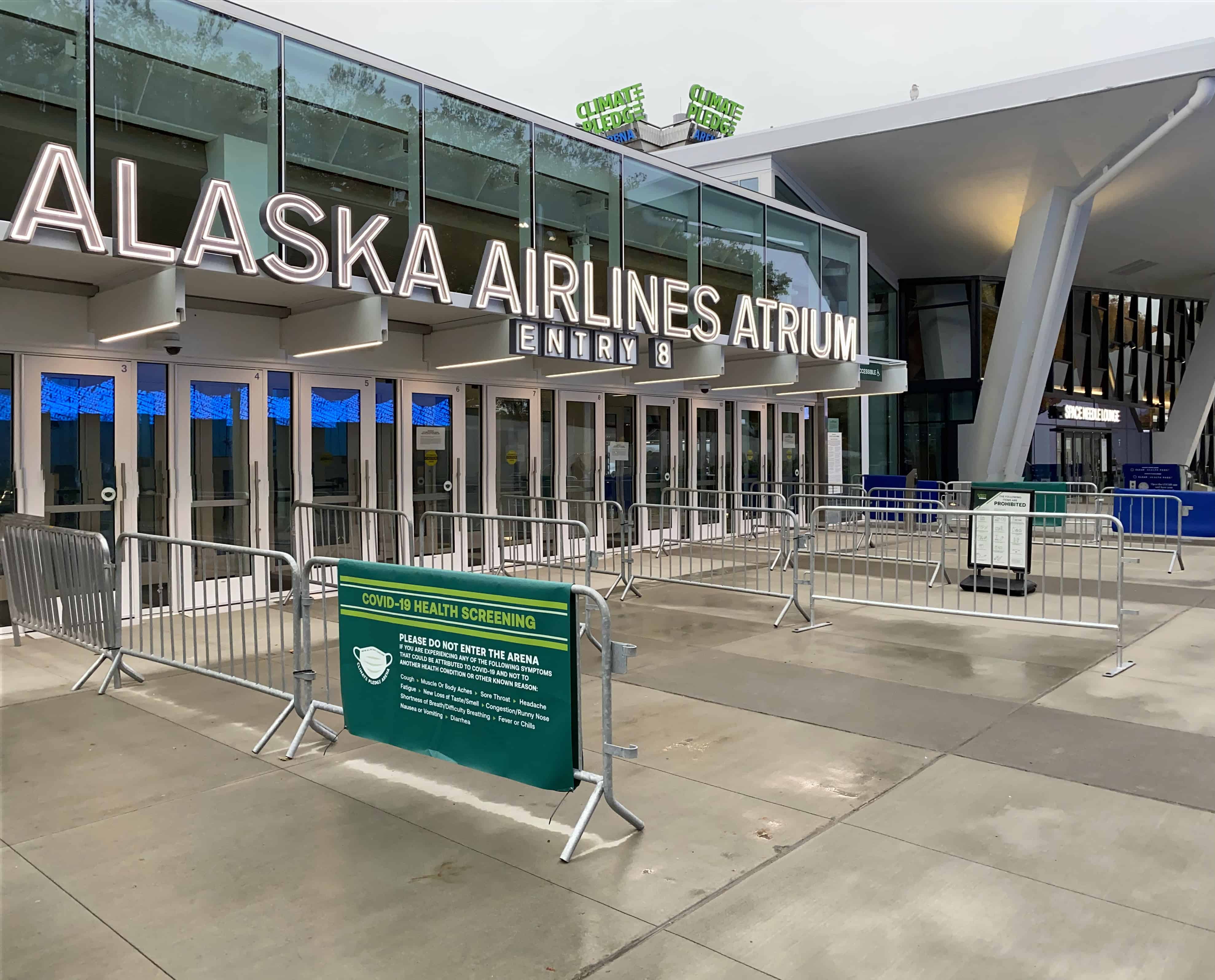 If you're visiting the arena for a game or a concert, give yourself time to walk around outside. We're sure glad we did.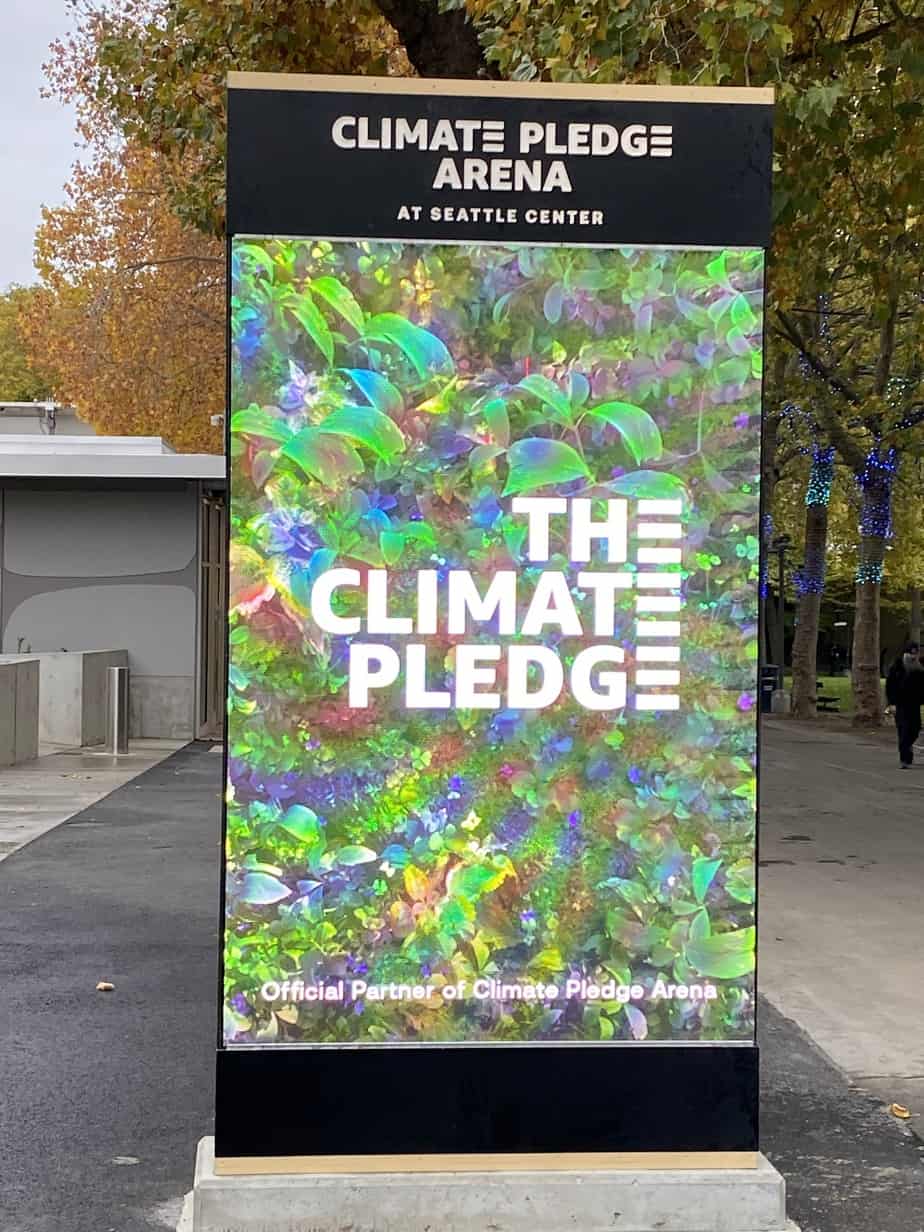 You'll need to download the clear pass app to your device before going. It's easy, quick and basically uploads vaccination status so that you will have fast entry access to the arena. Full vaccination status was required to enter the arena, or a pre-approved exemption at that time. Please note, this is subject to change and you're best to check Climate Pledge arena website for up to date information. The website notes that effective November 15, full vaccination or proof of a negative Covid test completed within the past 72 hours (along with ID) will be required. For further details and up to date information, click here.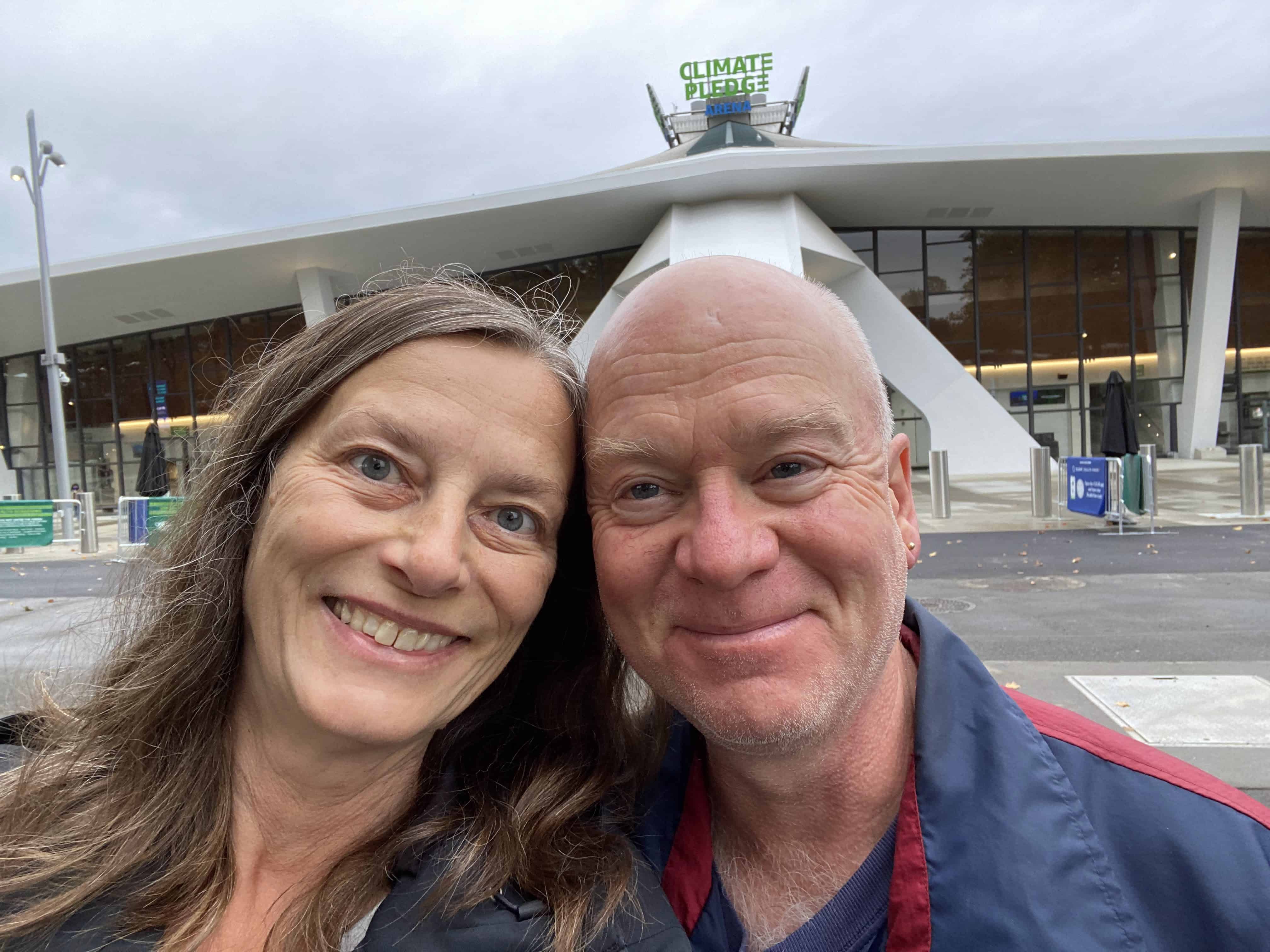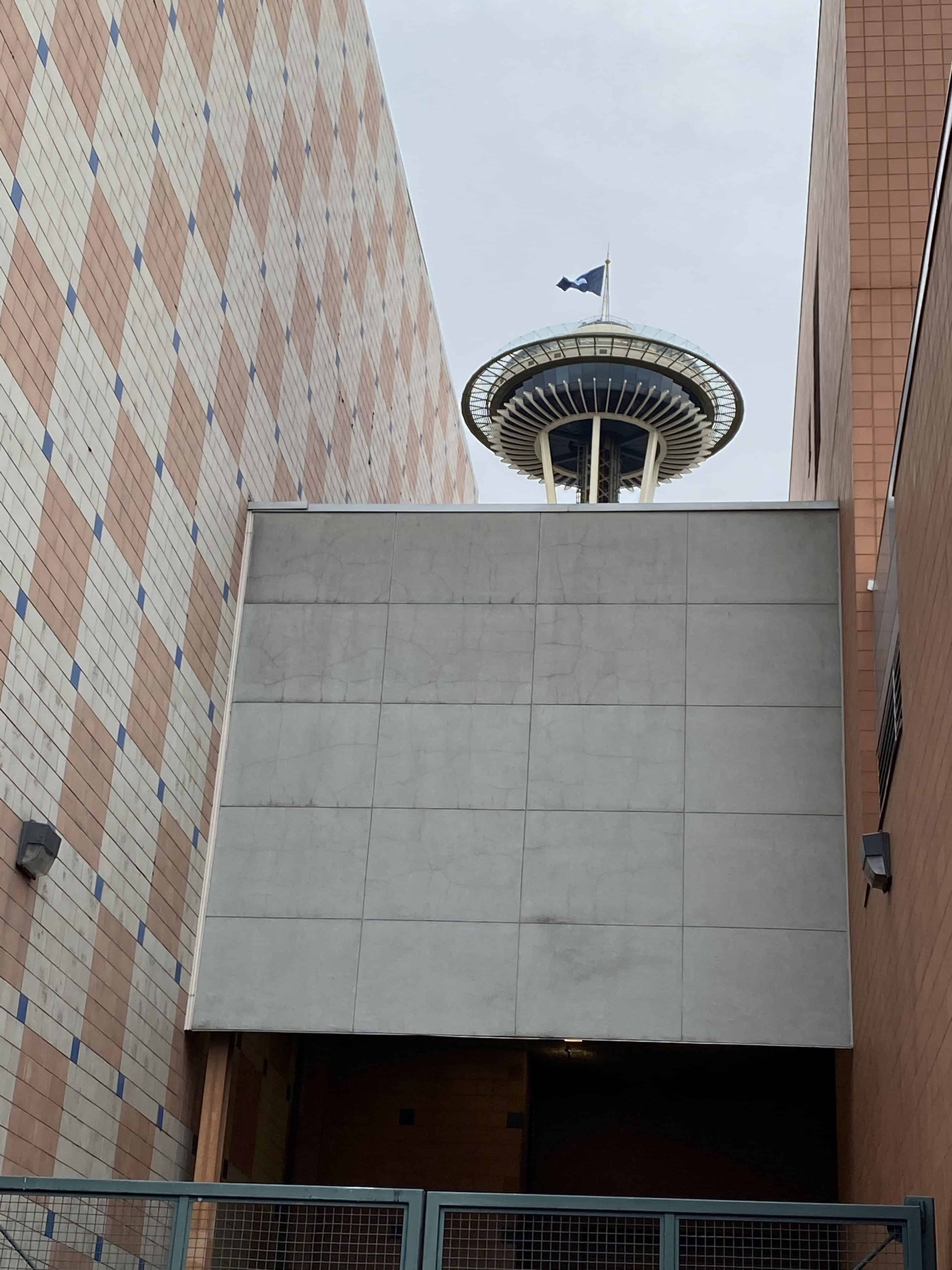 ---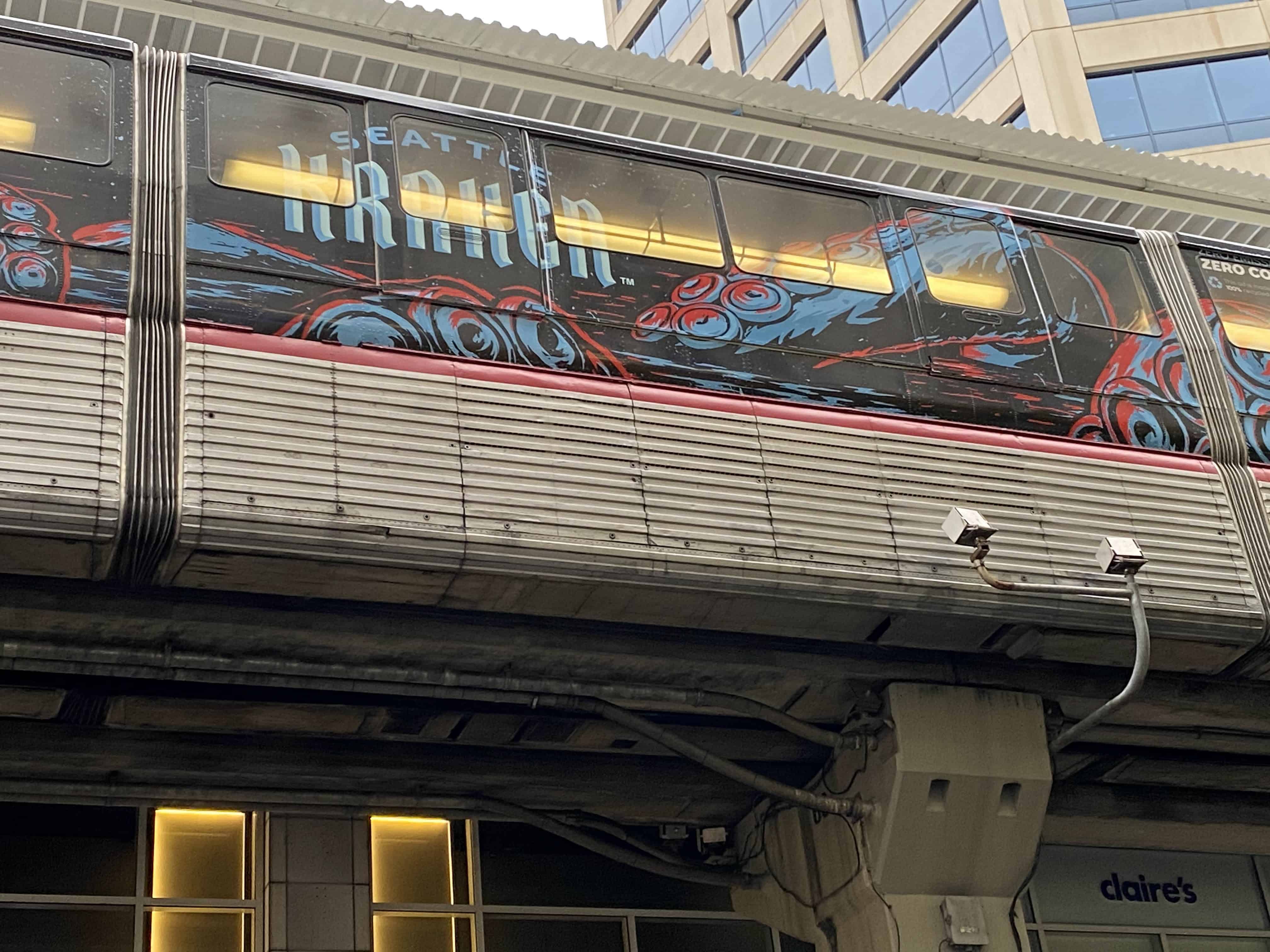 Taking the Monorail to the game is a good option. We walked to the game by following the Monorail underneath, however it's worth a ride to the game if you've not ridden the monorail before or want to get to the arena quicker. Click here for information on the monorail.
---
Inside Climate Pledge Arena – For the First Time!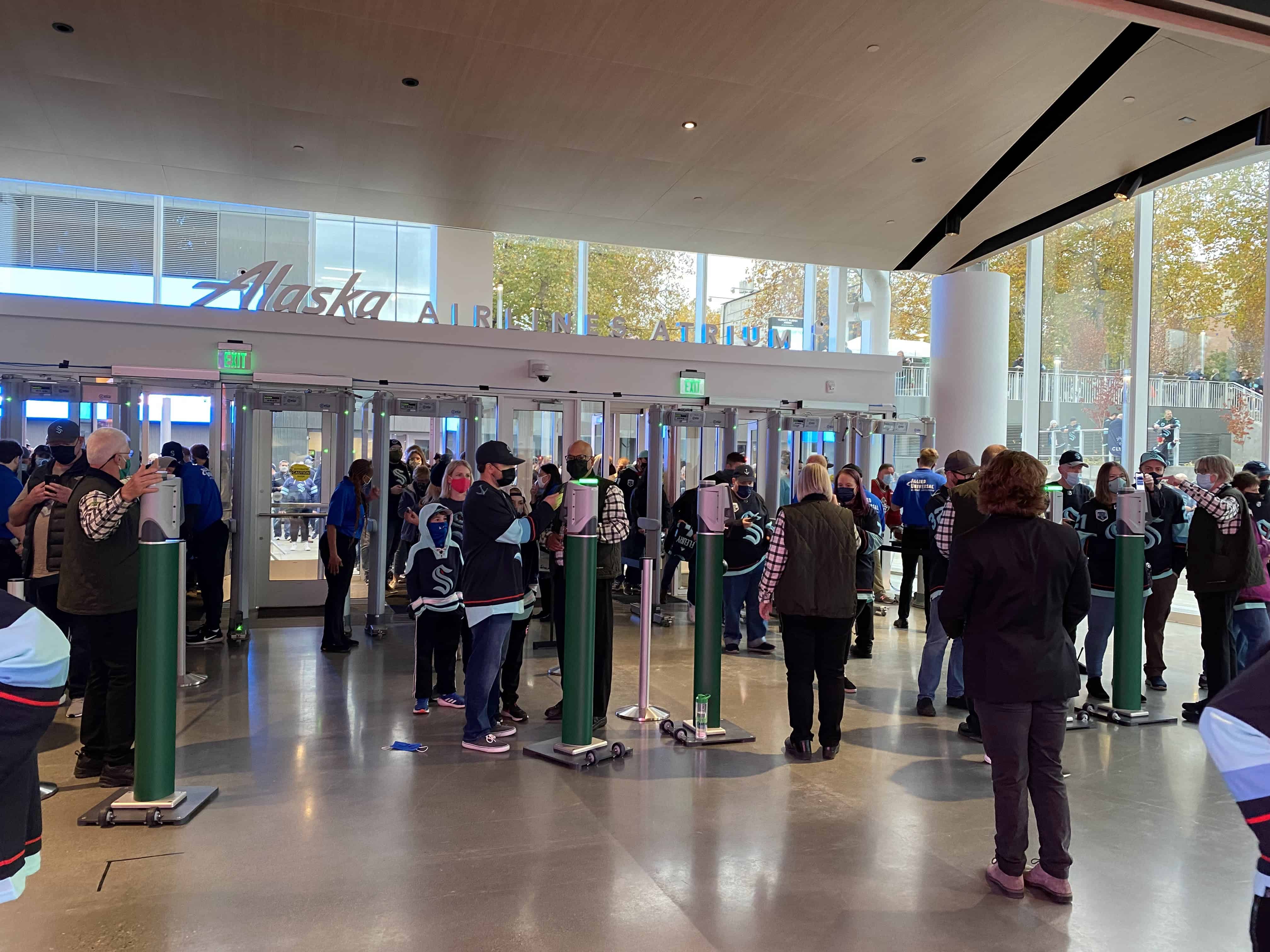 We definitely felt a sense of relief once inside the arena. All the anxiety we felt over the preceding days and weeks began to wash away. This arena was awesome! And we were there! We were there for the first ever Seattle Kraken game. We wandered around the arena, in awe of how the construction of this place happened. It was special for sure. Truly one of the most unique of the arenas in operation.
You enter on street level (these are the highest seats), then go down if your seats are closer to the ice.
---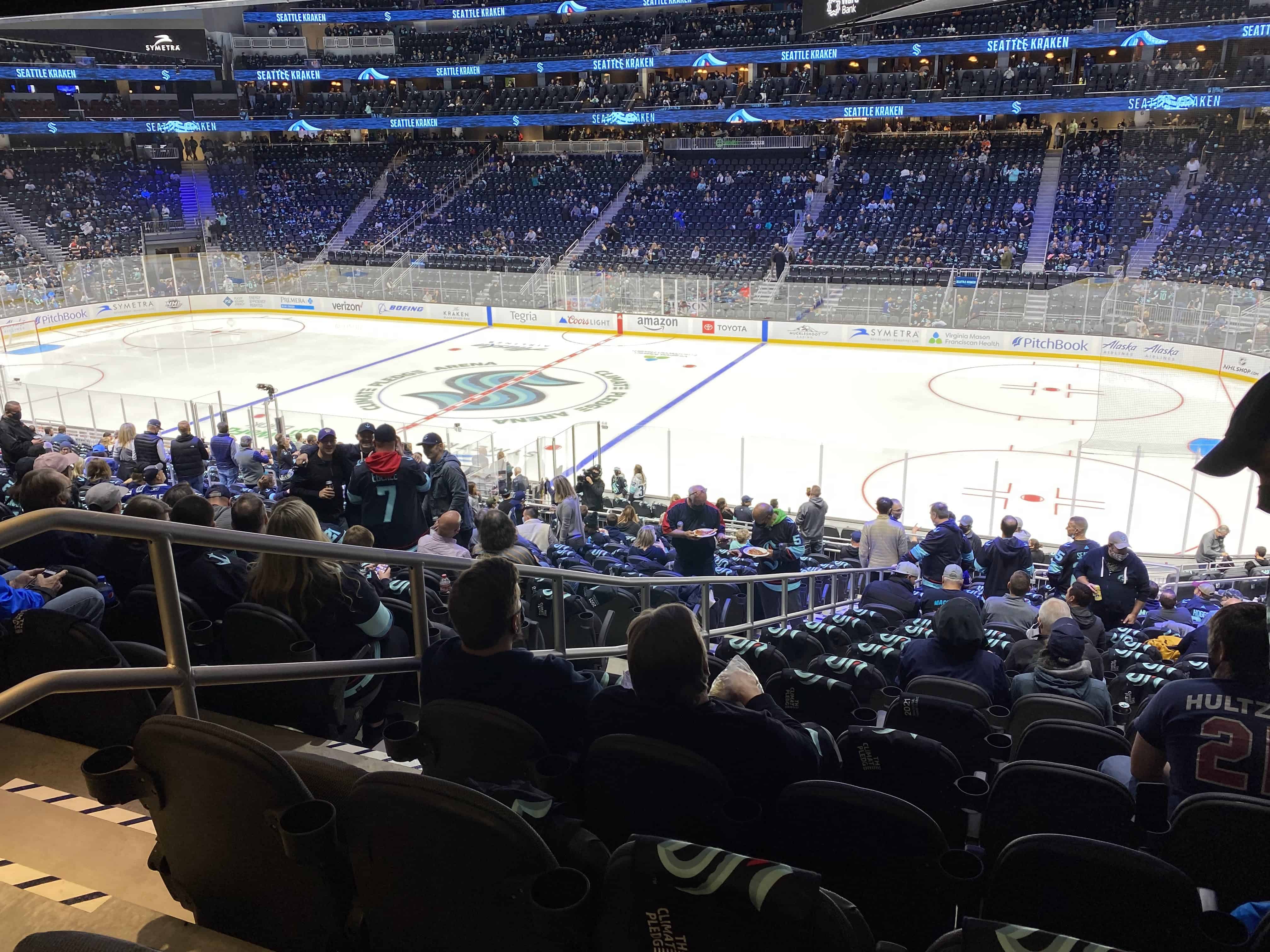 ---
In fact, it's the exact opposite of many arenas we have visited, and we enjoyed the differences.
The available food was varied and plentiful. We opted for Din Tai Fung's Dumpling soup and spicy dumplings. Delicious, quick and easy to pick up and purchase. There are also some food and beverage stores equipped with Amazon's "Just walk out" technology.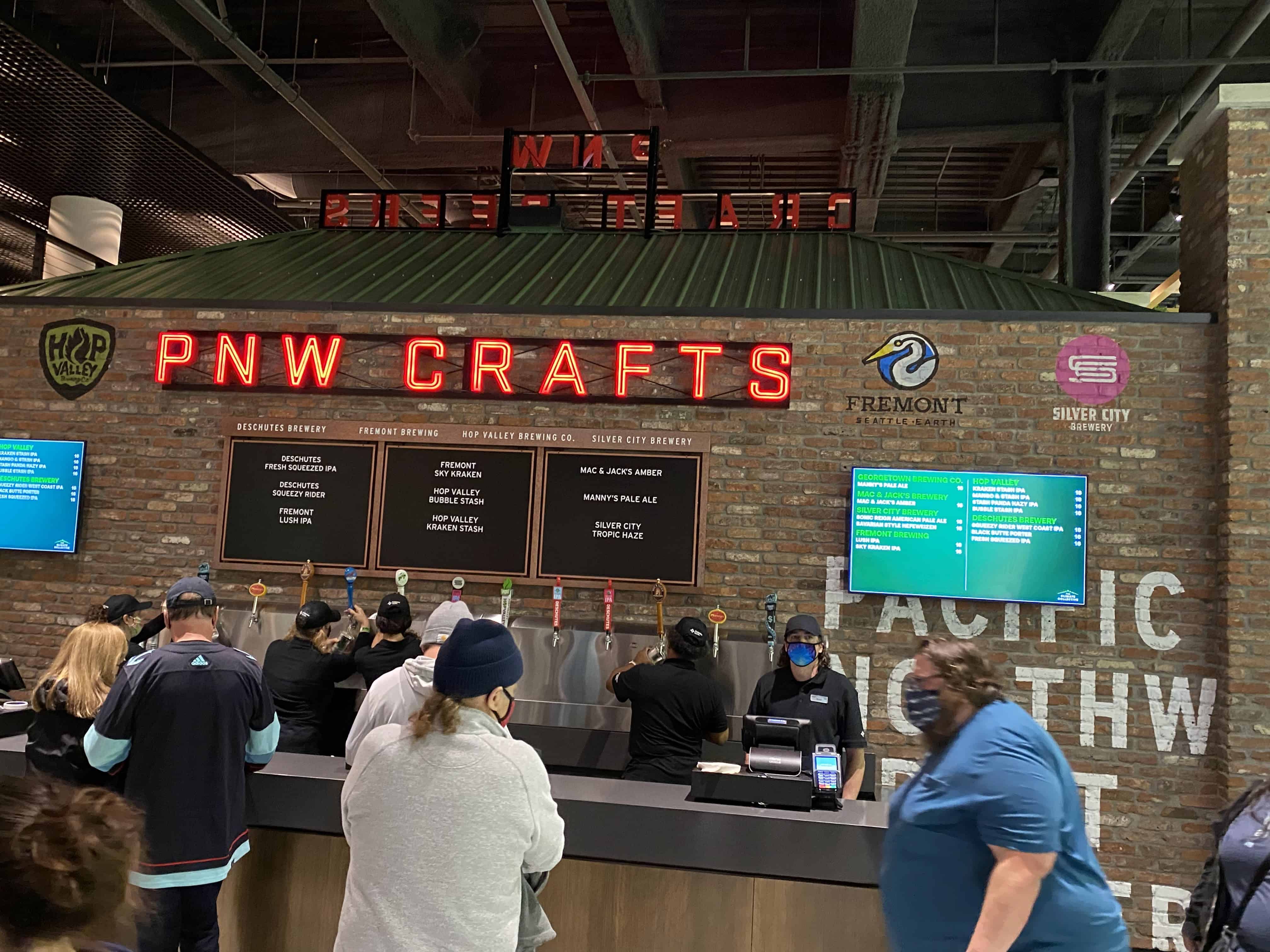 You can see all the choices for food and beverage choices by clicking here.
Amongst the impressive sites in this arena is the 1800 square foot green wall, which seemed to be an early favorite spot on opening night for Kraken fans to take selfies.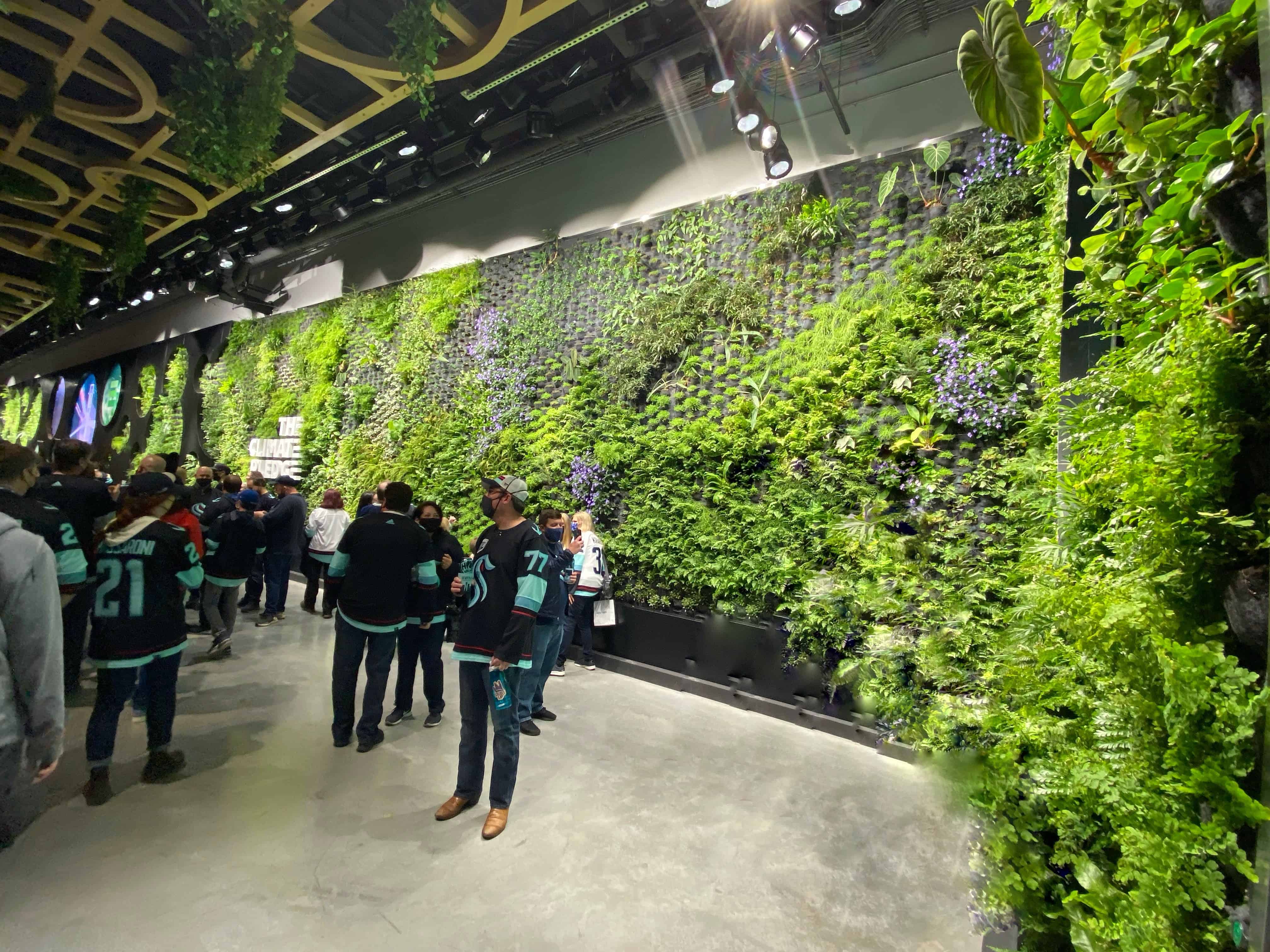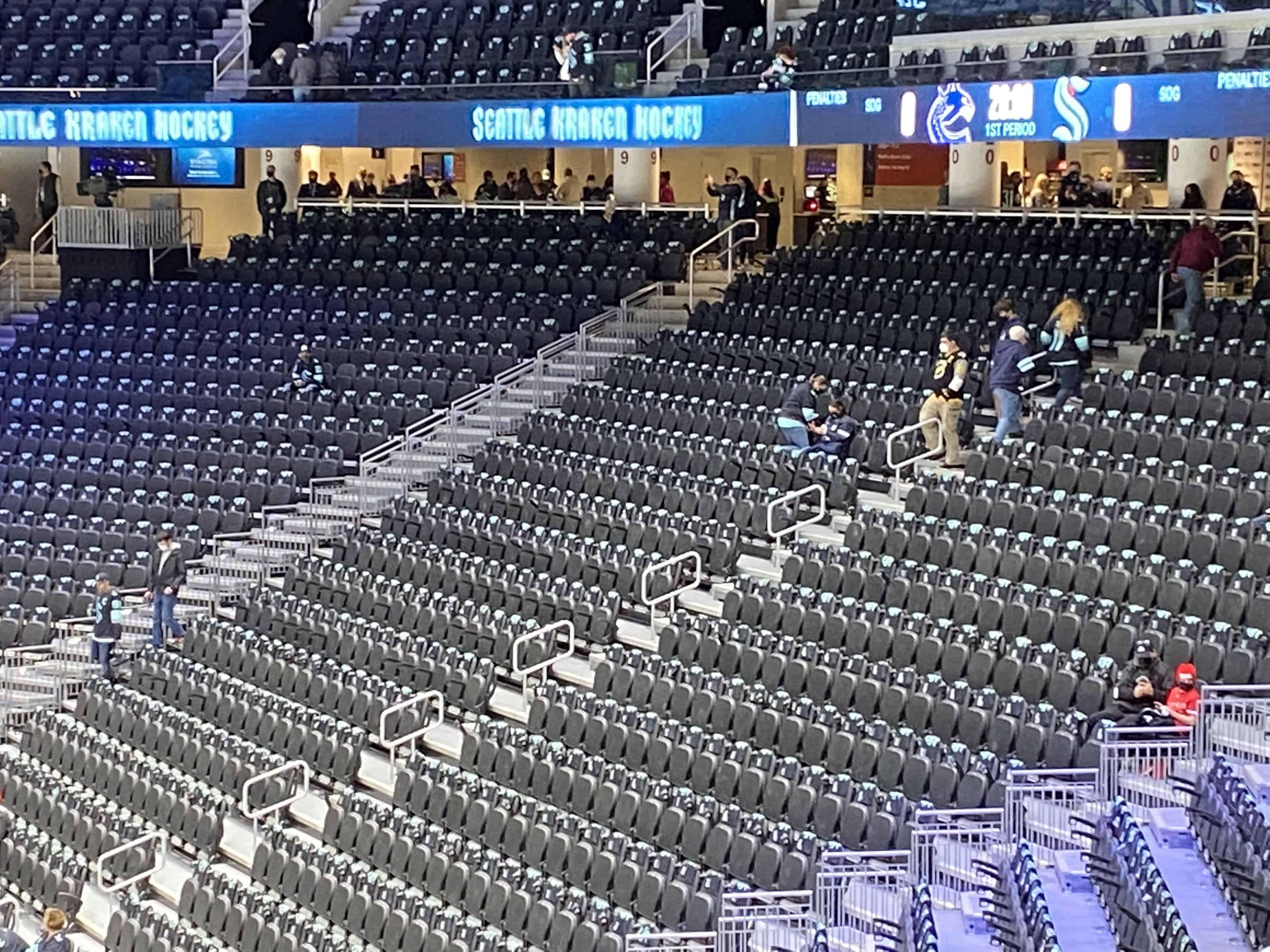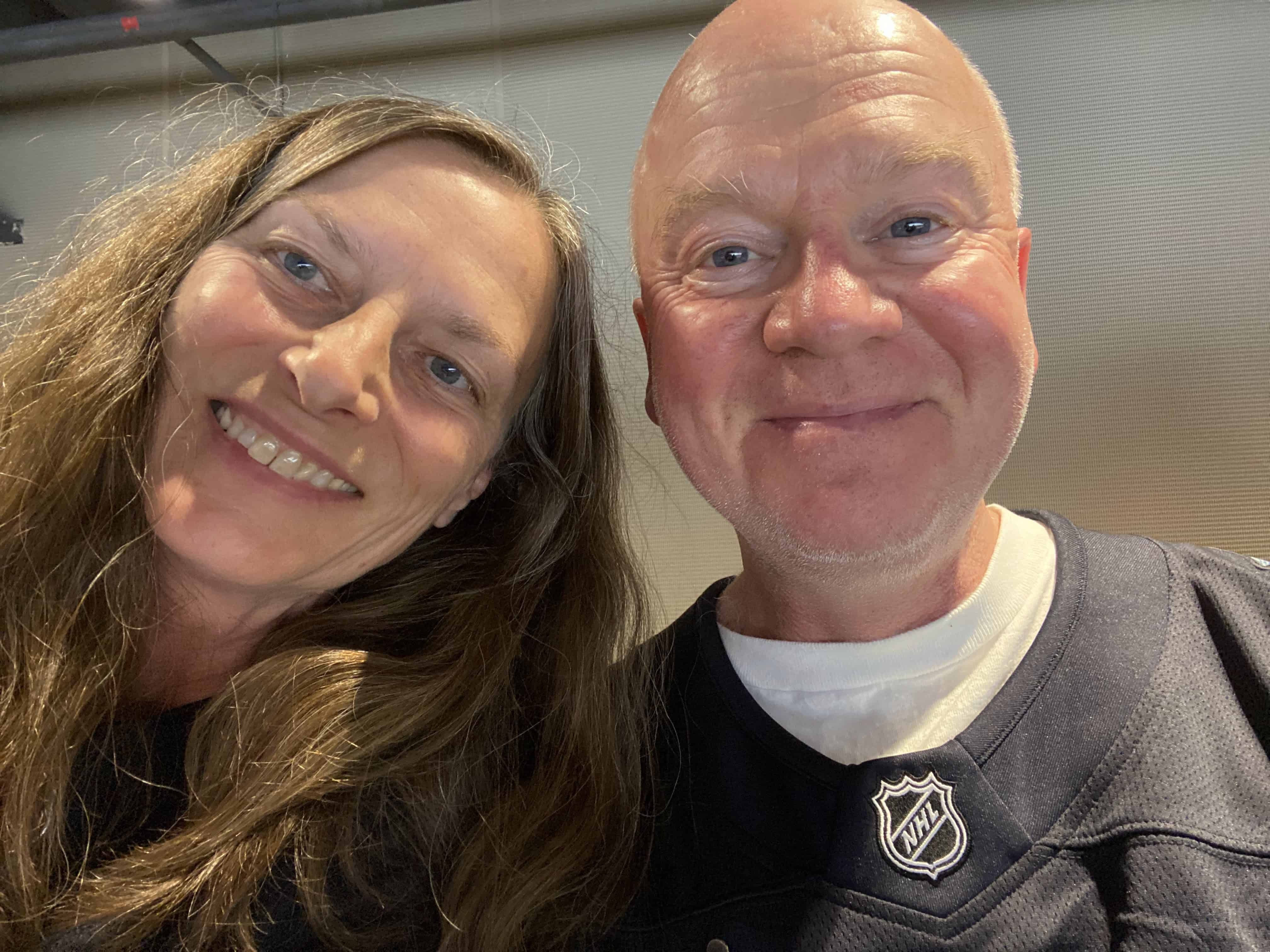 ---
Travel to the game from Victoria BC (Canada) to Seattle WA (USA) for the October 23 game
We include this section for the interest of those flying or travelling to the game especially from out of country. We experienced some unique challenges. Although these events may not precisely occur, we felt writing about our experiences may help others navigate the changing and confusing world of travel during Covid 19.
Booking and travel testing requirements
Planning to attend the October 23 game became a mix of excitement, nervousness and uncertainty as the time neared. Travel rules and requirements due to covid 19 had been (and still are) changing rapidly. When we heard there were discussions leading up to the USA opening it's land & marine border with Canada in October, we decided to wait to hear a date, still planning to take the Clipper (ferry) which was at the time operating only to bring Americans to Canada & then take them home again. Canadian rules allowed for fully vaccinated Americans to visit so long as they had negative COVID 19 PCR tests within previous 72 hours. If not fully vaccinated, quarantine requirements still existed making travel quite prohibitive for quick trips.
Unfortunately, the Clipper ferry service simply couldn't continue to operate due to low ridership, and on 11 October, 2021 chose to close its operations until spring 2022. The United States announced land & marine borders would be open to Canada but not until November. Our one and only option now was to fly.
We quickly booked flights from Victoria to Vancouver, then on to Seattle. Yay! Airlines were also not operating at pre-pandemic levels yet, so there were no direct flights from Victoria to Seattle when we booked our trip for the Inaugural game on October 23.
As testing requirements vary from country to country, we researched what we would need for our 4 day trip to Seattle. Our scheduled departure was October 21 from Victoria, BC. We needed to show a rapid antigen test at check in, verifying negative Covid 19 results. A rapid antigen test is simple and takes only 20 minutes for the results. We researched extensively and in our city there were only a couple of options for places to get this done. Cost was approximately $120 for each of us. At this time you cannot get the rapid antigen test at the Victoria airport. We had our tests done at the Travel Medicine and Vaccine Centre in Victoria.
Coming back to Canada was trickier and required careful planning. We booked our trip for 4 days, and due to the timing of the flights, we knew we would need to get another test. Canada required PCR tests be completed within 72 hours of the scheduled departure time. They would not accept the rapid antigen tests. We researched options while in Seattle. Not much was coming up in our searches at that time. We called the Government of Canada and were reassured we would be able to get it done in Canada, so long as we were coming back within 72 hours. It is much more expensive to get a PCR test done quickly vs waiting (up to 24 hours).
We chose to do our PCR test before we left Vancouver at Bon Voyage Medical. They guarantee you will receive results via email by 11:00 pm the next day. We received ours the next day, in the afternoon. We recommend you do the math from your scheduled departure time in city/country you are leaving from, not from your arrival time into Canada. Leave at least a few hours wiggle room in case of flight delays.
We also had to complete the ArriveCan app (downloadable from the app store) within 72 hours of our scheduled arrival to Canada. Rules continue to change rapidly for travellers to and within Canada. Check the government of Canada travel restrictions website and requirements in advance of your travel. Carry your vaccination cards with you. Take a copy so you have a backup. Border services will want to see this document when you arrive. When we arrived October 24, we showed our vaccination cards, because if not fully vaccinated, you needed to quarantine for 14 days. There were no acceptable electronic versions of vaccination records for traversing the Canadian border.
Canadian Covid 19 proof of vaccination
The Federal vaccine proof of vaccination is being rolled out but is currently not available in all provinces. There will be a transitional period from October 30-November 30, where you can still travel with proof of negative COVID 19 PCR test. You will be expected to show your Canadian Covid 19 proof of vaccination after November 30, 2021 if you're Canadian.
Vaccination requirements
We researched Covid 19 restrictions in King County and received notification from the Seattle Kraken. We required vaccine verification to enter the arena, and possibly restaurants (this became a requirement 25 October, 2021).
Vaccines not approved in USA
In British Columbia, we had already become accustomed to showing our electronic vaccine passport anyway so no big deal right? We potentially had a problem though. We received vaccinations in Canada which weren't yet recognized in the USA. The USA made an announcement on October 8 that they would recognize vaccines approved by WHO. Whew. But Gail had a mixed vaccine which wasn't specifically approved yet.
Mixed Vaccines
The USA announced just prior to our trip that they would recognize mixed vaccines when the land borders open November 8. Whew again. Still there was trepidation around the timing and whether the mixed vaccine status would cause issues getting into the arena or visiting restaurants or other areas in Seattle we wanted to visit.
Our Journey to Seattle!
Everything we could do to prepare for our trip was done. We had (after many attempts) checked in online through Delta the day before our flight and with Westjet as a partner carrier in Victoria. We packed light so that we would have no checked baggage to worry about for what was potentially going to be a very different travel experience than we were accustomed to. Both Paul and Gail have travelled extensively in the past, however almost every aspect of our planning this time seemed different. Knowing at any point along the way, the set plans we had carefully put in place could all fall apart, like a house of cards was slightly anxiety provoking. If something went wrong, it could all go wrong. We agreed, travel at that time, wasn't for the faint of heart. There were certainly risks.
Victoria to Vancouver
We arrived at the Victoria airport early. This was our first international flight since Covid 19. We were also concerned there may be issues following a recent conversation with Westjet a couple days prior. The agent told us that our flight didn't actually exist. Although we had eventually successfully checked in online the day before, too much was riding on this first leg. If there were any issues, we would not be able to make the Vancouver to Seattle connection later in the day. There was a short time to get our prepaid PCR tests completed in the Vancouver airport. Without those negative tests we would not be able to get back into Canada.
We went to the Westjet counter in Victoria, gave her our passports and our rapid antigen tests we had received. The Westjet agent discussed our tickets with someone by phone. After some time, we were at last handed our boarding passes. Arriving early had been a good decision. There were errors on our ticket which needed correcting.
Vancouver to Seattle
We arrived in Vancouver following a short flight and proceeded to the international wing of the airport for our PCR tests. We were early for our appointment and they took us in right away. We've learned if you breathe out gently through your nose as they apply the long stick, it alleviates the discomfort somewhat. They confirmed we should have our results via email by 11:00 p.m. the next day upon completion of our tests. Perfect!
We then continued through security, through customs, then towards to our gate. There was ample time before our flight, and we breathed a sigh of relief that everything was going very well.
The flight that wasn't meant to be….
As we waited, our flight was delayed several times. Then, perhaps inevitably, our flight was cancelled. An outage at Skywest had crippled it's operations. The line ups for the ticket agents at the gates were long, as everyone scrambled to find flights to replace their own cancelled flights. We were directed to go back through customs to the general ticket agent to rebook our flight. We didn't have luggage so this would be quicker. What the Delta agent hadn't communicated clearly was that we would not be able to go back the way we came. An airline attendant must assist you to go back through customs.
We returned to the gate, and they assisted to get back out through customs. Unfortunately, the ticket agent wasn't able to offer us much as there were no direct flights from Vancouver to Seattle for 2 days. They offered a three hour flight to LAX, then back from LAX to Seattle the next day. They would however pay for accommodation for the night in LA.
Back through security again
We began our trek through security and customs again, not looking forward to a 3 + hour flight to L.A. that night. Our 75 miles / 120.7 km from Victoria BC to Seattle was turning into quite the journey. Once through customs, back at the gate we had left, we noticed there were only a couple people now in line. We overheard the gate agent suggest Portland overnight as an alternative to someone, then on to Seattle the next morning. That was certainly better than L.A. Much less flying, miles and time. And for anyone who has had to go through LA International (especially if switching terminals!) avoiding a probable travel snag. It was our turn. We inquired about Portland overnight. Our tickets were easily changed again.
Snacks and water were provided by Delta while at the Vancouver airport. All in all, they handled the challenging situation very well. It wasn't until we were back at home days later that we heard on the news the Skywest outage affected every flight that day, in every airport. That's a lot of flights to re-book!
Vancouver to Portland (re-route flight)
We flew to Portland that night. Delta covered the cost of the hotel, and we were provided with airport vouchers for meals, which we happily used the next morning.
We may have actually spent more time waiting for the shuttle from the airport to hotel than we actually did flying to Portland. All part of the journey. We made friends with others also re-rerouted through Portland.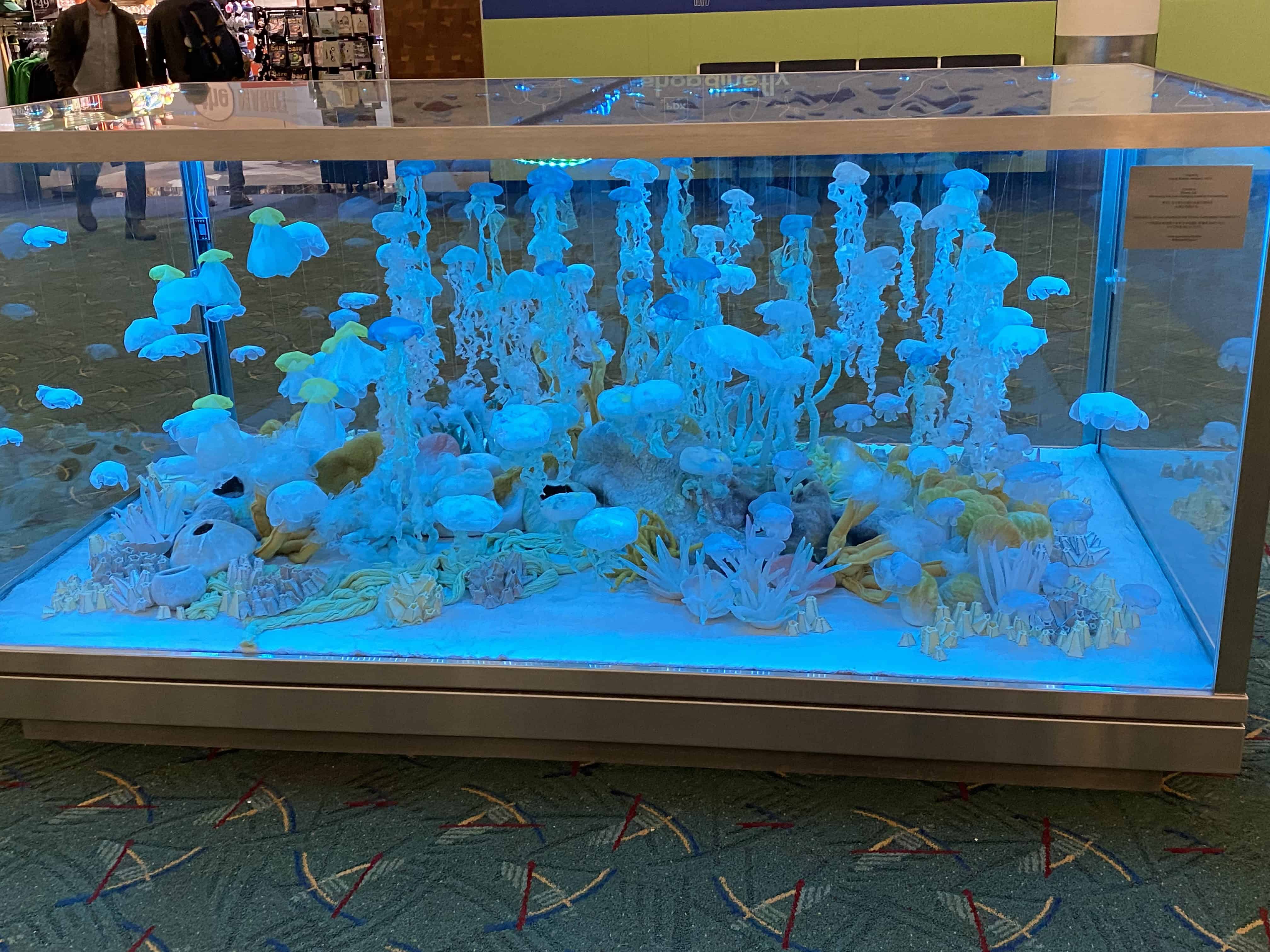 From Portland to Seattle
The next morning, we arrived at the Portland Airport early, we saw a very long line which turned out was for security. Paul had his Nexus card and found the TSA line. Unfortunately, Gail let her Nexus card expire before renewing it so it was invalid. Security informed us she would have to "Walk past the dog". Paul chose to do this with Gail even though he was eligible for pre-check and could have skipped this part of the process through security. Gail thinks this is why we were re-routed to Portland, dog lover that she is.
No further problems were in front of us in our journey and we arrived in Seattle in the morning, quickly and easily secured our Orca transit passes at the train station, and went to our hotel by train. The train runs from Seattle Tacoma International right through downtown Seattle and beyond. At around $3 to $4 per person, per trip, it is a great money saver! The walkway from the terminals to the station is very well marked and there is a shuttle if needed.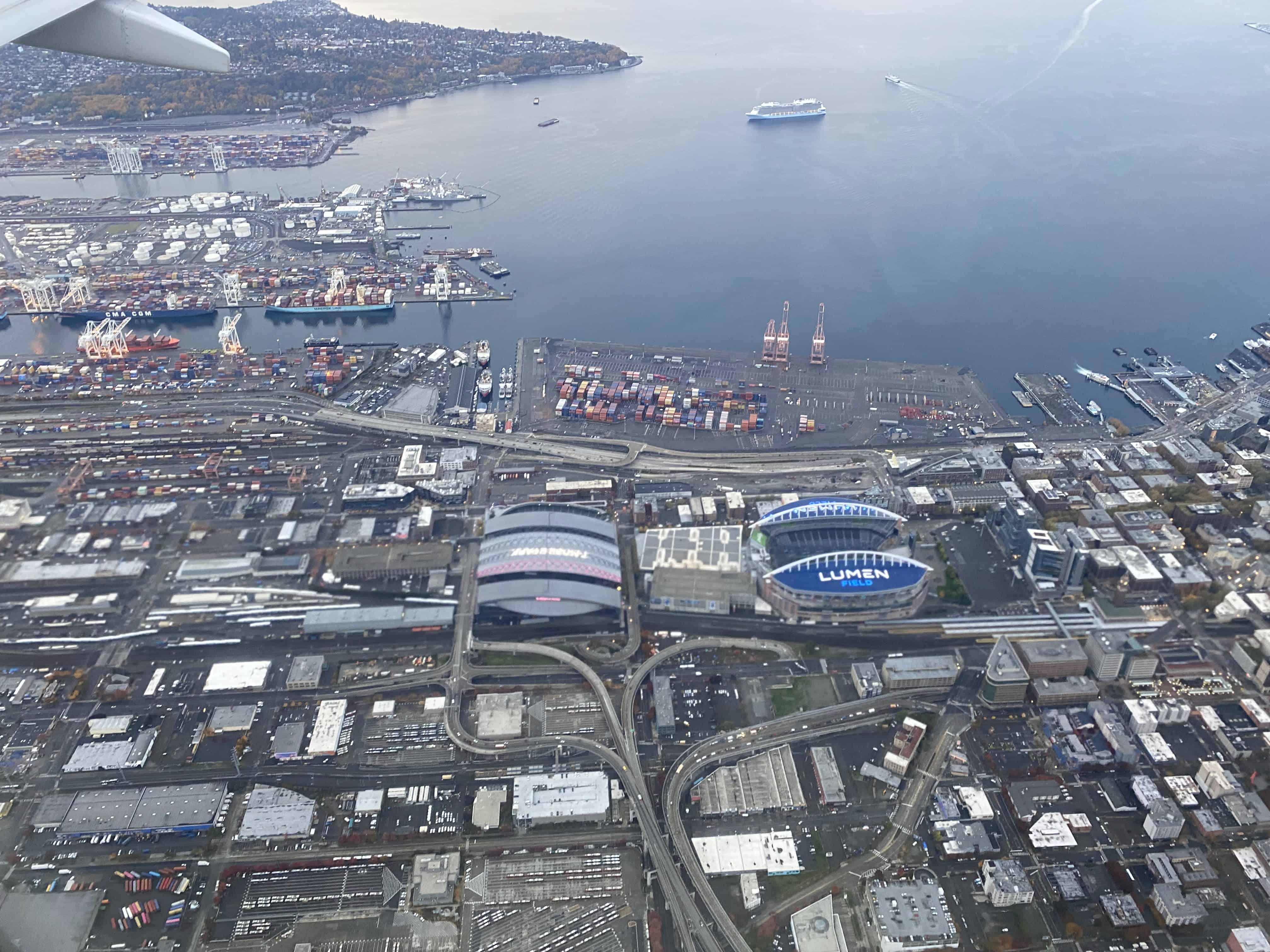 ---
We were a little fatigued by the previous late night and then early morning. Also we felt energized by being in a new city where we would be able to partake in some of our hobbies. The thought of discovering this beautiful city took over. Buying our Seattle Kraken jerseys at the team store for the game and picking up our inaugural team stick (a gift for being a Seattle Kraken season ticket holder) was high on our list of things to do. It was about a 45 minute walk from our hotel, so seemed like a good idea. We put our belongings down and walked to the team store in Chandler's Cove.
---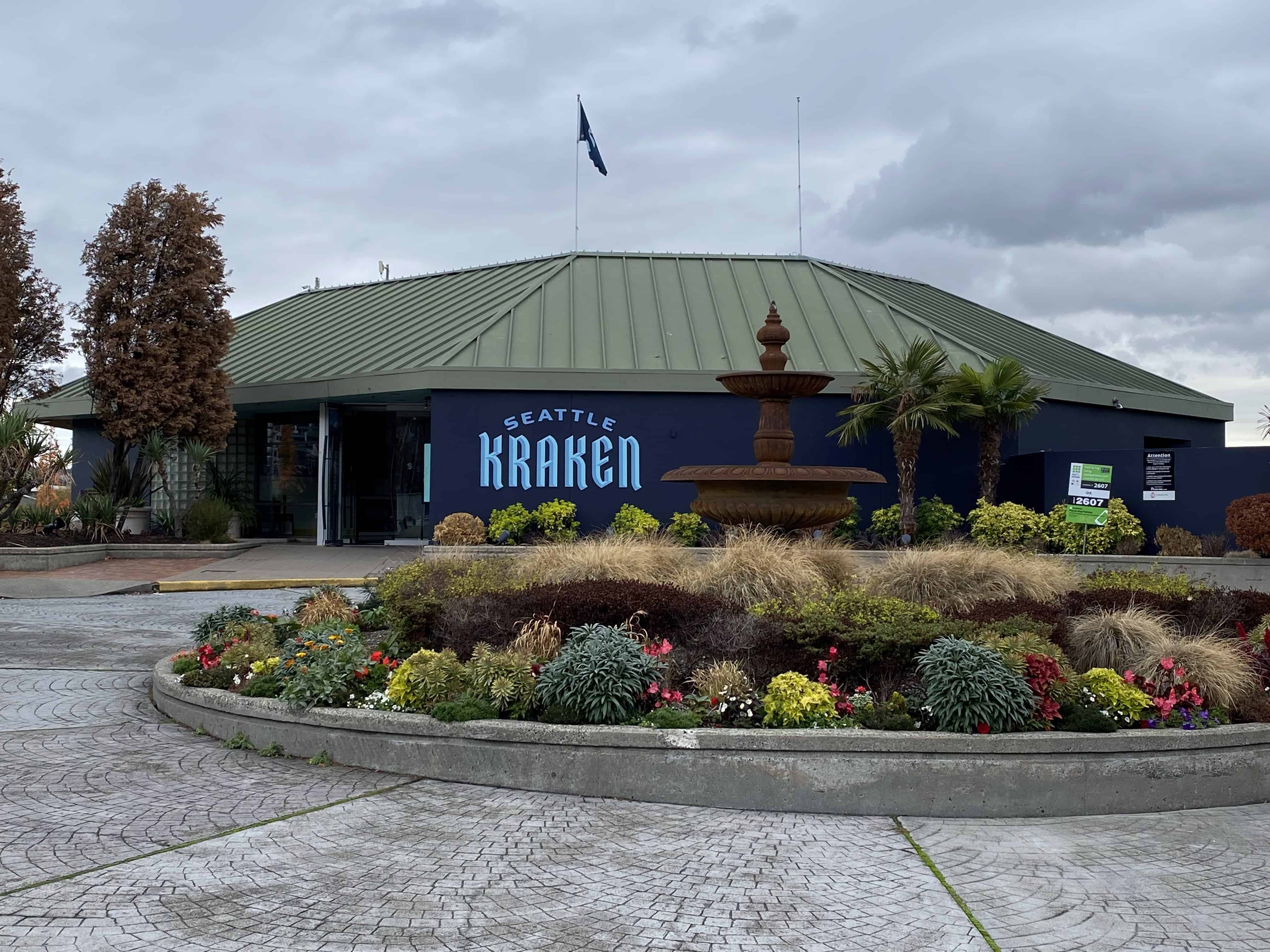 ---
This struck us a a beautiful spot to walk around, however we knew we had another walk back to the hotel, now with our jerseys and hockey stick. We decided to save this walk for another day. We made our way back to the hotel, where we decided a nap would be a good idea to recharge our batteries.
Later in the day we decided walk around a bit more, discovering Pike Place market and the harbour and many more beautiful and enjoyable places . We had dinner then returned to our hotel for an early night. Watch for our post on the Top activities in Seattle ….. coming soon!
The next morning we were up early and although the Space Needle wasn't visible out our window the night before, we could certainly see it now!
Where we stayed in Seattle for the Seattle Kraken Inaugural Game at Climate Pledge Arena
We stayed at the Crowne Plaza downtown Seattle. We wanted to be within walking distance of the arena, and central to other areas we knew we would walk to. The room was lovely, and we made sure they applied points to our IHG reward card.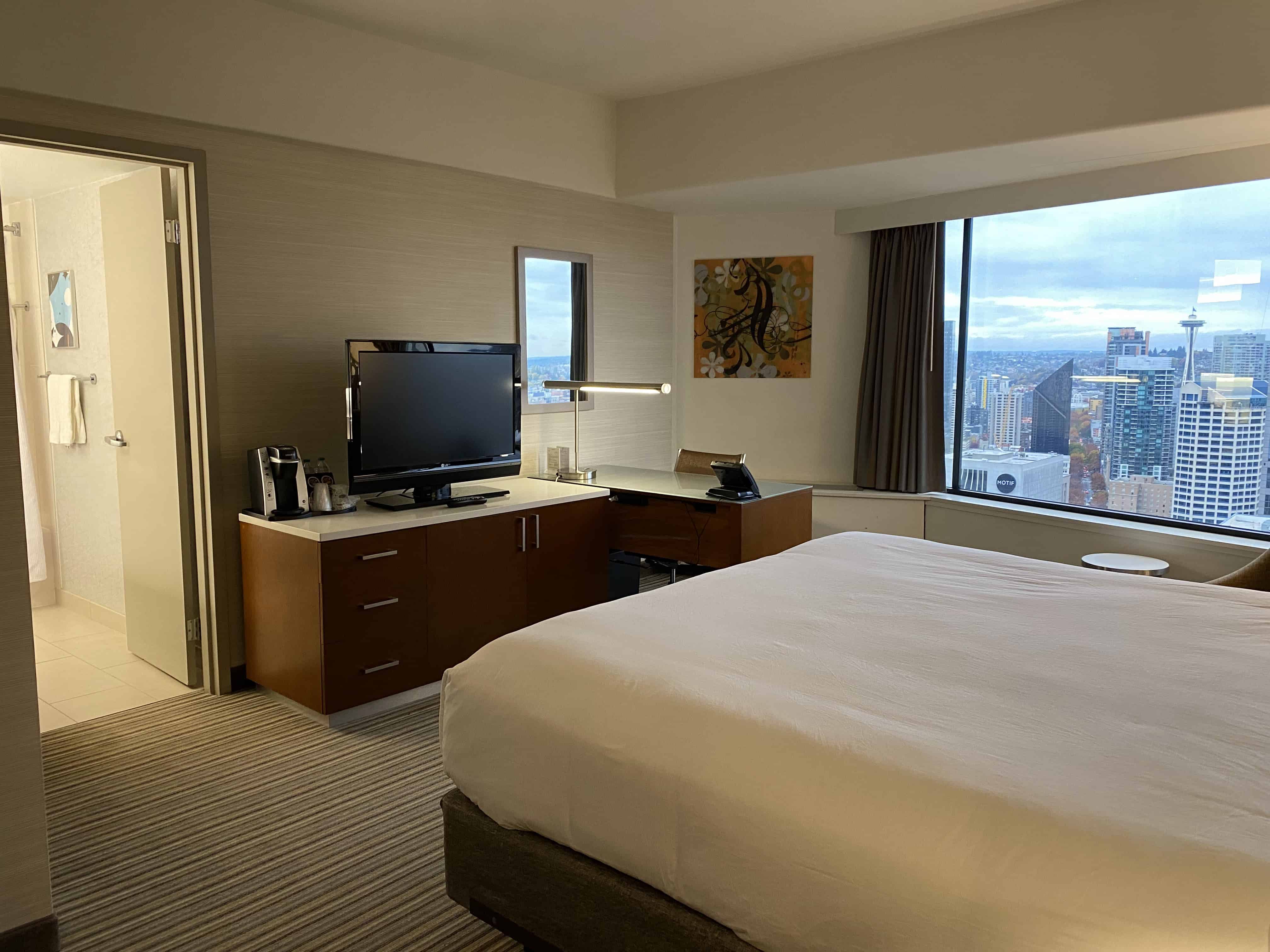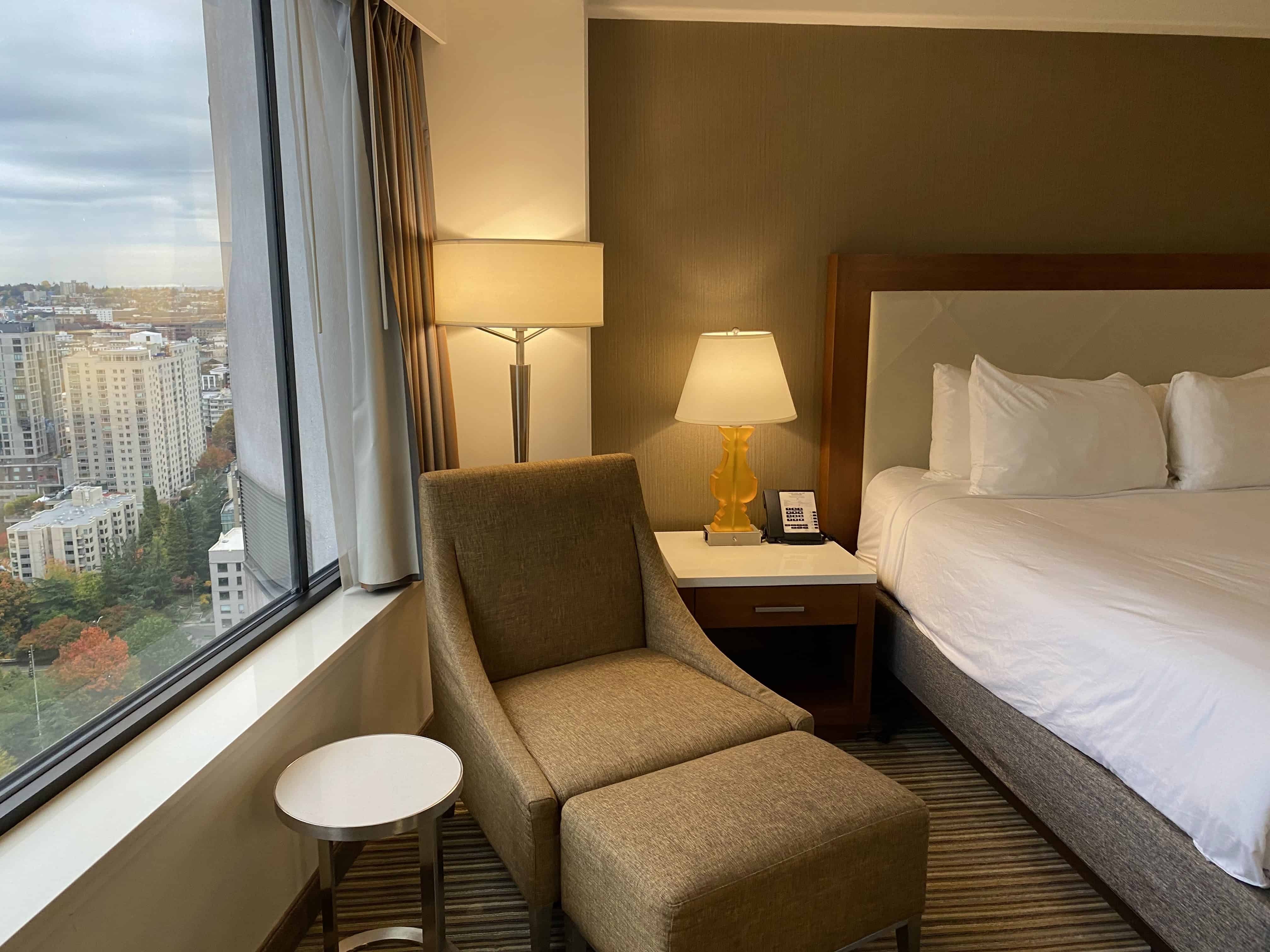 Our flight home – with the hockey stick!
Contrary to what the airlines told us via telephone when we asked about taking our inaugural Kraken hockey stick as a carry on in the cabin, we were informed otherwise when we walked into the Seattle airport heading home. There would simply be no way whatsoever to make it through security carrying a hockey stick. Unfortunately, we would have to check it through to our final destination.
They sent us to the "special needs" line for Delta. Luckily, we had some packing materials to protect the stick just in case we had to check it, but no where near enough and no tape to perform the packing. An airport representative told us to ask the Delta agent for the large "child seat carrier bags", which we did. She knew immediately what we needed, brought us tape and the plastic bags. We wrapped it as best we could, and Brooke said with a lovely smile she would make sure to take care of it for us.
It did make it home, safe and sound! Thank you Delta for looking after us and our stick!
With all we went through at the airports, we have to commend the many Delta team members who handled a very difficult situation with great professionalism, courtesy and where appropriate, a sense of humour.
All in all, we had a wonderful time attending the Seattle Kraken Inaugural Game at Climate Pledge arena. It will be a memory we will relive again and again. We look forward to our next journey!
Check out our blog page by clicking here.