Best Walks in Victoria BC – David Foster Inner Harbour Pathway
The best inner harbour walkway in Victoria is the David Foster Inner Harbour Pathway. It's a lovely stroll along the harbour, including Victoria's inner causeway. Even on a recent walk in the rain, it was still enjoyable to walk along the water.
If you're arriving on a Cruise Ship at Ogden Point, on the Clipper from Seattle, or on the Coho Ferry from Port Angeles, you will disembark along the Victoria Inner Harbour walkway. We have developed a self-guided tour of Victoria post containing things to do if you're only in Victoria for a short time.
For those who are curious and perhaps not aware of it, David Foster is an award winning composer, singer, songwriter and record producer originally from the Victoria area (Saanich) in British Columbia.
The Inner Harbour Pathway is a work in progress
This inner harbour pathway in Victoria begins at Reeson Landing (about 1304 Wharf St, Victoria, BC), although there has been a small section added under the Johnson Street Bridge. This will eventually be expanded to the North and continue to Rock Bay as buildings on the other side of the Janion Building are completed.
With the recent approval of the redevelopment plan for the two Northern Junk buildings (1314 Wharf Street, Victoria, BC) located on the inner harbour, part of the overall plan includes an extension for the existing walkway to the South behind the new development as well.
When completed, the David Foster Harbour Pathway will extend to close to 6 kilometres.
Current Pathway
The Pathway runs as close as possible to the water on the inner harbour all the way to Ogden Point. It's approximately 4 kilometers now, and will take you about 50 minutes to walk to Ogden Point from Reeson Landing.
There are sections where you will be walking along the streets (Belleville, Dallas) however the harbour is mostly in view.
For ease of reference, we've broken our journey along the pathway into three sections so it will be easier to follow. If you get off track, don't worry. Victoria isn't a huge city, and you won't be lost for very long. People are friendly here, accustomed to tourists and will readily assist if you ask.
Keep the harbour beside you as you walk and you'll be sure to find the David Foster Harbour Pathway.
1. David Foster Harbour Pathway-
Reeson Landing (Wharf & Yates) to Belleville St (at Menzies)
Reeson Landing is below Reeson Park. You'll see the sign, then as you walk around the corner, you'll also see the David Foster Harbour Pathway directional sign.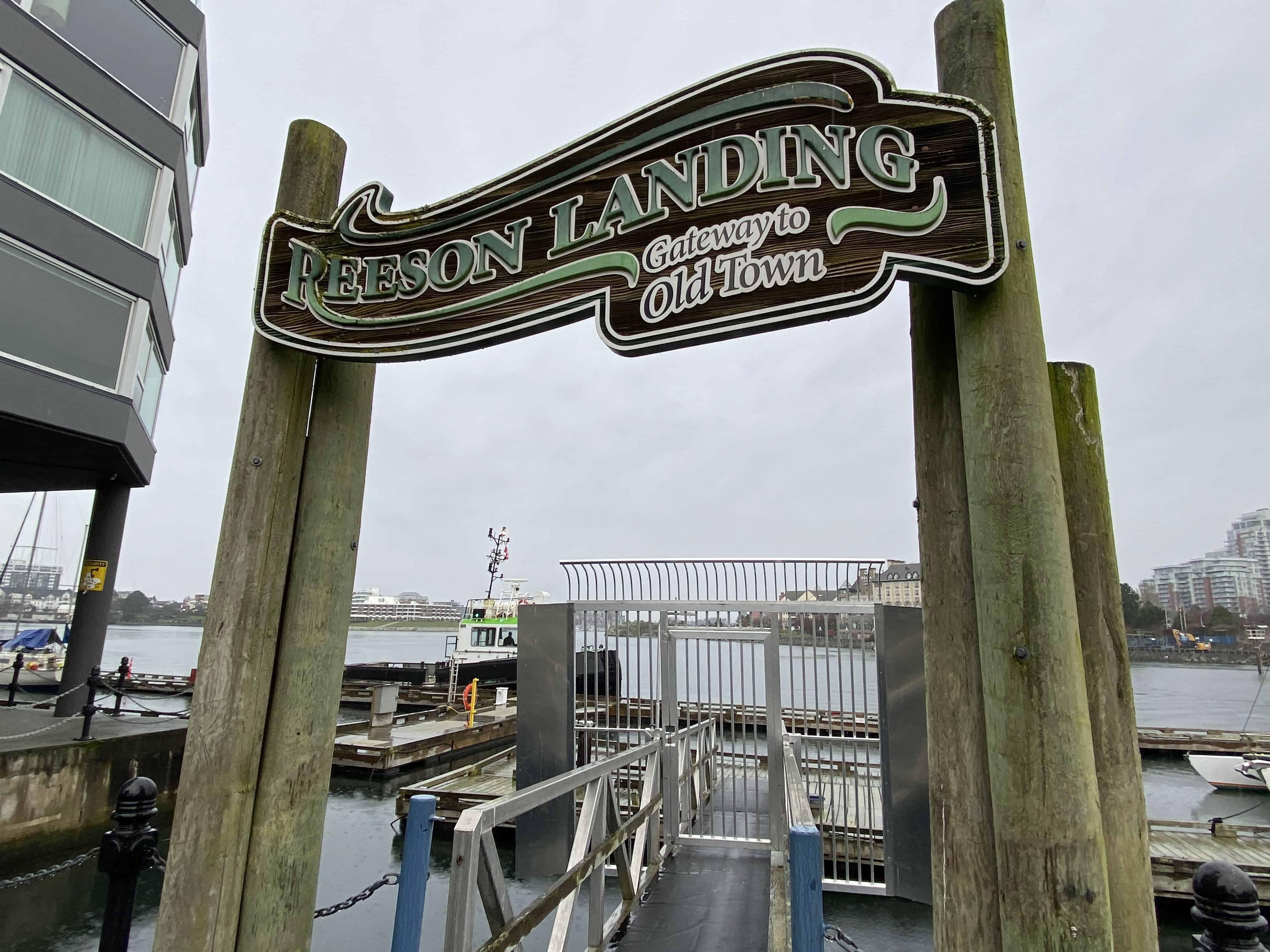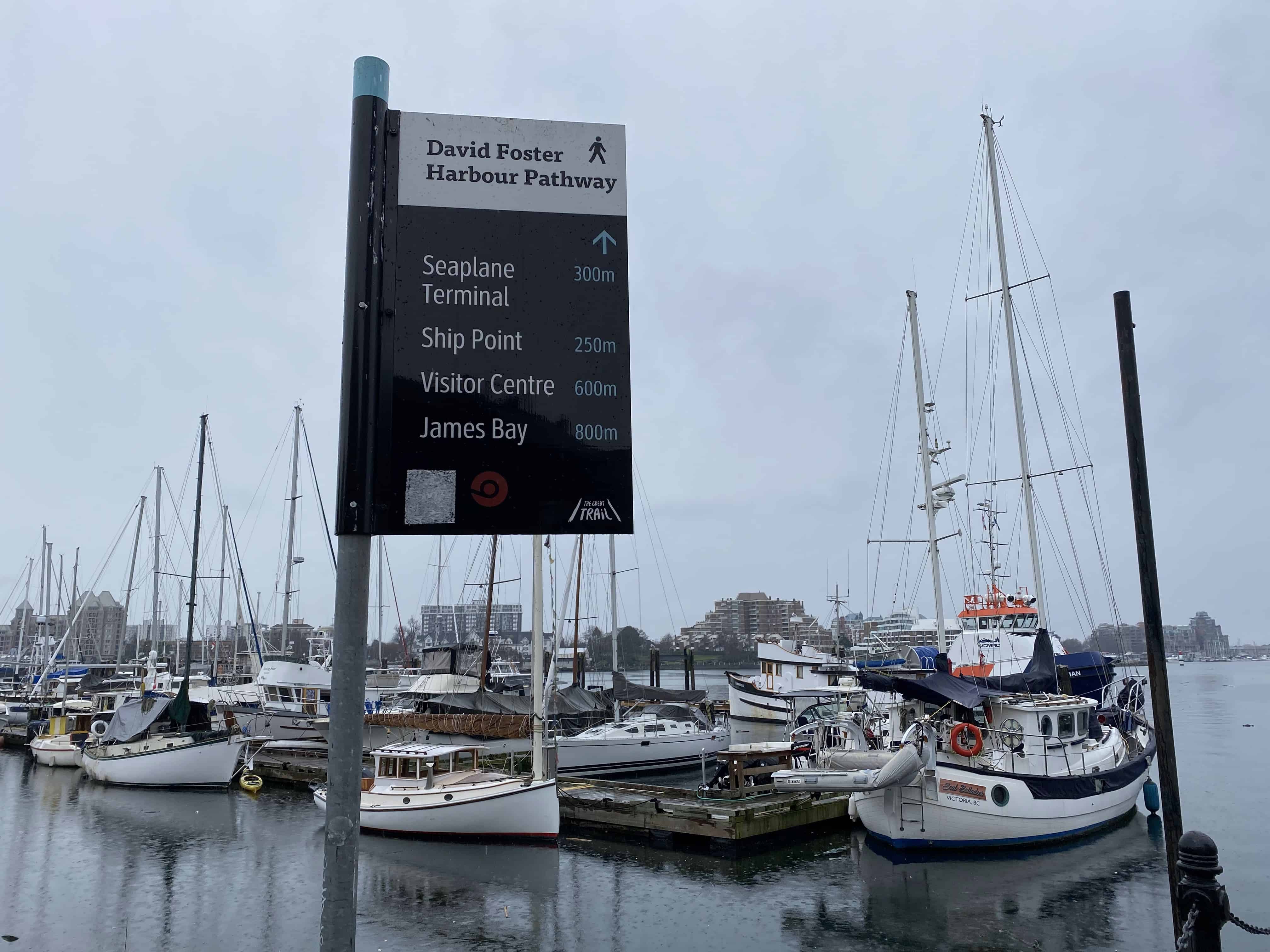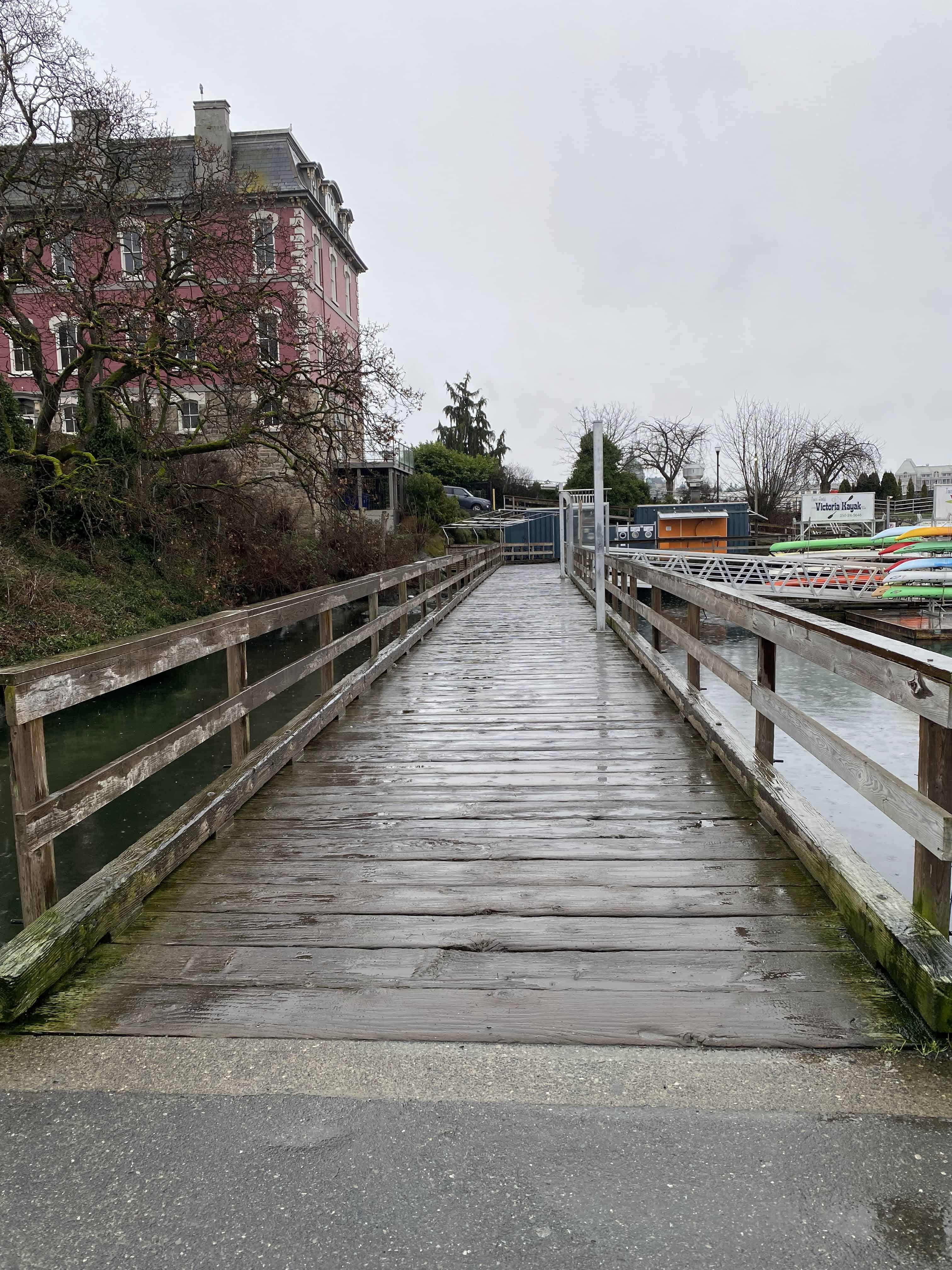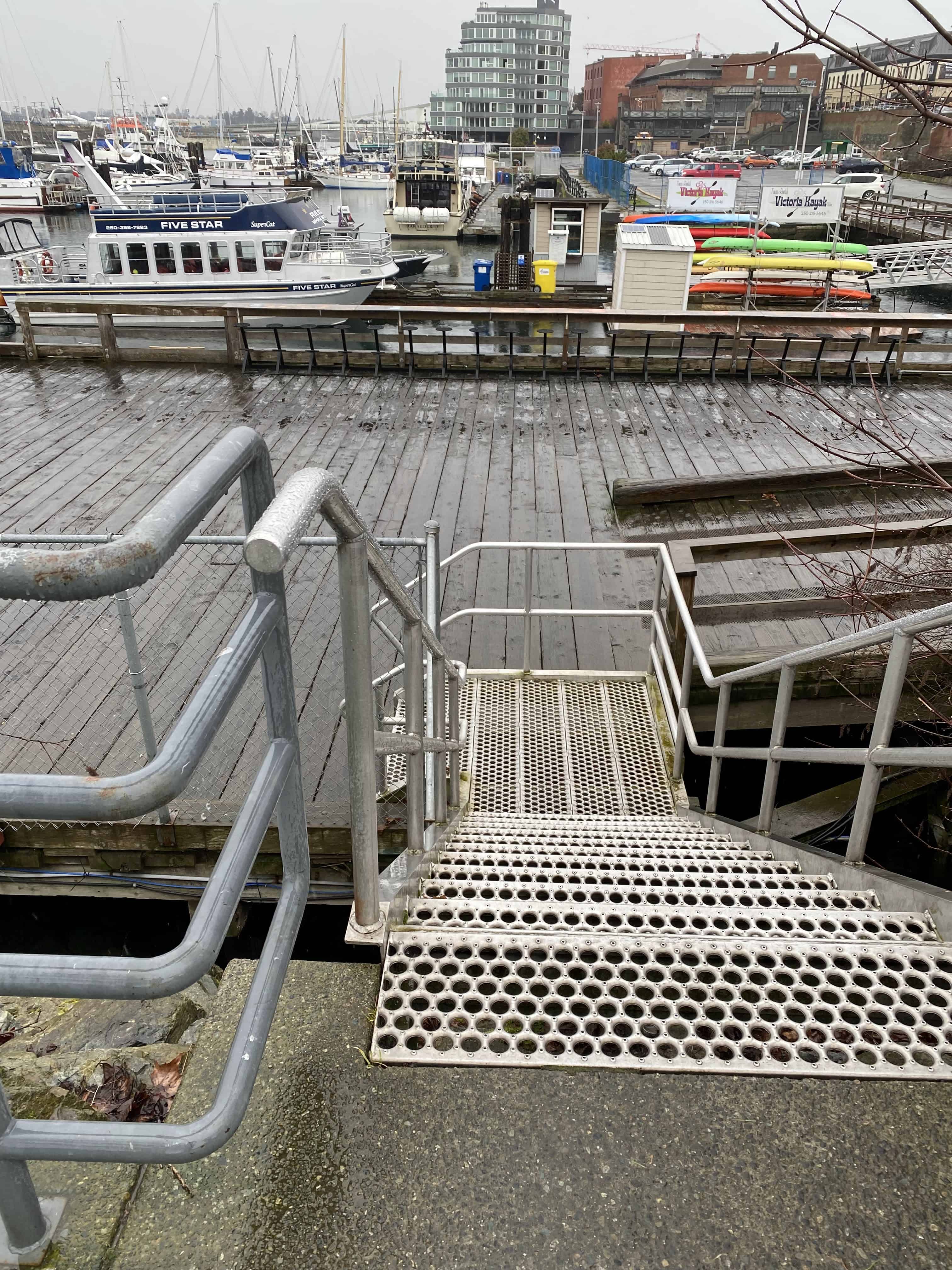 There is a delicious spot to stop and have a fresh from the sea meal if you wish, though it's open seasonally. When open, Red Fish Blue Fish is a favourite with locals and tourists. It's open throughout the spring & summer months into fall. Note: there are stairs leading up from here, however there is also a ramp next to the stairs a little further on.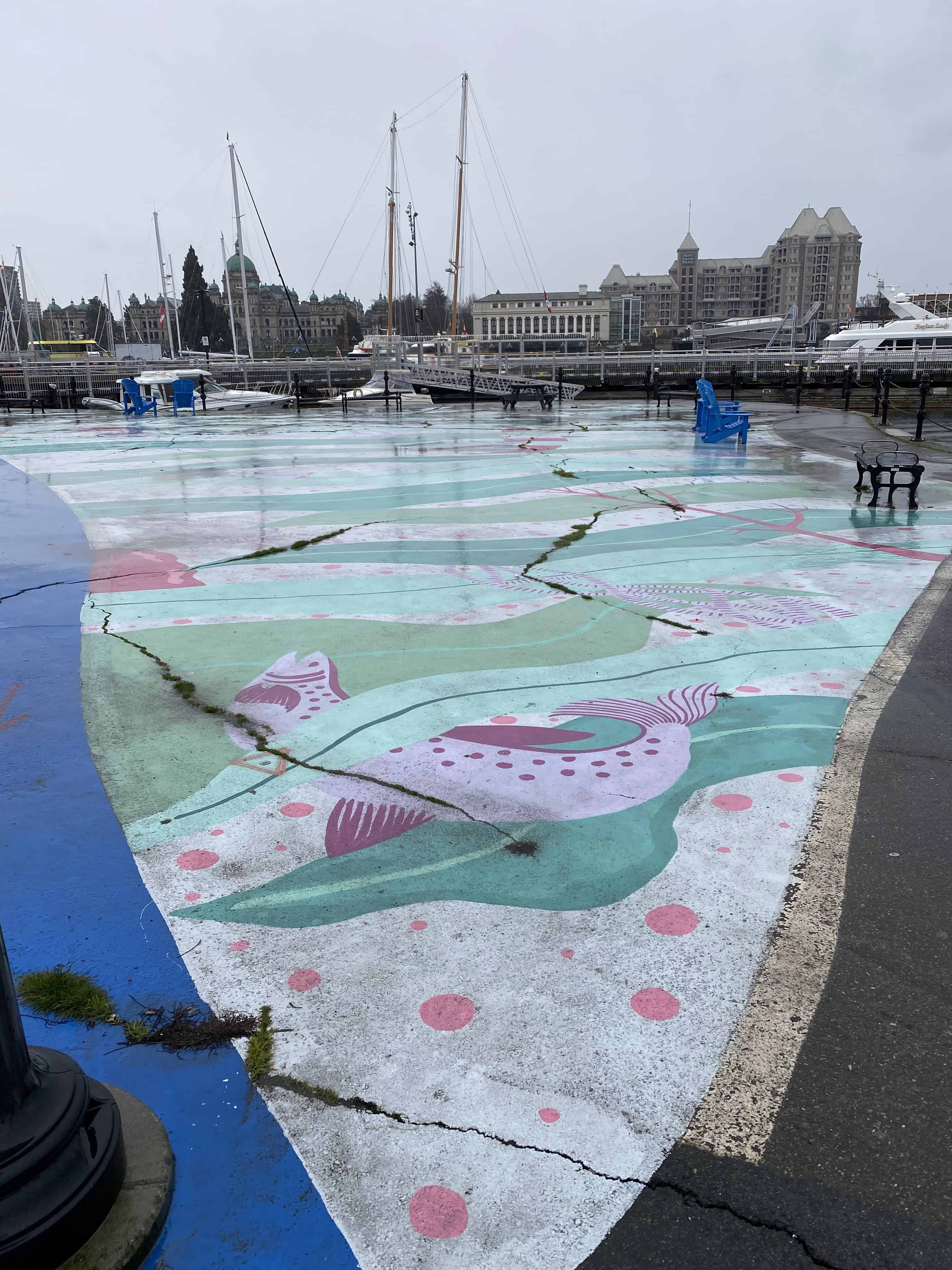 Inner causeway
Canada marked their 150th Anniversary in 2017, and there are still many reminders of that special event, held in cities across our nation. The Canada sign along the Inner Harbour Pathway in Victoria is still one of our favorites.
It's challenging to take a picture of this sign without posing tourists. On this rainy day in January though, there weren't many pedestrians or tourists about, so we were able to get a photo.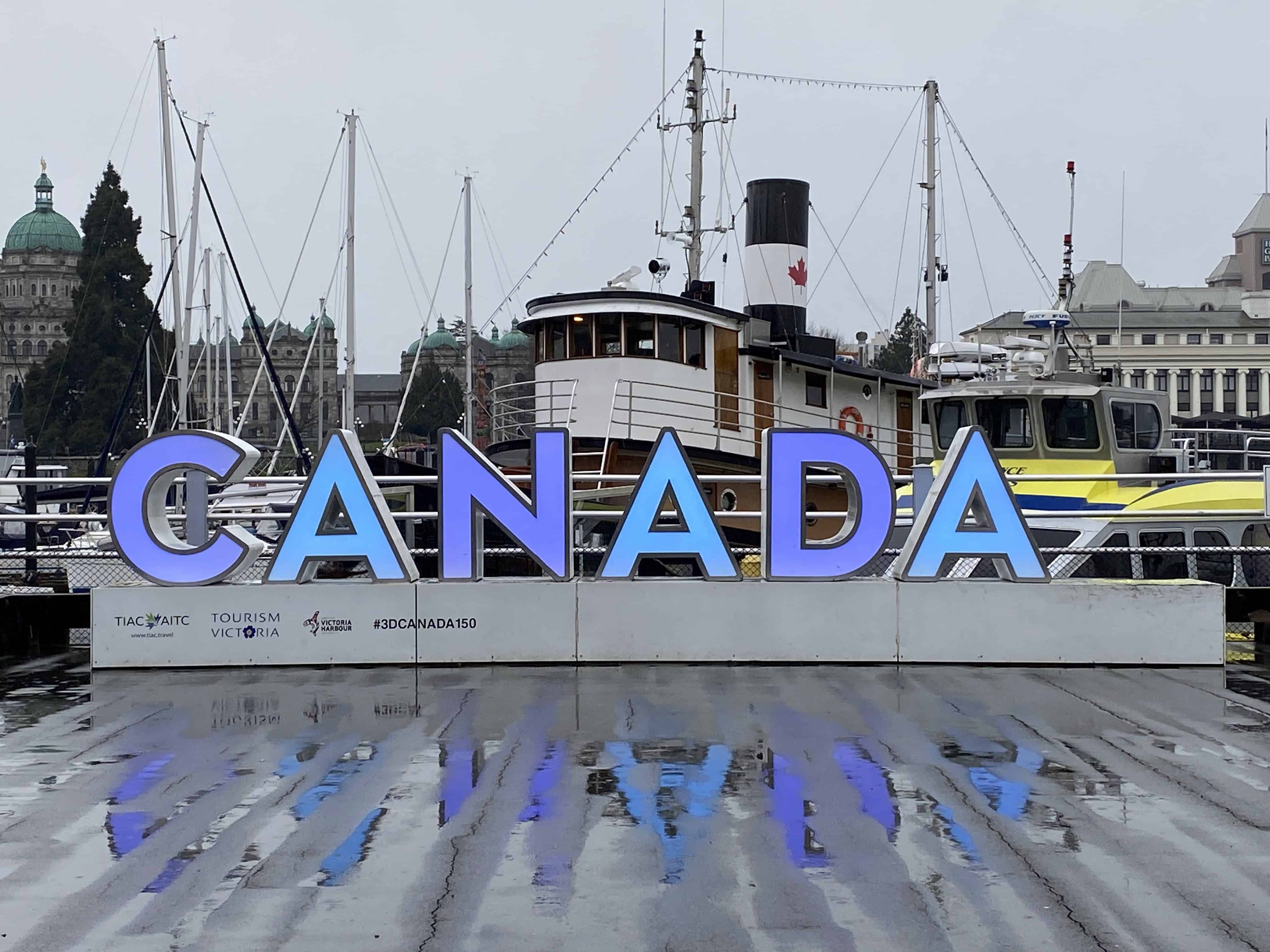 One of our favorite casual restaurants is on the inner causeway, Milestones has incredible views of the water. Tables line the section in front of the restaurant as soon as the weather allows, so patrons can sit outside and enjoy the unique ambience away from the street traffic above.
If you prefer to sit inside, you will still have views of the harbour. We think this is one of Victoria's best positioned restaurants. It also has very tasty food with lots of choices for the entire family. Check out our Top 10 Favourite Restaurants and cafes in Victoria and area for more recommendations.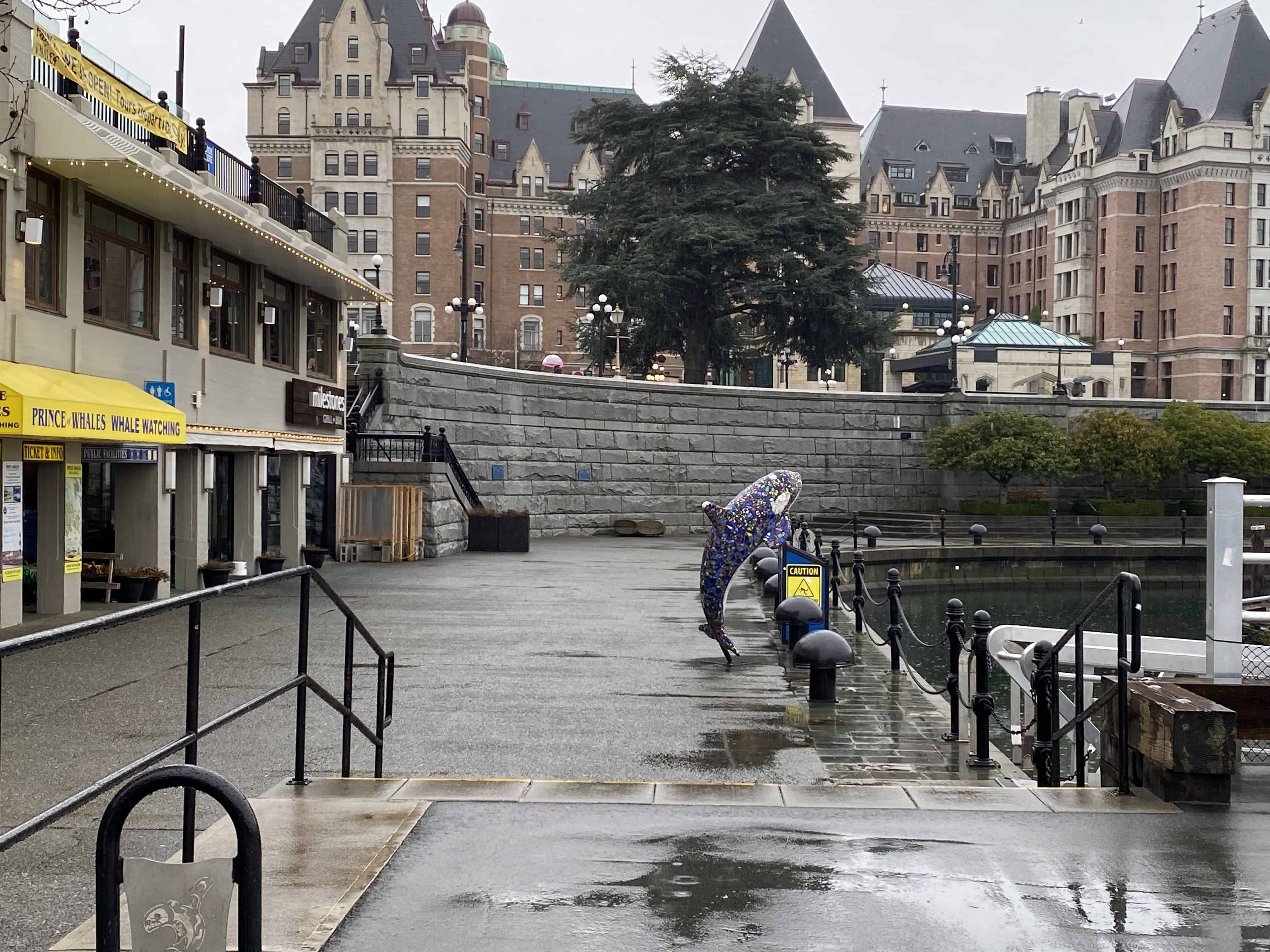 Harbour Ferry Tours
The inner causeway is the place to book your harbour ferry tour if you choose. There are a few options available for tours, and you'll want to check times, as this is also somewhat seasonal.
We really enjoy taking guests on the Victoria Gorge Tour. Timing can be important on this tour though, so if you're able to plan your tour according to the tide schedule, you'll be able to see the reversing rapids when they are most active from your tour boat. It's somewhat of a unique experience.
You can review our other posts on the Top 14 Things to do in Esquimalt, or Esquimalt Parks (Gorge park) for more details on how to plan to see the reversing rapids at Tillicum Narrows on a tour.
Other Activities – Inner causeway
You will find the inner causeway to be much busier than these pictures indicate. Especially as the tourists and cruise ships descend upon Victoria, it becomes very active. Cruise ship season runs from April to October. There are also local artisans and food vendors, along with timed events.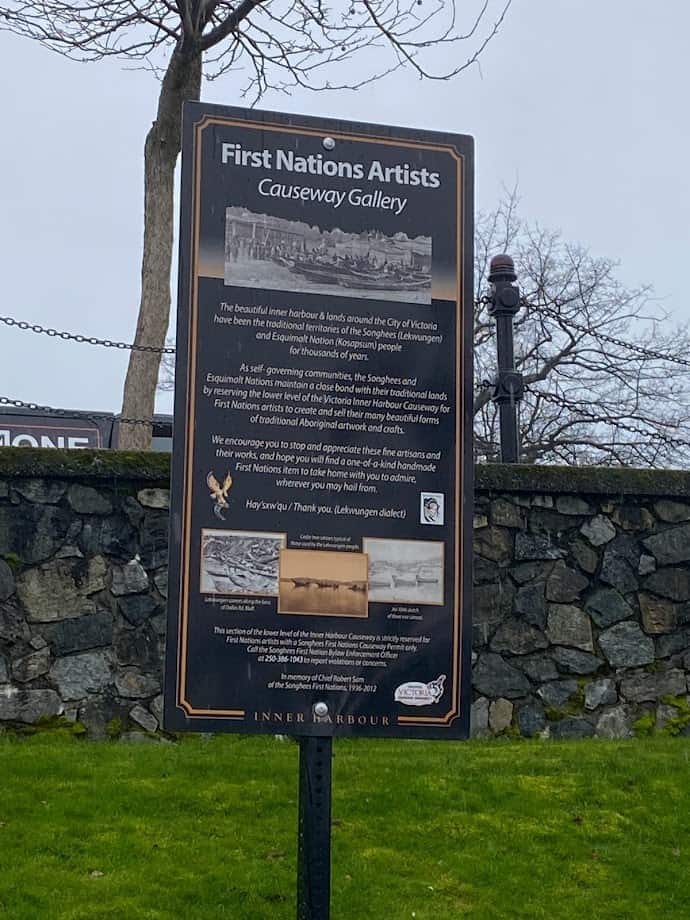 Also on the lower causeway you will find one of the Signs of Lekwungen. This is the location of: the Lower Causeway | xwsзyq'әm, whu-SEI-kum, "place of mud", marked wide tidal mudflats and some of the best clam beds on the coast.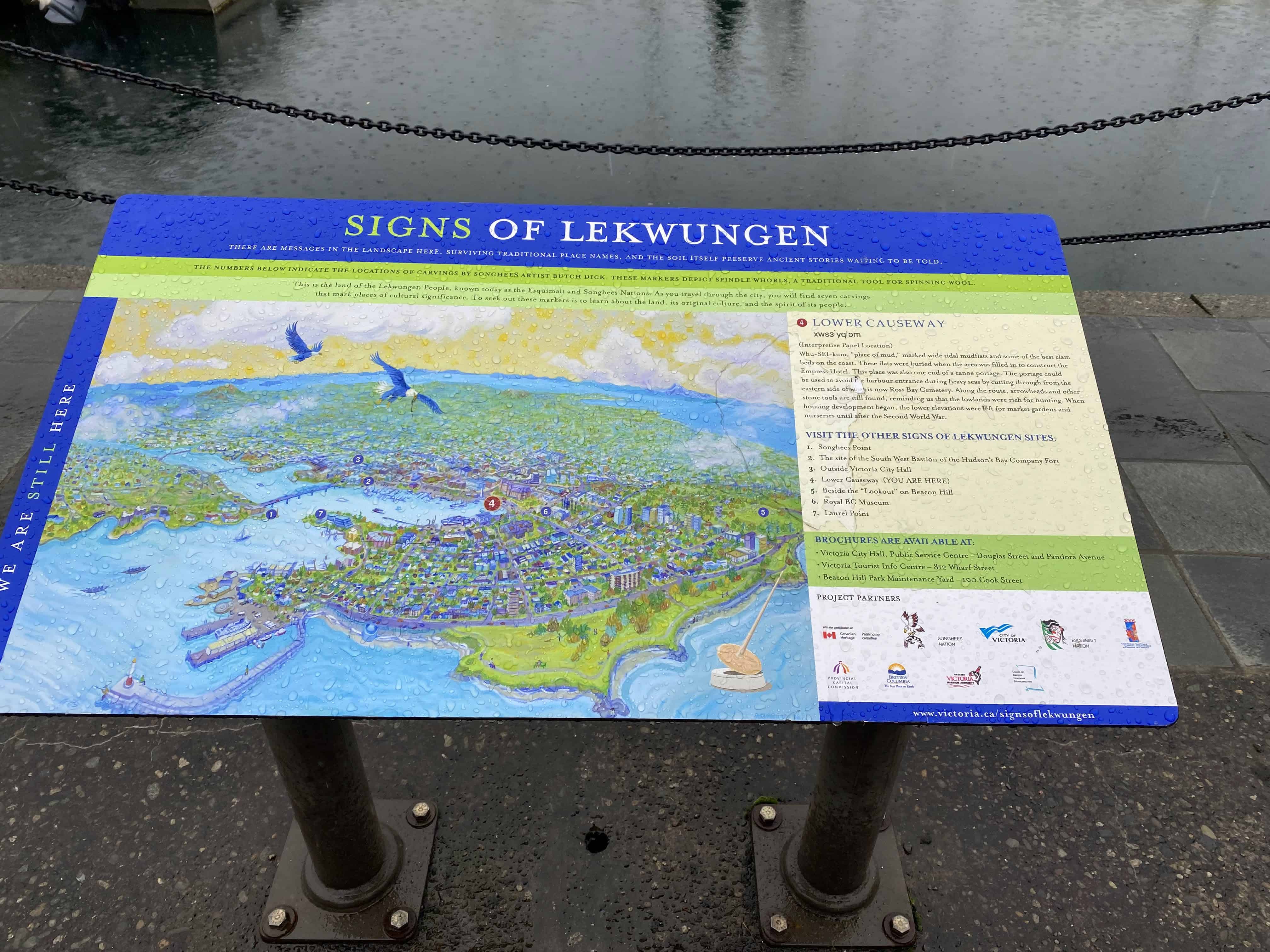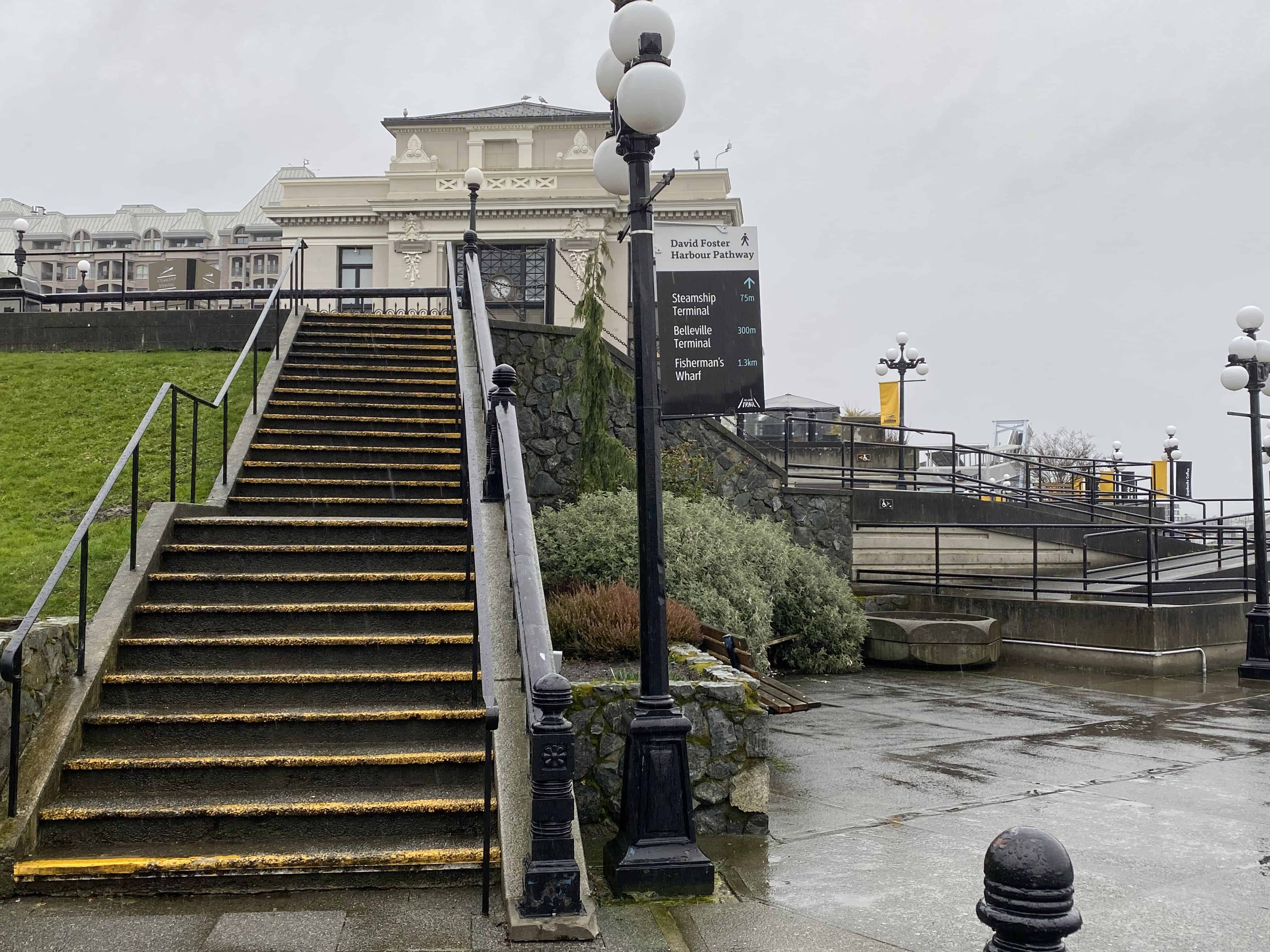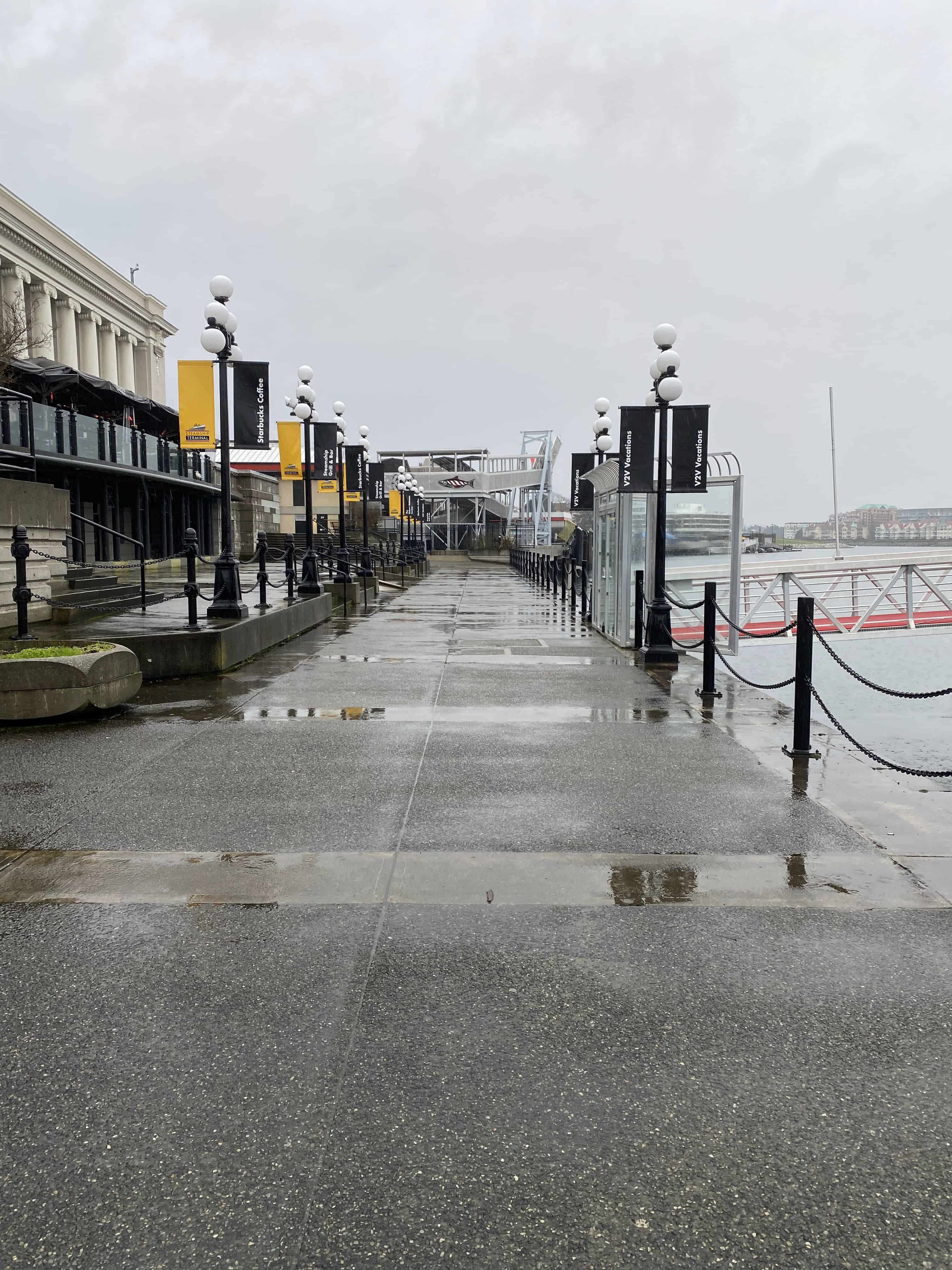 2. David Foster Inner Harbour Pathway –
from Belleville St at Menzies- to Erie St at Dallas Rd (including sč̓əmaθən / Peter Pollen Waterfront Park)
Along Belleville Street, you will pass by the Black Ball Ferry Lines and the Clipper Ferry Terminal. These are the ferries arriving into Victoria from the United States.
Clipper Vacations takes passengers from Victoria to Seattle and return. Check their website for schedules and other information.
Black Ball Ferry Lines (the Coho) takes passengers from Victoria to Port Angeles and return. For schedules and other information, check their website.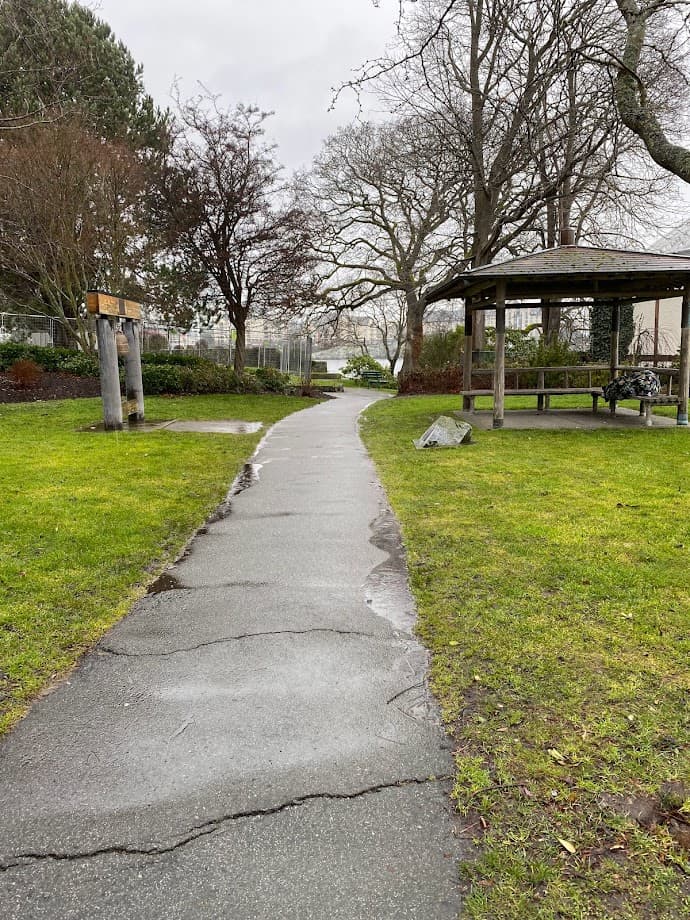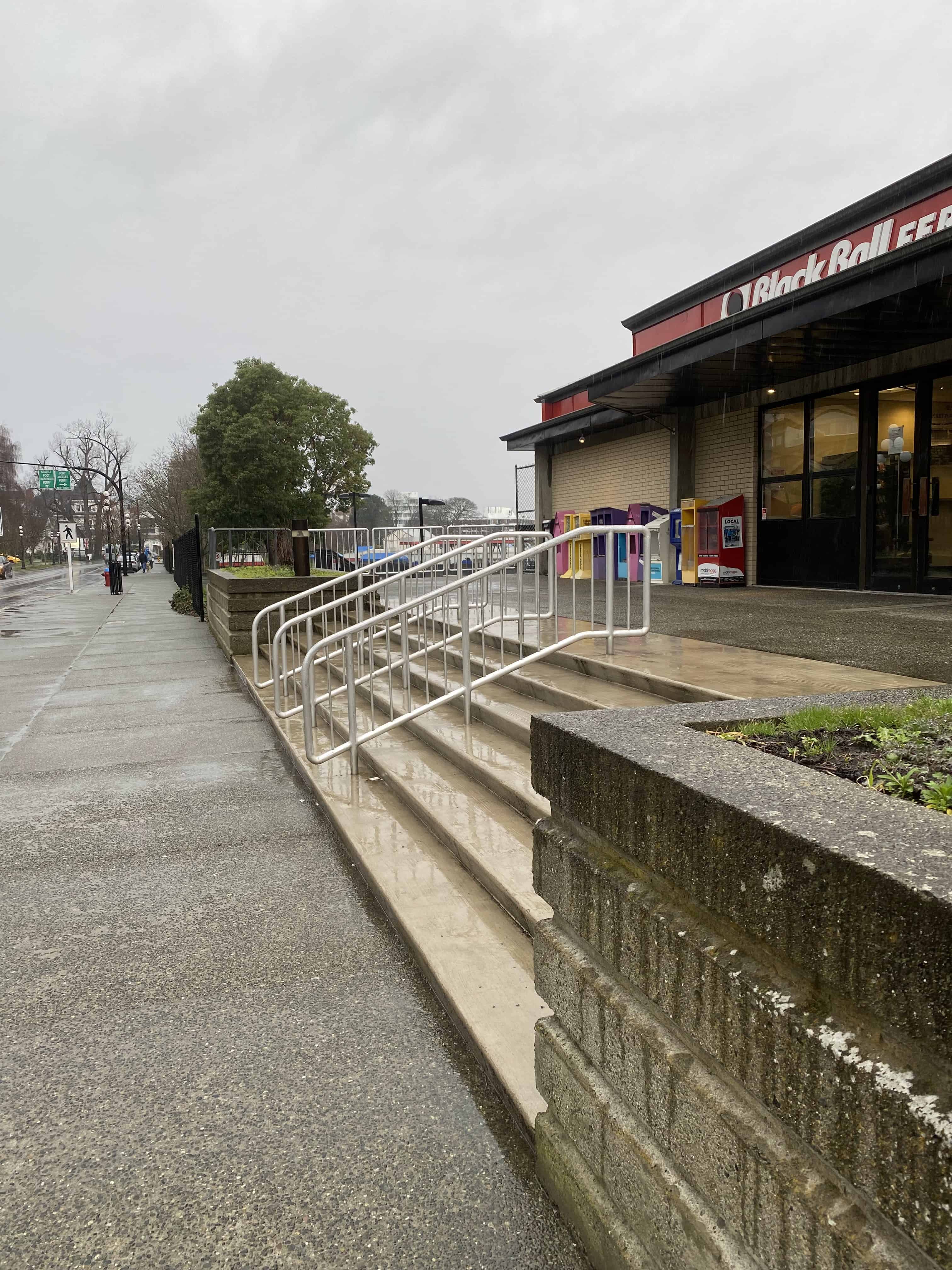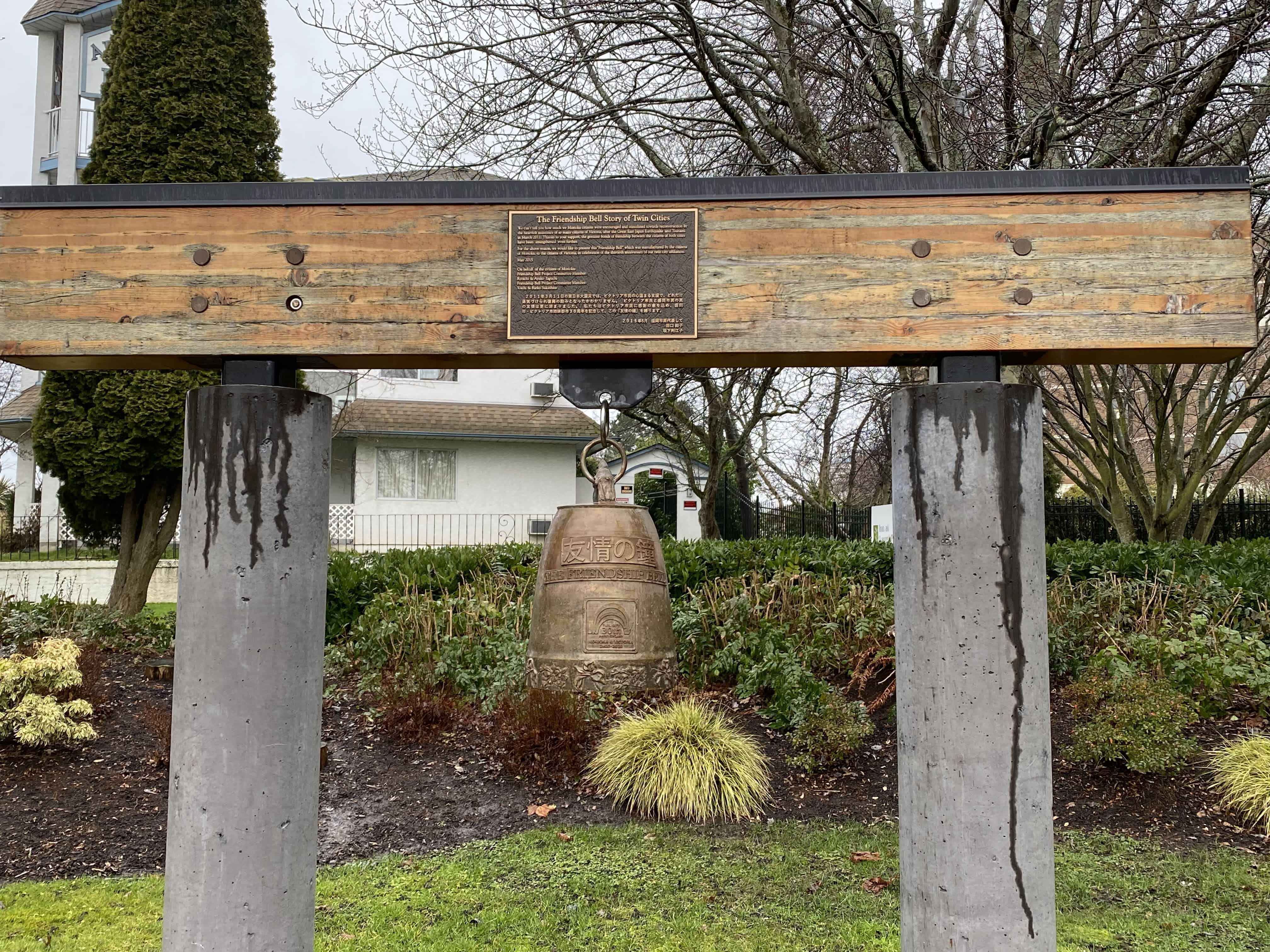 The Friendship Bell
This Friendship Bell Story of Twin Cities makes reference to Victoria BC and Morioka Japan, who became sister cities in 1985. This symbol celebrates the 30th anniversary of this friendship and makes special note of the support provided following the 2011 earthquake and tsunami in Japan.
Whenever we pass this bell, we give it a gentle tap. To us, this is a reminder that friendship, no matter the distance between us, is to be cherished and celebrated.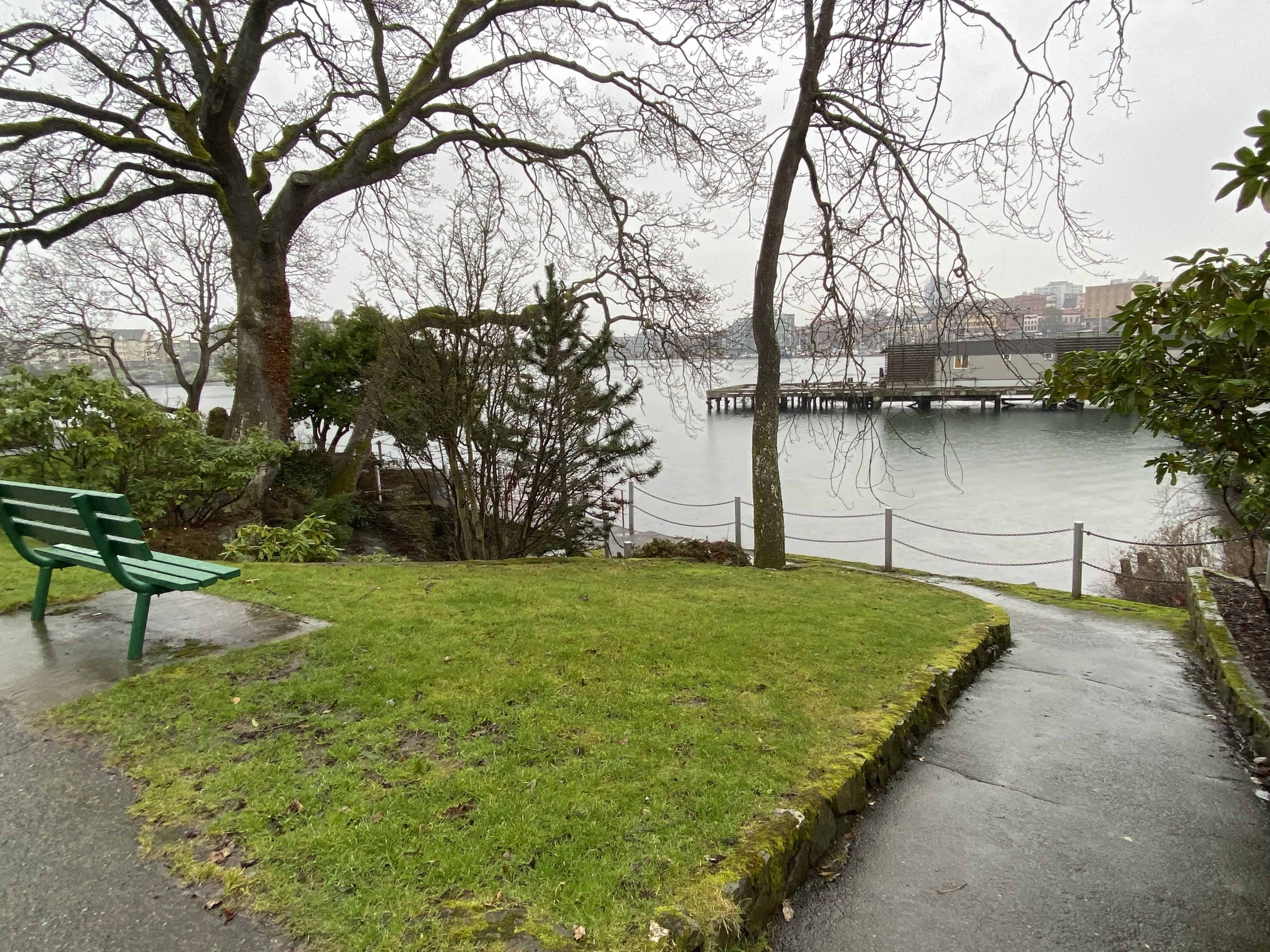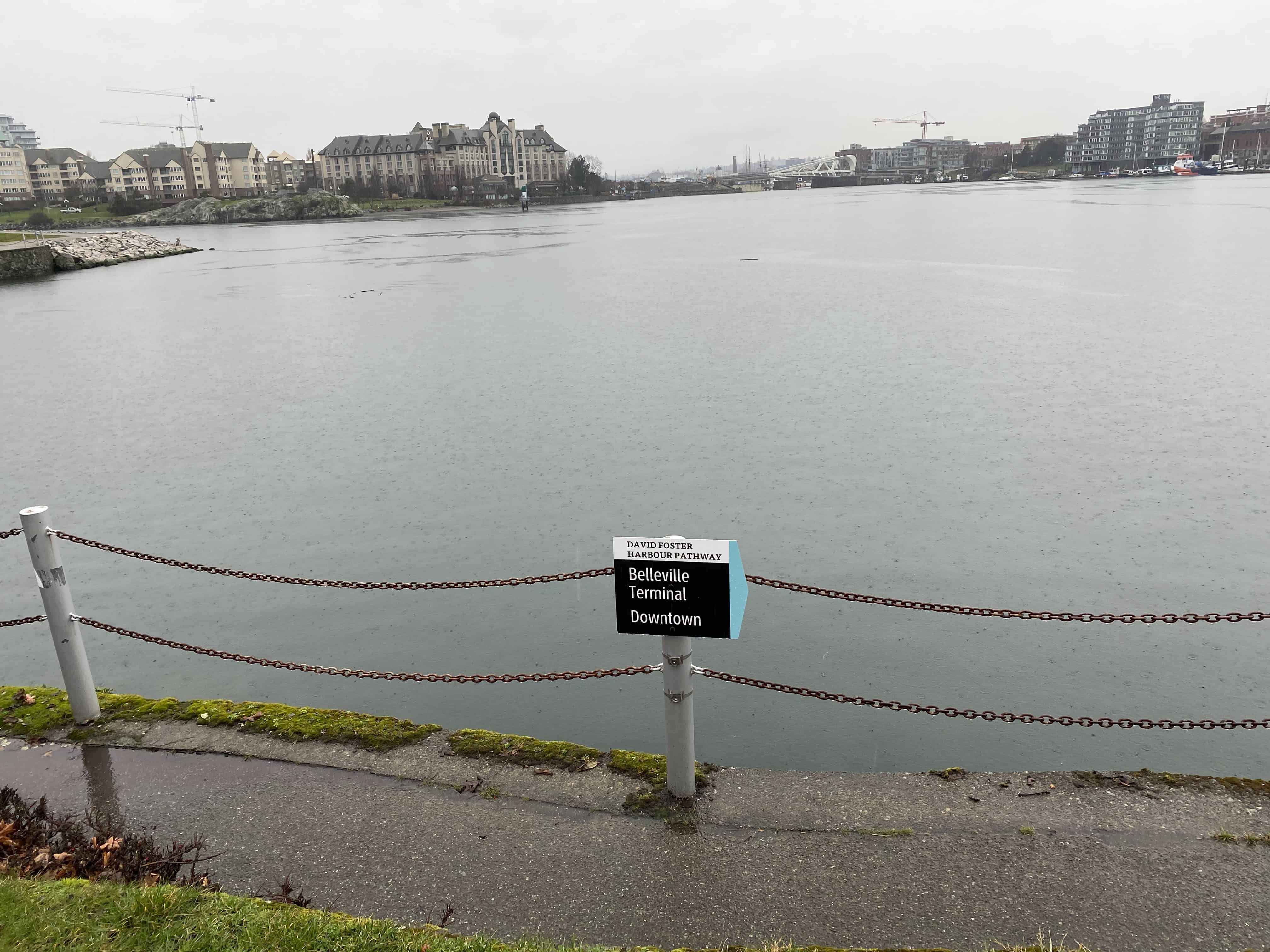 Throughout this next section, you will meander through the winding walkway and enjoy beautiful scenery and restful parks. There is a mixture of paved and gravelled paths hugging the edge of the harbour. Benches can be found along this path for your relaxation.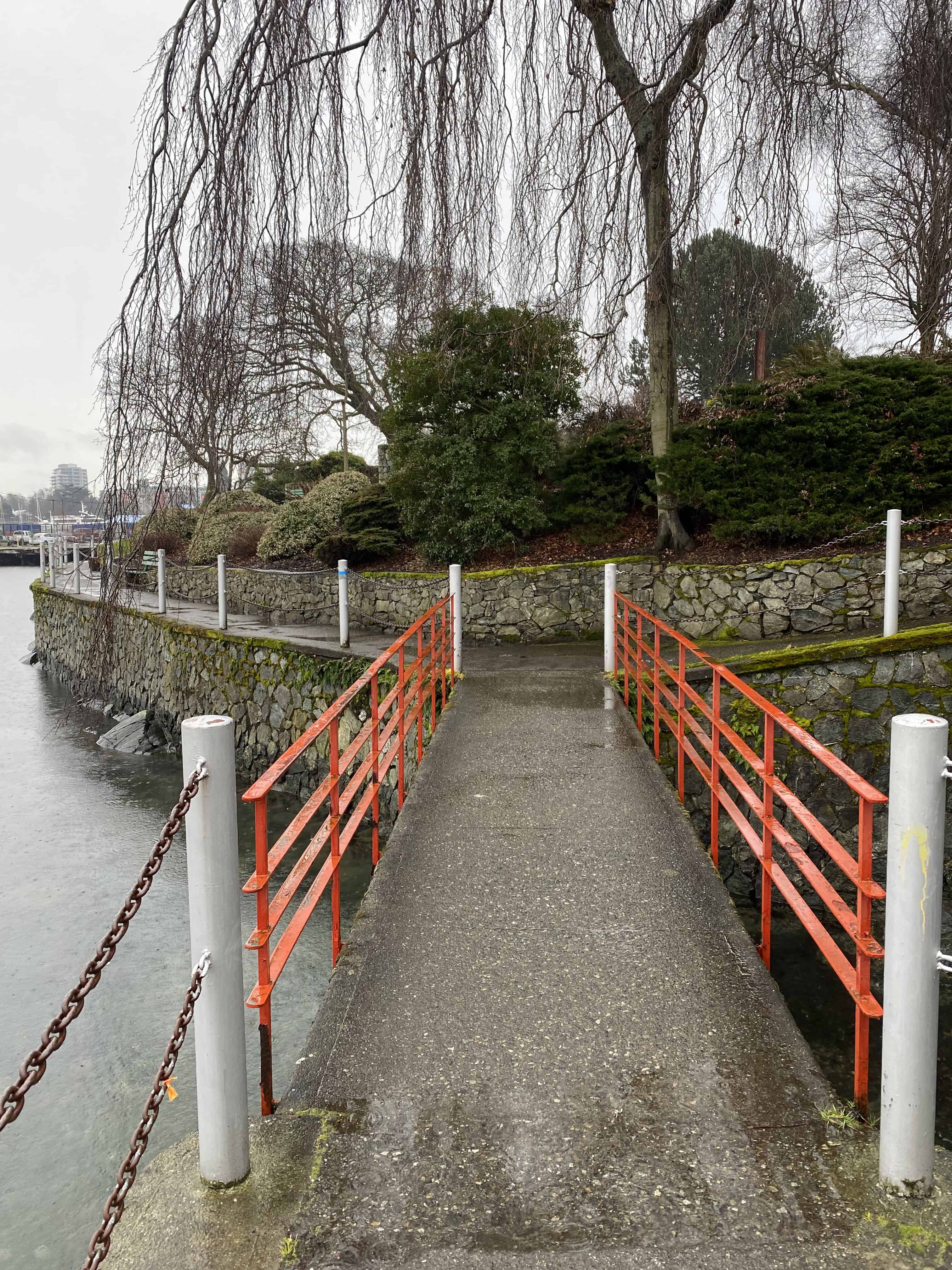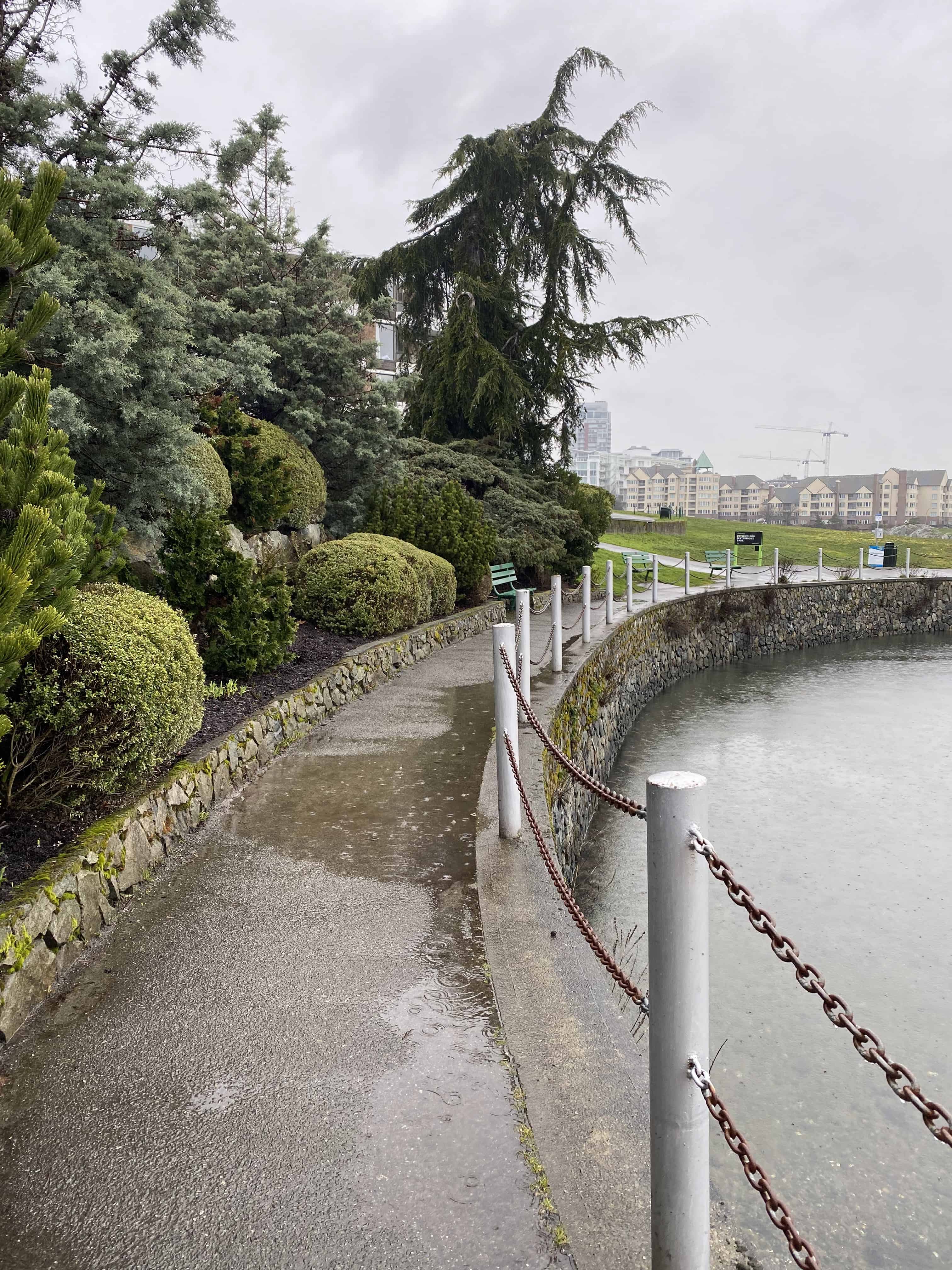 You will pass by hotels and hotel restaurants on this part of the path. If you're not already staying at one of these hotels, you may briefly wonder why you're not. Here you will see the Inn at Laurel Point (Aura restaurant), Coast Victoria (Blue Crab restaurant), and WorldMark Victoria Hotels as you make your way to Fisherman's Wharf.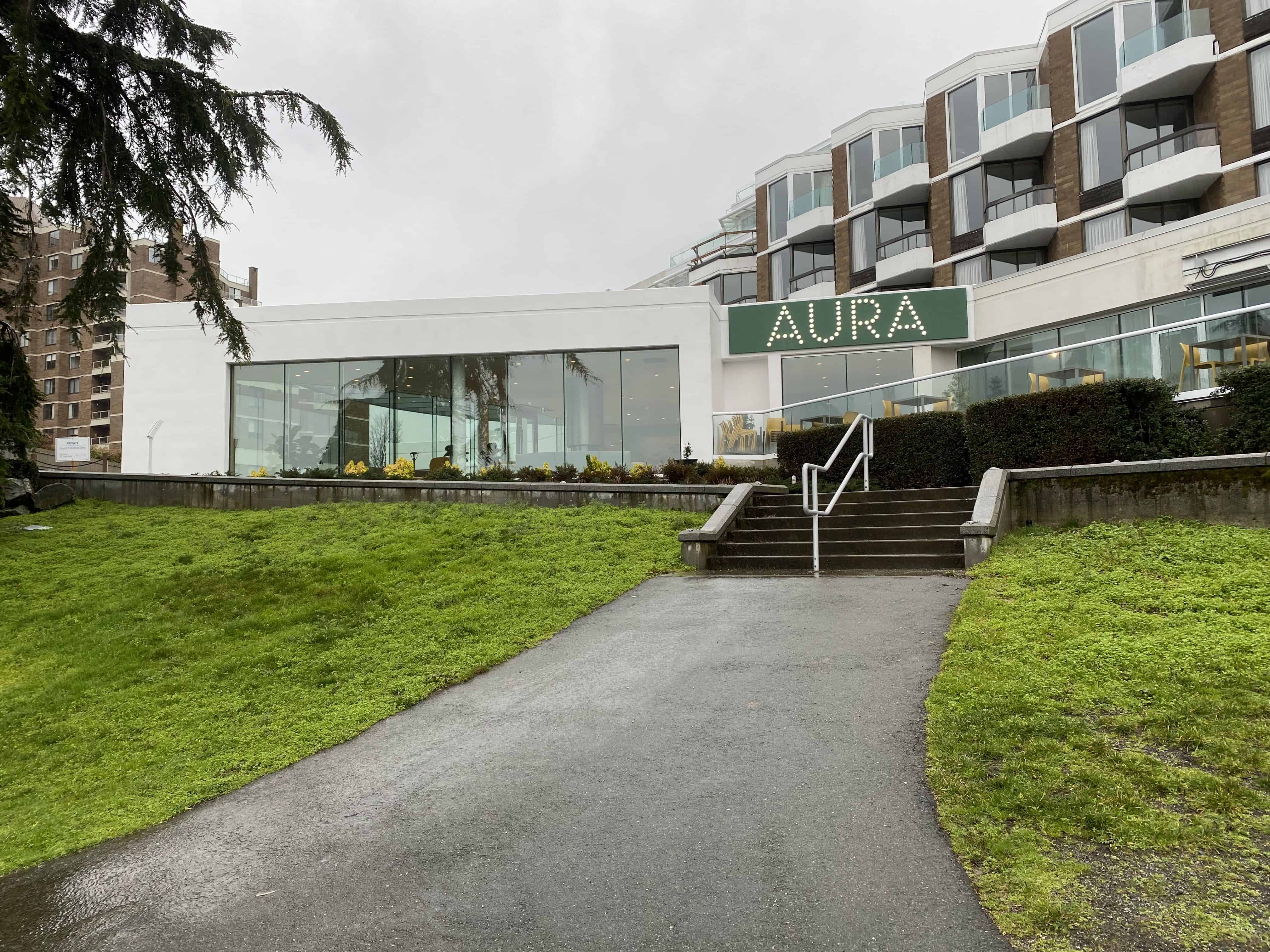 Victoria Inner Harbour Pathway Remediation complete
The Peter Pollen Waterfront Park has undergone extensive remediation. This was a joint partnership project between Transport Canada and the City of Victoria.
The remediation was required as a result of this area having once been home to a paint factory operated by the British American Paint Company between 1906 -1975. During that time period, the site was also periodically infilled with unknown materials.
There was a multi-year investigation and environmental assessment in which the Government of Canada eventually classified the Victoria Middle Harbour Fill Site (including the park) as a contaminated site.
Remediation of the site and adjacent areas of the harbour occurred between late 2018 to mid 2019. Contaminated soil was removed to be treated off-site, clean soil was placed and then turfgrass installed.
Work is still being done and in conjunction with the Lekwungen regarding the final design concept. This site and surrounding waters are of historical and cultural significance to the Lekwungen.
The park is currently open to residents and visitors while the planning continues.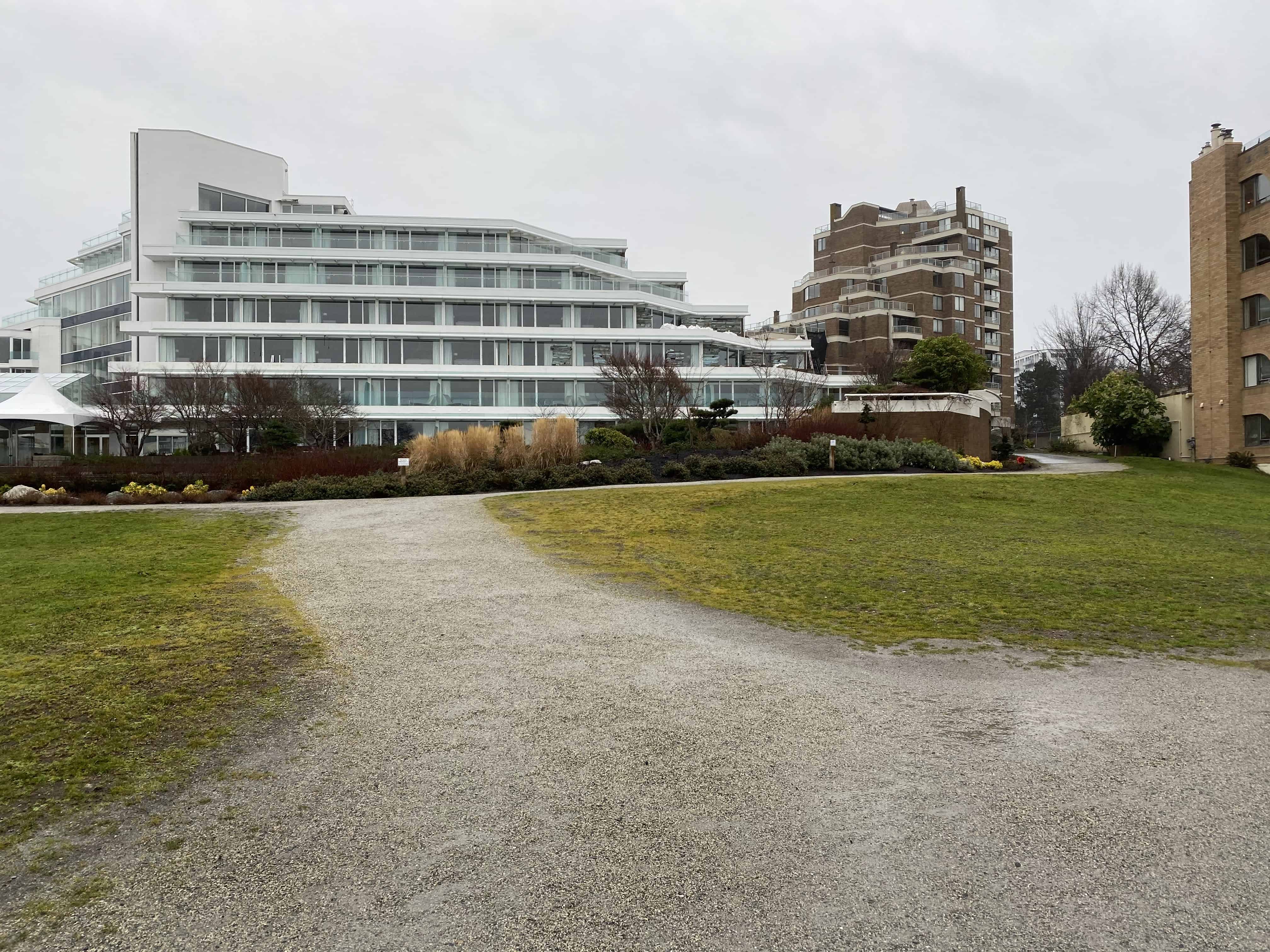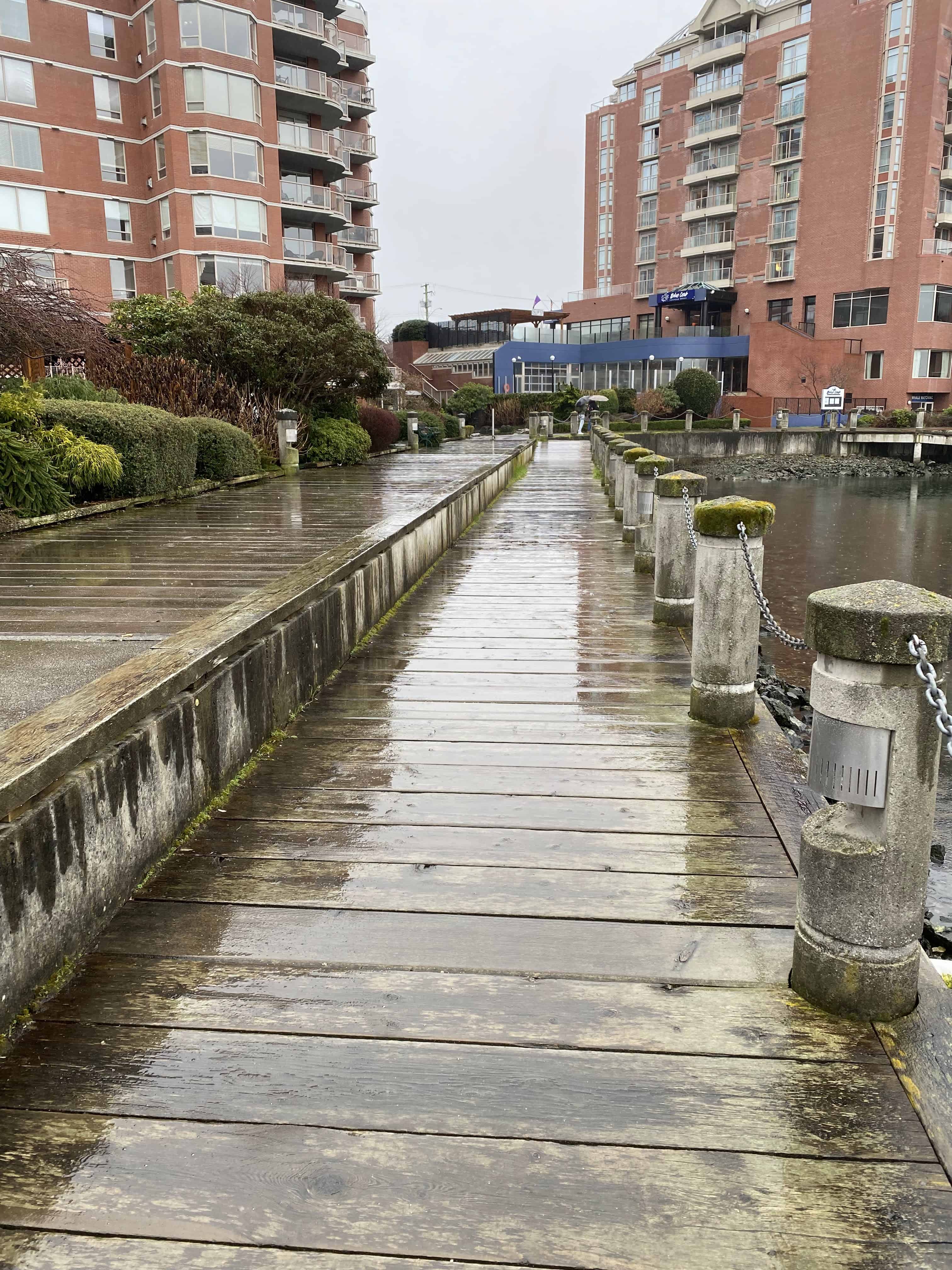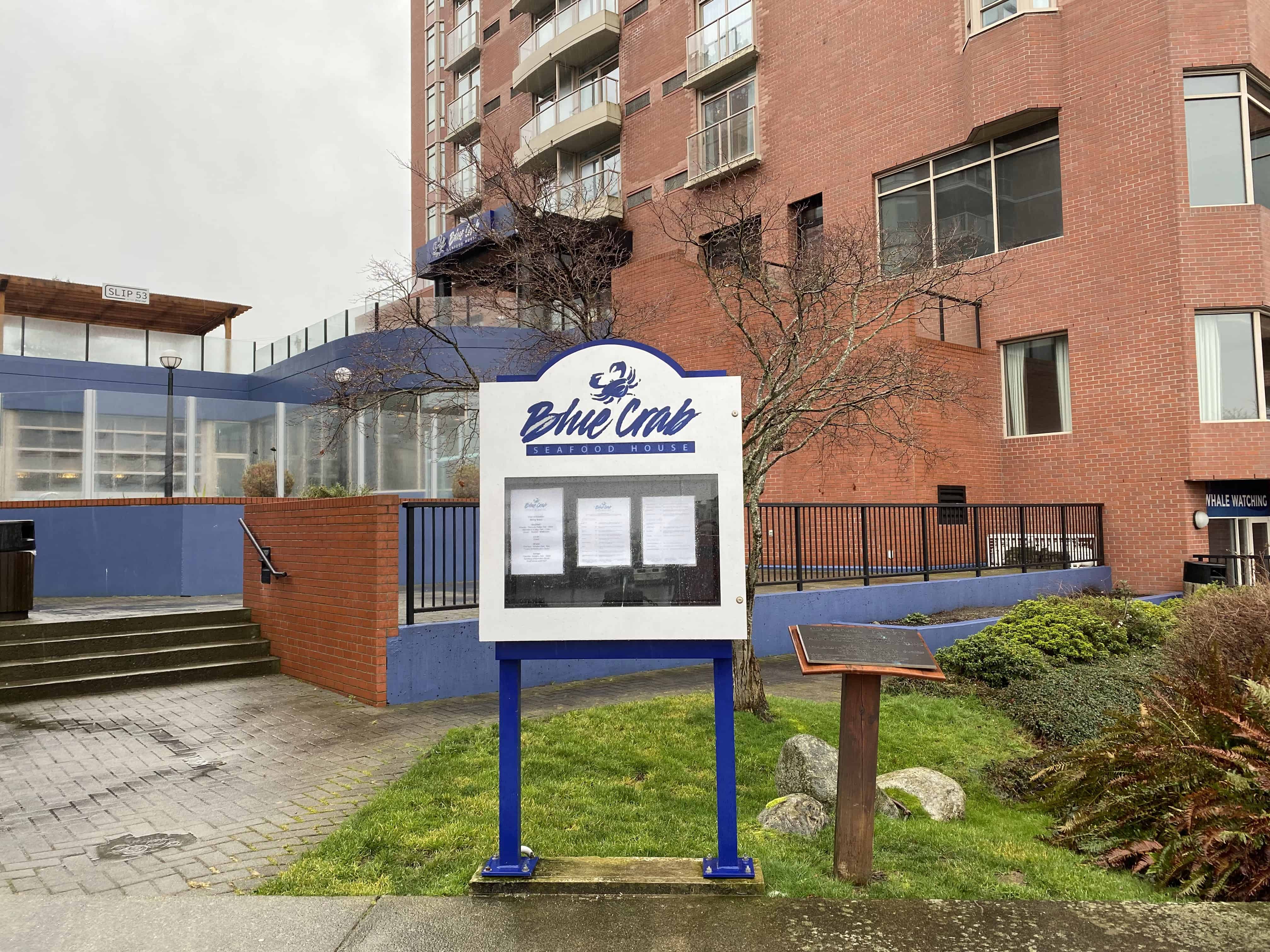 Fisherman's Wharf
As you continue, you will get your first look at Fisherman's Wharf at the corner along the David Foster Harbour Pathway.
We have been to Fisherman's Wharf many times, and it's definitely worth a visit if you have time, or are hungry, or both! The shops and restaurants are quaint and enjoyable to visit. This seems to be a tourist favorite, based on the questions we get from people looking for it when we're out walking around Victoria.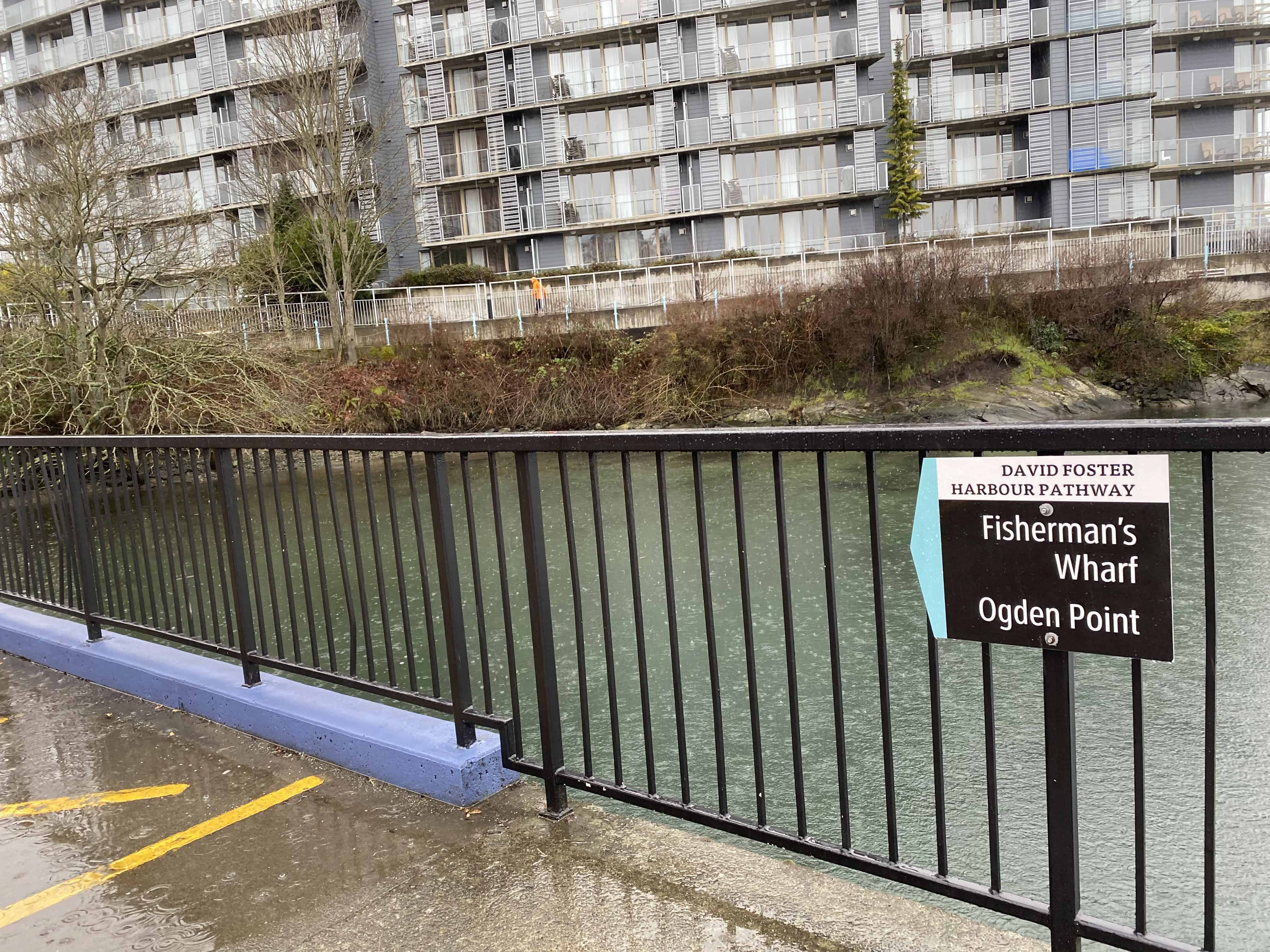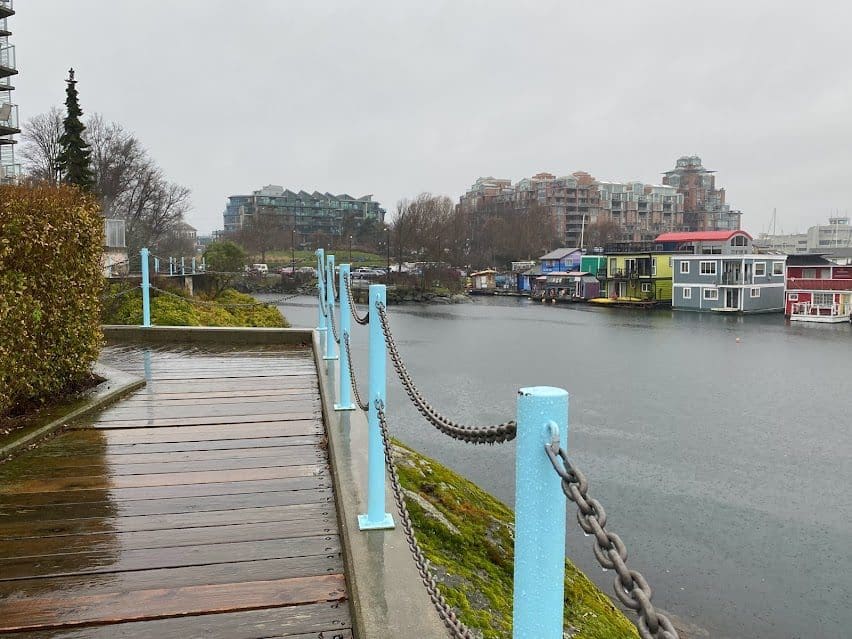 3. David Foster Harbour Pathway –
from Superior to Erie St, then Dallas Road to Ogden Point
You will come out on a street again (Superior Street) before seeing the Fisherman's Wharf sign (Erie Street). Turn right to go towards the entry to Fisherman's Wharf.
However, in order to remain on David Foster Harbour Pathway, you will go through Fisherman's Wharf park (on your left) rather than entering Fisherman's Wharf which is on your right.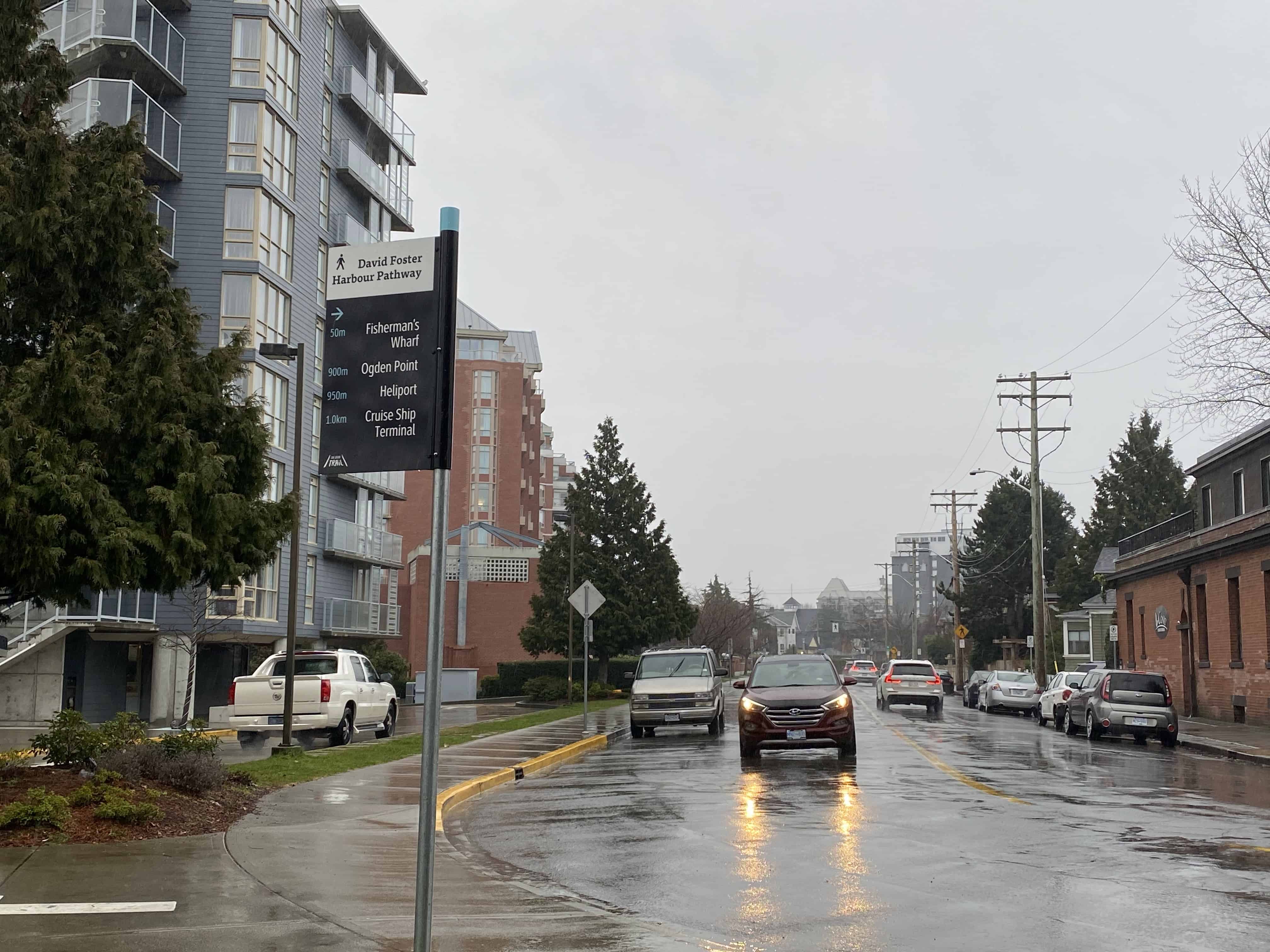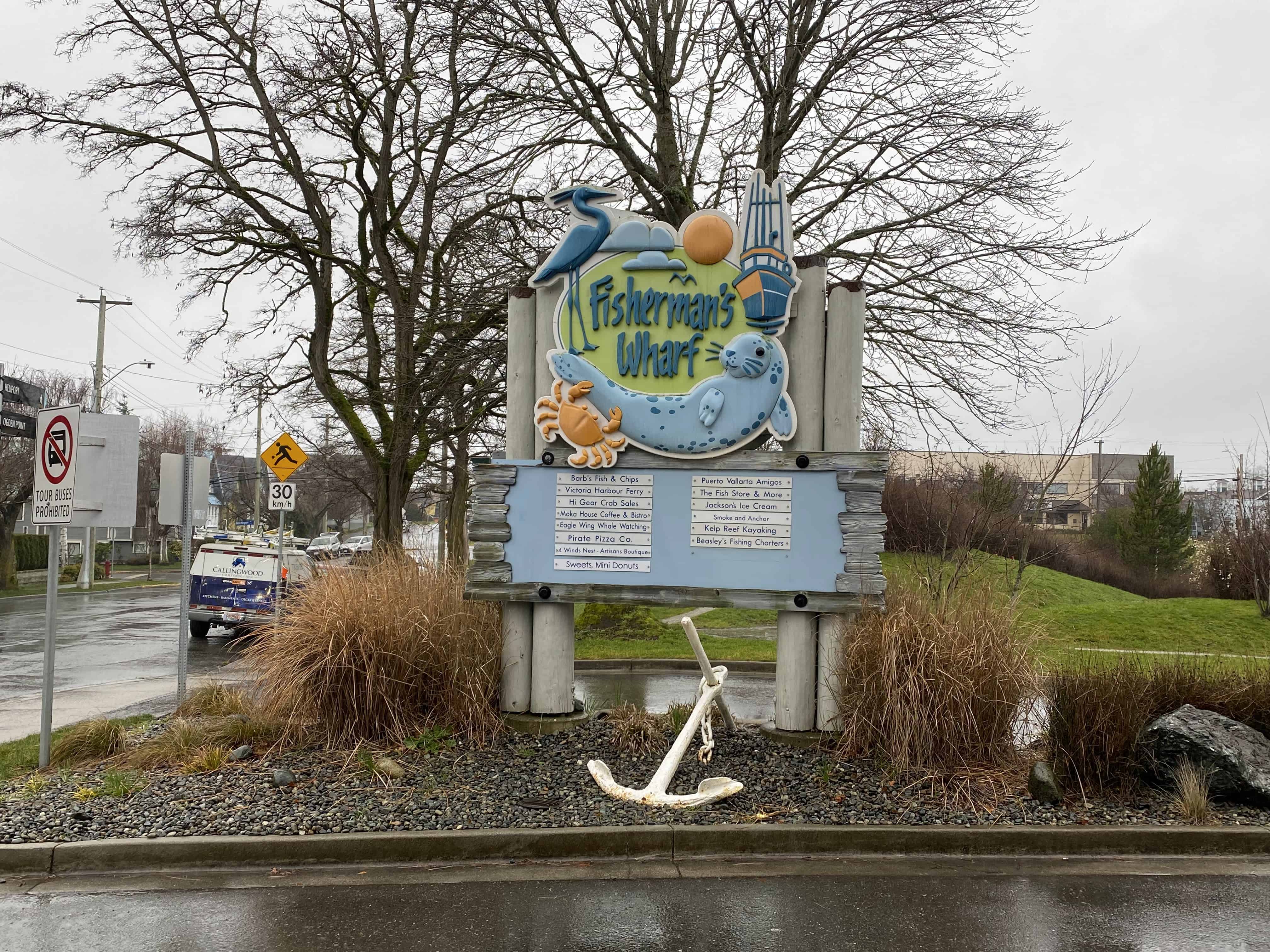 There is a play area in this park, so if you have children, it may be a good place to take a short break, relax on a bench and let the kids play.
Once through the park, you will be on Dallas Road, which will take you straight to Ogden Point.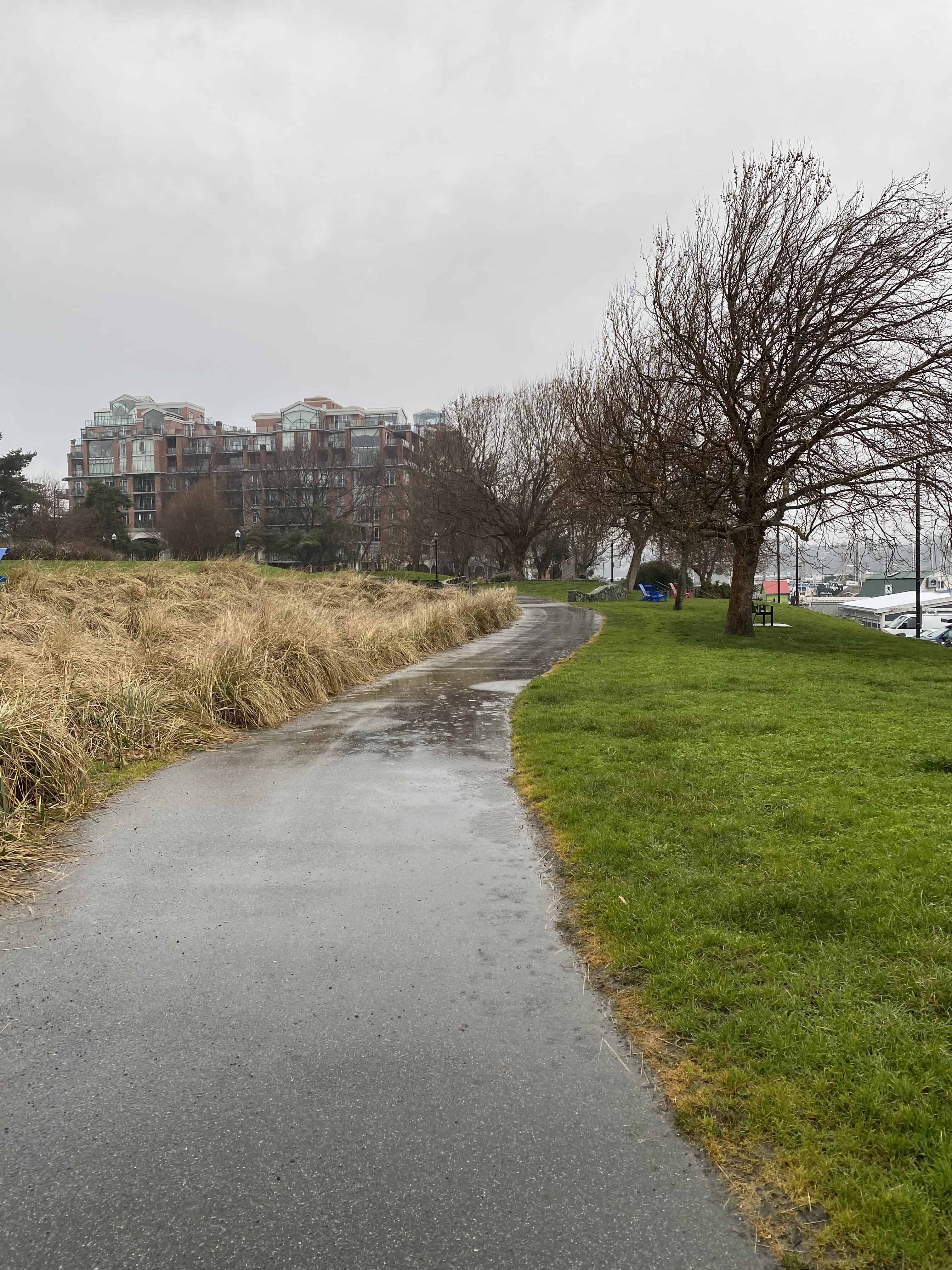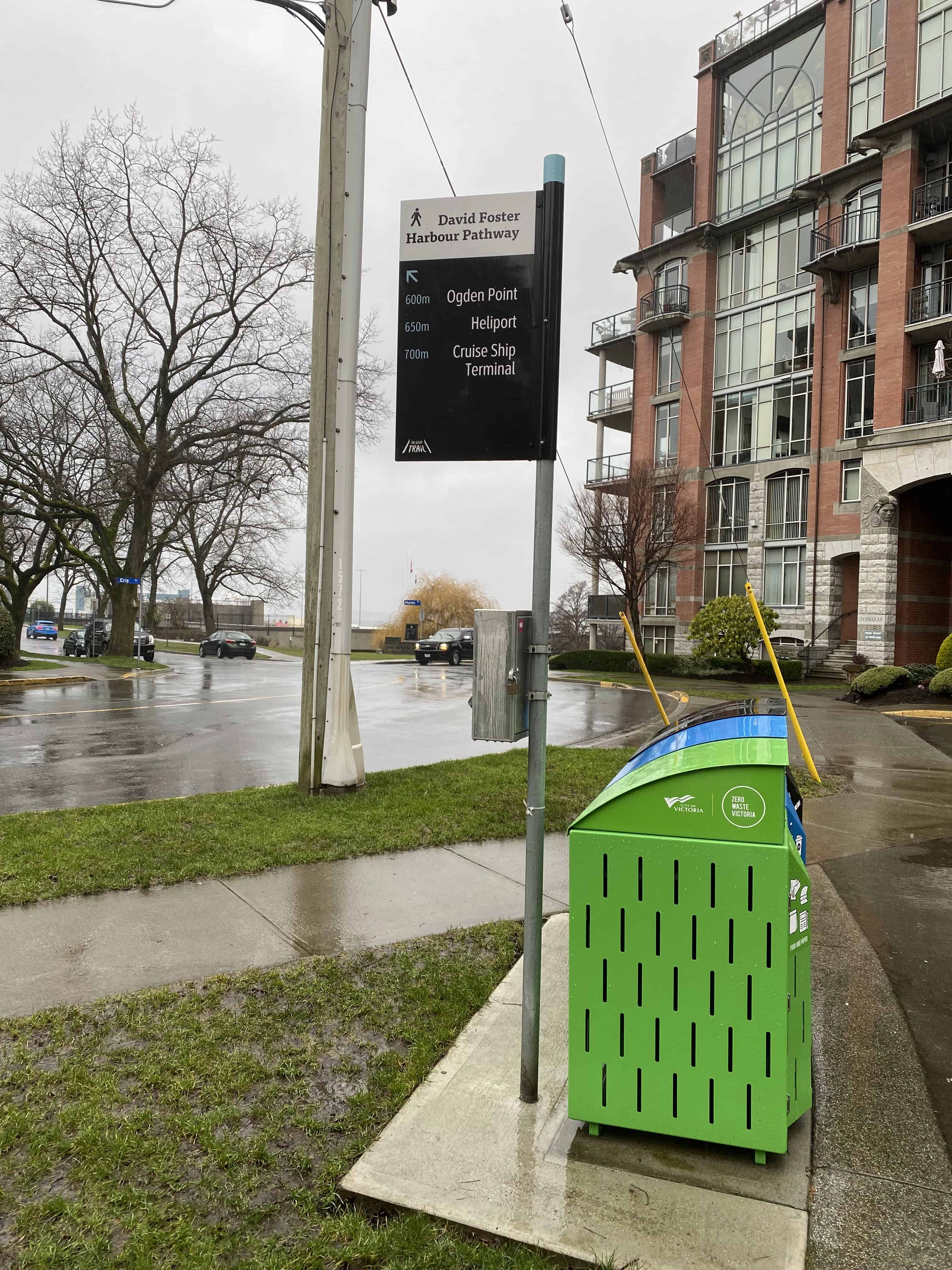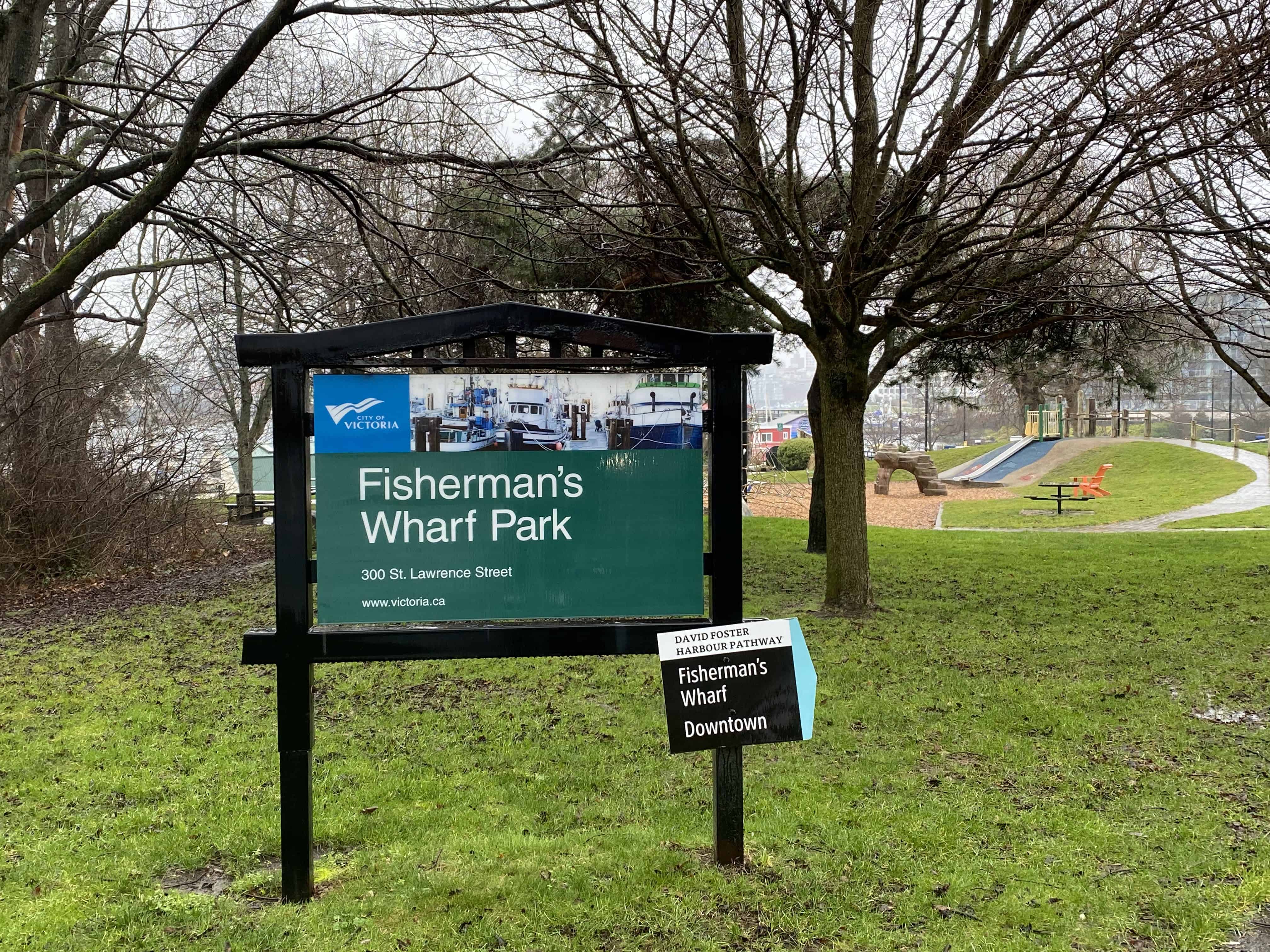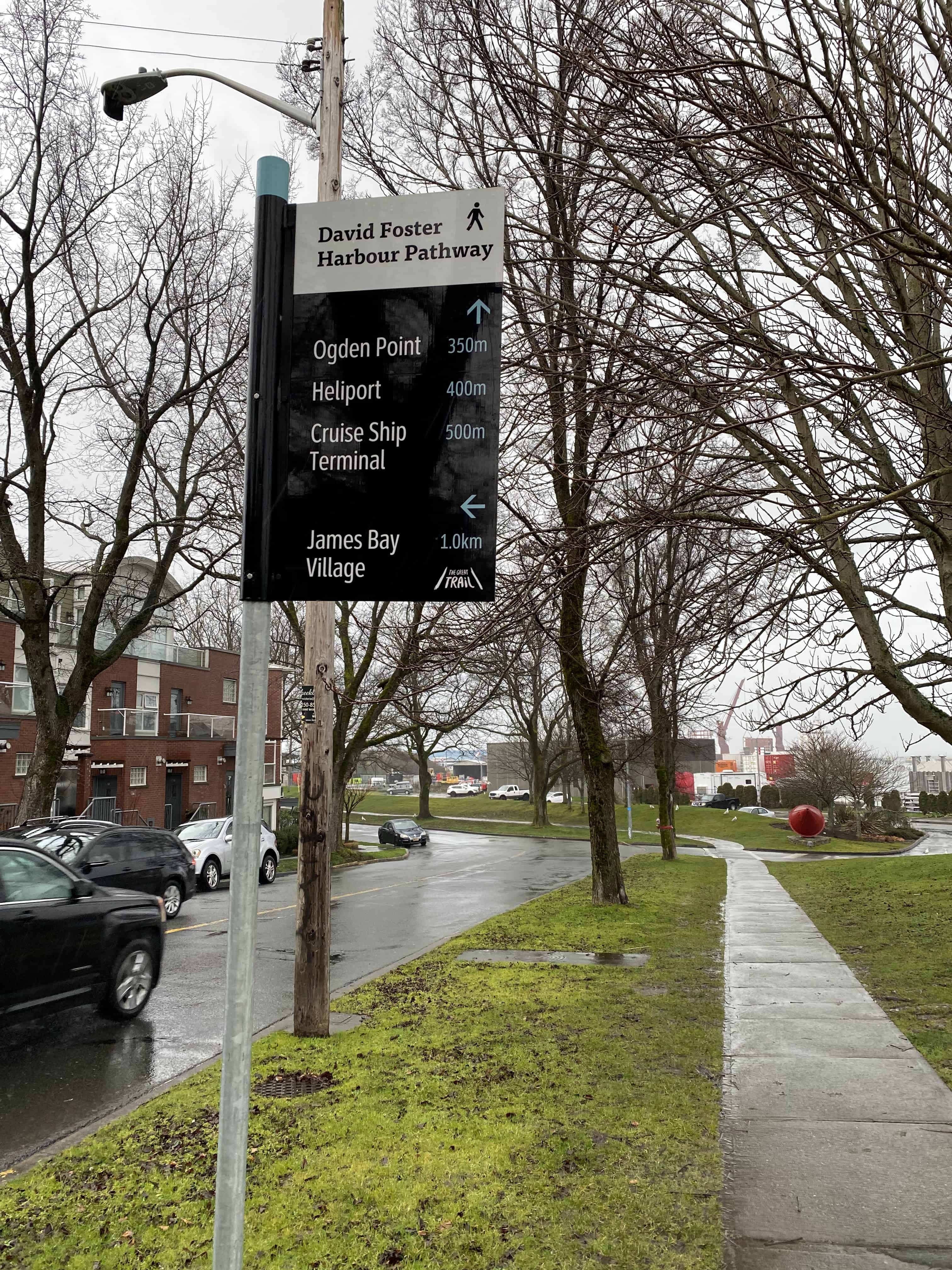 Ogden Point Cruise Ship Terminal
As you walk along Dallas Road and approach the cruise ship terminal, you will get a good sense of the infrastructure built to support those who stop in Victoria while on cruises. Although this hasn't been a particularly busy area since the beginning of COVID19, that should change again in 2022 given the ban was lifted in November, 2021.
According to the Greater Victoria Harbour Authority website, the schedule shows 350 cruise ships for 2022 are planned, with the first one to arrive on April 6, 2022 so this will add a fair volume of people to the Victoria harbour during the cruise ship season.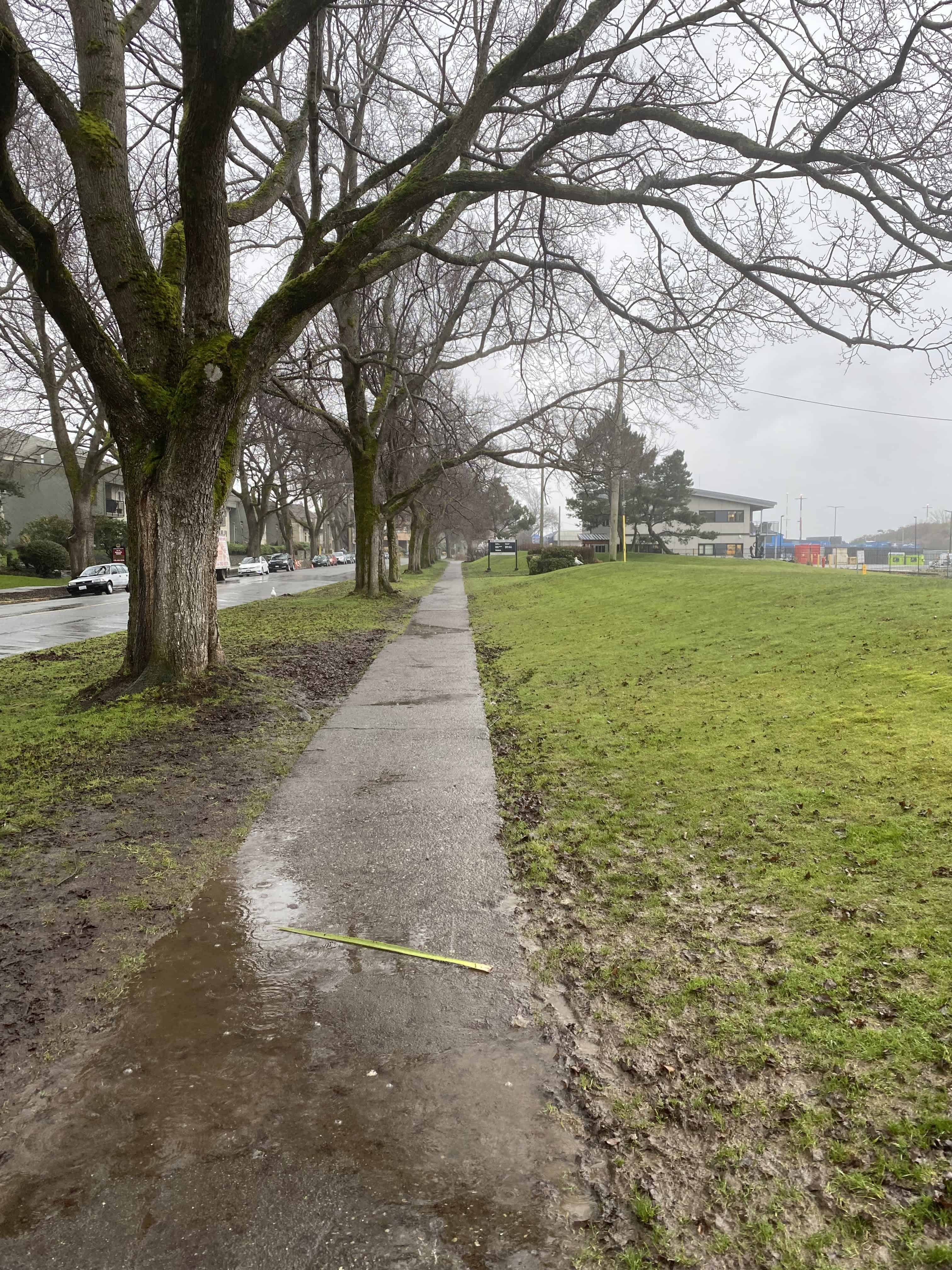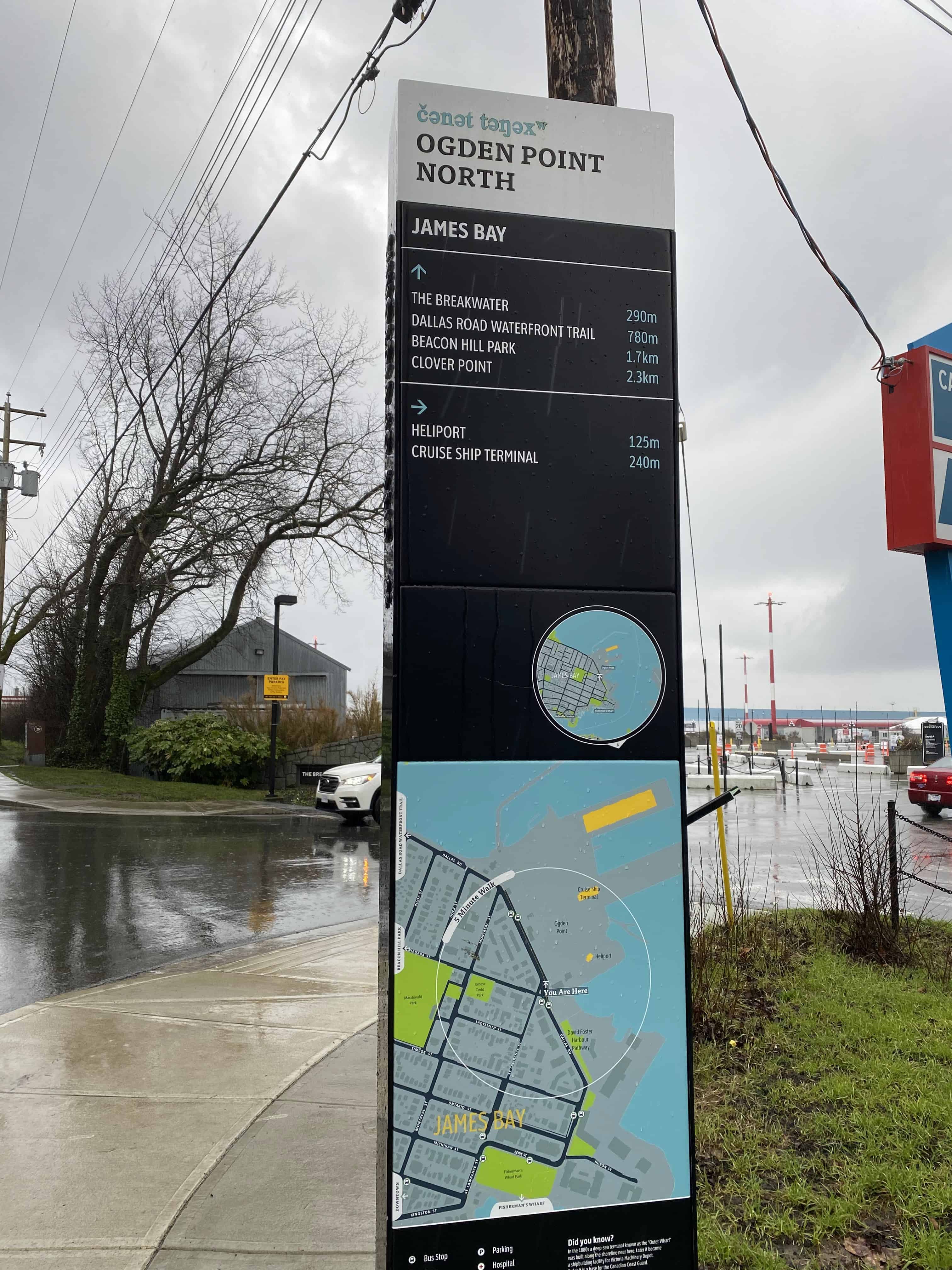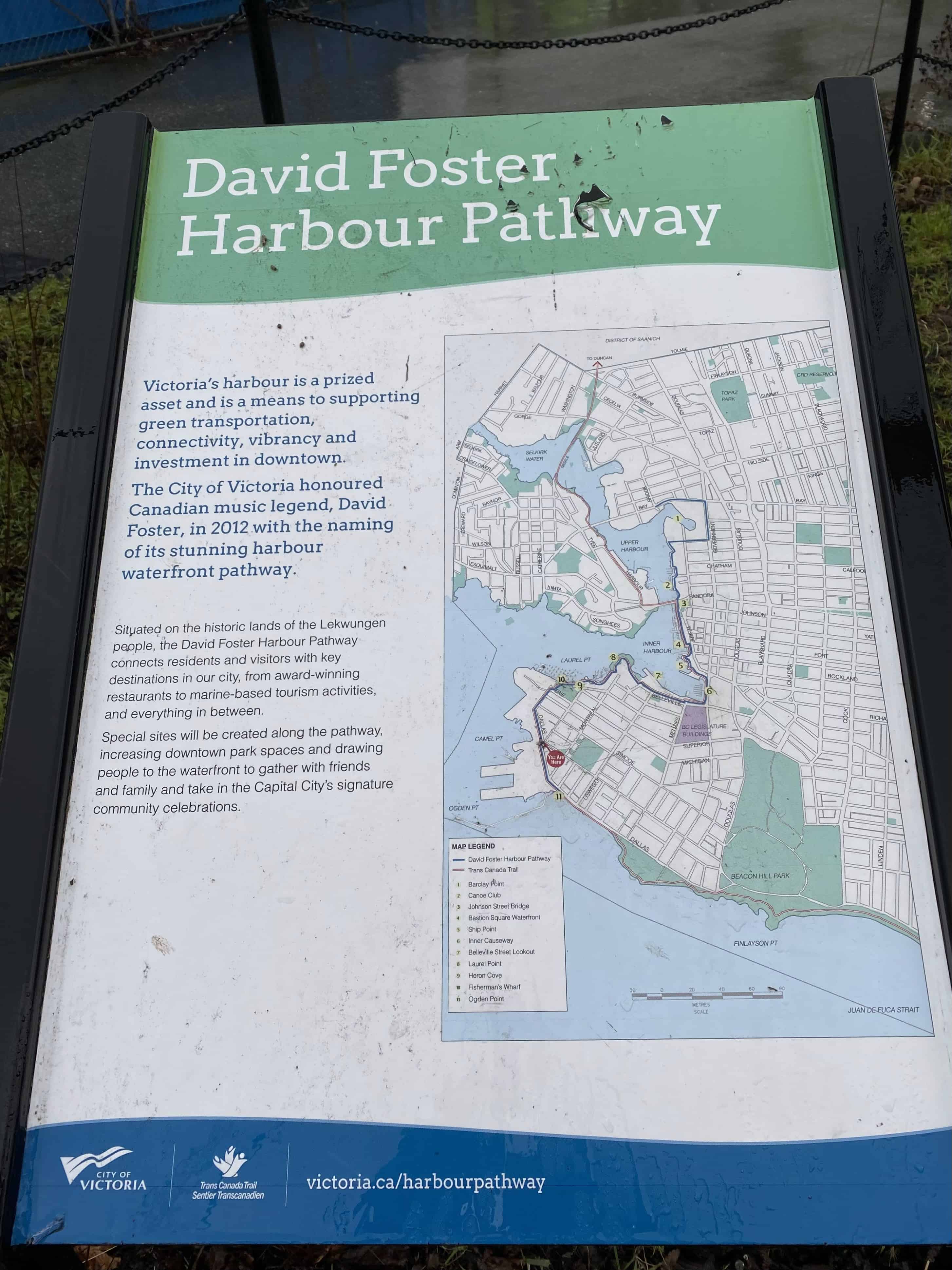 Reaching our destination, Ogden Point, we opted not to go on the breakwater that day. It was wet and windy and therefore not ideal conditions for walking out in the open. On a windy day, the waves can and will crash over and onto the breakwater!
Ogden Point Breakwater
We usually do walk all the way out on the breakwater when the weather isn't cold and rainy and we recommend it. The views alone are worth the walk. Also, if you're really lucky with your timing you may see a cruise ship, a ferry, a yacht, a tug and tow, a float plane or a helijet coming in or going out. The harbour can be quite active!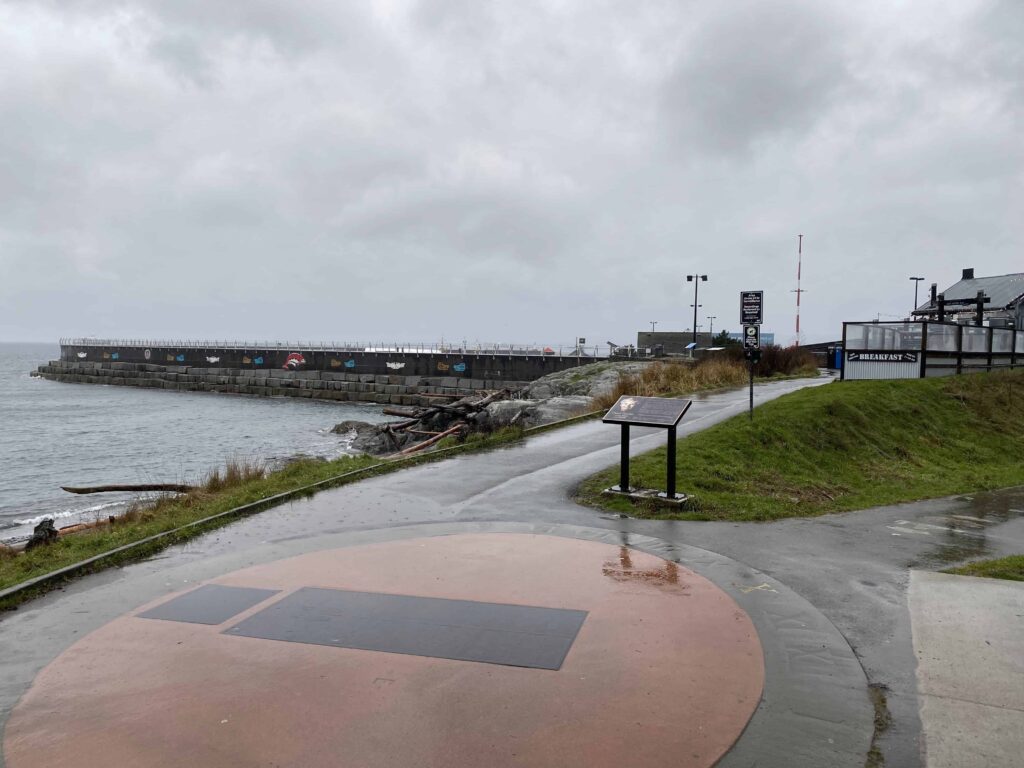 Returning along Government Street/Wharf Street
On our return journey, we took a slightly different route, along Government Street, then Wharf Street. We saw the Coho come into the harbour (to the Black Ball Ferry Lines terminal). In addition, we also noted there are signs on Wharf Street directing visitors to David Foster Harbour Walkway.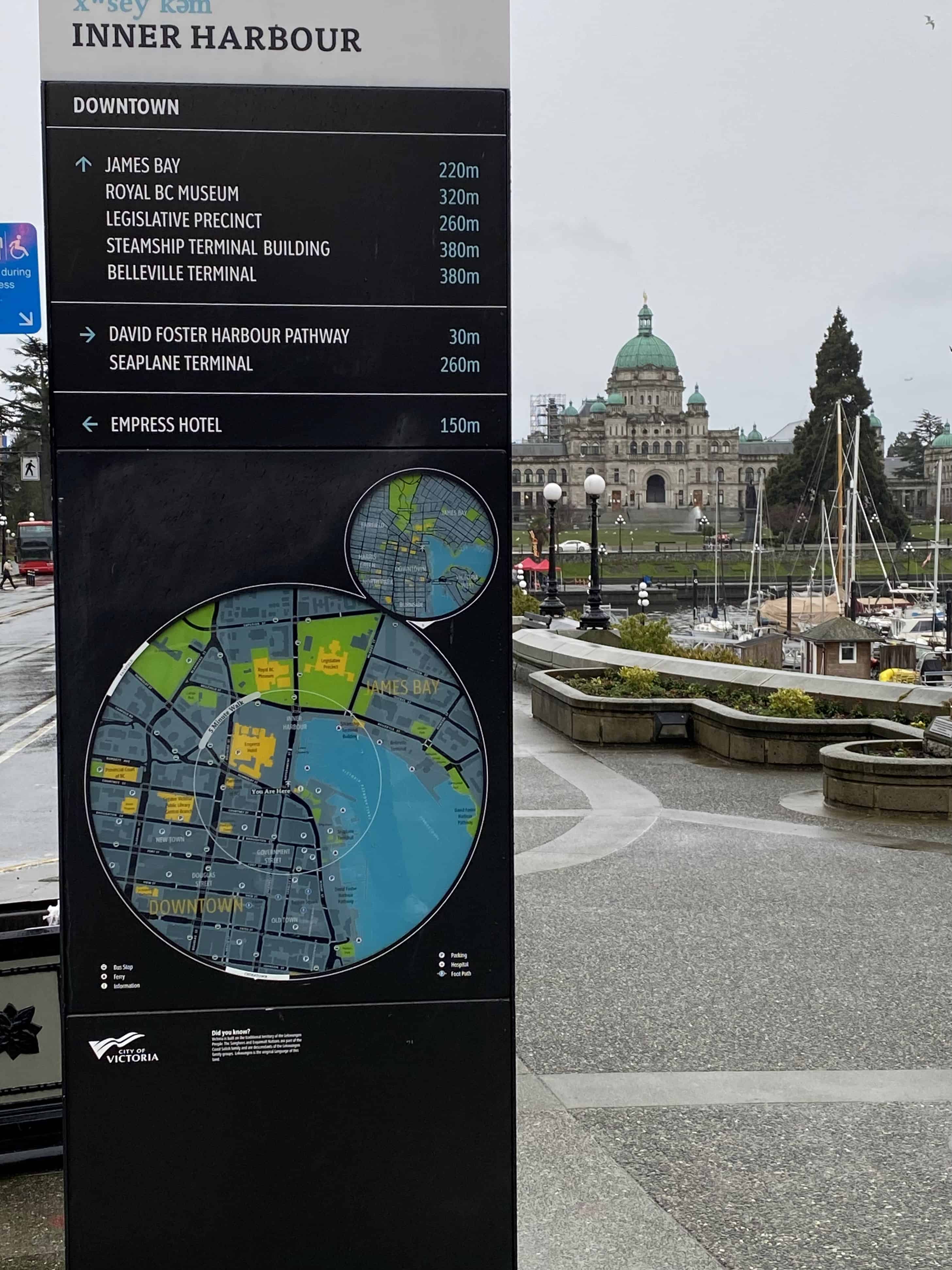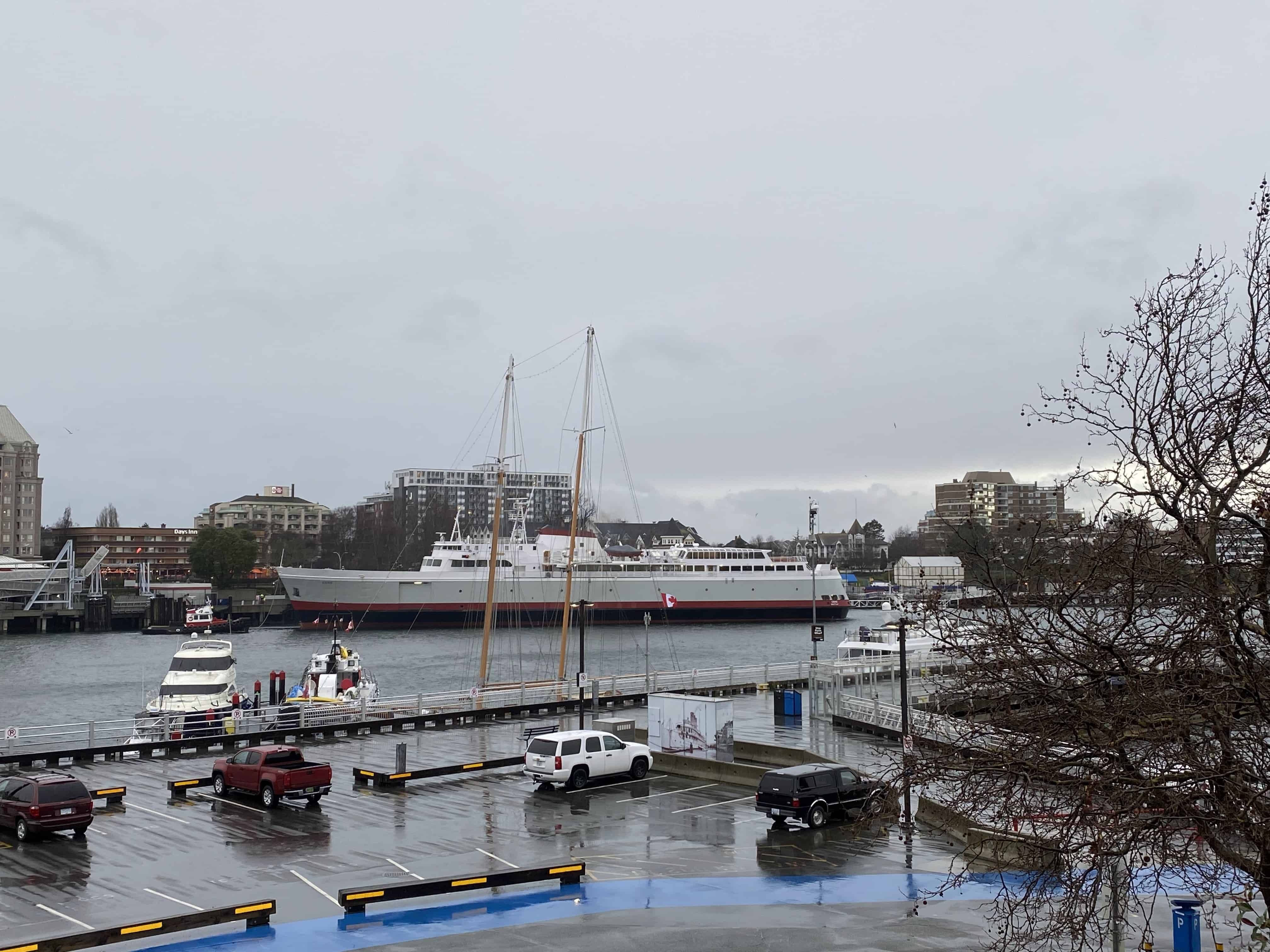 We hope you have fun on your walk along the David Foster Harbour Pathway! As an inner harbour pathway in Victoria, it's a treasure, and a walk we enjoy fairly often.