Favourite Restaurants & Cafes in Victoria area (from locals)
Living in Victoria, we've been fortunate to enjoy many wonderful restaurants over the years we've been here. This post will provide you with a list of some of our favourite restaurant & cafes in Victoria area. Victoria BC is popular with tourists, and as a result the restaurants and the staff who work there really know how to cater to visitors. Although you will find some of the best restaurants in downtown Victoria, close to hotels and tourist attractions, you will also find other fantastic restaurants are worth a short exploratory walk from the downtown core.
In Victoria, the weather is warmer for longer during the year. It's one of the main attractions to this part of Canada and consequently the milder temperatures allow visitors to be outside more.
Outdoor seating is available at most of the restaurants/ cafes noted, weather permitting. Several have heaters and blankets for your comfort. Even though milder here, it still gets chilly in the winter and might not be feasible to eat outdoors.
Please check the individual restaurant websites as noted below for more information.
A great benefit in Victoria's compact geography is eating out in Victoria doesn't require driving. You can easily walk to a restaurant, enjoy your meal (with a drink if you are inclined) and walk back to your accommodation. The scenery enroute is beautiful, and several eateries have great views!
Here's our list of Favourite Restaurants & Cafes in Victoria area
1. Pagliacci's 1011 Broad St, Victoria BC
A trip to Victoria isn't complete without a visit to Pagliaccis. Consistently rated amongst the top restaurants in Victoria year after year. Most certainly, you will enjoy the ambiance almost as much as the food.
They do not take reservations at this restaurant. You may need to line up however the line moves quickly and is entirely worth the wait.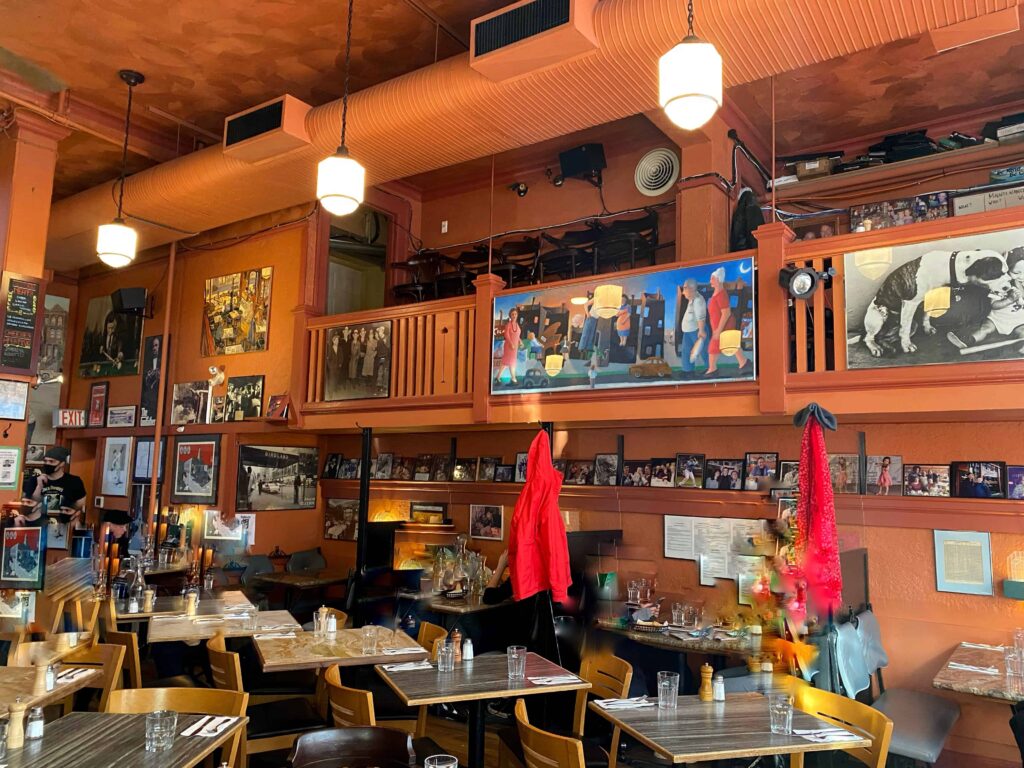 We have had many special dinners at Pagliacci's over the decades, and the food and service has always been superb.
2. Il Terrazzo 537 Johnson Street, Victoria BC
This is one of our long time favourite Italian restaurants. It's warm and inviting and a fantastic place to meet up with friends.
Although always busy, there is a decent amount of seating. For a special treat, try the calamari. It's unique and delicious!
The servers at this restaurant are accommodating and knowledgeable regarding the varied menu items.
3. Miche Cafe 734 Aldebury St. Esquimalt
Technically in Esquimalt, not Victoria. If you're out walking the West Song Walkway and find yourself by the floating homes, you're in Old Esquimalt. Perhaps fortuitously, this means you're not far from this gem of a cafe.
There are many choices on the menu to satisfy every taste. Being soup fans, we really enjoy the variety of soups which change often. Soup with or without poutine, your choice.

4. Boom + Batten 2 Paul Kane Place Victoria, BC
The Boom and Batten is along the water on the West song walkway, close to the International Marina. In addition, this is one of Victoria's newest restaurants. You will have a view of the harbour from most tables as there is glass almost everywhere.
Note though that the name of the restaurant is aptly named "Boom + Batten". At times, large…. and we mean huge….. yachts may park next to the restaurant. Go for the food, which is exceptional, enjoy the view as it comes whether that means yacht or harbour view.
If you can, plan your dinner so you can watch the sun setting over the water.
There is also a cafe on site for more casual dining. Take a short stroll along the walkway either before or after dinner. If you want to capture the evening, it's a great place to take pictures of your group.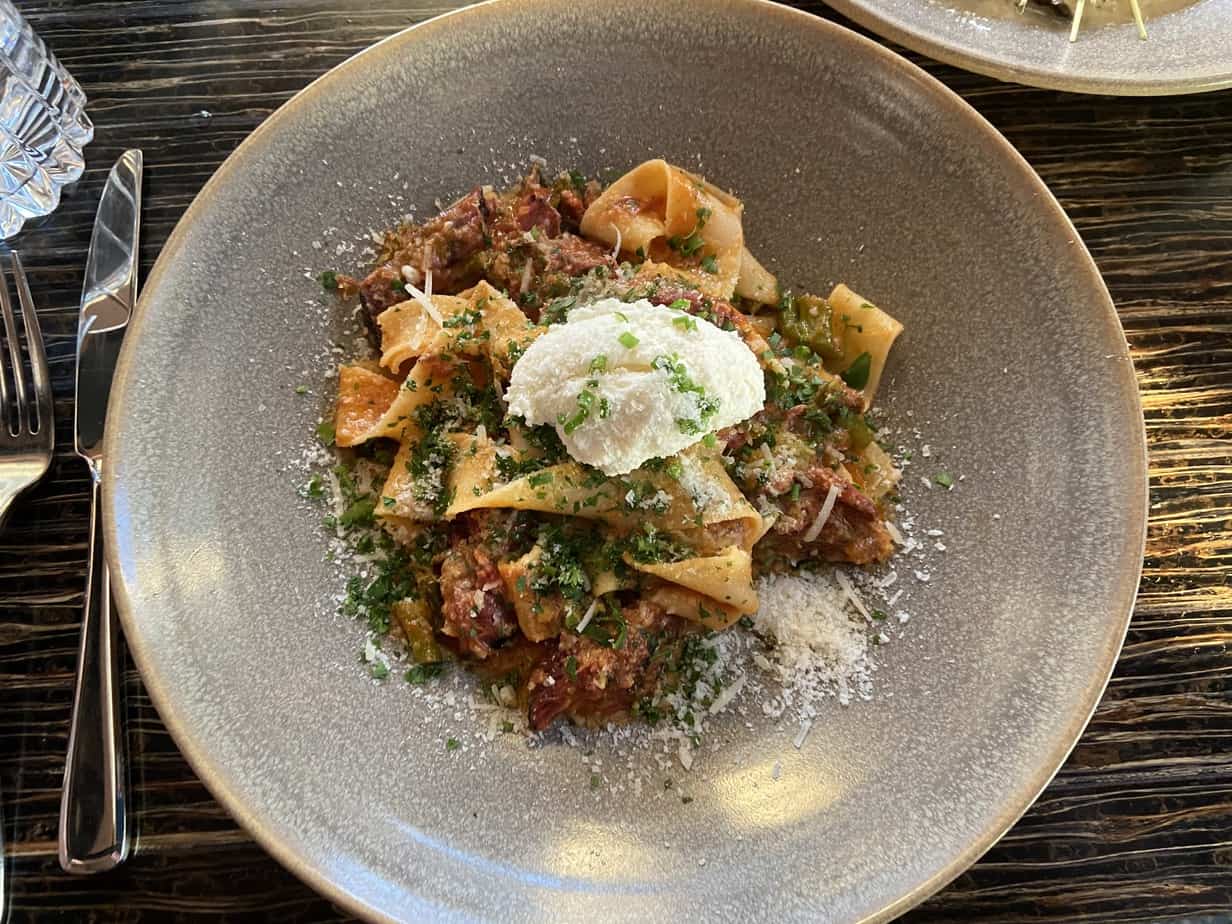 Choices of meals were plentiful at the Boom +Batten. Obviously, we will have to return to sample more selections in the future.
5. Irish Times Pub 1200 Government St, Victoria BC
We always enjoy going to Irish Times for a meal. This restaurant is along Government Street in Bastion Square. It's very comfortable to sit and visit with friends. There are some tables off to the right as you enter which we like – a bit more secluded.
The food is excellent and the staff are friendly and accommodating.
If you prefer to sit outside, there are plenty of tables set up.
6. The Commons 620 Humboldt St, Victoria BC
Each time we are at the Commons, it's a lovely experience. The staff is amazing, and the food is unique and delicious. We hope you will enjoy the menu choices and as we did, find each item from the diverse menu to be exquisitely prepared.
Fortunately, there is ample seating for those who wish to dine outside.
The feeling inside is very warm and inviting. The staff are very helpful and you may find yourself planning your next visit even before you leave.
7. Murchies Teahouse 1110 Government St, Victoria BC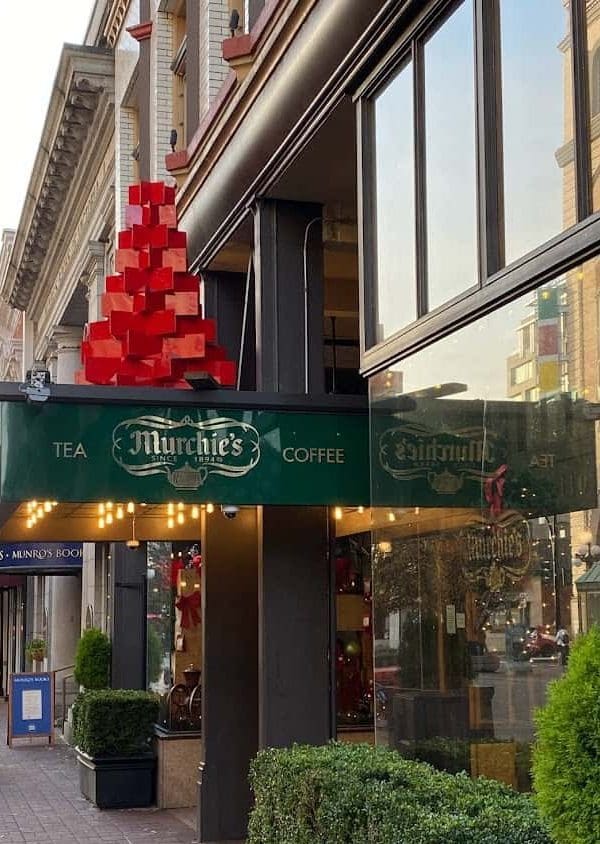 We fondly remember our first visit to Murchie's. This downtown location has a large tea room, a store, and counter service with sandwiches, pastries, tea and coffee. The tea selection is especially amazing.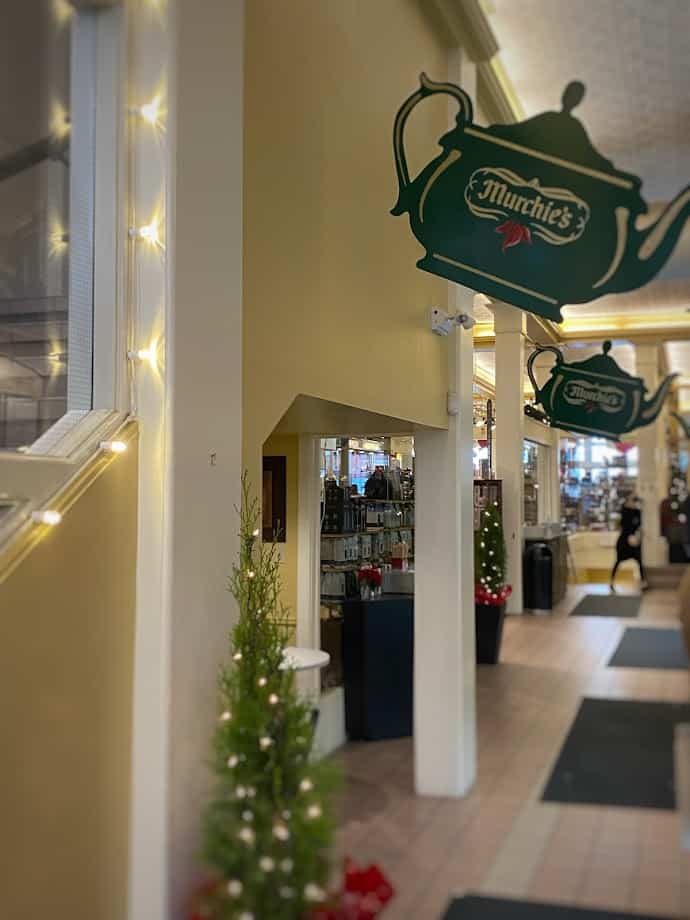 In addition to an abundance of teas and coffees, you will also find seasonal choices. We have found ourselves wandering in the store for extended periods of time to choose just the right tea for that special someone. Eventually we always find just the right one (or two)!
Delightfully, the tea room is sun drenched, and it's therefore a wonderful place to visit with friends, or to sit by yourself and read for a few minutes.
There is an online shop to order your favorites, but if you're visiting Victoria, this is a "must see" stop for lunch or dessert, or browse for that perfect gift for the tea lover in your family.
8.

Lure

100 Harbour Road Victoria BC
The Lure restaurant is located inside the beautiful Delta Ocean Pointe Hotel.
Located across the bridge from downtown, it's a lovely walk either from downtown across the Johnson Street Bridge, or along with Westsong Walkway if you're staying at the Delta. We like to go for a stroll both before and after enjoying our meal at Lure.
The menu has options for every taste, with the food prepared beautifully. We have always found the staff at this restaurant to be friendly and knowledgeable, and the food to be scrumptious.
We have celebrated many happy occasions with friends and family here which of course has always resulted in a memorable evening in the best possible way.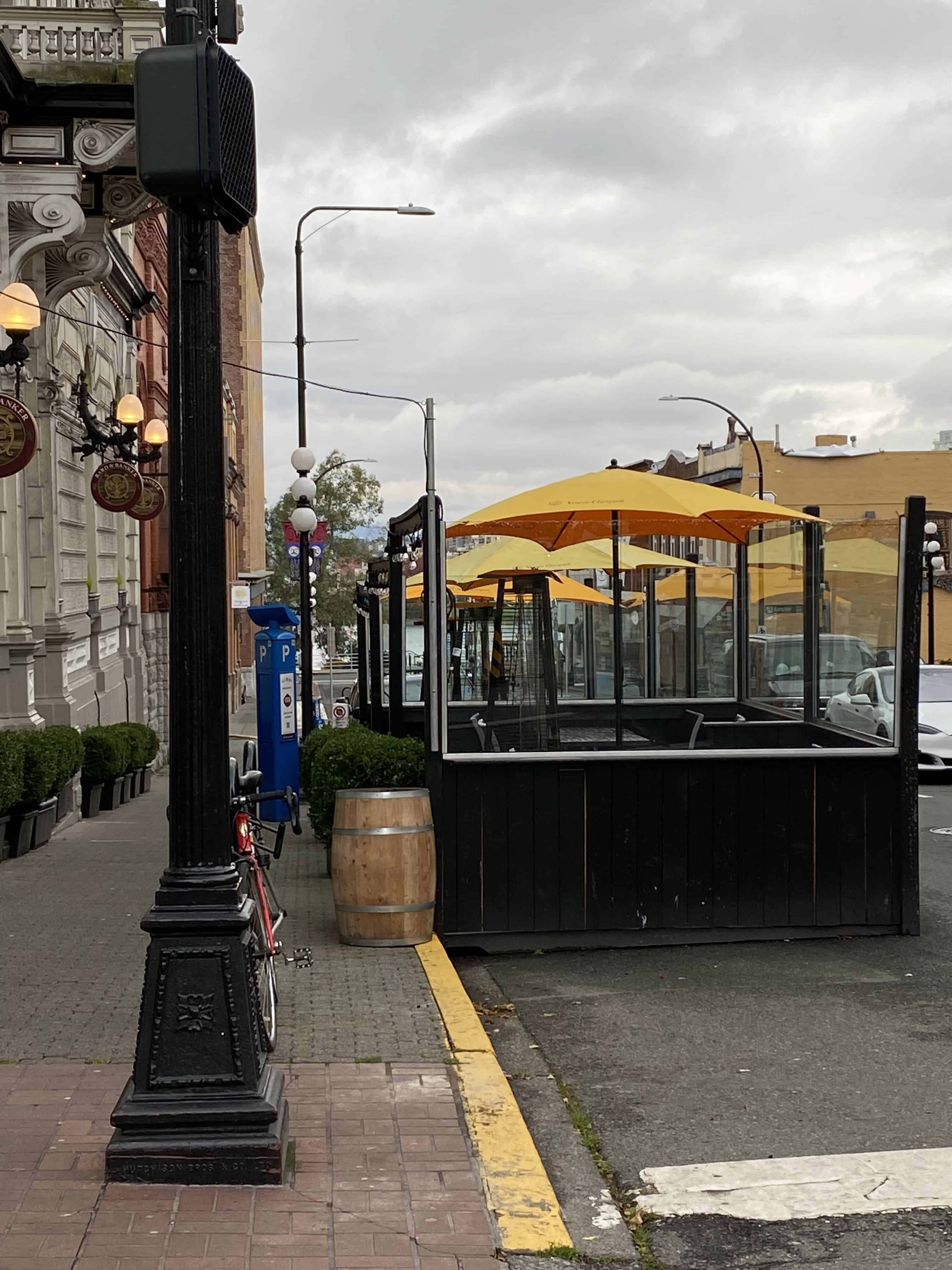 We went to the Bard and Banker restaurant recently at the request of a house guest who had heard a little of the historical charm of the building. Paul remembered going to this building when it was the "Spirit of Christmas" store from 1988-2007.
In fact, this is the previous location of Bank of B.C. opened in the 1885 (later merger resulted in CIBC), and remained a bank until 1988. In 2008, it re-opened as the Bard and Banker Public House. As you sit at your table, your eyes will be drawn to the historical touches throughout.
The items we chose from the menu were all delicious. There were tons of choices for both food and drink. We look forward to our next trip back to this restaurant!
10. Milestones 812 Wharf St, Victoria
This is a great place to go if you're looking for somewhere to eat in the downtown core with fantastic views of the harbour. There's a lot of seating both inside and out, and the staff is welcoming and friendly. The food is tasty! You will enjoy your experience at this restaurant. It's busy most times however we've never waited long for a table.
If you're able, and seated inside, ask for a window table. If it's not available, don't worry. You will hopefully still see the harbour views. It's always a lovely walk along the harbour either before or after your meal (or both before and after if you're so inclined).
Also worth special mention are the following – we have always enjoyed quality food and great service at these restaurants.