Best Afternoon Tea Rooms Victoria BC
The search for the best afternoon Tea Room or Tea House in Victoria BC is a pleasurable quest for those of us who enjoy tea and the lovely and historical ceremony around drinking tea.
History of High Tea
In England, the practice of high tea began with Anna, who was the seventh Duchess of Bedford, and dates back to 1840. With dinner in her household being served fashionably late at 8:00 p.m., she became hungry about 4:00 in the afternoon. As a result, she began asking for tea, bread and butter along with cake on a tray. It wasn't long before she then invited friends to join her.
In the 1880s, the practice of taking tea break became a fashionable event, with high society dressing for the occasion, and tea being served in drawing rooms between 4:00 and 5:00 p.m.
The Tradition of Afternoon Tea in Victoria BC
Living in Victoria, we've seen that this tradition is embraced and cherished. It's a fun outing to enjoy with family and friends, whether they live in the city or visiting from elsewhere.
Regardless of if you're in Victoria for the day or if you're here for a week, you'll at some point likely consider partaking in the activity of high tea or afternoon tea in a tea room or tea house. Perhaps just a look around at the venues while doing your self-guided tour of Victoria from the cruise port is all you'll have time for, but if you have the time and desire, book your afternoon tea so you can take part in this long-standing tradition.
There are a few options, depending on how formal or casual you want your afternoon tea to be. If you want the full experience, we suggest you dress up for the occasion, so you can find the entire experience to be more authentic to the tradition itself.
You'll want to check each venue's website for current dates and hours of operation for afternoon and/ or high tea. Some are seasonal and subject to change, as are the prices noted. Reservations are also normally recommended.
*Disclosure: This article contains affiliate links. If you make a purchase after clicking one of these links, we earn a small commission at no extra cost to you. For full details/ disclosure please click here.
Fairmont Empress Lobby Lounge
Located at 721 Government Street, Victoria (Downtown)
Cost for Afternoon Tea is $89/person

Cost for Champagne Tea is between  $128-$135/person

Cost for Prince & Princess Afternoon Tea is $45/person (for children 12 and under (5-12)

Check here for afternoon tea/menu and other details on the Empress
There are three or four seating times available, depending on the day, and reservations are recommended.
For many people, partaking in High Tea at the Fairmont Empress Lobby Lounge is a bucket list item. It's often one of the first activities visitors ask us about when they come to Victoria. We can understand why. The Empress has been offering high tea for 114 years. They've selected some of the highest quality teas from around the world to offer to guests, ethically produced and not available in grocery stores.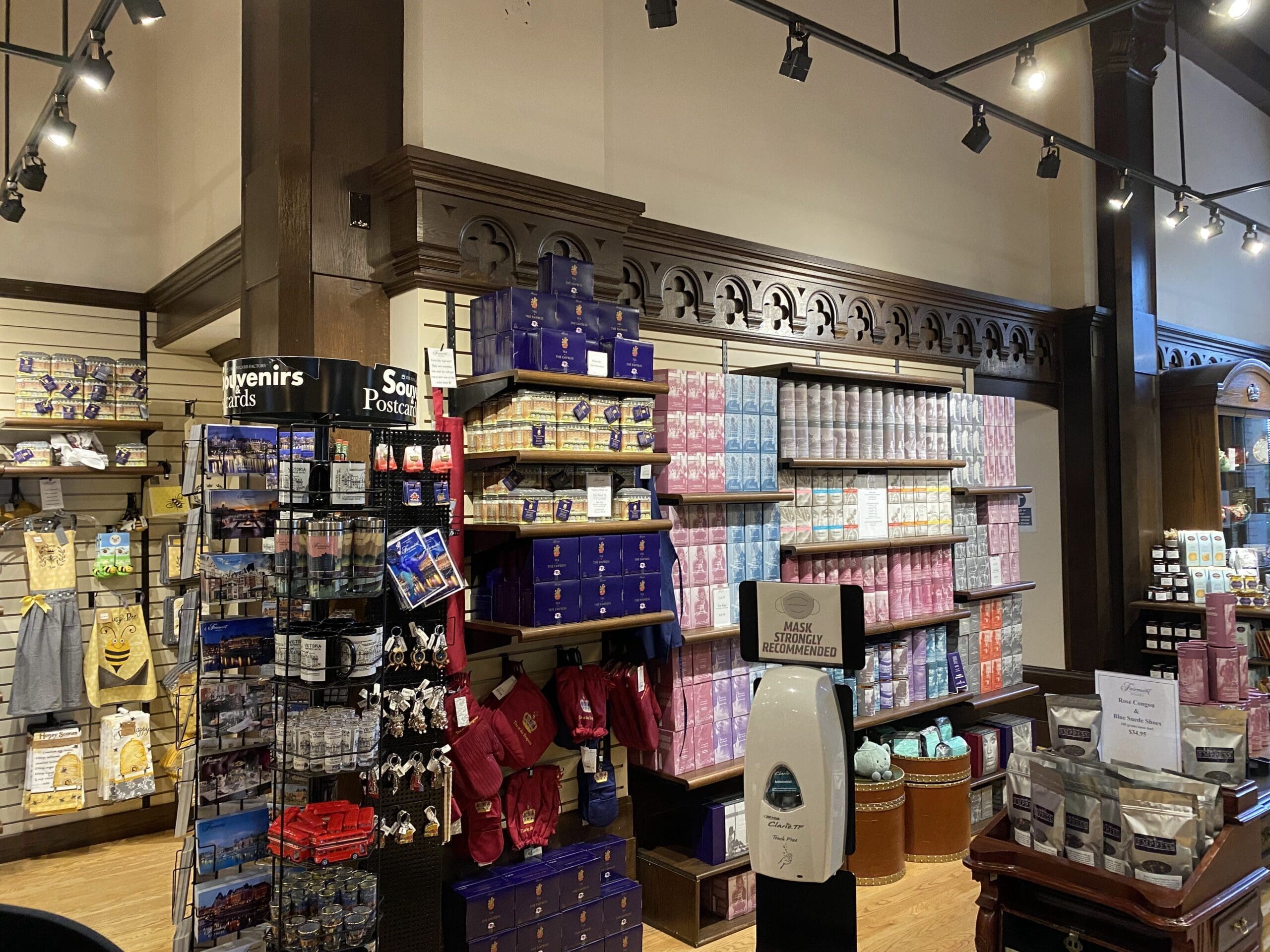 There's a dress code for the Lobby Lounge High tea, so check the website for more details. You may book your reservation for afternoon tea at the Fairmont Empress directly on their website.
If you're looking for a truly luxurious place to stay while visiting Victoria, you can also book accommodation at the Fairmont Empress .
Teahouse at Abkhazi Gardens
Located at 1964 Fairfield Rd, Victoria, BC (Fairfield)
Cost for Royal Abkhazi High Tea is $65/person

Cost for Afternoon Tea is $54/person

There are gluten free options for an additional $8/person

Check the menu at Abkahazi Gardens and Tea house
A beautiful serene setting amidst the Abkhazi Gardens, this Tea House is operated by the The Land Conservancy who purchased the property in the year 2000 so as to preserve the Garden and the legacy of the Abkhazis.
It's a fairly easy trip to travel to the neighborhood of Fairfield from Downtown Victoria. Simply take the #3 bus from Douglas at Blanshard. It will take between 20-25 minutes on the bus.
The teahouse is open September 1 through March 31 Wed–Sun, 11am–4pm and
April 1 through August 31 Open Seven Days 11am–5pm
The last tea sitting is at 3:30 pm with the last garden entry at 4:00 pm.
The Abkhazi Gardens (not the teahouse) are free to the public, though a suggested donation is $10.
Butchart Gardens
Located at 800 Benvenuto Ave, Brentwood Bay, BC (Brentwood Bay)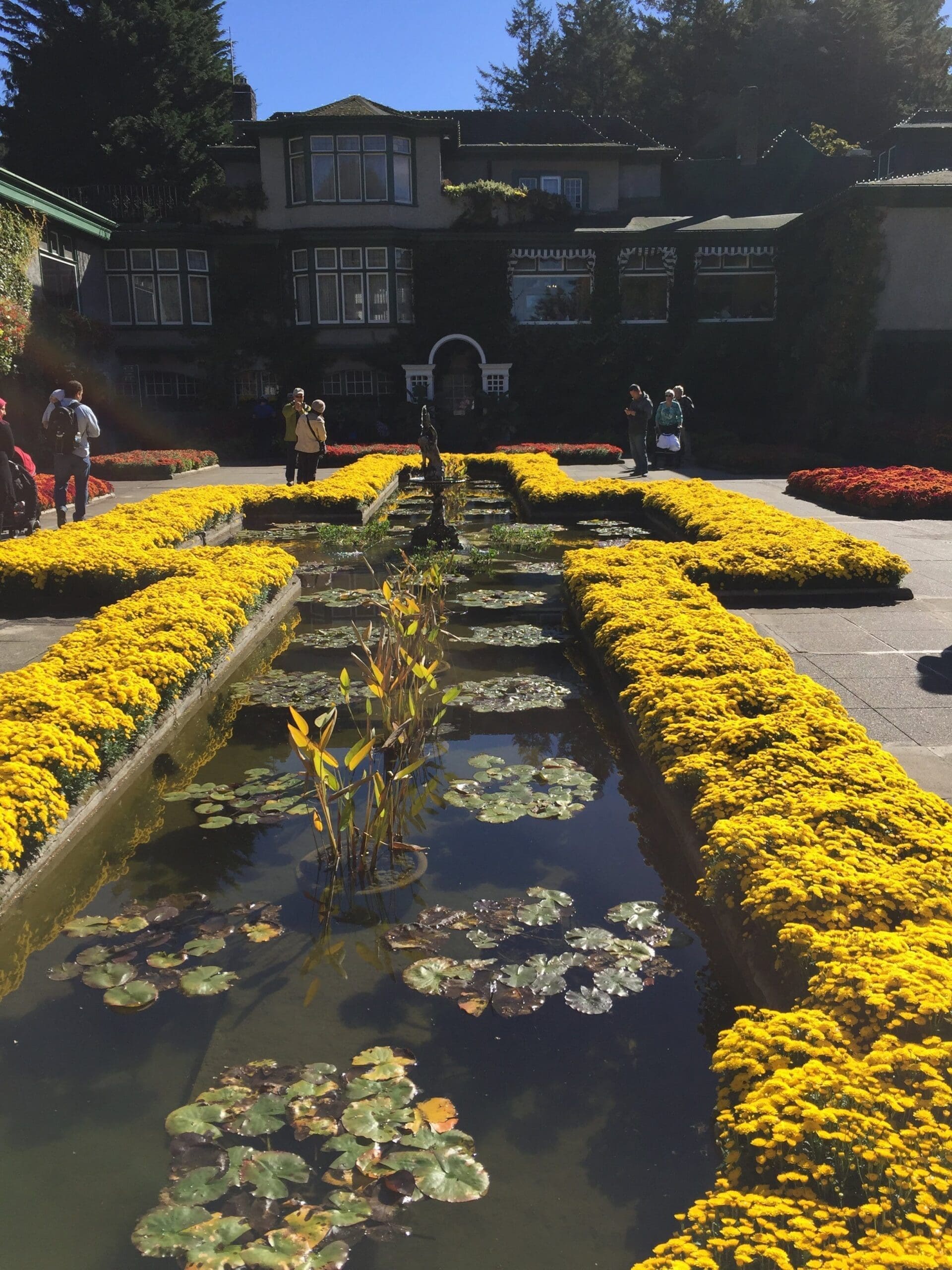 This is the Dining Room Restaurant where Afternoon Tea is served at Butchart Gardens.
Located in the original residence of the Butchart Family, the Dining Room Restaurant offers Afternoon Tea. There are several variations of menu choices for afternoon tea, including: Afternoon Tea, Vegetarian, Vegan, Gluten Free or Dairy Sensitive.
Cost is $45.50/person, no matter which selection you prefer;  

Afternoon Tea, Vegetarian Tea, Vegan Tea, Gluten Free Tea, or Dairy Sensitive Tea. 

Cost for Children's Afternoon Tea is $29.95/person.

Check the Dining Room Restaurant at Butchart Gardens for menu
Note that the above prices for afternoon tea do not include entrance to the Butchart Gardens, which is required to gain access to the Dining Room Restaurant.
Summer entry prices are $38/person for adults, $19/person for youths 13-17 yrs of age, and $3/person for children 5-12 yrs of age.
This is an easy bus ride from the Legislature Terminal in Downtown Victoria. Simply take the #75 bus which will take approximately an hour to get to the Butchart Gardens. If you prefer not to take public transportation, there are tours you can book ahead of time. The tours will usually include entry to the Gardens.
Even with the cost of entry to the Butchart Gardens, this is an exceptional and memorable outing. You'll want to spend an additional 3 hours touring the garden which can be broken up both before and following your afternoon tea. We've been to the Gardens many times, and it's always relaxing and fun.
White Heather Tea Room
Located at 1885 Oak Bay Avenue, Victoria, BC (Oak Bay)
There are three different sizes available for Afternoon Tea, and a Gluten Free option is also available.
Cost for 4 courses, 13-afternoon tea morsels  is $60/person

Cost for 3-courses, 11-afternoon tea morsels is $52/person

Cost for 3-courses, 8-afternoon tea morsels is $42/person

Cost for a Gluten free option 3 courses, 10-afternoon tea morsels is $60/person

Check White Heather Tea Room afternoon tea dine in menu
At the White Heather Tea Room, you can also pre-order for pick up the stackable afternoon tea trays for 2 people, including everything you'd find at the in person tea room (except utensils, plates, hot water or tea carafe).
This is a way to enjoy your tea experience at home, at the hotel, or elsewhere if you'd prefer. Also, if you only want service for one, that's do-able too. Costs range from $56.00 (for one) to $106 for or the full 4 course/2 people.
Oak Bay is an easy bus ride from downtown Victoria. Take the #2 from Douglas at Courtney, which should take about 15 minutes to get to the White Heather Tea Room.

Pendray Inn and Tea House (formerly the Gatsby Mansion)
Located at 309 Belleville Street Victoria, B.C. (Downtown)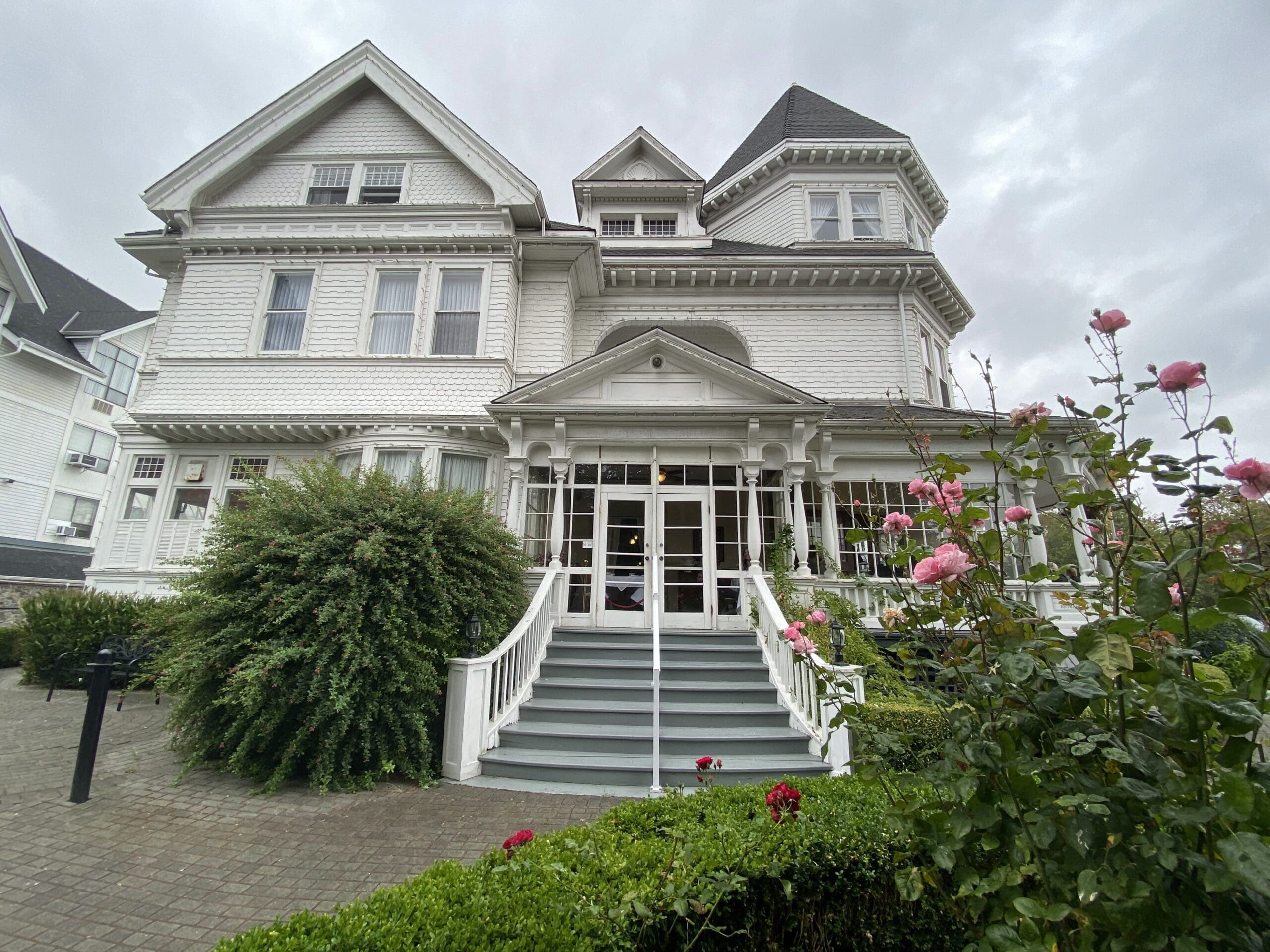 There are three different packages available for Afternoon Tea, and a Gluten Free option is available by adding $5.00 to the price.
Cost is $62/person for Traditional Afternoon Tea

Cost is $66/person for Vegan Afternoon Tea

Cost is $68/person for West Coast Afternoon Tea

Cost is $24/person for Children's Tea

Check Pendray Inn and Teahouse for afternoon tea dine in Menu
They also offer (with pre-notice) delivery and curbside pick-up service.
This is one of the most centrally located Afternoon Tea choices, close to the Clipper and Coho Ferry terminals, and makes for a lovely afternoon with family and friends.
Pendray Inn also offers accommodations to enhance your stay in Victoria.
The Oaks Restaurant and Tea Room
Located at 206, 2250 Oak Bay Ave., Victoria, BC (Oak Bay)
These folks are quite flexible about how many people in your party may want to order and enjoy afternoon tea. For example, you could be a party of five people and only two want the afternoon tea experience. It's a menu item, so these two can order the afternoon tea while the other three people can simply order something else from the menu.
See the menu for the Oaks Restaurant and Tea Room, for choices in afternoon tea.   

Prices range from $8.25 - $28/person.
One person can also order the "full tea" and others from the group could add some items to it if more than one person wants to have just a taste, creating more of a sharing experience.
There are different options for afternoon tea on the menu, depending on your appetite and experience you are after.
Oak Bay is an easy bus ride from downtown Victoria. Take the #5 from Douglas at Courtney which should take about 15 minutes to get to the Oaks Restaurant.
Truly, what will determine the best afternoon tea room or high tea in Victoria BC for you and your family or friends will be the coming together for the tradition itself. If you determine what location, price range, experience and timing works best for those you wish to share it with, that will be the best experience for you.
With so many options in a beautiful city like Victoria BC, you'll undoubtedly be pleased with your choice.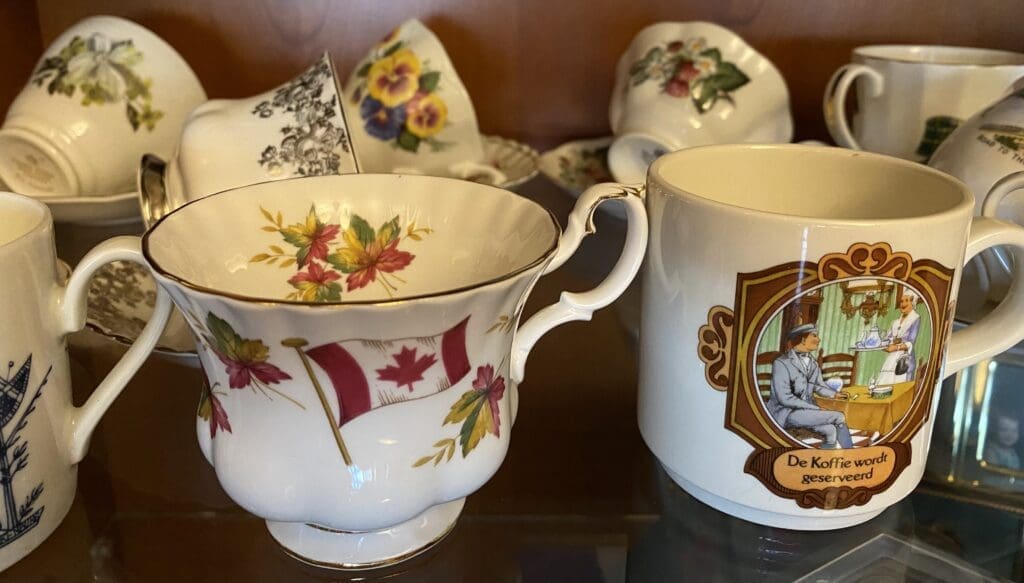 Less Formal Places to Enjoy Tea in Victoria BC
If you are looking for more flexibility to enjoy your cup of tea, there are good options in Victoria. As a result, we mention a couple of very lovely spots below for tea in a more casual setting.
There is no formal afternoon or high tea offered at these locations.
Murchie's Tea
Located at 1110 Government Street, Victoria BC (Downtown)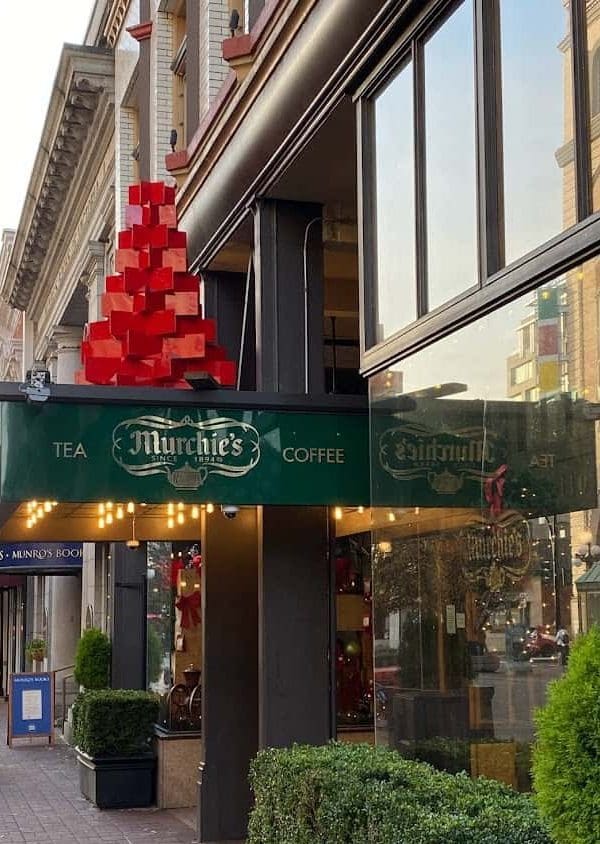 Murchie's is a favourite spot of ours to go for tea, lunch, or snacks. We also usually end up buying some loose tea to take away with us, and often some additional types as gifts for others. There is a huge store here, with a ton of selection for every tea lover, as well as other handy items for meals and or tea service.
There is a large seating area with lots of light coming through the many windows. It's a lovely casual spot to meet and catch up with friends.
Iluka
Located at 101 Island Highway Victoria, BC (View Royal)
A quick trip from downtown, this is worth the trip. You can catch the #14 bus from downtown (Yates and Broad/Douglas), and it's about a 15 minute ride across the Johnson Street Bridge.
Iluka Espresso is a small cafe which, as the name suggests has wonderful coffee, however also includes unique teas created and blended locally. Definitely worth a visit if you're looking for some place a bit different.
Views of The Gorge Waterway make this a lovely place for a tea and scone.
Once again, no matter where you choose to have your afternoon tea in Victoria, we're sure you'll find the experience pleasurable and unique.