Getting around in Victoria BC
Are you looking for ways of getting around in Victoria BC while you're visiting? Wondering how you will get around in Victoria? Victoria is totally walkable, especially throughout the downtown core. There's also a good bus system in Victoria BC called BC transit, who operate throughout Victoria.
There are several ways to get around in Victoria.
From the airport to downtown
Our Getting to Victoria post covers options to make your way downtown from the airport.
From the Swartz Bay Terminal to downtown
Our Getting to Victoria post covers options to make your way downtown from the Swartz Bay Ferry Terminal.
Once you're downtown, if that's where you're staying, BC transit makes it easy for you to get around town by bus. You can plan your trip before you go somewhere simply by using the website. We usually take pictures of the route and the stops with our iPhone/cell phone, so if we don't have Wi-Fi while out and about, we still have the route and know the stops.
It's worth noting that Victoria and the outlying communities use the same transit system. You can travel to many communities outside of Victoria on the same day pass.
Here are some tips to help you use the buses in Victoria BC: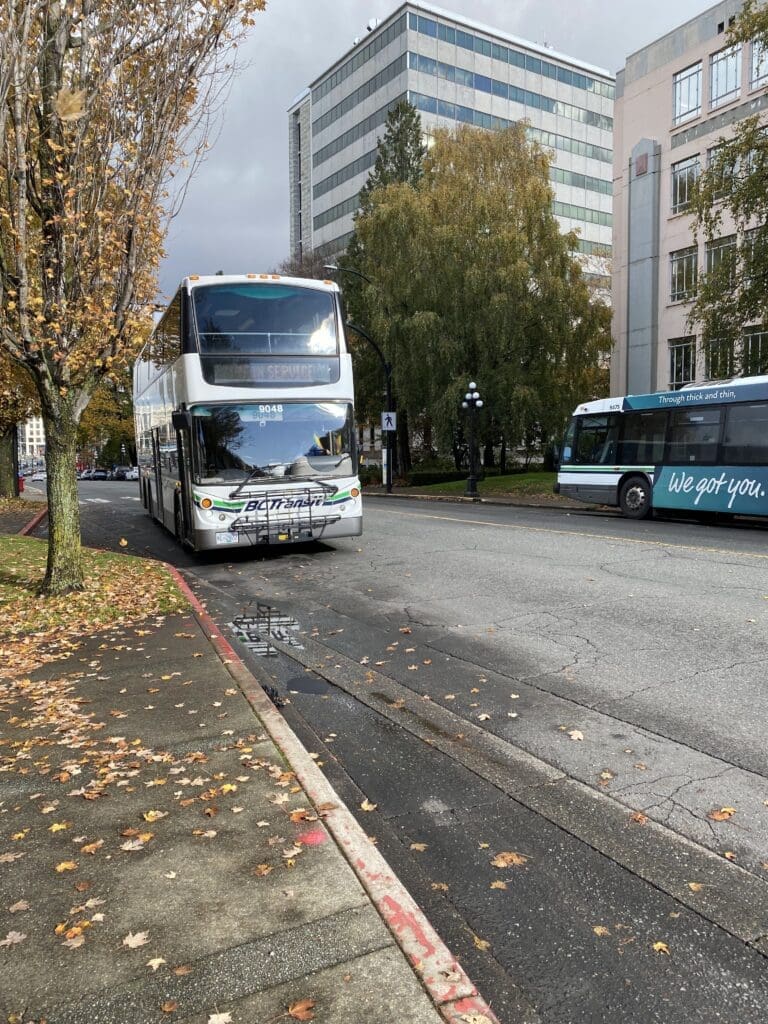 *Disclosure: This article contains affiliate links. If you make a purchase after clicking one of these links, we earn a small commission at no extra cost to you. For full details/ disclosure please click here.
Car Rental
If you have already rented a car at the airport, then we suggest you still plan your routes before you get in the vehicle to drive. There are often construction detours, so mind the posted speed limits and signs at all times. Most rental cars have smart phone connections for using your GPS.
Victoria, especially in the summer during cruise ship season, has a lot of pedestrians and cyclists. Bicycle lanes are next to traffic on some streets, so if you're driving, be extra cautious of cyclists and pedestrians. We've seen cars cut off bikes, and unfortunately pedestrians can get hit if a driver doesn't see them in time.
Walking
We're often asked if Victoria BC is walkable. Victoria is truly a very walkable city. If you use google maps when you're planning your route anywhere, look at the walking directions and time it takes to get there. You will probably find that a lot of activities your family wants to participate in are within walking distance.
Cycling
Cycling is easy in Victoria, BC. There are many bike lanes, and even better there are trails and routes designated for cycling and walking. The Galloping Goose Trail, E&N Rail Trail and Lochside Trail are all used as commuter trails and used by residents to get to and from work, as well as visitors to get through the city or just to have a lovely time cycling with family and friends.
There are many places to rent bicycles in Victoria, as you'll no doubt see as you explore downtown.
Water Taxis
Water Taxis typically operate only from dawn to dusk and aren't available after dark. There are schedules which change throughout the year. Check the Victoria Harbour Ferry site for more details or to book a water taxi
Taxicabs
There are taxicab services available in the greater Victoria area.
Rideshare KABU
Kabu is a rideshare service in Victoria BC. It's new, and you have to download the app to register in order to use this service.
Wondering what to do in Victoria, BC while you're visiting? Return to our Victoria Travel Tips Menu for more information!