29 Best Things to Do in Edmonton Alberta in 2022
This is our guide of the 29 best things to do in Edmonton Alberta in 2022. Many of the activities noted here represent an amalgamation of years we spent while living in Edmonton. Sightseeing in Edmonton is both fun and easy and includes many diverse activities.
We've enjoyed playing tour guides to friends and family who were visiting Edmonton, especially during hockey season!
Many of our friends and family still live here. When we visit Edmonton, we prefer to stay in the Central area close to the Ice District and downtown. It's an area in close proximity with many activities and amenities.
We are walkers, and most of our adventures are by foot when possible. Transit is easily accessible in central Edmonton, and unless you want to venture further out of the city, you should not need to rent a vehicle.
How to get to Edmonton
Edmonton has an International airport, and as a result is accessible by air fairly easily. You can do a general search to find flights from your destination by using google flights. This will provide you with available options, and you can even "track" certain dates to watch for lower prices, if you wish.
When is the best time to visit Edmonton?
That depends. If it's your first visit, we recommend you plan to visit during the summer months (June-September). If, however you've been to Edmonton previously, and are looking for a different experience, you may want to visit during the winter months.
What is there to do in Edmonton?
There are various activities for families as well as couples and individuals while visiting Edmonton. Whether you are sightseeing in Edmonton in the summer or in the winter, there are fun things to see and do. In fact, below we've noted some of the activities we've enjoyed while in Edmonton.
1. Muttart Conservatory
Muttart Conservatory (pronounced Mutt-Art) 9626 96a St NW, Edmonton, Alberta
The Muttart Conservatory through the years has been a tranquil and beautiful outing, both in the summer and especially in the winter. It is an interesting experience to visit the pyramids just after it's snowed and is cold in Alberta. We've participated in a guided tour in the past and definitely recommend it if it's available when you visit, but this time we looked around at our own pace.
It can get busy in the pyramids, and you may find you need to let others pass before entering the pathways.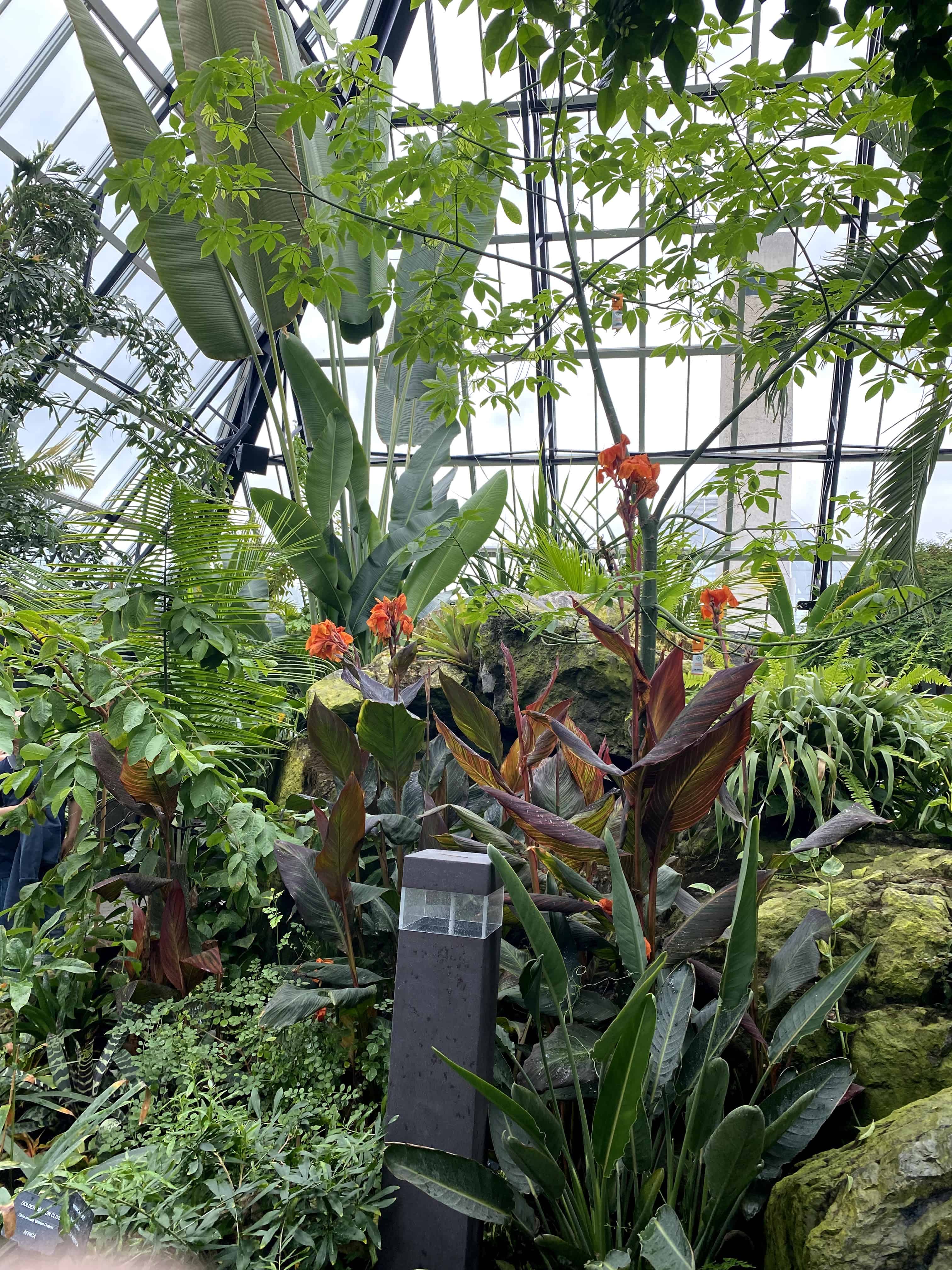 You will enjoy the lush gardens in each themed pyramid. There are 4 pyramids to explore, each unique and enjoyable in it's own way.
It's always a wonderful experience to return to the Muttart to see what's changed.

There is a restaurant on site which offers delicious food for lunch or a break.
Street level down to pedestrian walkway via funicular
The area is comprised of the funicular itself, stairs running along side of it, pedestrian walkway, public artwork and an elevator. This award winning funicular has been recognized for connecting the downtown area to the river valley.
We've ridden the funicular many times both in summer and in winter, and only once was it non-operational when we wanted to come back up the hill. We climbed the stairs instead.
Still prior to visiting you will want to check the website regarding hours of operation and planned maintenance. Shut downs of the funicular can occur when the weather is extreme. Check the website for alerts.
There is an emergency button inside the funicular in case one needs assistance while attempting to use it to get up and/ or down.
Also notable is that there is a bicycle track along the stairs, intended to make it easier if you're riding a bike to use the stairs if you choose. The funicular, however, is large enough to accommodate you and your bike.
Even knowing Edmonton as well as we do, when we visited the Funicular for the first time, we had to do a google search to find it. There aren't really any visible signs to point you in the right direction. Simply put, it's behind the Fairmont MacDonald hotel.
The funicular is a true treat to experience. It will and take you from downtown, and combined with a second elevator, will take you further down to the river valley below. You will see the river valley from many different perspectives as you ride down the funicular then walk around the area.
River Valley Level
Once you've accessed the river valley, you can walk trails. Turning left takes you to Louise McKinney Riverfront Park. Turning right takes you to cross the Low Level bridge. Once on the other side of the Low Level bridge you will be able to walk a bit further, then take another pedestrian bridge across the street to the Muttart Conservatory.
There could easily be another guide just for walking Edmonton's River Valley Trails, in addition to this Top Things to Do in Edmonton in 2022 guide. This will be a future posting!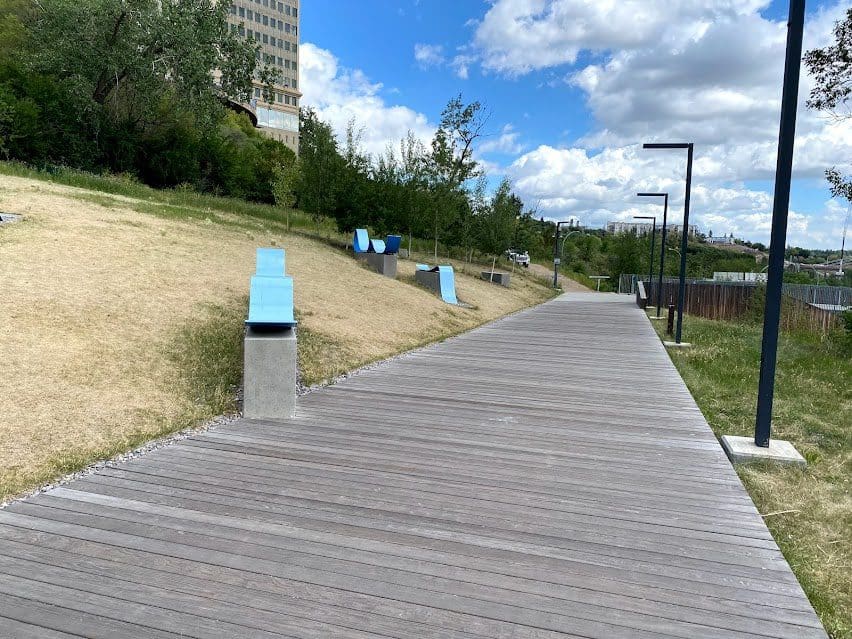 3. Louise McKinney Riverfront Park including Tawatinâ pedestrian bridge
9999 Grierson Hill Rd, Edmonton, Alberta
If you haven't walked along the riverfront at Louise McKinney Park, you're missing some pretty spectacular views of the river. This 12.9 hectares of land, park, and trails is a pleasure to visit. There is plenty of seating for you to rest and look out over the river.
We accessed the park by walking immediately left after taking the funicular, then the elevator (stairs) down to the river valley. Located between the downtown core and adjacent to the river, you will enjoy spending time at Louise McKinney Park.
The Shumka Stage can be booked for events through the City of Edmonton. It's a popular venue for weddings as it's close to the Chinese Gardens Ting. There isn't much parking here, however you're close to the Convention Centre so paid parking is available in and around the area.
There are washrooms at Riverfront Plaza, and you can also rent segways there if you choose.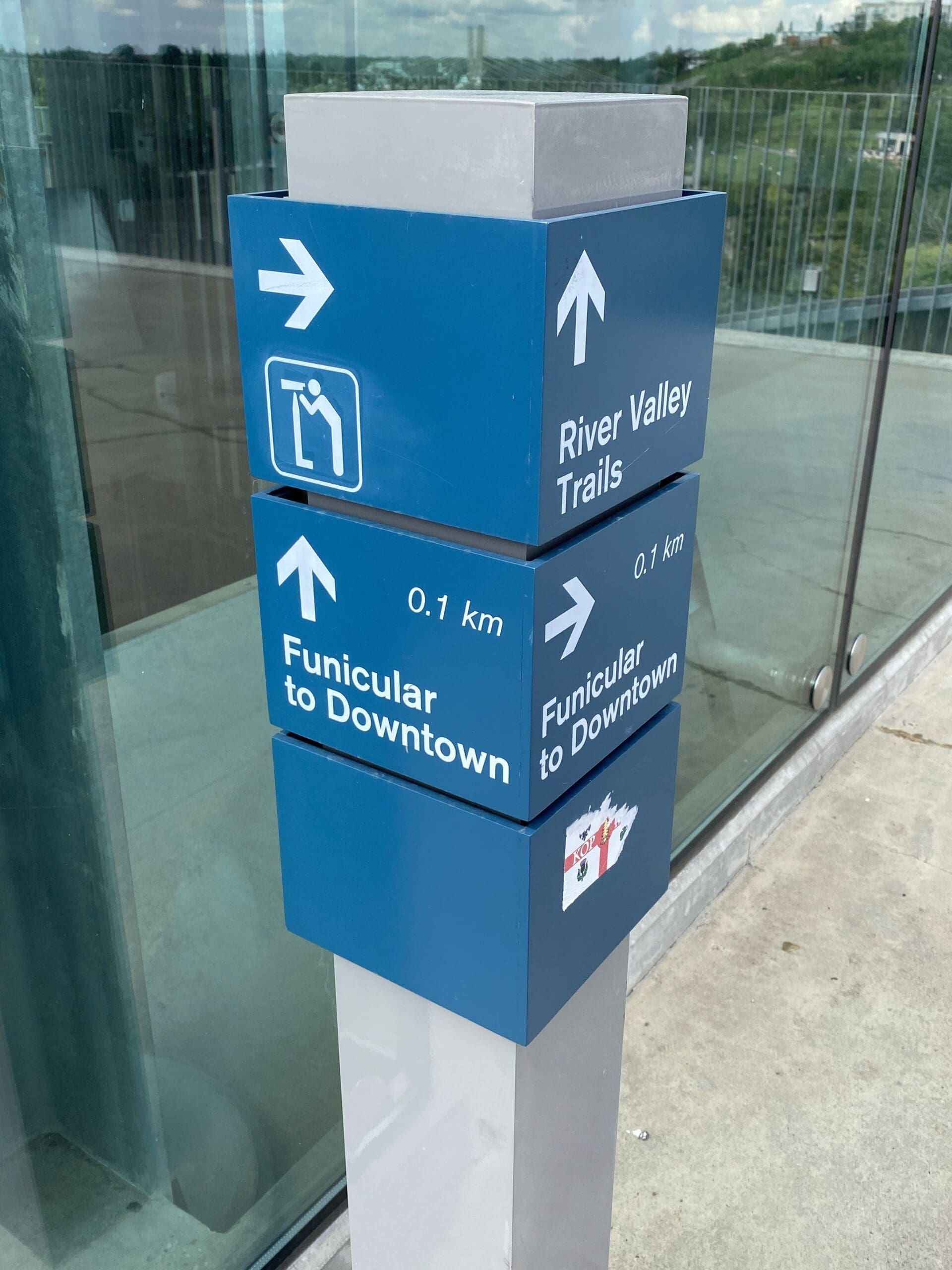 The Tawatinâ pedestrian bridge
The Tawatinâ pedestrian bridge officially opened December 2021 and joins together two neighborhoods, Cloverdale and Riverdale. At 260-metres, this is a shared cyclist and pedestrian bridge.
This is part of the new Valley Line LRT extension. If you're walking along the river, you will encounter this beautifully designed pedestrian bridge. It's worth a walk to the other side to capture the lovely views of the river valley and immerse yourself in the gorgeous artwork.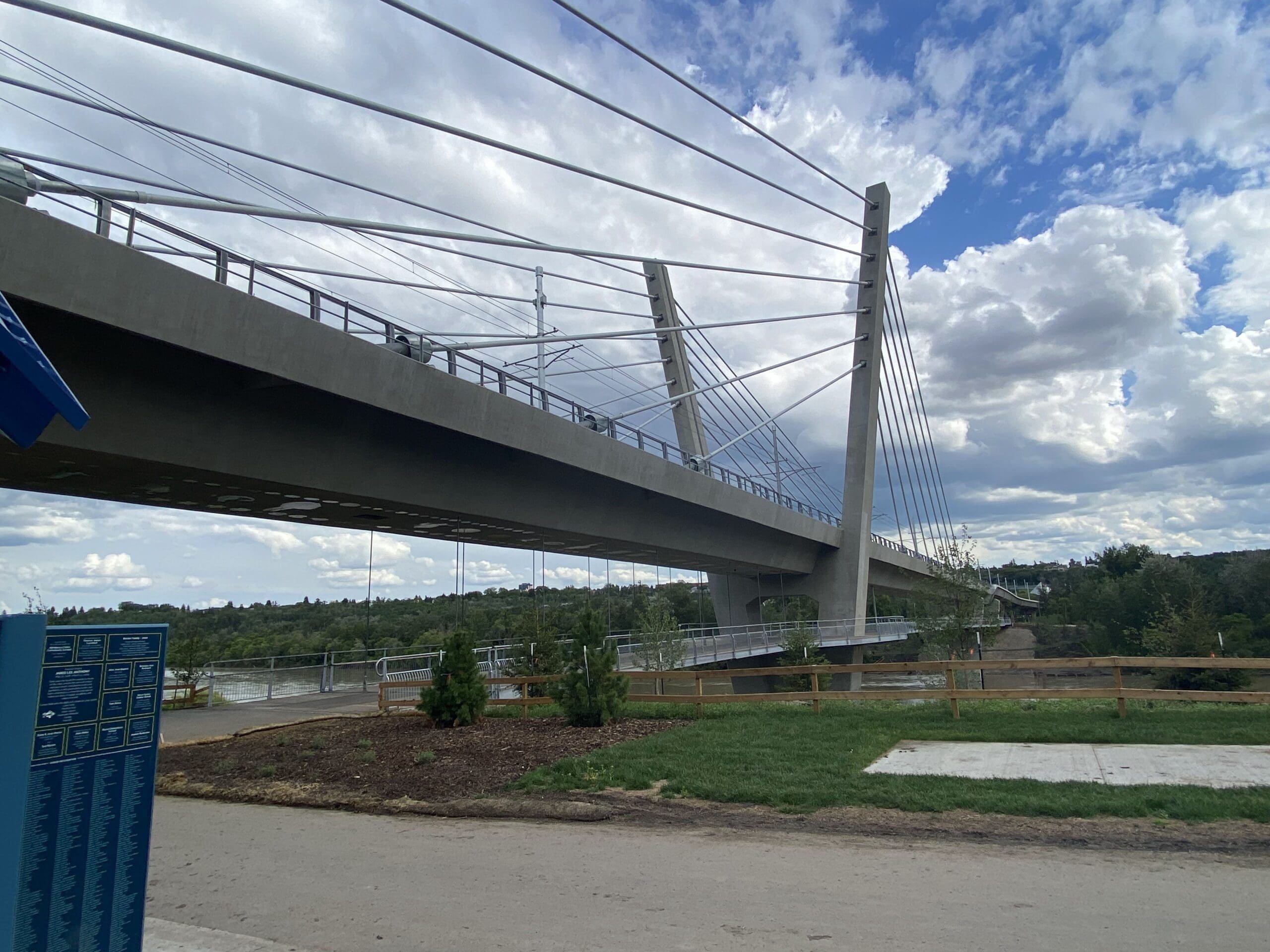 The Trans Canada Trail – Edmonton
This is one of six markers of the Trans Canada Trail in Alberta. There are a total of 86 markers throughout Canada. The Trans Canada Trail is currently the longest trail network in the world, and connects communities from coast to coast. In fact this year, they celebrate their 30th year.
4. Edmonton City Hall Plaza
City Hall Plaza 1 Sir Winston Churchill Square, Edmonton, Alberta
This is a real community gathering space. On a warm day you will see Edmontonians and tourists alike enjoying the wading pool. The water is not very deep. In fact it barely goes up to one's ankles, but if you have children, they will get soaked in this wading pool. The fountains will make sure of that!
In addition, children sit and of course they play in the water as you would expect children to do. Be aware, you will also get soaked, as the rules for use require that you accompany your child.
It's a fun and refreshing way to spend a few hours! This area has change rooms, and a bathroom for public use. Bring a towel and dry clothes so you can dry off when you are done in the pool. This is a fun activity in Edmonton in the summer time.
In the winter, this turns into a skating rink. For other outdoor skating rinks in Edmonton (there are many), please click here.
5. Fort Edmonton Park
To visit Fort Edmonton Park you will find it at 7000 143 St NW, Edmonton, Alberta
A visit here is like stepping back through Edmonton's history. Walk along the streets and feel yourself transport to another era.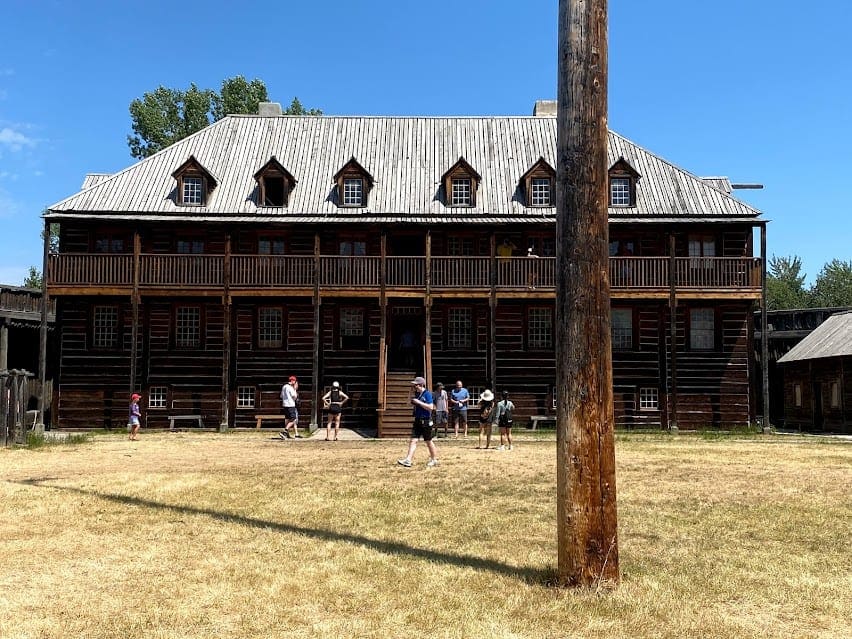 There are lots of activities for the whole family here including wagon and pony rides for the kids. The midway will make you feel like a kid again yourself.

We recommend you take the train as you enter the park. It's a lovely ride and takes you to a starting point to then begin your stroll and wind your way back.
You will enjoy the staff dressed period appropriately, performing tasks and imparting a wealth of knowledge for your questions.
6. West Edmonton Mall
West Edmonton Mall 8882 170 St NW, Edmonton, Alberta
As a local whenever we visited WEM (as the locals call it), we made a definite plan as to where to park in relation to which stores or attractions we were visiting that day. The mall is massive, with 5.3 million square feet, 800 stores and services, dining and entertainment options to suit everyone's tastes.
Gail has stayed overnight in a theme room at Fantasyland Hotel as a birthday surprise for then young daughter, attended galaxyland for countless parties and spent a leisurely day or two at the waterpark.
We've watched countless movies at the theatre, spent happy moments with friends at the comedy club and watched the Oilers practice at the skating rink. Mini golf was a particular favorite activity for our family.
One of Gail's most cherished memories is meeting her sister for lunch on Bourbon Street whenever they could plan to meet (not nearly often enough).
It feels as though we've walked everywhere there is to walk in this mall over the course of many many years. There is also a casino, dinner theater, and the list goes on…..
The Mall is a must for some while sightseeing in Edmonton and is in fact a bucket list item for some people.
Make a plan before you go
If you're preparing for a single visit to WEM while in Edmonton, you'll want to do some planning before you go. There are maps available on the West Edmonton Mall website for your use before you arrive. Click the link above.
For coin, stamp and sports memorabilia, you may want to visit West Edmonton Coin and Stamp. Being a numismatist (coin collector and the study of coins), it's a store Gail visits each time while in Edmonton.
We also stop by the Lego store there too. Paul is an Adult Fan of Lego (AFOL) so it's an important place to visit for us.
7. William Hawrelak Park
William Hawrelak Park 9330 Groat Road Edmonton Alberta
This is a 68 hectare park including a 5 hectare lake. We've visited Hawrelak Park in the summer for events and picnics, or just a walk, and in the winter you can skate on the lake.
The park is one of several parks in the City that offers maintained skating rinks, and is home to many festivals, including the Heritage Festival in the summer and has hosted the Ice Castles in the winter.
Ice Castles didn't return to Edmonton in 2020 & 2021 due to the pandemic, but hopefully will return in the future.
People wanting to have fun in the lake can usually rent paddle boats. This activity wasn't being offered last time we were there due to the pandemic. The onsite restaurant was also closed when we were there.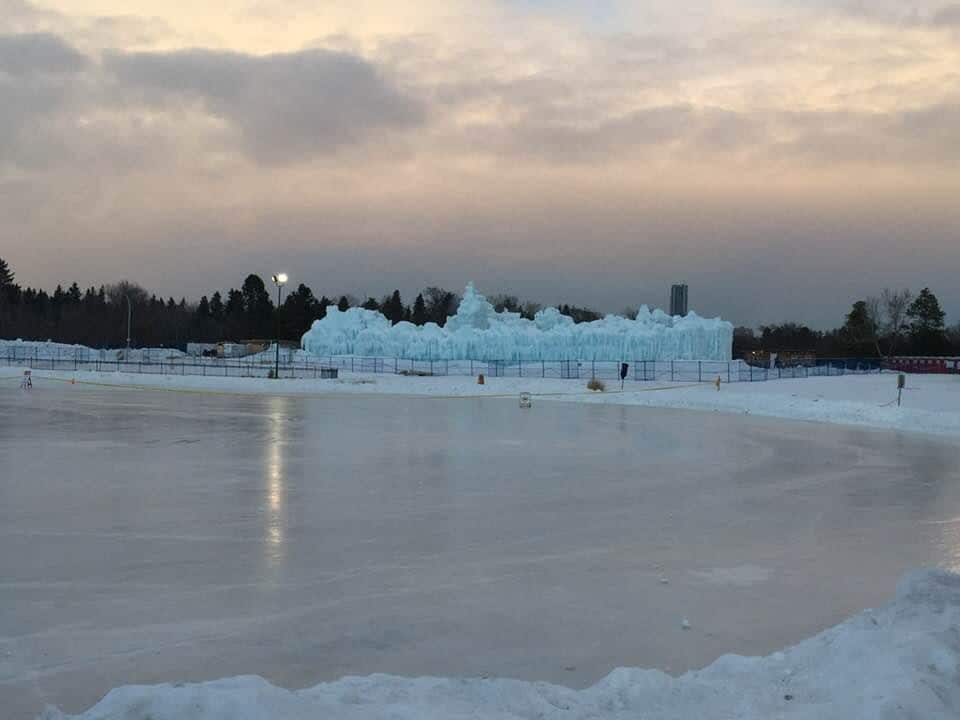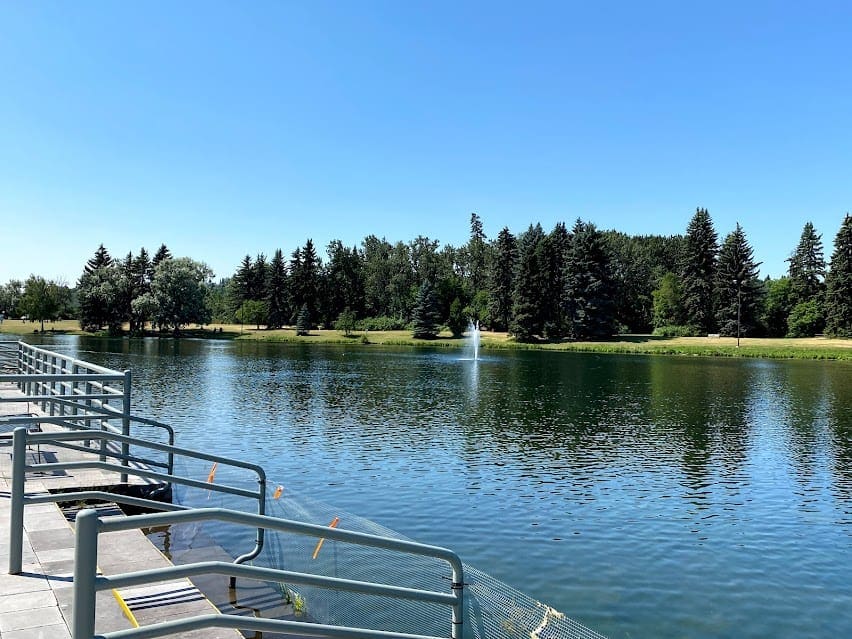 8. Alberta Legislature
Alberta Legislature 10800 97 Avenue NW Edmonton, Alberta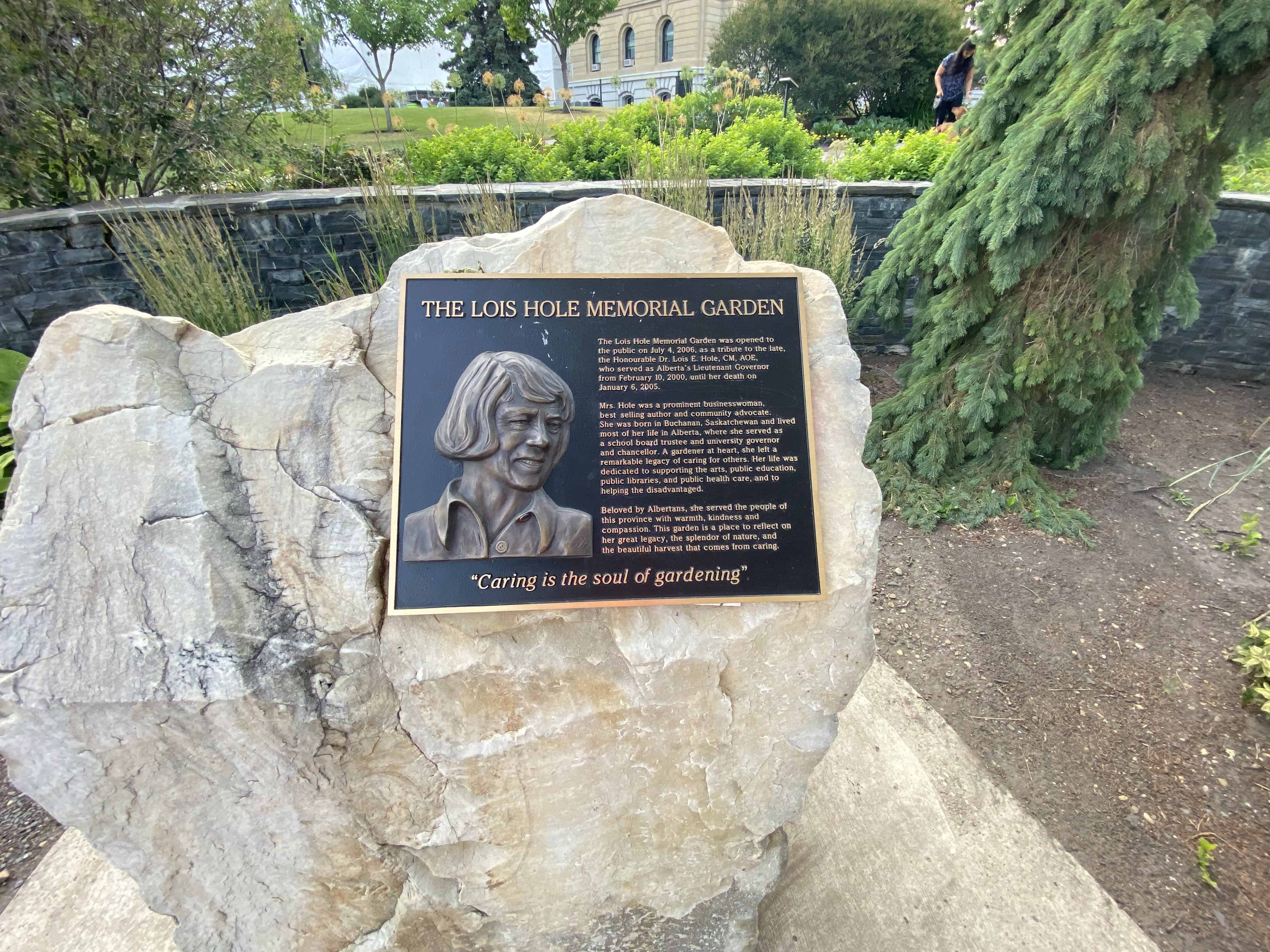 Edmonton is the capital city of Alberta, and as such, the Alberta Legislature is the meeting place of the legislative assembly and the executive council for Alberta. Tours were not being offered during our visit as there was a restoration project underway with this 106 year old building.
We have toured the Legislature on previous occasions and would absolutely recommend this if available when you visit. It's both educational and fun. Strolling along the beautifully landscaped Legislature grounds makes for a leisurely and relaxing outing.
Many "just married" couples choose the steps in front of the Alberta Legislature to have their wedding party pictures taken in formal attire.
The Lois Hole Garden is a favorite spot of ours, with benches to sit, relax and look over the open area.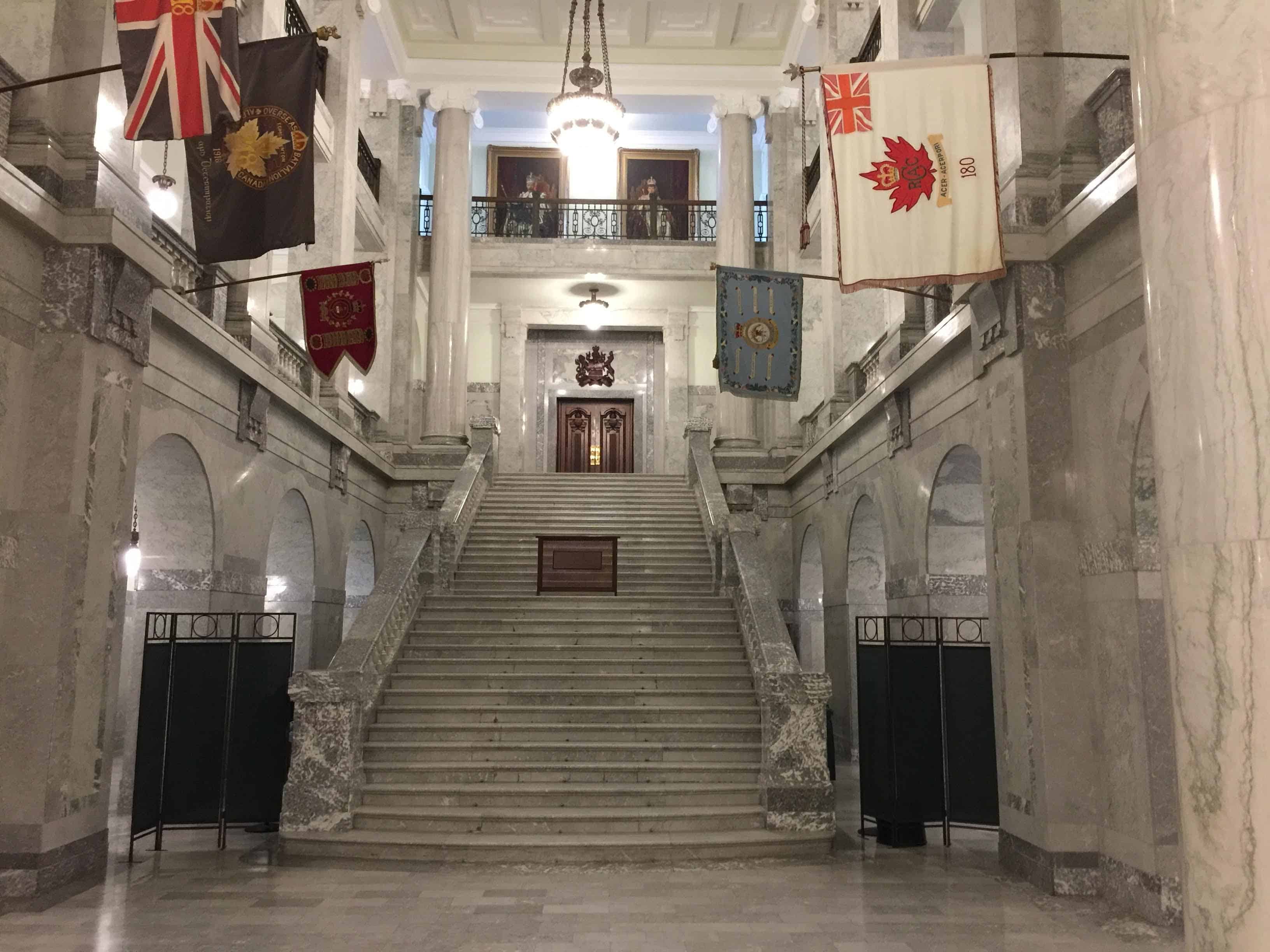 Follow the sidewalk up to a secondary building and you will see washroom facilities, as well as a Lego built "Alberta Legislature" encased in protective glass. Further still across the bridge walkway, you will be able to get higher up to take pictures of the beautiful Alberta Legislature from a distance.
Visitor Centre
Sightseeing in Edmonton can be tiring, as it is in most cities when you're trying to see and do as much as possible. There are lots of places in and around downtown to stop and grab a drink, have a coffee, or simply sit and rest.
Just north of the Legislature Building, you'll find the Visitor Centre on the main floor of the Federal Building. This building houses the the Pehonan Theatre, the Gift Store and the Borealis Gallery. This was temporarily closed when we were there last. Check their website before visiting. If open, it's definitely worth a visit.
9. Victoria Promenade
Victoria Promenade 100 Avenue from 117 Street to 121 Street, Edmonton, Alberta This is one of our favourite places in Edmonton to watch the sun set. There are stunning views of the river valley from the Promenade.
10. Constable Ezio Faraone Park
Constable Ezio Faraone Park 11004 97 Ave NW, Edmonton, Alberta
This is an easy walk from most anywhere downtown Edmonton. It's close to the Alberta Legislature, and also close to both the High Level and LRT bridges, both of which are walkable.
We've walked across both bridges, and personally prefer the LRT bridge. It's lower and overall less busy. There are cars on the High Level Bridge and a pedestrian/ bike path next to the car lanes. You will see the lights on the High Level Bridge if you're walking there around or after sunset.
For event planned High Level bridge lighting click here. Watching the sunset from the LRT bridge is a lovely experience.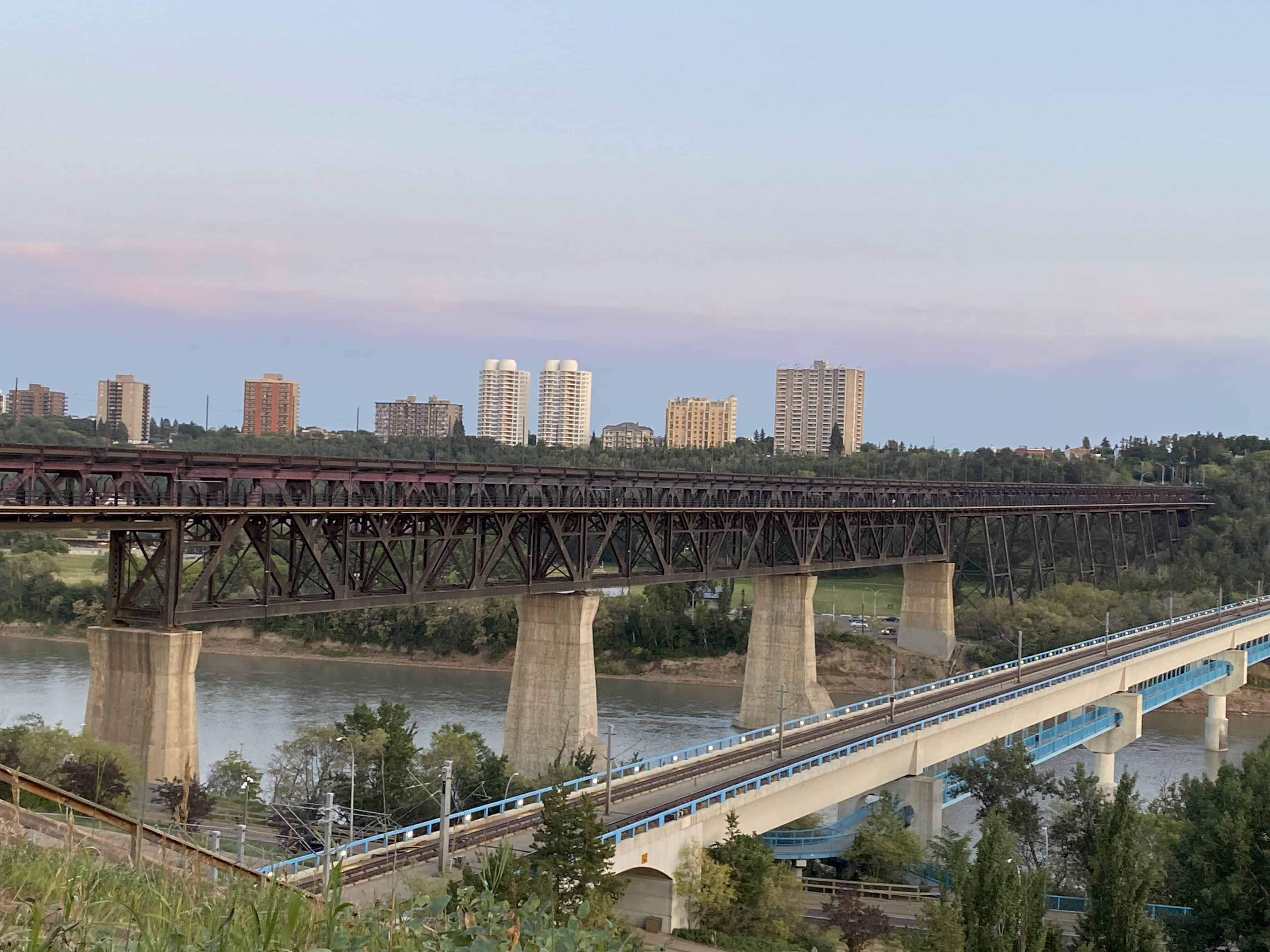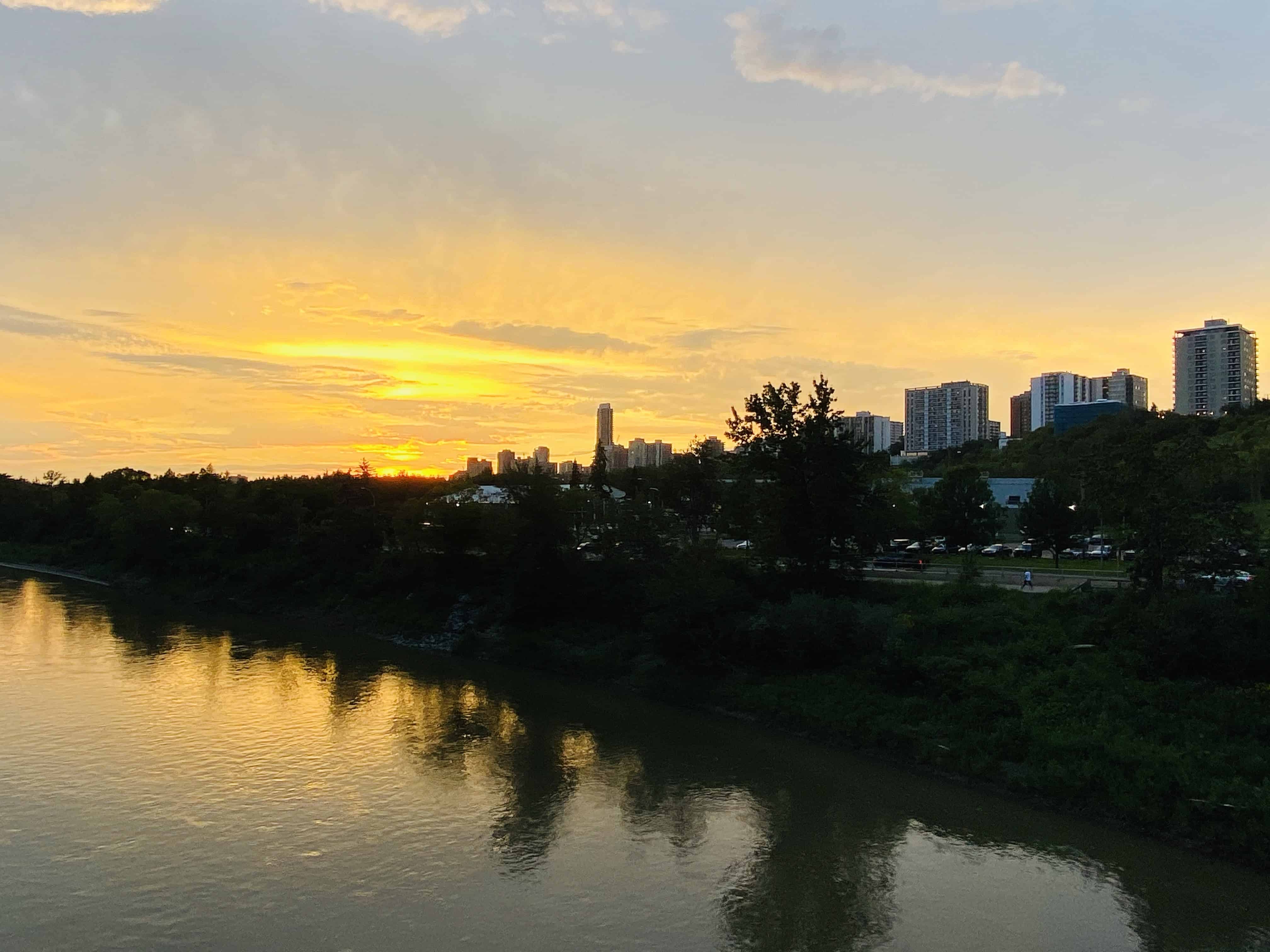 While visiting Ezio Faraone Park, you will note it's also a favorite park for those who workout on the stairs. It turned into a daily activity for us while visiting Edmonton. We watched outside Salsa dance classes, probably not intended to be entertainment for onlookers, but we enjoyed the skill of the dancers nonetheless.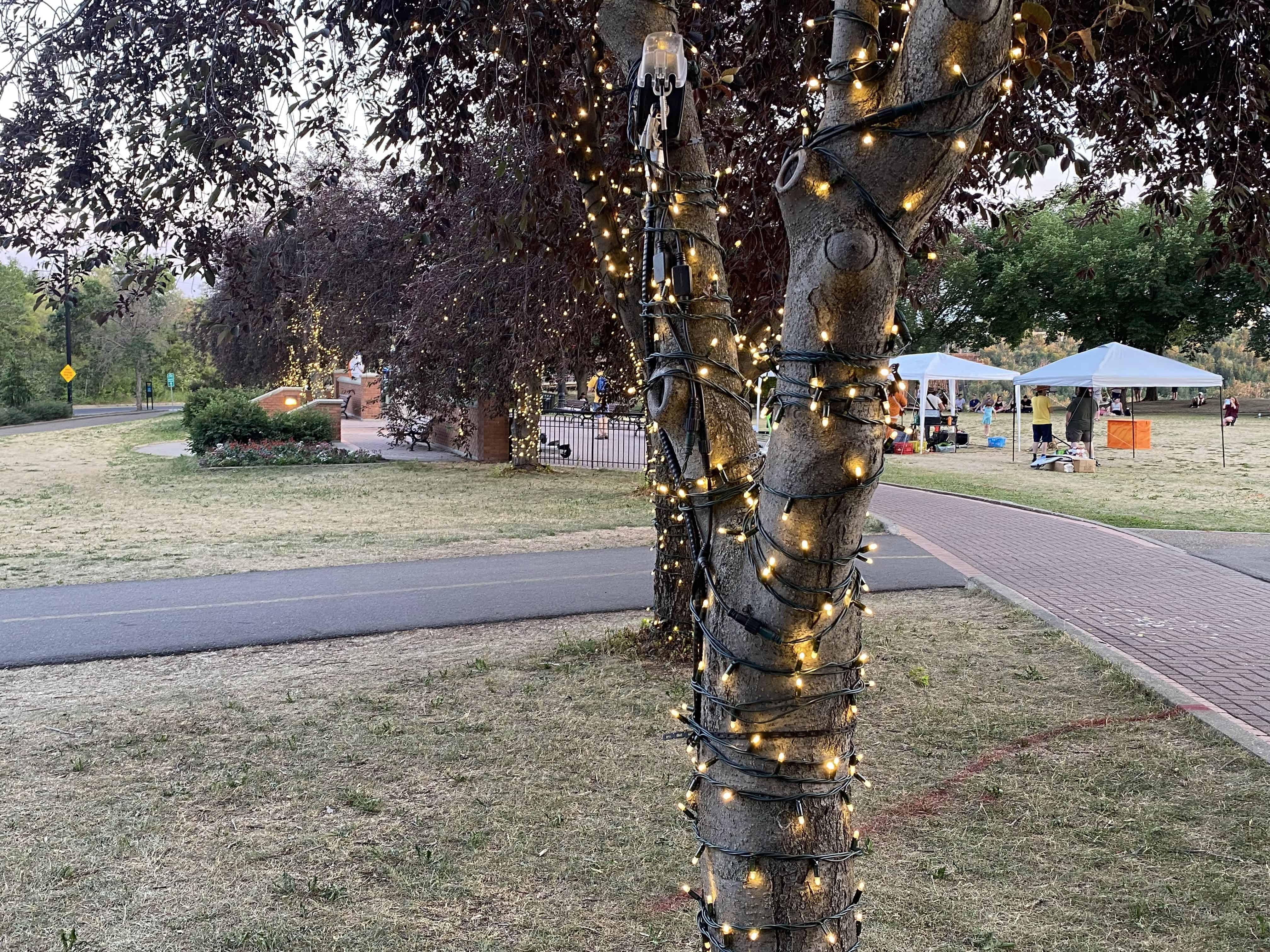 11. See an NHL Hockey game at Rogers Place
Rogers Place 10220 104 Ave NW, Edmonton, Alberta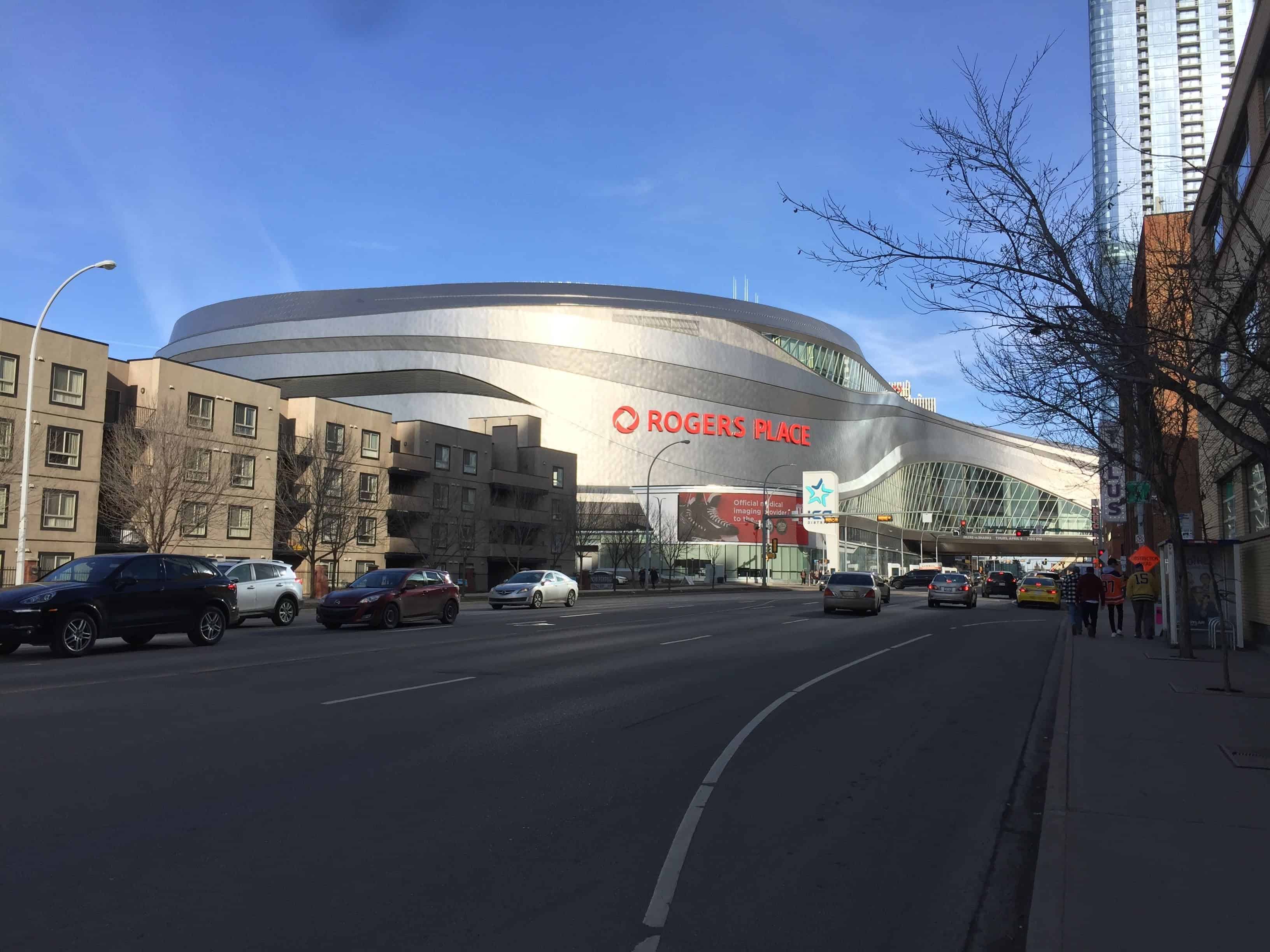 Many of our happiest experiences with family and friends over the years have occurred around the joy of watching NHL hockey in Edmonton. The Edmonton Oilers is an NHL Hockey Team. Paul proposed to Gail during a Detroit/Edmonton NHL game.
Gail enjoyed playoff hockey with her daughter in the 2005-2006 season. Unfortunately the Oilers endured a heartbreaking loss in game 7 of the final series to the Carolina Hurricanes. We have attended many NHL hockey games in many arenas throughout Canada and USA.
There are truly no fans like Edmonton Oiler fans. Rogers Place opened in September 2016 and it is amongst the top arenas in the NHL. There are many seating options in this arena depending on what kind of experience you want and how much your budget allows.
The NHL Hockey Experience
When you've finished your sightseeing in Edmonton for the day, and ready to sit and be entertained, you cannot go wrong with a hockey game. The atmosphere in and around Rogers Place during a hockey game is electric! The energy turns up a notch or two during playoffs.
If you are visiting Edmonton while the hockey season is active, take in a hockey game. If you're here during hockey playoffs, it will be a hard ticket to find, and very pricey!
Hockey Fan Etiquette
Even if you don't know much about hockey, you can still enjoy this experience. Do yourself a favour though and google hockey etiquette before you go to the game.
These fans are serious and although they will be patient the first time you stand up while play is underway or lean forward in your seat thereby unknowingly blocking their view of the ice, when you do it a 2nd time, you will almost certainly get a reminder of why you shouldn't do this.
Also, you'll get more out of the game if you learn the basics. Find out what icing the puck means. Off-side is also helpful to know. Watch the top players as they play. Their amazing skill and puck handling is undeniable and obvious even to the newest fan. Cheer for the home team, or for the opposing team if that's who you came to see.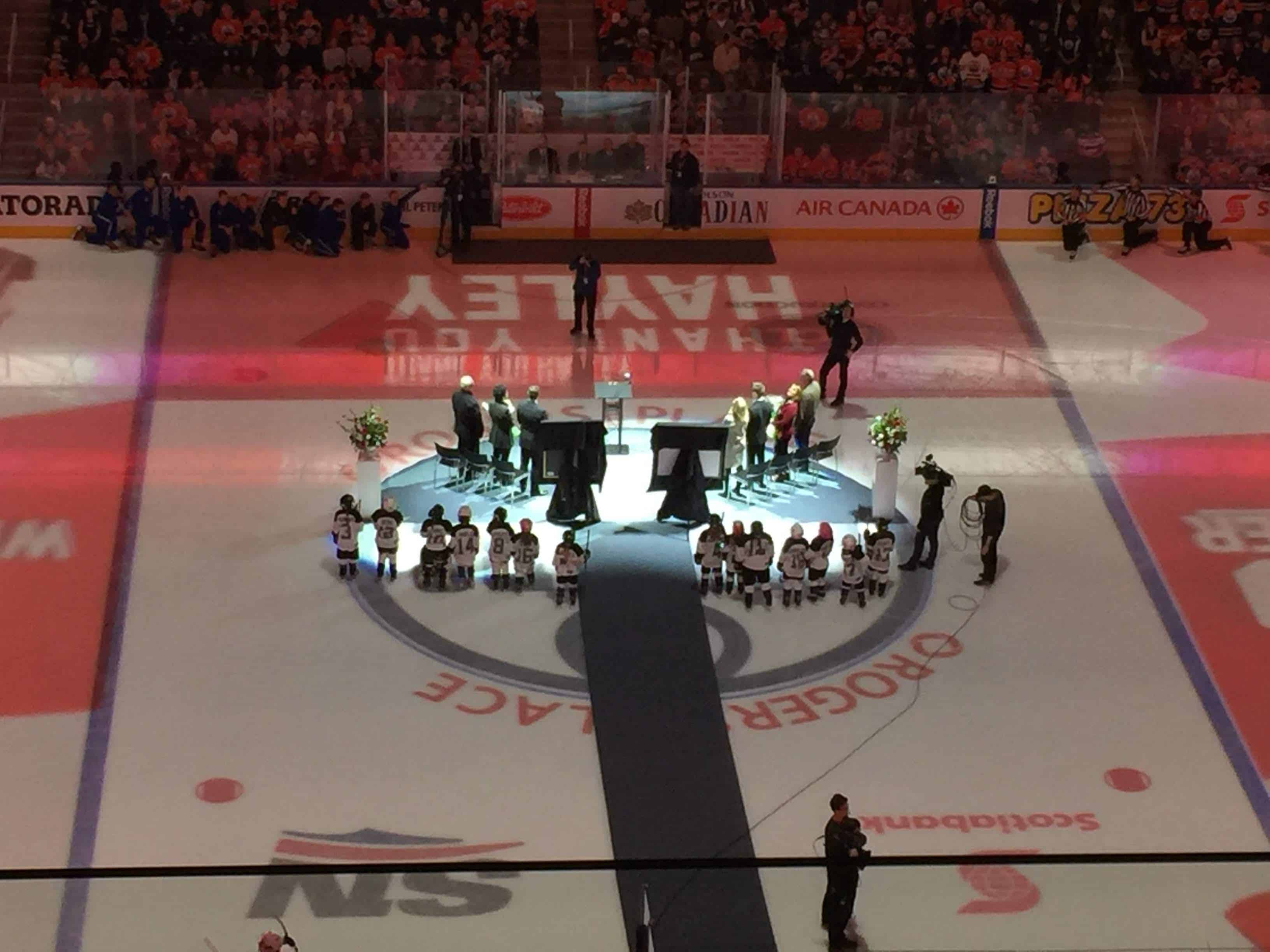 There's a ton of engagement happening at the game, and the fans appreciate seeing visitors who are attending their first ever NHL game.
When you look confused at the guttural sounds the fans yell loudly and in unison, someone next to you might explain they're not booing their team; they're cheering when Nugent-Hopkins does something great! Nuuuuuuge!
Hockey season in Edmonton is an awesome community strengthening time. Even when it's very cold and snowy outside, Edmontonians gather together to watch their team.
Win or lose, the Edmonton Oilers have an exceptionally strong fan base. We can tell you from experience, watching them win definitely feels better.
If you're in Edmonton during hockey season to see a game, we strongly recommend you plan to enter as soon as the doors open. There's a lot more to see in this arena than the rink the players play on.
Also included is a community skating rink, a casino, many restaurants, Molson Hockey House, public artwork, and the unique architectural design of the building.
We've often had dinner before going through security at the small counter type order eateries next to the community rink. There's seating there and it typically isn't as congested.
How to get to Rogers Place
The arena is accessible from the LRT station (across at the rear of Rogers Place), and there are buses that run along 104 Avenue. It is easy to walk from many hotels close by. There's a pedway system in downtown Edmonton which connects over 40 buildings; and to get to Rogers Place, guests can follow the pedway system from any of the following LRT stations:
Parking is available at some lots nearby or within a few blocks. Be prepared to pay a few dollars though as parking anywhere in the Ice District will cost money. Generally speaking, the closer you are, the more you will pay. Keep in mind as well, when the game ends, the streets are congested.
Ford Hall
Molson House is located within Ford Hall. It's usually open 90 minutes before puck drop and is open for an hour after the game. They will sell you a beer at a more reasonable price than beer on offer inside the arena.

Ford Hall has a beautiful mosaic tile on the floor of the Winter Garden completed by internationally acclaimed Alberta artist Alex Janvier. This stunning artwork is entitled Tsą tsą ke k'e (Iron Foot Place).
It's intended to illustrate Edmonton's history, the land Rogers Place is located on, and it's legacy as a meeting place.
12. Ice District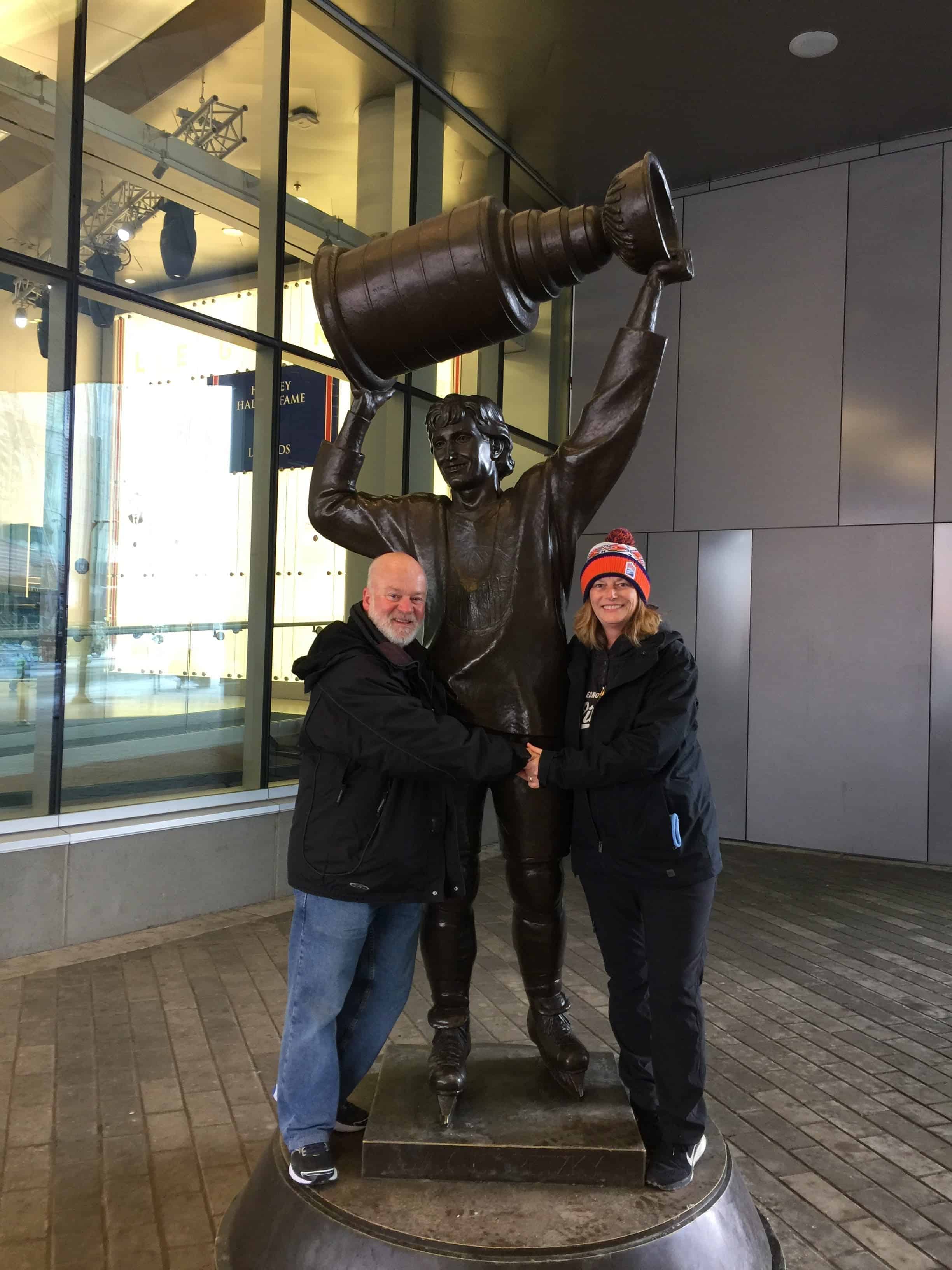 Even before entering Rogers Place, walk around the Ice District, especially during hockey season. Many people have prioritized their desire to have their picture taken with the Gretzky Statue in front of Rogers Place and so they will arrive extra early.
If you do this before the hoards of people do before the game (all deciding at the last minute to do the same thing), it will make getting that great photo much more possible.
Rogers Place is home to the Edmonton Oilers during hockey season and for playoffs, which can go into June. Concerts and other events also take place here.
This is also where the Edmonton Oil Kings play hockey. They are a major junior ice hockey team based in Edmonton and play in the Western Hockey League. We've watched the Oil Kings play as well, and it's a fun night out! Check the website and calendar for upcoming events.
13. Neon Sign Museum
Neon Sign Museum 104 Avenue & 104 Street Edmonton Alberta
Also very visible (especially in the dark) is the Neon Sign Museum – along 104 Street off 104 Avenue. The City of Edmonton has collected and restored 20 functional neon signs, telling a story of Edmonton's past.
14. Walk or Bike River Valley Trails
Walk or Bike the River Valley trails Edmonton's river valley system is comprised of more than 160 kilometers of maintained pathways and 20 major parks. It's the largest urban park in Canada. Check out the maps on the link to discover walkable or bicycle friendly trails. We mention a few of our favourite parks in this post, however there are many more to enjoy.
Walking a trail or two is a fantastic way to be in nature within a city, and a great break from a busy day of sightseeing in Edmonton.
15. Summer and Winter Festivals are unique Edmonton activities
Summer and Winter Festivals Edmontonians celebrate both summer AND winter. Spring and autumn are short (or so it seems). Normally, you'll need mosquito repellant (with deet) and sun screen during the summer months. This can vary a lot from year to year though.
Some favorite summer festivals are: Edmonton Folk Fest, Heritage Festival, A Taste of Edmonton, The Works Art festival, Edmonton Blues Festival, the Fringe…
You'll need to bundle up in the winter months. Layering your clothing works well in the winter. Warm boots and socks, mittens, scarfs and toques will also help you be comfortable for longer outside in the winter.
Some favorite winter festivals are: Silver Skate, Luminaria, Zoominescence, Ice on Whyte…
If it's really cold say -20 to -40 Celsius, you'll want to make sure you don't have exposed skin at all.
For a partial list of summer and winter festivals, check out the link noted above.
16. Edmonton Valley Zoo
Edmonton Valley Zoo 13315 Buena Vista Road Edmonton Alberta
The Edmonton Valley Zoo is a place Gail's parents would take the family as an extra special treat. Living outside of Edmonton, and with a family of seven children, any outing had to be carefully planned. As an adult and having a child of her own, she took her daughter more often, at that time living in Edmonton.
Remarkably, the zoo hasn't changed all that much through the years. There have been improvements to be sure, but it has remained a quaint and lovely experience to be shared with family and is a great way to spend the day.
17. Art Gallery of Alberta
The Art Gallery of Alberta 2 Sir Winston Churchill Square, Edmonton, Alberta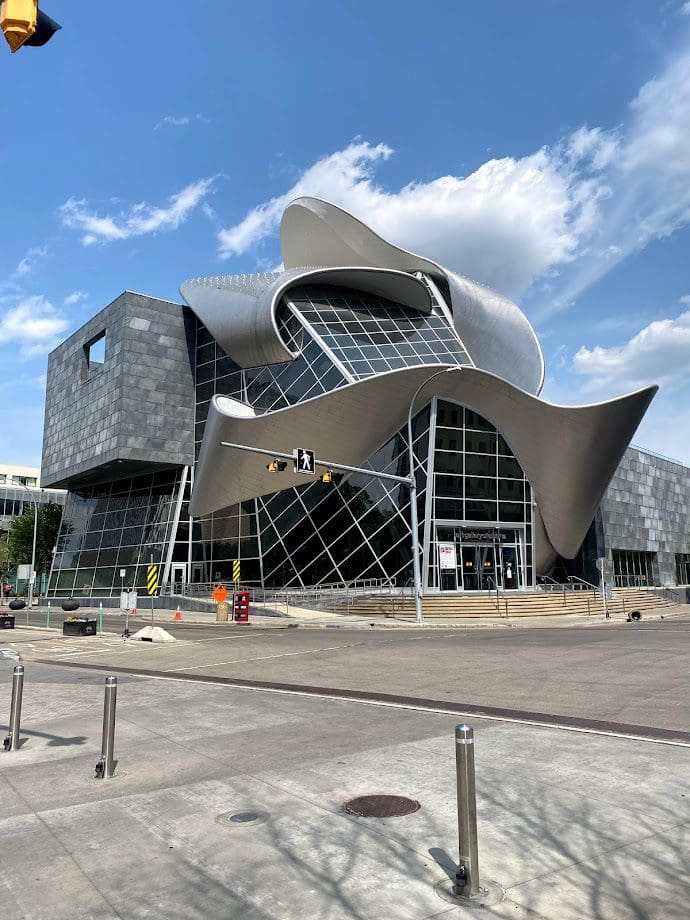 This beautifully designed building is a great stop for the whole family. There are lots of activities to partake in, and lots of exhibitions to view. Begin with a public tour, available free of charge occurring at this time on Saturdays and Sundays at 1pm, 2pm and 3pm.
18. Royal Alberta Museum
The Royal Alberta Museum 9810 103a Ave NW, Edmonton, Alberta
The museum opened at it's new location in 2018. If you're interested in hearing stories and viewing important artifacts from Alberta's history, this is the place to go. You will enjoy learning about history through the many displays and exhibitions here.
19. Telus World of Science
Telus World of Science. 11211 142 Street NW Edmonton Alberta
This was always a favourite activity for Gail and her daughter. There's so much to enjoy here. In actuality, when it's cold outside, or when you're looking for activities to keep the kiddos busy for the day, this awesome place has a lot to offer.
There are hands on activities where the kids can have fun and learn while participating. In addition, there are theatres and exhibits, with events also occurring.
Also, if you're up for it, you can visit RASC Observatory, for solar or evening viewing of the stars and planets in Edmonton's sky.

20. Alberta Central Railway Museum
The Alberta Central Railway Museum 24215 34 St NW, Edmonton, Alberta
(see the website for directions)
If you're a railway history enthusiast, this may be the outing for you. As a note, this is only accessible if you have a car (no transit), and only open on weekends during the summer months.
There are exhibits and events at this museum, and you can also ride a train while you're there.
21. Alberta Aviation Museum
The Alberta Aviation Museum 11410 Kingsway NW, Edmonton, Alberta
This museum is dedicated to keeping Alberta's aviation history alive. Located in a historic hangar, this museum has exhibits for every history buff.
22. See a Canadian Football League (CFL) game
Football is a popular sport in Edmonton. Fans are serious about supporting their team, the Edmonton Elks. They play at the Commonwealth Stadium located at 11000 Stadium Rd, Edmonton, Alberta.
Accessible on the LRT or by Edmonton transit, you will see tons of fans all sporting their EE pride!
Football season is between May and ends with the Grey Cup in November each year. If you're in town during this time, this would be a fun activity for the family.
23. See a West Coast League Baseball game
The Edmonton Riverhawks are a baseball team in the West Coast League. They play at Re/Max Field located in Edmonton's River Valley. In fact, 2022 is the first year this new team is playing on this field due to delays caused by the pandemic.
The baseball season runs from June to August (playoffs start in August). If you like baseball, you'll enjoy the setting in Edmonton's River Valley, as well as the game.
24. Stroll along Candy Cane Lane
Candy Cane Lane Edmonton 148 St between 92 & 100 Ave, Edmonton, Alberta
This is a fantastic activity for the family around the holidays. This west Edmonton neighbourhood in Crestwood transforms itself during the holiday season, and the result is an incredibly decorated street, very likely to put you in the holiday spirit. It's best to walk through this neighbourhood.
You can get there via transit which will take approximately a half hour by bus from downtown to YEG Candy Cane Lane.
25. Visit Old Strathcona and Whyte Avenue
Old Strathcona is a wonderful place to shop, dine, or just meander in a lively in environment. There are lots of unique shop here to keep you busy. This vibrant area should be part of your sightseeing in Edmonton plan while you're visiting.
You will be charmed by the environment. Visit the events page (on the previous link) to see what's happening while you're there.
26. Enjoy an evening at the Yardbird Suite (Jazz)
Yardbird Suite 11 Tommy Banks Way NW, Edmonton, Alberta
The Yardbird Suite was founded in 1957, and today offers over 75 shows a year, plus Tuesday jams and Thursday showcase shows. They also have the Yardbird Suite Jazz Orchestra (YSJO), which performs 3 concerts per year.
If you like jazz music, this is the place to go for a fun evening of awesome entertainment. Check out their website for planned events, then book your ticket.
27. Enjoy an evening at the Blues on Whyte (Commercial Hotel)
Blues on Whyte Commercial 10329 – 82 Avenue NW Edmonton, Alberta
If you're looking for Blues, this is the place you'll want to go. You will however want to check their website first, as the last couple times we went, it wasn't blues music. They do still do have Blues entertainment, though it seems there is also other live music in addition to this.
Their historical Saturday Blues Jam is fun to watch, and we suppose would be fun to participate in if you're so inclined.
There are also pool tables here, at a reasonable rate if you're looking to play a game of pool.
Through the many years of living in Edmonton, we've heard some fantastic live entertainment in this city, and the Blues on Whyte has been a favourite place to go for Blues music.
28. K Days
K-Days is located at Edmonton EXPO Centre & Exhibition Grounds 7515-118 Avenue, Edmonton, Alberta
In Edmonton, each year in July what was historically known as Klondike Days (now called K-Days) is held. Gail has fond memories of going to K-days with her family. There's a midway complete with rides and games, and entertainment throughout the city. This year in 2022, it will be from July 22 – July 31, 2022.
It's Edmonton's version of the Calgary Stampede. In fact, much of the midway rides, etc pack up after K-Days and come from Calgary.
This is something fun to do for the whole family. Or if you're part of a couple, or simply going with a group of friends, you'll find plenty of fun activities and entertainment as well.
29. High Level Bridge Streetcar
In 2022, The High Level Bridge Streetcar is available to passengers from May 20, runs Friday through Monday to Sept. 5, then Friday to Sunday until Oct. 5. The streetcar runs from Jasper Avenue Terminal (just off 109 Street), and travels over the High Level Bridge to the newly expanded Whyte Avenue terminal in Old Strathcona.
For events, you may also be able to book a charter on a per hour basis for the street car. For example, we know of someone who had their wedding atop the high level bridge.
Whatever sightseeing in Edmonton you decide to do, we hope you have a wonderful visit. The city may surprise you.
We hope you've enjoyed our 29 Best Things to Do in Edmonton in 2022 guide. Hopefully you've been inspired by some of the activities noted here.