Beacon Hill Park Victoria BC: 21 Reasons to Visit
One of the best parks in Victoria British Columbia, Beacon Hill Park is a short 20 minute walk from the Cruise Ship Terminal at Ogden Point or from the Clipper and Coho Ferry Terminals. Also, Beacon Hill Park is only a 5-10 minute walk from the Parliament Buildings in downtown Victoria.
This is a great place for the whole family, and the kids will love it too! Whether you have 3 hours or the whole day, you'll find this a pleasant outing.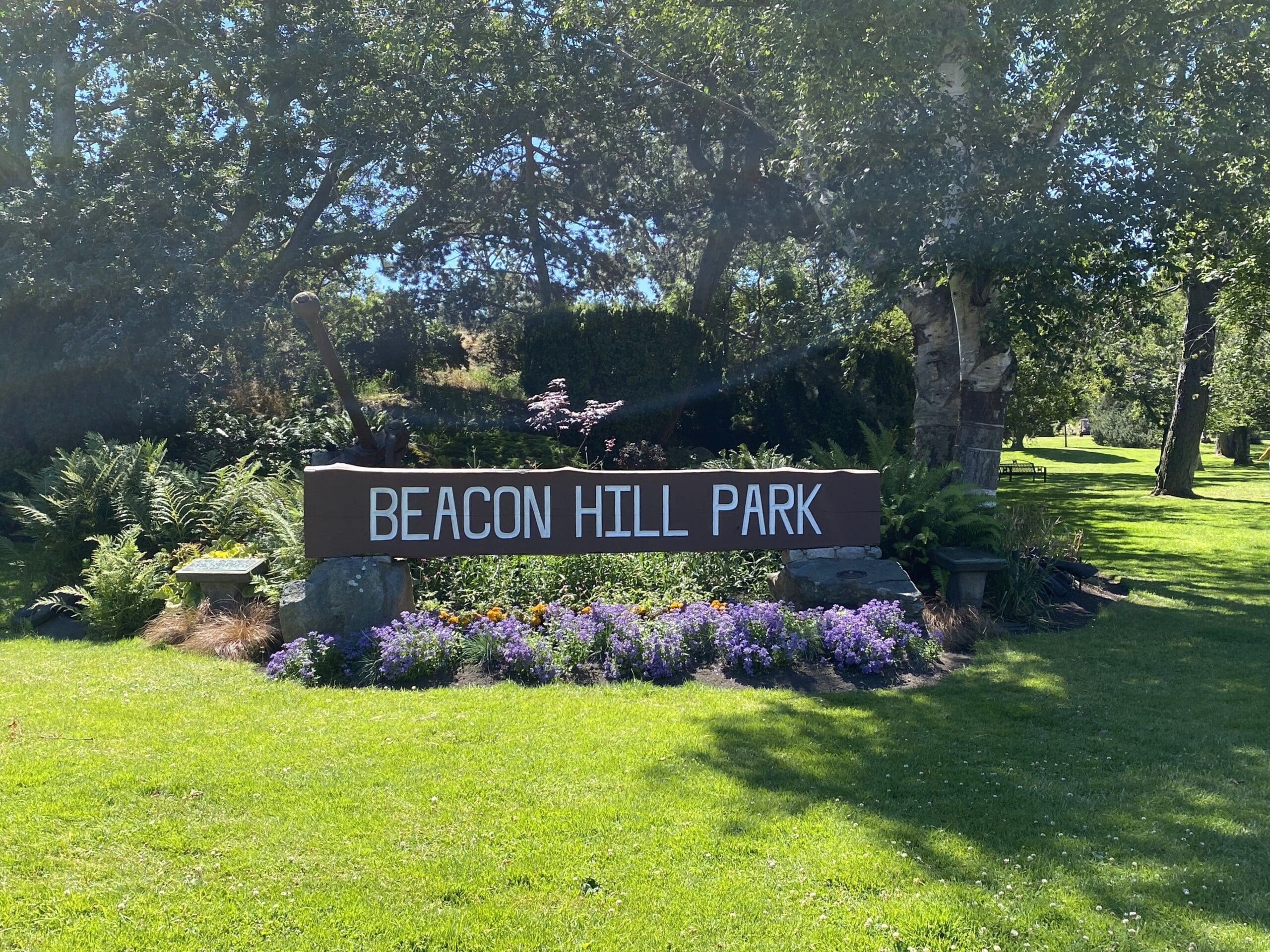 About Beacon Hill Park including history
For thousands of years, Beacon Hill Park has been a sacred and historically significant place for the Lekwungen people. In Lekwungen language, the name of Beacon Hill is míqәn (pronounced MEE-qan), which means "warmed by the sun".
The area was reserved for a park by Sir James Douglas in 1858, who was the Governor of Vancouver Island at that time.
In 1882 the Province of BC provided the City of Victoria 75 hectares to be held in trust, and in 2009 Beacon Hill Park was designated as a municipal heritage site. The name "Beacon Hill" comes from this small hill where two navigational beacons once existed.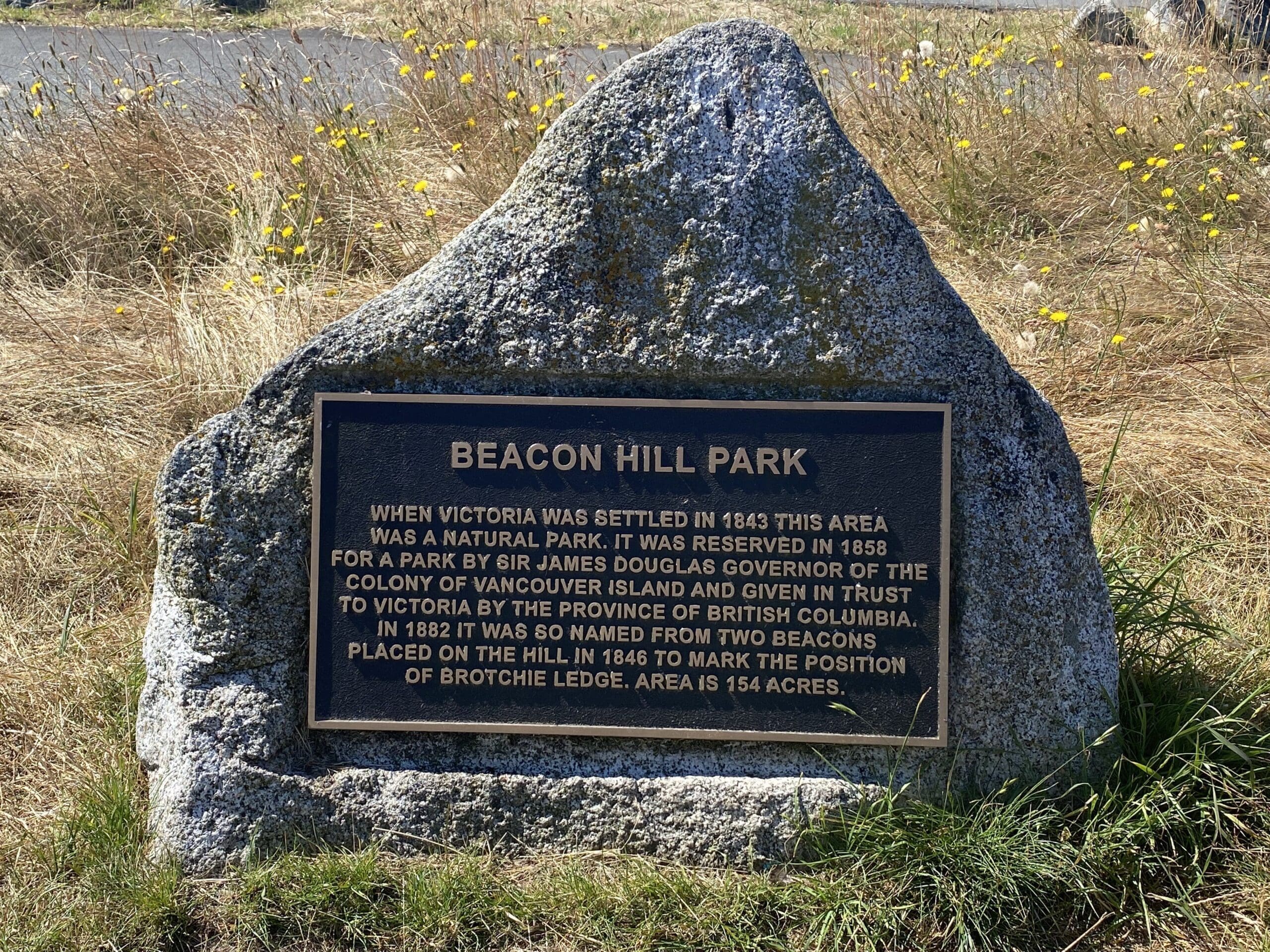 Beacon Hill Park is approximately 740,000 square meters and the site is comprised of natural parkland including Garry Oak ecosystems, manicured gardens, walkways, paths, water features and lakes.
You can play mini-golf here, as well as cricket, baseball, tennis, lawn bowling or soccer.
The park is used by the community as a gathering space for friends and family, recreational activities, those out for a lovely walk on any given day, or as a commute through nature going to and from work. This park is a gem within the center of the City of Victoria.
Map of Beacon Hill Park
We often access the park off Douglas Street, however if you're coming from Ogden Point, you will access Beacon Hill Park from Dallas Road.
There are many access points depending where you're coming from.
Here is a map of Beacon Hill Park from the City of Victoria website to help you navigate the park while there, or for planning purposes before you go.
How much does it cost to visit Beacon Hill Park?
Entrance to this public park is free of charge. Located inside the Park, a visit to the Children's Farm is by donation, at a suggested amount of $4-$5/person.
Where is the parking at Beacon Hill Park?
There is free parking available off Circle Drive if you drive your car, and you can park for up to 3 hours. Other parking lots are Heywood Way, Circle Drive and Nursery Road. In addition, there is street parking along Douglas and Cook Streets and Dallas Road.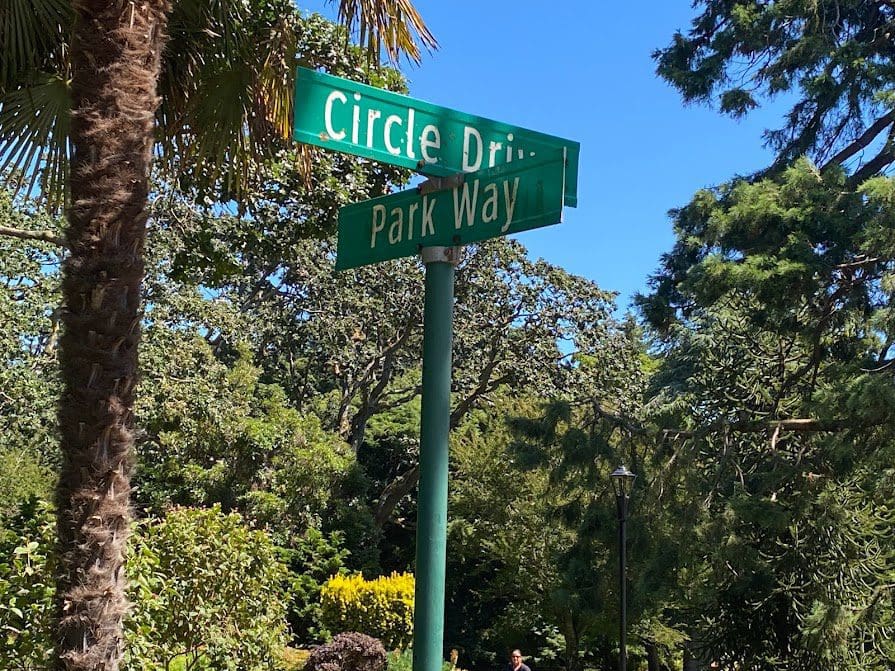 Is there a cost to park?
As noted, you can park in the lots for up to 3 hours for free.
Besides driving, how can we get to Beacon Hill Park?
Beacon Hill Park is easily accessible by bus from anywhere within Victoria's transit system.
You will likely find the park easy to get to from any of the hotels you may be staying at within the greater Victoria area by using BC Transit trip planner.
Victoria is also a very walkable city. In fact, you may even be close enough to walk to this centrally located park.
Is Beacon Hill Park safe?
This is a question we're asked by visitors at times. As a general rule, we don't tend to visit parks after dark. We use a "dawn to dusk" guideline, regardless of whether a park is physically open. We use this as a guide in any city we visit anywhere in the world.
In Victoria, when the pandemic set in, a minority of folks were displaced, and without normal levels of resources being available to help those in need of assistance, some individuals set up tents in Beacon Hill Park as well as other parks in the area. If you're searching for reviews of Beacon Hill Park, you'll no doubt find there was a period of time where some people felt unsafe visiting the park.
Fortunately, in 2022, the City of Victoria has been able to offer solutions to those wishing to be re-homed within the communities in and around Greater Victoria.
Recreational camping is not allowed in Victoria BC parks, and anyone experiencing homelessness is encouraged to contact BC Housing to begin the process of moving to a safe indoor space.
We have been to Beacon Hill Park many times over the years we've been here, and will continue to go there often. It's a lovely way to spend an afternoon, however as is the case with any park in any city, you'll want to stay aware of your surroundings and be alert for any unusual activity.
Tours of Beacon Hill Park
There are different types of tours offered as a way to see and learn about Beacon Hill Park.
You can travel through part of the park on a horse drawn carriage tour, or if you prefer you can take a guided walking tour.
You can also simply take a self-guided walk through the park at your own pace if you prefer.
Whether you take a guided tour, or stroll through yourself, don't miss these top things to see and do in Beacon Hill Park.
21 Reasons to Visit Beacon Hill Park in Victoria, BC
1. The Moss Lady
You'll probably find yourself lingering here longer than anticipated, trying to get that perfect picture.
This beauty was created by a gardener named Dale Doebert and with the assistance of the City of Victoria she sleeps in this garden, partially submerged into the ground and adorned with moss.
It's a unique display and, as a result, the Moss Lady is definitely worth visiting.
2. The Stone Bridge
As the sign reads, "Stone Bridge. This rustic stone medieval bridge was constructed in 1889, as part of John Blair's landscape design for Beacon Hill Park". This is a favourite place for people to take pictures at various times of the year. The seasonal changes make this an enjoyable place to be year round.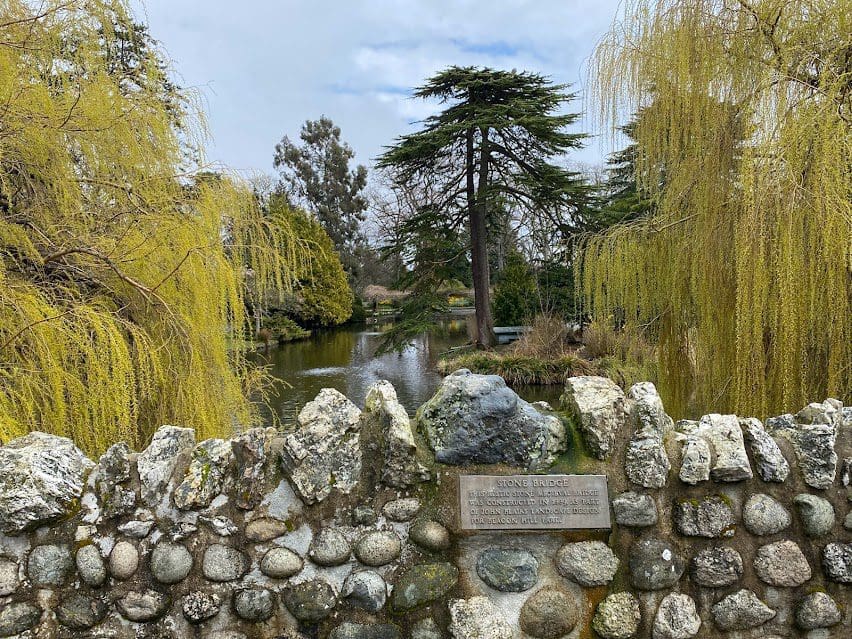 3. Goodacre Lake system
The Goodacre Lake System includes Goodacre Lake (the largest at 2.4 acres), Fountain Lake and Arbour Lake.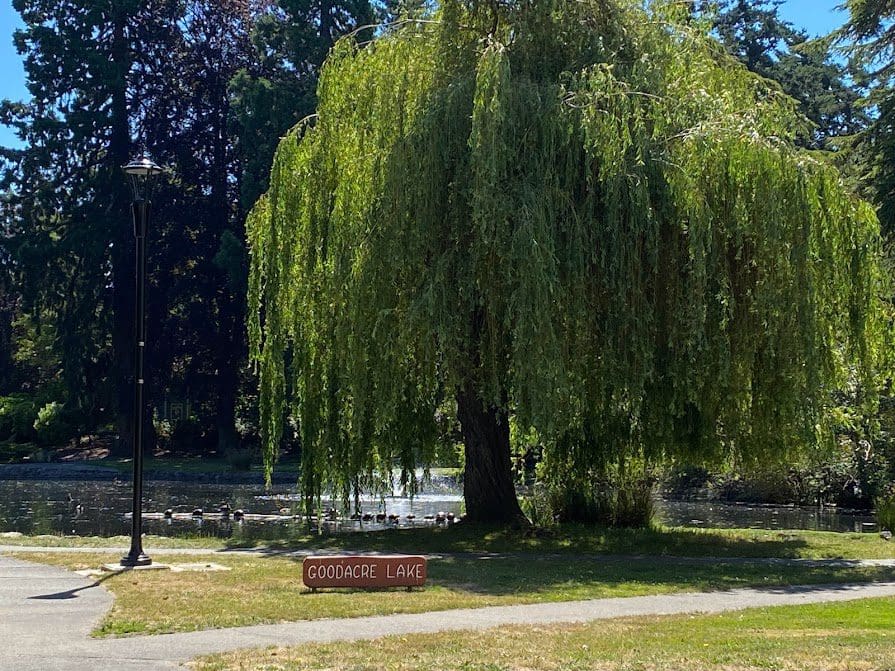 You will often see tourists and residents posing on the stone bridge overlooking this lake. Also, you will likely see ducks and geese, and sometimes swans or even a turtle here.
4. Circle Drive Lake System
The Circle Drive Lake System includes four small lakes: Queens Lake, Willow Lake, Deer Lake and Rose Lake. These are located across from the Children's Farm, along Circle Drive.
Somewhat smaller lakes, it's still a pleasure to relax either at a bench or on the manicured areas around these manmade water structures.
5. The Children's Farm (including a petting zoo)
This part of Beacon Hill Park has separate and unique attractions. You can read about the things to do at the Children's Farm here.
6. Children's Play area (two playgrounds)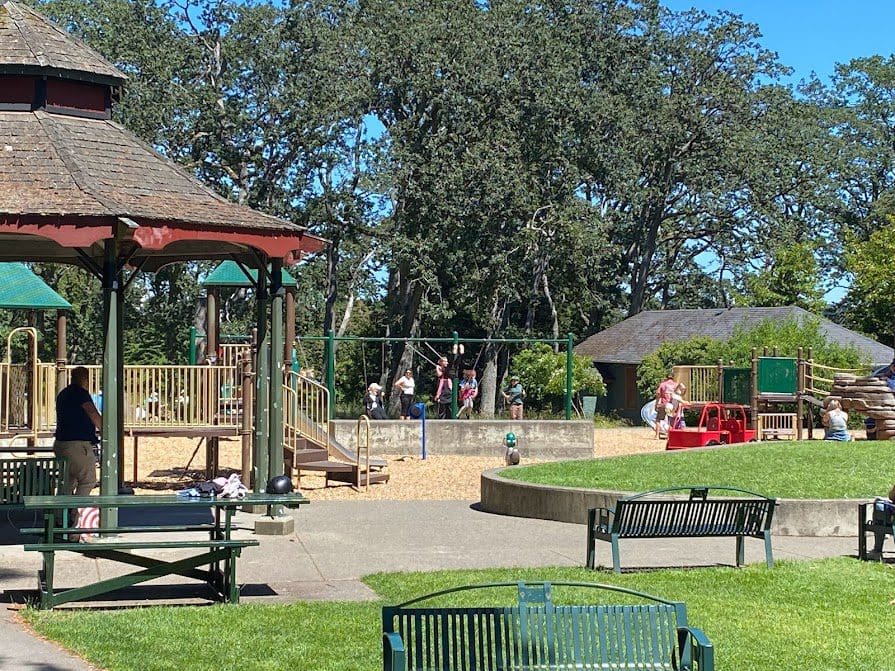 After visiting the Children's Farm, the playground is a fun activity for the kids and very close by. This allows them to use up even more of the energy they still have after the petting zoo.
There are two playgrounds in Beacon Hill Park. One of them is on Arbutus Way and the other is off Cook Street.
7. Take your picture in the Sequoia Tree
This tree is located across from the Children's Farm in the park. We've rarely been here when you don't have to wait for your chance to take that perfect picture. Keep in mind this is a real living tree. As a result you may actually find you get "sapped", as we did on our latest visit. Sap is very sticky, and will make everything you touch sticky too!
8. Sun Dial (or Sun Clock) at Beacon Hill Park
Located at the center of the East Garden, or Sundial Garden, you will find this sun dial. It reads: "I count only the sunny hours".
You will enjoy walking around this garden, filled with flowers and bursting with colour. There are benches to sit and relax if you wish to take a break
9. The Story Pole
When you arrive to the Story Pole, turn around to see the Canada Flagpole atop Beacon Hill. It wiil give you some perspective on the park.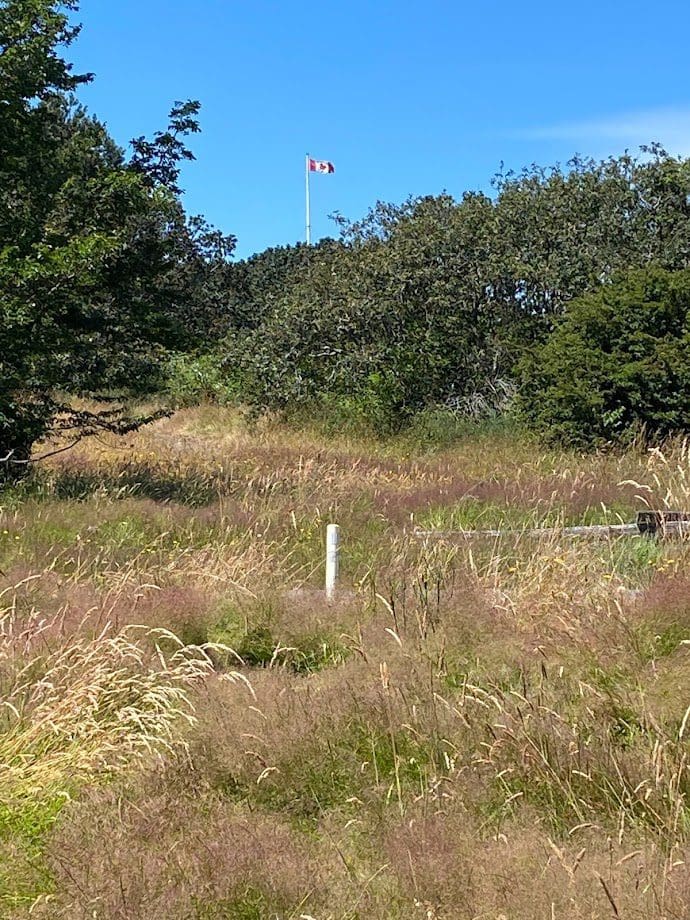 When it was erected July 2, 1956, this was the tallest free standing Story pole in the world. Standing at 127 feet 7 inches (almost 39 meters), the Story Pole has had restorations, the most recent of which was completed in July 2011.
There seems to be some discrepancy as to whether it's currently the tallest, depending on whether you consider this a "Story Pole" vs a "Totem Pole", or if you consider it a free standing vs. non free standing Story or Totem Pole.
Regardless, it's impressive to see. The City of Victoria has stated that the average lifespan of a totem pole is about 10 years, and it's custom to lower totem poles after this time to return them to the earth. It's still standing following the latest restoration now more than 10 years later.
10. Beacon Hill "Lookout" Site
Take the time to visit the Lookout at Beacon Hill Park. Apart from the outstanding views overlooking the Strait of Juan De Fuca from this spot, this area carries a lot of historical significance. You'll learn about the people who walked here before you, their customs and beliefs, and why the land here is sacred.
There is a narrow path which begins adjacent to the Children's Farm. If you follow the path, it will take you to the Beacon Hill "Lookout" Site.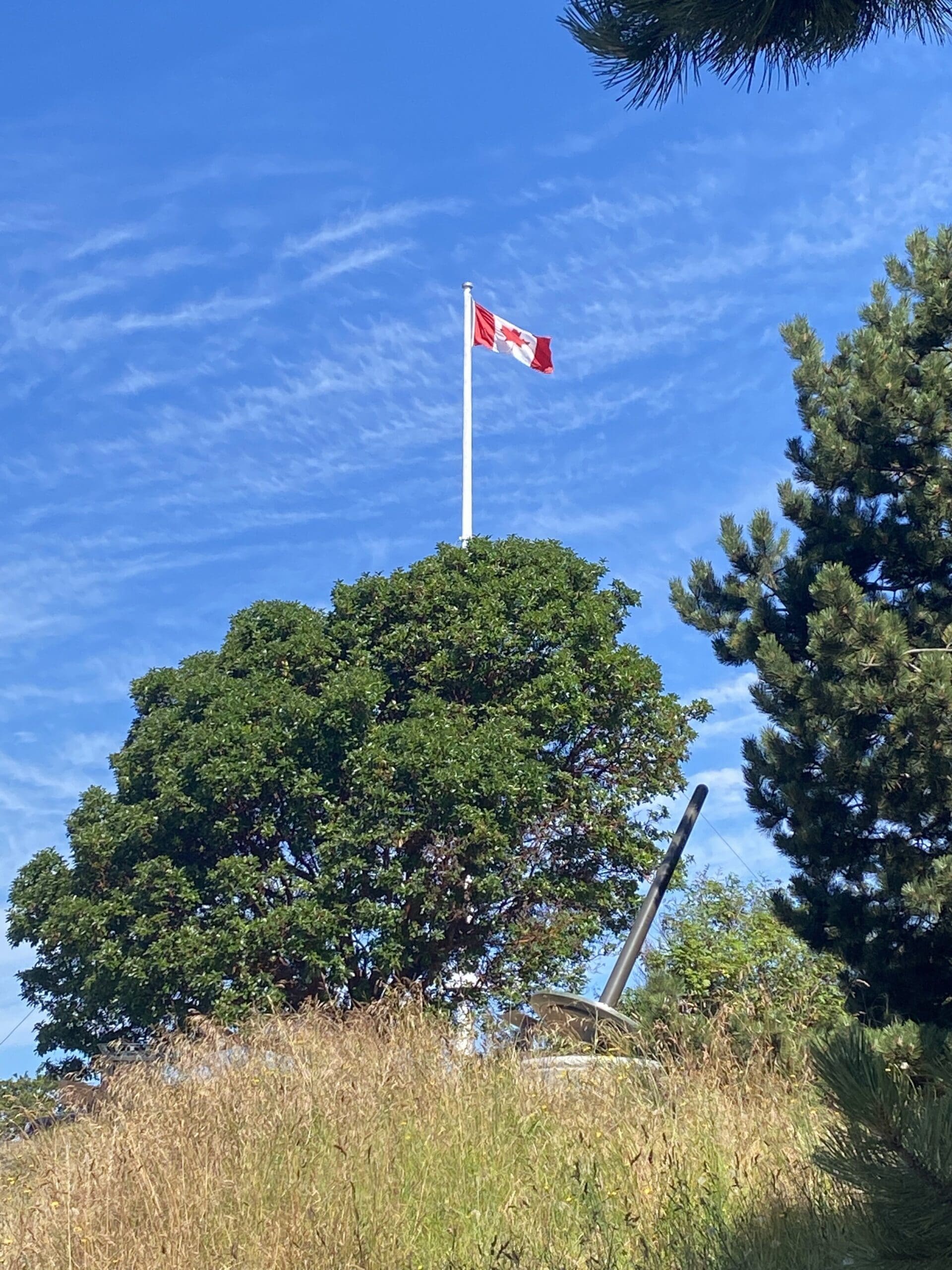 11. Signs of Lekwungen
This is one of the seven signs of Lekwungen. It's perhaps the most difficult to find, immersed in nature all around, positioned to your left as you stand on Beacon Hill.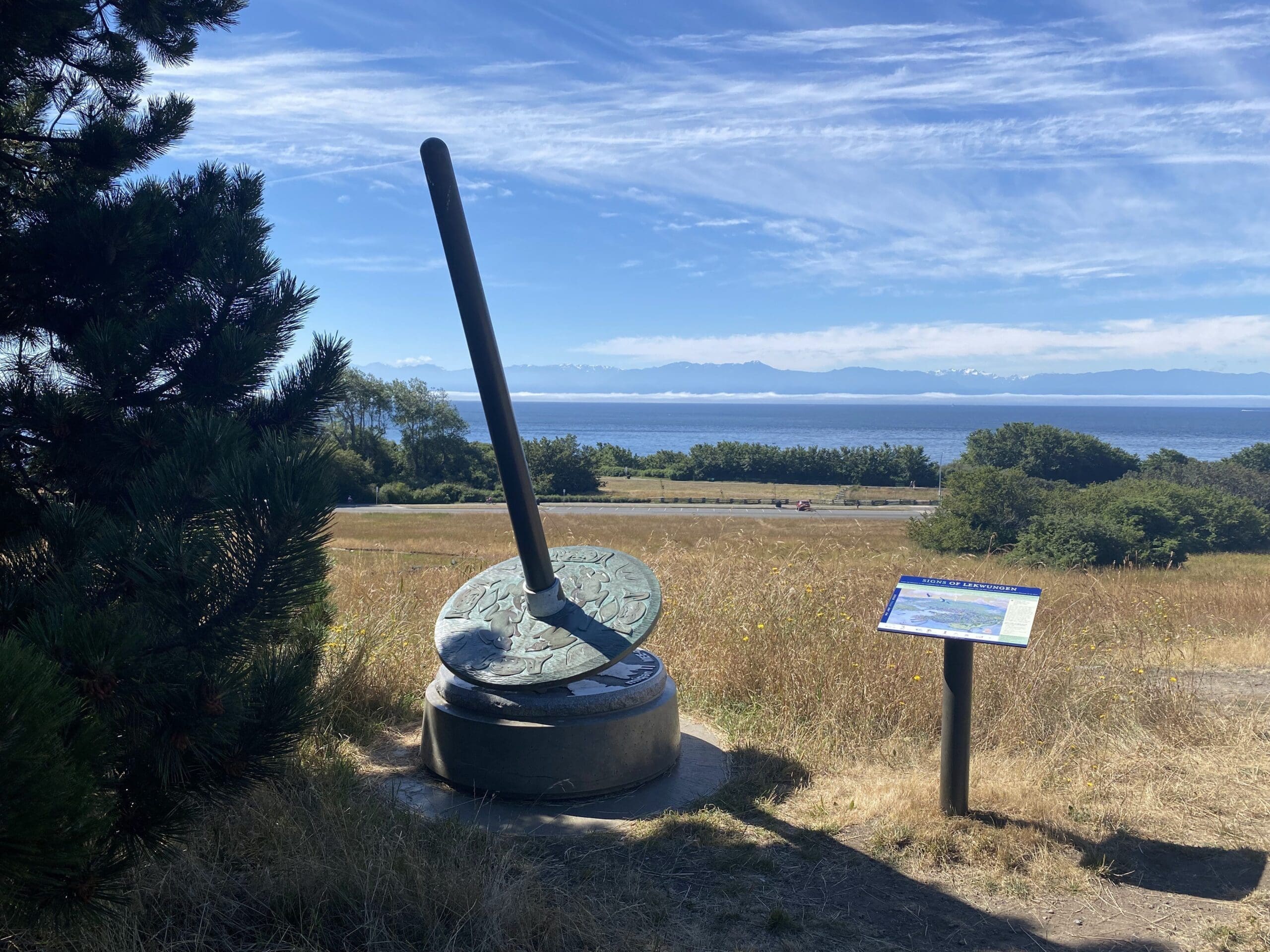 12. The Garry Oak ecosystem
One of the most rare and endangered ecosystems in Canada is that of the Garry Oak. You will see the Garry Oaks Meadows throughout Beacon Hill Park. In all of Canada, less than 5% of the original habitat remains, with less than 2% of this historic ecosystem remaining in Victoria.
These meadows with all their biological diversity are in large part what makes Beacon Hill Park so special
13. Mile 0
This is the marker for the west coast Trans Canada Highway, 8,000 km from one end of Canada to the other. There is another Mile 0 marker on the East Coast in St. John's Newfoundland.
14. Terry Fox Monument
This monument is dedicated to Terry Fox who began his journey across Canada from St. John's Newfoundland in what became known as the "Marathon of Hope" in support of Cancer Research. Unfortunately, he became ill and passed away before he could finish.
As a tribute, the monument was erected near Mile 0 in Victoria which would have been the conclusion of his Marathon of Hope.
15. Stephen Fonyo Monument
This monument is dedicated to Stephen Fonyo for his "Journey For Lives" run across Canada to raise funds for The Canadian Cancer Society for education, care and research.
16. The Rose Garden
This is yet another lovely garden in Beacon Hill Park. Another place to rest, or take special pictures to remember your outing.
17. Wildlife in the Park
You'll see lots of wildlife in this park, whether it's the ducks or geese swimming in the lakes or perhaps crossing your path, or the Heron's flying above during nesting season (Feb-April). Also, if you're really lucky, you may see turtles or swans too.
18. Beacon Hill Park Peacocks

Peacocks have lived in Beacon Hill Park for over a hundred years. The peacocks are a favorite for locals and tourists alike, as the males display their plumage during mating season from February to early August. It's said the female (peahen) will choose her mate based on their long, colorful tails.
The peacocks aren't dangerous, however getting too close may cause issues for them and for you.
They can become aggressive and may even attack in order to protect themselves. This is especially true during mating season, or if they're protecting their eggs in the area. Be sure to approach with caution when you're trying to get that lovely photo of this beautiful bird.
19. Cameron Bandshell
Live entertainment happens here through the summer months. If you happen to be at Beacon Hill Park during a live performance, take some time to sit and enjoy the music. It's a wonderful experience on a beautiful summer day.
20. The Watering Can/Garden – spray park play area
We've had fun watching people interacting in this park. Sometimes it's fully clothed tourists who get a bit more wet from the spray than they intended. Everyone seems to take it in stride, so usually there are smiles all around!
21. Robert Burns Monument
This monument was erected in 1900 after a group of Scottish ex-pats living in Victoria raised the $2000 required at the time.
Washroom Facilities
There are washrooms throughout the park. Check the map from the City of Victoria for specific locations.
Beacon Drive In nearby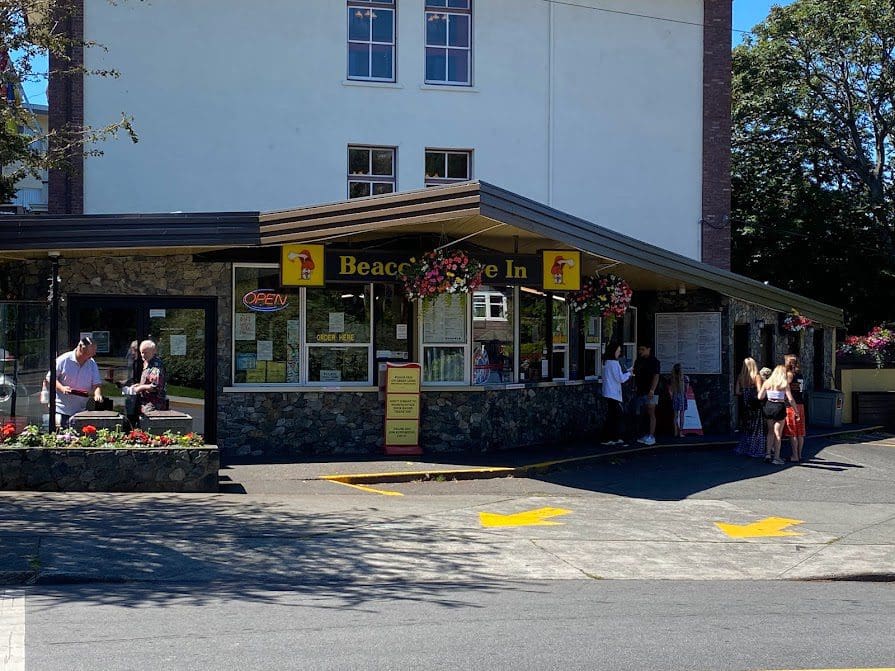 If you're hungry either before, during or after your visit to Beacon Hill Park, there's a restaurant very near by. Beacon Drive In has been serving the community and tourists since 1958. We usually stop here for something to eat when we visit the park, even if it's just an ice cream, consistently rated in the top favourites in Victoria.