Where to Stay in Victoria BC
Are you looking for ideas on where to stay while in Victoria, British Columbia? If you're looking for the best hotels in Victoria, BC, Canada, you've definitely come to the right place! Being local we will help you find that perfect accommodation in Victoria BC.
There are many hotels in Victoria BC very close to or on the water/ harbour. If you want a harbour or ocean view, you'll pay more for it, especially during the peak tourist season. This will usually run from March to October in Victoria. If you're travelling outside of the busy season, you may be able to secure really great rooms for a lower price.
These are our top favourite hotels.
*Disclosure: This article contains affiliate links. If you make a purchase after clicking one of these links, we earn a small commission at no extra cost to you. For full details/ disclosure please click here.
Fairmont Empress Hotel
Staying in this hotel will feel like a dream. If you have the opportunity to do so, plan your holiday here. The location is central to a lot of attractions and a short walking trip from the Coho and Clipper Ferry Terminals.
The Empress is, to most people who visit Victoria, BC an attraction all it's own. You can book your afternoon tea in the lobby lounge, or walk across the street to be on the harbour in very short order. In the event you have a harbour view, you will perhaps enjoy stunning views from your own room. This will undoubtedly feel like a very luxurious stay.
Book the Fairmont Empress Hotel now
Delta Ocean Pointe Resort Hotel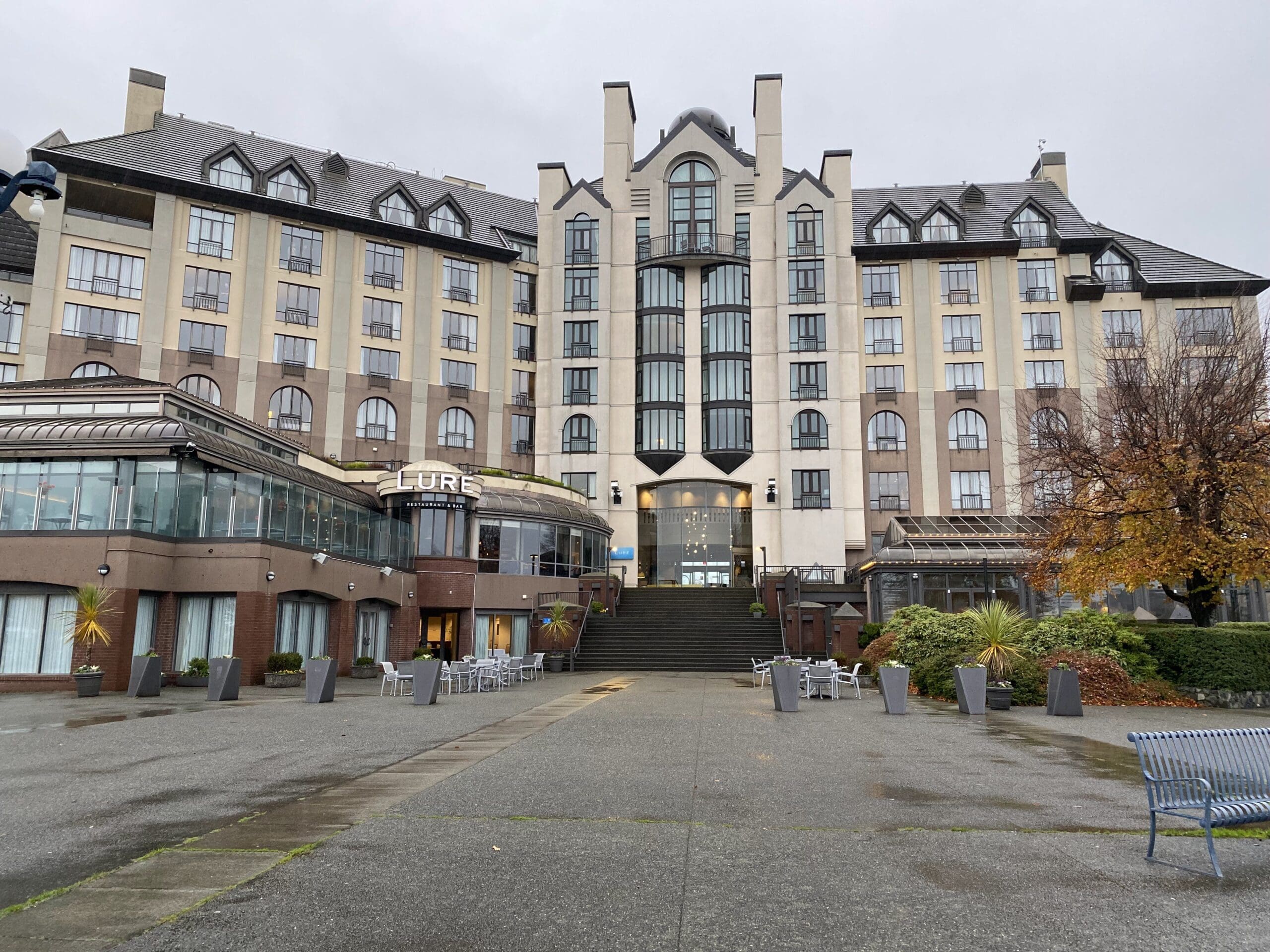 If you want to be slightly away from downtown, still on the harbour, this might be the choice for you. The Delta is across the Johnson Street Bridge from downtown, ideally situated at the start of the Songhees Walkway (Westsong Walkway as it heads towards Westbay). One of the best walks in Victoria, the walk along the harbour to WestBay Marina may become a daily ritual for you if you stay here.
Book the Delta Ocean Pointe Resort Hotel now
Coast Victoria Hotel & Marina (Inner Harbour)
We like the location of this hotel. If you want to be in the Inner Harbour, this may be one of the best hotels for you to choose. The hotel is close to Fisherman's Wharf too.
It's a comfortable hotel, close to amenities & attractions.
Book the Coast Victoria Hotel & Marina now
DoubleTree by Hilton Hotel
This hotel is only two blocks from the harbour and lovely pathways, located close to attractions with amenities at your doorstep.
Book the DoubleTreee by Hilton Hotel now
Inn at Laurel Point
The Inn at Laurel Point is a beautiful hotel, located in the Inner Harbour, with walkways right outside your door. The tranquility you long for on one side of the hotel, with amenities and attractions within walking distance on the other side. It's very visible from the water, and looks like a ship from that viewpoint.
Book the Inn at Laurel Point now
Most hotels in Victoria will have umbrellas and umbrella stands. If you're wondering what the weather will be like when you plan to travel, check Environment Canada's website.
What is there to do in Victoria? Return to our Victoria Travel Tips menu for more information.