Are you wondering how to get to Victoria BC? Depending on where you're travelling from, there are many methods to get to Victoria, ferry travel to Victoria BC is one key way from Vancouver, Seattle or Port Angeles. There are other ways to travel to Victoria BC as well, and we will help you find the way that's right for you!
WELCOME TO VICTORIA!
*Disclosure: This article contains affiliate links. If you make a purchase after clicking one of these links, we earn a small commission at no extra cost to you. For full details/ disclosure please click here.
Victoria International Airport
Arriving by commercial flight to YYJ
YYJ is a busy international airport. When you arrive by commercial flight, you'll be directed to carousels (there are only two if you're flying domestically, and one for international travellers) where baggage arrives. You may find this airport to feel small and quaint. The airport ranks as the third busiest in number of passengers in British Columbia, with Vancouver and Kelowna in first and second place respectively.
Once you have your baggage, you will have some choices to get where you're going. To travel downtown you have some options. See the section "Getting to Downtown" below for details.
Arriving by float plane to Victoria BC
This is a fun way to arrive in Victoria from either Vancouver or from Seattle, and landing on water, we are learning is a bucket list item for some people.
Harbour Air operates floatplane flights from Vancouver Harbour and Vancouver International Airport (plus some other departure points) to Victoria. You can book directly through them on their website. If you prefer to book through a tour company, you can book here.
Kenmore Air operates floatplane flights from Seattle to Victoria. You can book directly through them on their website.
Both land in downtown Victoria harbour. Keep in mind you can book these routes one way. You may choose to do so and take a ferry back in the opposite direction, for example.
Arriving by Helijet to Victoria BC
The Helijet flies from Vancouver Harbour (daily scheduled flights) or Vancouver International Airport (weekdays only) to Victoria Harbour. It also flies to Nanaimo in case that's your ultimate destination. You need to reserve ahead of time, and may do so on their website.
Arriving by ferry to Victoria BC
Riding one of the ferries coming to Victoria is comfortable and typically a more inexpensive way to travel to Victoria than flying in.
There are a few different ferries that travel to Victoria BC.
The Coho Ferry from Port Angeles, the Clipper from Seattle both arrive to downtown Victoria.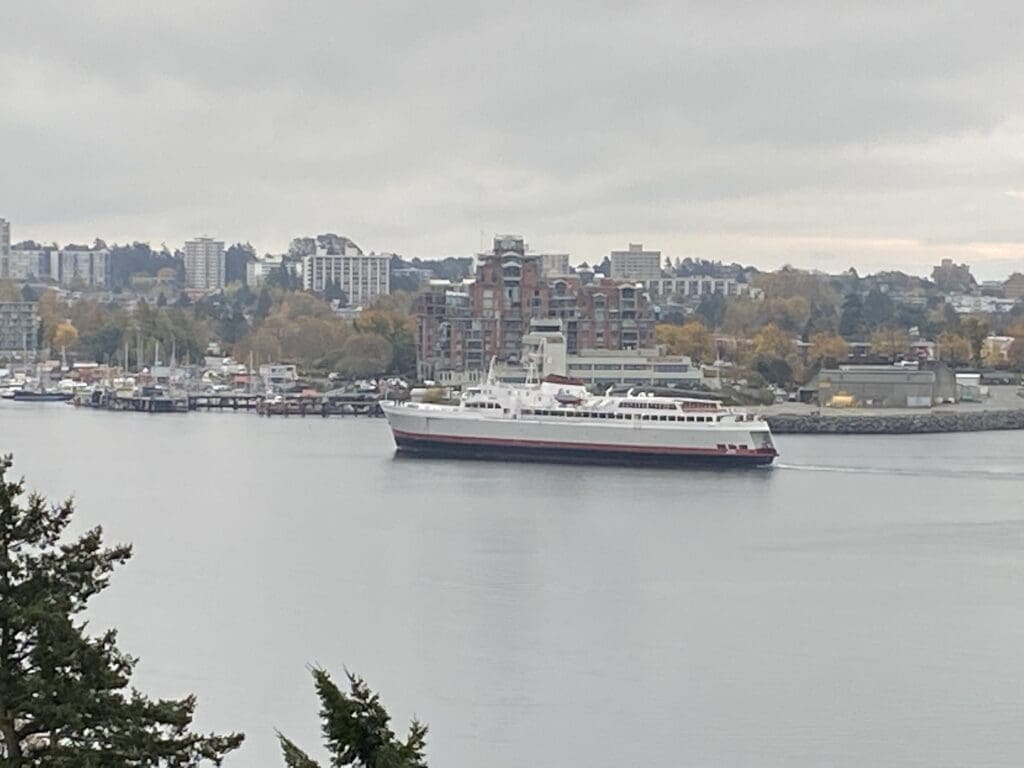 BC ferries from the mainland (Vancouver) or from the Southern Gulf Islands arrive to Swartz Bay. You can travel on BC Ferry as a foot passenger or with a vehicle. You may want to reserve as the ferries can get very busy during peak sailings. People from all over the world travel BC ferries to get to Victoria BC.
Anacortes Ferry from Washington to Sidney. Unfortunately, this Washington State Ferry is currently out of service until further notice.
Getting to downtown Victoria
If you're coming into the airport or to Swartz Bay Ferry Terminal, you'll need to make your way downtown Victoria. There are a few options.
Ride hailing service, currently only Kabu
Kabu is new to Victoria. You have to download the app and register prior to using Kabu.
Taxicab
Taxi service at the Victoria International Airport is through Yellow Cabs. You should see some lined up just outside the door when you leave the arrivals area of the airport. From the ferry terminal you will likely have to call for a cab.
Rent a vehicle
You can rent a vehicle at the Victoria International Airport if you choose. We would definitely recommend if you plan to rent a vehicle, it would be much less expensive to book rental of a vehicle in advance of your arrival.
Public transportation – BC transit
This is what we choose to do, unless our flight times are unusual and the busses aren't running. It's usually fairly easy and quick to get to downtown.
Both the 70 and 72 run regularly, servicing both ferry and airport from McTavish Exchange. From the airport, you take the #88 bus to get to McTavish Exchange, then the 70 or the 72 to get downtown. We usually just take whichever comes first. The 70 is quicker by about 10 minutes, but the 72 is more scenic and because it takes a bit longer isn't usually as crowded.
BC Transit is, by far the least expensive option, costing only $5 per person for a day pass. A single fare covers only one bus, and as you'll need two busses to get downtown from the airport (88 & 70/72), you're getting a day pass. The driver won't make change for you, and it's cash only (or two BC transit tickets you can purchase at the airport), so be prepared. If you are leaving from the ferry terminal, you will only need one fare to get downtown. Take the 70 express and if you don't have much luggage, go up the stairs to enjoy the view!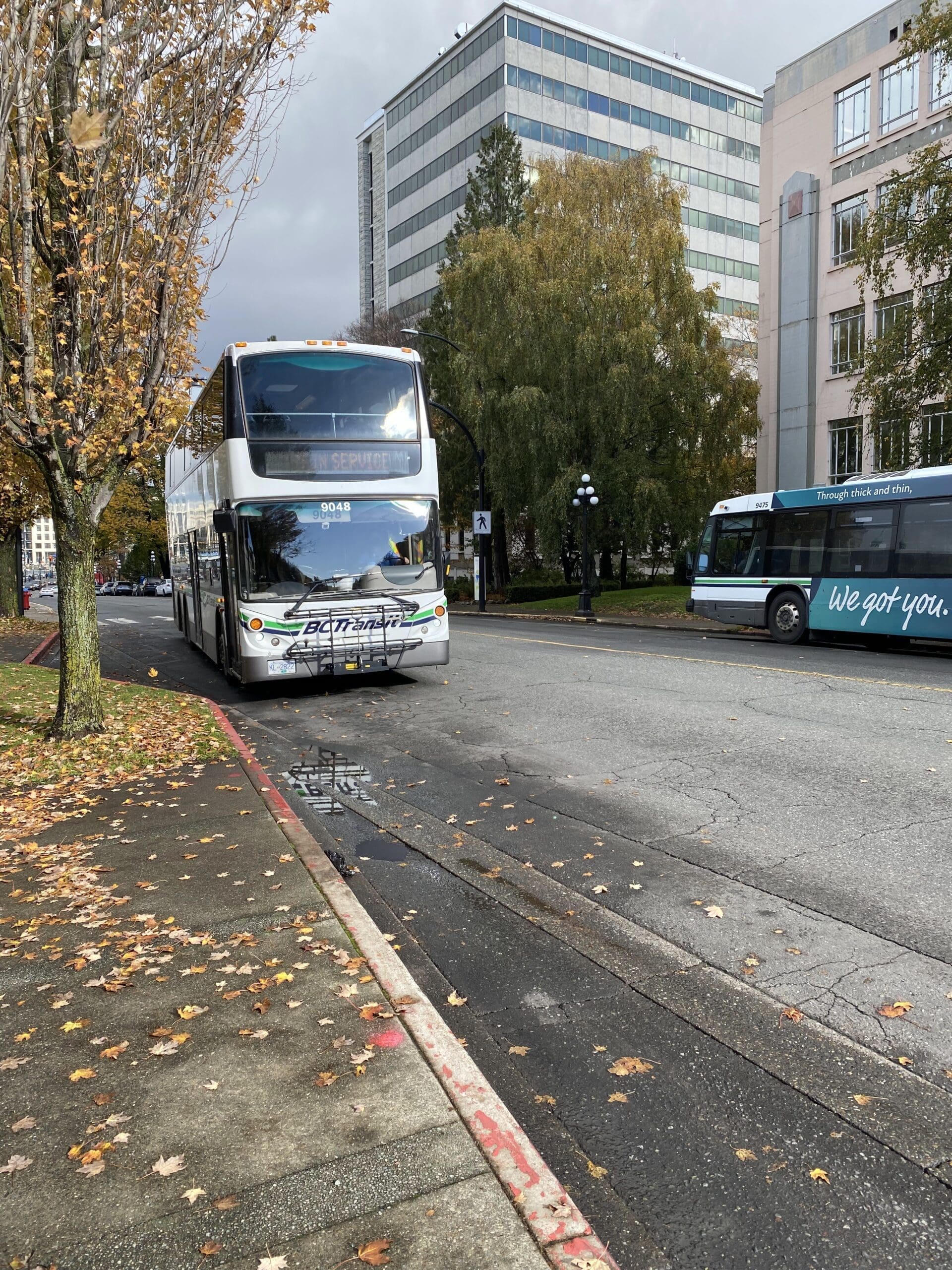 Cycling
Yes, we understand this won't be a good option if you're carrying any amount of luggage. However, Victoria is considered the cycling capital of Canada, and there are therefore services available at YYJ for those who choose to cycle in and out of the airport or ferry termnal. If you've brought your bike with you on your flight, there are multi-use paths that connect with the regional bike paths to get you downtown. This also works if you've brought your bike with you on the ferry.
We hope you enjoy your trip to Victoria BC, and invite you to return to our Victoria BC Travel Tips menu to help you plan your trip.