Christmas Season in Seattle December 2021
Seattle Center
Seattle Center is alive with festive spirit! This post is about enjoying the Christmas season in Seattle December 2021.
We stayed in the central area during our latest visit to Seattle a few days ago. We were only in town for a short time (less than 72 hours), and wanted to make the most of our visit and walk, rather than drive, to central attractions.
There are tons of activities in Seattle Center and we barely scratched the surface while there.
Here are some of the activities we decided to partake in, given our limited time this past trip:
Seattle Space Needle
Although all the adults in our group had been to Seattle before a number of times, none of us had actually gone up the Space Needle previously. It's definitely a treat! The Space Needle is all decked out for the holiday season, including a Christmas Tree placed atop. If visiting Santa is part of your planned activity at the Space Needle, click the link above to find out when Santa is in attendance. We chose to plan our visit to maximize our view of the lights of the city (dark). Make sure you also go down to the revolving glass floor after walking around the observation deck.
We booked our tickets ahead of time. Although it was busy when we went, there was still ample space to physical distance from others.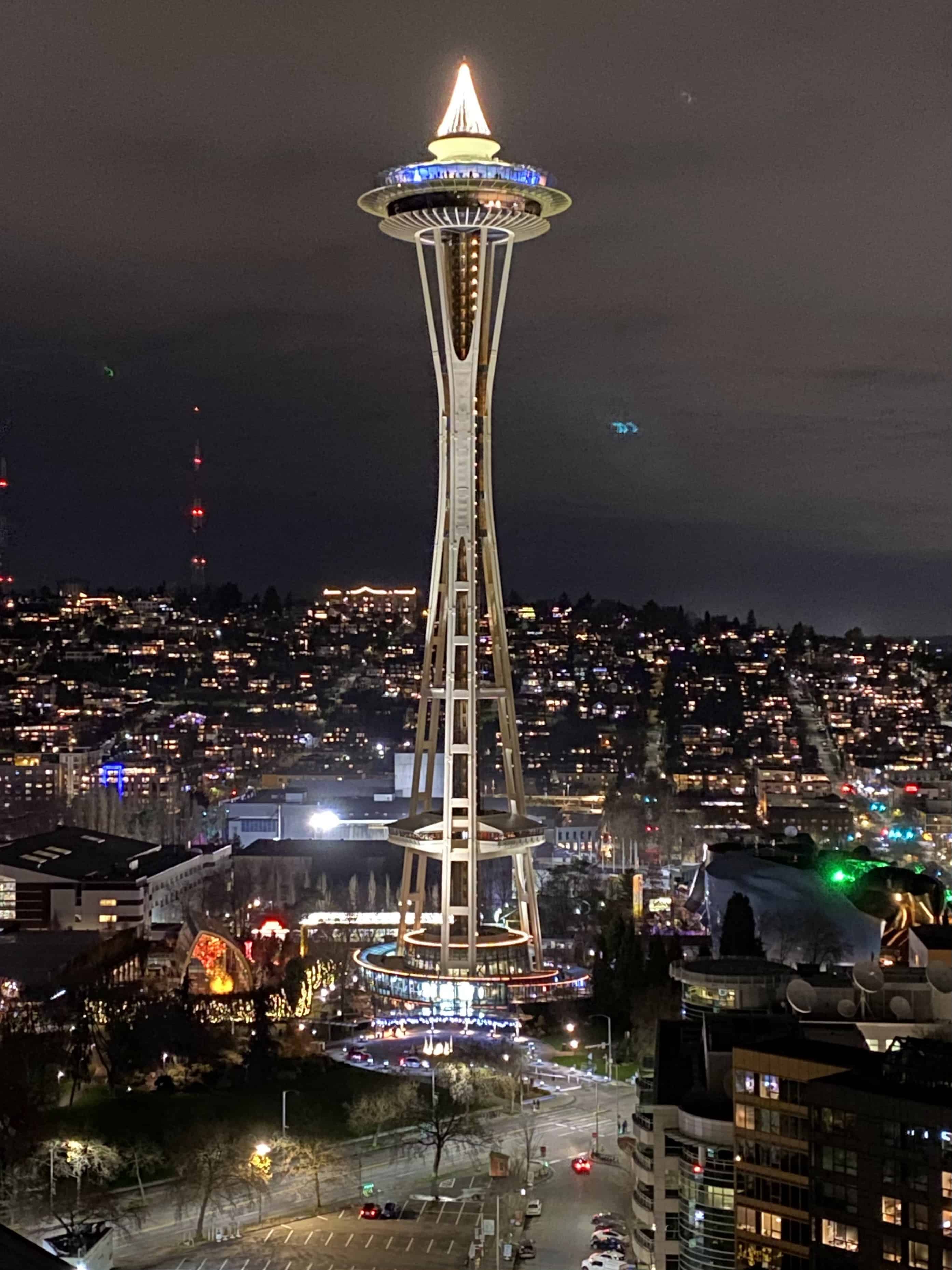 The view was spectacular from the Observation Deck at 520 feet above ground and seeing the city from this vantage point was a unique experience! The glass floor sits slightly lower at 500 feet.
Seattle Great Wheel
The Seattle Great Wheel also offers great views of the city and harbour. By the second pass around, Gail was starting to feel a bit more comfortable. Heights aren't her thing, especially whilst suspended and swaying in mid air while others boarded the Wheel.
It was fun for all of us, and as you're in an enclosed "car" it felt very safe and secure. The ride was smooth except for Paul rocking it from time to time which caused a bit of anxiety for some of us! The staff tell you as you're getting on that you will make three rotations. We counted more than three, however this may have been because they just opened and weren't too busy yet.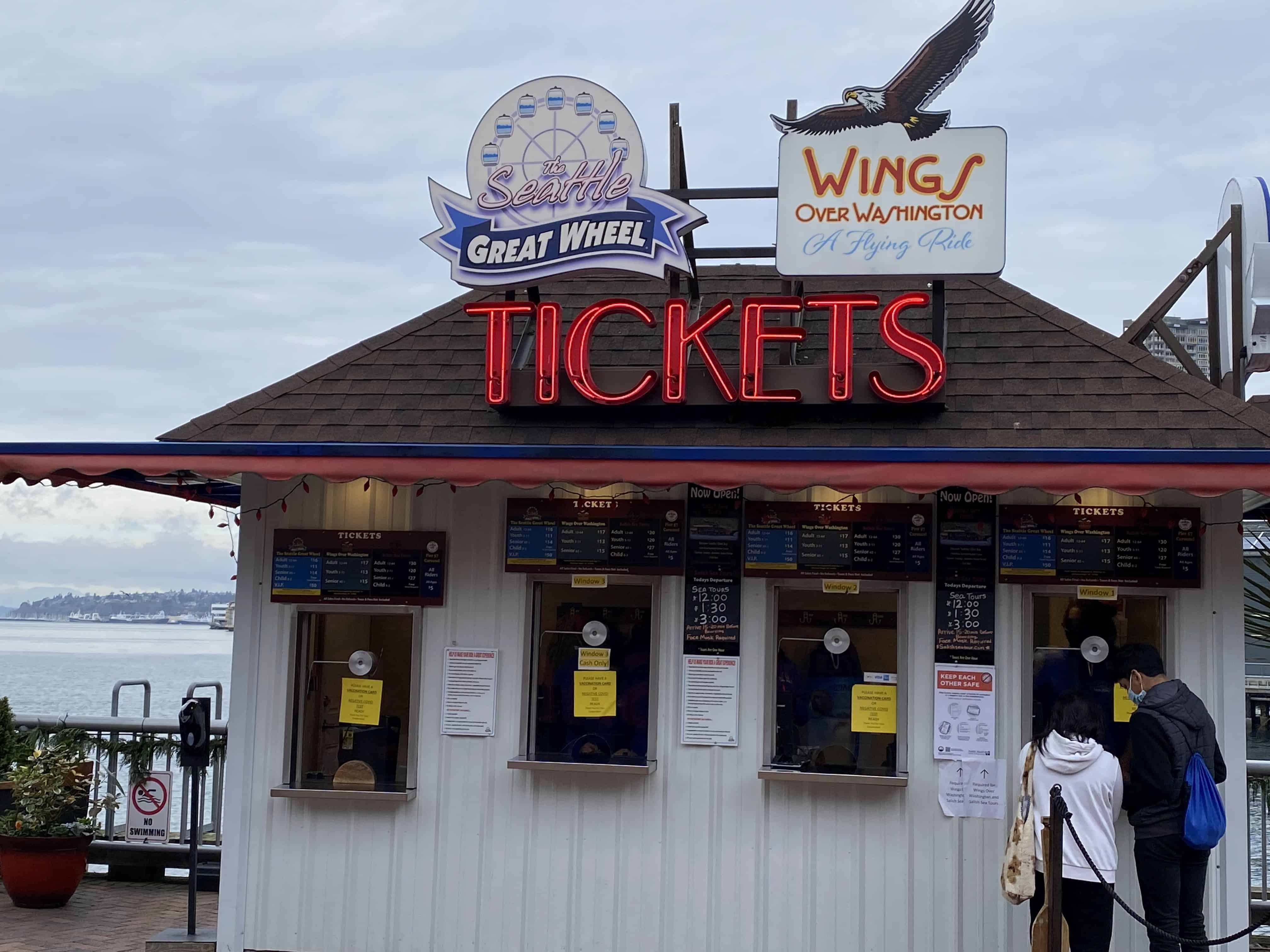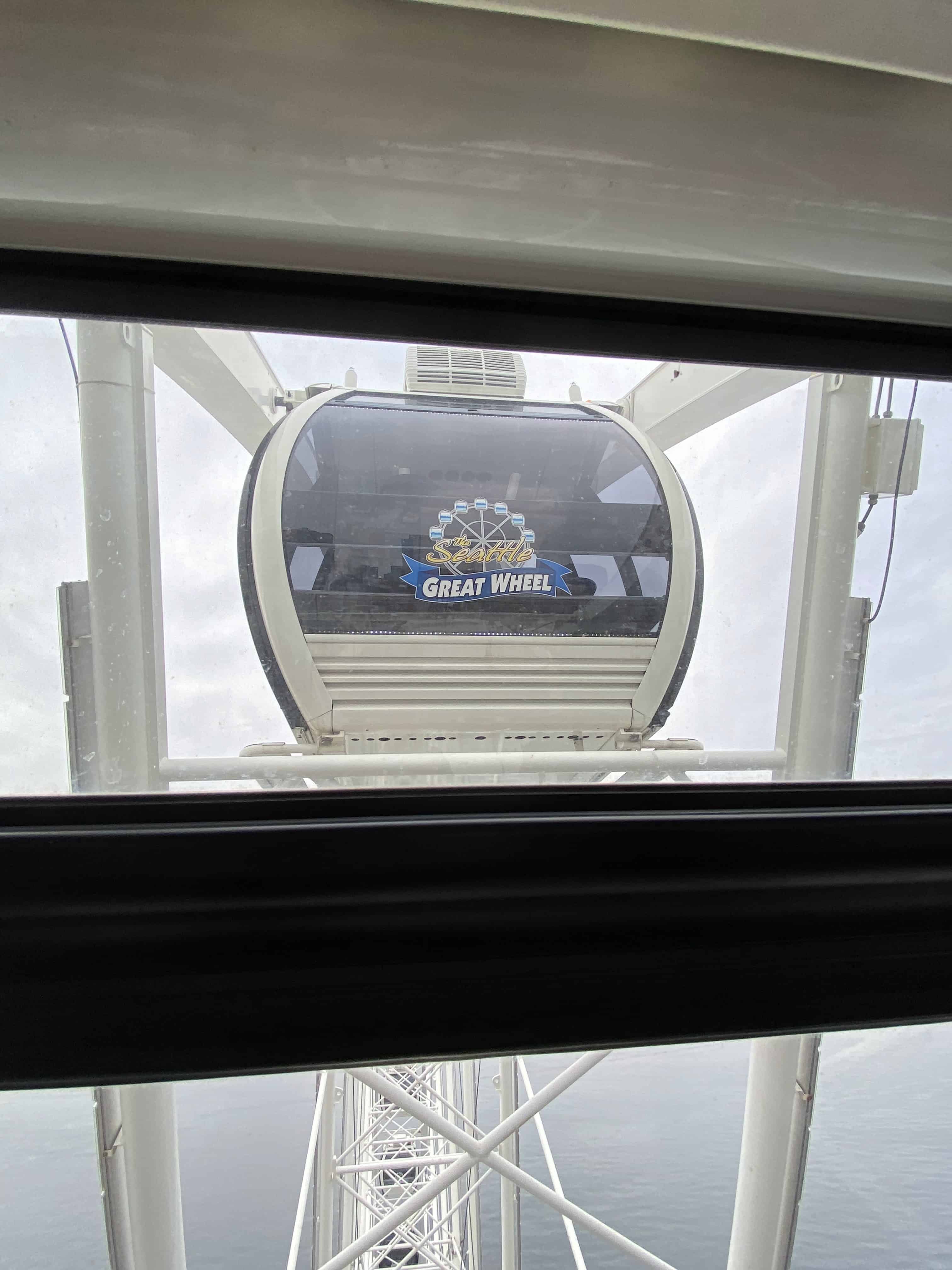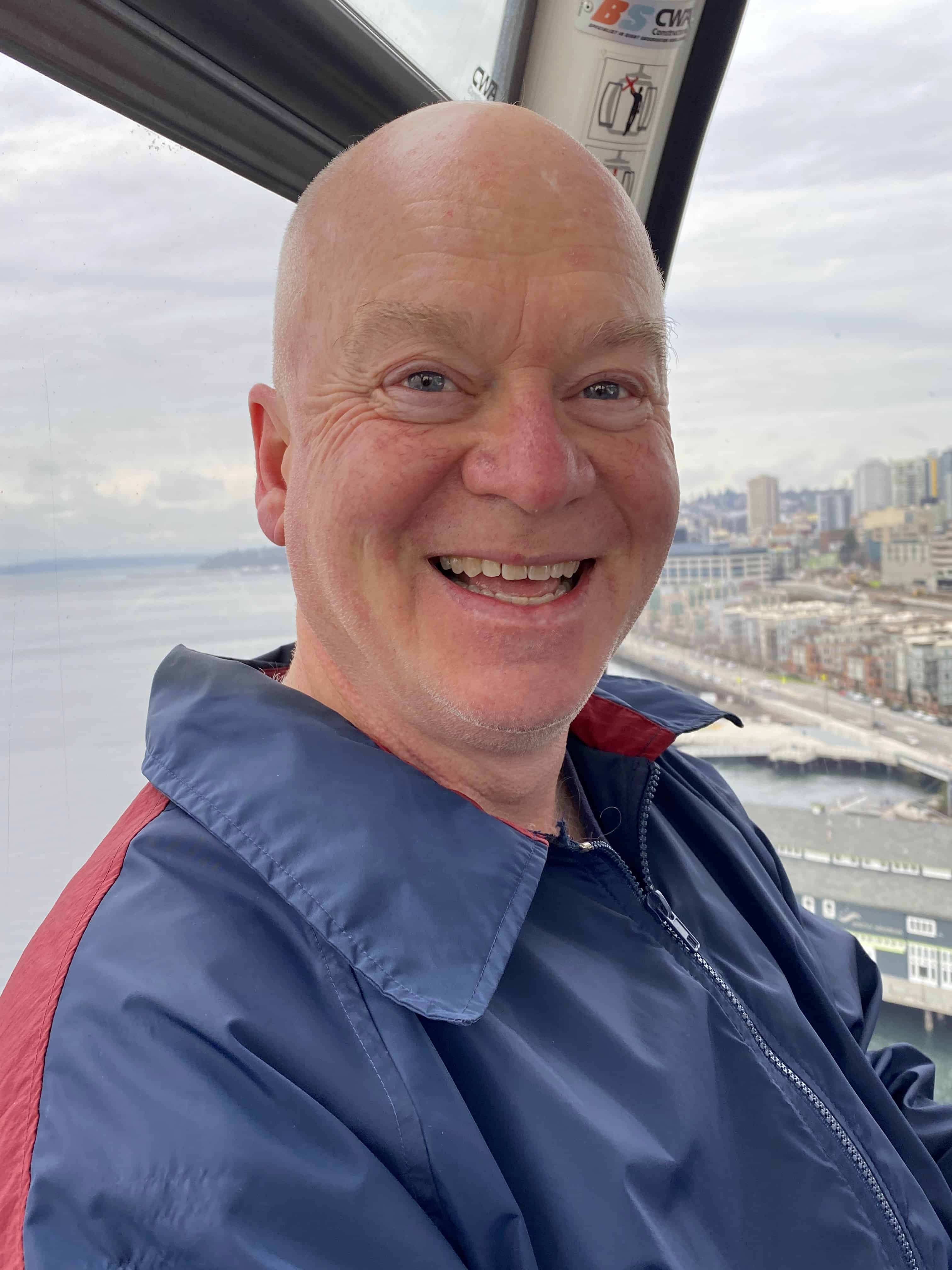 Winterfest Train and Village
The Winterfest Train and Village Display at the Armoury in Seattle Center is extraordinary. There is an activity for the kids (and adults too!) to find certain items within the display itself, which is massive. We went at least 3-4 trips around and still didn't find everything on the scavenger hunt list.
You will find yourself marvelling at the level of detail contained in this display.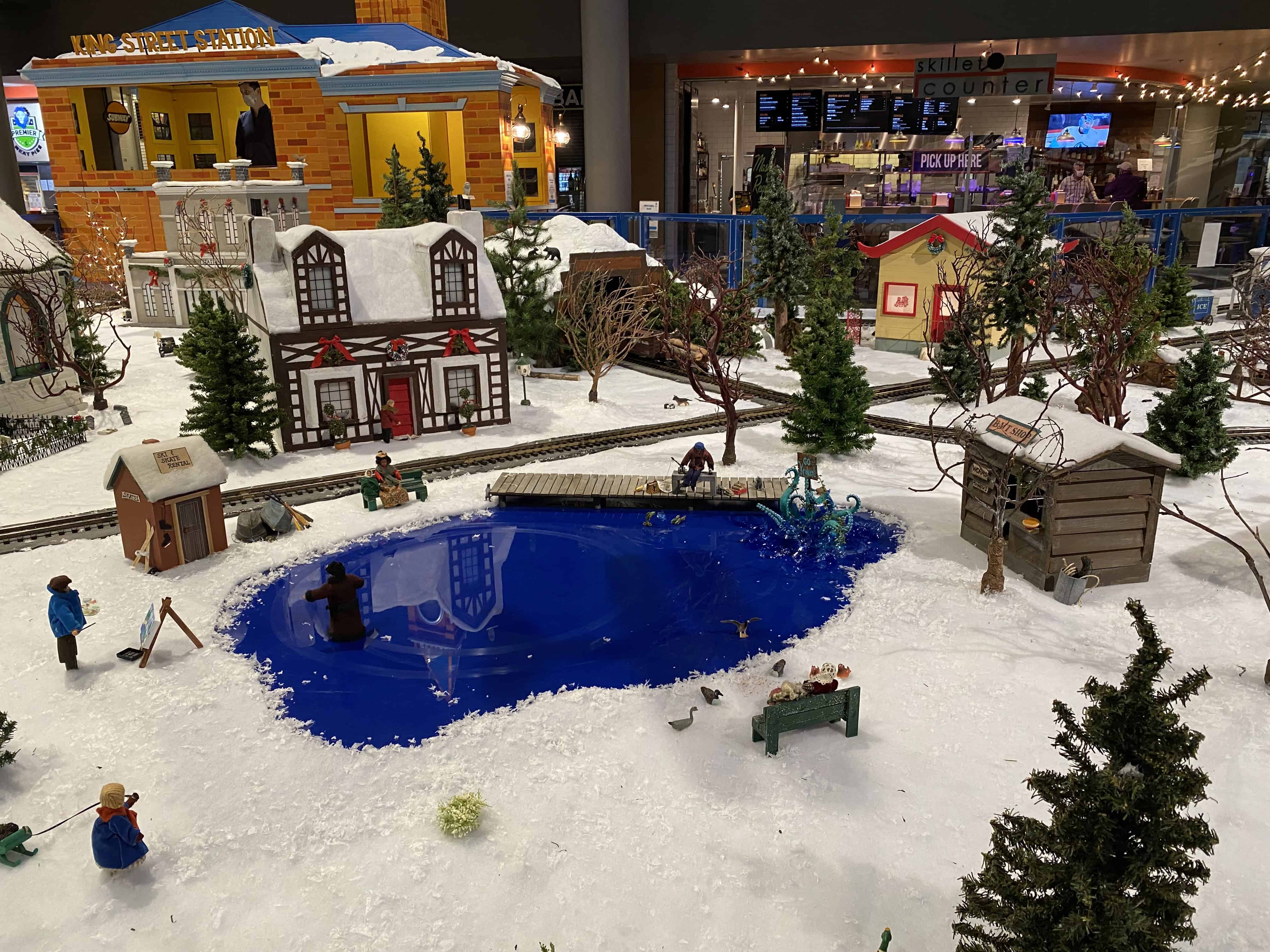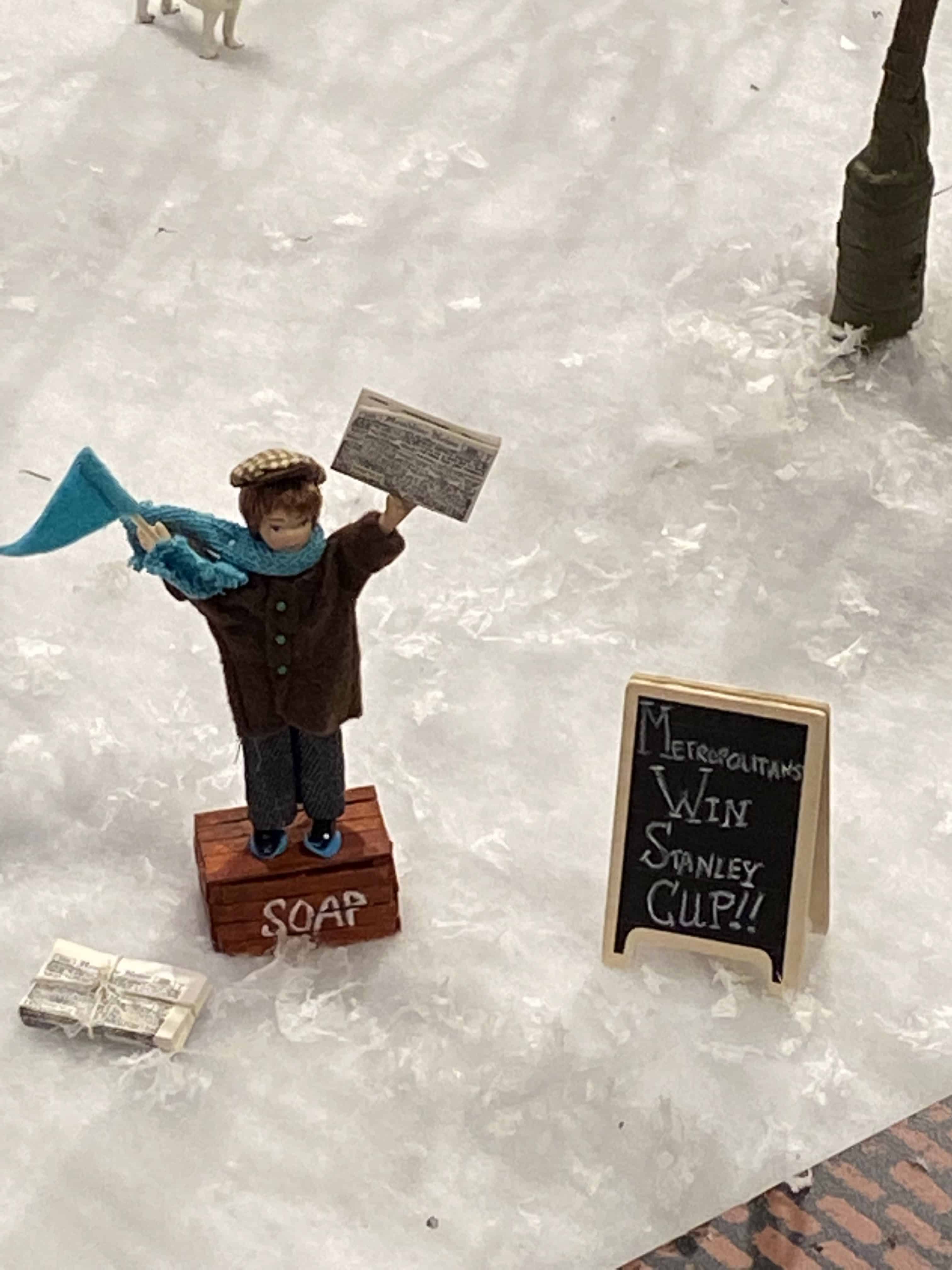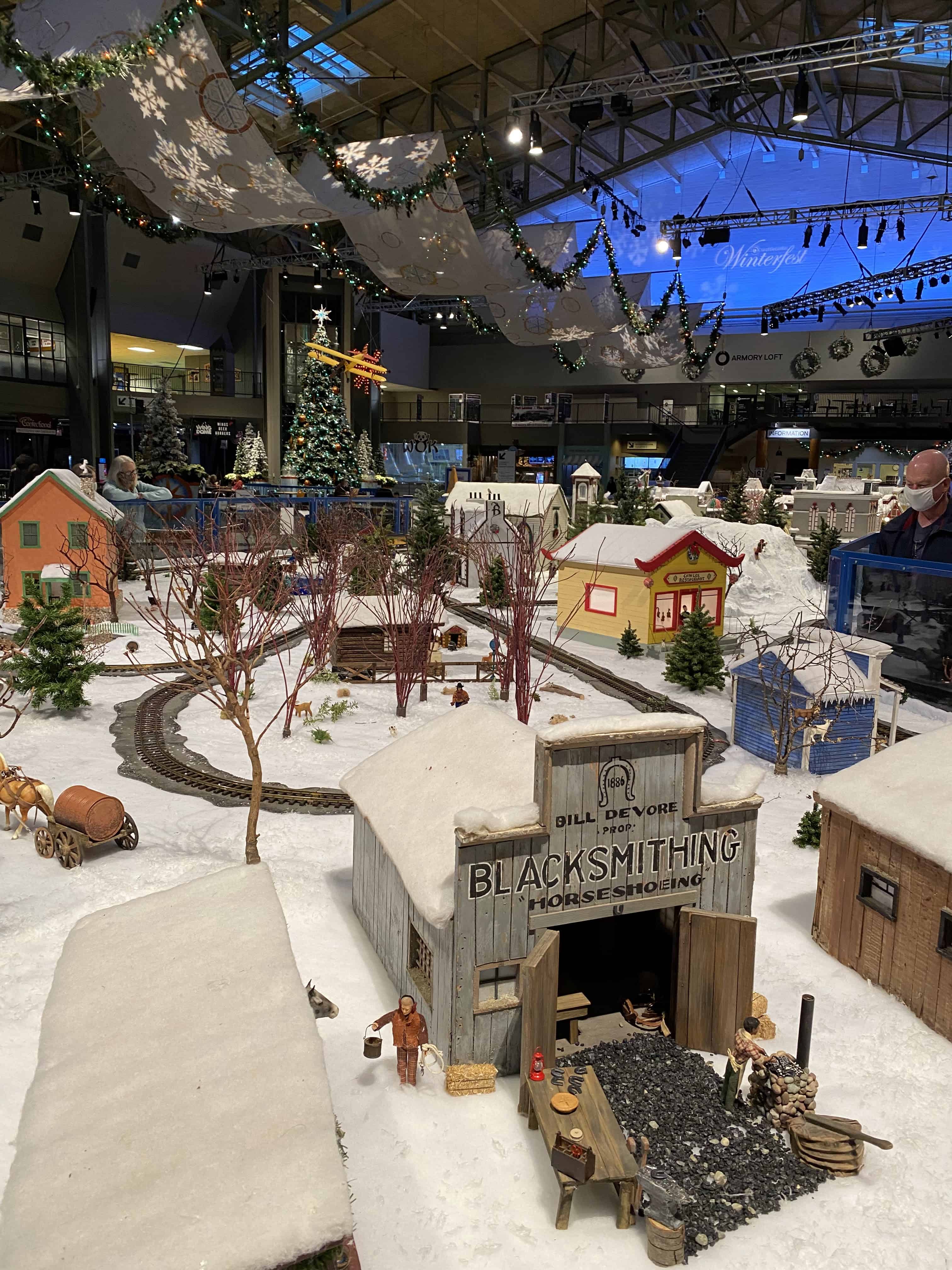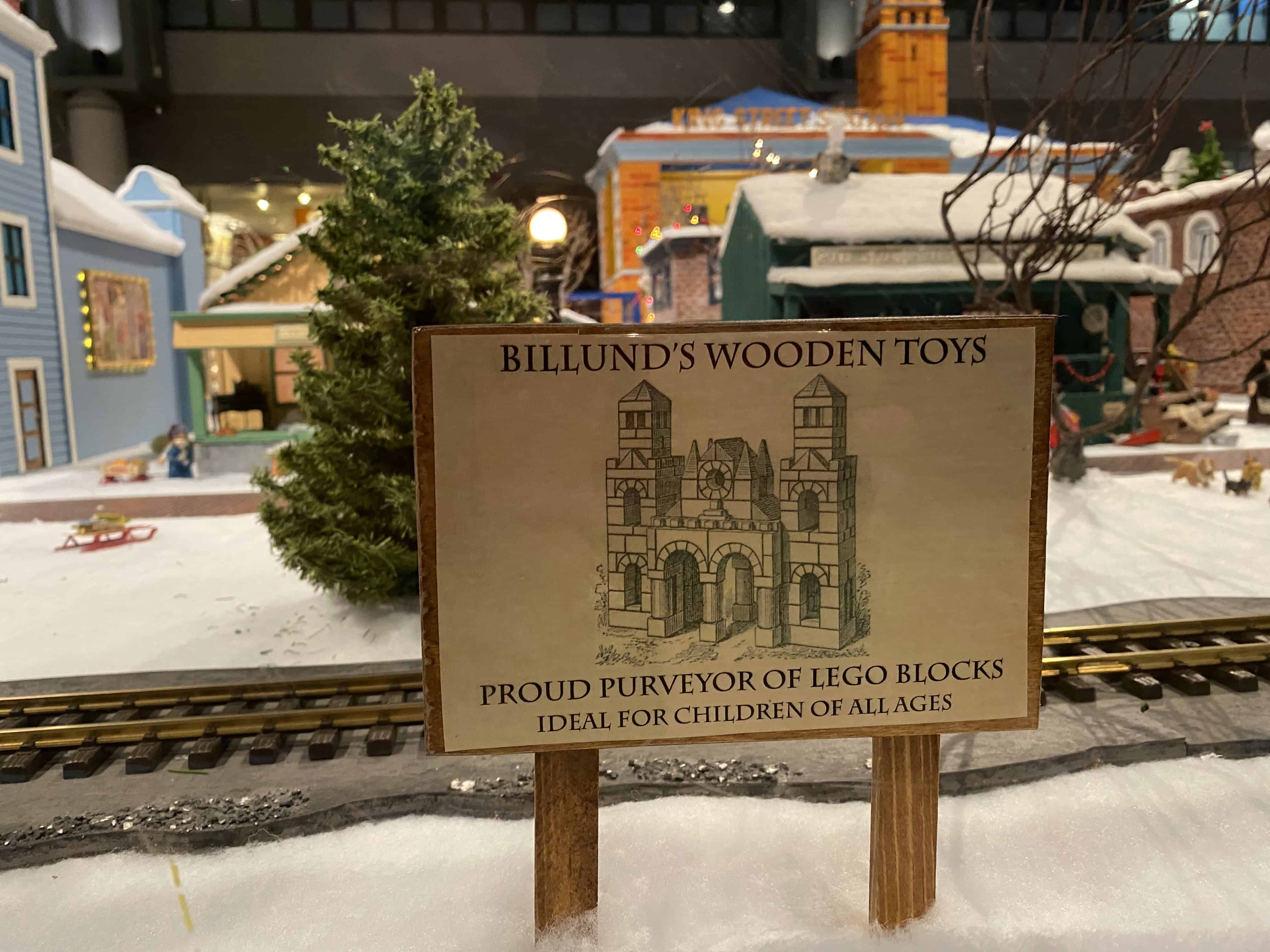 The train operates 10am to 6pm daily from through to December 31st. (Dec 24 closes at 4 pm; closed Dec 25).
Please make a donation at the booth to help keep the train running.
There are many other activities at Seattle Center for the family, please check here for events before you go.
Seattle Kraken NHL Hockey Game at Climate Pledge Arena
We booked our short trip to Seattle around the timing of this particular NHL hockey game which was on December 3, 2021. Seattle Kraken hosted the Edmonton Oilers for the first time at Climate Pledge arena. For a summary of hockey in Seattle, you may want to check our other post covering the inaugural game for the Seattle Kraken on October 23, 2021.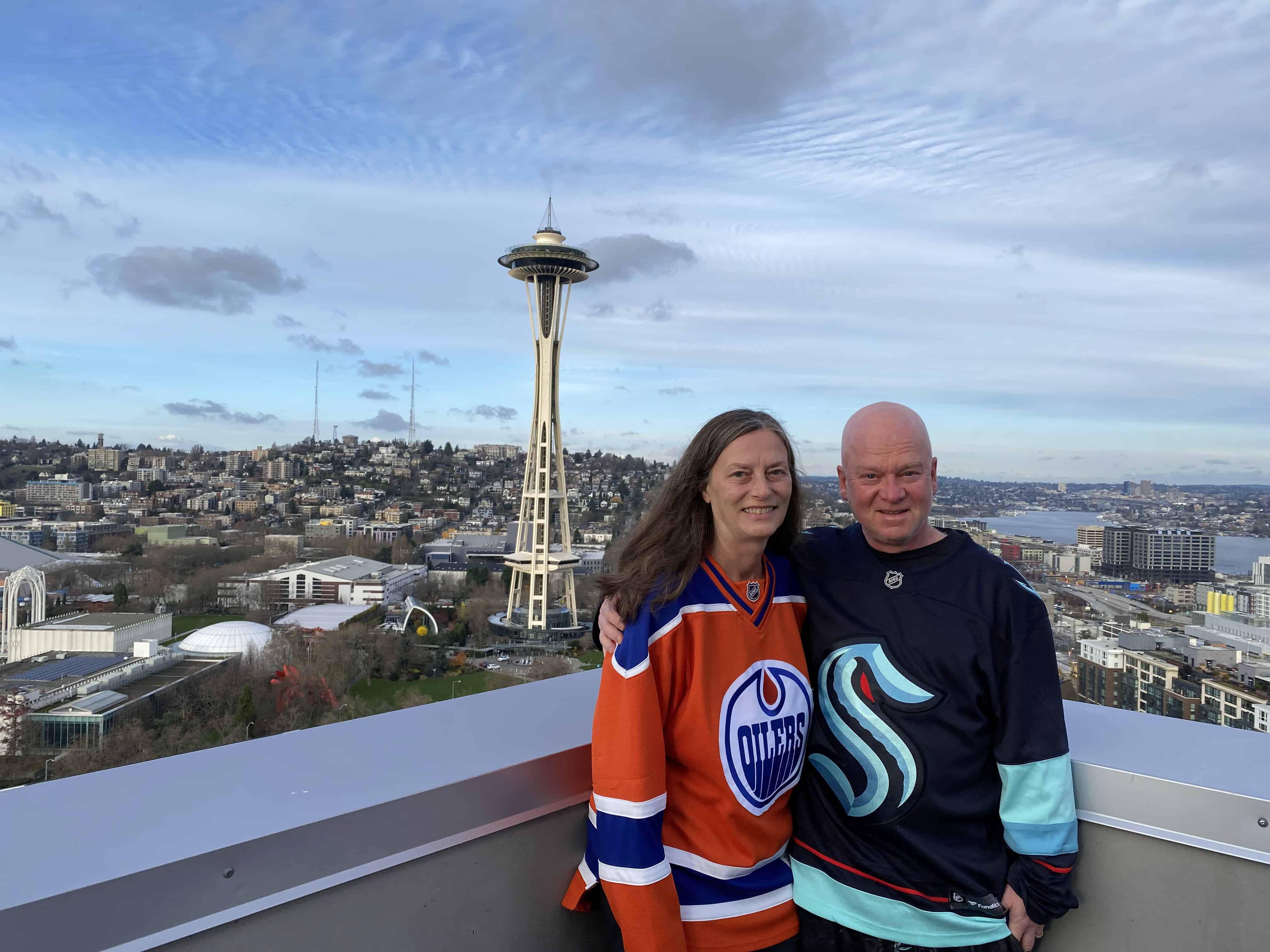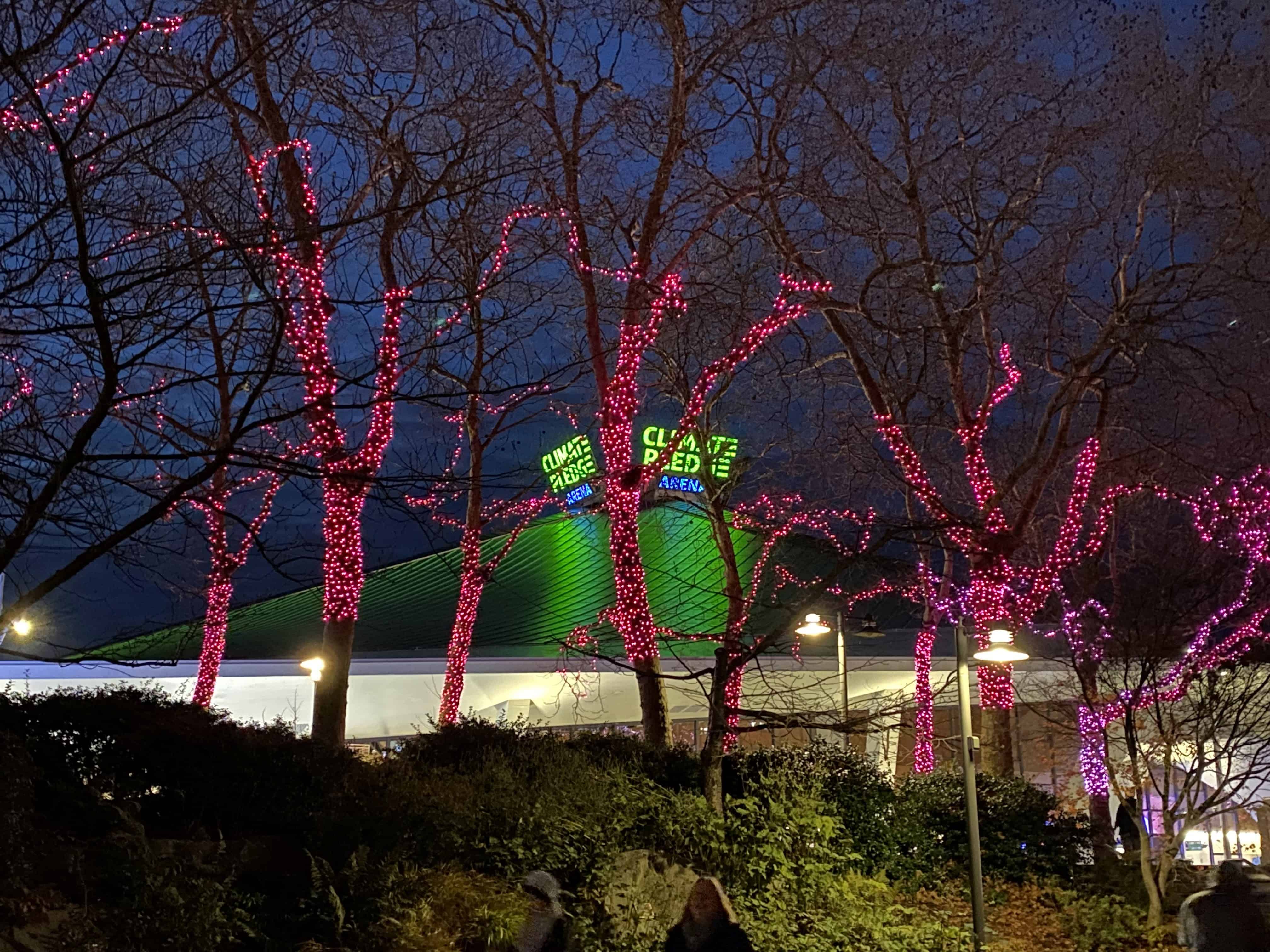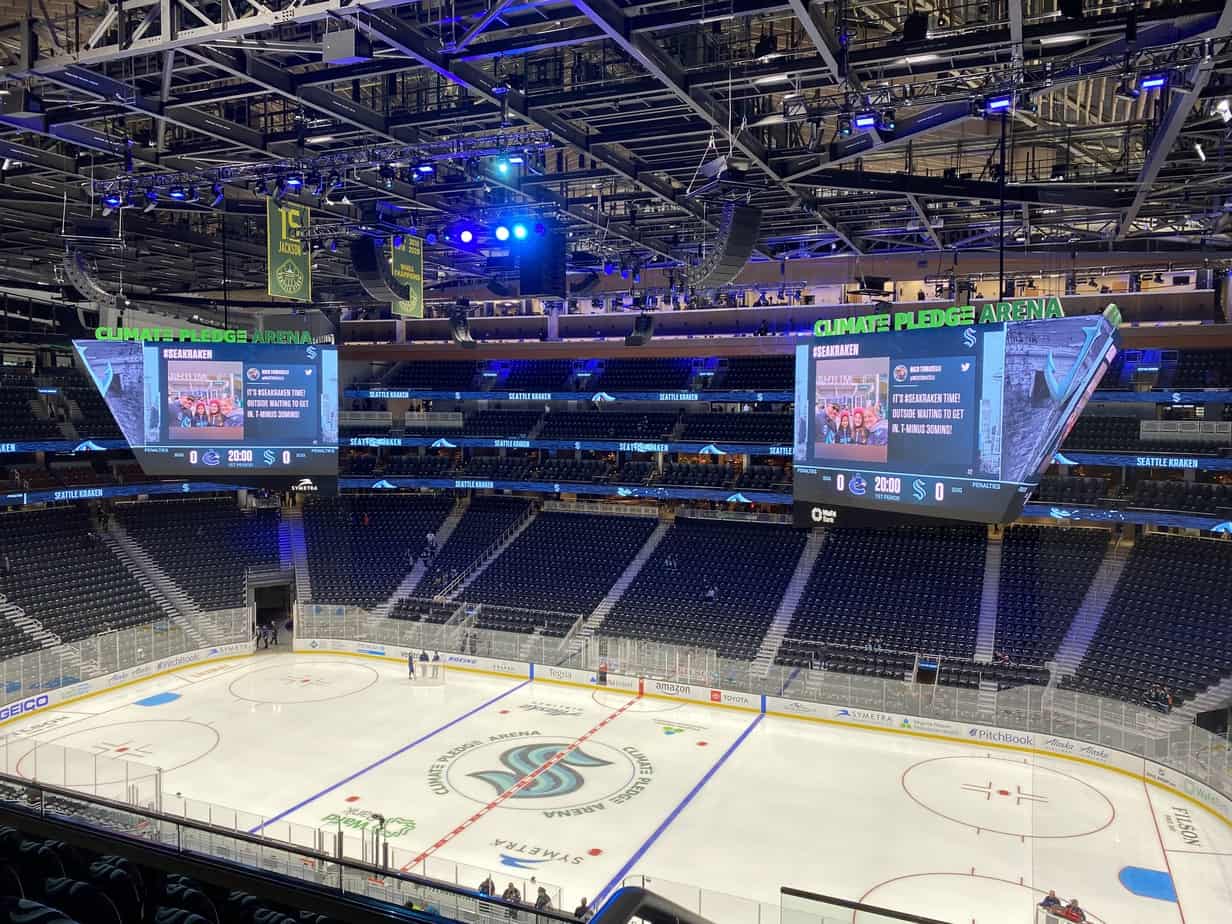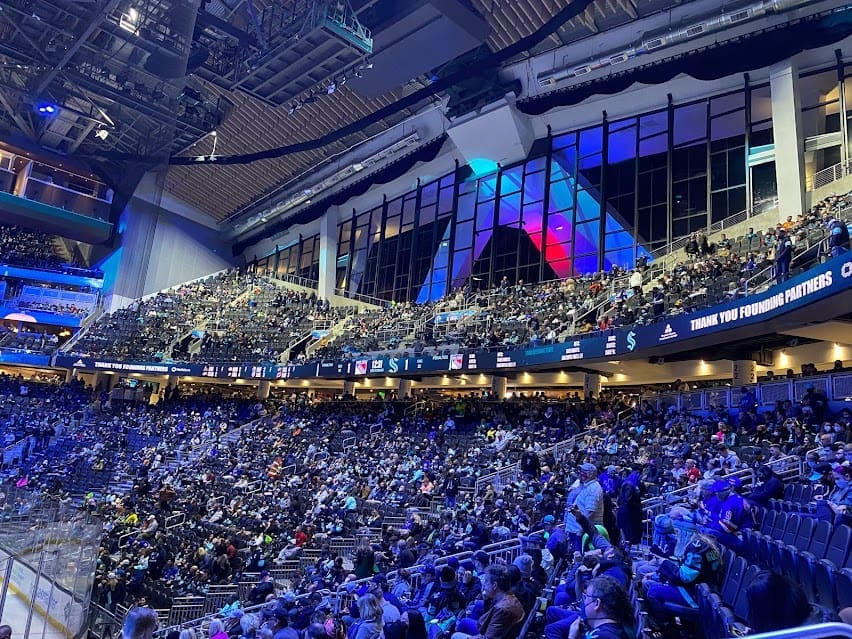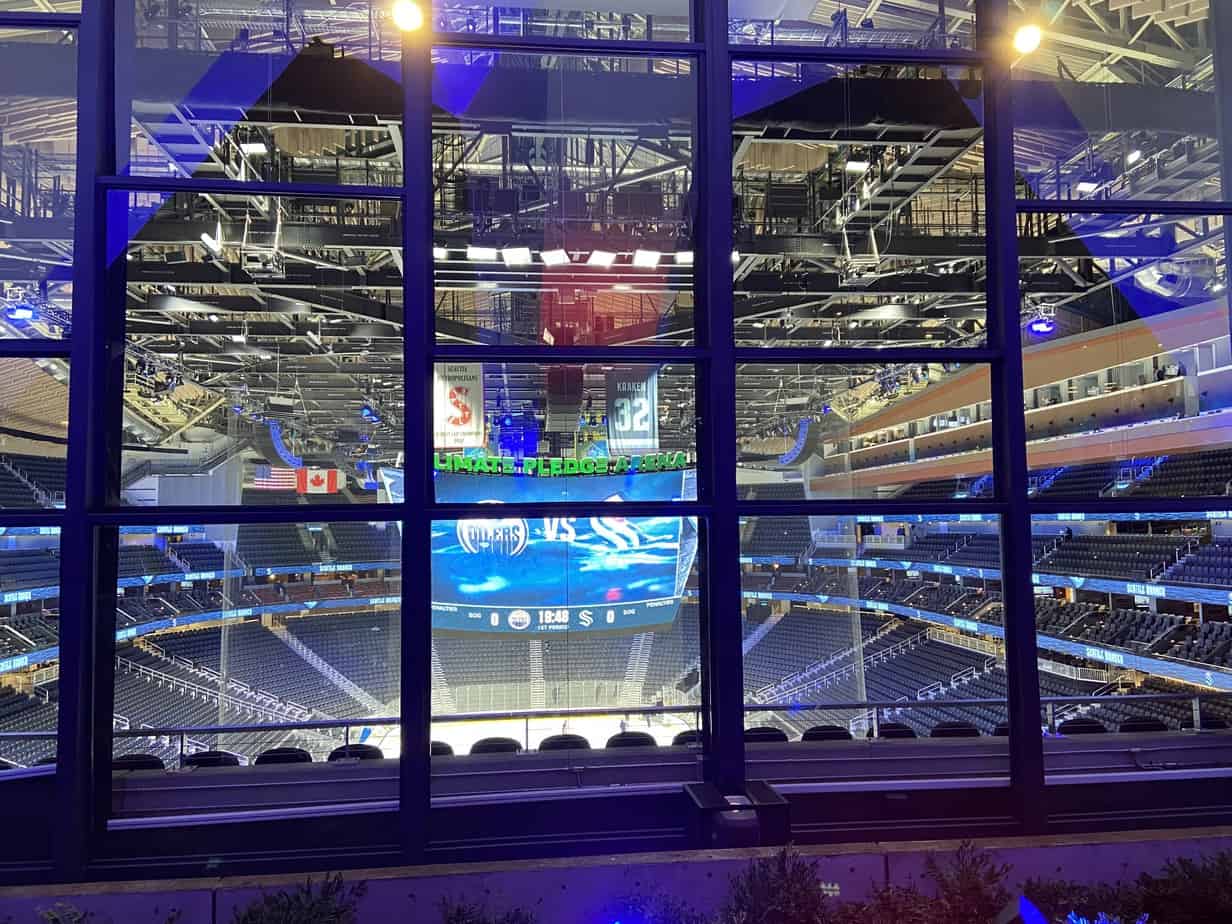 In the end, it was a great game, and the Kraken won! At least some of us were happy!
Pike Place Market
Pike Place market is a tourist destination for many, however it seems to also be a favorite local spot to purchase fresh produce and goods. We enjoyed the stores indoors, such as Market Coins and other small stores for browsing. Outside we watched through glass windows as they made cheese in huge vats at Beecher's Handmade Cheese.
We walked through the alley surrounded by the Gum Wall(s) which was oddly mesmerizing.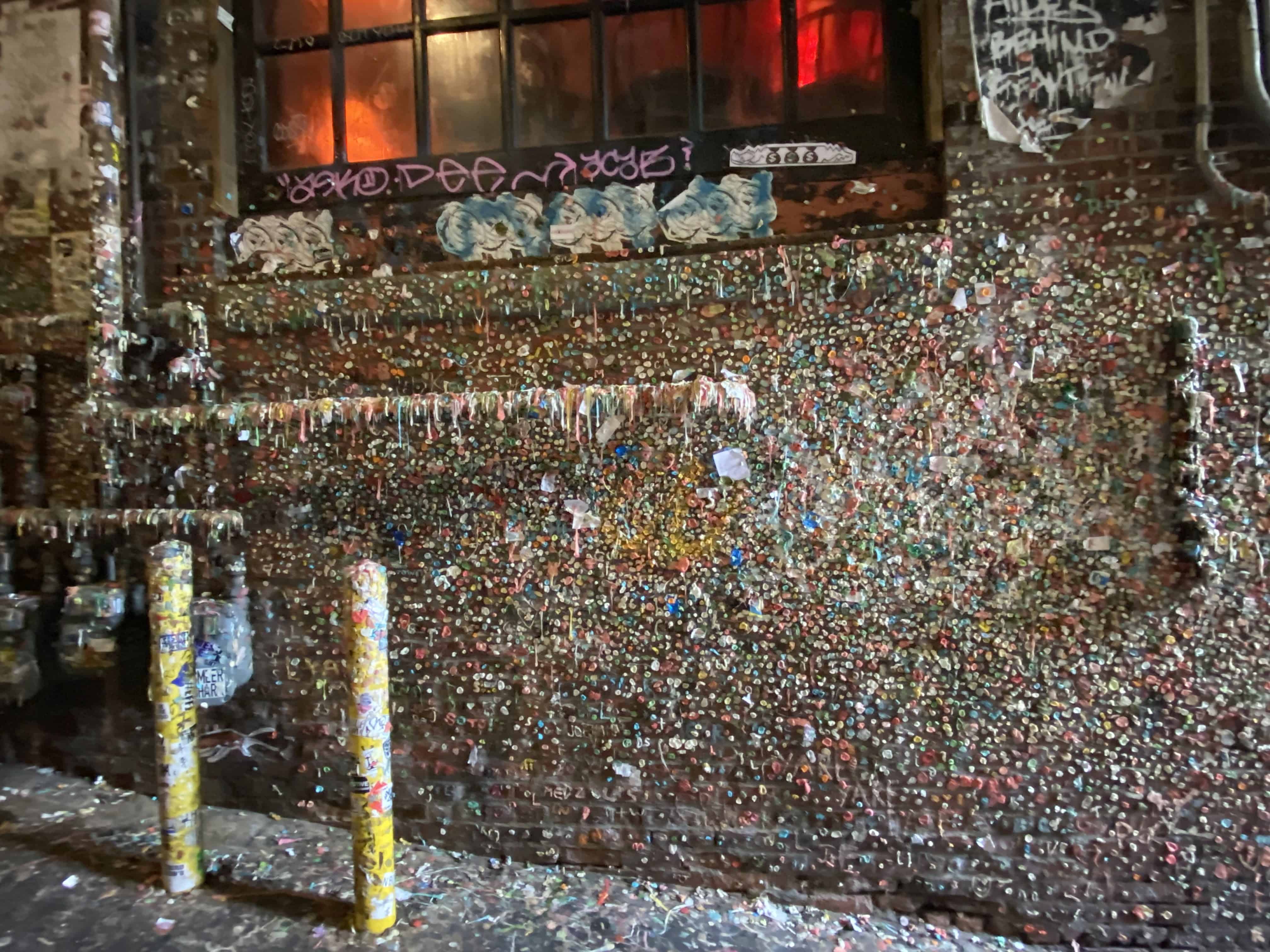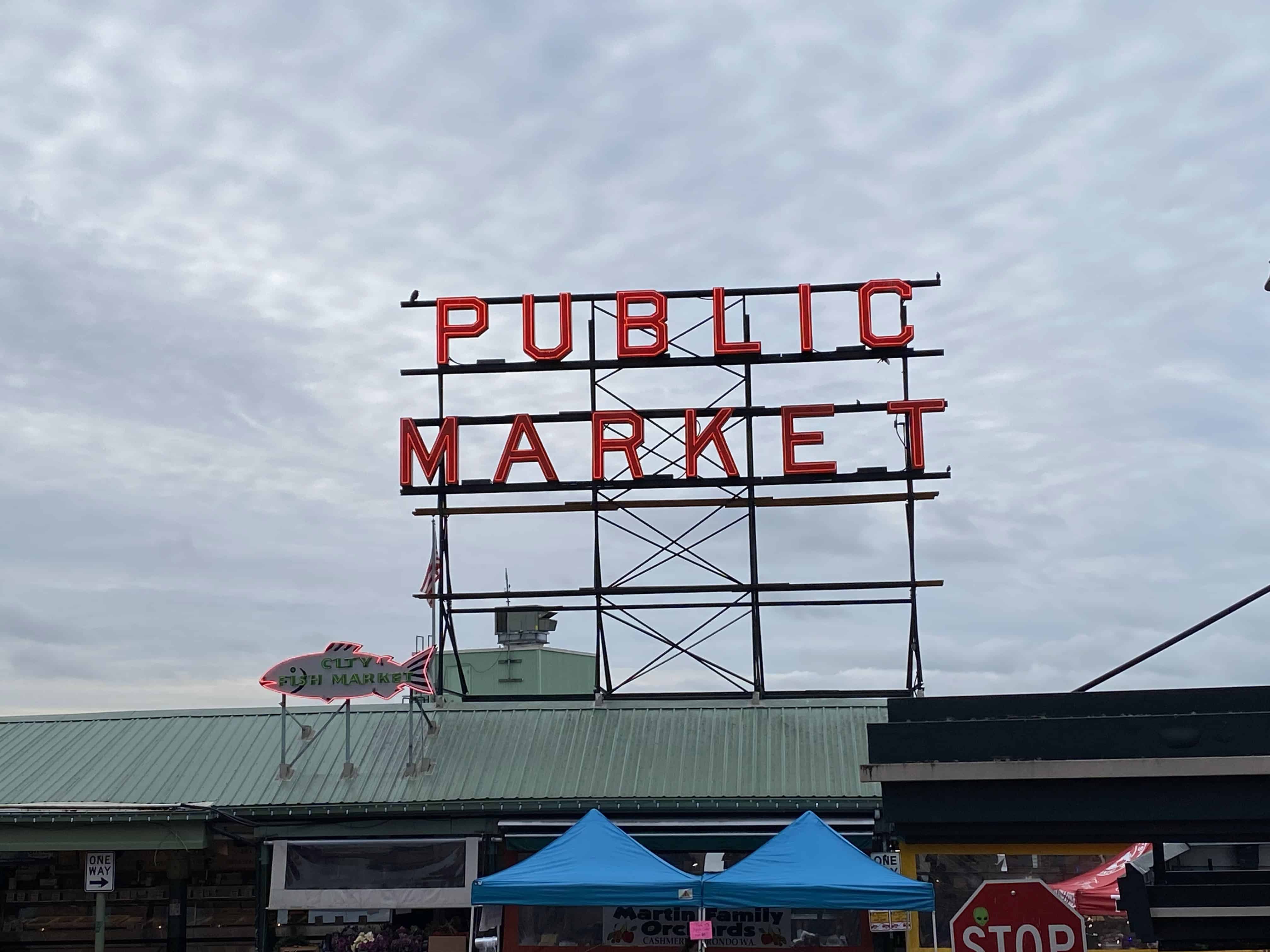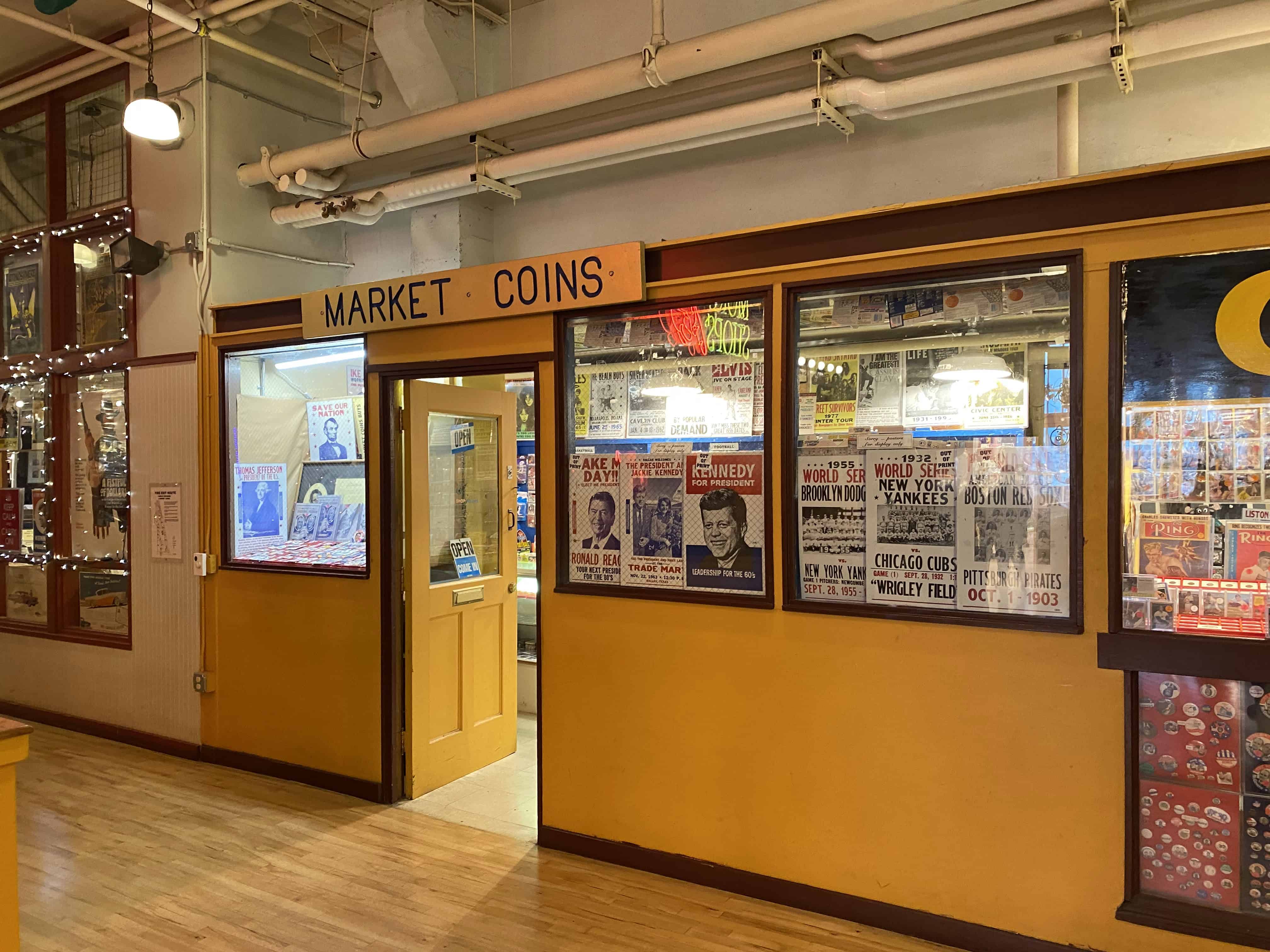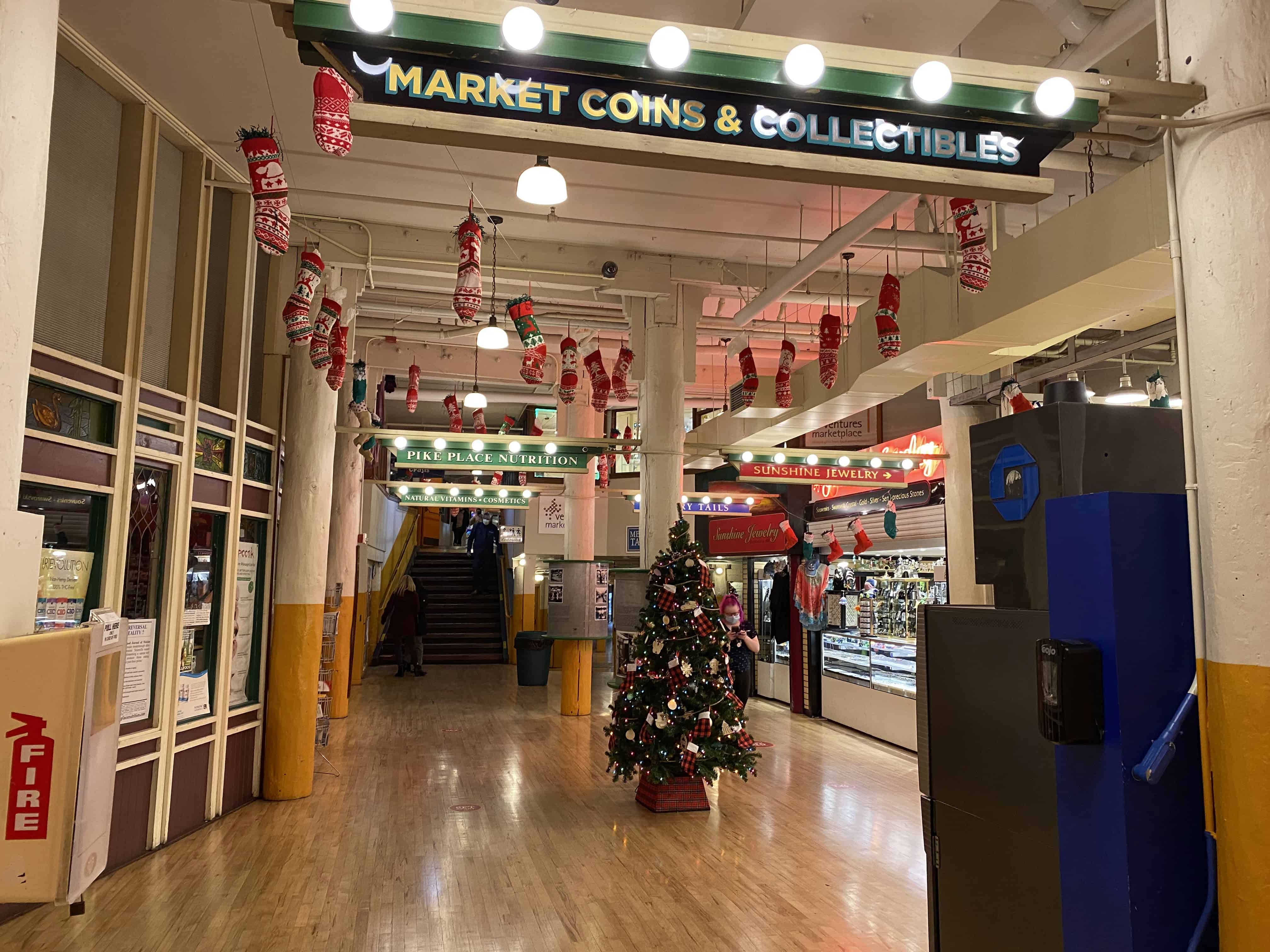 You could spend days exploring Pike Place Public Market. There is so much to see and experience here. We will be back again on a future visit!
Walk around Seattle Center before a hockey game
Seattle Center welcomes the public before hockey games for pre-game celebrations. It's a fantastic atmosphere filled with people in their jerseys excited with anticipation before the game starts. You can enjoy a drink or food with friends here, then walk around outside to enjoy the lights. This gives you an amazing sense of the Christmas Season in Seattle December 2021. The lights are spectacular around the International fountain and buildings within this area.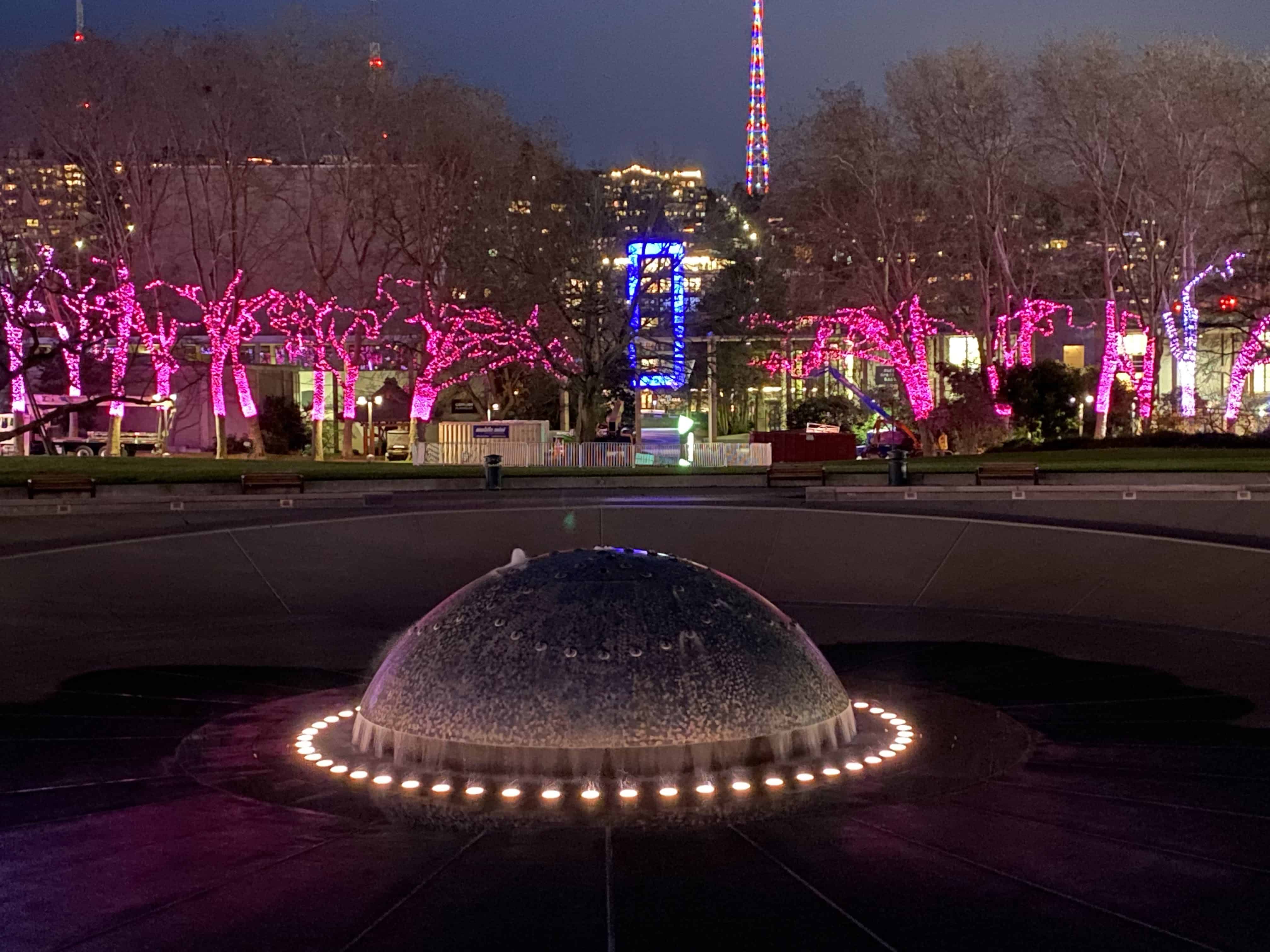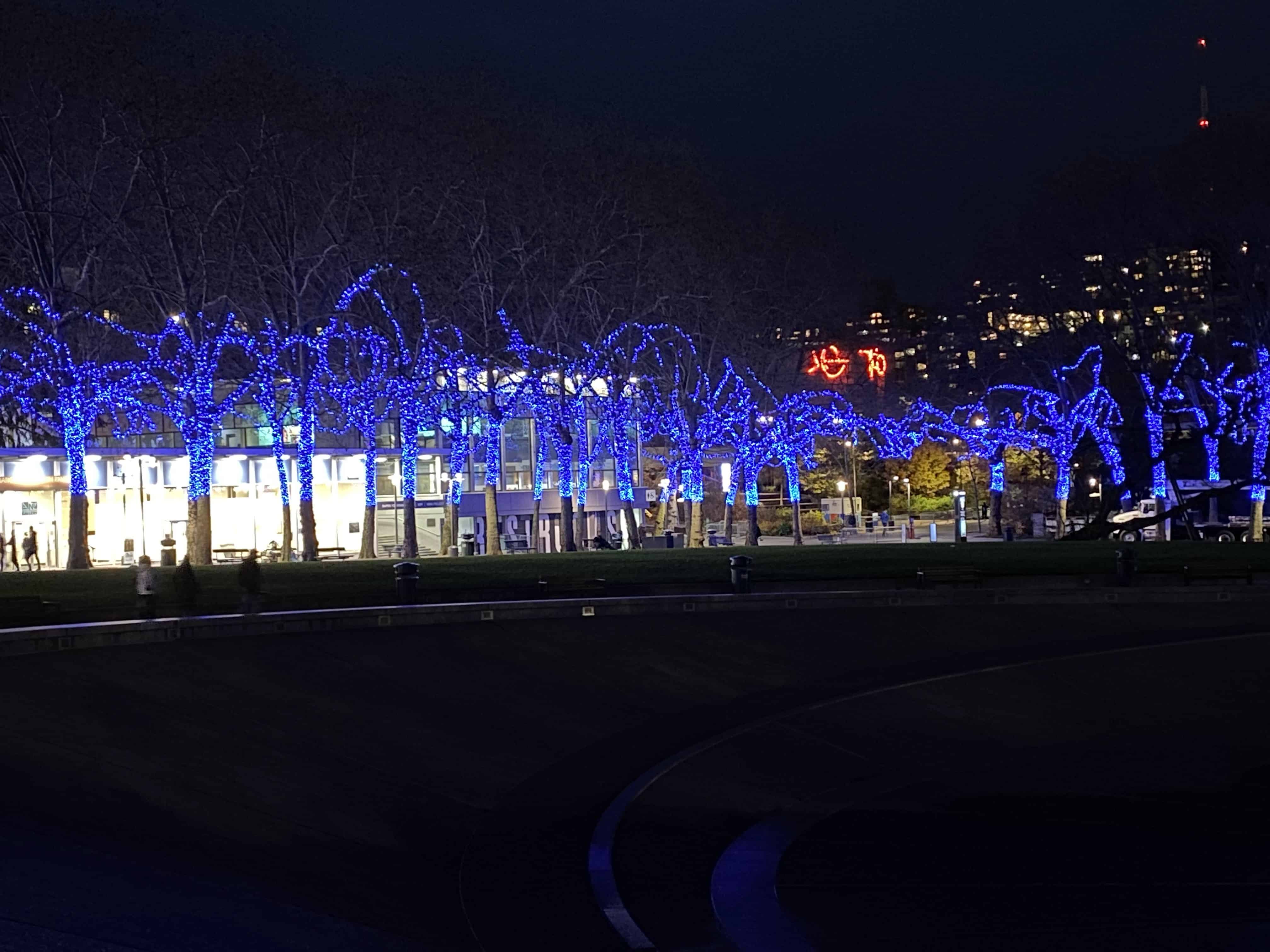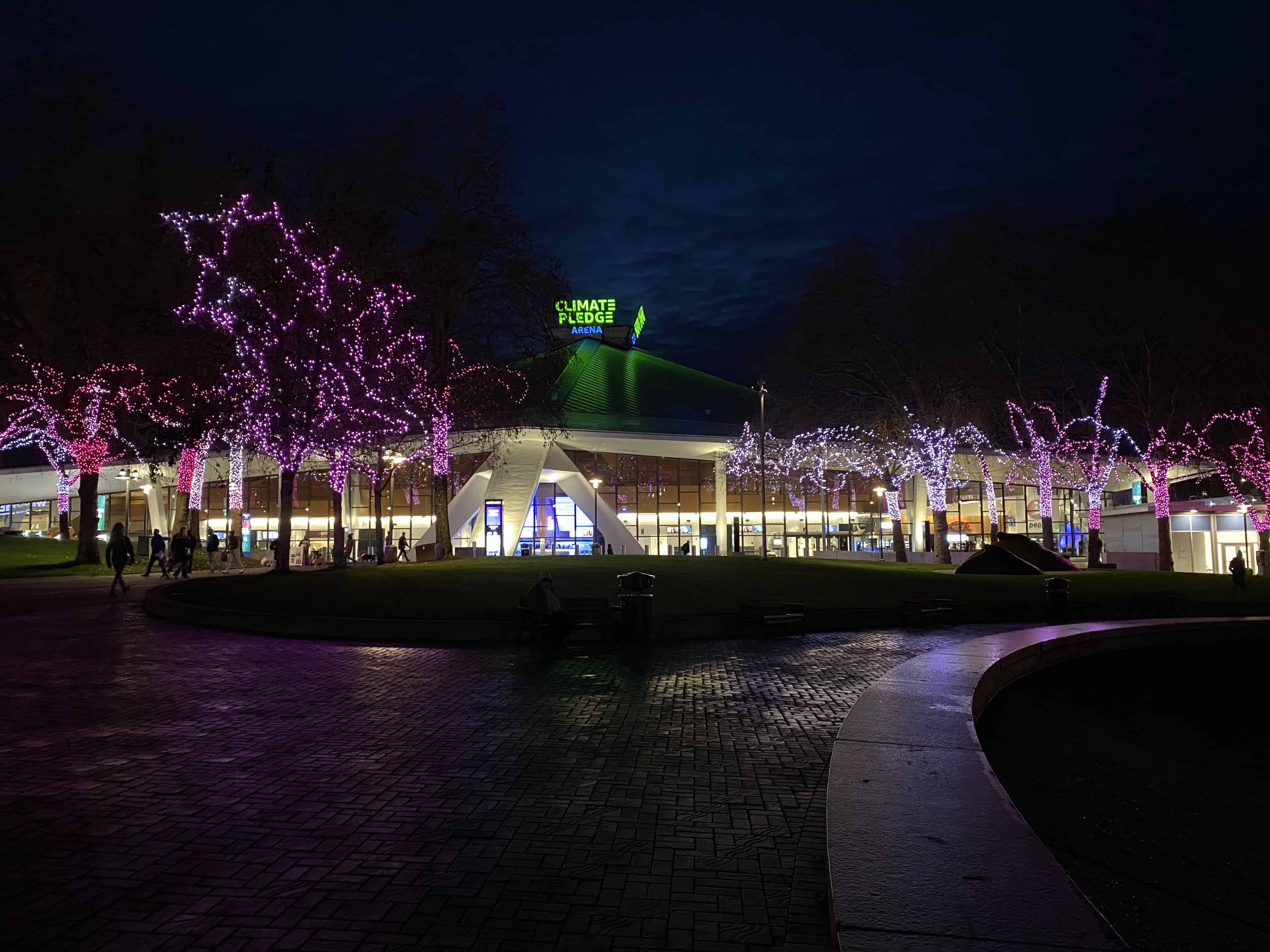 Ride the Monorail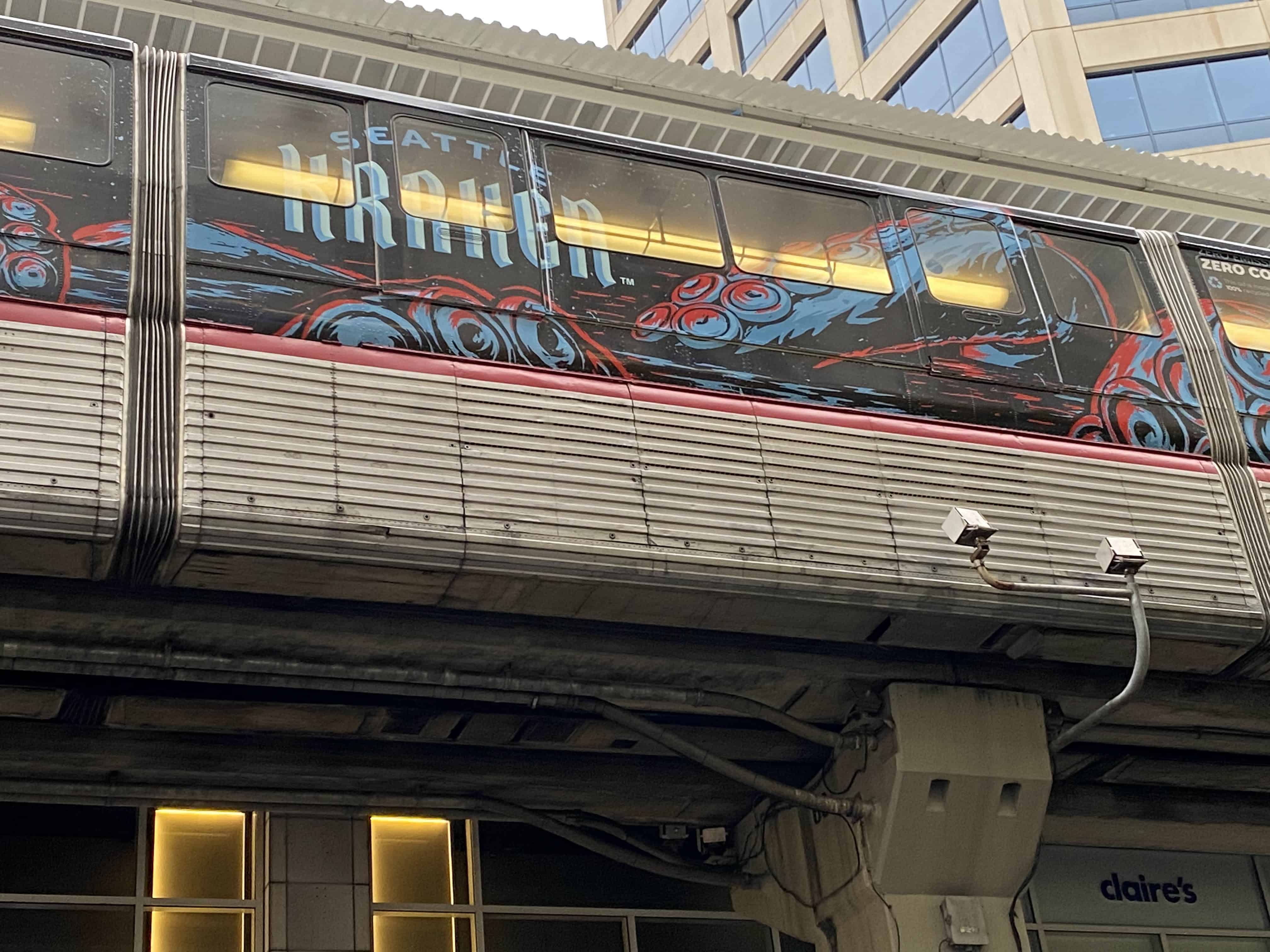 The Monorail is a fun experience. It's a short ride from Seattle Centre to Westlake Centre (5th & Pine). It will easily take you close to the Space Needle or Climate Pledge Arena for the hockey game or concert.
We know there will be more for us to do to enjoy the Christmas Season in Seattle December 2021 on our next visit later this month and we look forward to exploring then! Check our blog for more on Seattle and other cities.