Best Water Activities Victoria BC
Are you looking for the best water activities in Victoria BC? As locals, we will help you find the most fun water activities, sports and tours! Stand Up Paddle boarding, kayaking, boat tours of the harbour, or whale watching; it's all here for you in Victoria. Vancouver Island is a water lover's paradise!.
Victoria is situated on Vancouver Island. We are surrounded by water, some of it calm (gorge waterway), some of it a bit more active (inner harbour), and of course the open ocean beyond the harbour. Water sports and activities are part of living the Island Life, and visitors flock here, especially during the summer to partake in these activities.
There are so many great water sports and activities, and this will provide you with a summary of what's available. Whether you're a novice just trying out some of these activities, or a seasoned professional, you'll find what you're looking for here.
Safety and rules in the harbour
There is a lot of activity in Victoria Harbour; marine traffic, recreational traffic, and a certified water airport. In order to maximize safety and understand the rules set out by Transport Canada, please review the Public Port of Victoria details including traffic scheme,
Also, download the Safe Boating Guide, which incudes minimum requirements for all pleasure craft, including Kayaks and Stand Up Paddle Boarding.
*Disclosure: This article contains affiliate links. If you make a purchase after clicking one of these links, we earn a small commission at no extra cost to you. For full details/ disclosure please click here.
Stand up Paddle Boarding – SUP
There are folks who try this activity for the first time while in Victoria, and with good reason. Lots of companies offer lessons prior to actually participating in the activity of paddle boarding in Victoria. Water safety and your comfort on the water is very important, and those who are instructors and guides in this activity understand that clearly.
Book Stand up paddle boarding tour on the Gorge Waterway
Or Stand up paddle boarding tour at Thetis Lake
Kayaking
Kayaking in Victoria BC is a popular activity for residents as well as visitors. You can check the traffic scheme provided above to see places to launch your kayak. Or if you don't have your own, you can book a tour to go kayaking in Victoria BC.
Book Kayaking tour Victoria Harbour
Whale Watching
One of the most popular water activities, people from all over participate in a whale watching tour wile they are visiting Victoria BC. There are several different types of boats you can book for tours. Choose the type of craft you are most comfortable being in for 3 hours, as most whale watching tours will last at least that long.
Book Zodiac Whale watching tour – approx 3 Hours Victoria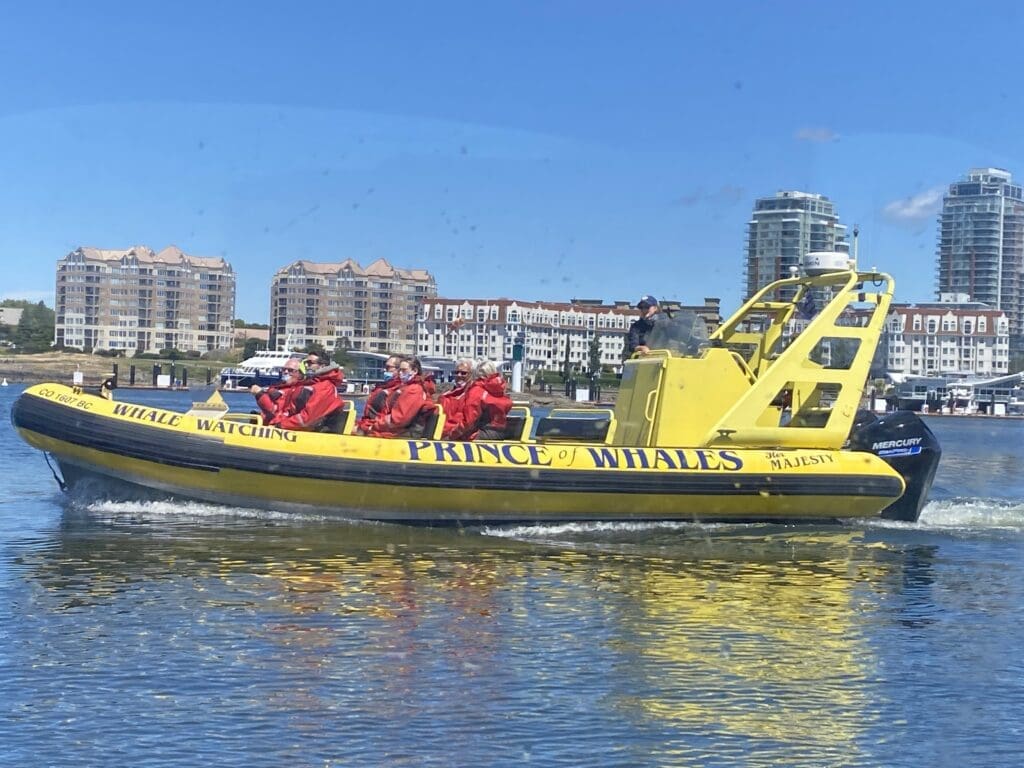 Or Whale watching tour – 1/2 day Victoria
Sunset whale watching tour approx 3 hours Victoria
Harbour Tours
Victoria Harbour Ferry is a water taxi operating throughout various areas in Victoria Harbour and the Gorge Waterway. They offer a taxi service in addition to tours in Victoria Harbour and the Gorge.
Whatever you choose to do on the water, have fun and stay safe! For more travel tips while you're in Victoria, return to our Victoria BC Travel Tips Menu for more ideas.