Top 14 Things to Do in Esquimalt BC in 2022
This is our list of the Top 14 Things to Do in Esquimalt BC in 2022. As this is also where we reside when we aren't travelling, our list includes some of our favorite activities.
About Esquimalt, British Columbia
Esquimalt history and information
Esquimalt comprises approximately 1006 hectares or 2485 acres of land and water. Residents of Esquimalt enjoy being out in nature, plus the many opportunities afforded to them thanks to a mild climate compared to other regions in Canada.
The Township of Esquimalt is approximately four kilometers (2.5 miles) from downtown Victoria. It's about a 40 minute walk along Esquimalt Road. For a much more scenic (additional 10 minutes) route away from traffic you can choose to walk along the Westsong Walkway. On this walkway you stroll along the North side of the harbour and experience splendid views.
Esquimalt operates as a separate municipality from Victoria, although Victoria and Esquimalt share some of the same infrastructure. Esquimalt's estimated population was just over 17,000 in the latest (2016) census.
Long before European settlers arrived, the Coast Salish peoples occupied these lands for 4000 years. Esquimalt (and Victoria) are located on the traditional unceded territory of the Lekwungen speaking peoples, the Esquimalt and Songhees First Nations.
The name "Esquimalt" is an anglicized form of the term "es-whoy-malth," meaning "the place of gradually shoaling water." The municipality of Esquimalt was incorporated in 1912.
Top 14 Things to Do in Esquimalt BC in 2022
There are in fact so many more activities than this Top 14 Things to Do in Esquimalt BC in 2022 guide details, but these are activities we believe you will enjoy and will give you a real sense of the community, whether you're visiting for a week, a month, or even longer.
1. Esquimalt Walking Tours
The maps for seven Esquimalt Walking Tours are made available by the Township of Esquimalt. If you would like a pamphlet to carry with you of all 7 tours, you can pick one up at Municipal office at 1229 Esquimalt Road, or other Township facilities. Whether you've been to Esquimalt before or not, this is an excellent way to start your Esquimalt activities! You will learn all about Esquimalt's history while touring the beautiful landscape and architecture.
2. Visit some of Esquimalt, B.C. Parks
There are over thirty parks, green spaces and beaches in Esquimalt. You can explore more about some of Esquimalt Parks on our blog.
3. Walk and/ or cycle the trails
There are extensive walking and cycling trails in and around Esquimalt which travel through or are easily accessible by being in Esquimalt.
These are the Westsong Walkway, E&N Rail Trail, Galloping Goose Regional Trail, and Lochside Trail.
If you wish to rent a bike to go farther on these trails, visit Trek on Catherine Street, or contact them via the website provided to make a reservation. Technically, this is in Victoria West, not Esquimalt, however we like the location as it's very close to the E&N Rail Trail. Consequently, you are able to use the bike lane directly from this location to travel along Esquimalt Road to access the Galloping Goose Regional Trail on Harbour Road.
4. Visit CFB Esquimalt Naval & Military Museum
Canadian Forces Base Esquimalt was first established as a military installation in 1855, and has continually served the Royal Canadian Navy since its inception in 1910. CFB Esquimalt is Canada's Pacific Coast naval base. You can visit their website to learn more about CFB Esquimalt and the NADEN band.
The CFB Esquimalt Naval & Military Museum is an informative and historical gem located inside the base. Ensure you check the website for hours and updates before visiting the Museum.
CFB Esquimalt is one of the bases Paul worked at during the 1980s while in his military career.
5. Township Classics – live entertainment
Experience classical music during the winter months, which is brought to you by the Township Community Arts Council. Tickets are available at $20 each at the Sharkz Store at 525 Head St Suite 110, Esquimalt. Please note as of this date the upcoming January 2022 event has been put on hold due to the global pandemic as a result of BC Public Health Orders and restrictions currently in place. The February event will hopefully still go forward. So be sure to watch their website for updates.
Normally, there is one performance per month (except December) from September through February.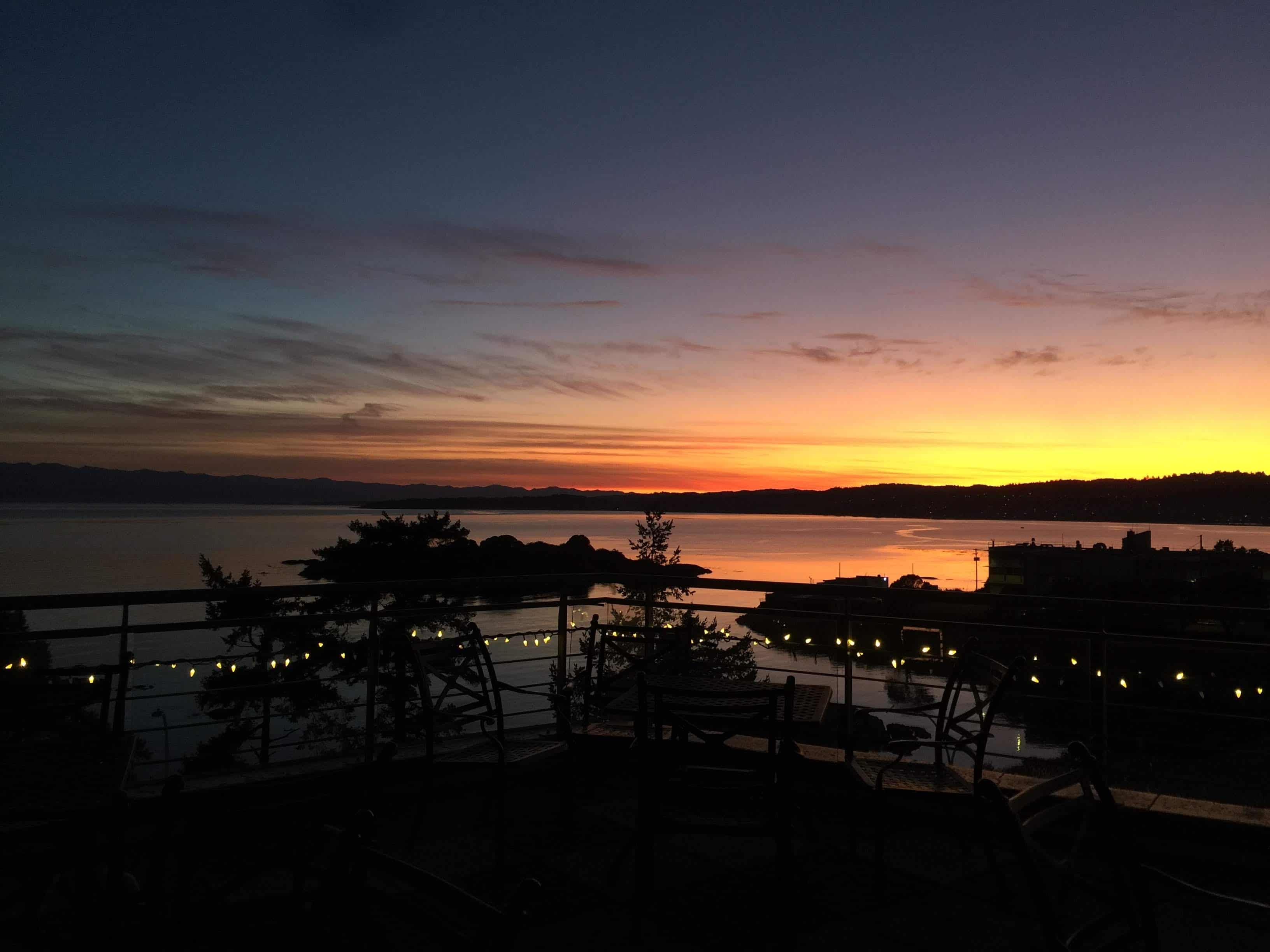 ---
This is an enjoyable evening out and supports the Youth Mentorship Program. This will no doubt be one of our favorite things to do in Esquimalt BC in 2022. For further information on previous concerts (including online concerts during the pandemic in 2021), visit their website. If you watch a concert online, consider making a donation to the Youth Mentorship Program.
6. Ride a water taxi from West Bay Marina to Victoria
We have taken the Harbour water taxi from West Bay Marina many times. It's a unique experience, and the cost for a trip reflect that. For one zone (to Fisherman's Wharf in Victoria), it's $7.50 per person. For 2 zones or more, it's about double. Children are $2.50-$3.00 less, and if your child is 2 or under and can sit on your lap, their ride is free.
Let the captain know before you get on the taxi what your intention is; ie: are you planning to go downtown to purchase another water taxi tour? Sometimes there is a combination price they can offer depending on what you are planning to do. We've also been part of other tours picking up riders at West Bay Marina.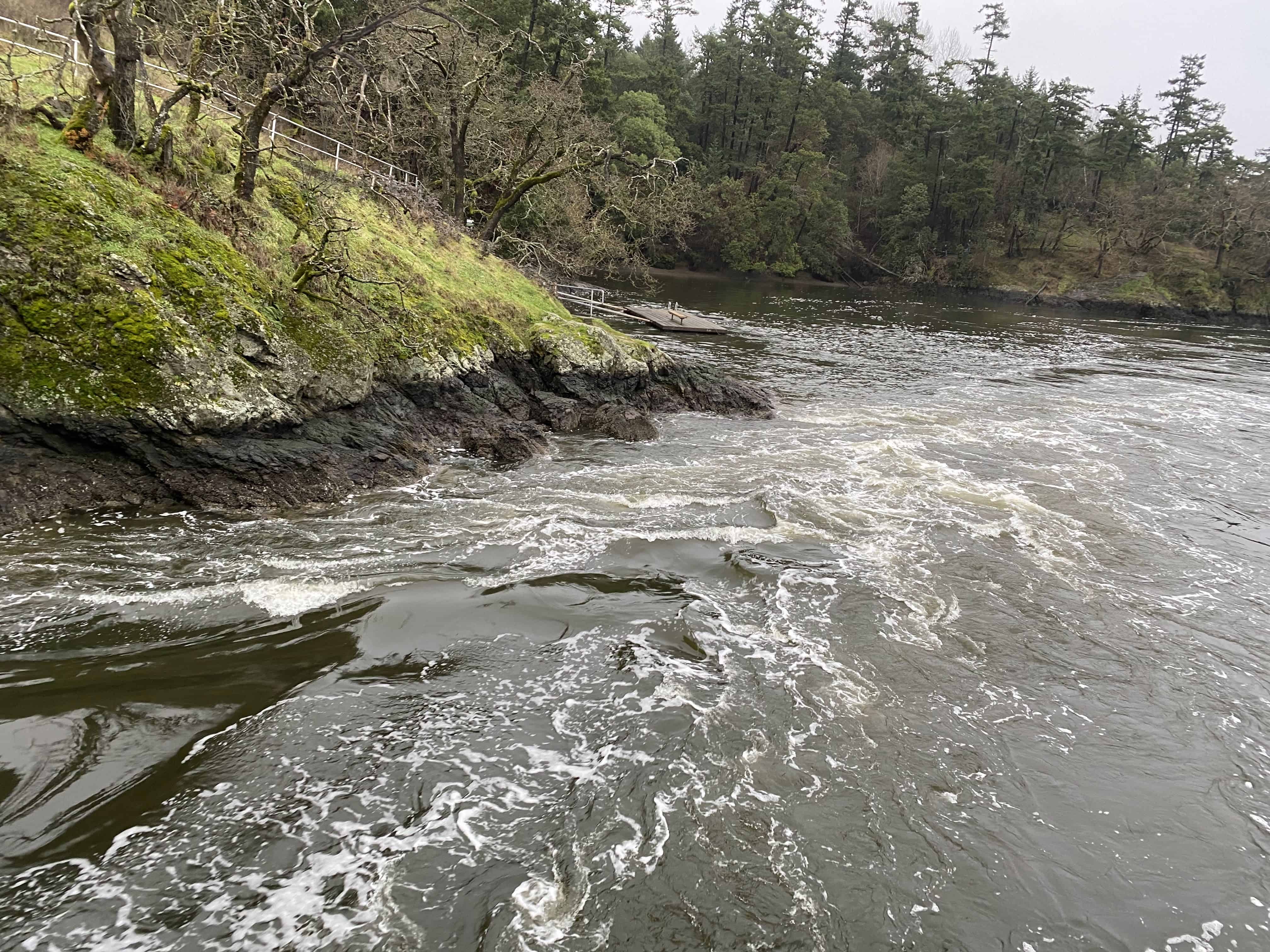 One of the tours we enjoy the most is the Gorge tour from downtown. From Esquimalt, you can easily walk to downtown Victoria. You will pay around $30 per person for the 45 minute tour from downtown for the Gorge tour, which is worth taking during the change from high tide to low tide, assuming your availability for the tour allows for this. This is referred to as the reversing rapids (or falls) at Tillicum Narrows (Canal of Camosack) and is apparently one of only two reversing rapids in Western Canada (the other one is in Sechelt B.C.).
To help you calculate when best to see the reversing rapids, we've noted the precise times we visited Gorge Park recently at Tillicum Narrows was approximately 4:10 p.m. on 15 January, 2022. (This is the last picture shown above) If you review the schedule noted, you will see that this was during the drop from high to low tide. The second picture taken at 11:29 a.m. 12 August 2018, from the water on a Gorge Boat Tour.
If you miss this during your tour, you can still view the phenomenon as you walk through Esquimalt Gorge Park as noted above. Please review our Esquimalt Parks BC post for more details.
We've also taken the water taxi from West Bay Marina to Selkirk Landing (as far as you can go on the ferry without a tour), had lunch at Glo Restaurant, then walked back to Esquimalt along the Galloping Goose Trail, hooking up with Westsong Walkway to West Bay Marina.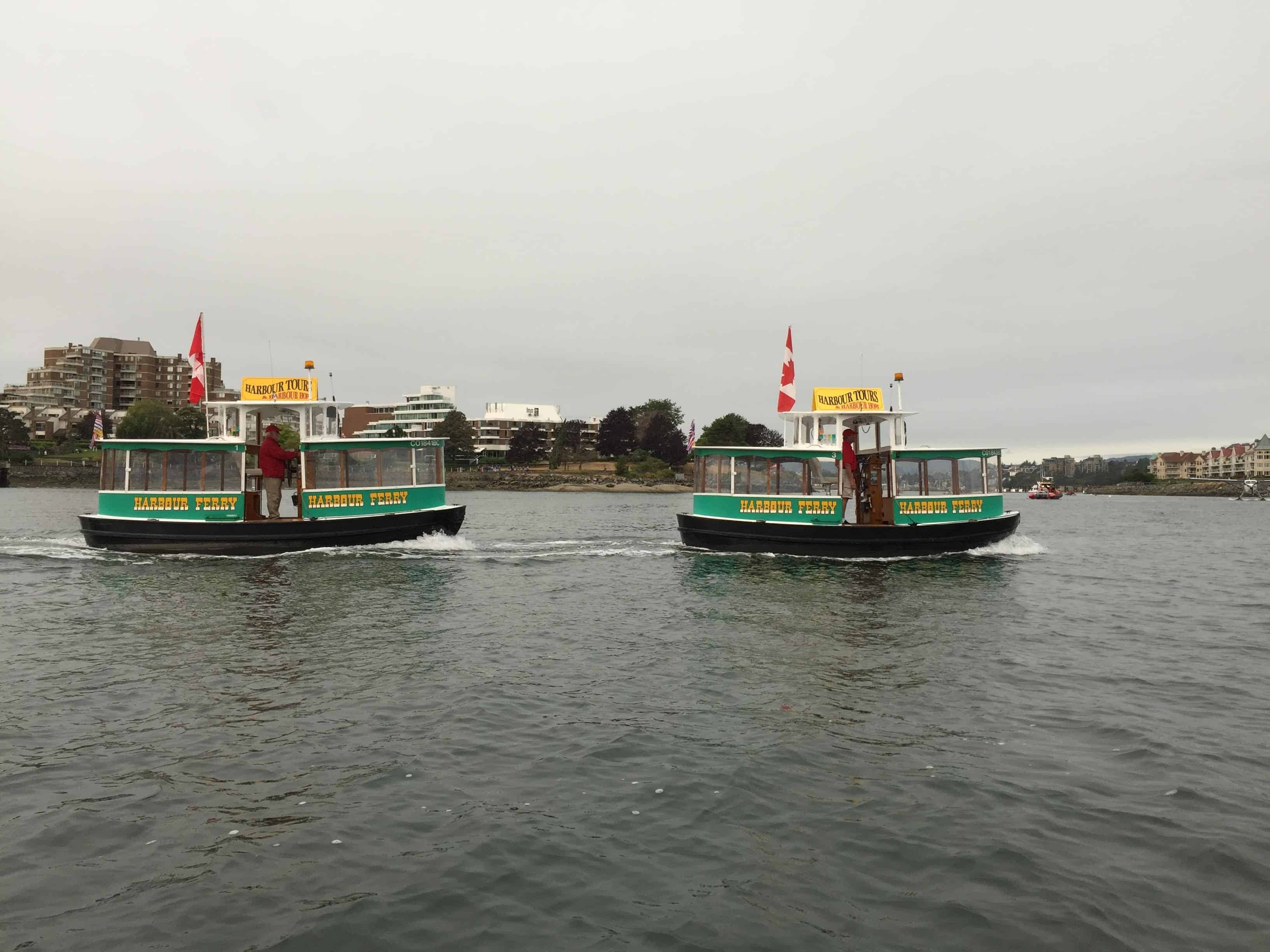 7. Buccaneer Days
This is a much loved annual event which usually occurs in May each year. Unfortunately, for the past two years, due to the global pandemic, this event did not take place for 2020 or 2021. Still, we are hopeful Buccaneer Days will return in 2022. Please visit the website for updates in 2022.
It's a whole community weekend event for the entire family, complete with live entertainment on an outdoor stage at Bullen Park and other fun activities. The event also includes a parade and it's a definite must to attend if you're in Esquimalt during this time.
8. RibFest
This is also an annual event which brings the community together and attracts visitors from all over. It's a popular event for families, who are all up for the tasting challenge to ascertain which is their favorite rib-fest! The event took place in September in 2021.
It doesn't cost you any money to attend, but you'll need to bring funds to eat and drink. There's live entertainment and a kids "fun zone". It's a weekend of fun for the whole family held at Bullen Park, and if you're in Esquimalt while it's happening, the smell of ribs in the air will want to make you join in.
Check their website to learn about Ribfest updates for 2022.
9. Music in the Park Music Fest
This is a summer event made possible by the Township Community Arts Council and has been very popular and entertaining in previous years.
In 2021, these free concerts ran from July-August for six weeks, each Tuesday night at Memorial Park. Visit the TCAC website as updates for 2022 become available.
10. Esquimalt Farmers Market
This community market usually runs from April – September each year, and in addition, there was a Holiday Market in November in 2021. They've changed locations in 2021, from Bullen Park to the new Esquimalt Town Square which opened in summer 2021. For the 2022 season of Esquimalt Farmers Market, check their website for details.
11. Geocaching
In simple terms, geocaching is kind of like treasure hunting…. worldwide. Using GPS through your mobile phone, you seek out geocaches or caches hidden by others to specific co-ordinates. When you seek and find the specific geocache, you sign the logbook left by the owner of the cache, as a way of showing you've completed the hunt successfully. It's a fun family activity, and provides exercise and collaboration in order to find the cache.
The first retail Geocaching store in Canada was opened in Esquimalt, BC. It is called The Sharkz Store.
How to Get started
When we contacted the Sharkz Store through their website chat function to find out where a good place to start for those new to this hobby their response: was to start by simply going to find a few geocaches.
Also, reviewing online how-to videos available from geocaching.com is also a great place to learn more about the game. By creating your account/ username, you will easily be able to log your finds, and search out locations of geocaches in close by in your area.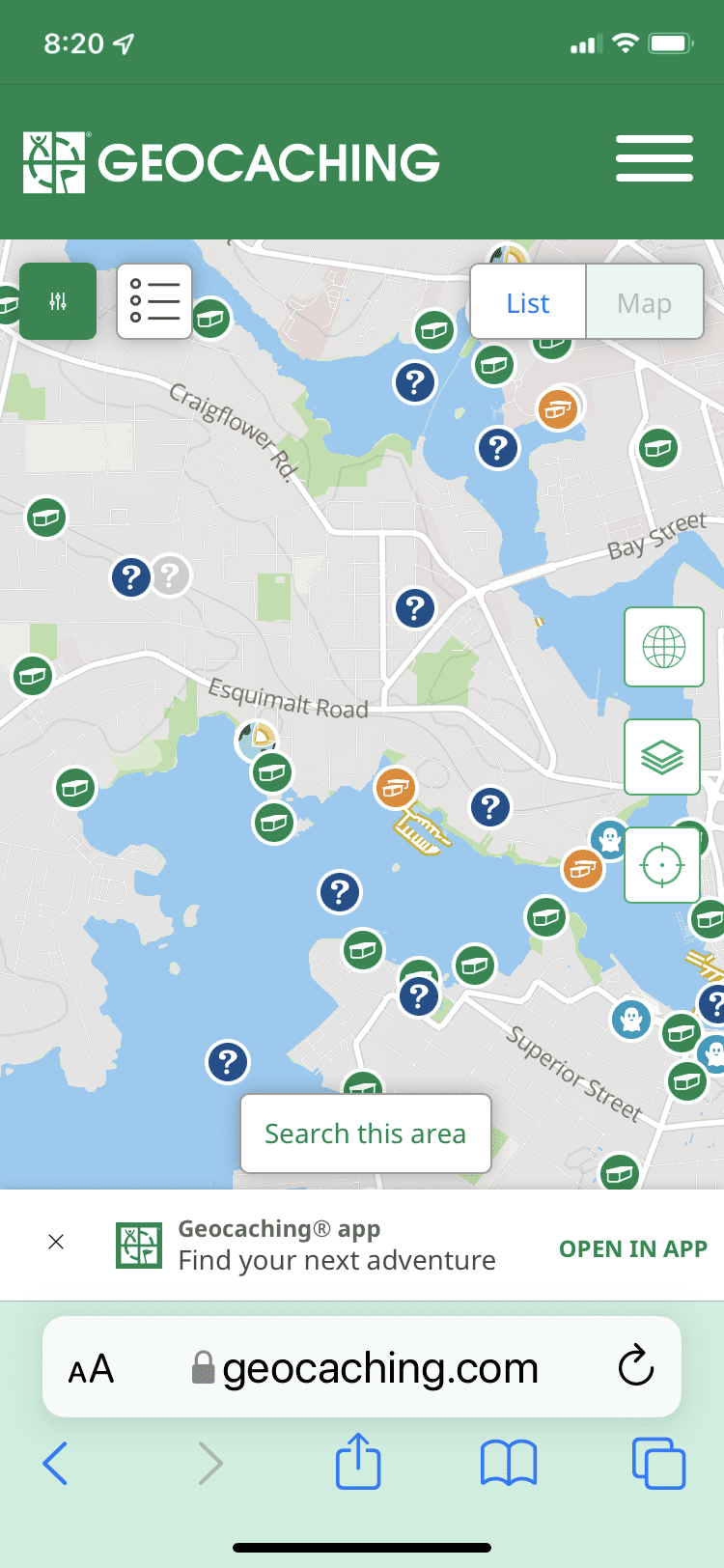 If you wish, you can certainly carry some basic trade items, ie: from the dollar store or some of the Canadian Cache trade items available for sale on the Sharks Store website.
Some geocaches have SWAG. Generally speaking, if you take something, make sure you leave something of equal or greater value.
However, trackables (tags or coins) aren't for trading like swag is. People also do collect trackable geocoins but don't necessarily put them in geocaches. If you ever do find one in a geocache, then it typically belongs to someone and so can't be kept as it's meant to travel. You can retrieve it and move it to another geocache. If you're not sure of what to do, simply log your visit until you get the hang of things. It's great exercise and again, fun for the whole family.
12. Esquimalt Community Arts Hub (ECAH)
The ECAH is currently located at 901 Esquimalt Road, Esquimalt – but only until the end of January, 2022. According to a notice posted to their website, they are moving away from a permanent physical location, and instead intend to work with local businesses to provide arts opportunities within the community. We are looking forward to learning what is planned during 2022! Subscribe to their newsletter if you want to follow along with changes.
13. Esquimalt Celebration of Lights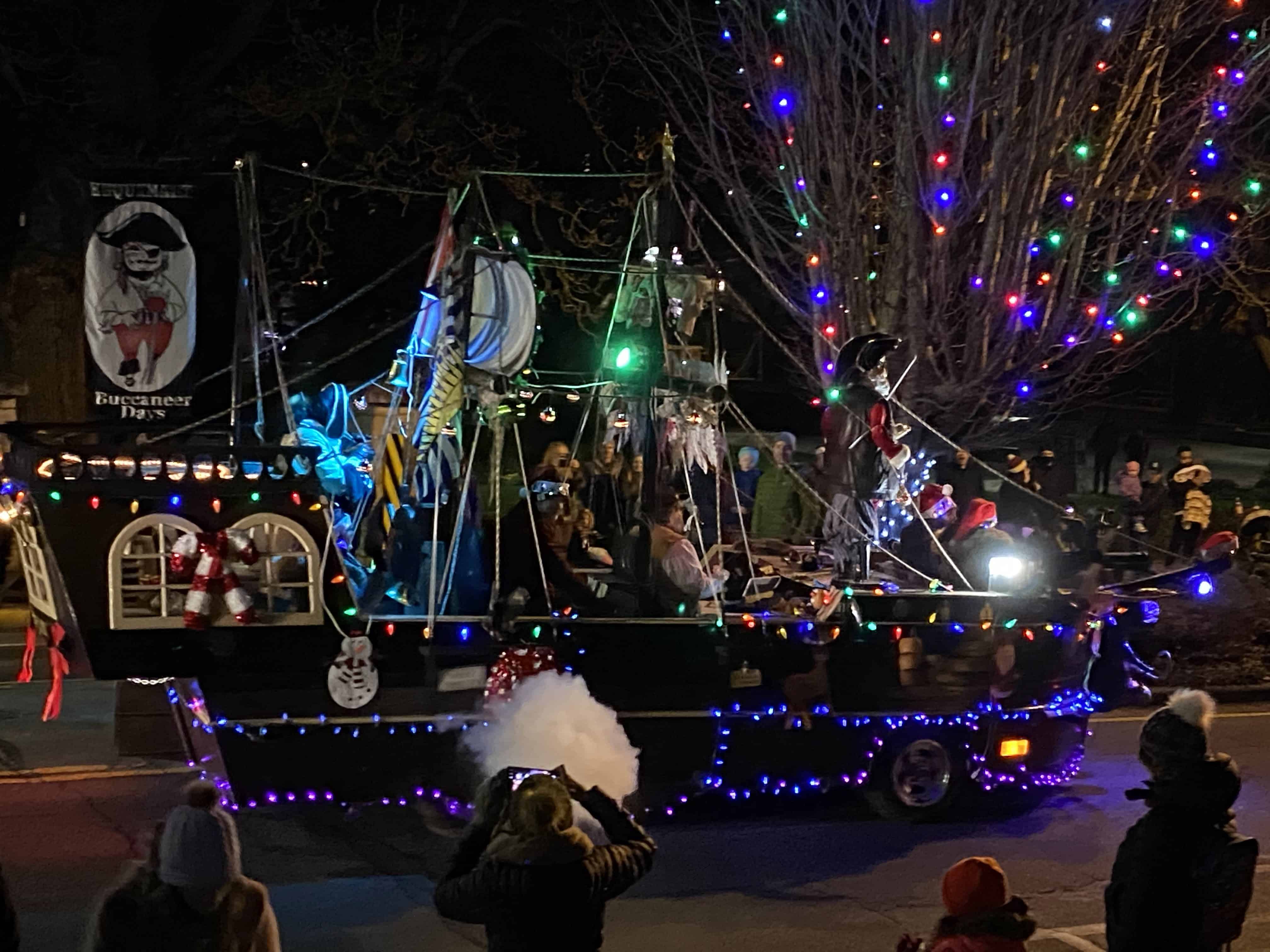 The Esquimalt Celebration of Lights is an annual parade, usually held December each year. For updates on the planned event for 2022, check their website. It's an event the community looks forward to each year, and in 2021, in addition to the parade, there were hot dogs and Christmas Carols/ entertainment. If you're in or around Esquimalt during this time in 2022, it's definitely worth attending!
14. Gorge Waterway Nature House
Located inside the Esquimalt Gorge Park (also noted on our Esquimalt Parks BC post), it's worth a special mention here. Gorge Waterway Nature House is jointly run by World Fisheries Trust and the Gorge Waterway Action Society, with support from the Township of Esquimalt. You will find something for the entire family in this experience, and it's definitely worth stopping in while you're visiting Esquimalt Gorge Park!