Best Walks in Victoria BC – Westsong Walkway
While we have many possible options for walking, one of the best walks in Victoria BC is the Westsong Walkway, which we choose very often. We are fortunate to have this lovely option close to home for our daily walks.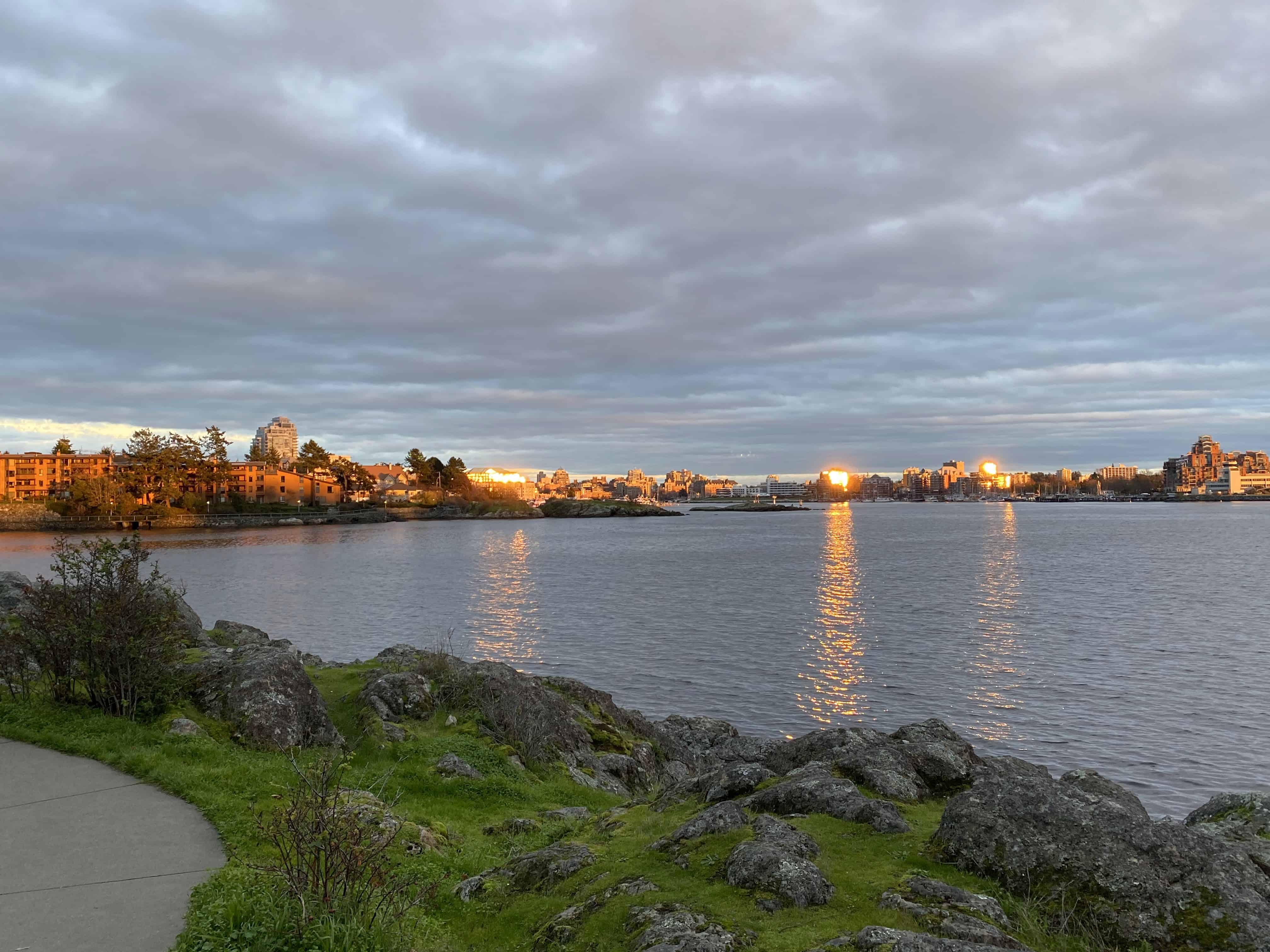 Our daily walking habit
When we lived in Edmonton and worked far too many hours on our business there, we had to talk each other into taking a break and going for a walk almost daily. Until we developed the habit of going for a walk every day, it could be challenging to break ourselves away.
We learned something valuable though. At that point in the day when you feel you don't have time to do anything but work, that's the time you need to push back from your desk and take a break. Difficult? Yes! Impossible? No! A walk does wonders for your well being – physically, mentally and emotionally.
Excuses, excuses…
There seemed to be a plethora of excuses to not go for a walk in Edmonton ie: too cold, too many mosquitos, too many allergies (in spring with snow mold then blossoms popping everywhere), too busy… Here's the reality though; it was never about the place or how busy we were, it was our mindsets. Once we developed the habit of walking every day, it just happened. That was many years ago. We still walk most every day, and on days we're not able to do so for good reason (not excuse), we miss it.
How our habit has paid off no matter where we go
We're so pleased we developed a daily walking habit. It serves us well in our travels. We don't have sore feet (anymore) walking kilometers every day while exploring new places. We're healthy enough that we're not out of breath climbing hills or rocks, or walking on different and more challenging terrain (hiking).
Walking is inexpensive and can be done pretty much anywhere you find yourself in your travels.
Westsong Walkway – what's in a name
Westsong Walkway was a confusing name to us when we first began walking here. At some points along the walkway you will see it referred to as West Bay Walkway (Esquimalt side), and at other sections it's referred to as Songhees Walkway (Victoria side). Still other points referred to Westsong Walkway. Which was it?
We believe "Westsong" is simply a combination of the two names – West Bay and Songhees. This hasn't been confirmed though, so if anyone reading this has other insight, please feel free to let us know!
Westsong Walkway – the Distance
The blue sign shown below is an older sign posted at the entrance to West Bay Walkway and provides distances from Head Street to Johnson Street Bridge. Simple math (and some googling for conversion), tells us that 2725 m is equal to 2.725 km, or almost 1.7 miles.
For those fitbit or apple watch users counting steps, this equates to about 3570 steps from West Bay Walkway entrance in Esquimalt to Johnson Street Bridge in Victoria.
It's about a 40 minute walk, maybe longer if you decide to stop and take pictures, enjoy the views, or look for marine wildlife, which we often do.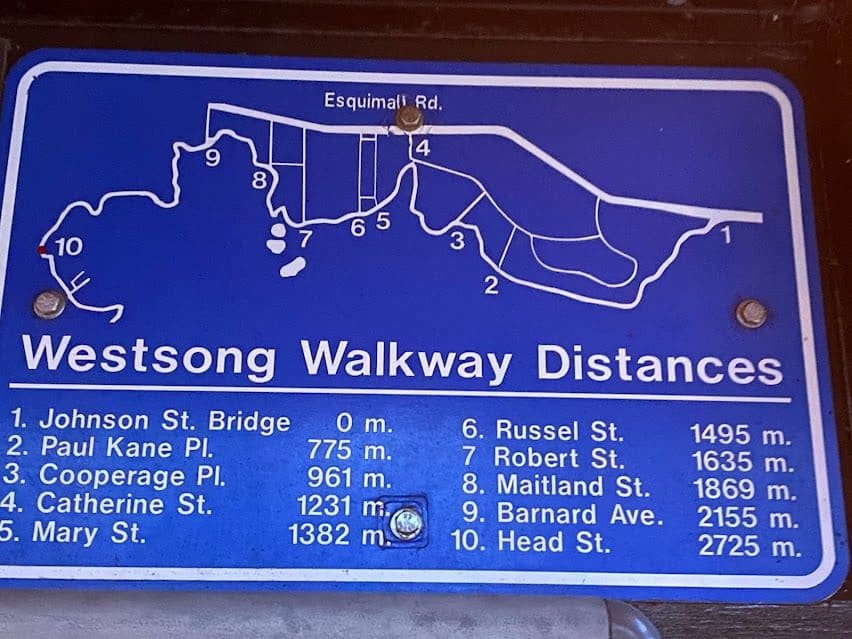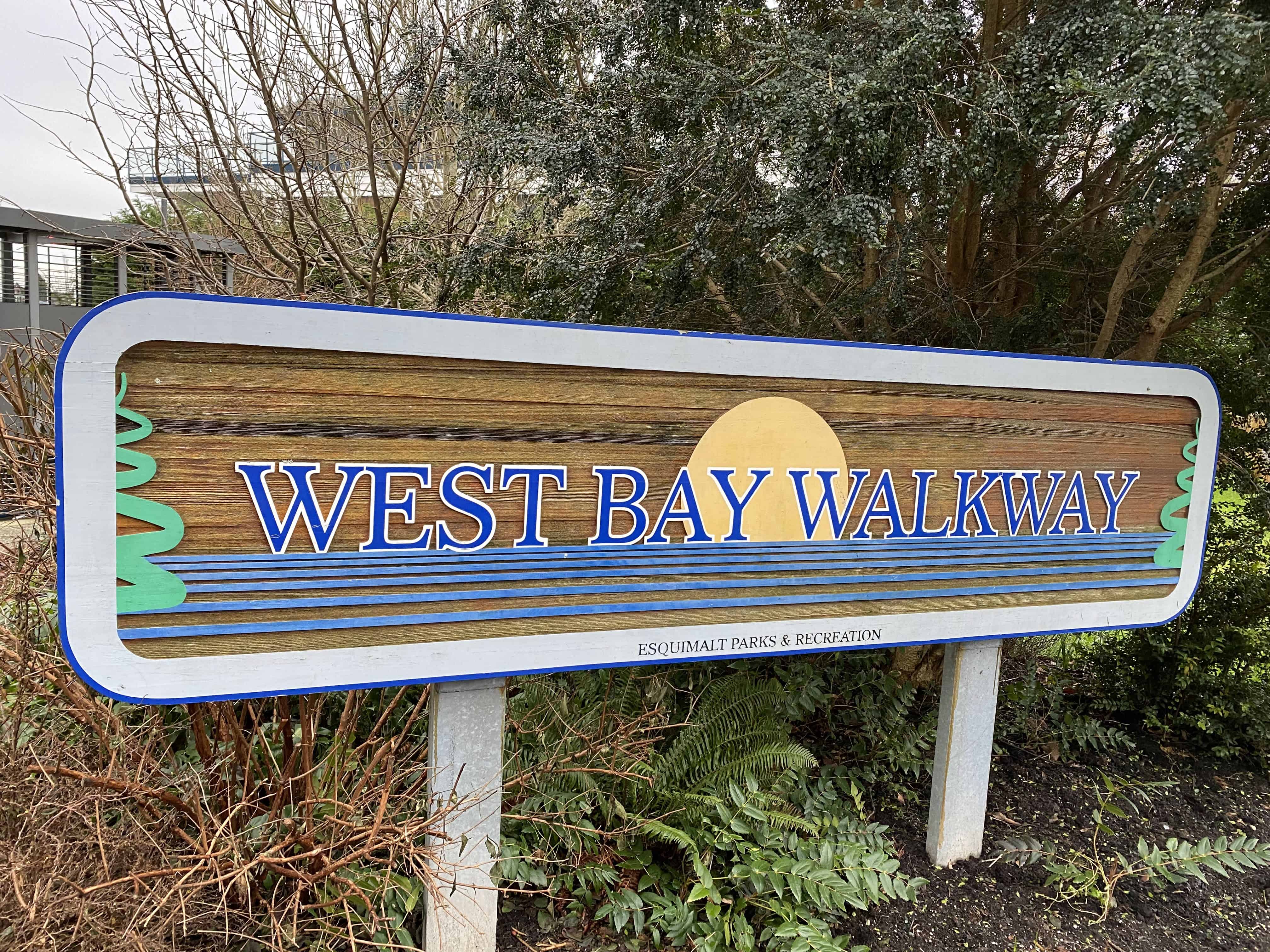 Westsong Walkway – rules and etiquette of the trail
To say this is a beautiful walk is an understatement. We've walked in many cities all over the world and can say without hesitation, this walk in Victoria is a relaxing experience. It's an easy walk for most anyone, with a few gently sloping inclines.
As with all walkways in the area, there are posted signage to alert users as to what is and isn't permitted. Westsong Walkway is no exception.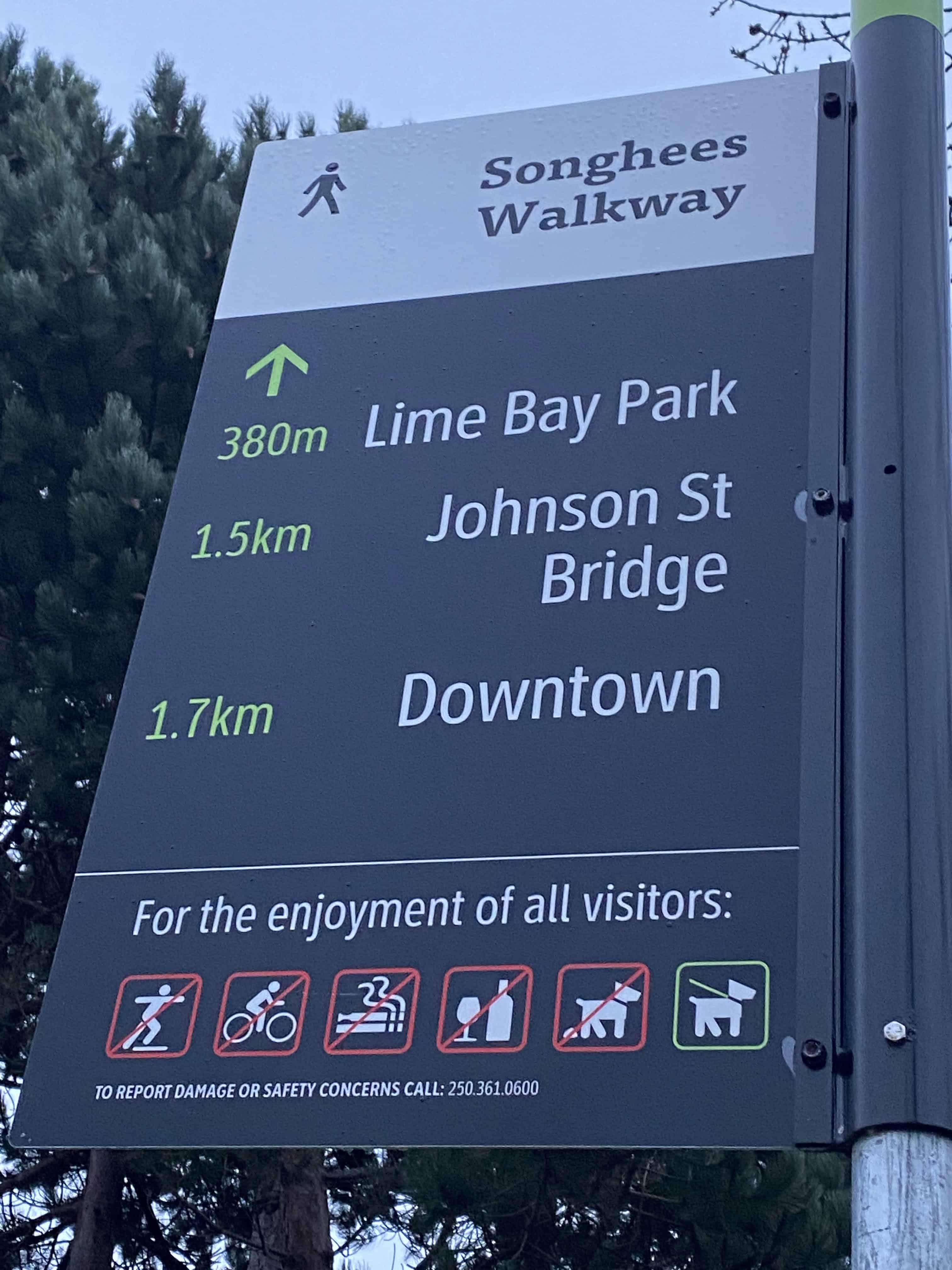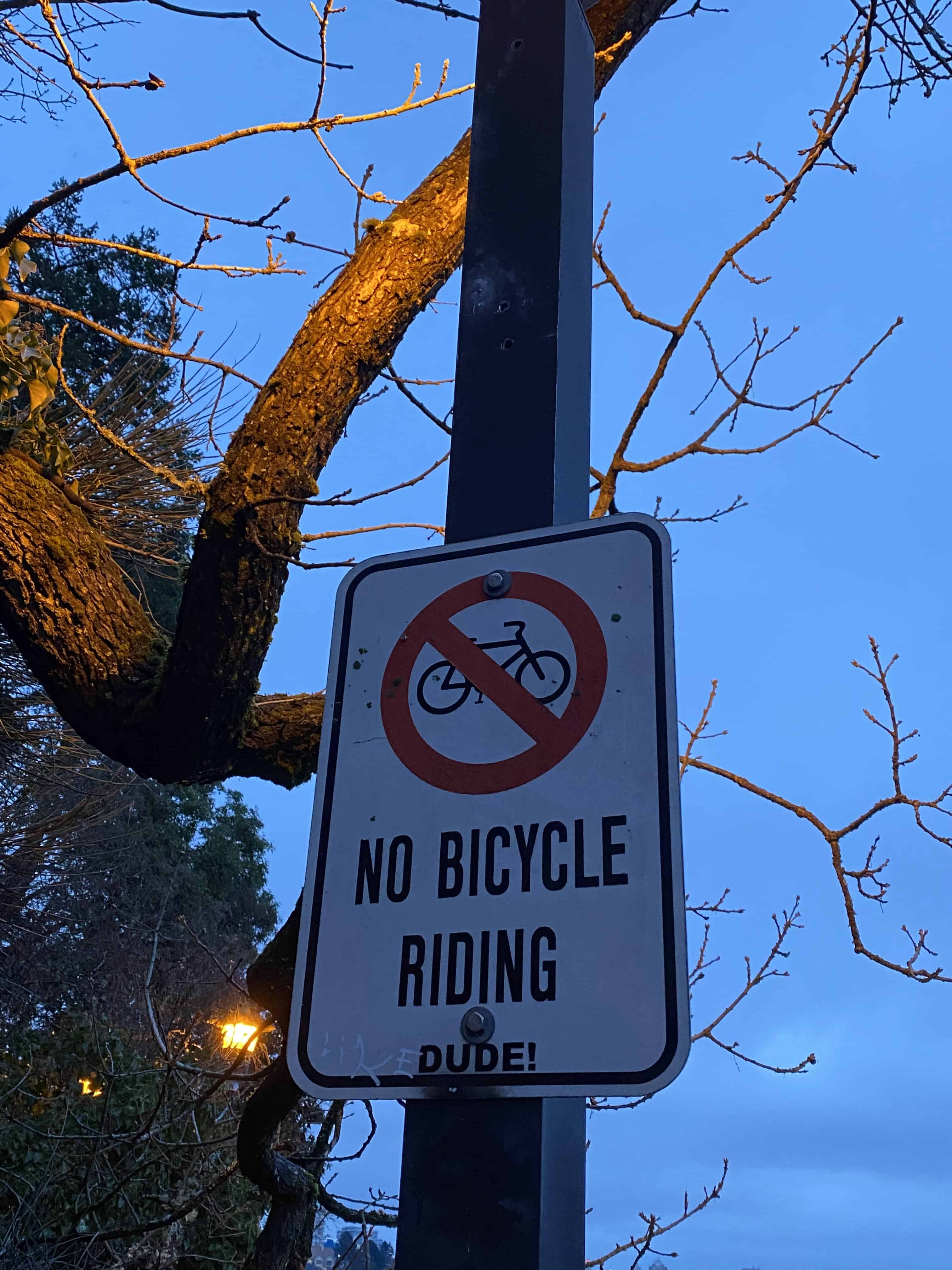 No cycling on the walkway
There is no bike riding permitted anywhere on this walkway. There are many signs posted at various entrances to the walkway stating pedestrians only, however at times a confused cyclist will find themselves on the narrow winding sections of this walkway where they ought not be, trying to make their way through the groups of pedestrians.
Also, as some parts of the path are narrow and winding, it's a good idea to try to be respectful of others as you're walking along. A group of people walking side by side won't leave much opportunity for others to get around them or for those walking towards them to get by. Even a group of two is like a wall if you're on one of the narrow sections.
There is a toilet facility at the entrance to Westbay Walkway, as pictured here. You won't see another until you're in downtown Victoria.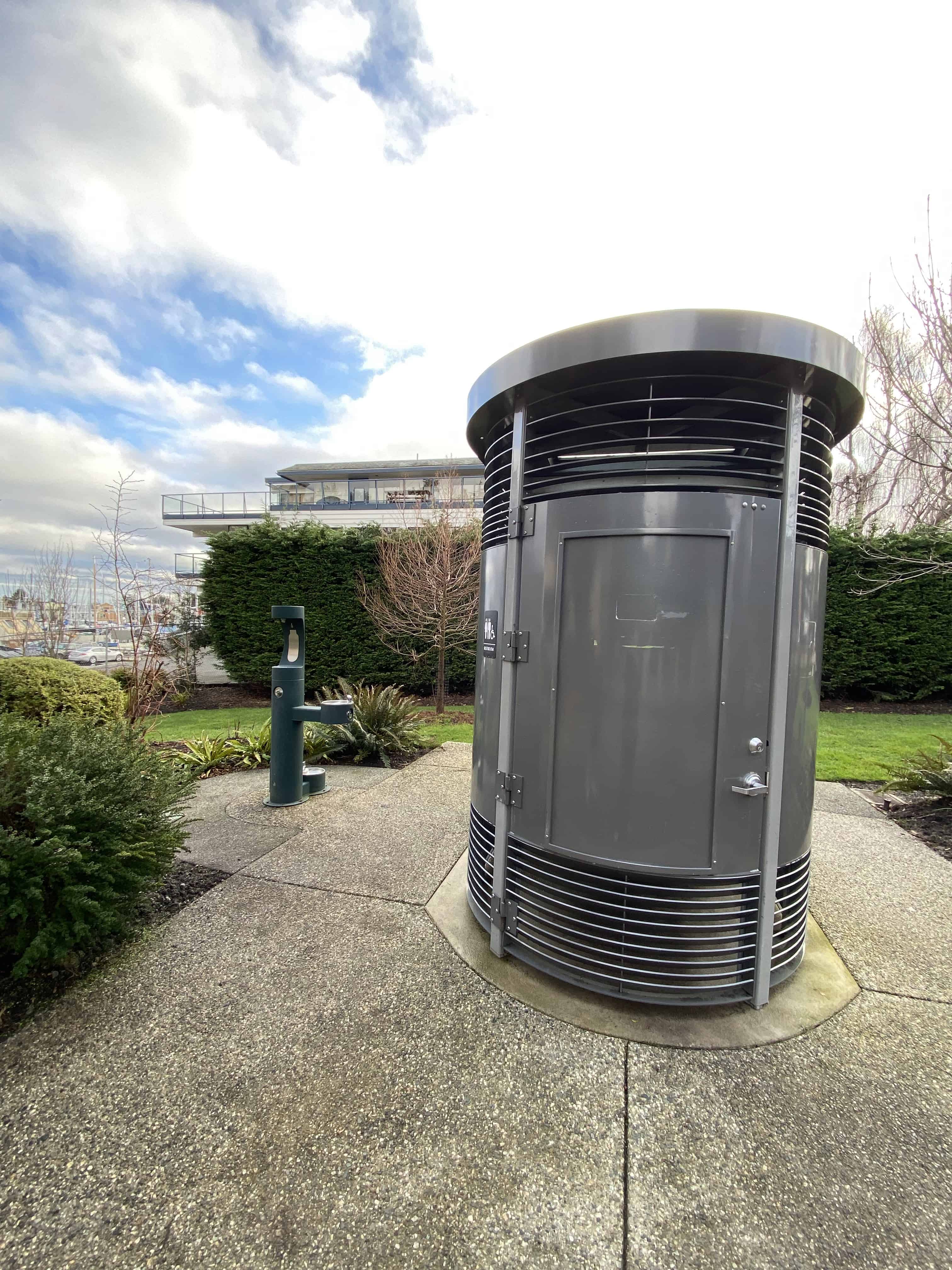 Friendly Canadians – you'll meet a few
It's true, Canadians are just generally pretty friendly people. Whether it's a local Canadian you meet on this walk in Victoria, or another tourist, people on this walkway are happy. You won't see many grimaces or frowns on peoples' faces and you won't hear many disparaging remarks. It's really just a happy place to be, and truly is one of the best walks in Victoria. Say hello, give a wave or a smile as you pass others. Polite friendliness in this part of the world is the normal way of conducting oneself.
Westsong Walkway – walking the trail
Anytime we walk this trail with guests the first time, we try to be on the lookout on their behalf for any marine wildlife. There are no guarantees you will see this on any given day, but we've seen otters fairly often, a seal or two at times, and of course there are tons of geese both on the land and in the water. Seeing heron fishing in the water can be a special treat as well.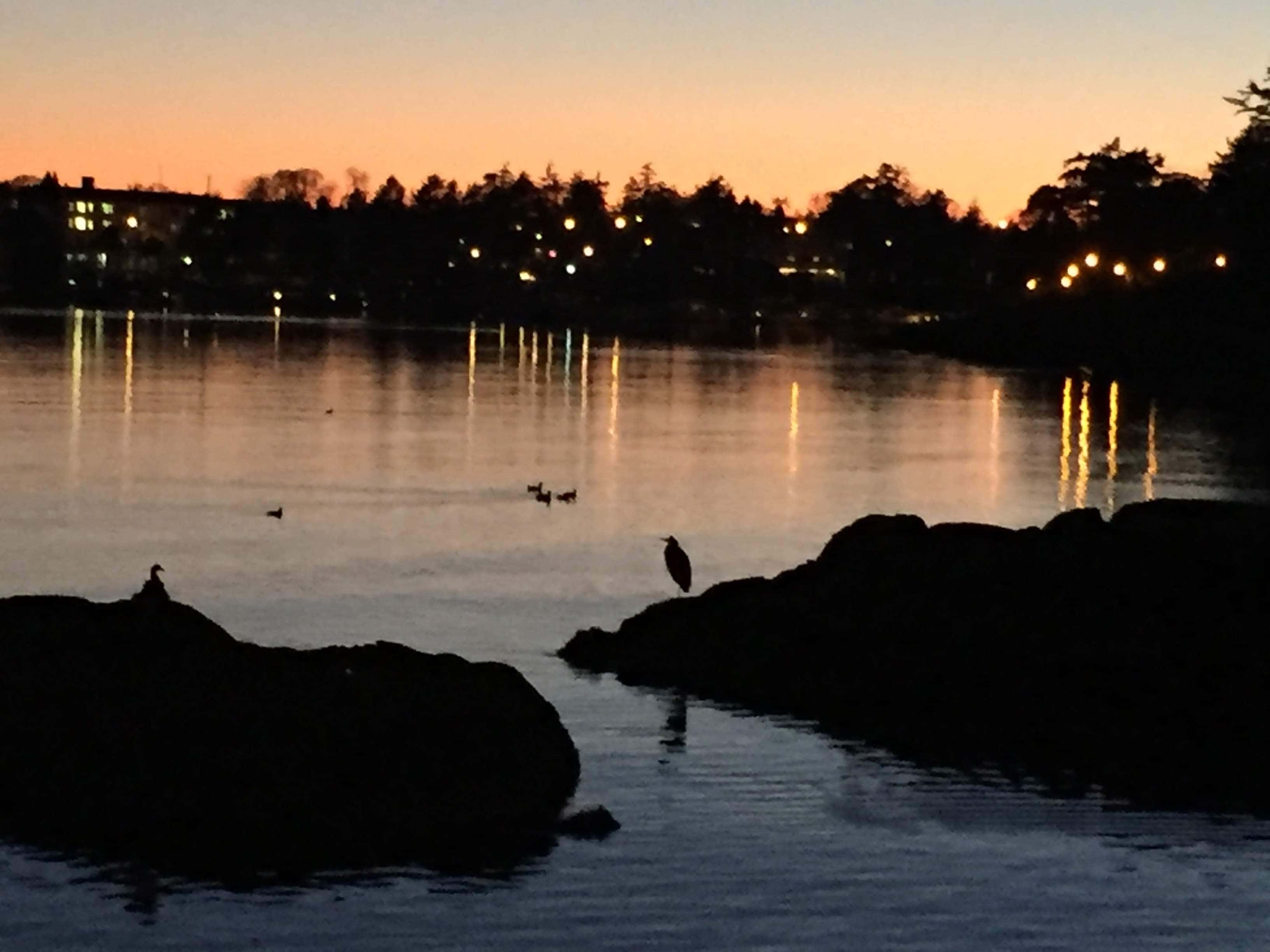 As you wind your way along the Westsong Walkway, you may find other birds enjoying the harbour, either fishing or just out for a swim. There are sometimes swans swimming in the harbour, and as mentioned there are often otters playing on the rocks along the water.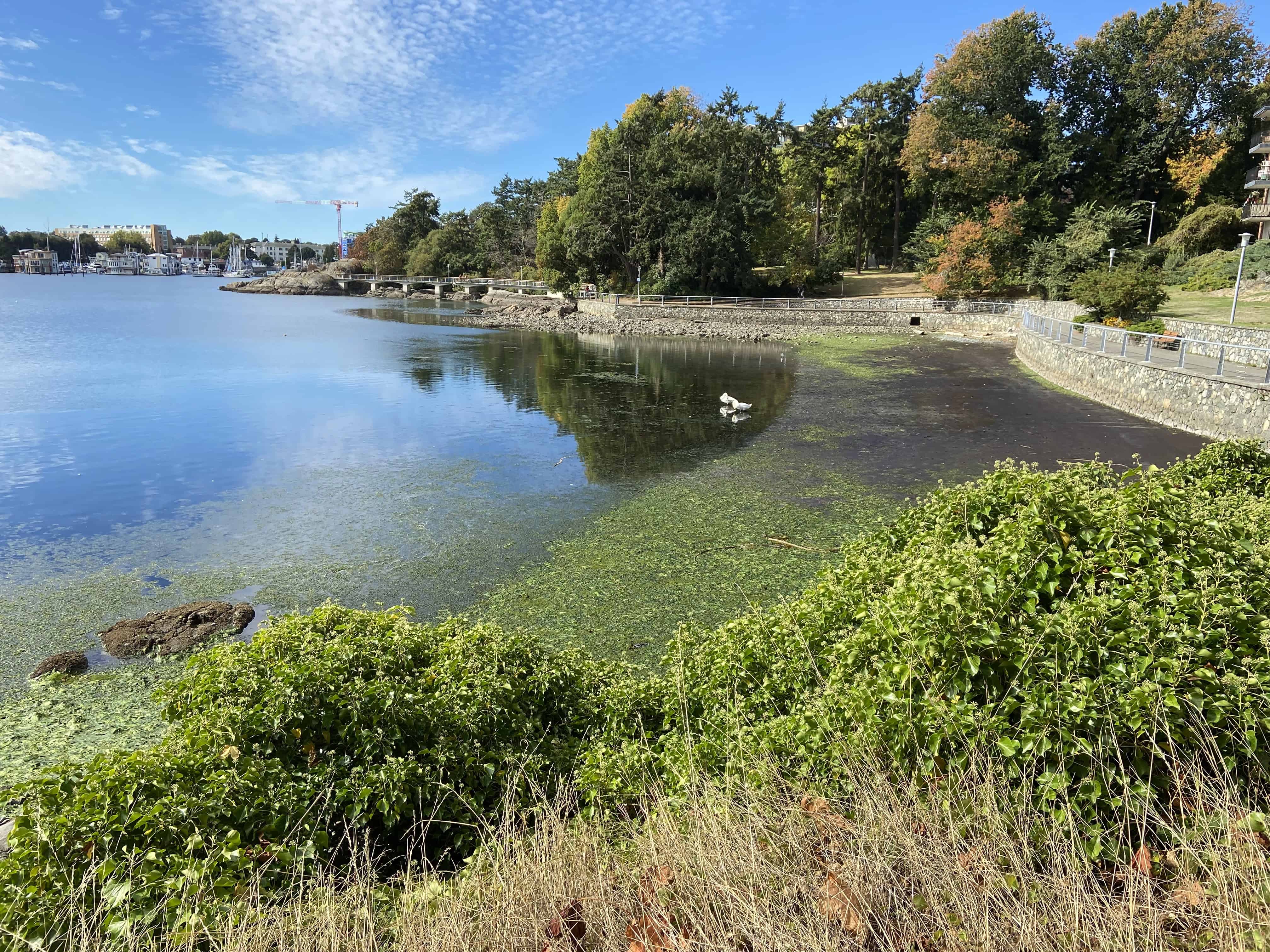 Watch the planes and ferries
In addition to the harbour views and relaxing ambiance, you will likely see Harbour air Float planes taking off and landing, individuals canoeing and kayaking, as well as ferries such as the Coho and the Clipper coming into and leaving the harbour.
It will become apparent that Victoria is an active and working harbour. Whale watching and fishing boats as well as pleasure crafts also come and go.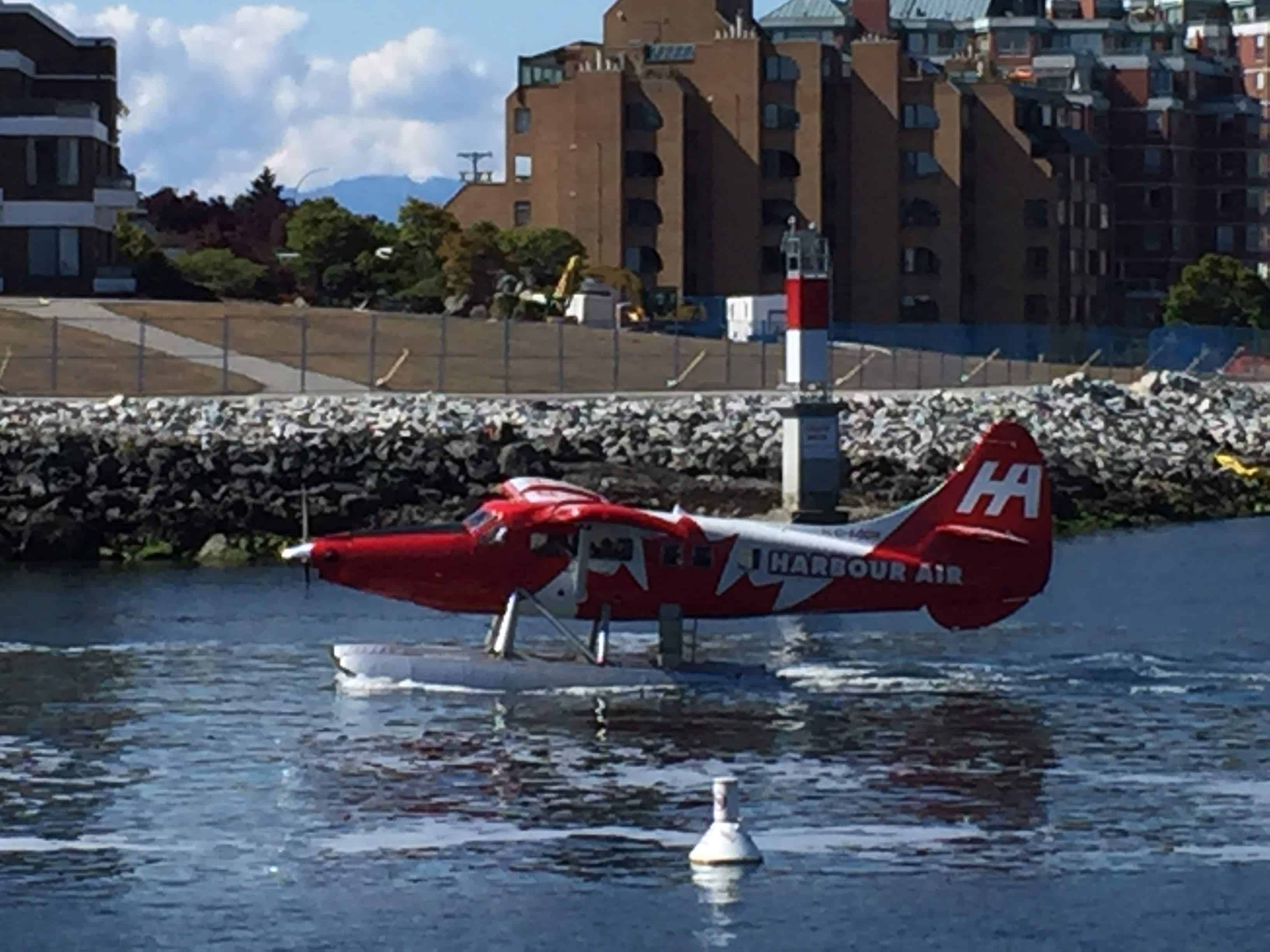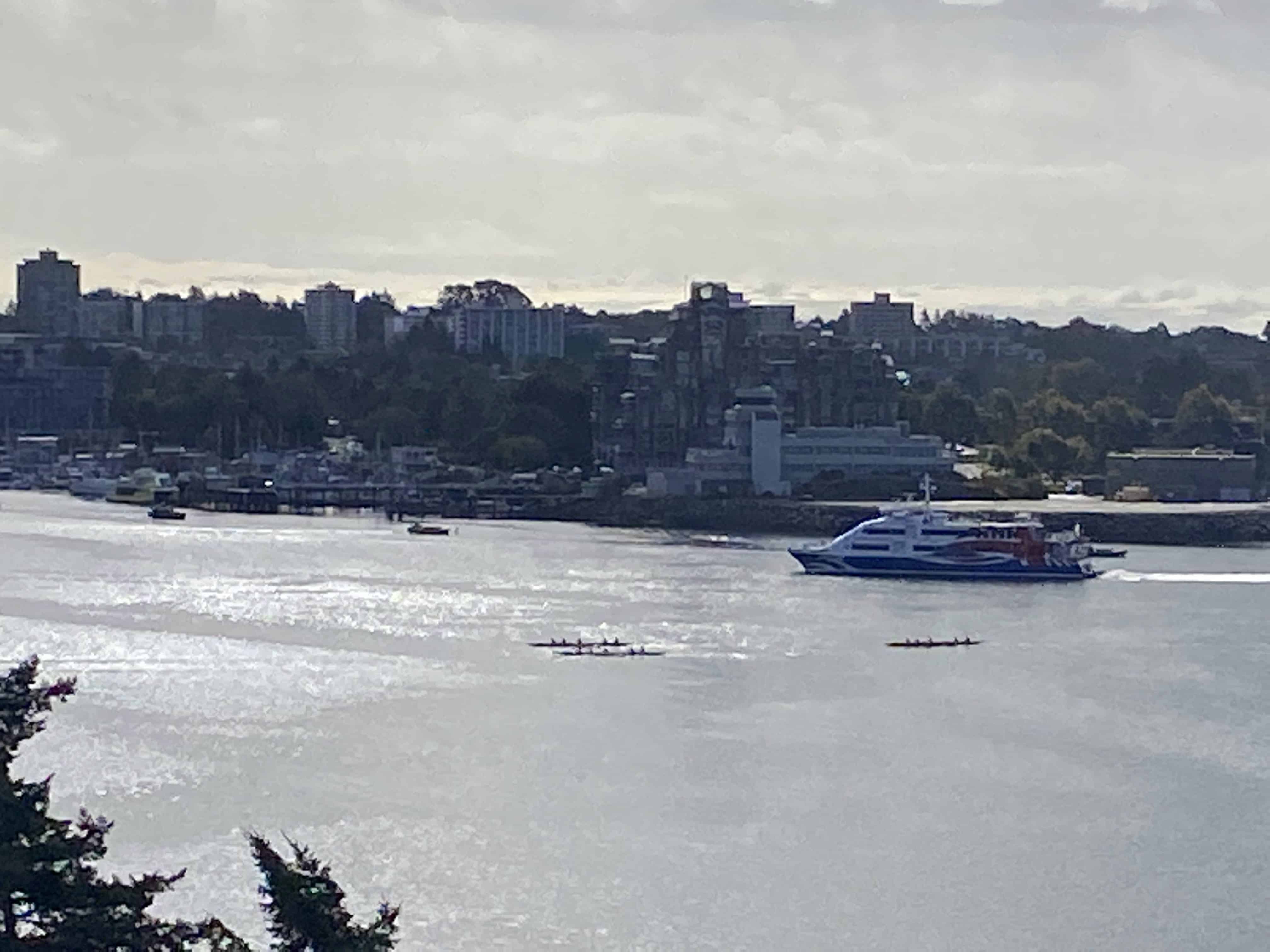 There's usually lots of activity on the harbour to see in addition to the amazing views.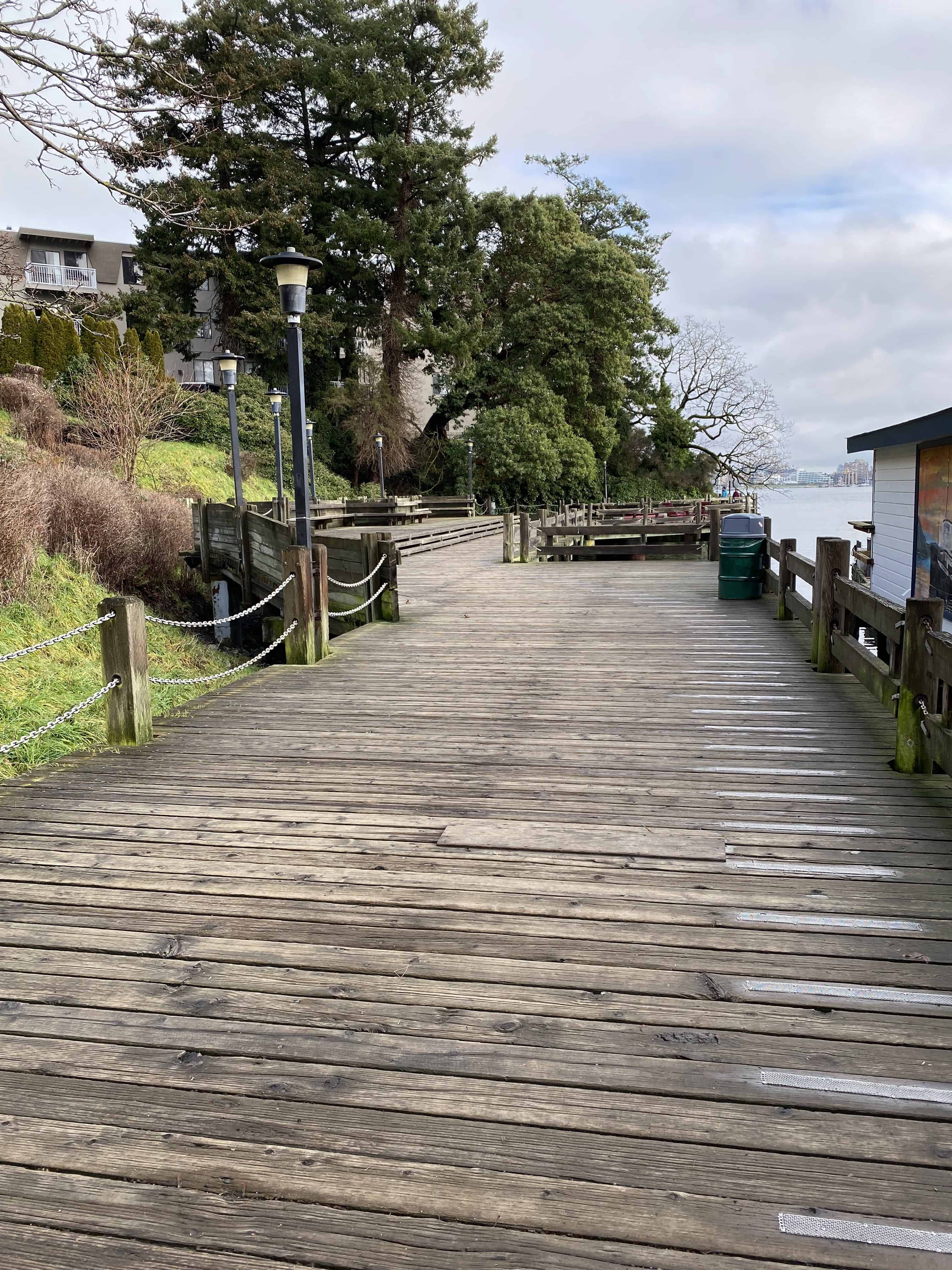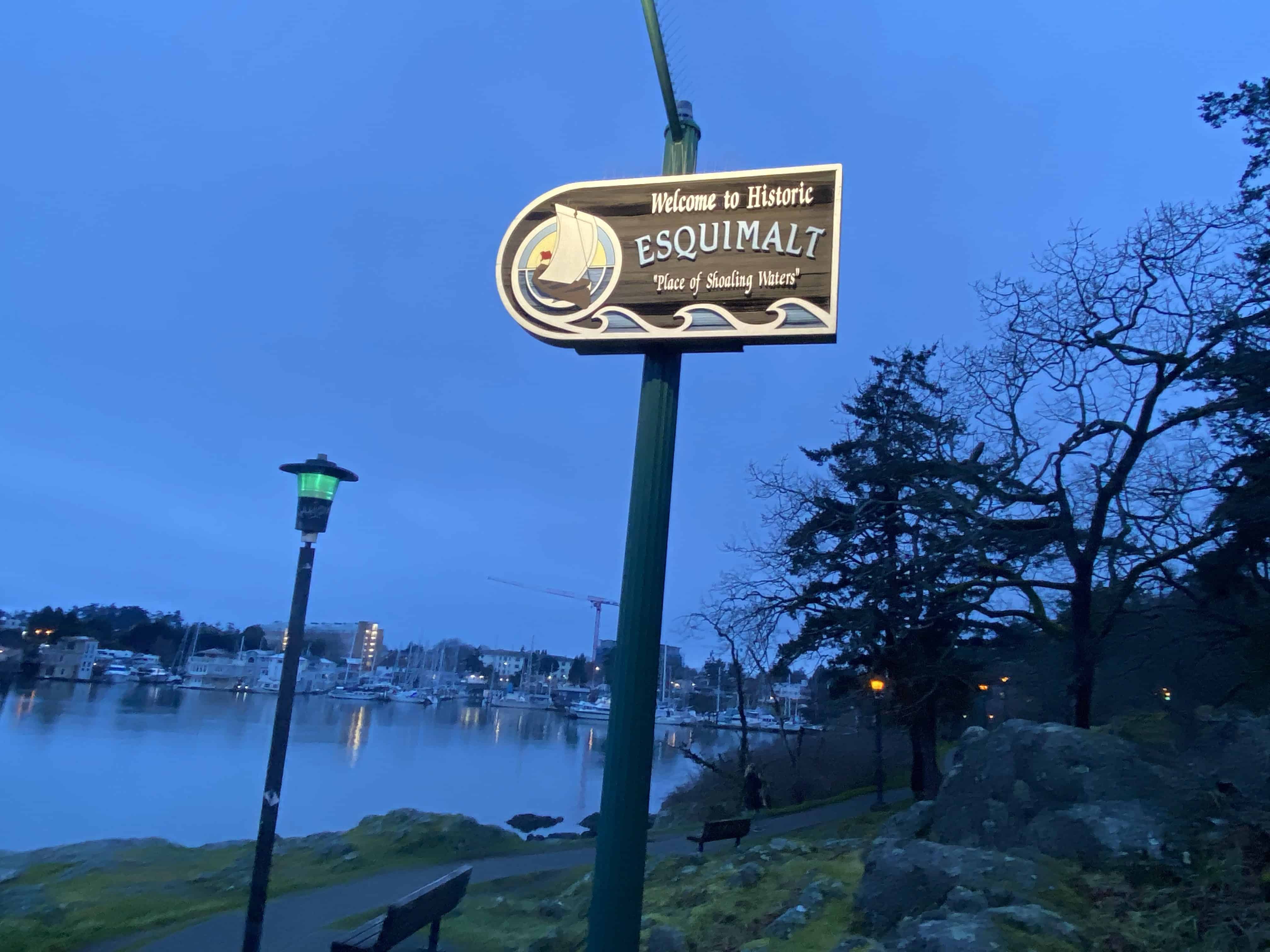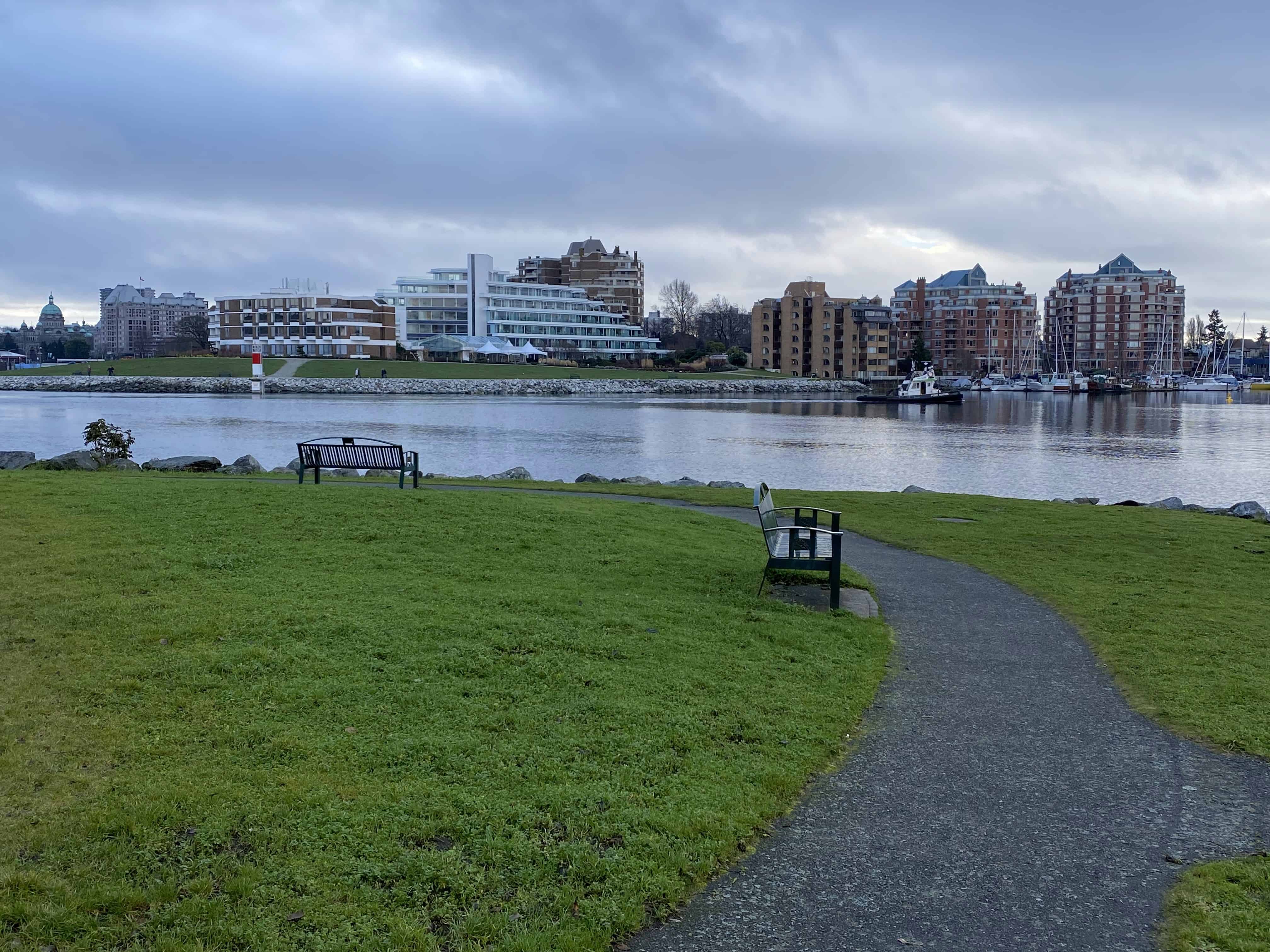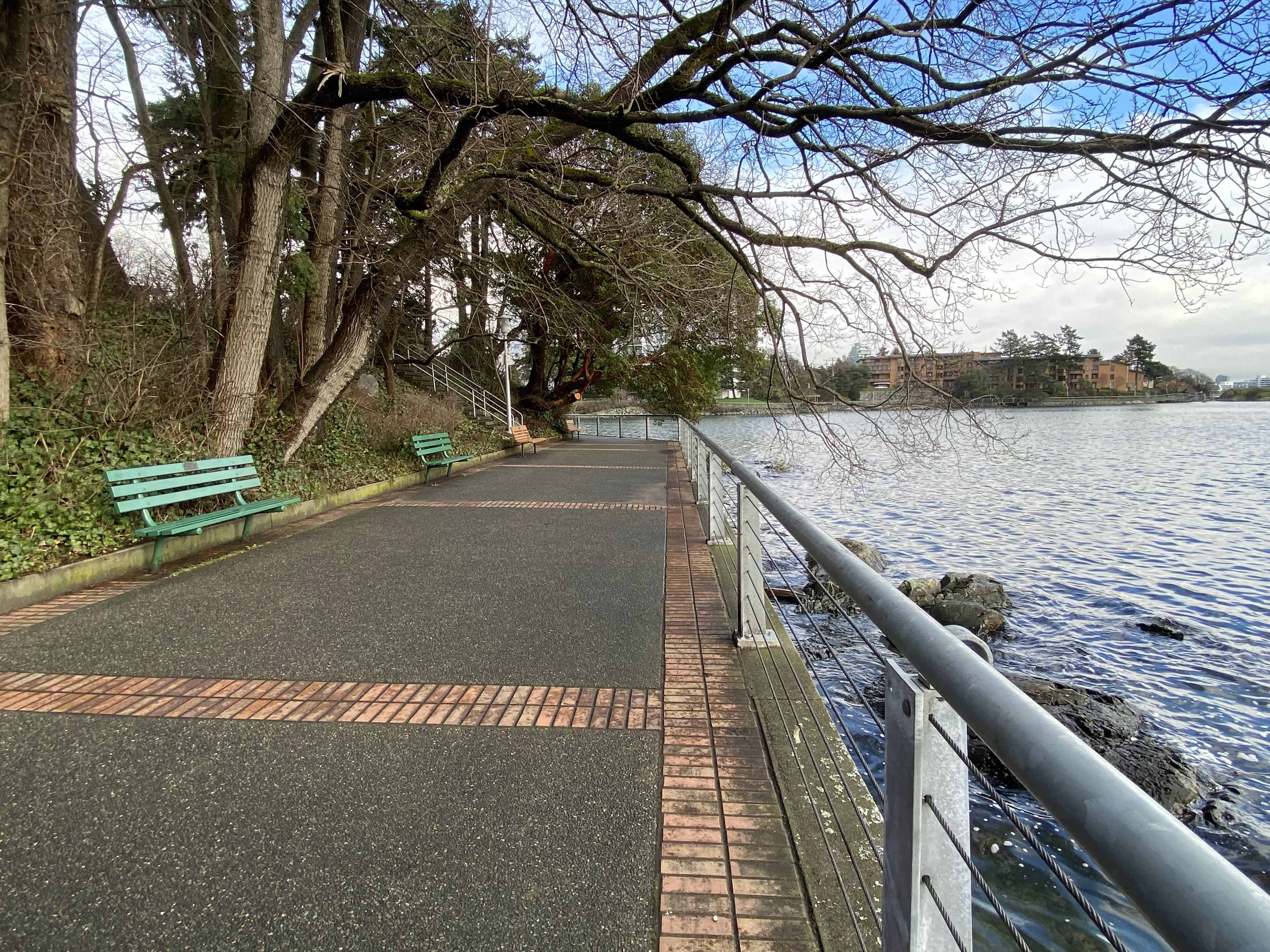 Time for a pause
You will find many opportunities while on this walk to pause, sit and relax on a bench while enjoying the views. Being next to the water, with the greenery surrounding you makes for an extremely calming environment, allowing you to slow your day. It's great for those who practice mediation, or even just clearing your your thoughts.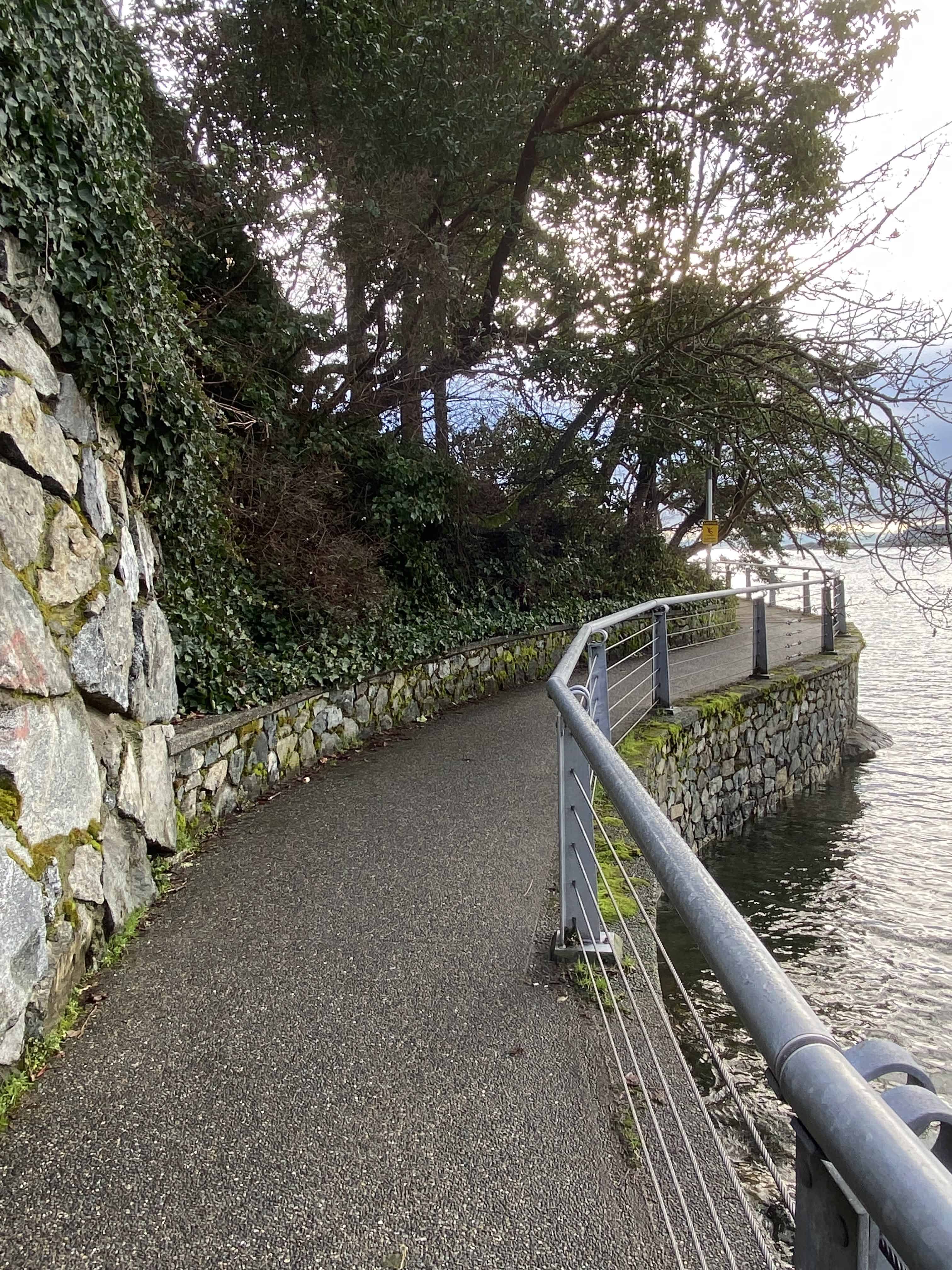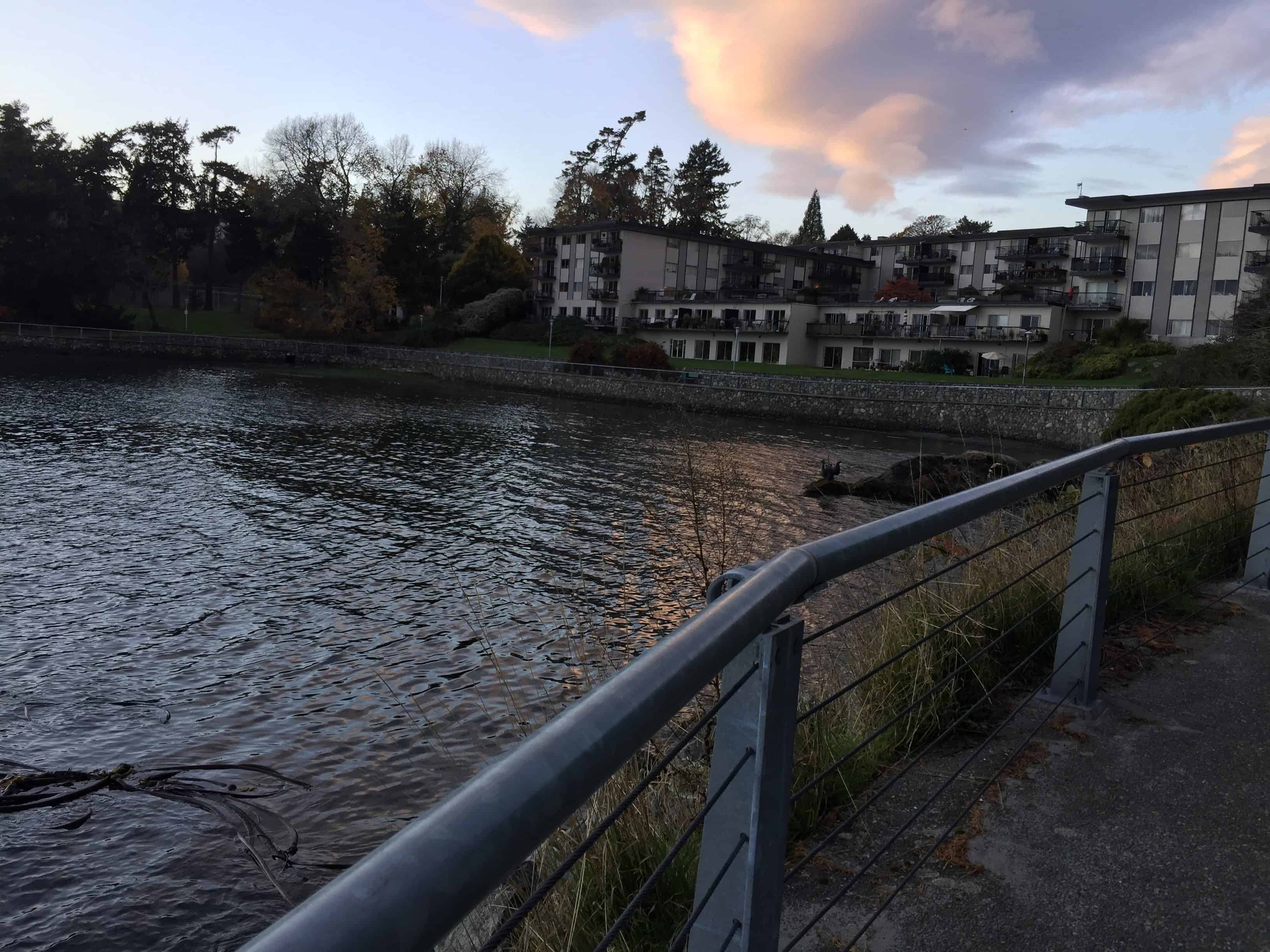 Although rare, we do at times see snow on this walkway. It rarely occurs, sometimes happens once or twice a year, and is gone within a week. It can look magical along the harbour when the snow falls, and if you have good footwear you may choose to venture out for a unique walk in Victoria on these days.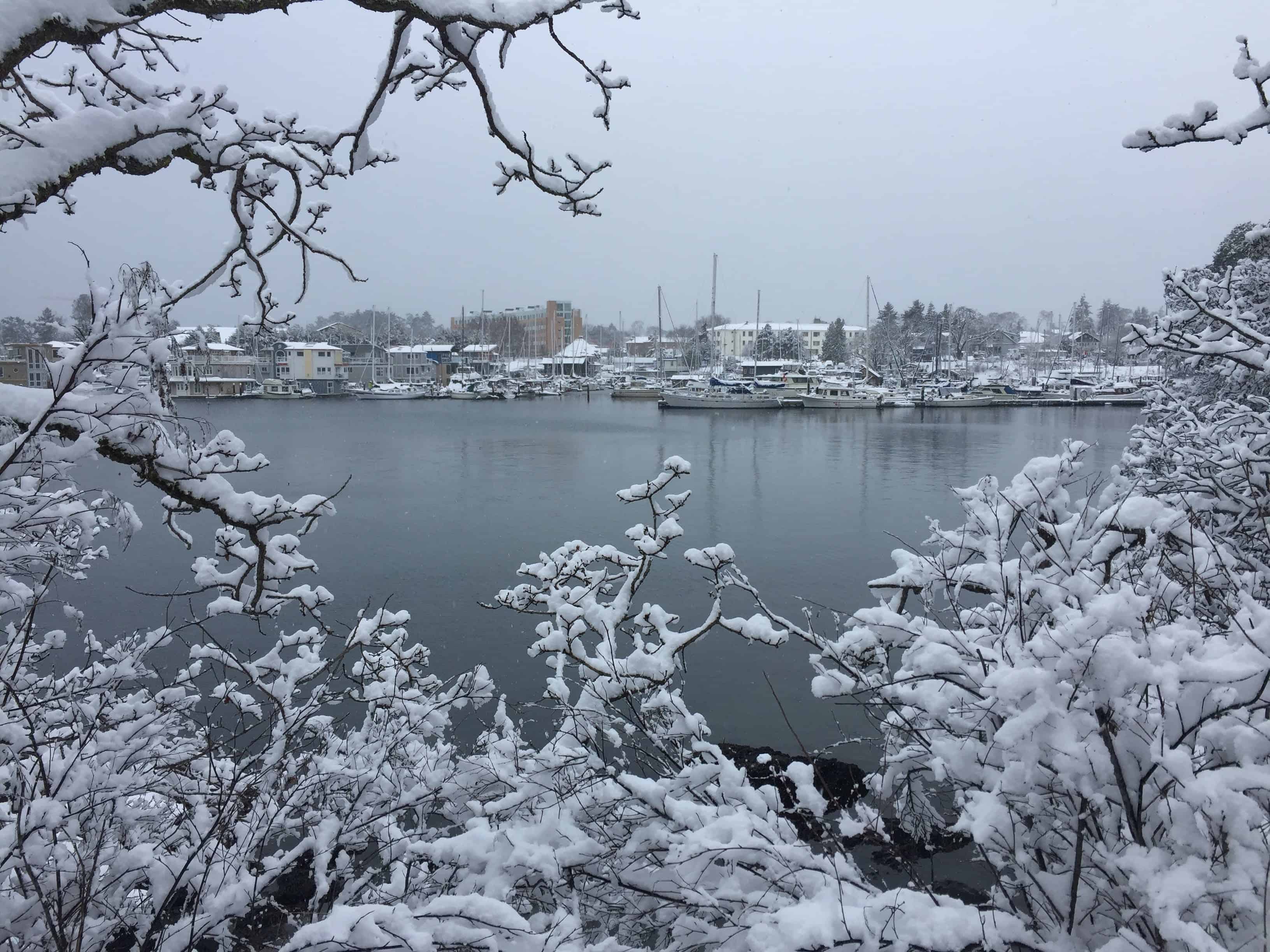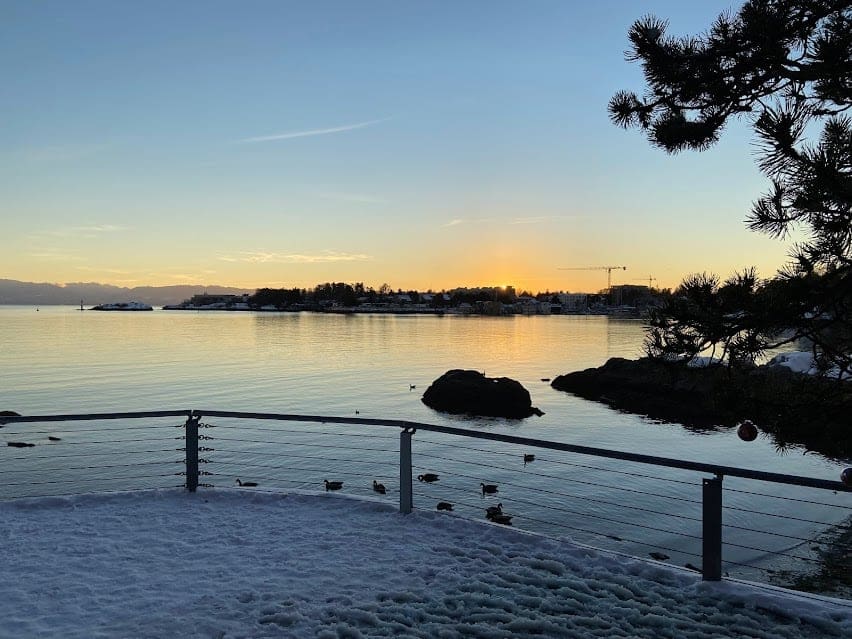 There are some harbour ferry stops along this walkway in the event you want to travel across the harbour. We would recommend you check the Victoria harbour ferry website for cost and times of operation, as it varies depending on the season and the distance you plan to travel.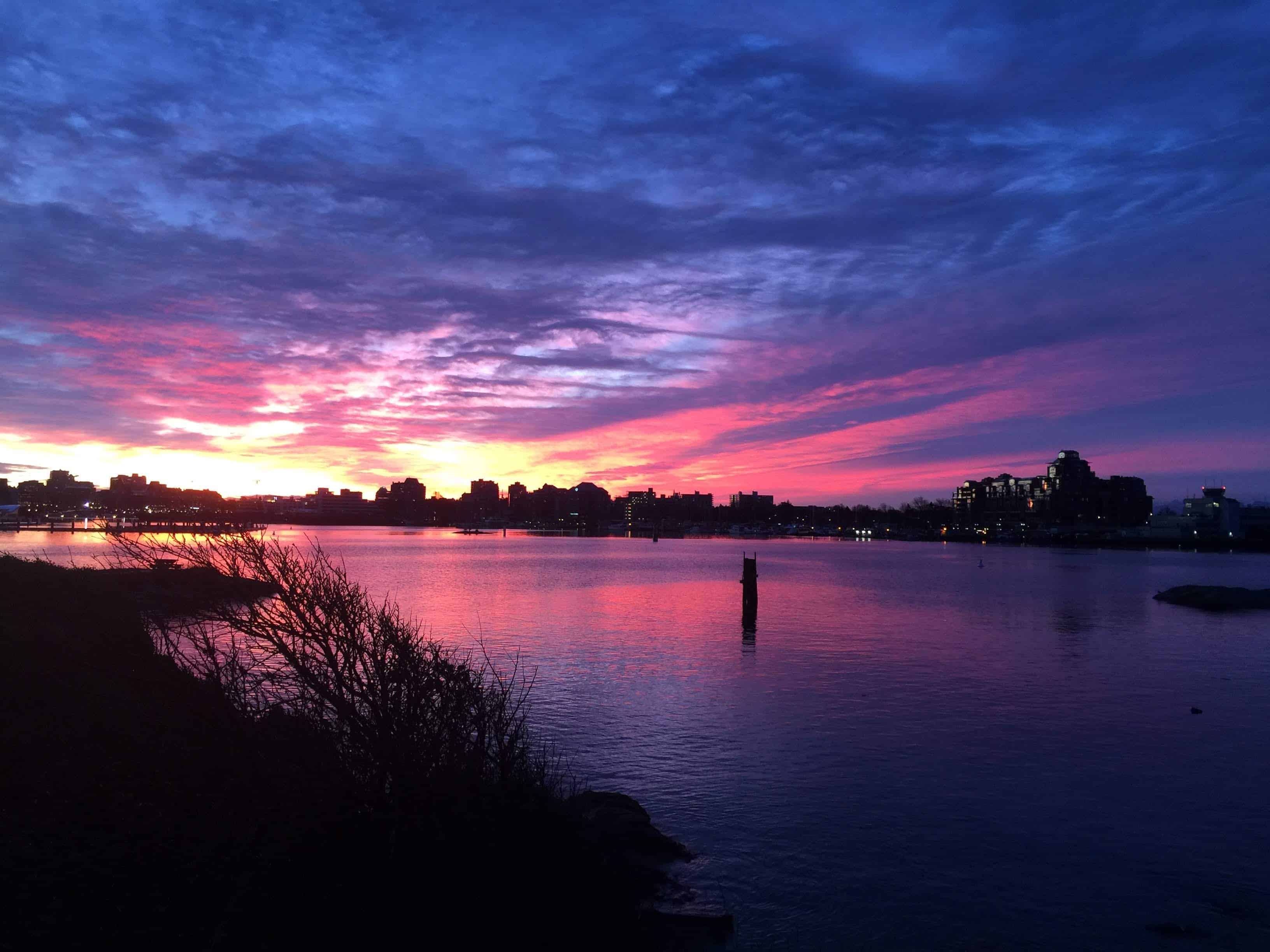 There are quite a few exit and entrance points along the walkway. It gets much busier as you're approaching Victoria/ Songhees, and is somewhat quieter at the Esquimalt end.
If you're feeling especially energetic, you may want to climb the stairs over the Matson Conservation area (close to West Bay marina). Once again, you'll need to heed the signage here, and stay off the unique protected ecosystem, by taking the elevated staircase. It's a six storey climb.
From atop the staircase you may enjoy spectacular views of Victoria across the water, and of course West Bay Marina and the garry oak trees contained in the Conservation area. You might even spot a deer or two from here or on your climb up the stairs if you're watchful and quiet.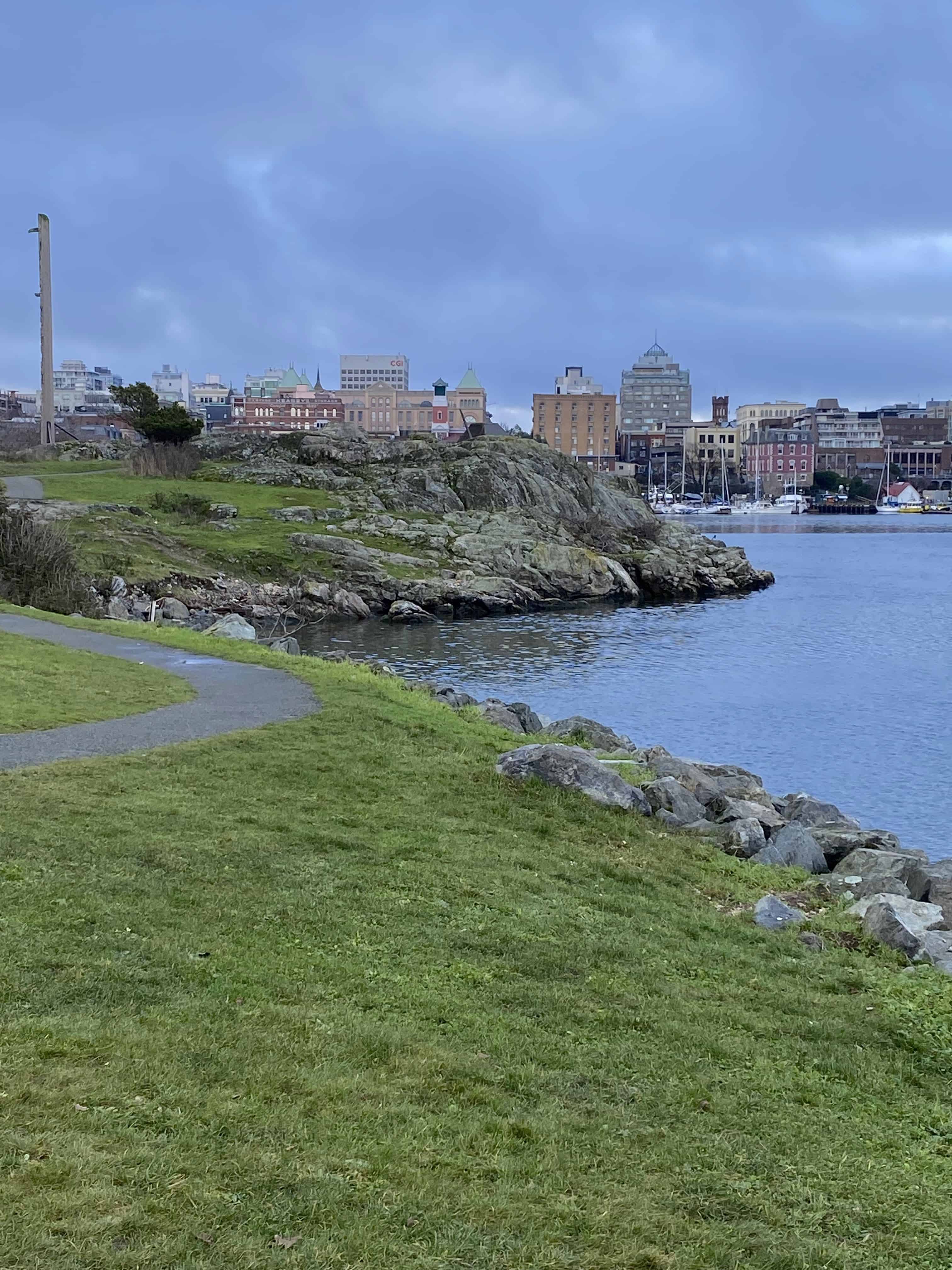 You'll see large yachts at the Victoria International Marina.
Part of what makes this one of the best walks in Victoria BC are the many opportunities for real breaks along the way. You can stop by Spinnakers for a drink if you're thirsty while out walking or enjoy a coffee/ snack at Boom & Batten's cafe, or better yet, make a reservation to come back for dinner! This harbour is also beautiful at night.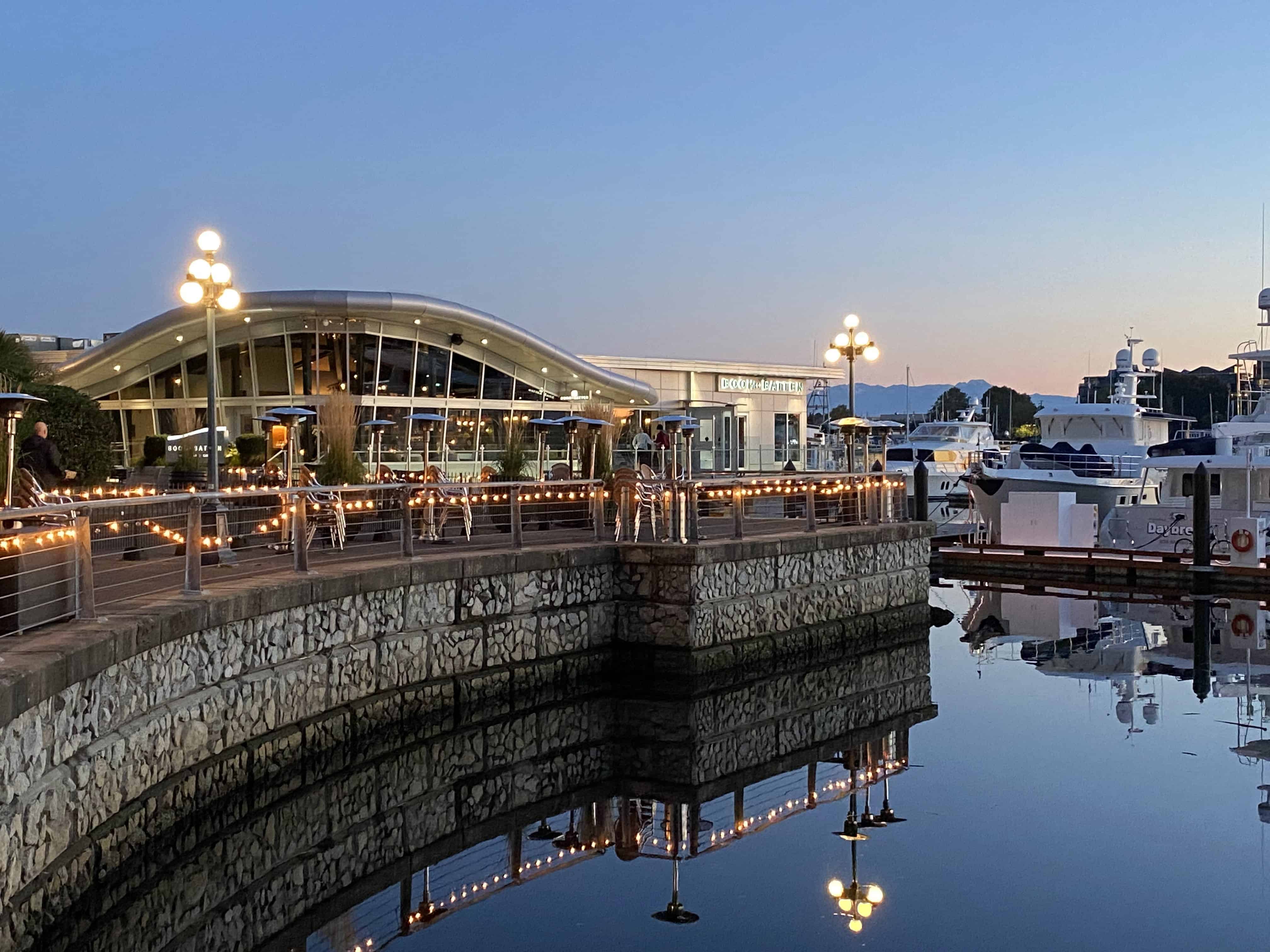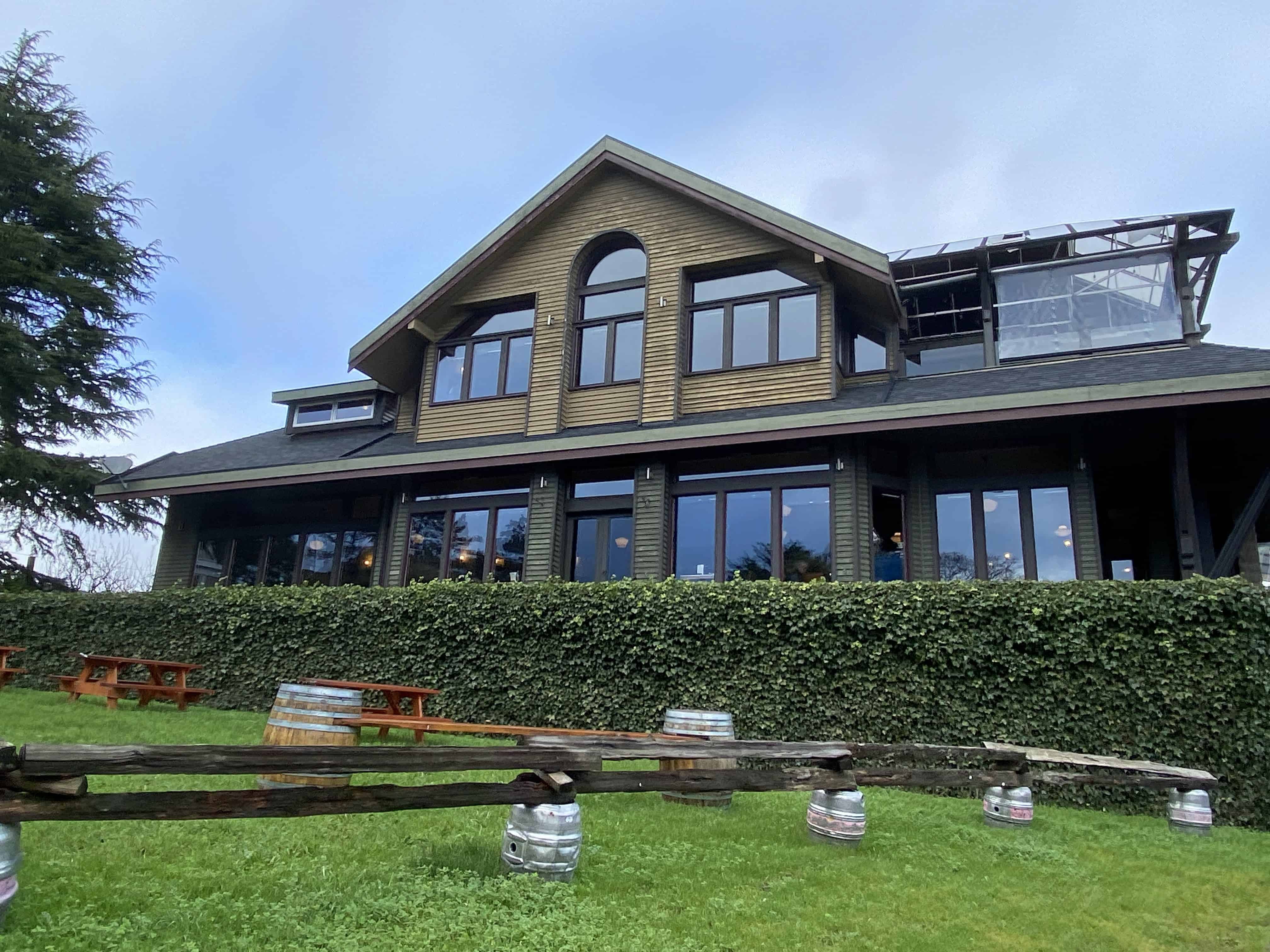 Towards the Victoria end of the walkway is the Delta Hotel, and from here you can view the harbour, sit and relax or go into the Delta for a coffee or meal at Lure Restaurant if you choose. If you cross over the Johnson Street Bridge, you will be close to downtown with many amenities available there.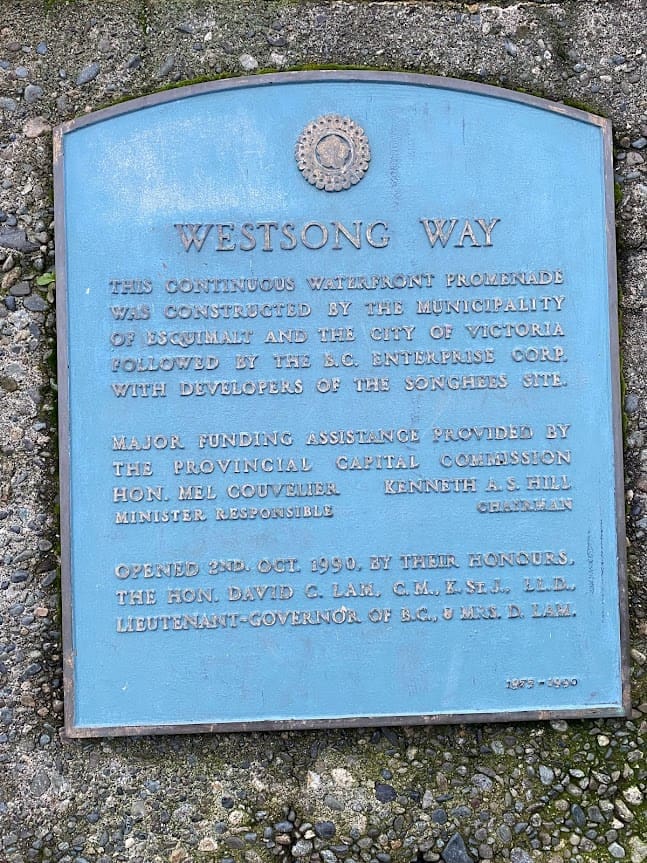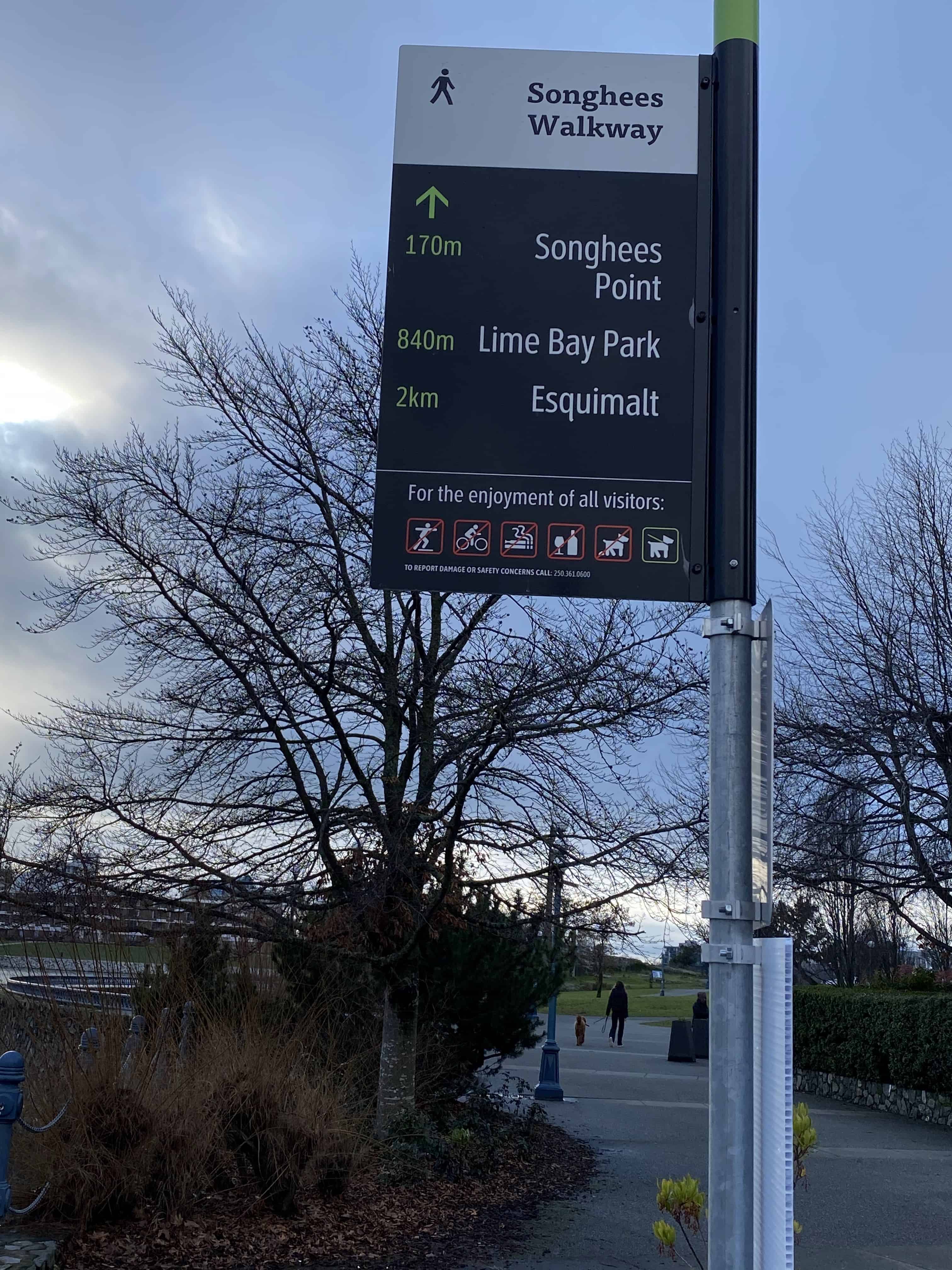 At Songhees Point, you will see one of the Seven Signs of the Lekwungen, called "p'álәc'әs", pronounced PAH-lu-tsuss, meaning "cradle board". It's the sacred point where cradles were placed after an infant learned to walk.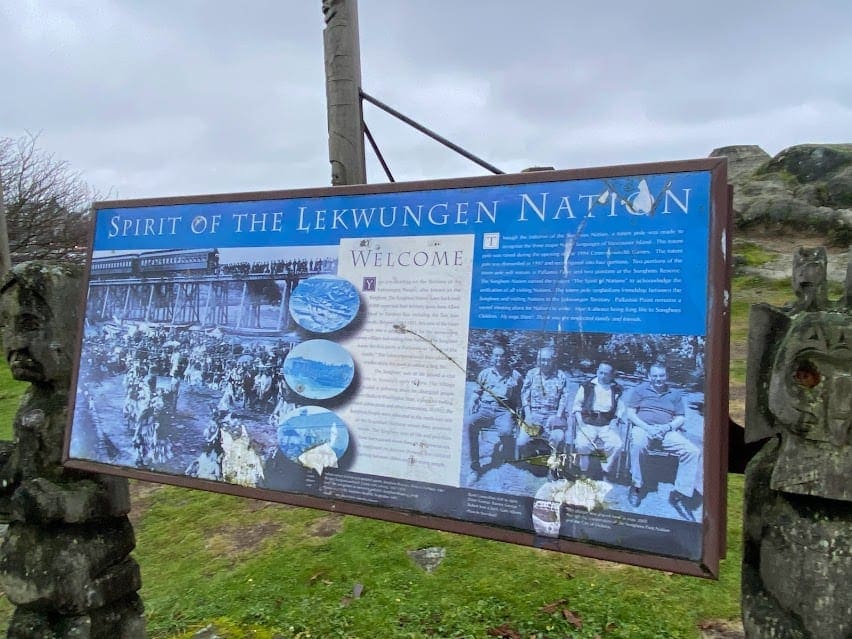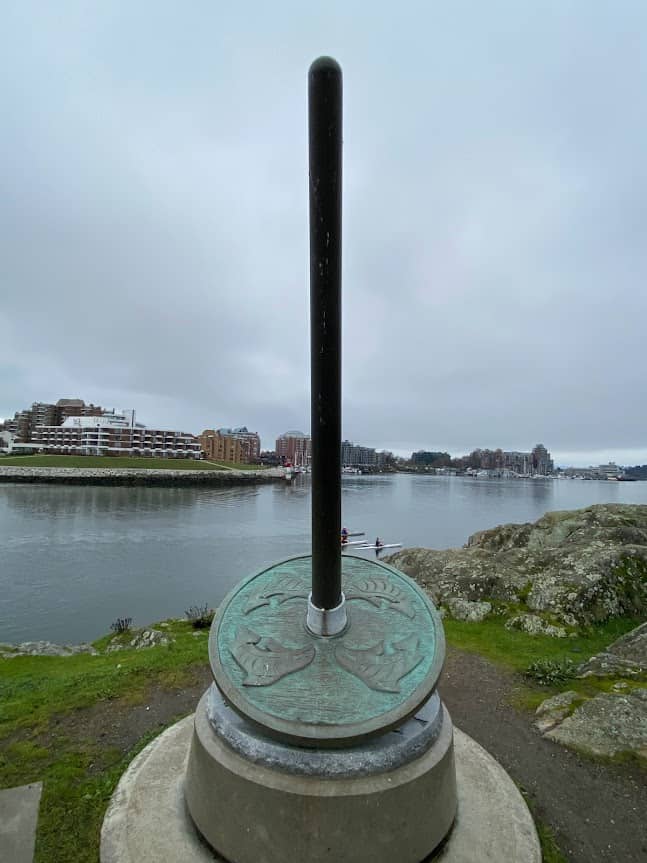 Hopefully you will enjoy the Westsong Walkway as much as we do. Let us know what you think of this awesome walk in Victoria and Esquimalt! Check our other posts on Victoria and Esquimalt area activities and restaurants.
Some of the other best walking trails and walkways in Victoria BC are the E&N Trail, Galloping Goose Trail, Lochside Trail, and David Foster Walkway. All of these walks and trails are easily accessible from downtown Victoria.
At times we simply walk around our neighborhood or find a park nearby. Visit our Esquimalt Parks BC post for more inspiration to visit the various parks located in Esquimalt.